Are you tryna get a real estate license in California? Well, it's going to take you 135 hours of education, a passing exam score, and finding a sponsoring brokerage before you can get your license. You'll also need ongoing training. This is why we're stoked to be able to present the top online real estate schools in the Sunshine State that boost efficiency and convenience for you to complete your hours and move forward with your real estate career.
These schools are:

| Online Real Estate School | Top Pick For | Cost for Prelicense Course |
| --- | --- | --- |
| | Overall best California-specific licensing education for all stages | $154.99 |
| | Best education for aspiring agents seeking their license | $349 |
| | Best broker's license education delivered in a variety of formats | $339 |
| | Best continued education for agents at any stage in their career | $229 |
| | Affordable education | $119 |
| | Self-paced study and exam preparation | $160 |
Since California requires so many hours to
become a real estate agent
, it's necessary to find a school to fit your needs. We examined the course features, cost, type of education, support, and customer reviews to rank the best online real estate schools in California. These schools stand apart from others because of their affordability and various course formatting to match the diverse learner.
Through our research we found with a 4.42 out of 5, California Realty Training is your best overall choice for real estate education in California. It earned this rank due to its variety in course formatting, reasonable pricing, and career assistance.
Additional categories we used to judge the best accredited online real estate schools in California are as follows:
How We Evaluated the Top Real Estate Schools
40% of Overall Score
Pricing is based on the cost for pre- and post-licensing, continuing education courses, and exam prep for each online institution.
Education Available
The level of courses provided by each site according to licensing stage: prelicensing for new agents and continued education for licensed agents looking for license renewal options.
30% of Overall Score
Consist of various formatting and learning styles for each course to meet the specific needs of the agent as well as ease of course accessibility.
15% of Overall Score
Convenience and attainability of customer service support for technical support and instructor assistance.
15% of Overall Score
Based on customer feedback for each program, with particular attention given to value for money, to certify the course meets user satisfaction.
*Percentages of overall score
California Realty Training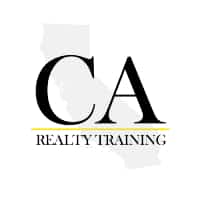 PROS
Course format variety
One year to complete from purchase
Pricing

CONS
Refund within 14 days
Videos don't cover all of the textbook
RATING CRITERIA

Pricing
4.76
OUT OF
5
Course Features
5.00
OUT OF
5
Help & Support
2.75
OUT OF
5
Customer Reviews
4.06
OUT OF
5
The best overall California online real estate education comes from California Realty Training, which is specific to the Sunshine State. Learners can pick from a variety of course formats depending on their learning needs: live webinar, OnDemand video, and self-paced formatting. So whether you're looking for a self-paced option or an in-classroom feel, California Realty Training has you covered. The courses provide real-life scenarios to break down difficult concepts and prepare you for your exam and career. Coupled with its robust features, this program edged out Real Estate Express for best overall because of pricing, which is among the lowest compared to competitors.
Pricing
Pricing
Prelicensing: $154.99
Post-licensing: $270
Continued education: $59
Exam prep: $150
What's Missing
Refunds are given on a case-by-case basis and typically are not granted after 14 days of purchase. Although instructors teach materials that are relevant and will prepare students for the exam, the videos do not cover every topic in the textbook, so you do want to review both before sitting for your exam.
Features
Free live webinar introduction training available
Career assistance with Keller Williams (partner)
Free career events
Available on all devices with Wi-Fi
Exam prep and crash course
California Department of Real Estate (DRE) paperwork help
Offers over 35 hours of supplemental video training
Accredited by DRE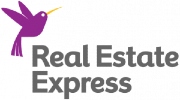 Best for Prelicensing Education

PROS
Career hub
Pass or don't pay guarantee
Variety of course formats

CONS
Pricing
Post-licensing and continued education (CE) through partner company
RATING CRITERIA

Pricing
3.54
OUT OF
5
Course Features
4.88
OUT OF
5
Help & Support
3.00
OUT OF
5
Customer Reviews
4.25
OUT OF
5
With its assortment of packages and course formats, Real Estate Express is a hella great choice to get your initial California real estate license. You can pick packages depending on your level of real estate knowledge to include more (or less) resources as well as if you learn best with live instruction, self-paced, or OnDemand video. Exam preparation and live instructor Q&A will assist new agents with passing their exam on the first try, and if not, Real Estate Express offers their "Pass or Don't Pay Guarantee" to make you eligible for a refund.
Pro tip: Start your real estate education today with a special offer for our readers from Real Estate Express. Use promo code FSB25 for 25% off your purchase.
Pricing
Pricing
Prelicensing: $349
Continued education: $68.95
Exam prep: $99
What's Missing
The drawback with Real Estate Express is their pricing, which is not the most expensive, but higher than their competitors. Also, post-licensing and CE are through their partner company McKissock Learning rather than their platform.
Features
Purchase packages or individual courses
Customer support via phone, email, live chat, text
90-Day Boot Camp to ensure success
Career hub with articles and videos to assist new agents
Available on all devices
Six-month access after purchase
Accredited by ARELLO and IDECC
Best Broker's License Education

PROS
Free course demo
Multiple course formats
Variety of packages available

CONS
Pricing
Limited customer support
RATING CRITERIA

Pricing
3.13
OUT OF
5
Course Features
4.88
OUT OF
5
Help & Support
3.00
OUT OF
5
Customer Reviews
4.13
OUT OF
5
When you are ready to take on the responsibilities of a broker, check out Kaplan for your online post-licensing education. To satisfy the 360 hours of post-licensing, you can choose to take your courses via live stream, OnDemand, or self-paced online depending on your learning preferences. There are a variety of course packages to choose from, so you can combine classes and class formats. The option of livestream courses for your post-licensing education is beneficial to agents because they can converse with other agents embarking on the next step in their career.
Pricing
Pricing
Prelicensing: $339
Post-licensing: $448
Continued education: $144
Exam prep: $199
What's Missing
Kaplan's pricing is higher than its competitors, but the quality you are getting for the money is high. Also, their customer support team is not available on weekends, although technical support can assist 24/7.
Features
Eligible for refund within 30 days of purchase
Large variety of package options
Extensive career-support packages
Tech support is available 24/7
Six months of course access
Accredited by ARELLO, IDECC, and DRE

Best for Continued Education

PROS
CE for every stage of licensing
Self-paced
Student forum

CONS
No live stream option
No director instructor access
RATING CRITERIA

Pricing
4.01
OUT OF
5
Course Features
4.00
OUT OF
5
Help & Support
3.00
OUT OF
5
Customer Reviews
4.50
OUT OF
5
Renewing your real estate license can be pretty gnarly, no matter if it's your salesperson or broker license. With options to individually customize or purchase a full package, The CE Shop is your best resource for fulfilling your license renewal hours for newer or experienced agents. The courses are self-paced via their online platform LEAP 2.0, so you can access your course 24/7 as well as include interactive activities and a student forum for live conversation with other course participants. The customizable aspect is perfect for agents who are looking to learn about a variety of real estate industry topics.
Pricing
Pricing
Prelicensing: $229
Continued education: $69
Exam prep: $119
What's Missing
The CE Shop is more geared toward self-paced learners, so if you're looking for a live in-classroom feel with direct instructor access, then this might not be the program for you.
Features
Downloadable content
Courses expire after 12 months
Accessible on all devices
Agent essentials resource page with news and career tips
30-day refund policy
Accredited by ARELLO

Most Affordable Education

PROS
Pricing
Career mentors seven days a week
Downloadable PDF format

CONS
Does not include post-licensing option
Only self-paced formatting
No package variety
RATING CRITERIA

Pricing
4.39
OUT OF
5
Course Features
4.00
OUT OF
5
Help & Support
3.00
OUT OF
5
Customer Reviews
2.50
OUT OF
5
For agents who need to save money for the next Lakers game, Aceable Agent is your best bet in affordable online real estate education. The course is self-paced and text-based, but still packed with information and perfect for a busy lifestyle. Their education style focuses on setting agents up for success with real-world scenarios and practical coursework that they can apply to their everyday business. They also offer free exam prep directly on their website to see if you're ready to tackle the exam.
Pricing
Pricing
Prelicensing: $119
Continued education: $119
What's Missing
Unfortunately, Aceable Agent does not offer post-licensing course options for those who are interested in getting their broker license. You also cannot purchase courses individually; they only come in the required hours package.
Features
Available on any device
93% student pass rate
Advanced video technology
Refundable within 30 days of purchase
Student concierge team
Accredited by DRE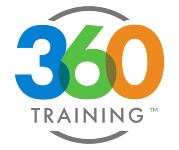 Best for Study & Exam Preparation

PROS
Customer Support
Question feedback and explanations
Self-paced

CONS
Refund request within 72 hours of purchase
No course format variety
No direct instructor access
RATING CRITERIA

Pricing
5.00
OUT OF
5
Course Features
3.00
OUT OF
5
Help & Support
3.00
OUT OF
5
Customer Reviews
2.06
OUT OF
5
If you need some extra study time before taking your exam, the materials provided by 360Training will help you get past the real estate license finish line. There are countless practice exams to test your knowledge and they are framed similarly to the actual exam; 200 questions and a five-hour time limit. Unlike the exam, 360Training uses learning strategy by grouping questions into subject areas to assist in retention. Question explanations and downloadable study guides assist agents in applying these answers to their final exam.
Pricing
Pricing
Prelicensing: $160
Continued education: $50
Exam prep: $79
What's Missing
Before purchase, make sure it is the product that you want because the refund policy is only valid for 72 hours. Even though there is customer support, instructor support is not offered through 360Training.
Features
Course expires one year after purchase
Course completion reporting
Customer support seven days a week
LMS platform
Available on all devices
Accredited by DRE