11 New Real Estate Agent Tips to Get Your Business Started
As a newly licensed real estate agent, important tips on how to organize your schedule, generate leads, write a business plan, arrange your finances, or find a mentor are often left out of prelicensing coursework. However, these tips, along with sales and marketing tools and advice, can make the difference between jump-starting your career growth and plateauing early on. To ensure that you start and continue on the right path, we collected 11 real estate agent tips for new agents—from choosing the best brokerage to basic marketing best practices.
1. Choose the Right Real Estate Brokerage
One of the first and most important decisions you make as a new real estate agent is choosing your real estate brokerage. The truth is that there are real estate companies that are right for you and some that are wrong for you. In fact, one of the most common reasons why agents fail is because of a lack of training and support in their first one to two years in the industry.
In order to set yourself up for success from the beginning, schedule interviews at multiple real estate brokerages. Although you need to take your real estate resume and answer some questions, remember that these interviews are just as important for you, if not more so. Make sure you ask the brokerage specific questions and think carefully about your needs and goals in your new career.
The right real estate brokerage or company will be located in the city or town you want to service, serve the audience or niche you are interested in, and offer helpful training and mentorships. One of the best tips for new real estate agents is to focus heavily on the education, support, and tools that you receive from your first brokerage. You always have the option to switch your real estate company, but you only begin your real estate career once—make sure you have the tools to get your business off the ground from the get-go.
2. Seek Out Additional Training Opportunities
The process of becoming a real estate agent always involves coursework, but don't assume that the required education will provide you with new real estate agent advice. After receiving your real estate license, you will need training that focuses specifically on starting, running, and growing a business as a real estate salesperson.
Most real estate brokerages provide some level of education, but many are not focused on equipping new agents for a strong career. If you cannot find a brokerage or company that provides the tools or support you need, you'll have to search for the education on your own. There are many other options to help you find new real estate agent tips, like working with a mentor or a real estate coach, joining memberships, or reading real estate books.
In addition to some structured training program or mentorship, there are many free resources and articles in Colibri Real Estate career hub. Learn tips about managing transactions, marketing to real estate leads, growing a social media audience, and home projects. In addition, you can purchase a wide variety of continuing education (CE) and professional development courses from Colibri Real Estate at any time. Its course topics are highly relevant to new and modern real estate agents, with courses like "Millennials in Real Estate" and "Niche Marketing for Real Estate."
3. Establish a Schedule & Stick to It
If you worked in a corporate office or owned a retail shop, you'd get up every morning, open the doors, and make sure the business was ready for customers. In real estate, there is no "open" sign or customers waiting for the doors to open, so it's still imperative that you establish a schedule and get out the door to make business happen.
New real estate agents need to know that if you don't start by organizing a schedule, you will inevitably find yourself overworking and not necessarily over-earning. One of the benefits of working in real estate is flexibility, but that also means you may be receiving new client calls late in the evening or showing requests first thing in the morning. Your calendar will naturally fill itself, but a busy calendar is not the same as a successful, growing business.
By creating and sticking to a schedule, you'll be able to complete the necessary income-producing tasks, which are often forgotten by new agents. For example, create time blocks every week to focus on tasks like:
Progressing through the training material
Following up with leads
Creating and scheduling social media content for the week
Writing and sending a real estate newsletter
Organizing and implementing a schedule is one of the most important new real estate agent tips, directly impacting your ability to serve clients and get new clients. Unfortunately, many experienced real estate agents struggle with an unmanaged schedule for years, preventing them from earning the income they deserve and actually enjoying their careers.
Pro tip: Just because you have a flexible schedule as a real estate agent doesn't mean you work every day. Schedule a day off in your calendar once a week and vacation now and then, and hold yourself to it. A tired, burned-out real estate agent is no use to your clients and will cost you money and energy in the long run.
4. Invest in Marketing Materials
As soon as you become a licensed real estate agent, make sure everyone knows about it. The sooner you start marketing, the sooner you'll serve clients and get a paycheck. Start gathering the basic and most important marketing materials by:
However, note that you don't need to complete every available marketing task immediately. Marketing is a full-time job, and if you spend days or weeks building a website or an audience, you won't actually be working with real estate clients. Instead, make sure you have a clear list of priorities to avoid getting carried away with tasks that aren't the most valuable for your business. Think about consulting your mentor, coach, or colleagues to help you define the most important tasks for your new real estate business.
Another important beginner real estate agent tip is that you shouldn't do everything yourself. Although you may not have the budget to hire a professional marketing team on your first day as an agent, remember that the most efficient and effective way to grow your business is often through outsourcing.
You may start by outsourcing tasks to a professional or assistant, or by investing in marketing and management tools like HubSpot or Market Leader. The right tools can provide you with a complete system for various important tasks, like tracking lead follow-ups, sending direct mail, or scheduling emails.
For example, real estate branding is usually not an area where agents or brokers have much experience. Instead of spending weeks at your computer desk, testing different shades of blue, consider finding a branding expert on Fiverr, a freelance marketplace. With a quick search, you'll find thousands of branding specialists that offer affordable services and packages to help you get a professional logo, color palette, website design, and even social media templates. Start searching on Fiverr now.
Pro tip: Prioritize being active on social media over building a following, as it signals that you are also active in real estate. Building and growing an audience can be helpful, but it's not necessary to generate leads or grow your business. In fact, many people search for local real estate agents on social media platforms, and only the most recent and relevant posts show up—regardless of how many (or how few) followers you have.
5. Find an Agent Buddy
Real estate is a complex industry, and it can be extremely difficult to navigate on your own. In addition to taking professional courses to develop your skills, make an effort to build friendships with other new or experienced real estate agents. This will help you enjoy your career, but networking is also essential to growing your business and becoming known as a reliable real estate expert.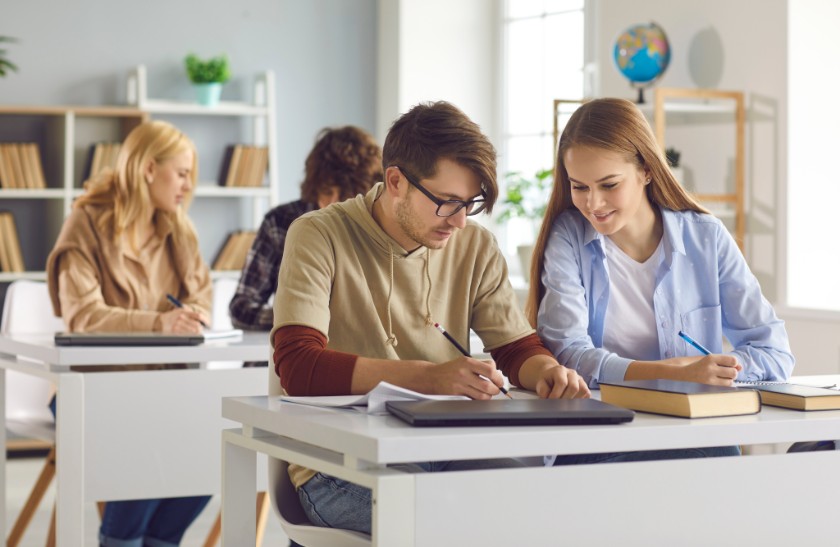 A real estate buddy can also be helpful when working through the many tasks on your to-do list and hold you accountable. For example, when you block time in your schedule to create marketing materials, enlist your buddy to do the same. You can find a cozy spot in your real estate office to sit together and create materials, test different platforms, and bounce ideas off each other.
Having friends in the real estate world is also important for safety reasons. Instead of spending hours at an open house by yourself in an unlocked, unprotected property, buddy up with another agent. Attend showings and open houses together, or keep tabs on each other's whereabouts, so that no one is ever left in a vulnerable and unsafe situation.
6. Seek Out a Mentor for New Real Estate Agent Tips & Advice
There are an endless number of resources available for real estate professionals in every niche and of all experience levels. However, following experts online for real estate tips and Googling answers to your questions will only get you so far. If you are serious about creating a long-term real estate career, there is nothing more valuable or more important than hard-earned experience.
If you're lucky, you'll join a brokerage that automatically pairs new real estate agents with a mentor. If not, make an effort to find a real estate mentor on your own. You'll need at least one experienced professional who you can reach out to with questions, but it's even better if you can meet regularly to discuss your inevitable struggles and questions with clients, the real estate market, scheduling, or making money.
Look for potential mentors at your brokerage or join and attend real estate associations like the National Association of Realtors (NAR). Finding the right real estate mentor can take some time and effort, but it can also be the difference between struggling as an agent and launching a successful career.
7. Track Your Finances
Working in real estate is not the same as being an employee, where you are guaranteed a salary or weekly paycheck. In addition, taxes aren't automatically taken out of your income, and you'll have business expenses to pay for and keep track of. This makes it especially difficult to budget successfully, which can add to your stress and potentially even cause trouble during tax season.
Learning how to manage your finances is a very necessary real estate agent tip. Instead of budgeting monthly, like many people with a scheduled income do, try planning for yearly expenses, both for personal and business reasons. Make sure to open a separate bank account for business income and expenses, save all receipts, and start tracking profits and losses with a P&L sheet.
Instead of learning to manage finances yourself, you may hire a bookkeeper or a CPA. In either case, using accounting software like QuickBooks can streamline all financial processes, generate reports, and simplify preparation for quarterly and annual taxes. QuickBooks is one of the top accounting software because of its extensive tools that are easy to use for small business owners who aren't financially savvy.
Pro tip: Make sure to start your real estate career with a financial cushion. It's common for new real estate agents not to make any money for the first few months of their business. Set realistic expectations about this, so you can be financially prepared and stay focused on long-term success instead of needing an immediate paycheck.
8. Create a 'Loose' Business Plan
Some people have an oversimplified idea of what it means to be a real estate agent. As a beginner real estate agent, your primary focus will probably just be on finding your first client. Although this is completely normal, there will come a time when you need to expand your focus. If you want to build a business that sets you up for long-term success, you'll need a long-term plan. That's when you need to create a real estate business plan.
In the beginning, keep your focus and your business plan simple. Start by:
Setting goals for the next 90 days
Establishing a small number of marketing strategies (Facebook, email marketing, or direct mail)
Establishing a marketing budget
Determining the highest priority tasks
Identifying your unique selling proposition (USP), or what makes you stand out from others
Specifying ways to meet and network with real estate professionals and potential clients
Having a general business plan will help you stay focused on the most important parts of your business instead of getting carried away with tasks and ideas that don't contribute to your bottom line. Beginner real estate agent tips are much different than tips for agents who have been in the industry for 10 years. Don't overcomplicate your business right away, but focus on building a strong foundation and slowly layer on the right tools, goals, and technology as you grow.
9. Start Lead Generation Within Your Sphere of Influence
Since there is no cut-and-dry method of becoming successful in real estate, you may find real estate agent tips for beginners that list hundreds of different ways to generate leads and find clients. That can be extremely overwhelming, but the absolute best way to find your first clients doesn't require any additional tools, technology, or fancy marketing. The first and best place to start generating real estate leads is from your sphere of influence.
Your sphere of influence consists of your friends, family members, and acquaintances who already know you and have some level of trust and respect for you. Your friends and family members who already know your trustworthiness are much more likely than strangers are to hire you before you've ever made a sale. Plus, it's easy to reach out to your sphere of influence since it is made of people you already have regular contact with.
Start by posting on social media and reaching out to local friends and family members individually by text, call, or email. Share that you got your real estate license and are available to help them or anyone they might know. Then, add everyone you connect with to a real estate client relationship manager (CRM)—keeping track of them, remembering who's expressed interest, and scheduling times to follow up in the future.
For example, Pipedrive is a sales CRM with a visual pipeline, making it easy to see exactly where each of your contacts is in the sales process. Plus, you can customize your funnel to market the most effectively to different types of leads, like buyers, FSBOs, or previous clients. Pipedrive also sends automatic alerts and reminders to communicate with leads and clients, so you don't have to stay glued to your phone. Try Pipedrive free for 14 days.
10. Educate Yourself on Available Inventory & Market Trends
Even if you start your real estate career with all the right marketing strategies, you'll struggle to be a successful real estate agent if you don't also have a strong understanding of the real estate market. You should not only understand how the real estate market works, but also specifics about your local market. These include general real estate statistics and statistics in your area, the differences between local neighborhoods, the types of homes around the area, popular home features, and how much or how little inventory there is at any given time.
To learn more about the inventory in your area, make showing appointments to view homes on your own. Get comfortable with the process of scheduling a showing, opening lockboxes, touring houses, and evaluating their strengths and weaknesses. Drive through neighborhoods that you've never visited before to continually grow more comfortable with all of your surrounding areas.
Use the MLS (multiple listing system), Realtor.com and Zillow to find properties and details, and start running reports for your own understanding of the area. Look for how fast homes are selling and the average prices of homes.
Make showing appointments on your own: Get comfortable with the process of scheduling a showing, opening lockboxes, and touring houses
Evaluate each listing's strengths and weaknesses: Take notes about each home's features and potential concerns, like cracks in the basement walls or an old hot water heater
Drive through neighborhoods: Find neighborhoods that you aren't already familiar with and take note of property values and home features
Use Zillow and the MLS to search for properties and run reports: Learn how to search for properties with varying filters and create a comprehensive comparative market analysis for listing leads
Your local MLS is generally the most reliable place to find property details, like lot size, room sizes, home features, and information about the listing agent. However, since the MLS is not accessible to the general public, the majority of homebuyers will use Zillow to search for properties and look at photos. For this reason, it's useful to familiarize yourself with the properties visible on Zillow, so you can easily communicate with potential homebuyers.
In addition, Zillow is one of the most valuable lead generation sources since it's the top real estate platform with about 36 million monthly users. As a Zillow Premier Agent, you'll receive access to a variety of tools and resources to build your business, like highly motivated buyer leads, priority placement on local listings, and pipeline management tools within the free CRM. Learn more about becoming a Zillow Premier Agent.
11. Familiarize Yourself With Important Documents & Laws
One of the least glamorous but most important parts of being a real estate professional is knowing the laws and restrictions in the country and state where you live. You shouldn't only be aware of the laws, but be familiar enough with all of them to confidently discern when they may be in violation and explain them to future clients. Sometimes you'll need to recognize the law in order to protect yourself, and other times you'll have to guide clients in a way that follows the laws exactly.
For example, the Fair Housing Act prohibits real estate agents from discussing crime statistics in different neighborhoods with their clients in order to prevent discrimination in homeownership. You can, however, explain why your answer is limited and guide clients to resources that will help them answer their questions independently. Make sure you learn more about how to protect yourself and your clients and comply with the Fair Housing Act.
Another example that could be a RESPA violation is referring your clients to a service provider (like a mortgage broker, appraiser, or home inspector) in order to receive some type of gift. While referrals are not illegal in themselves, there are restrictions about how they're made and how real estate referral fees must be managed. To provide ethical referrals, give your clients a few different options and allow them to choose their vendors independently. When referral fees are involved, include a written disclaimer.
Bottom Line
It can feel like there are an impossible number of tasks and obstacles to overcome as a new real estate agent. Using these tips and tools, you'll stay focused on building a strong foundation for your business. With the right education and support, your real estate business will steadily grow, and you'll be able to confidently serve clients and reach your goals.