It can be a difficult process to find an available domain name that suits your business. Not only that, but even if you do, you're still left to choose which domain extension to use, such as .com or .org. Generally, commercial businesses will want .com, whereas organizations, such as nonprofits and sports groups, will want the .org extension.
💡 Tip:
Before buying a domain, check to see if your web hosting provider or all-in-one site builder plan comes with a free domain as many of the leading providers do, including
Bluehost
,
Squarespace
, and
Wix
. Learn more about how to get a
free domain name
.
What Is a Top-level Domain Extension?
A top-level domain (or TLD), is what it sounds like—the highest-level domain in the hierarchical domain name system (DNS). The most common top-level domains include .gov (government only), .edu (education only), .com, .org, and .net. Of these, .com and .org are the most popular for businesses.
Difference Between .Com vs .Org
The .com and .org domains are both top-level domains that anyone can register. However, they do have different use cases. For example, .com is far more popular as it suits any business type, from legal and medical practices to software as a service (SaaS) and online stores. The .org extension, on the other hand, is designed for organizations, such as nonprofits, groups, and clubs.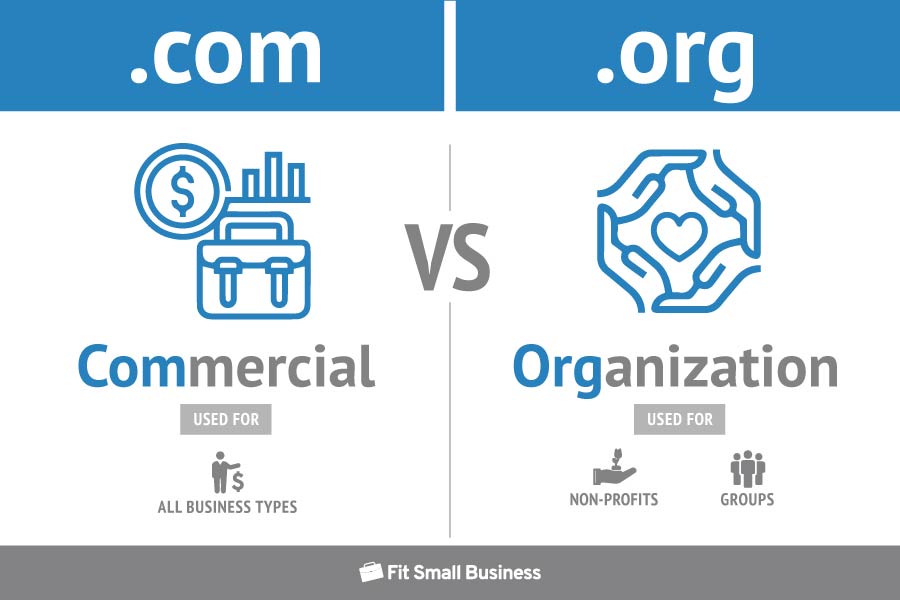 When to Use a .Com Domain Extension
The .com stands for "commercial," and it is the most common extension due to its versatility. It's recommended for professional use as it appears credible and trustworthy, and it's more memorable than other domain extensions. Since it's the most popular extension, it is the most recognizable and appears the most professional.
While the .com is the most popular extension, this also means it can be the most difficult extension to find an available domain name for. In instances where you're not able to find a suitable .com for your business website, consider using a different domain extension, such as .org or .us.
Tip: Struggling to find an available domain? Get more information to help you choose a domain name.
When to Use a .Org Domain Extension
The .org stands for "organization," and though it's not as popular as the .com, it is a commonly used and recognizable domain. Many believe the .org is reserved for nonprofit organizations, but anyone can register for a .org domain. Given how synonymous the .org extension is with nonprofits, to avoid confusion, it's better to reserve the use of the .org for nonprofits and organizations, such as a local sports team or cause group.
💡 Tip: If the .org extension is a good fit for your business, it's worth still purchasing the .com version of the domain to retain ownership of your domain.
.Com vs .Org: Which One Is Better for SEO?
For the most part, domain extensions do not overly impact search engine optimization (SEO) efforts. The only instances of domain extensions impacting search rankings are with location-based domains, such as .us for U.S.-based businesses and sites when users are searching within that country. What matters more is the domain name itself (e.g., the joesnycpizza or joesnycpizza.com) as using keywords and location identifiers in the domain can improve SEO.
💡 Tip:
More effective ways to improve your search ranking is by putting your effort into listing your business on directories, building backlinks, and designing your website to get found in search. Get the full breakdown on how to
rank higher in Google searches
.
Domain Name Extensions (Compared)
Extension

Use Case

Example

.com

Commercial businesses

Omni Hotels
www.omnihotels.com

.org

Organizations and groups

Humane Society
www.humansociety.org

.net

Internet service providers or networking sites

SlideShare
www.slideshare.net

.io

Popular among tech startups

Prospect
www.prospect.io

.us

Location-based extensions (e.g., .us for the United States, .ca for Canada, and so on)

Yapp Mobile App
www.yapp.us

.edu

Educational institutions

Dartmouth College
www.dartmouth.edu

.gov

Government sites

Veteran's Affairs
www.va.gov
Tip:
Looking for more information? Learn more about the various
domain name extensions
available.
Where Can I Get a Domain Name?
There are a few different ways to register a new domain name, including directly from a domain name registrar, such as GoDaddy; with a web host, such as Bluehost; or with an all-in-one site builder plan, such as Squarespace. A domain name registrar is the most direct way of getting a domain; however, many web hosting and site builder plans come with a free domain name, so it's worth checking to see if you're eligible for one through a provider you're already using.
Here are the top ways to get a domain:
Domain name registrars: Find, purchase, and register a domain directly through a domain name registrar such as GoDaddy or Hover for around $10 to $15 per year. It's the best option for those who only need to register a domain name.
Web hosting plans: Those who are planning to build a website with WordPress will need to get a web hosting plan, many of which include a free domain name.
Site builder plans: Those building a site with a site builder, such as Squarespace or Weebly, will get a free domain name with a premium plan. It's worth taking advantage of as it makes it easy to connect your domain and eliminates the need to update name servers.
💡 Tip:
If you're not sure what the best way is to get a domain name and build your site, check out this article to get all the answers you need on building a
small business website
.
How to Get a Domain Name
While choosing a suitable domain that fits your business can sometimes be a challenge, it isn't nearly as difficult to actually purchase and register the one you decide on. If you only need a domain name, start by navigating to a domain name registrar such as GoDaddy. Then, search for your desired domain. Once you've found the domain you want, complete the prompts to check out, including entering your contact information and payment information.
If you're planning to use your domain with a WordPress site, check to see if your desired domain is available and get it for free with a web hosting plan using the search bar below.

Tip: Want additional insight? Learn more with step-by-step domain name registration information.
Frequently Asked Questions (FAQs)
How much does a domain cost?
Domain names typically cost around $10 to $15 per year. The price may vary depending on factors such as the domain extension (e.g., .com or .io), and there are also times when domains are owned, but listed for sale at a price well above the average. When looking for an affordable domain name, look out for the renewal cost, as some providers offer a low introductory rate, which then jumps up after the first year.
Can anyone register for a .org?
Yes, there are no official limitations on who can register a .org domain. It is worth noting that the .org domain extension is synonymous with nonprofits, and while you don't need to be a nonprofit to have a .org, consider whether or not your business website may seem deceptive if it uses a .org. For example, it wouldn't be confusing for a local tennis club to use a .org (even if for-profit), whereas a local, second-hand, for-profit thrift store may be questionable.
Is .com or .net better?
The .com domain extension is far more popular than the .net because it represents commercial businesses, while .net is generally used by digital networking, such as internet service providers. Both are top-level domains, so one is not necessarily better than the other, though which is better for you will depend on your industry and business type. Get the full comparison on .com vs .net.
Bottom Line
It's important to take the time to choose the right domain name and domain name extension, as it represents your business online. For most, the .com extension will be a better fit as it suits nearly any business or industry, though in some instances, the .org may be more suitable, such as for nonprofits, groups, clubs, and organizations.
Once you've decided on a domain name for your business, many businesses purchase a domain directly from a registrar. However, you should first consider whether you plan to build a website with WordPress; if so, you will also need web hosting. Many web hosts, such as Bluehost, come with a free domain name with its low-cost web hosting plans starting at just $2.95 per month.