A domain name is a website address that includes a name, a dot (or period), and an extension like "com" or "net" like fitsmallbusiness.com. We reviewed several ways to get a free domain name, including sourcing one directly from a free domain name provider and securing one as part of a paid hosting package.
Free Domain Name Providers
| Free Domain Name Provider | Best for |
| --- | --- |
| | Companies that need a free domain and affordable hosting for WordPress websites |
| | Companies the need a free domain for an easy-to-design professional website |
| | Businesses that need a free domain with a simple drag-and-drop website builder |
| | Companies that need a completely free subdomain and low-tech website builder |
| | Businesses looking for a short-term yet completely free domain |
| | Businesses that need unlimited renewals on a free domain |
Which Web Hosting Company is Right for You?
Here are the six best ways to get a free—or almost free—domain name.
Best Free .com Domain With Affordable WordPress Hosting: Bluehost

Bluehost is the recommended web hosting and domain name provider by WordPress. Because .com URLs are in high demand, it isn't possible to get one completely free. However, you can get an excellent deal with Bluehost by signing up for a hosting plan that costs only $2.95 per month, which includes a free .com domain. You can even check the availability of your preferred domain for free by using the search bar below.
When it comes to choosing a domain name for a small business website or professional email address, most people are looking for a .com URL, such as www.yoursite.com. This is the most common and professional-looking domain extension, so choosing a hosting provider that includes a free .com domain name—included with a website and business email account—is best.
Bluehost is a great option for this. You can buy hosting starting at less than $3 per month that includes a .com domain, a professional WordPress website with one-click installation, and up to five professional email accounts. Click here to sign up for Bluehost.
Best Free Domain With Professional Website Templates: Squarespace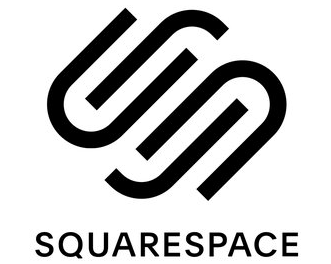 Squarespace is a website builder and hosting provider that offers a free domain with hosting plans. Its $12/month Personal plan comes with unlimited storage and a drag-and-drop builder. Its $18/month Business plan further offers email, analytics, and payment processing with a 3% transaction fee. Its industry-specific templates make it best for time-strapped companies that need to choose a template quickly, and then add information for a professional design.
Squarespace does not offer a free plan like Weebly does. Moreover, at $5/month, even Weebly's basic tier plan is cheaper than Squarespace's and still offers a free domain. While Squarespace's website builder stands out by offering prestructured professional templates searchable by industry, Weebly's builder stands out based on its ease of use.
To learn more about Squarespace, visit its homepage and click "Tours," then either "Websites" or "Domains" to learn about its features about each. It also offers a free 14-day free trial. Click here to get started with Squarespace.
Best Free Domain With Drag-and-Drop Web Builder: Dreamhost

Dreamhost offers a free .com domain in its annual hosting plans. The $2.59 annual Shared Starter plan covers one website and unlimited bandwidth and offers one-click WordPress installations. The $5.95 per month Shared Unlimited plan further covers unlimited email and websites and has WordPress preinstalled. DreamHost is best for companies needing a free domain name with affordable hosting alongside a drag-and-drop builder to design very basic websites.
With only 12 predesigned themes compared to Squarespace's 60, DreamHost's Remixer website builder―included in both plans―isn't as robust as the Squarespace builder. Still, both builders offer similar, fairly limited customization capabilities; you can't drag-and-drop elements anywhere on the page. Instead, you must add them in a predefined stacked structure. However, Remixer allows you to export designs to WordPress for additional customization.
You can learn more about DreamHost's hosting packages by clicking on the "Hosting" header menu tab on its homepage, then "Hosting Overview." You can also chat with a customer service representative between 5:30 a.m. and 9:30 p.m. Pacific time by clicking the "Chat With Us" button on the bottom of the DreamHost home page. Click here to get started with DreamHost.
Best for Free Subdomain & Website Builder: Weebly

Weebly can help you build your simple website with a free site builder and subdomain, which is a website address that includes the hostname as well as your site name, such as yoursite.weebly.com. This is a great option for solopreneurs or early-stage startups that have limited budgets. With Weebly's website builder, you drag-and-drop shapes and photos to design your site, just as you would with a PowerPoint presentation.
The Weebly free plan offers a subdomain―yoursite.weebly.com―500MB of storage, and a footer link ad for Weebly. By upgrading to the paid $5 per month plan, you get a free domain name (yoursite.com), 500MB of storage, and no footer link ad inviting visitors to sign up for Weebly. For information on setting up your site, read our free guide on how to create a website with Weebly.
For most small businesses, Weebly is better than Squarespace because it offers cheaper paid plans with robust features. If you're focused on a domain, Weebly can offer either a free subdomain or a custom domain with its paid plan. To get yours, visit Weebly's hosting plan pricing page. Click here to get started.
Best for Short-term, Free .tk Domains: dot.tk

Powered by Freenom, the website dot.tk offers .tk domains (yoursite.tk) completely free for up to a year. It also has .ml, .ga, .cf, and .gq domains available at no cost, but it offers no site builder or additional hosting features.
With dot.tk, you get a clean URL like yoursite.tk. It's also free to transfer the domain to a hosting service to create your website or professional email address. The catch is that dot.tk only lets you register a free domain name for up to a year at a time. Also, dot.tk domains don't rank as well as more common extensions like .com or .net. While renewals are currently free, there is no guarantee that they will remain that way in the future.
If you need a domain for the long term―two or more years―it's wiser to pay a small fee for a .com domain instead. This looks more professional and is generally more trusted by visitors. However, if you only need a temporary free domain name―for a test site, for example―and aren't too concerned about appearances, dot.tk provides a simple, free alternative. Click here to get started with dot.tk.
Best for Long-term, Free .co.nf Domains: .Biz.nf

You can register a .Biz.nf domain name (yoursite.co.nf) for free. Unlike dot.tk, which only allows registrations for one year at a time, biz.nf lets you own the domain for an unlimited amount of time, provided you only use it with its hosting services. Best for solopreneurs, biz.nf provides a free hosting and domain plan. You get 5GB of traffic per month and automatic installation of WordPress or Joomla.
However, there are limitations. You cannot upload files of more than 15MB or transfer your free domain name to another host like you can with Bluehost or .tk, although this is likely to be available in the future for a surcharge. Also unlike dot.tk, .co.nf is technically a subdomain owned by biz.nf. While this makes little difference to visitors besides the slightly longer URL, it does mean you will lose the URL should biz.nf ever discontinue service.
If you're looking for a long-term solution, a low-cost hosting plan with providers like Dreamhost that offers a .com URL is a wiser option. However, if you're looking for a simple informational website and aren't particularly worried about expanding or keeping it up for long, biz.nf provides an impressive free service. Click here to get started with biz.nf.
How to Register a Free Domain Name in 4 Steps
The best way to register a free business domain is to use a domain registrar that offers free domains as a part of their web hosting plans. For example, Bluehost offers a free domain when you sign up for its $2.95 per month hosting plan, which includes 50GB of storage, a secure sockets layer (SSL) certificate, and five email accounts. To begin, select a hosting plan, then follow the prompts to search for a domain, select an available one, and buy web hosting.
1. Choose a Web Hosting Plan
To choose a web hosting plan from Bluehost, begin by navigating to its homepage and click the "Hosting" tab. Then, choose the type of web hosting you're interested in. For the cheapest domain name and as part of this example, we are going to select "Shared Hosting." Businesses wanting larger sites can choose between a virtual private server (VPS) or dedicated hosting.
On the next screen, you will see a selection of shared hosting plans. While all plans include a free domain, choose the cheapest plan for the most overall savings. Below, we chose the Basic $2.95 per month plan by clicking the "Select" button under the "Basic" plan.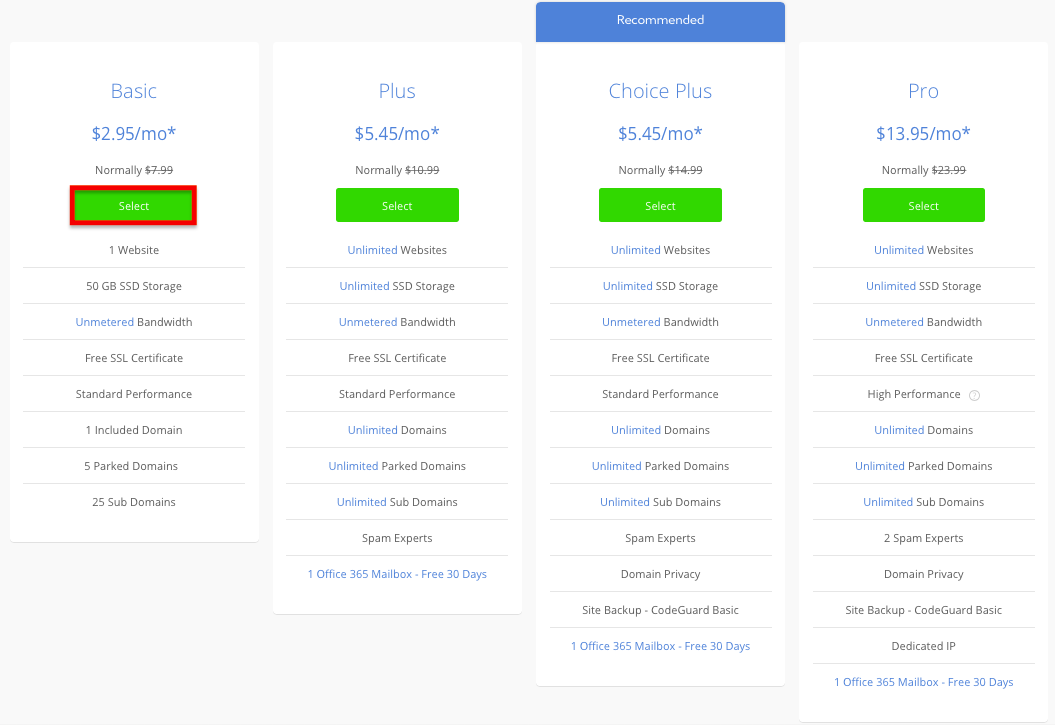 Selecting a Bluehost Shared Hosting Plan
2. Search for a Domain
Immediately after selecting your hosting plan, you will be presented with a search bar that you can use to search for a domain. Type a domain into the search bar under the "Create a new domain" label. Then, use the up and down arrow in the field labeled .com to select the domain extension you'd like. Finally, click "Next" to generate a list of available domain names.
3. Select a Domain
If the domain you searched isn't available, you will be presented with a list of available similar domains. In this case, you can search again or click one of the available domains. If your domain is available, you will be sent to a screen to finalize your order.
4. Finalize Your Hosting Plan Purchase
Next, you will see a confirmation that the domain you searched is available and a form asking for basic information to open an account. Fill out your first and last name, business name, country, business street address, city, state, ZIP code, phone number, and email address. Then, scroll down.
The next section, "Package Information," shows you the plan you're committing to purchasing. In this case, we are purchasing a Basic plan for a term of 36 months at $2.95 per month. With this plan, we get free domain registration and an SSL certificate to ensure our site offers a secure experience for website visitors. Continue scrolling down to the next section.
In the "Package Extras" section, you will be asked what add-ons you would like to add to your hosting plan. For the cheapest domain, it's best to leave all boxes unchecked except for the free Office 365 Mailbox. Remember that this is a 30-day mailbox trial, so you will need to cancel it after 30 days.
Click the box next to any add-ons you would like. These include 99 cents-per-month domain privacy, which hides your contact information on domain listing sites; SiteLock for $1.99 per month, which "locks" a domain so it can't be transferred without signing in; Codeguard Basic for $2.99 per month, which offers security features like one-click restores; and Bluehost's $1.99 per month SEO Tools, (which include features like website submissions to search engines).
Next, scroll down to locate the "Payment Information" section. In the provided fields, input your credit card number, the credit card's CVV2 code―located on the back of your card―and the card's expiration date.
Finally, under the "Payment Information" section and above the "Submit" button, click the "Terms of Service" and "Cancellation Policy" links and read through them. Then, check the box next to them to agree to them. To finalize your purchase, click "Submit."
While this is a typical process for purchasing a hosting plan which includes a free domain, steps may vary slightly depending on the hosting provider you choose.
Top 4 Domain Name Generators 2019
Domain name generators allow you to input an initial keyword or domain and then generate a list of similar domains you can purchase. While some specialize in offering an extensive list of domain extensions, others help you find domains specific to your business niche, and still others help you find currently owned domains and then negotiate their acquisition.
Best Domain Generator for WordPress Websites: LeanDomainSearch

LeanDomainSearch is a free domain name registrar provided by WordPress. You can search for a domain by first inputting a keyword. LeanDomainSearch then generates a list of available .com domains with that keyword. When you select a domain, LeanDomainSearch will check to see if the name is available as a Twitter handle, and then guide you to register your domain with Bluehost. LeanDomainSearch is best for companies that use WordPress for their websites.
Best Generator for Competitive Pricing: BustAName

BustAName is a free domain generator that stands out by comparing the domain prices among domain registrars like 1&1, NameCheap, and Dreamhost. You can choose from .com, .biz, .net, .org, .info, and .biz extensions and begin your search by inputting multiple keywords at a time, which BustAName will then select from to come up with your list of possible domains. Given its comparison feature, BustAName is best for companies needing the best deal on a domain.
Best for Niche-specific Domain Lists: NameStall

NameStall is a $10 per month domain generator that stands out by allowing you to curate highly customized domain lists. Input a search term, and then customize the list by choosing various criteria. For example, you can choose to include only nouns, or focus on niches like real estate, transportation, design, or travel and hospitality. You can also choose from among 100-plus extensions. NameStall is best for companies needing niche-specific domain names.
Best Generator for Acquiring Currently Owned Domains: GoDaddy

GoDaddy is a domain generator and registrar that stands out by alerting you of already owned high-traffic domains, then assists you in appraising the domain and negotiating a purchase price from the current owner. While its domain generator is free, its domain broker services are $69.99 per domain, plus a 20% commission once the domain is acquired. GoDaddy is best for businesses willing to pay premium prices for a domain that already generates high traffic.
Frequently Asked Questions (FAQs)
What is a domain name in a URL?
A domain name has three parts: your website name, a dot or period, and an extension like "com" or "net." For example, in the URL www.fitsmallbusiness.com/marketing/, the domain name is fitsmallbusiness.com.
How do I get a free email using my domain name?
Many hosting plans offer a free domain and at least one free email account with a matching email address (name@yourdomain.com). Bluehost offers the best deal; its $2.95/month Basic Shared hosting plan offers a free domain and five free matching email accounts or addresses. Other hosting providers that also offer a free email address to match a free domain in their plans include GoDaddy and InMotion, although for a higher monthly fee than Bluehost.
How do I create a free website?
Many content management systems (CMSs) offer a free small business website using a subdomain. For example, Weebly offers a free website with a Weebly subdomain, which includes the Weebly name in your domain (yoursite.weebly.com, for example). Other CMSs that offer free websites with a subdomain include WordPress and Wix.com.
What Is the difference between a paid & free website domain?
A free website domain has either uncommon extensions like .tk that don't rank well and lack credibility or require a sign-up for other paid services like web hosting services. Most small businesses can get a free domain name with a credible extension by purchasing a hosting package for a few dollars a month from a provider like Dreamhost.
Which free domain name is best?
The best free domains are ones with credible extensions readers or customers trust, like .com, .org, .net, and .edu. These make your readers feel more at ease by offering a professional look that puts your website in the same class as reputable organizations' and businesses' websites. To get a free, credible domain name, you can purchase web hosting packages with a company like Bluehost that include a free domain name.
Can you buy a domain name outright?
Since registering a domain name means you are leasing the name, it cannot be purchased outright. Just like renting a house, you have possession of a domain for a certain period of time. However, some providers allow you to register a domain name for anywhere from one month to 10 years before you have to renew it.
Bottom Line: How to Get a Free Domain Name
A domain name is a website address made of a website name, followed by a dot, then an extension like .com (fitsmallbusiness.com, for example). You can receive a free domain by buying web hosting packages that include them or via domain name registrars offering little-known extensions like .tk. Paid domains offer extensions that lends to greater business credibility like .com or .net domains.
If you're creating a website for your business, we strongly recommend paying the small fee for a .com domain instead of a free domain like .tk. You get a more reputable domain name and don't have to worry about price increases or service interruptions. With Bluehost, you can get a domain name, website hosting, and a professional email account for $2.65 per month. Click here to get started.