When creating a website, users are required to pick a domain name accompanied by a domain extension. Originally it was expected that commercial businesses would use the .COM extension, and network-related businesses like internet and email providers would use .NET. The com vs net distinction has blurred over time, however, as many websites today use .COM by default.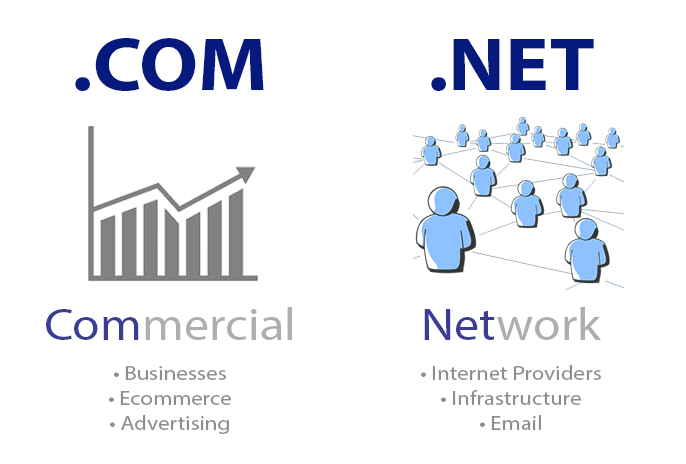 In this article, we'll unravel the net vs com debate and come up with a plausible reasons to use each of them separately, or together to secure your online branding.
Find a .Com or .Net Domain For Your Business

Use the search tool above to find a .com or .net domain name for your business. Bluehost is our recommended domain provider since they'll also let you build a website and set up professional email accounts for just $2.95/month. Learn more in our simple guide to creating a small business website.
When to Use a .Com Domain Extension
46.8% of websites running today have a .com domain extension. By comparison, the next most popular extension, .ru (Russia's country code) is only used by 5.1% of websites. This alone, tells you how much consumers have embraced .com as the de facto website extension.
Businesses who wish to promote their products online and make the most possible sales are the ones who most need a .com website. It appeals to internet users as the most legitimate-looking platform, and shows potential buyers that you've put in the budget and time to grow your brand the right way.
However, due to how much people favor this domain extension over the others, one can expect most good domain names to already be used by a .com website. When this happens, some businesses weigh their options in terms of using another domain extension — whether that's .net, .io, or a country code like .ru or .co.uk.
Ultimately, the most important question is whether or not the domain helps you establish a unique brand. If petsupplies.com is already taken by an ecommerce pet business, petsupplies.net isn't a great alternative. You'll probably have trouble separating yourself from the more-established competitor. Instead, try adding a syllable or two that makes the domain name more custom-fit to your brand. For example, organicpetsupplies.com, or petsuppliesnyc.com. Or, check out 25 additional tips to find a unique .com domain.
When to Use .Net Domain Extension
Internet providers, network services and database providers are the main groups who make use of .net extensions. For these types of companies, a .net domain can add some validity to their brand, particularly when there isn't a strong commercial focus to their website.
Take for example speedtest.net, one of the most popular .net websites. This is a free service provided by Ookla that tests your internet speed. For this type of website, .net was a wise choice. The alternative speedtest.com does not seem as credible at a glance, as the '.com' implies there may be a paywall to get your internet speed data.
Another example is slideshare.net, a free slideshow database supported by LinkedIn. Again, the '.net' extension here was key to branding themselves as a free, publicly-accessible tool, even though they did have a paid subscription option at one point.
At the same time, many network-focused businesses still use of .com. For one, visitors are simply accustomed to entering this in the URL bar. Many smartphone keyboards have a dedicated ".com" button, but they don't have .net or .org. If you prefer the look of your website with a .net extension, you may still want to buy the .com version and redirect it to your main site. This ensures you capture this traffic, and prevents a competitor from scooping it up. Using a hosting service like Bluehost, it's very easy to purchase both domains and set up a redirect.
Com vs Net SEO Considerations
One of the biggest questions that come up when choosing a domain extension is how it will affect search engine rankings. Will a .net or .com domain extension help you rank better on Google? The answer is no, not likely.
Extensions have little impact on how your website ranks. The only time they matter is when you're trying to rank in local search results outside the US. Local searches tend to favor domain extensions for that specific country/region (.jp, .ru, .uk, etc.) more than the others. In the US, this doesn't matter since very few websites use the .us country domain extension.
In general, your directory listings, backlinks, and page content will have a much bigger impact on your search engine rankings than your domain extension. Check out our guide to learn more about how to rank higher in Google searches.
The Bottom Line
The difference between com vs net can be subtle. Especially once your website is established and ranking on search engines, visitors aren't going to pay too much attention to the domain.
However, in the early days, domain extensions play an important role. Just like your company name and logo, your website domain name is paramount to your brand image. It will give many customers and investors their first impression of your business. Thus, its worth taking some time to decide if .com, .net or even .org is right for your business.
At the same time, you can always purchase multiple domain extensions. When you sign up for a "Plus" hosting plan from Bluehost, you can create multiple websites at no extra cost. Or, simply route all your domains to the same site. It just takes a few clicks to set this up.