Painters insurance isn't a type of coverage but, instead, includes general liability, business property, and commercial auto insurance. Some painters may also need surety bonds and workers' compensation. The most common painters insurance policy is general liability, which covers customer property damage and injury lawsuits. It typically costs $4,000 to $8,000 annually.
As an insurance broker, CoverWallet offers painter insurance policies tailored to the needs of small business owners because they can shop the right policy among various insurance carriers. Whether you're a mature company bidding on large contracts or just getting started, CoverWallet can help you find affordable insurance. Get a no-obligation quote online in minutes with one short application.
Painter Insurance Providers
When looking for painters insurance providers, you should seek small business insurance companies that have a history of working with small businesses and understand the needs of painters and contractors. Different insurance providers do well with independent contractors while others have better pricing for bigger operations with employees, business property, and vehicles.
Top Painters Insurance Providers
| Provider | Best for |
| --- | --- |
| | Commercial building painters working on projects three stories or higher. |
| | Independent contractors who work on interior projects exclusively. |
| | Painters who specialize in exterior sign painting on buildings or erected signs. |
| | Painters who want to bundle general liability, business property, and commercial vehicle coverage. |
| | Small painting businesses that work on residential exterior painting projects under three stories. |
Consider these five insurance companies that offer painters insurance to small businesses.
CoverWallet offers the primary coverage needed for painters, including general liability, professional liability, workers' compensation, and more. CoverWallet utilizes a comprehensive but fast online questionnaire to help determine your risks and match you to the right insurance company.
CoverWallet is the right choice for painting companies working in the commercial real estate space where jobs may require extended scaffolding or rappelling down the sides of buildings with painting equipment and supplies. CoverWallet's extensive network allows it to place these types of risks that other carriers might not underwrite.
Hiscox is a large insurance provider that does a good job of delivering quick quotes, broad coverage, and quality service. An A-rated provider, Hiscox starts its painters insurance with commercial general liability and builds a package from that foundation to meet the needs of a wide range of painting business owners.
Hiscox is a good choice for painters who primarily work independently on residential exterior projects. Hiscox prices policies best for residential painters who don't climb above three stories to perform work duties.
AP Intego's nationally licensed agents shop and compare rates from industry-leading providers such as AmTrust and Travelers. An insurance broker can provide quotes for general liability, commercial auto and workers' compensation. With AP Intego, you can choose multiple payment options and receive complimentary ongoing support for each policy purchased.
AP Intego is a good choice for painters and independent contractors that specialize in sign painting, whether inside or outside of a building. AP Intego can write painters insurance as a business owner's policy (BOP) to help save artisan contractors money on insurance.
Large insurance companies can offer sound financial backing and quality customer service, and Progressive Commercial is a provider that fits this space for small business owners. Its Progressive Advantage Business Program helps create a custom fit for the needs of small business owners, including packages for painter insurance.
Progressive is ideal for a painting business with one or more vehicles use for work. It can bundle coverage for multiple painter risks with commercial auto insurance policies keeping things simple for a small business owner.
Liberty Mutual is a national leader for property and casualty insurance, offering both personal and commercial lines of insurance. Liberty Mutual maintains top insurance ratings among credit companies and helps sole proprietors cover the gaps between personal and business insurance.
Liberty Mutual is a great choice for independent contractors who regularly work on residential buildings that extend above three stories or cantilevered homes along mountain ridges. The added risk often requires additional safety measures, and not every insurance carrier provides coverage for this type of work.
Common Types of Painters Insurance
Every painter must evaluate the state requirements for insurance and his actual business risk when it comes to buying painters insurance. As a business grows with employees, larger contracts, and more expensive equipment, painters often need more insurance to cover these different and bigger risks.
Common Types of Painter Insurance
| Insurance Type | What It Covers |
| --- | --- |
| Commercial General Liability | Third-party claims for bodily injury, property damage, personal injury, and advertising injury |
| Commercial Auto Insurance | Pays injury, liability, and property claims for at-fault accidents |
| Business Property | Pays for lost, damaged, or stolen business tools, equipment, and supplies |
| Surety Bond | Provides clients a capped guarantee for contracted work completion |
There are instances where you can combine a general liability policy with business property and business interruption insurance in a
BOP
. An independent contractor getting hired by a general contractor on a large project may be required to show a certificate of insurance (COI) as proof of insurance to get the job.
There are up to four common types of painter insurance.
1. Commercial General Liability
Commercial general liability insurance (CGL) covers third-party bodily injury, property damage, and related legal defense costs. Accidents leading to injuries or property damage are a significant risk exposure for painters who work at third-party locations. Also, some states require CGL coverage to obtain a painter's license.
The types of commercial general liability claims scenarios include:
Bodily injury: An accident leading to a claim on your general liability policy would include a client tripping over your ladder and getting injured.
Property damage: The ladder then falls and slamming a hole in the new flat-screen television. Your CGL policy would cover the medical bills and the damage to the television up to the limits of the policy and after any applicable deductible.
Products-completed operations: A month after you completed a painting project, the paint starts peeling, and your client's cat eats the paint chips and gets sick. Products completed liability won't pay to redo the paint job―just the bills related to the client's cat.
2. Commercial Auto Insurance
Like personal auto insurance, commercial auto insurance can include several coverage types, including bodily injury liability, property damage liability, medical payments, vehicle theft, or vehicle damage. If you get into an accident where your vehicle and another vehicle are damaged and passengers in either vehicle are injured, commercial vehicle insurance can help cover the repairs bills and medical costs.
Vehicles used for business purposes may not be covered by your personal auto insurance. Most insurers see business driving as riskier than personal driving, so most personal auto policies do not cover business use. If your car is used for both, you may need commercial vehicle insurance or risk having claims denied.
3. Business Property Insurance
Business property insurance covers the assets a painter has, including ladders, sprayers, brushes, scaffolding, and the myriad of tools and supplies required to do his job. Policies may deal with claims related to damage, loss, and theft from the policyholder's residence, vehicle, or work site. While normal wear and tear and use breakage aren't covered by business insurance, many tradespeople would be immediately unable to work if their tools were lost in a fire, stolen from their truck, or otherwise damaged in a major loss.
Many painters and independent contractors who have tools stored in commercial vehicles often make the mistake of assuming the auto insurance will cover stolen items out of the truck. This isn't the case. Most painters property coverage includes inland marine to cover property in transit.
Policies may deal with claims related to damage, loss, and theft from their residence, vehicle, or work site. While normal wear and tear and use breakage aren't covered by business insurance, many tradespeople would be immediately unable to work if their tools were lost in a fire, stolen from their truck, or otherwise damaged in a major loss.
4. Surety Bond
A surety bond is a three-party financial guarantee between the principal (you), an obligee (your client or a local government) that requires the bond, and a surety (insurance company) that produces the bond. By posting a surety bond, you are promising to perform a job ethically and according to the requirements of the obligee. For more details, see our articles on what a surety bond is and the different types of surety bonds.
Don't confuse a surety bond with traditional insurance policies. A bond pays consumers for a claim and then requires the business owner to repay the amount to the bond company. This is why surety bonds are much cheaper than insurance that pays the claim, less the deductible, without any remuneration from the business owner.
Local governments may require a surety bond from you because they want assurances contractors to follow building codes and other regulations. Check your local laws to see if you need to get bonded.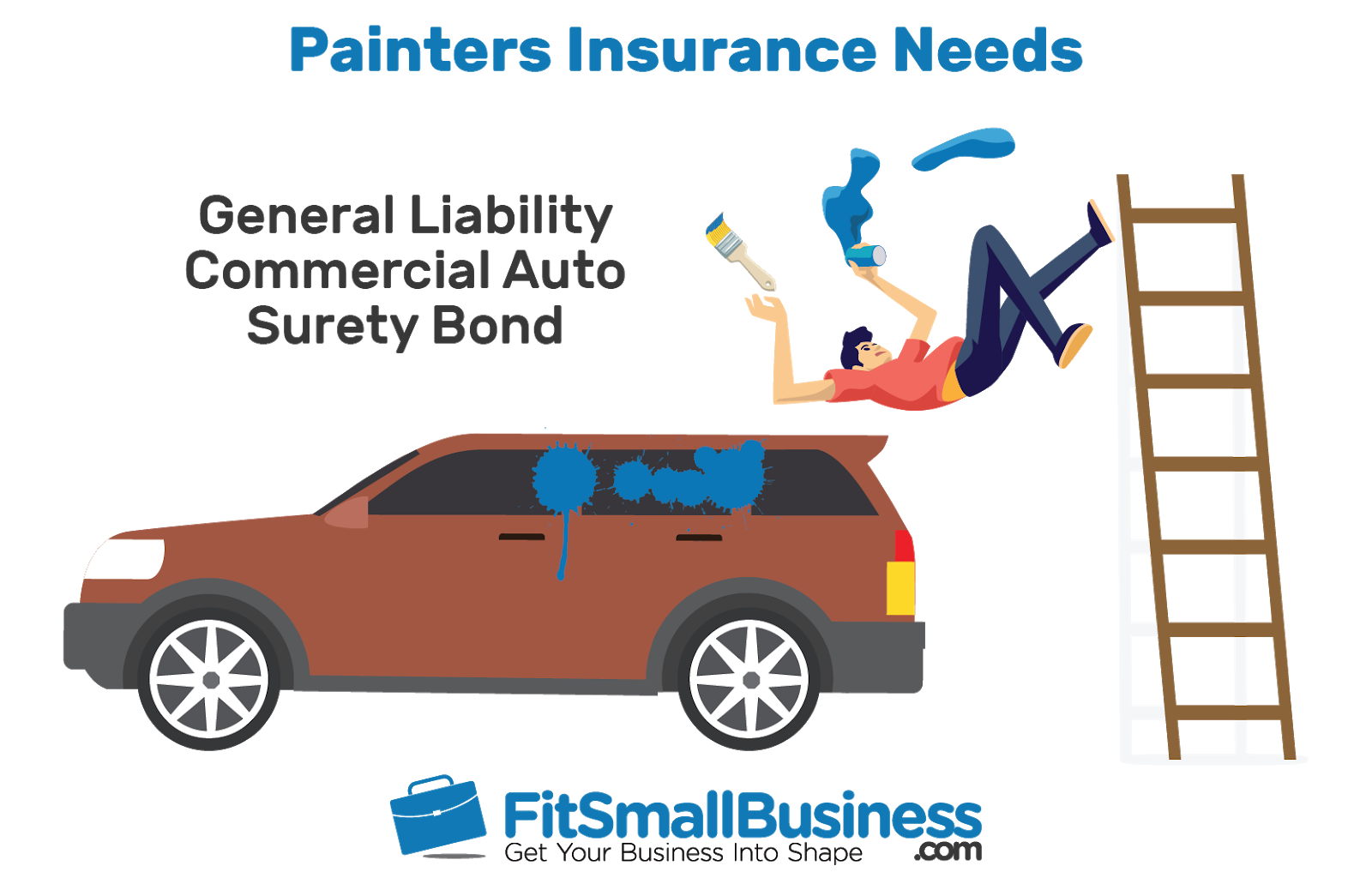 How Painters Insurance Works
Painters insurance is not a specific type of insurance but rather a combination of insurance policies that fit the coverage needs and unique risks of professional painters. The most important insurance type that painters need is CGL, which covers third-party bodily harm, property damage as well as costs arising from related lawsuits.
Although a CGL policy covers your primary risk exposures, some painters need other types of coverage. A painter with employees needs workers' compensation insurance. Personal trucks and vans used for business are typically excluded from coverage on personal auto insurance, thus requiring commercial auto. Tools, materials, and supplies are covered by business property insurance.
Who Painter Insurance Is Right For
All painters benefit from at least some form of painters insurance. If you do contracting or subcontracting work, it's smart to be licensed and bonded. Some states mandate painters carry general liability insurance for licensing, and most have minimum bond requirements.
The following states require general liability proof of insurance to get a painter's license:
Alaska
Arkansas
Colorado
Connecticut
Georgia
Hawaii (plus workers' comp)
Maryland
Minnesota
Mississippi (plus workers' comp)
Nevada
New York
North Dakota
Oregon (plus workers' comp)
Pennsylvania
Tennessee (plus workers' comp)
Utah (plus workers' comp)
Washington
Even if you are not required to purchase general liability insurance as a licensed painter in your state, it makes sense to have some level of coverage in place. Property damage claims or bodily injury claims average $20,000 to $30,000 per incident. If you don't have this type of cash sitting around to pay someone―plus your attorney fees―insurance is an absolute must.
Painters Insurance Costs
Painter insurance costs for small businesses range between $4,000 and $8,000 per year for general liability coverage with a median deductible of $500. The actual cost of painters insurance for your business will be higher if you need to add other coverage types, such as workers' compensation and commercial auto insurance.
Painters Insurance Costs by Coverage Type
| Type of Insurance | Average Annual Premium | Coverage Amount | Deductible |
| --- | --- | --- | --- |
| Commercial General Liability | $4,000-$8,000 | $1 million per occurrence; $2 million aggregate | $0 |
| Commercial Property Insurance | $750 | $10,000 | $500 |
| Surety Bond | $50-$300 | $10,000-$50,000 | None |
| Commercial Auto Insurance | $1,200-$2,500 | $250,000-$500,000 | $500 |
| Commercial Umbrella Insurance | $400 | $1 million | $0 |
| Workers' Compensation | $4-$38 per $100 in payroll | $500,000 | $500 |
The ultimate cost of painter insurance varies widely among small business owners. For example, an independent sole proprietor typically has lower insurance costs than a large company that does commercial projects.
Some painters purchase a BOP because it combines general liability, property insurance and possibly other coverage types they need, such as inland marine. Policies such as workers' compensation cannot be added to a BOP and can be purchased standalone policies.
How Location and Type Affect Painter Insurance Costs
Two of the most significant factors affecting general liability insurance and workers compensation costs for painters is the type of painting you do and the location where it is performed. A painter who works exclusively indoors typically sees significantly lower rates than one who works outdoors. Those who work on higher buildings often pay even more simply because the risk goes up for injuries from falling and dropping items.
Example of Premium Rates by Job Type
| Type of Painter | Typical Annual General Liability Premium |
| --- | --- |
| Interior Only | $4,000 |
| Signs Exterior Only | $5,000 |
| Exterior Under Three Stories | $7,200 |
| Exterior Above Three Stories | $8,500 |
Additionally, your costs may increase for things such as third-party waivers and waivers of subrogation. The third-party waivers release liability from landlords or clients due to your business operations. A waiver of subrogation allows you to bid on bigger jobs general contractors (GC) offer without forcing the GC to assume liability for your work. This releases his need to purchase insurance that covers you in a
contractor controlled insurance program (CCIP)
.
Other Possible Painters Insurance Needs
Most painters can cover the majority of their risk exposures with general liability and commercial property coverage. However, when it comes to small business insurance, it's always smart to protect what you've worked hard to build. Painters should consider getting extra coverage where it is needed.
There are two other types of insurance that painters may need are commercial umbrella insurance and workers' compensation.
1. Commercial Umbrella
Commercial umbrella insurance is like backup insurance that extends coverage to other liability insurance policies. Umbrella liability adds extra coverage to policies such as general liability, commercial auto, and workers' compensation insurance. By having to add an umbrella policy, a painter can reduce their overall insurance costs compared to increasing limits on all three underlying policies.
For example, let's say your scaffolding falls on a child, leading to permanent disability. The parents sue for $2 million, but your general liability insurance limit is only $1 million, so you're on the hook for the remaining $1 million. However, if you have an umbrella policy with an additional $1 million in coverage, the claim is covered. Most umbrella policies also include legal fees as part of coverage, but this doesn't count toward the aggregate total coverage cap.
2. Workers' Compensation
For painters with employees, workers' compensation is required coverage in most states. Workers' compensation insurance provides benefits to your employees in the event of work-related injuries or illnesses. Coverage includes medical bills, wages from lost work time, rehabilitation services, and legal defense to fight fraudulent claims.
The cost of coverage depends upon risk exposures, the number of employees working for you, and the state where you work. However, the cost of workers' comp varies by state, but rates will be at least $4 per $100 in payroll for annual premiums. Some states allow contractors to get an exemption for workers' compensation, but this exemption is only good if you meet the independent contractor or microbusiness employee parameters.
Tips When Applying for Painter Insurance
There is much to consider when purchasing painter insurance. Costs vary widely and how you choose your insurance greatly affects the coverage you have and protections you will enjoy from the policies.
Prepare Information Needed for Painting Contractor Insurance
For an accurate quote, you will need any information regarding your annual revenues, payroll, and type of painting jobs you most commonly perform. Rates are partially defined by industry risk and business volume, which is determined by revenues. Payroll determines your workers' compensation needs.
Get Multiple Quotes and Choose a Provider
When shopping for an insurance policy, be sure to get quotes from multiple providers. More importantly, pick a provider who knows small business insurance as well as the painting industry. With multiple quotes, you'll be able to make an informed decision about the best painter insurance at a price that works for your business.
Get Enough Painters Insurance Coverage
Talk to a provider about minimum policies, but make sure to have a conversation about higher limits. Getting twice as much coverage rarely costs twice as much, so you should consider the total risk to your company for claims before finalizing coverage limits.
"Painting has a lot of potential for claims, which is why I would say that anyone who does painting as a job should have insurance. Painters have general liability exposure, such as dropping paint or tools that could fall and injure a person or cause damage to property. Most insurance packages will have coverage for general liability issues like slip and falls."
—Matt Straley, Agency Manager, Insurance Consultants of Pittsburgh
Properly Define Your Painters Business
Insurance companies rate painters risk based on whether you paint inside or outside as your primary job function and how high up you go to get the job done. Anything over three stories is usually considered a new risk class. Make sure you explain to the insurance company what your typical duties include so that you get the right coverage and don't risk a claim being denied by an oversight in your application disclosures.
"There are several elements that can affect insurance prices. For painters, costs vary depending on whether or not you're a residential painter vs commercial painter or if you paint interiors vs. exteriors. Other factors include where you live, how many employees you have, and how many vehicles you own or hire."
—Hannah Sullivan, Co-founder, Pogo Insurance
Frequently Asked Questions (FAQs)
Painters insurance is a major part of a painter's overhead costs.
What kind of insurance does a painter need?
Painters should consider the risks to their business' financial strength and select the right combination of policies to protect it. The most common insurance types painters get is general liability, business property, workers' compensation, and commercial auto insurance.
Why am I being asked for a COI?
A COI states your policies' liability limits, so clients, landlords, and general contractors could ask for one to verify your current painters insurance coverage. Some parties might also ask to be named as additional insureds for specific jobs such as a major client home renovation or a development project.
Is insurance required for a painter's license?
Not every state requires insurance to obtain a state painter's license. Contact your local contractor's board to see what the requirements are if any. Some states don't have any requirements while others may require insurance, bonds, or both.
Bottom Line
Painters insurance is a wise investment whether you are an independent contractor, a residential or commercial contractor, or an interior or exterior specialist. Insurance requirements for each painting business will be unique, but each needs at least some level of coverage. Most painters insurance costs start between $400 and $800 annually.
To ensure you get the coverage your business needs without overpaying, it's important to find the right insurance provider. CoverWallet is an insurance broker that offers insurance policies through an easy-to-understand application. Simple questions you answer help them find the ideal insurance provider for your business needs.