Painters insurance isn't a type of coverage, but most painters are looking for commercial general liability insurance that covers customer property damage and injury lawsuits. The average cost of general liability for painters typically ranges from $400 to $800 per year. Some painters may need other insurance types like workers' compensation and commercial auto insurance.
Hiscox offers painters insurance policies that are easy to understand and tailored to the needs of your business. Whether you're a mature company bidding on large contracts or just getting started, Hiscox can help you find affordable insurance. Fill out their short form to get a no-obligation quote online in minutes.
Top Painters Insurance Providers
| Provider | Best For |
| --- | --- |
| Hiscox | Painters wanting a large, highly rated provider with a wide range of coverage types. |
| AP Intego | Nationally licensed agents provide multiple insurance quotes from industry leading providers. |
| Progressive Commercial | Painters needing commercial auto insurance and a large insurance provider. |
| Trusted Choice | Large broker with access to multiple carriers. |
| CoverWallet | Low-cost coverage for painters needing quick access to certificates of insurance. |
How Painters Insurance Works
Painters insurance is not a type of insurance itself but rather a combination of insurance types that fit the coverage needs of professional painters. The most important insurance type that painters need is commercial general liability (CGL), which covers third-party bodily harm, property damage and costs arising from related lawsuits.
Although a CGL policy covers your primary risk exposures, some painters need other types of coverage. When you need multiple insurance types, it can be smart to get a business owners policy (BOP), which bundles coverage types together for greater cost-efficiency. A standard BOP includes CGL coverage and commercial property insurance and most insurance providers allow for other coverage types to be added to the BOP.
Common Types of Painters Insurance
| Insurance Type | What It Covers |
| --- | --- |
| Commercial General Liability | Third-party claims for bodily injury, property damage, medical payments and personal and advertising injury |
| Commercial Auto Insurance | Accidents involving vehicles used for business, including bodily injury liability, property damage liability and medical payments |
| Surety Bond | A guarantee to potential clients that you can fulfill commercial jobs; protects clients against liability and malpractice |
All painters need commercial general liability insurance to protect against third-party claims from bodily injury or damage to others' property. Commercial auto insurance is for vehicles used for the business. Keep in mind that personal auto insurance won't cover your commercial truck or van.
A BOP includes general liability and commercial property insurance if this combined coverage is necessary. Solo painters working on location may not need the BOP. If needed, most insurance companies allow you to add certain other coverage types to the BOP.
Painters Insurance Providers
When looking for painters insurance providers, it's wise to seek companies that have a history of working with small businesses and those that understand the needs of painters and contractors. Also, it's good to get quotes from at least three different providers. Getting multiple quotes ensures that you find the right coverage at a price that you can afford.
To help in your search for providers, we've researched five insurance companies that offer painters insurance to small businesses:
Hiscox is a large insurance provider that does a good job of delivering quick quotes, broad coverage and quality service. An A-rated provider, Hiscox starts its painters insurance with commercial general liability and builds a package from that foundation to meet the needs of a wide range of painting business owners.
Hiscox is a good choice for painters needing a full range of coverage types beyond the basic general liability and property coverage with a highly rated provider.
AP Intego's nationally licensed agents will shop and compare rates from industry leading providers such as AmTrust and Travelers. They can provide quotes for commercial liability, commercial auto and surety bonds. With AP Intego you can choose multiple payment options, and receive complementary ongoing support for each policy purchased.
Large insurance companies can offer sound financial backing and quality customer service and Progressive Commercial is a provider that fits this space for small business owners. Its Progressive Advantage Business Program helps create a custom fit for the needs of small business owners, including packages for painters insurance.
Progressive's best product is commercial auto insurance; therefore, it works best for painters with commercial vehicles and a preference for working with a large provider.
Trusted Choice is an independent insurer that has access to multiple providers. This flexibility enables the insurer to do the research for you to find the best provider for your painters insurance needs. Working with an independent broker can also help to find coverage at competitive pricing.
Trusted Choice is a good option for painters wanting to work with an independent provider that can choose coverage from multiple carriers.
CoverWallet offers the primary coverage needed for painters, including General Liability, Professional Liability, Workers' Compensation, and more. CoverWallet can be a good match for small businesses with a need for painter insurance. Their rates for General Liability start at as low as $39 per month, and they can get you a certificate of insurance (COI) quickly.
Painters Insurance Costs
Painters insurance costs for small businesses average between $400 and $800 per year for general liability coverage with a median deductible of $500. The actual cost of painters insurance for your business will be higher if you need to add other coverage types, such as workers' compensation and commercial auto insurance.
Painters Insurance Costs by Coverage Type
| Type of Insurance | Average Annual Premium | Deductible |
| --- | --- | --- |
| Commercial General Liability | $400 to $800 | $500 |
| Commercial Property Insurance | $750 | Varies based on property value |
| Surety Bond | $100 | Varies based on coverage amount required |
| Inland Marine Insurance | $350 | None |
| Commercial Auto Insurance | $750 to $1,200 | $500 |
| Commercial Umbrella Insurance | $400 | Varies based on coverage amount needed |
| Workers Compensation | $1 to $2 per $100 in payroll | None |
The ultimate cost of painters insurance varies widely among small business owners. For example, an independent sole proprietor will have lower insurance costs than a large company that does commercial projects.
Some painters purchase a BOP because it combines general liability, property insurance and possibly other coverage types that are needed, such as inland marine. None of the other painters insurance types can be added to the BOP. but they can be added onto standalone policies.
The cost of painters insurance depends upon several variables, according to Hannah Sullivan, Co-founder, Pogo Insurance:
"There are several elements that can affect insurance prices. For painters, costs vary depending on whether or not you're a residential painter vs. commercial painter or if you paint interiors vs. exteriors. Other factors include where you live, how many employees you have and how many vehicles you own or hire."
How to Apply for Painters Insurance
Although insurance coverage needs for painting businesses vary, the steps to apply are the same. For example, if you're a sole proprietor with no employees, you may only need commercial general liability coverage. However, a larger commercial operation with employees needs several coverage types. However, both approach the application process in a similar way.
No matter which type of painting business you operate, there are three primary steps in applying for painters insurance:
1. Prepare Information Needed for Painting Contractor Insurance
The information you provide during the application process helps determine the right types of insurance and the coverage limits that are sufficient to protect against your primary risk exposures as a painter. Some of this information you'll know from memory, but you may need to gather some documents to provide all of the information needed for a complete application.
Information and documents needed to apply for painting contractor insurance include:
Business contact information, such as address and tax ID, if applicable
Number of employees
Number and value of vehicles used for the business
Value of equipment, tools and supplies you haul to and from job sites
Number of years you've worked in the painting business
Number of years your business has existed
Details of any other insurance you currently have
Claims history (at least the past three years)
Insurance requirements, such as licensing and bonding
Be sure the information you provide is complete and accurate. This way your insurance agent or broker will be able to recommend the right coverage for your business.
2. Get Multiple Quotes and Choose a Provider
When shopping for an insurance policy, be sure to get quotes from multiple providers. More importantly, the provider will be knowledgeable of insurance needs of small business owners as well as the painting business. With multiple quotes, you'll be able to make an informed decision about the best painters insurance at a price that works for your business.
3. Complete Painters Insurance Application Fully
After getting multiple quotes, applying with your chosen provider is the final step. Completing the application sounds obvious, but what's important here is that you don't leave out information. You don't want to overlook any risk exposures nor is it wise to make false statements, even if it is accidental. Incomplete information or dishonesty can lead to a rejected claim or insurance fraud.
Hiscox has an online application that makes it easy for painters to get the right coverage. Get a quote online in minutes.
Common Types of Painters Insurance
Depending on the size of your painting business, you may need only one type of painters insurance or you may need several different types of coverage. For example, if you are a sole proprietor with no employees, you may be sufficiently covered with just general liability insurance. However, if you have a larger business with employees and vehicles, you need more insurance coverage.
There are up to three common types of painters insurance, including:
1. Commercial General Liability
CGL insurance covers third-party bodily injury, property damage and related legal costs. CGL is the most important insurance for painters because they work directly with the public in various work locations away from their own premises. Accidents leading to injuries or property damage are a significant risk exposure to painters. Also, some states require CGL coverage to obtain a painters license.
An example of an accident leading to a claim on your general liability policy would include a client tripping over your ladder and getting injured as a result. The ladder then falls and crushes his or her new television. Your CGL policy would cover the medical bills and the damage to the television up to the limits of the policy and after any applicable deductible.
Most CGL policies for painters also include a coverage called products completed liability. This covers liability arising after you've delivered a product or completed a service to clients away from your premises. For example, a month after you completed a painting project, the paint starts peeling and the client sues you for poor workmanship.
2. Commercial Auto Insurance
Like personal auto insurance, commercial auto insurance can include several coverage types, including bodily injury liability, property damage liability, medical payments and more. The general rule on the requirement for buying this coverage is that, if you use a vehicle for business other than commuting to and from work, you need commercial vehicle insurance.
For example, many painters use a truck or van to travel to and from the project site. If you get into an accident and your vehicle is damaged, another vehicle is damaged and the passengers in the other vehicle are injured, commercial vehicle insurance helps cover the repairs on both vehicles and the medical payments for bodily injury.
3. Surety Bond
A surety bond is a three-party financial guarantee between the principal (you), an obligee (your client or a local government) that requires the bond and a surety (insurance company) that produces the bond. By posting a surety bond, you are promising to perform a job ethically and according to the requirements of the obligee.
For example, when you are required to be bonded, it means a surety bond is required for a job or contract. Local governments may require a surety bond from you because they want assurance contractors to follow their building codes and other regulations. Check your local laws to see if you need to get bonded. For more details, see our articles on what a surety bond is and the different types of surety bonds.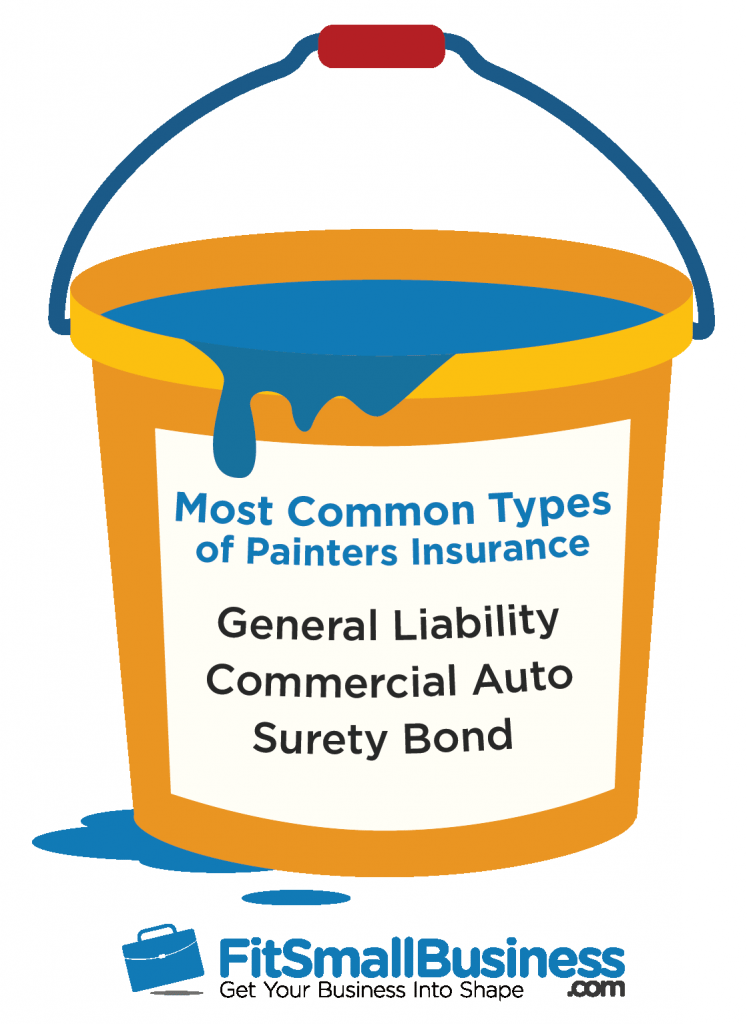 Other Types of Painters Insurance You May Need
Most painters can cover the majority of their risk exposures with general liability and commercial property coverage. However, when it comes to small business insurance, it's always smart to protect what you've worked hard to build. Painters should consider getting extra coverage where it is needed carefully.
There are four other types of insurance that painters may need:
1. Inland Marine
Painters work on location, which means that they spend large amounts of time moving from one job to another. Inland marine insurance is needed to cover your painting equipment, tools and supplies while in transit from one job to another. Commercial auto insurance doesn't cover these items and commercial property does not protect your assets while in transit.
For example, if you are in a traffic accident and all of your equipment and supplies are destroyed or damaged beyond repair, inland marine insurance covers these assets. However, commercial auto insurance only covers the damage to your vehicle.
2. Commercial Property
If you own or lease a building, commercial property insurance is a wise investment. This coverage protects the assets of your business, such as your building and the contents within it. Commercial property insurance protects against losses due to fire, theft, vandalism and extreme weather. Because theft is a top risk among small business owners, property insurance should not be overlooked.
For example, painters need their equipment and tools to do their work. If these valuable assets were lost to fire or theft, the business would experience a severe financial setback. It's also important to keep in mind that, if your business headquarters is located at your personal residence, your home insurance may not cover damage to business assets.
3. Commercial Umbrella
Commercial umbrella insurance is like backup insurance that extends coverage to other insurance types. Third-party liability is the greatest financial risk to painters, which means that extending the coverage limits on your commercial general liability can be a good idea. Also, adding umbrella insurance may cost less than increasing the limits on general liability for painters.
An example where commercial umbrella can help is the case of a lawsuit. If you are sued for third-party bodily injury or property damage, the related legal expenses and settlement charges can far exceed the medical payments or replacement cost on the property. If the legal expenses are $1.5 million but your general liability limit is $1 million, umbrella insurance can cover the extra $500,000.
4. Workers' Compensation
For painters who are business owners or contractors with employees, workers' compensation is required coverage. The cost of coverage depends upon risk exposures, the number of employees working for you and the state where you work. However, the cost of workers' comp varies by state but rates will be at least $1 to $2 per $100 in payroll for annual premiums.
Workers compensation insurance provides benefits to your employees in the event of work-related injuries or illnesses. Coverage includes medical bills, wages from lost work time and more. If you have employees, most states require workers' compensation coverage.
Who Needs Painters Insurance
Whether you are a sole proprietor or an employer, all painters who are business owners need at least some form of painters insurance. If you do contracting or sub-contracting work, it's smart to be licensed and bonded. To be licensed, painters need commercial general liability coverage at a minimum. To get into to certain contracts, painters need a surety bond.
Painters have unique risks that need to be covered, according to Matt Straley, Agency Manager, Insurance Consultants of Pittsburgh:
"Painting has a lot of potential for claims, which is why I would say that anyone who does painting as a job should have insurance. Painters have general liability exposure, such as dropping paint or tools that could fall and injure a person or cause damage to property. Most insurance packages will have coverage for general liability issues like slip and falls."
The Bottom Line
Painters insurance is a wise and necessary investment if you work in the painting industry, whether you are an independent worker, a residential or commercial contractor or an interior or exterior specialist. Insurance requirements for each painting business will be unique but each needs at least some level of coverage. For most small business painters, coverage will cost between $400 and $800 per year.
In ensure you get the coverage your business needs without overpaying, it's important to find the right insurance provider. Hiscox offers insurance policies that are easy to understand and tailored to your needs. You can get coverage in minutes by filling out their simple online application.