Photography Insurance: Cost & Policy Types
Professional photographers and videographers need photography insurance to protect their assets from the cost of lawsuits and property damage. Typically, that means having general liability, professional liability, and equipment coverage. General liability and professional liability insurance for photographers typically costs between $1,250 to $2,300 per year, depending largely on the risks attributed to your line of work, but also your clientele, venues, and equipment.
Getting affordable insurance for your photography business is easier when you work with a broker like Simply Business. You can use its simple online application to get multiple quotes and buy the right insurance for your business in minutes.
Key Photographer Insurance Costs by Policy
Every photography business is different, so the cost of insurance is different for every business. Some may only need insurance for their camera equipment or to cover their costs if they're sued by a client. Others may have staff and a studio to worry about, so their costs are going to be higher.
The three most common coverages photographers need are general liability, commercial property, and professional liability. Altogether, these policies cost around $1,500 to $2,900 annually. That cost is driven by a few primary factors, including the photographer's operations and equipment value and whether they own or rent their studio.
Policy

Coverage Limits

Estimated Annual Premium

Deductible

General Liability

$1 million per occurrence

$2 million per aggregate

$350 to $800

$0

Commercial Property

$15,000

(equipment only)

$300 to $600

$1,500

Professional Liability

$1 million per occurrence

$1 million aggregate

$900 to $1,500

$500

Inland Marine

$15,000

$450 to $750

$1,500

Business Owners' Policy (BOP)

$1 million per occurrence

$2 million aggregate

$15,000 business property

$500 to $3,700

Property deductible from $500 to $1,000
It's unlikely that photographers need every policy. Plus, professional photographers who don't have a studio open to the public might not need as much commercial property or general liability coverage and may see overall costs on the lower end of the scale.
Other factors that can affect the cost of photographer insurance are:
Deductibles: Higher deductibles generally decrease the premium but mean more out-of-pocket costs to you when you have claims.
Coverage limits: Lower coverage limits also place more financial risk on you but can decrease the cost of your annual premium.
Your revenue: Insurers assume that businesses that make more money have more to lose and raise costs accordingly.
Your employees: In addition to making workers' compensation necessary, hiring more staff usually means greater liability risk. This can increase your premium.
Your claims history: This can be a red flag for insurers and, typically, they charge higher rates if they think you're going to cost them money by filing more claims.
What Business Insurance Policies Do Photographers Need?
The specific policies you need depend on how you run your business. At a minimum, most photographers need general liability insurance in case they're sued over injuries or property damage, such as if a client sues you over an accident at a photoshoot. But they should also consider getting commercial property insurance to cover their equipment. Photographers can get both of these coverages in a business owner's policy (BOP) for a minimum annual premium of around $500.
From there, you have to look at what risks your business faces. For example, you may need additional business insurance if you:
Hire employees: Adding staff increases risk and makes workers' compensation insurance mandatory in most states.
Store client information in computers: Photographers should consider getting cyber liability insurance in case hackers access digital data like credit card numbers or client images.
Host photoshoots away from your studio: Commercial property insurance only covers your equipment at the address listed on the policy. Equipment in other locations requires inland marine insurance.
Work in advertising: General liability covers advertising injuries like copyright infringement, except for businesses that engage in media-related activities. Media professionals have this exposure covered with media liability insurance.
Run a live movie set or produce films: Filmmakers may need entertainment production insurance to cover their extensive property and increased liability risks.
Take aerial photos: Operating a drone increases your exposure to liability claims that aren't included in other policies, so photographers who use unmanned aerial vehicles typically need unmanned aerial vehicle (UAV) coverage added to their general liability insurance.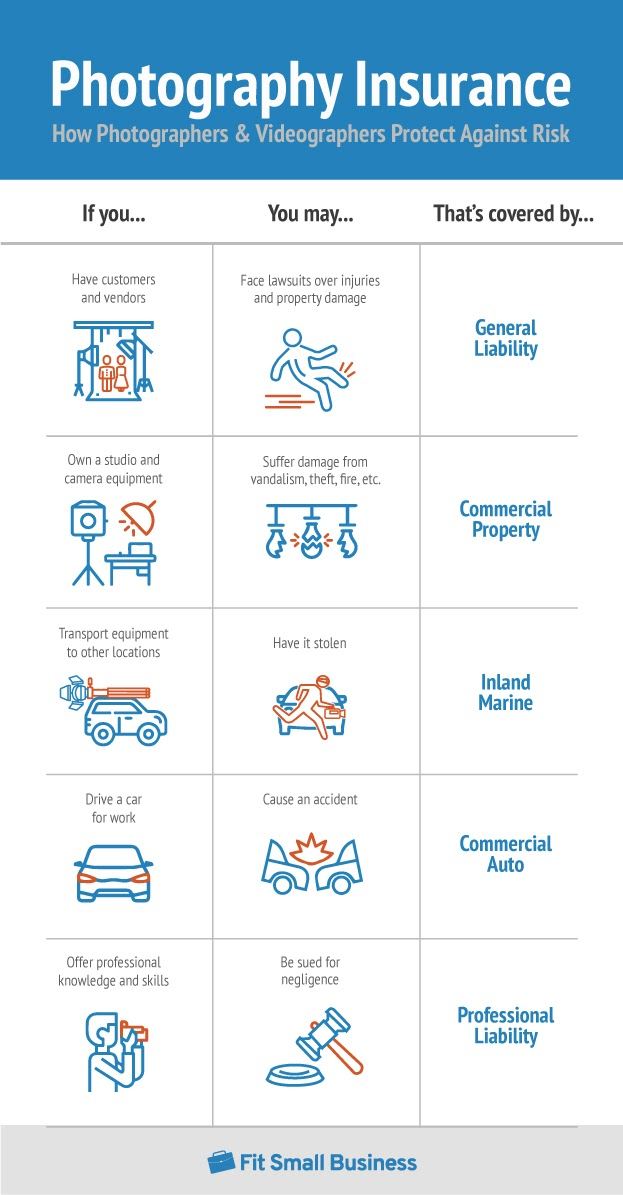 Most Common Photography Insurance Policies
| Policy | What It Covers |
| --- | --- |
| General Liability | Accidental bodily injury or property damage to third parties |
| Commercial Property | Business-owned photography studios and/or equipment that gets damaged or destroyed |
| BOP | Combination of general liability and commercial property at a lower premium rate |
| Inland Marine | Photography equipment as it moves to different locations |
| Commercial Auto | Your liability in accidents in business-owned vehicles |
| Professional Liability | Legal costs from lawsuits over professional errors, omissions, and negligence |
Click through the tabs for more information on the most common types of insurance policies for photographers.
General liability insurance covers your legal fees in third-party claims for bodily injury or property damage. It's a core coverage because liability lawsuits are a significant financial risk for most photographers. Many venues require photographers to carry a minimum amount of general liability before they contract with them.
Third parties are essentially any nonemployee, so a general liability lawsuit might pop up if:
A client claims your assistant shattered their plate glass window with a tripod.
A delivery person trips on the sidewalk leading to your studio.
An electrical fire in your studio causes smoke damage in a neighboring shop.
In events like these, general liability pays your legal fees, plus many policies cover the cost of immediate medical attention for injured customers, vendors, and other third parties.
Note: A certificate of insurance is a standardized, one-page document that lists your business' policies and coverage limits. Using this to show your vendors that you meet their requirements is an advantage over your competition. It should be noted that some insurance companies charge a small fee for every certificate created, which can add up if you're hired to shoot in multiple areas.
Commercial property insurance covers business-owned structures and the contents of those structures. For photographers, that may include studio and office space and any furniture or fixtures within. This can also mean just your photography equipment—this is called contents-only and typically is purchased by photographers who rent studios and offices.
Most commercial property policies have a blanket limit—essentially, a single limit for all the property at one location. Unfortunately, that limit may be insufficient if an event takes out all of the equipment your business relies on at once. This may make scheduling your most valuable equipment a good idea. Scheduling means you list specific items and give them separate limits in your policy. Typically, it increases your overall premium, but provides better protection for your business.
Any business that relies heavily on equipment will need to know the difference between replacement cost value (RCV) and actual cost value (ACV) property coverage. RCV pays the full replacement cost of your business property—thus providing you with enough coverage to either repair or replace damaged or stolen equipment with something of similar quality—while ACV covers the cost of your property minus depreciation.
Most photographers can get their general liability and property insurance in a BOP. This is a package policy insurers developed to get small business owners these fundamental coverages at a reduced rate. For example, a photographer might pay $600 to $1,400 for the two policies, but only $500 to $700 for a BOP that combines them.
Inland marine insurance is a type of property coverage known as a floater. It's called that because the coverage moves, or "floats," with the property it insures. For example, inland marine might be triggered if you:
Drop your new camera into the ocean when meeting clients at the pier for a photoshoot.
Leave your gear unattended in your car, and someone steals it.
Destroy your lenses, computers, and cameras in a car accident.
Because working on location is so common in the industry, many carriers who specialize in photography insurance include inland marine automatically in their property coverage. This is by no means a hard-and-fast rule, so you should ask your agent about it.
Commercial auto insurance can cover both business-owned automobiles and business driving in personal vehicles. Most states require at least some liability insurance in case you cause an accident, but many business owners add other coverages for greater protection, such as:
Collision: Pays for damage your business-owned auto sustains in an accident
Comprehensive: Pays for damage caused by something other than an accident
Medical payments: Pays for immediate medical care for you, your insured driver, and your passengers
Photographers who drive their personal automobiles for business purposes are usually underinsured if they don't have commercial auto coverage. Many insurers exclude commercial use in their personal auto policies, but you may be able to add a commercial auto rider to your general liability insurance.
Professional liability insurance, sometimes called errors and omissions (E&O), covers your legal fees when someone claims your negligence cost them money. For photographers, negligence claims usually stem from allegations that you failed to provide or made mistakes in providing contracted services, such as:
Missing specific shots at a client's wedding
Overexposing film for a client
Failing to send requested proofs by the client's deadline
As a photographer, you know client expectations can be hard to meet. They may sue because they don't like your work, but most professional liability policies cover your legal fees even in frivolous lawsuits.
Are you already convinced to get business insurance? Check out our list of the best photography insurance companies based on low premium costs and coverage that will suit every business need and risk.
Other Photography Insurance Policies
Photographers often need to add the venues they contract with as additional insureds to their existing liability coverage. So, adding venue owners as additional insureds protects them but may cost you an extra $15 or $30 every time you do it. On the other hand, some insurers offer a blanket additional insured endorsement, granting additional insured status automatically to any entity that requires it per their contract.
Photographers can also consider getting cyber liability insurance, which essentially protects your business from data breaches and cyberattacks. Costs for this will vary depending on the number of photos and videos you're saving and the corresponding risks.
Bottom Line
Most professional photographers can cover their greatest risk exposures by purchasing general liability and commercial property insurance. Insurers typically offer a business owner's policy that combines these coverages into one high-value, low-cost policy.
Photographers can easily get liability insurance with Simply Business. The online application is short, and its team of nationally licensed agents shops the information to multiple carriers, giving you a chance to find coverage that's right for your business at an affordable price.