Professional photographers and videographers need photography insurance to protect their assets from the cost of lawsuits and property damage. Typically, that means having general liability, professional liability, and equipment coverage. Insurance for photographers may cost $250 to $1,800 per year depending largely on the coverage you choose, but also your clientele, venues, and equipment.
Getting affordable insurance for your photography business is easier when you work with a broker like Simply Business. You can use its simple online application to get multiple quotes and buy the right insurance for your business in minutes.
Top Photography Insurance Companies
Provider
Best For

Comparing quotes for general liability and professional liability insurance

Multiple coverages in a single package for media professionals

Low-cost general liability insurance for home-based photographers

Customizable business owner's policy (BOP) for photographers and videographers

PPA members who want to low-cost equipment coverage

Last updated 05/13/2020.
Photographers and videographers usually have three options for getting insurance. The two most common are insurance carriers that create their own policies and brokers who are independent sellers. The third option is getting insurance through a professional trade association, which can be the most affordable but typically requires membership. Our list includes examples of all three providers.
Simply Business
As an online broker, Simply Business works with multiple top-rated insurance carriers, including Travelers and CNA, to bring policies to small business owners. Photographers who need affordable general liability or professional liability coverage should fill out the company's online application. It's easy to complete and often returns multiple quotes to compare. That away, photographers can choose the coverage that best suits their operations and budgets.
Hill & Usher
Photographers and videographers who want multiple coverages combined in a single program should look at Hill & Usher'sPackage Choice. It offers a long list of policies designed specifically for media professionals, including errors and omissions (E&O) and property coverage for both primary location and equipment in transit. Minimum premium for Package Choice is $500 per year, but Hill & Usher also has basic policies for less.
Hiscox
Hiscox is a top small business insurance carrier and offers quality products at affordable prices to a wide range of industries, including photographers. The company is a particularly good choice for photographers who run their businesses out of their homes. The company's general liability policy starts at $350 per year, and home-based businesses can get up to 5% off their premium. Photographers who choose to get their professional liability insurance from Hiscox can get an additional 5% discount.
The Hartford
The Hartford is another carrier with a long history of tailoring insurance policies for small businesses. For photographers, tailored insurance starts with a business owner's policy (BOP) that bundles general liability, property, and business income coverage that automatically includes damage to electronic data and lost income from cloud service interruptions. Photographers can then customize their BOPs with potentially valuable endorsements like worldwide liability coverage.
Professional Photographers of America
Photographers who join the Professional Photographers of America (PPA), the largest nonprofit photography association in the world, get $15,000 of equipment coverage included in their memberships and can increase coverage at a low cost. The membership level that includes equipment coverage costs $323 per year.
Why Photographers Need Business Insurance
Photographers, even freelancers and sole proprietors, need to protect their business assets. Insurance does this by covering certain costs, like attorney's fees if you're sued or repair bills if your camera is damaged. Without business insurance, photographers would have to pay these expenses out of their own pockets.
This is true for home-based businesses too. Most homeowner's policies exclude business activities, so photographers with home studios should consider getting commercial coverage.
What Business Insurance Do Photographers Need?
The specific policies you need depend on how you run your business. At a minimum, most photographers need general liability insurance in case they're sued over injuries or property damage, like a client suing over an accident at a photo shoot. But they should also consider getting commercial property insurance to cover their equipment. Photographers can get both of these coverages in a business owner's policy (BOP) for around $550.
From there, you have to look at what risks your business faces. For example, you may need additional business insurance if you: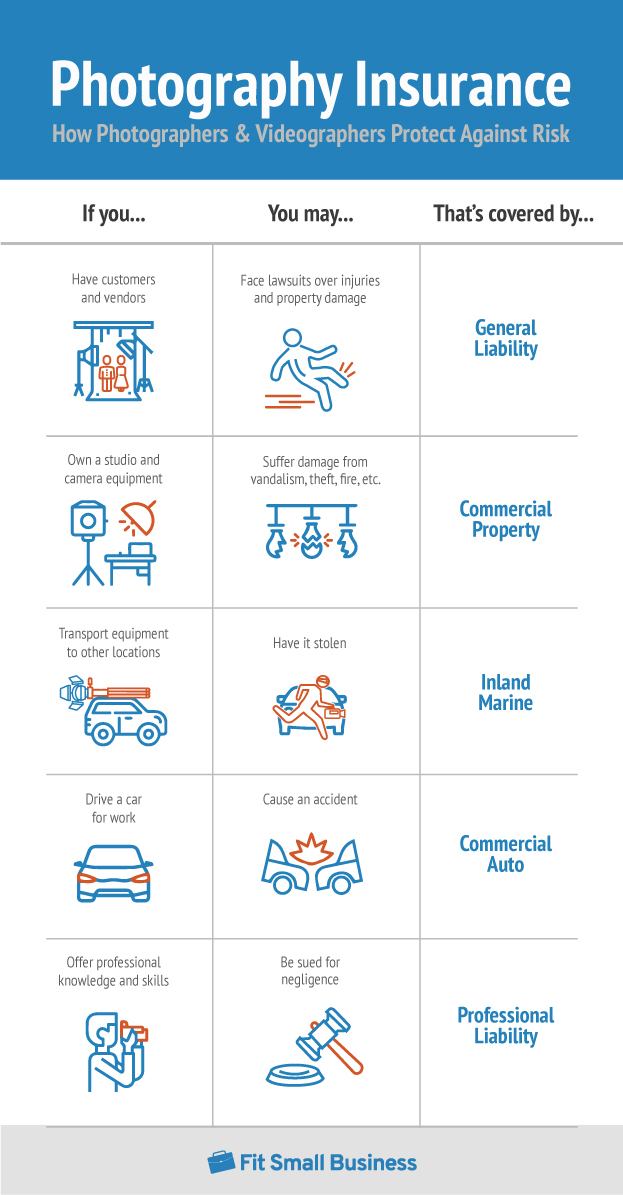 Most Common Photography Insurance Policies
Type of Insurance
What It Covers

General Liability

Accidental bodily injury or property damage to third parties

Commercial Property

Business-owned photography studios and/or equipment that gets damaged or destroyed

Inland Marine

Photography equipment as it moves to different locations

Commercial Auto

Your liability in accidents in business-owned vehicles

Professional Liability

Legal costs from lawsuits over professional errors, omissions, and negligence

Last updated on 05/13/2020.
General Liability Insurance
General liability insurance covers your legal fees in third-party claims for bodily injury or property damage. It's a core coverage because liability lawsuits are a significant financial risk for most photographers. Many venues also require photographers to carry a minimum amount of general liability before they contract with them.
Third parties are essentially any nonemployee, so a general liability lawsuit might pop up if:
A client claims your assistant shattered their plate glass window with a tripod
A delivery person trips on the sidewalk leading to your studio
An electrical fire in your studio causes smoke damage in a neighboring shop
In events like these, general liability pays your legal fees, plus many policies cover the cost of immediate medical attention for injured customers, vendors, and other third parties.
Commercial Property Insurance
Commercial property insurance covers business-owned structures and the contents of those structures. For photographers, that may include studio and office space and any furniture or fixtures within, but it can also mean just your photography equipment. This may be called contents-only and typically is purchased by photographers who rent studios and offices.
Most commercial property policies have a blanket limit—essentially, a single limit for all the property at one location. Unfortunately, that limit may be insufficient if an event takes out all of the equipment your business relies on at once. This may make scheduling your most valuable equipment a good idea. Scheduling simply means you list specific items and give them separate limits in your policy.
Scheduling your equipment typically increases your overall premium, but it also provides better protection for your business.
Inland Marine Insurance
Inland marine insurance is a type of property coverage known as a floater. It's called that because the coverage moves, or "floats," with the property it insures. For example, inland marine might be triggered if you:
Drop your new camera into the ocean when meeting clients at the pier for a photoshoot
Leave your gear unattended in your car, and someone steals it
Destroy your lenses, computers, and cameras in a car accident
Because working on location is so common in the industry, many carriers who specialize in photography insurance automatically include inland marine in their property coverage. This is by no means a hard-and-fast rule, so you should ask your agent about it.
Commercial Auto Insurance
Commercial auto insurance can cover both business-owned automobiles and business driving in personal vehicles. Most states require at least some liability insurance in case you cause an accident, but many business owners add other coverages for greater protection, such as:
Collision: Pays for damage your business-owned auto sustains in an accident
Comprehensive: Pays for damage caused by something other than an accident
Medical payments: Pays for immediate medical care for you, your insured driver, and your passengers
Photographers who drive their personal automobiles for business purposes are usually underinsured if they don't have commercial auto coverage. Many insurers exclude commercial use in their personal auto policies, but you may be able to add a commercial auto rider to your general liability insurance.
Professional Liability Insurance
Professional liability insurance, sometimes called errors and omissions, covers your legal fees when someone claims your negligence cost them money. For photographers, negligence claims usually stem from allegations that you failed to provide or made mistakes in providing contracted services, such as:
Missing specific shots at a client's wedding
Overexposing film for a client
Failing to send requested proofs by the client's deadline
As a photographer, you know client expectations can be hard to meet. They may sue because they don't like your work, but most professional liability policies cover your legal fees even in frivolous lawsuits.
Photographer Insurance Costs
Assuming most get BOPs and professional liability, insurance for a freelance photographer costs $1,000 to $1,300 annually. That cost is driven by a few primary factors, including their operations, equipment value, and whether they own or rent their studio. Photographers who own studios and have employees are likely to pay more than $1,300 per year.
Photographer Insurance Costs by Policy
Policy

Coverage Limits

Estimated Annual Premium

Common Deductible

General Liability

$1 million per occurrence, $2 million aggregate

$250-$750

$0

Professional Liability

$1 million per occurrence, $2 million aggregate

$500-$1,500

$1,000

Commercial Property

$15,000, covers equipment only

$300-$600

$1,500

Inland Marine

$15,000

$450-$750

$1,500

BOP

$1 million per occurrence, $2 million aggregate

$350-$500

$500

Last updated on 05/13/2020.
This table shows the typical premiums for many of the policies photographers buy. However, it's unlikely all photographers need every policy. Professional photographers who work on location and without a studio open to the public typically don't need as much commercial property or general liability and may see overall costs on the lower end of the scale.
Other factors that can affect the cost of photographer insurance are:
Deductibles: Higher deductibles generally decrease the premium but mean more out-of-pocket costs to you when you have claims.
Coverage limits: Lower coverage limits also place more financial risk on you but can decrease the cost of your annual premium.
Your revenue: Insurers assume that a business that makes more money has more to lose and raise your costs accordingly.
Your employees: In addition to making workers' compensation necessary, hiring more staff usually means greater liability risk. This can increase your premium.
Your claims history: This can be a red flag for insurers, and they typically charge higher rates if they think you're going to cost them money by filing more claims.
Questions Photographers Should Ask Before Getting Insurance
As a small business owner, you might assume your insurance needs are fairly simple. However, common practices in your industry can complicate things. Below are a few questions you may want to ask to make sure your photography business is appropriately covered.
Do You Charge for Certificates of Insurance?
Vendors often require the businesses they contract with to carry a certain amount of liability insurance. A certificate of insurance (COI) is a standardized, one-page document that lists your business' policies and their coverage limits. You can use this to show vendors you meet their requirements. Unfortunately, some insurers charge a small fee for every certificate they create, and that can add up if you're hired to shoot in multiple venues. If that's a concern, you want to ask your agent if there's an extra charge and factor that into your overall costs.
Is My Property Insurance Replacement Cost or Actual Value Coverage?
Any business that relies heavily on equipment needs to know the difference between replacement cost value (RCV) and actual cost value (ACV) property coverage. RCV pays the full replacement cost of your business property, providing you with enough coverage to repair or replace damaged or stolen equipment with something of similar quality. ACV covers the cost of your property minus depreciation.
While RCV provides greater coverage, getting it isn't automatically the right call for your business. You have to weigh the risk your business faces for suffering a major loss against the extra cost of RCV before you decide which coverage is right for you.
Do You Offer a Blanket Additional Insured Endorsement?
Photographers often have to add the venues they contract with as additional insureds to their liability coverage. This simply protects the venue from being held responsible for any damage the photographer causes. For instance, if you drop a ring light on a client's head, the client may sue you and the venue owner in hopes of recovering more money.
Adding venue owners as additional insureds protect them but costs you an extra $15 to $30 every time you do it. But some insurers offer a blanket additional insured endorsement that automatically grants additional insured status to any entity that requires it by contract. This may be a more cost-effective option for photographers who work with multiple venues.
Are My Assistants Covered?
Both general liability and professional liability policies typically extend coverage to employees, so your assistants are most likely covered. However, if your assistants are independent contractors, then they probably aren't, and that can leave you open to a lawsuit for their actions.
You can protect yourself in two ways. The first is to add independent contractors to your policy, often as additional insureds, and the second is to insist the freelancers you hire carry their own coverage. The first option guarantees they're covered but costs you money. The second costs you nothing—unless a freelancer says she has insurance and does not. Then you may be pulled into a lawsuit stemming from her actions.
Bottom Line
Most professional photographers can cover their greatest risk exposures by purchasing general liability and commercial property. Insurers typically offer a business owner's policy that combines these coverages into one high-value, low-cost policy.
Photographers can easily get liability insurance with Simply Business The online application is short, and its team of nationally licensed agents shop information to multiple carriers, giving you a chance to find coverage that's right for your business at an affordable price.