Limited liability companies (LLCs) are the simplest and most inexpensive business structure in the United States. The pros and cons of LLCs include being easy to form, protecting owners from personal liability, and offering flexible tax options. However, LLCs also make raising money difficult and can misalign owner tax burdens and their earnings from the company.
If you're registering your business as an LLC, consider using IncFile. Currently, IncFile has the lowest cost business registration —$0 plus any state fees. They also provide other LLC legal services including a Registered Agent and an S-corp taxation request. Get your LLC registration started today with IncFile.
Common Pros and Cons of LLCs
| Pros of an LLC | Cons of an LLC |
| --- | --- |
| Protects You From Business Liability | Formation Costs & Annual Fees |
| Easy to Form & Maintain | Self-Employment & Excise Taxes |
| Flexible Tax Structure | More Tax Forms to Deal With |
| Can Have Any Number of Members | Draws Can Misalign Owner Tax Burden |
| Unrestricted Pay to Members | Difficult to Raise Outside Capital |
5 Pros of an LLC
Many business owners use LLCs, with more than 2.2 million LLC tax returns filed in the U.S. in 2012. Limited liability companies come in all shapes and sizes, including very large companies like Koch, Cargill and Chrysler. LLCs are easy to set up, have a flexible tax structure and protect owners against personal liability.
The pros of an LLC include:
1. Limited Liability
The biggest advantage of a limited liability company is right in the name — it limits your potential liability as a business owner. If someone gets hurt using a product produced by your business or is hurt on property owned by your company, an LLC can prevent a would-be plaintiff from going after your personal assets.
Some potential liabilities that LLC owners can be shielded against include:
Unpaid business debts: Unless you personally guarantee them
Vendor disputes: If they try to bill more than you owe
Damages: If someone is hurt by your business or on property you own
LLCs liability protection is similar to S-Corps and C-Corps and in contrast to sole proprietorship owners who have unlimited personal liability for the debts and actions of their business. Under a sole proprietorship, if your business borrows or loses money, you are personally liable for those debts. In an LLC, you are only liable if you provide additional personal guarantees.
There are some exceptions in which you can give up your limited liability. This is what's called "piercing the corporate veil." These circumstances include:
Fraud: If, acting through your business, you defraud customers or investors, then you can be open to unlimited personal liability.
Failure to meet LLC requirements: LLCs have certain requirements like holding annual meetings and keeping minutes. Failure to meet these requirements can result in unlimited liability.
Commingling personal and business funds: Failure to segregate business and personal money can leave you personally open to liability incurred through your business. For more information, be sure to check out our article on keeping your business and personal expenses separate.
Using personal money to meet business obligations: If you pay business bills using your personal money, this may leave you open to additional liability.
Insufficiently capitalizing your business at startup: If you don't start your business with enough capital to meet its obligations, you run the risk of being held personally liable for its debts. To learn more about how you can use retirement assets to fund a new business, check out our article on how to use your 401(k) to start a business.
"It's relatively inexpensive and easy to use an LLC, but the main advantage to an LLC is the limited liability. 'Limited liability' isn't always all-encompassing. There are situations under which your LLC might not fully protect your personal assets. For example, if you're guilty of fraudulent behavior, you might still be at risk."

— Josh Zimmelman, President, Westwood Tax & Consulting
Of course, if you're going to have an LLC it's also important that you maintain the right insurance to protect yourself from liability. To learn more, be sure to visit our guide to LLC Insurance.
2. Easy to Create and Administer
It is incredibly easy to set up and administer LLCs. In most states, you can complete a new filing online in just a few minutes, paying with a credit card. You can also use a service like IncFile to help you incorporate, which cuts down on the time further, although it comes with a price.
Then, through the IRS website, you can file to get an Employer Identification Number (EIN) for your business, which you'll need to set up a business checking account. This will help you keep your business and personal expenses separate and avoid the risk of piercing the corporate veil and losing your limited liability status.
The specific steps you need to take in order to incorporate include:
Choose the state where you want to incorporate
File with that state's secretary of state's office
Get an EIN from the IRS
LLCs exist in perpetuity, so long as they are kept current by members or officers. Each year, you need to file an annual report to keep your LLC current, but this can also be completed online quickly.
Once you've created an LLC, the things you need to do to keep your LLC in good standing include:
File annual report: Most states require LLCs to file annual reports to stay current; these filings require a fee and involve updating lists of LLC members and managers
Annual meeting: LLCs are required to hold a formal annual meeting
Keep minutes: You must keep minutes at your annual meeting, no matter how brief
Tax forms: Each year, LLCs need to complete applicable tax forms depending on how they elect to be taxed — most owners choose to file as a partnership and must complete Form 1065; they must also prepare and distribute K-1s to members
Fortunately, you can use a service like Rocket Lawyer or employ a lawyer to help you through this process. This is in contrast to other types of business structures that can be much more difficult to get started. A few other types of business structures include:
Sole proprietorships: Informal business structures that do not have any filings or required tax forms but also don't provide owners with any personal liability shield
C-Corporations: C-Corps are the most robust type of business structure; they file their own tax returns and pay a second layer of taxes on corporate profits (typically 21%)
S-Corporations: Closely held corporations with fewer than 100 shareholders, S-Corps are taxed as pass-throughs but can pay salaries to shareholders that are deductible to the business
Still, LLCs are the easiest and most inexpensive business structure that provides owners with protections against personal liability. If you're looking to incorporate your business as an LLC, check out IncFile. They're an online service that helps you with contractual things like LLC formation and administration.
3. Ability to Change Tax Structure
Unlike other business structures, LLC owners can choose how they want to be taxed. The vast majority chooses the pass-through method — 95% of all American businesses are pass-throughs. This means that each LLC will prepare Form 1065 to report partnership income and distribute K-1s to its members. Each member's respective tax liability will be included as part of their personal tax return.
While most owners use LLCs as pass-throughs, LLCs can also make a C-Corp election to file their own tax returns. Under this structure, LLCs are still typically less expensive than corporations and most other alternatives. Taxes on LLCs are much than C-Corps, which are taxed twice on corporate profits. LLCs are only required to pay self-employment tax.
Lastly, LLCs can use an S-Corp election to take advantage of certain tax benefits. These include the ability of members to pay themselves a salary without self-employment tax. S-Corps are also exempt from the second layer of taxes on corporate profits, which is unlike C-Corps.
Remember, however, that if you choose the pass-through tax method that you're subject to self-employment taxes. This can be as high as 7.5% since you have to cover the employer-portion of FICA taxes. We discuss this in greater detail in the section below.
4. No Restrictions on Number of Members or Partners
LLCs can get started with any number of members. Single-member LLCs are not uncommon and can even be owned by other LLCs as a multilayered company. This is a very common strategy in some industries, including:
Real estate
Pharmaceutical
Branded retail products
Segregating product lines and services
Although single-member LLCs are common, you can also start an LLC with any number of partners — there is no restriction. This is different from other structures, including limited liability partnerships (LLPs), which must have more than one partner; S-Corps, which are capped at 100 owners; and sole proprietorships, which can only have one owner.
While LLCs can legally have any number of members, administration becomes more difficult as the number of partners rises. This is partially due to the fact that LLCs do not issue shares that can be bought, sold or redeemed, as is the case for C-Corps and S-Corps.
5. Unrestricted Pay to Members or Partners
LLCs aren't restricted in how they pay members. Each member can be paid more or less than their respective share of ownership. They can also receive more or fewer tax write-offs for business-related expenses and reimbursements for expenses they pay personally through guaranteed payments.
Obviously, this is of little consequence for single-member LLCs or companies owned by married spouses who file joint tax returns. In these circumstances, all taxable revenue and deductible expenses would be passed along to the sole owners.
The biggest difference in pay to LLC owners is that, unlike with C-Corps or S-Corps, the IRS does not recognize the right of LLCs to pay salaries to owners. S-Corps and C-Corps can pay salaries to owners that are deductible against corporate profits while LLC payments to owners are treated as draws and do not count against partnership income. This can lead to a misalignment of tax burden of LLC owners, which we discuss below.
5 Cons of an LLC
Despite the distinct advantages, an LLC also has several drawbacks compared to other business structures. Added paperwork and costs can be burdensome for young or growing businesses, especially if they don't yet have sufficient operations to require liability protections. New startups can also find it harder to raise the money necessary to grow the business.
Some disadvantages of LLCs include:
1. Licensing & Filing Fees
There is a fee to file a new LLC with a state — typically between $50 and $500. This is an addition to annual filing fees required to keep your LLC current, which varies widely by state and range from $0 to $820.
These filings are handled by individual state's secretaries of state. Most can be completed online but almost all have fees. Some have additional requirements including a local agent, which charge additional fees in addition to state filing costs.
However, you don't have to create an LLC in the state where you live or do business — you can pick a state that makes sense for your business. Some states are known for being more business-friendly than others, including providing more or less protection for small business owners. Be sure to research various states before choosing where to file.
To find more state-specific information, be sure to check out your state's secretary of state website. You'll see that the cost to establish and maintain an LLC can be modest compared to other structures like an S-Corp or C-Corp, but it's far more expensive than a sole proprietorship, which doesn't require filings at all except for special licenses.
2. Required Self-employment & Excise Taxes
In addition to filing fees, many states have dedicated businesses levies, franchise or excise taxes. If you create an LLC in another state where you don't live or do business, you may be taxed on income in that state. However, depending on the structure of your business, you may also be required to pay self-employment taxes on profits, up to 7.5%.
Luckily, LLC owners are exempt from self-employment tax on profits if they elect to file as an S-Corp or C-Corp. However, they still have to pay self-employment taxes of 7.5% on their salaries, which is the employer-portion of FICA taxes. You can also find more detailed information on how LLC taxes differ from those of an S-Corp by reading our Ultimate Guide to S-Corp Taxes.
If you don't make this election, as an LLC owner you must pay self-employment tax on your share of profits in an LLC, regardless of how much was actually distributed to you. Self-employment tax generally adds 7.5% to your income tax liability, compared to W-2 income. For more information about how to report income as a partnership, as most LLCs do, be sure to check out our article on How to Complete Form 1065 With Instructions.
3. Additional Tax Forms
Aside from new potential tax liability of starting an LLC, the process of preparing taxes becomes more complicated. Even if your LLC is as a pass-through entity, and even if there is no money coming in or going out, you will still need to prepare K-1s for each member of the LLC. These K-1s will be filed with each owner's personal tax return as part of his or her Schedule C.
Typical tax forms for an LLC include:
Company tax filing: Each year, an LLC must prepare its own tax filing; most LLC owners choose to be taxed as partnerships and use Form 1065
K-1s: Once partnership returns are complete, LLCs must prepare and distribute K-1s to individual members to show their individual tax liability for the year, based on their percentage of ownership
Franchise and excise taxes (if applicable): Some states charge individual franchise or excise taxes that require additional filings
4. Member Salaries Can Misalign Tax Burden
The IRS doesn't recognize the right of LLC owners and members to collect salaries from their LLC. Members can still take money out of an LLC, but it's in the form of draws — a kind of advance on profit-sharing. LLC members are taxed on their respective share of profits, regardless of any payments made to members.
One exception to this is guaranteed payments, which LLCs can pay to members to reimburse them for the use of capital by the LLC or if a member provides a service or other benefit to the company. If you have partners in an LLC and each of you takes draws from the company that is not directly proportional to your respective ownership shares, you may be taxed on more or less than you actually earned from the business.
5. Harder to Raise Money
If you're setting up a new business and intend to raise money from outside investors, this can be made more difficult by using an LLC. The pass-through nature of LLCs and their flexibility for managing members make them a greater risk for outside investors, who are more likely to invest in C-Corps and other types of entities.
Because LLCs can't issue shares, the only way for an outside investor to invest in an LLC is to buy-in as a member. This makes it nearly impossible to raise equity capital. If you plan to raise outside capital, you should plan to restructure as an S-Corp or (after you reach 100 owners) a C-Corp.
"Having an LLC structure worked just fine for the first few years until we decided to raise capital from outside investors. In hindsight, if we had known at the beginning that we would definitely be raising capital from outside investors, then we would have set up as a C-Corp from the start. This was an expensive mistake on our part because switching from an LLC to a C-Corp in order to take on those outside investors was both time-consuming and costly."

— Jesse Silkoff, Co-founder and President, FitnessTrainer.com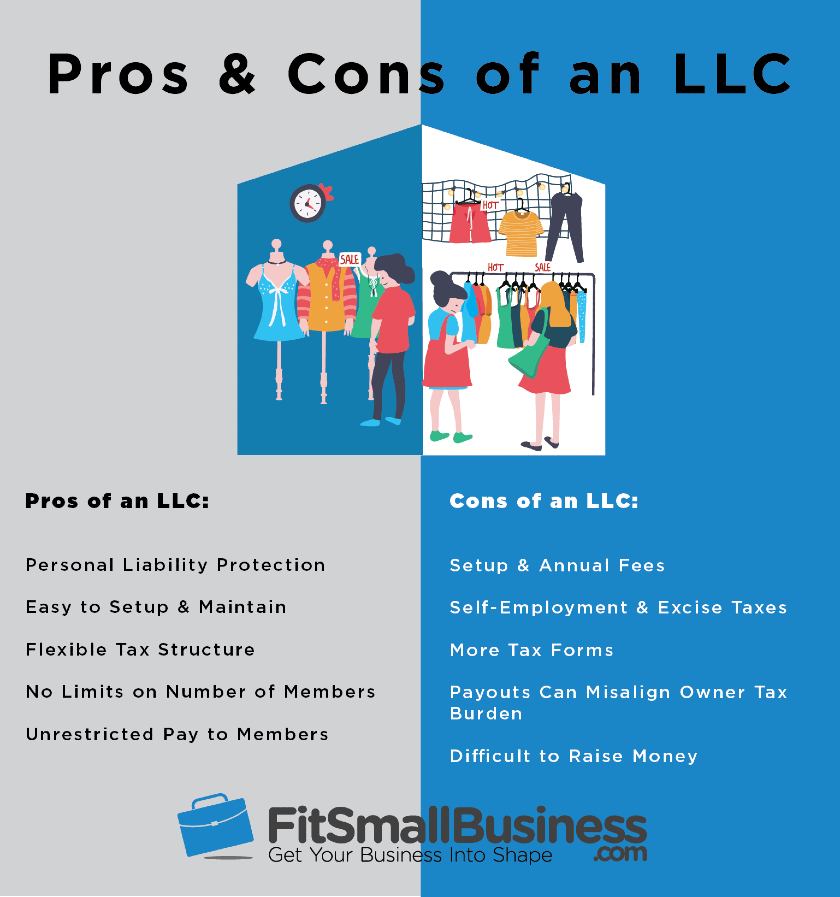 Who an LLC is Right For
An LLC is an ideal option for entrepreneurs to establish a business as a standalone entity to limit their liability, segregate company financials and give the business the ability to survive its owners. Entrepreneurs can accomplish all of these things with an LLC, which is also the cheapest and easiest kind of company to create.
For owners who want to shelter themselves from liability while maintaining flexibility for tax treatment and company management, the pros and cons of LLCs show that it's an ideal choice. However, an LLC isn't right in every case. For example, if a business is not yet to the point where owners need liability protection, if it's a large company that needs a more robust structure, or engaged in the practice of certain licensed professions, then another structure may be preferable.

Alternatives to an LLC
An LLC isn't right for everyone. If, after reviewing the pros and cons of LLCs, you decide that this structure may not be your best fit, be sure to consider alternative business structures, including:
Sole Proprietorship
If your business is just getting going, doesn't involve much liability and is mostly a side job or weekend hobby, then a sole proprietorship may be a great fit for you. Sole proprietorships are not formal business structures so there are no filings or fees. You simply start selling goods or services and declare any additional income on your personal taxes.
However, sole proprietorships expose their owners to unlimited personal liability. If you have assets you want to protect or a business that may present you with significant personal liability, then a sole proprietorship may not be the right choice. For more information, check out our article on the pros and cons of sole proprietorships.
S-Corporation
An S-Corp is a closely held corporation — a middle ground between LLCs and C-Corps. S-Corps are limited to 100 owners, but they issue shares, which makes it easier to raise outside capital. S-Corps are also taxed as pass-throughs on corporate profits but exempt owners from self-employment tax.
Instead, S-Corps can pay salaries to their owners that are tax-deductible to the company, and then distribute profits at the end of the year. In an S-Corp, profits aren't taxed twice as in a C-Corp. For more information, check out our article on LLCs vs. S-Corps vs. C-Corps.
Limited Liability Partnership
An LLP is a partnership formed by two or more partners to practice law, accounting or architecture. In many states, these are the only purposes that an LLP can be used for. LLPs have about the same costs and administrative requirements as LLCs but lack a lot of the flexibility. For instance, LLCs get to choose how they're taxed while LLPs must be taxed as pass-throughs.
However, LLPs also offer a greater degree of liability protection to owners who are actively engaged in the management of the business. If you plan to set up a company to practice law, accounting or architecture, then an LLP is probably right for you.
Frequently Asked Questions (FAQs)
1. What are the Advantages of an LLC Over a Sole Proprietorship?
The biggest advantage of an LLC compared to a sole proprietorship is limited liability for company owners. If you own a business as a sole proprietorship, the owner or owners are personally liable for all business debts.
What's more, if someone gets hurt using a product you produced as a sole proprietor, your personal liability is unlimited. An LLC also allows — in fact, requires — better segregation between business and personal finances. For more information, be sure to check out our article on the Pros and Cons of a Sole Proprietorship.
2. What Does an LLC Protect You From?
An LLC provides protection against personal liability for business owners. Without an LLC, business owners can incur personal liability from the operation of a business or ownership of property. Without an LLC, business owners can be liable for debts or judgments against a business due.
If someone slips, falls and hurts themselves on property that you own personally, you can be personally liable — they can go after other assets that you own personally. If you hold property in an LLC and someone gets hurt, the assets of the LLC are the limits of your liability. With the addition of appropriate business insurance, you will be in a much safer position.
3. Can You Pay Yourself a Salary in an LLC?
The short answer is yes, you can take money out of an LLC, but it isn't treated as a salary. The IRS doesn't recognize the right of LLC owners to pay themselves wages, so these wages are not considered when determining the profits of the business and the subsequent tax liability to owners.
In other words, you may have to pay taxes on far more or far less than the money you pay yourself from an LLC. However, LLCs can reimburse company owners for certain expenses or services through guaranteed payments. These guaranteed payments are deductible to the business and, in many cases, take the place of salaries for owners.
The Bottom Line
An LLC is a great structure that can provide a number of benefits to small business owners. The pros and cons of LLCs include that it can be set up quickly and easily to limit personal liability and help segregate business and personal finances. Although there are added taxes and paperwork in running an LLC, there are no restrictions on the number of company owners and more flexibility in tax structure than found in other types of businesses.