Rental Market Analysis: What It Is & How to Complete One
A rental market analysis (RMA) helps investors assess the rental potential of a specific area. Typically, you figure out the adjusted price per square foot of comps and then multiply by the square feet of properties for sale. If the average rent is higher than the average price of available properties, the rental market is positive.
After you conduct an RMA and figure out that a rental market is a good area to invest, you'll want to get an investment property loan to purchase one of the available properties for sale. This is where Visio Lending comes in. They offer a 30-year investment property loan with a simple pre-qualification process and competitive rates for prime borrowers.
How a Rental Market Analysis Works
To successfully conduct a rental market analysis, you first need to know how it works. It's a formal rental market forecast that evaluates specific factors to help you determine either the rental potential of a specific area or property. An RMA is used for long-term rentals or vacation rentals, but not fix-and-flip properties.
Real estate investors and landlords use it as a tool to assist them when assessing whether or not a specific area would be good for a rental property. In this case, investors look for average rents in the area and compare it to the average monthly costs of rental properties in the same area. If the rental market analysis is positive (i.e., if average rents are higher than average costs), it means that a rental investment in the area should yield positive monthly cash flow.
Buy and hold investors sometimes also use it when setting the rental price for an existing or potential investment property. For example, if they conduct a rental market analysis ahead of purchasing the property, they may save themselves from buying an underperforming asset that potentially loses money.
Regardless of use, an RMA is carried out in much the same way. Once you've identified a potential neighborhood, you want to identify at least three comps and figure out their monthly rents. Then, divide each of the comp's monthly rent by their individual price per square feet to get the average rent for the area. Finally, calculate the monthly cost of properties available for sale in the area to figure out your expected monthly cash flow. If you have a specific property in mind, simply use the cost of that property rather than the average of available properties.
Who Uses a Rental Market Analysis
Since it's a more formal tool that involves research and time, a rental market analysis (RMA) is generally only used by investors and not by people who simply want to rent out their primary residence or a room in their home. Investors typically use an RMA to make an investment decision before they purchase a property, but it's typically not used by fix-and-flippers.
A rental market analysis can be used for any property type, from a single-family home to a fourplex and more. However, if you want to Airbnb your property or just want to rent out a room in your house for some extra money, then check out our article on setting a rental price. Otherwise, keep reading ahead for more information on conducting a rental market analysis.
How to Conduct a Rental Market Analysis in 5 Steps
There are five specific steps to a rental market analysis. At the end, you should have a better understanding of average rents and the monthly cost of rental properties in the area. This should tell you whether or not your existing or potential investment will be cash flow positive.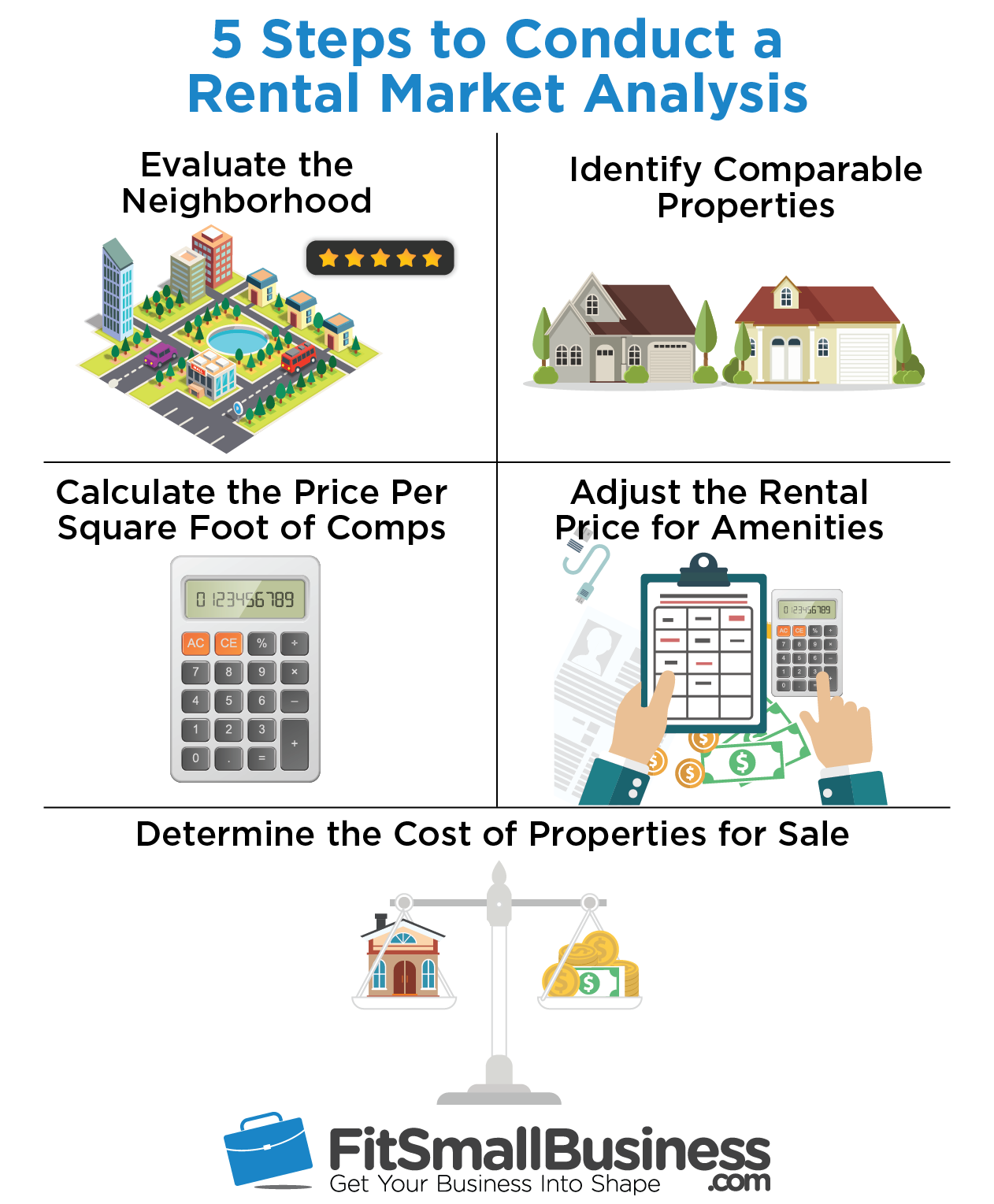 Below we discuss the five steps involved in conducting a rental market analysis.
1. Evaluate the Neighborhood
Evaluating the neighborhood through rental market forecast is the first step of an RMA because you need to first assess the area in general. You always want to verify that the neighborhood you've chosen to look at is a good one. It's not just as simple as saying you want to buy a property in a "good" neighborhood, since that's subjective.
Instead, make sure that your desired neighborhood or area has specific things that will help your property appreciate and attract renters who will hopefully respect the property and pay on time. A neighborhood doesn't equate to a certain dollar amount for your rental pricing, but it does give you an overall picture of whether or not you want to purchase a property there. In this step, you should be able to say "yes" or "no" as to if this is a good neighborhood in which to invest.
Important factors when evaluating a neighborhood include:
Access to public transportation and/or places to park
High walkability score
Good local private and public school ratings
Nearby amenities and attractions, including parks, libraries, and cultural venues
Easy access to dining and shopping
Businesses that are open; you don't want to buy near a deserted area unless you know it is being developed
Things to avoid when choosing a neighborhood:
Multiple distressed or vacant properties on one street
More than a few businesses that are permanently closed in the business district
Noisy areas such as being next to a factory, police station or an airport
Streets that aren't cared for; avoid areas with excessive potholes, crumbling sidewalks, and defunct streetlamps
Keep in mind that you want to purchase an investment property in an area where you feel comfortable meeting contractors or picking up rents. Tenants should also want to live in the area because it's clean, safe, convenient to amenities, and easy to get to, etc. You can't change the curb appeal of a neighborhood, but you can change the curb appeal of a property.
2. Identify Comparable Properties
After you know what the surrounding neighborhood is like and what you should avoid in the neighborhood, start looking at the rents of three comparable properties. Later on, we will adjust these comparable rents based on amenities, but for now, let's focus on identifying comps, which will help us derive the average rent for the area.
How to Identify Comparable Rental Properties
First, we need to know how to compare rental properties so we know which properties are considered comparables (comps) and which aren't. Generally, comparable properties will be in the same neighborhood, same school district, and be similar in size (based on square footage). They should also be in similar condition.
Things to consider when comparing rental properties:
Proximity to each other: In an urban area, they should be within a three-block radius; a suburban area should be within a couple of miles and a rural area may be even further away
Square feet: Should be similar, within a couple hundred square feet
Number of bedrooms: Needs to be the same; don't compare a one-bedroom with a two-bedroom
Number of bathrooms: Should be similar; don't compare a one-bathroom with a two-bathroom property, but it's okay to compare two and 2.5 bathrooms
Lot size: This is important if it's a single family home
Condition: Needs to fall in the same category, such as updated, original, distressed, etc.
Amenities: Similar amenities in the unit and building; if not, then you can adjust for them
Days on market (DOM): If a property has been sitting on the market for over 60 days, then it may be priced too high or have some type of flaw. You can generally adjust the price down by about 5%, depending on the reason the DOM is so high
Where to Find Comparable Property Data
Comparable property data is generally easy to come across. You can do a search on Zillow to find rental listings in a certain zip code or neighborhood. You can also call a local real estate agent or property manager and ask them about comparable rental properties.
Lastly, you can call the numbers listed on "for rent" signs in the area and ask about the rental price and the features, size, etc. However, it's best to be able to look at interior and exterior photos of the property so you have a good feel of how it compares to the real estate you're considering purchasing.
We recommend that you have a list ready for each comp so you can easily compile all the data on each property, such as DOM, property condition and square footage. However, if a real estate agent provides the comps for you in a Comparable Market Analysis (CMA), they will already be in a list form that's easy to compare and contrast.
3. Calculate the Price Per Square Foot of Comps
One of the factors considered when comparing rental properties is the square footage. This is generally how large the property is "under air," which means how much livable space there is inside. Once you know the square footage of the comps you identified and each one's rental price, you can easily figure out the price per square foot, averaging the three together.
There's no rule of thumb on price per square foot since it varies widely in different parts of the country. For instance, renters in San Francisco pay an average of $4.95 per square foot. This is over four times what renters in Milwaukee pay.
The price per square foot depends not only on the area the property is in, but also on the amenities the building has and the condition of the unit. A modern unit that has been upgraded in a building with a valet and a pool will have a higher price per square foot than an original, non-updated unit of the same size in a building with self-parking and no pool.
After you find out the price per square foot of the comps, average them together to get the average price per square foot. For example, if the prices per square foot of three comps are $2.50, $3.00 and $2.80, add them up and divide by 3 to get the average price per square foot ($2.50 + $3.00 + $2.80 = $8.30, so $8.30 / 3 = $2.77).
$2.77 is your average price per square foot for the rental area. You'll be able to use this figure to multiply by the square footage of available properties in the area to see if they're good rental investments. It's important to note that this is the pre-adjusted price per square foot, since you will adjust it for occupancy rates and amenities in the next two steps.
Rental Price per Square Foot Example
Let's assume that you know that a comparable property is rented for $3,500 per month and it's 1,750 square feet in size. In order to find the price per square foot, you divide $3,500 by 1,750, which means the price per square foot is $2.00 ($3,500 / 1,750 = $2.00 per square foot).
Then you multiply this number by the square footage of your property to get a pre-adjusted rental rate. Assuming your desired rental property is 1,770 square feet, you multiply 1,770 by $2.00 to calculate the pre-adjusted rental rate of $3,540 (1,770 x $2.00 = $3,540). We'll compare this figure against the monthly cost of the rental in the later steps to derive the expected cash flow.
4. Adjust the Rental Price for Amenities
One of the last steps of an RMA is adjusting the average rental price per square foot for amenities. This is similar to an appraiser adjusting for property upgrades and amenities when determining a fair market value. The main difference is that we're using the amenities to determine a rental price based on adjusting the three comps.
Overall, if you've chosen the comps correctly, the average price per square foot should be relatively close to what you'll be able to charge for your potential rental property. Keep in mind, however, that not all areas have readily available comps, and you might have to adjust those comps based on the differences in amenities. For example, if a comp has a pool but none of the available properties do, you might want to adjust the average price per square foot down, and vice versa.
There are generally two types of amenities:
Community or onsite amenities, which are amenities that benefit everyone living in the building (such as a parking lot, billiards room, or spa)
Unit amenities that are solely for the renters in the unit can include a balcony, washer, and dryer, or upgraded appliances
Amenities don't usually have a specific price correlation, but they do impact the overall rental price. They vary greatly by city, but also by neighborhood. In NYC, amenities such as having a doorman, being in a pet-friendly building, and having an onsite fitness center all increase the overall rent price of a building.
In other parts of the country, things like outdoor space, valet parking, and an onsite spa may affect the rental price. Just like these amenities may increase the rental price, lack of certain amenities may decrease the rental price.
For example, a building with a lack of adequate parking or no security may rent for less than the building next door that has 24/7 security and dedicated parking spots. Just keep in mind, though, that if you buy a unit in a condo association or HOA, amenities usually increase your dues, so the rental price needs to justify that.
Familiarize Yourself with Occupancy & Vacancy Rates
Occupancy rates are the percentage of a year that a property is occupied by tenants, and vacancy rates are just the opposite (the percentage of the year these same units are vacant). These are important so you can know to avoid an area with a high vacancy rate and also adjust the rental rates of your comps depending on the vacancy rates of the area.
A high vacancy rate definitely depends on the standards for the area, but generally, anything over 11% is considered high. The sum of the occupancy rate and the vacancy rate needs to equal 100%. If the vacancy rate is 10%, then you know that the occupancy rate is 90%.
Knowing the vacancy and occupancy rates doesn't necessarily tell you what rental price you should charge, but instead, they may be red flags for an area to avoid or indicators that an area is renting well and you should consider buying there. Further, it might cause you to decrease or increase your expectations by further adjusting the average rent per square foot.
You can generally find occupancy rates in three ways:
The census website, where there's a section under housing for occupancy rates
A local real estate agent, which you can find using an online search or walk into your local real estate agent's office
A property management company in the area, which can also be found by searching online for a property management company near you
If occupancy rates are higher than 11%, you might want to decrease the average rent for the area. Conversely, if it's a hot market with almost no vacancy rates, you might be able to charge slightly above average.
5. Determine the Cost of Properties for Sale
You know how much average rents are going for in your desired neighborhood, and now you need to know about the available homes to buy and how much they cost. This is considered the housing inventory or supply in the area. You need to consider if there are enough properties available at a low enough price point where you can cash flow an investment property given the average rents you calculated above.
Too much supply in one neighborhood can be a red flag. This happens when there is an abundance of inventory on the market. For instance, if there are 10 similar rentals available on the same block, tenants will be able to choose which one they want, and you may not have enough demand (renters) to meet the supply of inventory. This means that your property may sit on the market and you may not be cash flow positive due to your carrying costs and lack of rental income.
Knowing the rental amount per square foot is key here because you can check the available properties and see if they can be cash flow positive given your down payment and monthly carrying costs (which include your mortgage payment, taxes, insurance, etc.).
For example, if you calculate that the monthly costs of three available houses for sale are $1,500, $2,000, and $2,500 per month, you'll need to figure out how much rent you can charge for each to know which one to invest in. If the average rent per square foot is $2.00 for the area, you might find that the rent you can charge for each is $1,500, $1,900, and $3,000, respectively.
You can see from this quick analysis that the highest priced house available, while costing more, will cash flow you a greater amount. This not only helps you identify that the area is in a good rental market, but that this specific property is a good investment.
How to Conduct a Quick Rental Analysis
Let's assume that you don't have the time to conduct a full rental market analysis and you just want to come up with a quick rental analysis. You will need to know what the comparable properties are charging for rent and what amenities they have, as well as occupancy rates and your carrying costs.
Since you're short on time, you can just make a few notes on the neighborhood, the amenities, comparable rents and occupancy rates. A general rule of thumb is the 1% rule. You should charge rent in the amount of 1% of the value of the rental property. However, this is an aggressive rule and we recommend something between 0.5 – 0.8% of the value.
For example, if you purchased a rental property for $500,000, then you would charge between $2,500 and $4,000 per month. For more information on setting the rental price for short-term rentals, rooms and investment properties, read our article on How Much Should I Charge for Rent.
"Analyze the location of your rental market. Ask yourself the following: How many rental apartments are in my location? What are the rent prices going for in my area? What kind of rental property do I want to manage (single-family, studio, multi-family, etc.) Being prepared and having a good knowledge of your area will help when determining the rent." – Chris Molinari, Digital Content Coordinator, Rentometer.com
Quick Rental Analysis Example
Let's assume you want to figure out how much a particular unit should rent for by comparing it to two other units in the area. For example, if comparable property "A" charges $3,000 per month and has a 90% occupancy rate, then it's probably priced right since it has a high occupancy rate. If the unit next door, property "B," charges $3,700 per month and only has a 60% occupancy rate, it's fair to say it may be overpriced.
Unit A takes in $32,400 in gross yearly rent and unit B takes in $28,800 in gross yearly rent. We figured this out by taking the monthly rent and multiplying it by 12 (since there are 12 months in the year) and then multiplying that by the occupancy percentage.
Keep in mind, however, that there are more factors to consider when conducting a rental market analysis, but comparable properties, occupancy rates and taking amenities into consideration are the main ones for a quick analysis. These can be used in addition to the 1% rule or if the 1% rule doesn't fit your property based on the comps' rental prices.
Frequently Asked Questions (FAQs)
What Is the Average Rent in the U.S.?
The average rent in the U.S. is about $1,231 per month. However, there is a wide disparity between what this amount will get you in a major city versus what it will get you in a more affordable area.
For example, in Los Angeles, the average rent is $2,220 and in Cleveland, the average rent is $959.
What Is an Implicit Rental Rate?
An implicit rental rate has little to do with a rental market analysis, but it's a frequently asked question. It's the opportunity cost that a business incurs by using their own assets for business operations. The implicit rental rate is a commonly searched phrase, but doesn't pertain to an RMA.
Bottom Line
A rental market analysis is a valuable tool for real estate investors. It helps them determine the fair rental value of their unit by comparing it to other units in the area and taking the amenities in the building and in the area into consideration. A rental market analysis is important so you set a price that will attract renters and still cover your carrying costs.
After you conduct an RMA and figure out if the property is a good purchase, you'll want to get an investment property loan to purchase the desired property. This is where Visio Lending comes in. They offer a streamlined online application process and competitive rates for prime borrowers.