How Much You Should Charge for Rent
The monthly rent you should charge is usually calculated as a percentage of your property's value. An aggressive rule of thumb says rent should be about 1% of the property's value, although a more realistic range is between 0.5% to 0.8%, dependent on your location and amenities. This formula is used for long-term rentals.
To learn about different rent collection techniques and identify which one may work best for you, check out Lorman. As a continuing education provider, it offers an online course that can teach you the ins and outs of collection techniques in less than 90 minutes. Get access for just $199 and start collecting rent efficiently.
How to Calculate Your Rental Price
The general rule of thumb you see is that monthly rent should be about 1 percent of the value of a property. However, this is quite high, and somewhere in the range of below 0.5 to 0.8 percent should give you a more accurate figure. For example, let's assume your rental property is worth $600,000. Multiply $600,000 by 0.5 percent, and you get $3,000. Keep in mind that this is an aggressive number, and a more realistic range is 0.5 to 0.8 percent, depending on location.
Amenities also affect where your rental lands on the rental price range. Desirable amenities can put your rental property at or near the top of the rental range, and undesirable amenities or a lack of amenities can put your property in the lower rent range. For example, the lack of an elevator in a three-plus story building will decrease your rental price, putting you on the low end of the 0.5 to 0.8 percent range.
Here are some factors and amenities that affect your rent price:
Swimming pool: Increases rent price
Fitness center: Increases rent price
Elevator: Increases rent price
On-site parking: Increases rent price
Security or doorman: Increases rent price
Walkup building: Decreases rent price
No reserved parking: Decreases rent price
Lack of security: Decreases rent price
In addition to these factors, the overall value of your home will also affect your rent. While there is no hard and fast rule, a home that is lower in value can typically charge monthly rent at a higher percentage of its overall value. For example, rentals valued at $100,000 or less can typically charge rent equal to 0.8 percent or even as high as the 1 percent rule of thumb. Homes valued much higher rent for a smaller percentage of their overall value.
For short-term rentals like vacation rentals or temporarily renting out a room in your home, this rule of thumb probably won't work. Instead, you should check out what vacation rental sites like Airbnb are charging for comparable properties in the same area. Look at the site and compare your property with three listings that are similar in size, condition, and located in the same vicinity. Average the nightly rates of these comparisons together to get your nightly rental rate.
Additional Ways to Set Your Rent Price
In addition to the 1 percent rule, there are other ways to either decide how much to charge for rent or verify the numbers you calculated using the 1 percent rule. These include asking three local real estate agents for their price opinions, looking at the average rents in the area and conducting a rental market analysis (RMA). Here are the four additional ways to decide how much to charge for rent.
1. Look at Average Rents in the Area
The national average rent in the United States is approximately $1,231 per month. However, rents vary widely throughout the country. It's great to use rule-of-thumb calculations, but a great litmus test for setting rent price is to look at the actual average rents in your area. This should give you a firm understanding of what your rental property could (and should) go for.
The easiest way to find average rents in your area is by going to real estate sites like Zillow or Realtor.com. You can do a quick search by ZIP code or proximity to your location and see both what properties have already rented for as well as what comparable properties are currently on the rental market and for how much. It should be relatively easy to find a minimum of three comps to average together.
Median rents are based on Zillow Rent Index (ZRI): A smoothed, seasonally adjusted measure of the median estimated market-rate rent across a given region and housing type. ZRI is a dollar-denominated alternative to repeat-rent indices. Data acquired from Zillow.com/data on June 22, 2018. Aggregated data on this page is made freely available by Zillow for noncommercial use. 
Other ways to find out the average rents in your area are by asking a local real estate agent or a property manager. You can do an online search for local real estate agents or property managers in your area, or you can walk into one of their offices. The goal should be to find three or more comparable rental units to your own and average their rents together.
While you're driving in your neighborhood, you can also call the numbers on for rent signs to inquire about their rental prices and amenities as well as other distinctive features. This is the least recommended way since you won't have pictures and information readily in front of you to compare all of the properties together.
How to Compare Properties
When you're looking for average rents in the area, it's important to choose at least three comps. Comps are other rental units that have things in common with your property like the size, neighborhood, and property condition. If you don't compare your rental to similar units apples to apples, you might calculate the wrong rental average.
Things to take into consideration when comparing rental properties:
Proximity to each other: In an urban area, they should be within three blocks; in a suburban area, they should be within a couple of miles; and in a rural area, they may be even farther away
Square feet: Should be similar, at least within a couple of hundred square feet; include indoor square feet only
Lot size: This is important if it's a single-family home since most renters want some type of outdoor space
Number of bedrooms: Needs to be the same; don't compare a two-bedroom unit with a three-bedroom unit
Number of bathrooms: Should be similar; don't compare a one-bathroom property with a two-bathroom property; it's OK to compare two-bathroom units and 2.5 bathroom units
Condition: Needs to be in similar condition, such as updated or not
Amenities: Similar amenities in both the unit and the building; if not, then you can adjust for them
Days on market: If a property has been sitting on the market for more than 60 days, then it may be priced too high or have something wrong with it
"Whether you're looking to move into a rental or rent out your own property, it's a good idea to analyze the rents in the area. Understanding what the market is like before getting too excited over a price will save you a lot of time and anguish."

—Chris Molinari, Digital Content Coordinator, Rentometer.com
2. Ask Three Local Real Estate Agents
We recommend speaking with three different real estate agents and talking to them about pricing your rental property. Most real estate agents will speak with you and offer a suggested rental price for no charge. Once you've got a few good ideas of rental prices, you can take the average of the three rental price suggestions and then use that as a guide for setting your rent price.
Find a local real estate agent you trust by either looking online and contacting them or walking into an open house or a real estate office and meeting with a real estate agent face-to-face. Local real estate agents are usually the experts in your area on both what's going on in the neighborhood in terms of development and amenities as well as typical rental prices.
Things to look for in a real estate agent include:
The agent's specialty like commercial, residential or vacation rentals
How long the agent has been in business
The agent's rental experience
Someone who is full-time so that he or she isn't juggling schedules
If you're looking for a real estate agent in your area, be sure to check out the National Association of Realtors' (NAR's) online directory. You can also check out the directory provided by Realtor.com for local agents who can help you set your rental price.
3. Conduct an RMA
Generally, to get a complete overview of the rental market in your area, you should conduct an RMA, which is similar to a comparative market analysis (CMA). An RMA is a formal analysis conducted by real estate investors to get a pulse on a specific rental market, identify potential properties to buy and calculate average rents.
This can be time-consuming and generally is used by investors. If you already own a property, then this might not be the best approach for you. If, however, you want to get a firm understanding of the overall rental market in your area, including average rents, then this might be the approach to employ.
The steps of an RMA include:
Evaluate the neighborhood: Decide if you want to purchase a property here based on the transportation, school ratings, attractions, and crime
Look at rents of comparable properties: Use three properties that are similar in square feet, condition, and located in the same neighborhood
Calculate the price per square foot of the comps: You divide the rental price by the number of square feet to get the price per square foot
Multiply the price per square foot by the size of your rental: Once you have an average price per square foot for the area, you can use it to either price out your existing rental or potential new investment by multiplying the figure by the size of your property
Adjust the rental price for amenities: Certain amenities like valet parking, fitness center, or swimming pool will increase the rental price. Other things, such as being a fourth-story walkup, might decrease the rental price
Conducting an RMA is right for investors who are deciding if they should purchase an investment property. It's also right for investors who already own an investment property and want to make sure they set a fair market price for rent.
It's generally not right for homeowners, casual investors, or vacation property owners since it's time-consuming and more in-depth than they would need. These people typically want a more general sense of a fair rental price so they can attract qualified tenants, be able to compete with other rental properties on the market, and help offset the costs of ownership.
For more information and an in-depth look at an RMA, check out our RMA article.
4. Look at Vacation Rental Sites
If you want to rent out your property as a short-term rental, consider checking out popular vacation rental sites like Airbnb and VRBO. Browse around and look for similar rentals in the same area and compare the nightly rates. This will give you a starting point for pricing your unit.
We recommend comparing at least three properties to yours and then using the average rental price of the three as a good basis to set your rent. For example, you find three similar properties, and they're rented for $350, $275, and $290 per night. Add up the three numbers and you get $915. Then, divide $915 by three, which equals $305, so all other things being equal, you can rent your short-term rental property for $305 per night.
Remember that when comparing short-term rental properties, you should keep in mind things like in-unit and community amenities, proximity to attractions, cleanliness, and convenience. Think of how you would want a property to be on vacation, and that's how a renter will most likely want it to be. These factors might increase or decrease your nightly rental rate. Some important short-term rental comparisons include:
Amenities: In-unit and shared amenities are important, and things like a swimming pool, hot tub, and media room all add to the price you can set your rental
Nearby attractions: This includes proximity to the beach, mountains, and tourist sites; the easier they are to access, the better
Unit size: This is the square feet, number of bedrooms, bathrooms, and how many people your unit can sleep
Outdoor space: Any outdoor space can add to your rental price
Property condition: Clean and upgraded is always preferable unless it should be original like a rustic cabin in the woods
What's included: Extras can include a kayak, paddleboard or use of a vehicle
"There are a lot of parallels to renting long-term or short-term. Consider the factors of what that neighborhood's market is, the value of the property and expenses during the rental, such as your mortgage, taxes, or repairs. That said, proximity to locations popular with visitors like Wrigley Field in Chicago or the Met in New York City will certainly help keep rates high."

—Ryan Coon, CEO & Co-founder, Avail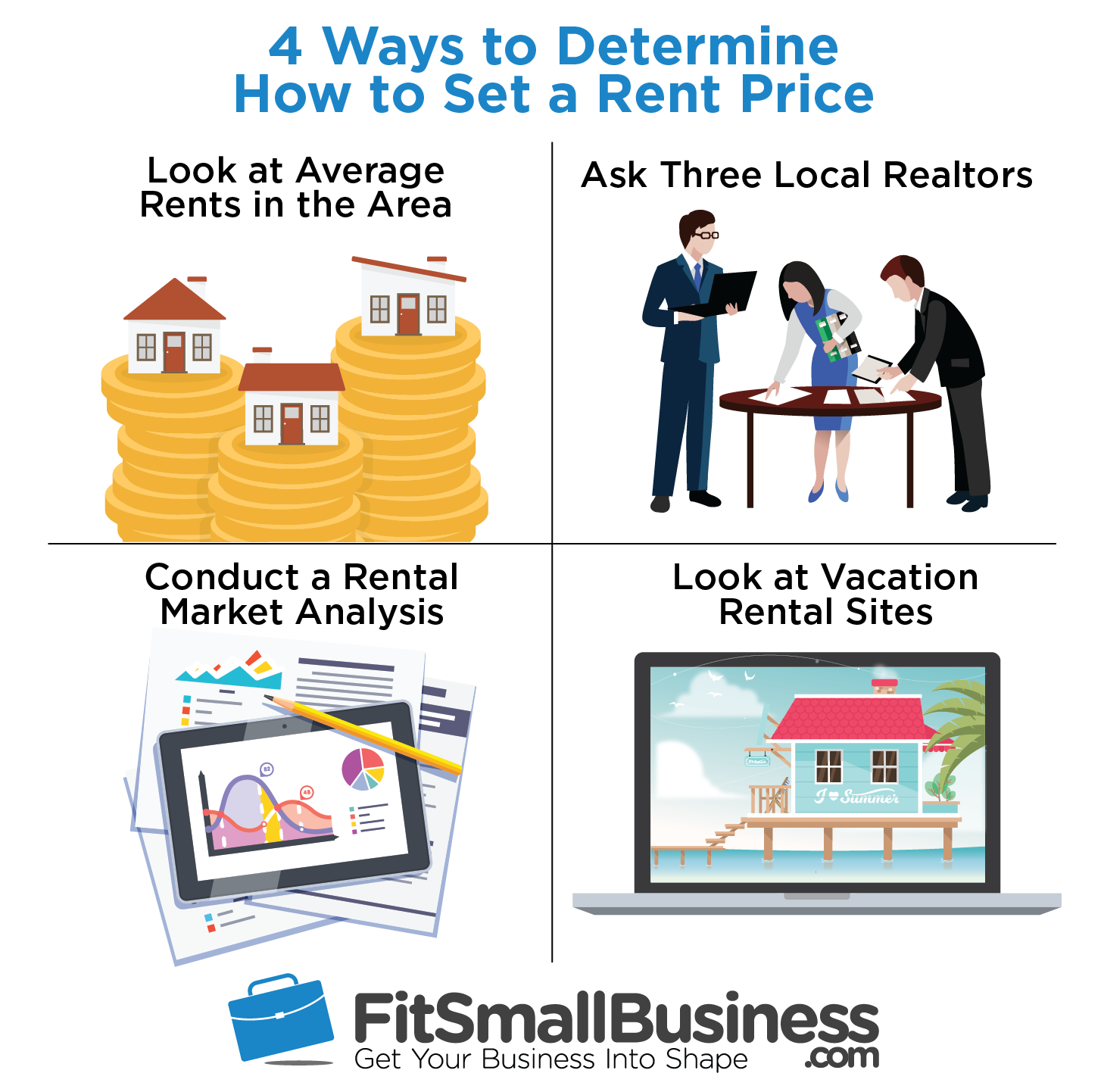 Adjust Rental Amount Based on Amenities
Even after you have a firm number in mind regarding the rent you want to charge, you might need to adjust that price according to your amenities. Amenities play a big part in your rent price. They don't necessarily account for a specific dollar amount, but they do factor into how quickly your unit rents as well as its price range.
There isn't a general rule of thumb for how amenities affect the rental price. However, desirable amenities, such as valet parking, swimming pools, and fitness centers, can put your property in the high range of comparable rentals. It works the opposite way as well as a lack of amenities can put the unit in the lower range of comparable rentals.
There are generally two types of amenities:
Community or on-site amenities that are amenities that benefit everyone living in the building or homeowners association community, such as a swimming pool, game room or valet parking
In-unit amenities that are solely for the renters in the unit and can include a terrace, washer and dryer and walk-in-closets
Amenities provide tenants convenience, and this is especially important for short-term tenants who will often pay more to have certain amenities. This is where knowing your neighborhood and the demographic renting in the area will help you. Your real estate agent should be able to tell you what amenities tenants want and what they don't care about.
Surprisingly, the number one amenity 98 percent of renters look for is good cellphone reception. A close second is having a walk-in-closet and then soundproof walls and an outdoor space round out the list.
Why Setting the Right Rent Price Is Important
Setting the right rent price is important for several reasons. First, you want to rent your property out for fair market value to attract qualified tenants in a timely manner. You also want to charge enough to cover the carrying costs and make some profits, so it's worth your time and is a good investment.
If your rental price is too high, you're likely to receive no interested tenants, and your unit might sit on the market while your holding costs grow. However, if the price is too low, you may attract more unfavorable tenants, and you may not be able to afford to keep up with your property expenses.
When considering how much can I rent my house for, you first need to determine why you're renting out the property. For example, if the property is a full-time rental, you'll need to price it high enough to turn a profit. However, if you just want to rent out your primary residence while you're out of town, you may just be looking for money to help pay for your trip, and a specific dollar amount isn't as important.
Frequently Asked Questions (FAQs)
How much should I charge for rent for a room?
A common question is how much can I rent my house for and many people also want to know how much to charge for a room in their house. Ask your neighbors what they're charging to rent out a room in their house and check on Airbnb to see what rooms in your area are renting for. Find three comparable rooms and average the nightly rents together. Keep in mind the amenities you have, and if you live in an area that experiences seasonal rent changes. Also, take into account the size of the room and if it's furnished or not.
How much does it cost to rent your home through a property manager?
Property managers generally charge from 8 percent to 20 percent of your gross monthly rent to manage a long-term rental that has a tenancy of at least one year. Keep in mind that if they also find and screen the tenant and write up the lease, they usually charge an additional one month's rent for those services. If the property manager is offering short-term rentals, then the costs are usually higher and range from 15 percent to 30 percent or more.
For assistance on managing your investment property, check out Avail. Its property management platform gives you the ability to manage all aspects of your property. Screen your tenants, collect rent, sign leases, and more. Get your first property managed for free.
How much of your income should go toward rent?
Generally, 30 percent or less of your gross income should go toward your rent. This, of course, does vary by both the area you live in and your other monthly financial obligations. If your gross monthly pay is $10,000, then you shouldn't spend more than $3,000 on rent.
What's the national average rent in the United States?
The national average rent in the US is approximately $1,231 per month. However, there is a wide disparity between what this amount will get you in a major city compared to what it will get you in a more affordable area.
How much does it cost to rent an apartment?
This depends on a variety of factors, including location and amenities. Generally, you need three months' rent to move into an apartment. This usually is broken down into first month's rent, one month's rent as a security deposit and one month's rent to be applied to the last month's rent. If you have a pet, an additional deposit usually is required.
For example, if the monthly rent is $2,000 for an unfurnished apartment, and you don't have a pet, you can expect to pay three times the rent, which is $6,000 to move in. Keep in mind, your first month's rent and last month's rent will usually be paid from this and, if you pay the rent and utilities on time and leave the apartment in good condition, you should receive your security deposit back after you move out. For more information on security deposits and landlord-tenant laws by state, check out our landlord-tenant law article with an interactive map.
What is the rent Zestimate on Zillow?
The Zestimate is just the estimated monthly rent price that Zillow came up with using its proprietary formula. It doesn't necessarily factor in the upgrades or amenities a property has and should be used as a starting point, rather than an exact number. When asking how much can I rent my house for, use the Zestimate as a guideline, not a concrete price.
Bottom Line
Whether you're an experienced investor or just renting out a room in your house, you want to know the answer to how much I can rent my house for. Too high, and you won't attract enough renters, and your property will be vacant, which will lead to negative cash flow. If you charge too low an amount for rent, you may not be able to afford your carrying costs.
Once you decide how much to charge for rent, you'll need to make sure you have an effective collection technique in place. Lorman can get you up to speed on this topic in less than 90 minutes. Its online course is only $199 and is available in various formats to best match your learning style and convenience.