Resume Screening: Complete Guide for Small Businesses
This article is part of a larger series on Hiring.
Resume screening is a critical step in the recruiting process that involves reviewing resumes to narrow in on only the most qualified candidates. There are two ways to screen resumes—manually reviewing them or using a resume screening tool such as an applicant tracking system (ATS). Manual screening requires a careful review of details to filter only the best of candidates, while resume screening tools use artificial intelligence (AI) programming to scan the resume document for keywords and parse the results to create a searchable applicant profile.
Manual Resume Reviewing (+ Steps)
The most common way of screening resumes is to manually review each one to assess if a candidate has the experience and skill set to move on to the interview process. Although tools, which we will discuss below, can certainly help you sort through resumes faster, they can overlook qualified candidates who may not have the right keywords in their resumes or curriculum vitae (CV) to highlight their experience and skills.
CV: A more comprehensive resume that showcases a candidate's full repertoire of skills, certifications, and experience. These are generally reserved for applicants in the academic, scientific, and medical fields.
Manual screening can catch small yet important details on an applicant's profile. For example, applicants may use different wording for their job description or job title, or they may have similar experience, but in adjacent vocational fields—things only an actual person may notice and put value on. Here are some areas to focus on that commonly look different and are not always intuitive on a resume:
Minimum required education
Minimum required years of experience
Minimum required skills
Previous titles; some, like "manager," can be misleading and need context within the resume to discern actual meaning
In addition to screening resumes, 71% of US hiring decision-makers look at candidates' social media profiles to screen applicants, and 67% say they use social media sites to research potential job candidates. However, use caution when viewing social media profiles of potential candidates as it could result in an illegal hiring bias.
How To Manually Review Resumes
Reviewing resumes manually follows a straightforward process involving scanning, segregation, and selection.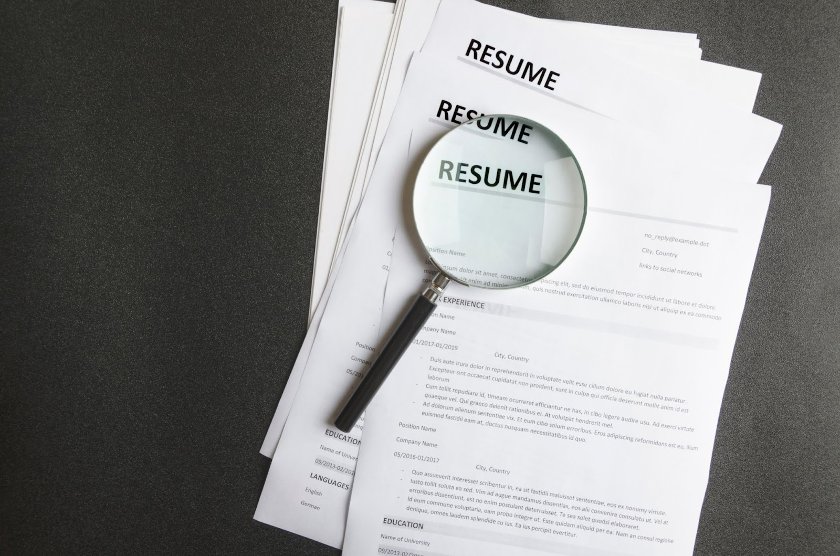 Step 1: Collect resumes. Your resumes may come in by way of email or through a job board.
Step 2: Do a quick scan of each resume to look for certain keywords that align with your open position. For example, if you are hiring an accounting manager, you can scan each resume for previous positions that include accounting functions.
Step 3: Separate your quick scanned resumes into three piles:

No: Does not meet criteria for the position
Maybe: Meets some criteria for the position, but not all
Yes: Meets all criteria for the position

Step 4: Double-check the resumes in the "no" pile to be sure they don't have any qualifications for the position. Then, read through each job description in the "maybe" pile for education, past job history, and skills. Those that match your qualifications should be moved to the "yes" pile. Those that do not can be placed in the "no" pile.
Step 5: Perform a deep dive into each resume in the "yes" pile. Narrow it down to your top three to five candidates.
Step 6: Move your top three to five candidates to the next stage of hiring. From there you can continue the applicant screening process.
Resume Screening Tools (+ Steps)
Resume screening tools, generally part of an applicant tracking system (ATS), organize all received resumes so they can be prioritized. Most use AI to scan an applicant's experience, skills, and qualifications to automatically sort them.
According to the Equal Employment Opportunity Commission (EEOC), using AI technology, though typically thought to remove biases, can actually insert bias into the hiring process. It is your duty to remain compliant with all federal civil rights laws when using AI to screen resumes.
Additionally, these manage the recruitment process end-to-end, starting with recruiting functions that keep track of open jobs, job descriptions, and jobs that have been posted. It then follows applicants through the interview process, storing resumes and related documents such as interview notes and assessments.
Here are some of the basic functions of a typical resume or CV screening tool:
Posts jobs online to your own website, social media, or a job board
Includes job-specific information such as company, salary, job description, location, and contact information
Stores critical job-related documents like job descriptions and interview evaluation forms
Stores applicant data and attachments, like references or their portfolio
Helps you quickly identify and sort qualified versus unqualified candidates
Allows you to link qualified applicants to open positions
Makes it easy for you to communicate with applicants at all stages in the process
Offers mobile and cloud-based options for you and your applicants to use
Has software integrations to social media and job boards
Provides reporting capabilities
How To Review Resumes Using a Screening Tool
Using ATS software to scan your resumes replaces the initial step of running a quick scan of the resume. You should still carefully review the selected resumes before moving on to the hiring stage.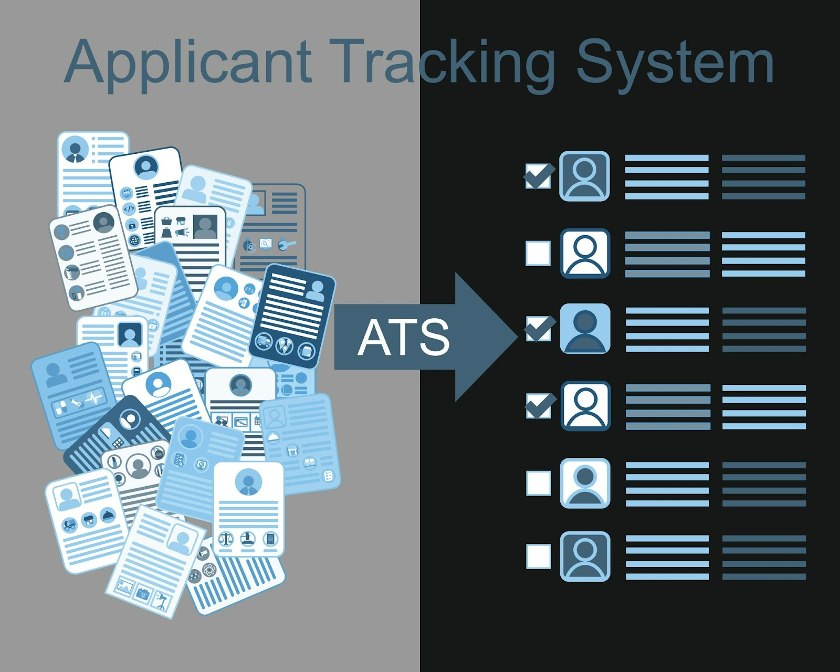 Step 1: The ATS will compare resumes to the job description.
Step 2: The ATS will screen the resumes for specified keywords. As a hiring manager, you will enter those keywords into the system based on the job description or job post.
Step 3: The ATS will sort resumes based on the selected keywords into no, maybe, and yes piles.
Step 4: The hiring manager reviews the resumes that have been sorted.
Step 5: Narrow down to three to five top candidates and then move on to the hiring stage.
Many ATS platforms, like FreshTeam, manage your hiring, onboarding, time off, employee data, and HR workflows all in one place. For more in-depth details, read our FreshTeam review.
Manual Review vs Resume Screening Tools Comparison
| Manual Review | Resume Screening Tools |
| --- | --- |
| Best for executive and experienced job posts, where there are fewer applicants | Best for starting positions and mass hiring, where there are more applicants involved |
| Requires an individual review of each resume from a hiring manager | Uses AI to scan for specific keywords on multiple resumes at one time |
| Can qualify candidates based on alternate language used (such as Marketing Content Specialist instead of Web Content Producer) | Weeds out candidates based on an algorithm |
| Can search for qualities such as interpersonal communication skills and common sense | Sorts candidates for easy review by a hiring manager |
Both manual resume screening and CV screening tools have advantages and disadvantages. Looking through resumes individually for top candidates can be extremely time-consuming, especially when you have hundreds of resumes to sort through. Meanwhile, ATSs can sort through resumes in seconds. However, plans can rack up costs depending on the system you choose, as these range from basic free ATS systems to over $200 per month, with features like application forms, resume parsing, and reporting.
Let's take a look at the pros and cons of each approach.
PROS

CONS

Better chance to catch uniquely used language in resumes
Time-consuming
Reduces the chance of overlooking good candidates
May review the same resume multiple times if not initially recognized (applicants reapply often)
Can review with other positions in mind and share with other supervisors
The same amount of time and effort is often expelled for candidates who are not qualified as the ones who are
Can request follow-up information before qualifying or disqualifying a candidate
Biases can be formed based on the information provided
PROS

CONS

Faster, more efficient review process overall
Keyword searches are specific and could result in missing qualified candidates
Removes any bias toward the resume content
Could result in discrimination if discriminatory practices are already found in any part of the hiring process (i.e., application, job description)
Keeps candidate information organized
May be too costly for some small businesses
Tracks and sorts resumes based on the keyword identifiers supplied by the employer
Cannot often differentiate between similar titles and uniquely worded experience types
Know the Law
Reviewing resumes is a key part of the applicant screening process. Knowing what information you can and cannot use to qualify or disqualify a candidate is essential prior to reviewing resumes.
Discrimination
Under Title VII of the Civil Rights Act of 1964, businesses cannot discriminate based on race, color, national origin, age, sex, or religion. You can face discrimination charges if you or your ATS removes any applicants based on a protected class.
An excellent way to ensure you are not discriminating is through blind hiring. Blacking out personal information when reviewing resumes—allowing you to see only the skills, qualifications, experience, and education of the candidate—can help you make a non-biased decision.
Records Retention
Federal law (EEOC) requires all companies with 15 or more employees to keep all job descriptions, resumes, and any documents pertaining to the hiring process for at least a year. To avoid an accumulation of paperwork, it is a good idea to store the resumes electronically—an ATS will store them for you. If you are manually receiving and reviewing resumes, consider scanning and keeping them in a secure online location.
Common Red Flags When Screening Resumes
Candidates are very creative. In some cases, resumes may contain subtle warning signs of potential problems that you may want to follow up on with the candidate. Some of these red flags may outweigh a candidate's otherwise perfect fit or abilities and experience for the job. Some examples of red flags to look out for when reviewing resumes are:
Unexplained Gaps in Employment: As you're reviewing an applicant's work history, look for long breaks between jobs. While there could be a reasonable explanation such as military service, starting a family, or taking care of a loved one, any serious candidate should be prepared and willing to explain these gaps in an interview and may even hint toward reasoning in the resume.
Brief Tenure From Job to Job: Job-hopping is a common red flag to be aware of. Too many employers in a short period could signal a lack of commitment or behavioral concerns.
Sloppy Resume: There is no good reason to present a sloppy, unprofessional, or error-laden resume. There are examples online of great resumes, and if a candidate does not take the time to present themselves to you in a professional manner, you should consider passing on them.
Personal Data or Lacking Professional Details: Resumes are not the document to share about hobbies, trips, and family members. Candidates who stick to the business at hand and share professional experience, skills, and qualifications should be considered over candidates who use their resume as a social media page.
Length of Resume: We know candidates want to sell you on how great they are, but most resumes should be kept to one page—or two at the most, if there are 15 or more years of experience at the senior leadership level. According to Zety, 77% of employers say that seasoned candidates should present a resume that is at least two pages long.
No Cover Letter: One way to look for more serious candidates is to ask for cover letters along with resumes in your job postings. Those who provide cover letters, as instructed, should receive first looks, while those who do not should be reviewed afterward. It is not suggested that you disqualify applicants if they do not provide a cover letter. However, those who follow instructions should be rewarded and oftentimes make for great employees.
Bottom Line
Developing and maintaining a resume or CV screening process will ensure that you track the most critical attributes consistently each time, review resumes fairly, and compare and contrast the skill sets and experience prior to making a selection. Using an ATS, like Freshteam, to screen candidates' resumes will save you time and effort.