Resume screening is the process of looking over a resume to search for information that corresponds to the requirements of a job opening. However, resume screening as a function is being enhanced by artificial intelligence (AI) programming that can scan the resume document for keywords, and then parse the results to create a searchable applicant profile.
Resume Screening: An Important Step in the Hiring Process
The process of recruiting can be broken down into basic steps that start with identifying the needs of the role and end with hiring a candidate whose qualifications match. Some of these steps can be simplified by using a resume screening tool.
Resume screening allows a hiring manager (or software) to match applicants' resumes to open jobs. While research has shown that a recruiter will only take an average of six seconds to quickly scan a resume, the full resume screening process is a bit more complex.
For example, the recruiter has to find the resume online or via email, open it, review it, evaluate the applicant's qualifications, and then make follow up notes to remember why they chose one candidate's resume over another. In my experience, that takes about 15 minutes per candidate; using resume screening software expedites the process.
In addition, one job posting may get hundreds of applicants, each with resumes attached. Glassdoor conducted a survey to find out how many of those applications with resumes resulted in candidates being interviewed and hired.
Let's use a simple calculation. Say you post a job for an administrative assistant and you receive 100 applications with resumes attached, you can expect to spend about 25 hours manually reviewing the resumes you received.
15 minutes per resume to receive, scan, sort, make notes, and file x 100 resumes = 25 hours
That doesn't even include the time it takes to schedule interviews.
Resume screening software can parse the data so you (or the software) can then organize candidates in your ATS for future job roles. Resume scanners create keyword-searchable online profiles within your ATS to become the basis of your talent pool.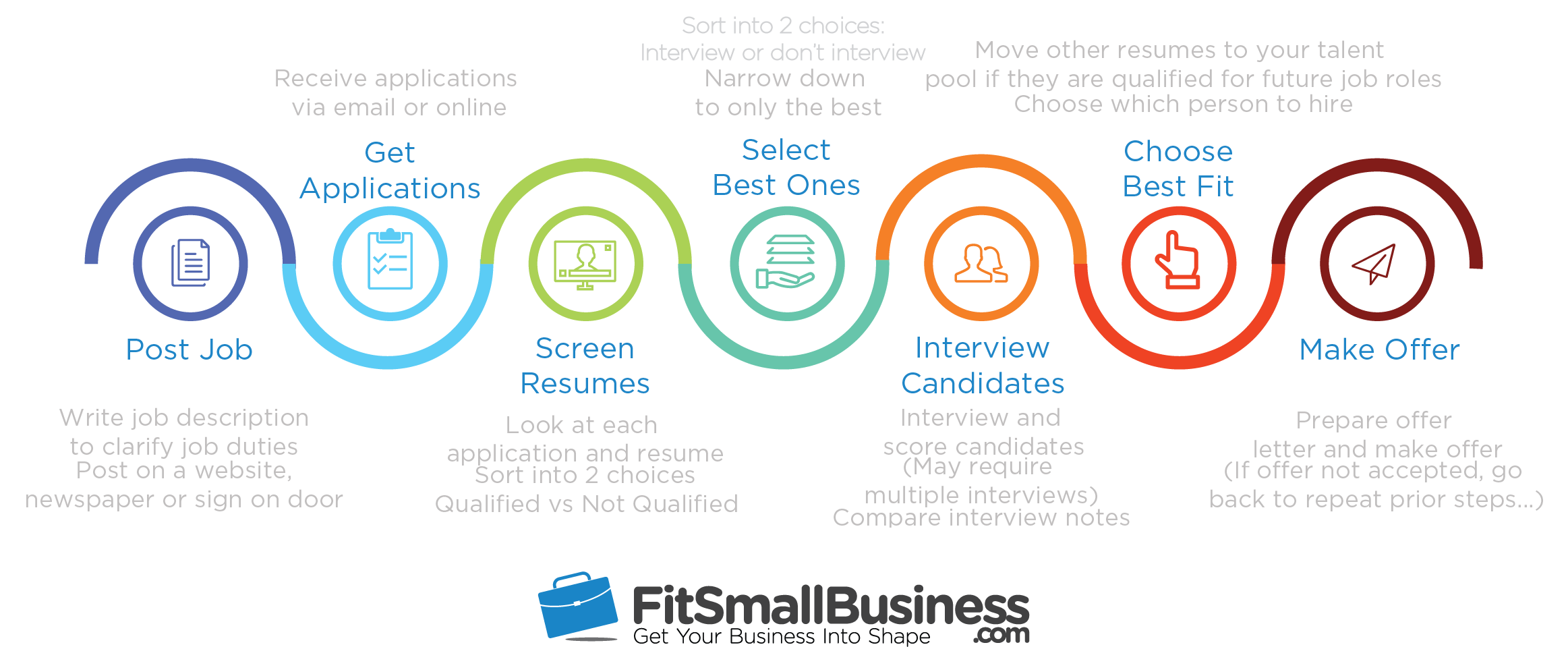 | | Post job | Get applications | Screen resumes | Select best ones | Interview candidates | Choose best fit | Make offer |
| --- | --- | --- | --- | --- | --- | --- | --- |
| Without an ATS | 1-4 hours | 15 minutes per application | 15 minutes per application | 15 minutes per application | 1 or more hours per candidate | 1 or more hours per candidate | 1 hour per candidate |
| With an ATS | 1-4 hours | 0 seconds per application | 1 minute per application | Same | Same | Same | Same |
Time required for manual vs. automated hiring using an ATS with a resume screening option
Notice that an automated resume screening system can save you many hours per job opening as well as encourage more job applicants to apply by streamlining their application process. In fact, job seekers can upload their resume and the ATS resume screening function will build the application data needed for them to apply for the job.
Resume Screening With an ATS
An ATS typically performs all of the steps shown in the flowchart above and stores the data on open jobs and available candidates in a database-style system. Because recruiting, like other forms of business marketing, is a numbers game, having a tool to track all of your applications can be helpful.
Here's a list of human resource tools that can be used separately or included as a part of an ATS system to ease your hiring process.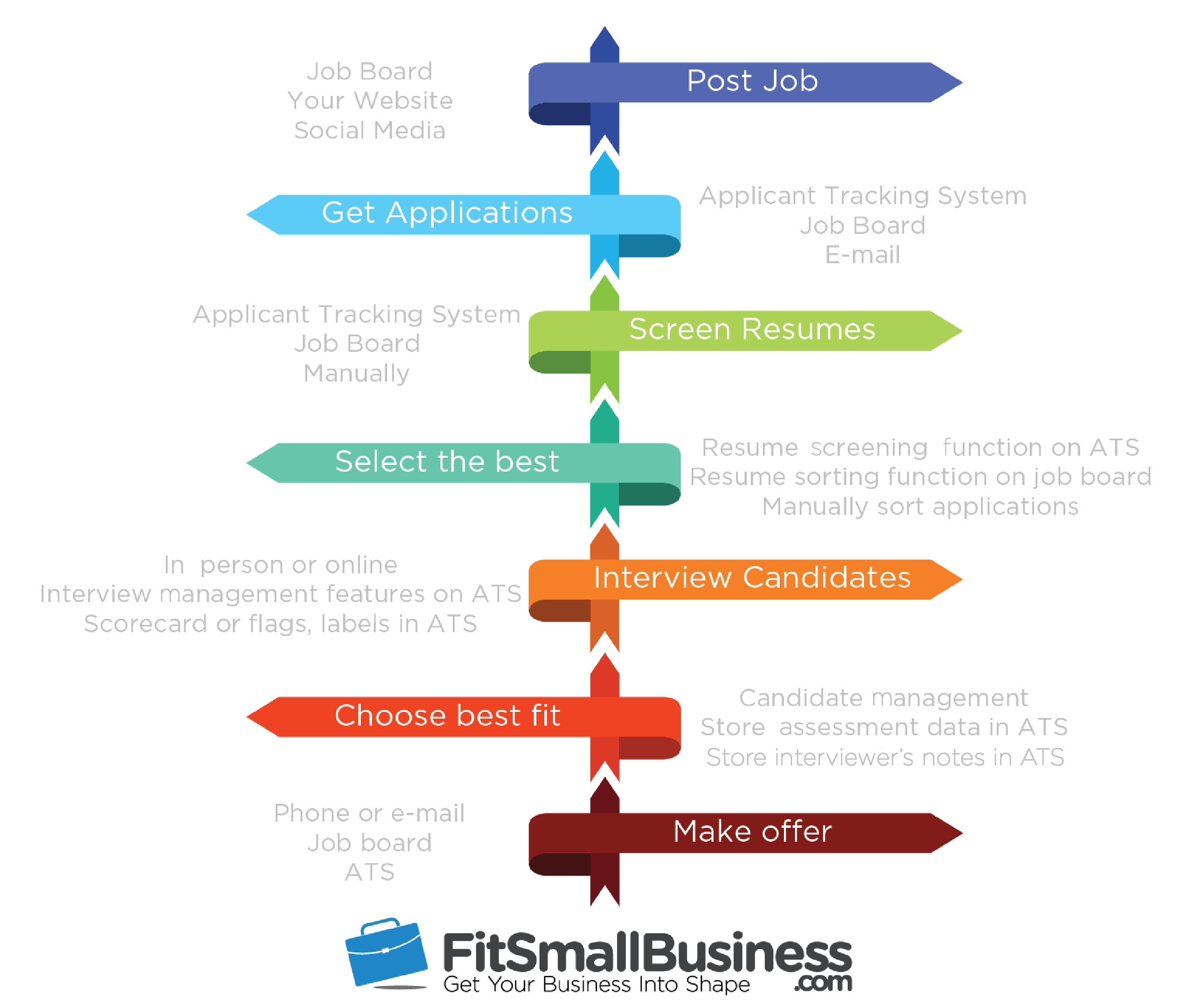 Streamline the Recruiting Process With an ATS
An ATS like Freshteam manages the recruitment process end-to-end starting with recruiting functions that keep track of job descriptions and jobs that have been posted. Then, it follows applicants through the interview process to hire, storing resumes and related documents like interview notes and assessments. Here are some of the basic functions of an ATS:
Posts jobs online to your own website, social media, or a job board
Includes job-specific information. such as company, salary, job description, location, and contact information
Stores critical job-related documents like job descriptions and interview evaluation forms
Stores applicant data and attachments like references or a candidate's portfolio
Helps you identify and sort qualified vs. unqualified candidates quickly
Allows you to link qualified applicants to open positions
Makes it easy for you to communicate with applicants at all stages of the recruitment process
Offers mobile- and cloud-based options for you and your applicants to use
Has software integrations with social media and job boards
Provides reporting capabilities
What an ATS Costs
The cost of an ATS will vary depending on the number of employees you have, the number of jobs you post, and the features it offers. For example, Freshteam is free if you have 50 or fewer employees. Paid plans cost between $50 and $200 per month with ATS features like application forms, resume parsing, and reporting.
You can try any of Freshteam's packages free for 30 days.
Save Costs With an ATS Resume Screening Tool
Let's look at some data in terms of what it takes to make a hire so we can consider the additional cost savings that an ATS with a resume screening feature can provide. For example, in the funnel chart below from Jobvite, you'll see some averages. The better you're able to promote your brand and craft your job description, the more qualified candidates you'll receive, which means more resumes you'll need to scan.
For example, if 500 people visit your website looking at a specific job you've posted, perhaps 55 of them will apply. Of that number, you might find six worth interviewing but you'll have looked at 55 resumes to get to those six. A resume screening tool would fast track that resume scanning process for you.
Even after you interview those six people, there's no guarantee that your first candidate will accept the offer. A resume screening tool will let you go back and review additional candidate profiles from your talent pool and prior interview notes until you find the next best fit.
Manual vs. ATS Resume Scanning
Manually screening resumes is a time-consuming process — not just the scanning process but also the time sorting and making notes to indicate whether each applicant (based on their resume alone) has the minimum qualifications for the open position.
An ATS does this automatically using AI and then categorizes or tags the resume as qualified or not. Even those ATS systems without AI typically provide a quick overview or candidate profile based on data pulled from the resume. That allows you or your HR representative to compare candidates side by side.
When scanning a resume, a hiring manager will typically look for the following:
A name, address, and contact information of the applicant
A document ordered logically with few, if any, typos
Skills that match the open position or job description
Experience that matches the open position's requirements
Education that matches the open position's job level
An ATS resume screening tool can perform all these functions. In addition, it can cut and paste, or parse the data, so that it fits into the ATS data format and is mapped into the corresponding fields.
Resume Screening for Minimum Qualifications
Most jobs will have minimum qualifications as described in the job posting or the job description. The best resume screening tools will be able to compare what you've listed as minimum requirements with the information that the candidate included in their resume. If not, you'll need to do the assessment manually by viewing the candidate profile and asking yourself:
Does the candidate have the minimum required education?
Does the candidate have the minimum required years of experience?
Does the candidate have the minimum required skills?
Does the candidate live close enough to commute?
Does the candidate's resume contain the job-related keywords we were expecting?
After that, most ATS systems let you rate, label, or even remove candidates linked to a job posting. Look at the Freshteam example below where two candidates are rated — one as a three-star and another as a four-star. In addition, notice the icons circled below that let you add tags in your own words, like "bilingual," "certified," or "expert" as well as write detailed notes on each candidate's profile.
Resume Screening for Relevant Keywords
Most resume screeners are set up to look for keywords. As a hiring manager, those keywords should be based on the job description or job post. For example, if the job description specifies work that requires a person to have SEO, marketing, and HTML skills, you'll want to set up the resume scanner to look for "SEO," "marketing," and "HTML" as keywords.
While the ATS resume screening function will scan for keywords, not all resumes have the exact keyword phrases you're seeking. For example, an experienced finance analyst applicant who uses Google Sheets may not think to mention expertise in Excel on his or her resume, thinking they're so similar. If your resume screening software looks for and doesn't find the keyword "Excel," it may incorrectly sort the candidate into a "not qualified" list.
Be careful when setting up your resume screening tool or screening resumes using keywords to ensure your system doesn't accidentally screen out qualified candidates. Also, writing a job ad with keywords that don't represent what's needed on the job or different than the job description causes qualified applicants either to be missed during resume screening or to be interviewed based on the wrong keywords. They'd be confused if hired only to find out the job is different than what they thought they applied for.
Furthermore, your job posting and resume screening might be improved by looking for additional criteria like location of the job matching the location of the candidate, specific education, desired GPA, or even evidence on a resume that a candidate is active on social media sites. Personality traits and temperaments are also factors to look for when screening resumes.
Parsing the Resume Data
Parsing data is simply a way of saying that the ATS resume screener looks for specific information, such as education or skills, and then cuts and pastes that data into the appropriate fields within a candidate's online profile. Resume parsing saves you time looking for key information since many resume writers put similar information in different locations on their resume.
Here is a before and after example of how a resume looked at the time it came into the Freshteam ATS system and what the resulting profile looked like after the resume was parsed into standard candidate profile data fields using their resume screening tool.
Additional Benefits of Using an ATS Resume Screener
Resume scanners save valuable time for the recruiter and allow everyone on the hiring team, from manager to top executive, to look at similar data for all applicants. Here are some additional benefits of resume screening:
Screens applicant resumes for jobs posted on your company website
Provides a talent pool by scanning resumes for searchable keywords and skills
Allows interviewers and hiring team members to collaborate on the same applicant profile (during interviews)
Provides tags or some kind of labeling (to compare candidates side by side)
Prevents discrimination by viewing a candidate's qualifications rather than age, gender, ethnicity, or data that might cause bias
In addition, if your resume scanner is part of an ATS, you may get these additional benefits:
Manages attachments (all in one place)
More applicants will apply if the application process makes it easy to attach or upload a resume
Candidates can self-select out of the application process on the front end if you're clear about what skills and keywords you're looking for in the job post
Cross-post jobs from your website to online job boards, improving your chances of finding a top candidate
Downsides of Using an ATS Resume Screener
There are very few downsides to using an ATS resume screener. However, a few important considerations remain, including:
If the keywords aren't inputted or set up right, you may miss qualified candidates based on "words" scanned within the resume that don't match the keywords you're seeking
More applicants will apply online if the ATS is easy to use, which probably means you'll get more spam job applicants as well
Resume stuffers who fill their resumes full of keywords but are not a fit for the job will show up as qualified when they may not be
Integration With Job Posting Sites
Most ATS have integrations with other job posting sites so that applicants can apply online on a job board like Indeed or Monster, and then the application and resume data can be passed to your ATS for screening, eliminating duplicate data entry. In addition, some integrate with calendars for scheduling interviews and other tools to assess candidate skills.
For example, Freshteam offers the following integrations:
While 77 percent of job seekers search on company websites, 79% say they are likely to use social media in their job search. Common sites where they find jobs on social media are LinkedIn, Facebook, and Twitter. Freshteam, like many ATS resume scanning software tools, allows users to apply for jobs and upload their resumes directly from links on these sites.
The Bottom Line
Resume screening is a critical step in the recruiting process to ensure that you hire the best, most qualified candidate from the many applicants that apply to your job. An ATS with resume screening features helps fast-track that process by parsing data from the resume into a candidate profile, which you can then rate, share, and manage from application to hire.