Rippling is an all-in-one HR platform that streamlines and automates employee management processes. Its robust features allow you to hire, manage, pay, and train employees. In addition to HR tools, Rippling offers IT solutions for setting up and monitoring computer devices and app access. It's ideal for small to midsize companies—especially those with plans to expand internationally.
Rippling earned the top spot in our best HRIS software for small businesses with a total score of 4.56. It rated at least 4 out of 5 in six of the seven criteria in our evaluation. Rippling got perfect scores for HRIS functionality and popularity. However, its lowest score was for ease of use because of its non-customizable interface and lack of phone support (without the HR Help Desk add-on).
Rippling Overview

What We Like
Modular HR, payroll, and IT solutions that connect seamlessly with each other
Integrates with 500+ third-party software
Users can easily switch its PEO option on and off
Payroll solution supports international payments
Drawbacks
Pricing isn't all transparent
You can't purchase other modules without buying the core Rippling Unity platform first
HR help desk option with phone and email support costs extra
Gets pricey as you add features
Deciding Factors
Ease of use:
Rippling's clean interface makes it quick to navigate through its many features.
While its interface isn't customizable to reflect your branding, you can customize the workflows to help you automate HR, payroll, and IT processes.
Pricing*:
$35 plus $8 per employee monthly

Includes Rippling's core workforce management platform, employee onboarding and offboarding, full-service payroll, time tracking, and software integrations

Other modules like benefits administration, computer inventory management, and applicant tracking cost extra (custom priced)
Customer support:
Rippling offers live chat and email support, including an online help center with how-to guides. Its HR Help Desk service also lets you call HR professionals to get expert advice, but this is a paid add-on.
The first month is free for new users. However, this can end at any time. Check the provider's website for the latest promotions on offer.
*Pricing is based on a quote we received
What We Recommend Rippling For
Rippling's core product is HR, but its full-service payroll and tax processing tools are also popular. It offers unlimited pay runs and pays employees through direct deposits or checks. You can also use Rippling to manage candidate sourcing activities, onboarding and offboarding processes, app security and access, and staff information. It even offers professional employer organization (PEO) services that you can easily turn on and off. These functionalities make Rippling convenient to use for small to midsize businesses (SMBs), as it provides robust HR and IT features in a single platform without sacrificing efficiency.
Overall, Rippling is best for:
Small businesses without HR or IT professionals: Rippling provides a suite of HR and IT management features that help businesses onboard and offboard employees. In addition to its unified employee database, you get workflow approval automation tools, paid time off (PTO) tracking, full-service payroll, and access to health insurance, FSA, HSA, and commuter benefits. HR support staff and a PEO are also available.
Businesses with remote workers or a global workforce: Rippling is on our lists of leading online payroll services and best international payroll software because it can help you track employee work hours and control employee app access from anywhere—provided an internet connection is available. Rippling payroll can even efficiently process wage payments for your global staff—both employees and contractors—and send salaries in the appropriate currency via international wire.
Growing businesses that need a flexible system: What's great about Rippling is that you can select the HR and IT solutions you need—although you have to purchase its core workforce management (Rippling Unity) platform. You can sign up for essential modules (such as payroll, benefits, and time tracking) and then add more (like applicant tracking, learning management, and app management) as you grow your business. Rippling even integrates with 500+ third-party software, making it easy for you to connect systems that you've used over time to its platform.
Employers looking for PEO services they can easily turn off: Rippling's flexible PEO service is one of the reasons why it's one of our top-recommended PEO companies. Unlike similar providers, in which you have to go through a service cancellation process, Rippling allows you to easily switch off its PEO service directly from your account and start using its HR platform again.
When Rippling Would Not Be a Good Fit
Mom-and-pop businesses with limited budgets: While its website indicates that pricing starts at $8 per employee monthly, you have to pay for each module in addition to the Rippling Unity platform. You may request a custom quote based on the solutions you need (similar to the one we received), but if you have plans to grow your workforce, you may end up having to pay higher fees because of its pricing scheme that charges on a per-employee, per-month basis. In case you only have a handful of employees and plan to keep it that way, you can probably find more affordable software. Check out our guide on free payroll software for more options.
Businesses that require live phone support: If you need phone support to get fast answers to questions related to payroll, benefits, and HR, Rippling may not be right for you—unless you're willing to pay extra for it. We recommend Paychex, ADP, or Gusto, which all offer free live phone support.
Looking for something different? Read our guide to the best payroll software if payroll is your primary need.
How Rippling Compares With Alternatives
| | | | | |
| --- | --- | --- | --- | --- |
| | | | | |
| Best for | Small businesses without HR or IT professionals | Small businesses needing payroll and basic onboarding support | Small businesses on a budget | Employers with employees in multiple states |
| Free Plan | None, but new users get the first month free** | ✕ | ✓ | ✕ |
| Monthly fees | $35 + $8 per user | $40 per month, plus $6 per user | $1.50–$10 per user | $10 per user |
| User Rating* | 4.86 / 5 from 4,200+ reviews | 4.52 / 5 from nearly 4,500 reviews | 4.35 / 5 from 400+ reviews | 4.13 / 5 from 1,200+ reviews |
| Ease of Use (based on rubric) | 3.75 / 5 | 3.88 / 5 | 2.13 / 5 | 4.25 / 5 |
| Our Reviews | | | | |
*Averaged from third-party review sites such as G2 and Capterra.
**This may end at any time. Visit the providers' websites to view the latest promos on offer.
If you're unsure Rippling is right for you, see how it compares with other HR payroll software.
Rippling doesn't publish clear pricing on its website, but we were able to get an updated quote for an HR package that includes essential tools to onboard new hires, manage staff data, and pay employees based on actual work hours. Note, however, that its starter monthly fee is still $8 per employee. For custom pricing, contact Rippling to discuss the HR requirements of your business.
You can purchase Rippling's HR and IT modules separately, but you have to get its workforce management (Rippling Unity) platform first before you can buy these solutions. While Rippling's pricing page indicates that monthly fees start at $8 per employee, it doesn't show how much each module costs—although you can easily contact them to request pricing information and a free demo.
Based on the quote we received, Rippling costs $8 per employee monthly plus a platform fee of $35 per month. This package includes time tracking, employee onboarding and offboarding tools, access to Rippling Unity, and full-service payroll with payroll tax filings. You are also granted access to Rippling's extensive network of partner systems, enabling you to integrate its platform with over 500 third-party software.
You can purchase Rippling's other HR and IT modules for the following rates:
App, device, and computer inventory management: $8 per employee monthly

Includes IT tools to manage business apps and computer provisioning and deprovisioning processes

Benefits administration: Pricing varies, depending on your insurance broker
Global payroll: $20 per employee monthly
Global contractor payroll: $20 per employee monthly
Employee of Record (EOR): $599 per employee monthly
If you need applicant tracking and learning management, as well as HR advisory services, contact Rippling to request a quote.
The only thing that prevented Rippling from getting a perfect score for this criterion is that access to advising staff for compliance costs extra. Rippling has a suite of HR and IT solutions that SMBs would benefit from. With its online tools streamlining and automating employee management and IT processes, company owners can focus more on growing their business and less on handling day-to-day administrative tasks.
Here are some of Rippling's essential features to help you decide whether or not it fits your business requirements:
Rippling Unity allows you to manage workflows, policies, analytics, and system permissions. It also unifies your employee information into a single database so you only have one source of data across all of its modules. When it comes to managing the access of groups of employees, Rippling lets you create "supergroups" so you can specify which employees should be added to specific policies, email groups, business software user lists, and more.
Workflows & Permissions
Designing workflows, policies, and permissions to automate HR, IT, and payroll processes is easy with its "workflow automator" tool—no coding skills required. Similar to MS Excel formulas, it utilizes IF/THEN and other conditional logic commands, but is structured in a way that makes it straightforward to use.
And you don't have to worry about updating your employees' permission and approval settings whenever their roles change—Rippling will handle this for you. Its system automatically inherits the permissions associated with specific roles and positions, so you don't have to manually update this every time there are employee movements in your organization.
Custom Triggers & Tasks
Apart from policies and workflows, Rippling lets you build custom triggers and tasks. You can set up conditional formulas to trigger specific actions, such as sending SMS and email alerts, assigning tasks, and complying with approval requirements. What's great about this is that it also works across Rippling's partner networks.
For example, you can create a workflow to detect potential pay inequity when hiring a new employee and have Rippling notify you through Slack (one of the collaboration tools it integrates with). Or, you can set up an alert to inform specific employees via Slack, email, and/or SMS of a high-priority ticket raised on Jira when the person in charge is out on PTO.
"Recipe" Templates
If you're unsure whether or not you can create workflows on your own, Rippling has a library of "recipe" templates you can use. Some of these customizable "recipes" include workflow automations to create Google Calendar events for employee benefits enrollments and mandatory learning sessions. It even has a "recipe" to automate the task of informing your payroll team when a hiring referral bonus is scheduled for pay processing and who it should go to.
Apart from workflows, Rippling's "recipe" library contains report templates—from payroll registers to hiring pipeline reports and employee attrition summaries. Ready-to-use formula options are also available, such as a formula to compute the percentage of employees who completed learning courses.
Analytics
Included in Rippling Unity is an analytics suite to help you view, edit, and report on employee-related data. While it has report "recipe" templates you can use, Rippling also lets you create reports that show data from multiple datasets and even from its partner business systems.
Let's say you want a list of employees eligible to receive a bonus for candidates they referred that were hired. If you're using a third-party recruiting solution like Greenhouse, you typically have to download an Excel report of successful hires and then manually go through it to identify who to pay, how much should be paid, and when it should be processed.
With Rippling, you simply generate a report and the system will extract the information from partner recruiting tools to display all the data you need.
---
With Rippling payroll, you don't need to manually enter data (such as hours worked and benefits deductions) since all of its modules connect seamlessly with each other. You can run unlimited payroll each month and pay employees (including contractors) through direct deposit, paper checks, and even via international wire (for employees based outside of the US).
In addition, Rippling's integration with AP Intego grants you access to pay-as-you-go workers' compensation insurance. It also supports all types of wage garnishments and can even send the funds to applicable agencies.
Not sure what payroll features to look for? Check out our guide on how to choose a payroll service to help you evaluate if Rippling is a good fit for your business.
---
Rippling automatically calculates, files, and pays your federal, state, and local taxes. And at year-end, your employee tax forms (1099s and W-2s) will automatically be generated and electronically distributed. If its reps make a mistake during the tax filing process, Rippling will pay the penalties.
---
Rippling has an extensive range of employee benefits options, including health insurance (medical, dental, and vision) that covers all 50 states. It also offers commuter benefits, flexible spending accounts (FSA), health savings accounts (HSA), and 401(k) plans.
If you're looking for new benefits options, you can use Rippling to get quotes, compare packages, and enroll in over 4,000 benefits plans from leading carriers like Blue Cross Blue Shield, Aetna, and Humana. In case you already have pre-existing plans, you can opt to retain those—you can even connect your current coverage with Rippling. This makes transitioning to a new HR payroll system easier since you and your employees don't need to re-enroll online.
---
With Rippling, your employees can clock in/out via the computer, a tablet kiosk, and its mobile app for time tracking. All approved hours sync automatically for pay processing, and you can even review your staff's time cards directly from its payroll solution.
Setting up time tracking rules is made easy with Rippling's automated workflows. Its system also has built-in compliance that automatically follows federal, state, and local labor laws based on your employee's work location. Once the rules have been set up, it sends alerts for missed breaks, overtime requests, and unapproved hours.
Apart from monitoring time, Rippling can help you manage and track PTO. Employees can raise PTO requests through its system, which will automatically go to their identified managers for approval.
---
Rippling's hiring tools include applicant tracking, one-click job postings to multiple job boards and sites (such as Indeed and LinkedIn), and robust reporting to help you check your pipeline and candidate feedback. It also handles new hire state reporting, plus its onboarding solution can help you send offer letters and other new hire documents to incoming employees. Its partnership with E-Verify even allows you to run background checks on new hires.
---
In addition to letting you upload your own courses into its system, Rippling's learning management solution has a database of more than 1,000 prebuilt training programs—from cybersecurity courses to Health Insurance Portability and Accountability Act (HIPAA) training.
If you set up enrollment rules in the system, Rippling will automatically assign courses to employees, send training reminders, and track the progress. For anti-harassment compliance courses, Rippling has built-in preconfigured enrollment rules for all states, so you can enroll employees in state-mandated training with just a single click.
It even sends alerts to training participants to ensure that courses are completed on time. Rippling then records and sends the certifications to employees who completed the online training. In case you want to prevent staff from clocking in for a job if they've yet to complete the required courses, you can use the certifications to create time tracking rules that restrict clock-ins.
If you can't find the learning courses that you need in Rippling's training library, its partnership with Go1 provides you access to over 70,000 courses that you can purchase.
---
If your business grows to a point where you need PEO services, Rippling can help you manage HR, payroll, benefits, and IT (specifically app and device provisioning and deprovisioning). And when the time comes that you don't require its PEO anymore, you can easily turn the services off from your account settings and seamlessly transition to using its all-in-one HR platform again.
---
Employees can access payslips, check benefits, request PTO (managers can approve it), search for their coworkers' contact details, and log in to all of their company-approved apps via Rippling's self-service portal. This can be accessed online and via its mobile apps for Android and iOS devices.
Rippling's mobile apps also have time and geolocation tracking capabilities so you know when your employees are clocking in and out and where they are. You can even set location limits to prevent workers from clocking in if they are outside the GPS radius you identified.
---
Rippling provides a creative way of notifying employees when their online pay stubs are available for viewing via the self-service portal. While other payroll providers typically send email notifications with a link to the pay stub, Rippling added encouraging messages and animations to its pay stub notifications. However, if you prefer traditional pay stub emails, you can easily turn Rippling's creative notifications off.
---
Rippling's suite of IT solutions is designed to streamline the management of computer devices and business software access when onboarding and offboarding employees. This makes it easy for a small business without in-house IT teams to assign and collect computer devices issued to its workforce. You also don't have to worry about removing system access of resigning employees on their last day because Rippling allows you to do this remotely. It can even help manage your computer inventory for you.
Device Management
This solution is designed to help you efficiently manage the entire employee device lifecycle. With Rippling, you can easily set up or reassign computers and laptops for employees. It also automatically installs an app on all your devices, enabling you to make system changes to company-issued computers. This is great for deploying system updates to all devices, including managing settings for Wi-Fi, VPN, and printers.
When offboarding resigning employees, you can use Rippling to schedule the date and time to disable the computer device access. It also lets you wipe the data and employee accounts from devices to get them ready for the next users.
Inventory Management
If you need to buy new computer devices and have these shipped to your staff, you can place the order, identify the software to be installed, and track the shipment directly in Rippling. The provider also keeps an inventory of your unused computers and stores these in their warehouse for safekeeping until you're ready to reassign the devices. It even assesses the condition of each unit and records the findings online, allowing you to easily check and monitor your inventory from your dashboard.
For resigning workers, most employees hand in their laptops personally to HR or IT on their last day. However, if you have remote staff, you can either retrieve it yourself or have Rippling do it for you. If you opt for the latter, Rippling will send resigning employees return boxes with prepaid shipping labels so they can have the company-issued devices shipped back to you or Rippling's warehouse, depending on your choice.
App Management
Rippling automatically sets up new employees with the apps they will need—like Slack, Gmail, and Dropbox—based on their roles and departments. And with Rippling's single sign-on (SSO), employees can securely access company-approved apps directly from their dashboard. Its built-in team password manager, RPass, even helps your staff generate strong system passwords and securely share login credentials and 2FA codes for any app or website.
For resigning employees, Rippling simplifies the account deprovisioning process, so you don't have to manually disable their profiles from various apps. Rippling will instantly revoke their access during the offboarding process.
---
With over 500 third-party integrations, Rippling connects with a variety of software types. Here are some of its partner systems:
Accounting: Sage Intacct, QuickBooks Online, Xero, Corcentric
Analytics: Moz, Airtable, Mode Analytics, Looker
Banking: Brex, Branch, PayPal, Stripe, Chase
Collaboration tools: Slack, Google Workspace, Zoom.us, GitHub, Asana, Dropbox
Customer support: Zendesk, Front, Salesforce, Guru, Freshdesk
Design: Adobe, Canva, InVision, Shutterstock
Electronic signature: HelloSign, DocuSign, Pandadoc, Adobe Sign
401(k) solutions: Human Interest, Guideline, Betterment, Vanguard
Background checks: Checkr, GoodHire
Learning management: Lessonly, TalentLMS, Trainual, Northpass, EasyLlama
Performance management: 15Five, Lattice, Leapsome, Reflektive
Time and attendance: When I Work, QuickBooks Time, Deputy, Harvest, Homebase, Toggl, Clockify
IT: 1Password, Cloudflare, Azure Active Directory
Project management: Jira, Trello, Notion, Mavenlink, Wrike, Zoho
Office management: Envoy, OfficeSpace, Amazon
Sales and marketing: Outreach, Gong, Front
Workplace giving: Double the Donation and Bright Funds
---
Rippling ticked all the boxes in this criterion. It offered full-service payroll, a self-service portal, and time and attendance tools. Rippling also makes it quick for businesses to hire new employees with its user-friendly applicant tracking system and it's also easy to onboard new hires.
Whatever part of the HR management process, Rippling has a tool for it. At its simplest, Rippling helps you manage hiring, time and attendance, and payroll. But, one of the things that makes Rippling stand above the competition is its IT management offering, which helps employers in monitoring their computer devices—from assigning laptops or computers to employees to removing access to users who have retired or left the company.
Rippling got 4 out of 5 for reporting because it doesn't have premade reports you can use quickly to gain insights into your workforce. However, the good thing about it is that you can create your own reports by selecting the data you need and the type of chart you want. You can then download the generated report and share it with other team members.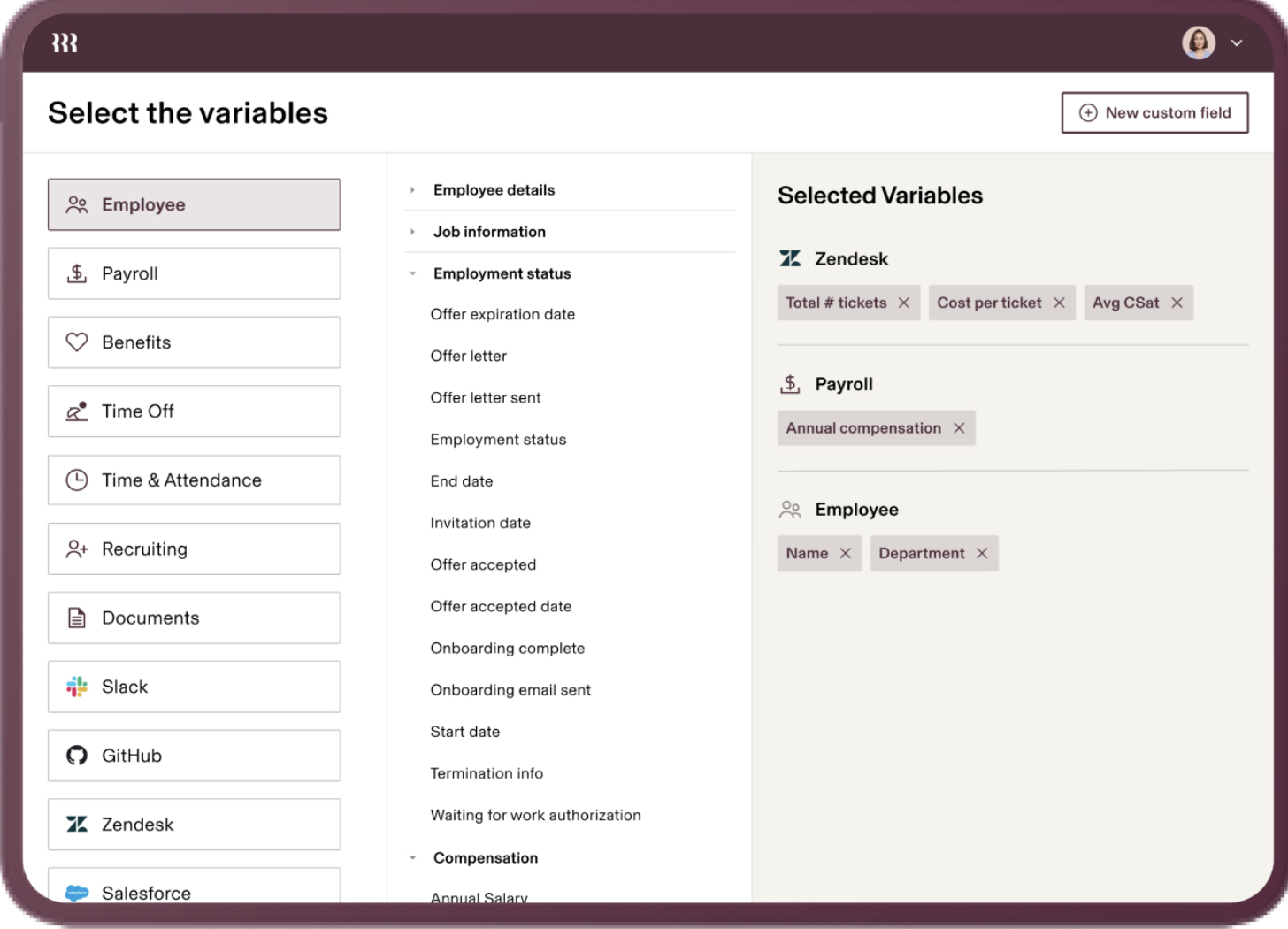 ---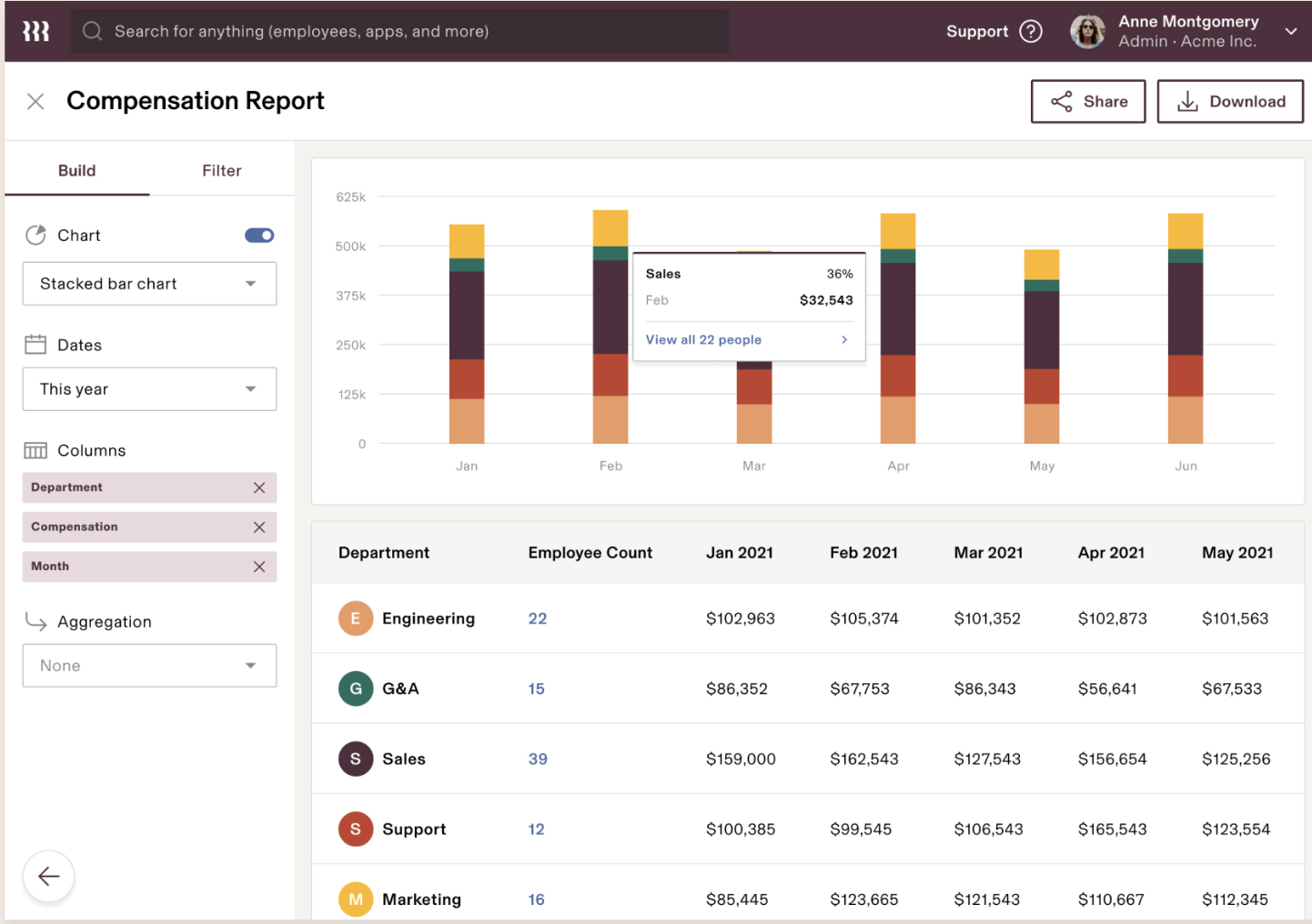 ---
In our expert review, we find Rippling to be a good option for most SMBs. It allows users to choose from the offered modules, so they can only get the tools they need. There's no need to pay for things you won't use. The breadth and depth of HR features that Rippling offers are also suitable for managing the daily HR tasks among SMBs.
Setup wizard and how-to guides
Self-service portal
Robust third-party integration options
HR support help desk
In-app chat
Phone and email support
Workflow automations
While Rippling has been praised for its robust HR tools, it lacks phone support if you don't get its paid HR Help Desk add-on. It also doesn't have a customizable interface. However, Rippling is very easy to use and seamlessly integrates with third-party providers.
With its setup wizard and how-to guides, you can quickly navigate through it and effortlessly add your employees' profiles, including their salary and benefits information. Its workflows and customizable "recipe" templates make it easy to automate HR, IT, and payroll processes.
When you have questions, it's easy to access its in-app chatbot that provides links to its help articles. However, if you need to speak to a certified HR representative via phone or email, you have to sign up for its HR help desk add-on.
Users Like

Users Don't Like

Intuitive and user-friendly
Mobile apps have limited features compared to its web version
Automated and customizable features for payroll, HR, IT, and tax compliance
Lacks free phone support; customer support isn't always helpful or responsive
Feature-rich platform
Minor software glitches and software lags with occasional integration issues
Most users left positive Rippling reviews on third-party sites like Capterra and G2. Many complimented Rippling's intuitive interface and the seamless integration with a lot of third-party providers. Others expressed that they like its robust HR features.
Some, however, complained about having experienced occasional glitches, such as software lags, login issues, and mobile app crashes. A few users also wished for more customization options and a way to contact its support team via the phone.
At the time of publication, Rippling earned the following scores on popular user review sites:
Rippling Review Frequently Asked Questions (FAQs)
What is Rippling used for?
Rippling is used by many SMBs for time tracking, payroll processing, administering employee benefits, and basically all HR tasks.
Is Rippling secure?
Rippling offers IT management services with the utmost security. It helps maintain any business' security by encrypting devices and ensuring they're updated with the latest antivirus program.
Is Rippling's Unity platform enough for my business?
If you're mainly looking for a solution to help you manage your SMB workforce with payroll, time tracking, onboarding, and offboarding, then the Unity plan is an excellent choice. But, if you have a large number of employees and would need an applicant tracking system and benefits administration, then you should consider its other modular options.
Bottom Line
Rippling is an all-in-one HR platform that offers full-service payroll and tax compliance. Its fully automated and customizable solutions make it an ideal software for SMBs looking to streamline HR and IT processes. And if you need to offload some of your HR duties—be it processing payroll or administering employee benefits—Rippling's PEO services can help you, plus you can easily switch it on and off.
To see Rippling's HR and IT tools in action, sign up for its free demo today.