6 Best Auto-attendant Phone Systems for 2022
This article is part of a larger series on VoIP.
The best auto-attendant phone systems perform various call routing tasks, such as greeting callers, delivering information, and facilitating the transfer of calls. They should also support multiple extensions and have easy-to-use phone menu builders to configure your incoming call routing strategy. Here are the six best business phone systems with auto-attendants and other important call management tools and unique features.
Based on our ratings, the best auto-attendant phone systems are the following:
Auto-attendant Phone Systems

Monthly Starting Price

(per User)

Key Features

Routing Features

FSB Rating

$30.95

Professionally recorded greetings
Team collaboration app
Built-in customer relationship management (CRM) system

Auto-attendant at base plan
Multilevel auto-attendant
Scheduled routing features

4.5 out of 5

$29.99

Real-time analytics
Up to 200 integrations
Phone system administration

Multilevel auto-attendant
Answering service rules
Create routing diagrams with spreadsheets and XML files

4.18 out of 5

$29

(flat fee, not per user)

Automatic text messaging
Multiple phone extensions
Voicemail transcription

Live receptionist option via Ruby

4.12 out of 5

$15

Mix-and-match plans
Unmetered international calling
500-participant video meetings

Auto-attendant at base plan
Multilevel auto-attendant

3.92 out of 5

$14.99

Dial-by-name directory
Mix-and-match plans
Click-to-call functionality

Live receptionist option
Scheduled routing features

3.84 out of 5

$19.99

Customizable plans
Multiple devices on a single extension
Voicemail-to-email

Follow-me functionality
Scheduled routing features for virtual receptionist

3.69 out of 5
Can't decide which auto-attendant phone system suits your business? Take our quiz to find out which vanity phone number provider is best for you.

Which auto-attendant phone system is right for you?
Answer a few questions about your business, and we'll give you a personalized product match.
Nextiva: Best Overall Auto-attendant Phone System
Nextiva

Overall Score:
4.50

OUT OF

5
i
Our score is based on a weighted evaluation of dozens of similar products and services conducted by our experts.
What We Like
All subscriptions include toll-free minutes
Auto-attendant at every level while multilevel auto-attendant is included with all advanced plans
24/7 customer support on all plans
What's Missing
High price point makes it unsuitable for solopreneurs or businesses on a budget
Base plan only includes two integrations: Google Contacts and Microsoft Outlook
Lacks unlimited international calling
Nextiva Monthly Pricing*
Essential: $30.95 per user for an auto-attendant, unlimited domestic calling, 1,500 toll-free minutes, unlimited internet fax, 250-participant video meetings, team messaging, and a free local or toll-free number
Professional: $35.95 per user for a multilevel auto-attendant, 40-participant audio conferencing, mobile SMS/MMS, 3,000 toll-free minutes, and one professionally recorded greeting
Enterprise: $45.95 per user for unlimited audio conferencing participants, 12,500 toll-free minutes, call recording, and three professionally recorded greetings
Free trial: 30 days
*Pricing is based on one to four users with monthly billing. Save up to 27% by paying annually.
Nextiva is the best auto-attendant phone system for small businesses wanting to manage all team and customer conversations from a single place. It recently unveiled a communications and productivity work hub to address siloed data, application overload, and complex integrations. The work hub enables users to access all interactions from voice, email, text, and video meetings in a centralized platform.
It also includes contact management, productivity (calendars and file sharing), and customer engagement tools (automation and customer surveys). This strategy allows convenient data sharing from files, messages, links, notes, attachments, and recordings together with conversations.
Regarding routing capabilities, Nextiva shines as a provider because of its multilevel auto-attendant, intelligent interactive voice response (IVR) as an add-on, and free professional greeting recordings. It also has a user-friendly dashboard that lets you manage all incoming and outgoing calls.
Despite the noteworthy features of Nextiva, its monthly plans are relatively expensive compared to its competitors. Whether your business is just starting or working on a tight budget, consider a low-cost provider like Phone.com. It offers metered and unlimited plans at a lower price and allows users to mix and match plans for each member.
Nextiva Features
Busy lamp field (BLP): Monitor the call status of as many as 50 users in your company. Call status includes idle, incoming call, on a call, and call on hold.
Call Me Now: Add a web-based link or icon to your website to encourage your visitors to initiate a call to your business. It also allows reverse click-to-dial, which means any phone number entered on your website during your business hours will result in a call being placed from your phone to that number.
Directed call pickup: Answer an incoming phone call ringing to someone else's line. A call will be transferred to your line once you dial the feature access code and the extension of the user receiving the call.
For more details, check out our full Nextiva review.
RingCentral: Best for Complete Unified Communications Features
RingCentral

Overall Score:
4.18

OUT OF

5
i
Our score is based on a weighted evaluation of dozens of similar products and services conducted by our experts.
What We Like
Over 200 third-party integrations
Drag-and-drop phone tree editor makes it easy to configure the auto-attendant
Supports a wide range of unified communications capabilities
What's Missing
No video conferencing feature and internet fax on entry-level plan
Number of features may be too overwhelming for businesses with basic phone system requirements
Professional voice recording comes with an extra fee starting at $50
RingCentral Pricing*
Essentials: $29.99 per user for up to 20 users, a local or toll-free number, unlimited domestic calling, business SMS, visual voicemail, call management features, and call log reports
Standard: $37.99 per user for a multilevel auto-attendant, unlimited number of users, 100-participant video meetings, unlimited internet fax, and integrations with Slack, Google Workspace, and Microsoft 365
Premium: $44.99 per user for automatic call recording, 200-participant video meetings, hotdesking, advanced call handling, and real-time analytics
Ultimate: $59.99 per user for device status reports, device status alerts, and unlimited storage
Free trial: 14 days
*Pricing is based on one to five users with monthly billing. Choose annual billing to save up to 33% and receive a volume discount when adding 100 or more users.
RingCentral ranks as one of the best phone auto-attendant providers for companies looking for robust centralized communications. All subscriptions include unlimited calling, SMS and MMS text messaging, team messaging, voicemail, and document sharing. Subscribing to its advanced plans provides rich video conferencing features like screen sharing, closed captioning, and cloud recording.
Aside from its unified communication capabilities, RingCentral is also known for its comprehensive voice-over-internet-protocol (VoIP) features. At its entry-level plan, users can access answering rules, call screening, and call transfer. High-tier plans include advanced phone system tools like real-time analytics, multilevel auto-attendant, and call monitoring.
While most organizations use RingCentral extensively, it is not a suitable solution for smaller teams with basic phone system requirements. In this case, choose Grasshopper, which offers cost-efficient pricing because of its flat monthly fee instead of the usual per-user pricing. Plus, it includes must-have features like call forwarding, voicemail, and extensions that won't overwhelm a small team.
RingCentral Features
Phone extensions: Assign phone extensions to connect multiple departments and individuals across devices and locations. Provide employees with their own number with voicemail, answering rules, and on-hold experience.
Presence and heads-up display: Provide your admins a strategic view of the presence status of their colleagues, whether they're using a softphone, desk phone, or mobile app. Know who's available, already on a call, holding, or has a call ringing
Call delegation: A single dashboard that lets you manage multiple incoming calls from your desktop and monitor the real-time presence of user extensions. Assign up to 10 assistants to place and receive calls on behalf of a line owner.
Read our full RingCentral review to determine if it is the right solution for you.
Grasshopper: Best Low-cost Option for Solopreneurs & Startups
Grasshopper

Overall Score:
4.12

OUT OF

5
i
Our score is based on a weighted evaluation of dozens of similar products and services conducted by our experts.
What We Like
Offers a live receptionist as an add-on feature
Flat monthly fee instead of per-user pricing makes Grasshopper very cost-efficient for small teams
Custom voicemail greetings
What's Missing
No video conferencing features
Professionally recorded greetings cost $75
Requires an existing phone line
Grasshopper Monthly Pricing*
Solo: $29 for one phone number and three extensions
Partner: $49 for three phone numbers and six extensions
Small Business: $89 for five phone numbers and unlimited extensions
Free trial: 7 days
*Prices are based on monthly billing. Save 10% with annual prepayment.
Grasshopper is an automated phone answering service designed for smaller teams looking for budget-friendly pricing. While most providers charge a per-user fee, Grasshopper prices its plans differently by offering a flat monthly fee, so you don't pay more for additional users. At a fairly affordable price point, users get a host of tools like business texting, virtual fax, custom greetings, and incoming call control.
If you're a small business that simply wants to establish a professional image, Grasshopper is a good option for a no-frills virtual phone system. It offers local, toll-free, and vanity numbers, allowing users to establish a memorable presence with their customers. Grasshopper's partnership with Ruby Receptionists (virtual receptionist services) also benefits businesses wanting to establish a professional image.
Unlike the other providers in this list, Grasshopper doesn't have a video conferencing feature. If you want the affordability of Grasshopper with added unified communication features, try Phone.com. At a monthly fee of $14.99 per user, get access to 10-participant video meetings, including 50 standard voice features such as call handling, phone greetings, and call screening.
Grasshopper Features
Virtual receptionist: Grasshopper integrates with Ruby, a live answering service, to answer incoming calls to your business. From scheduling appointments to collecting information, a virtual receptionist helps create positive connections with your customers.
Instant response: When you miss a call, this feature will automatically send a text message to the caller to let them know you're unavailable. Customize your message by including your company logo, custom texts, and hyperlinks.
Custom phone greetings: Customize your phone greeting to welcome and direct your callers. Grasshopper allows you to record it on your own or request a professional voice actor to record it for you.
Want to learn more? Check out our full Grasshopper review.
8×8: Best for International Calling
8x8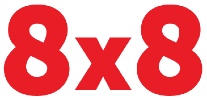 Overall Score:
3.92

OUT OF

5
i
Our score is based on a weighted evaluation of dozens of similar products and services conducted by our experts.
What We Like
Auto-attendant with all plans, and multilevel attendant with all X-Series plans
Supports up to 500 video meeting participants, the highest capacity out of all providers on our list
Mix-and-match plans for different users
What's Missing
Professional greetings start at $86, more expensive than the other auto-attendant phone system providers
Only allows one device to connect to an extension
Lacks advanced collaboration tools like task management
8x8 Monthly Pricing*
Express: $15 for up to five users, basic auto-attendant, unlimited domestic calling, music on hold, team messaging, voicemail, and 100-participant audio/video conferencing
X2: $28 per user for unlimited users, a multilevel auto-attendant, unlimited calling to 14 countries, hotdesking, call handling, call queues, unlimited internet fax, call activity analytics, and 30 days of cloud storage
X4: $57 per user for unlimited calling to 48 countries, call monitoring tools, supervisor analytics, 130 days of cloud storage
Free trial: 30 days (for Express plan only)
*Pricing is based on monthly billing. Save up to 23% by paying annually.
8×8 is an automated attendant phone system with unlimited calling to 48 countries. This benefits companies with a global consumer base that want to save money from per-minute fees. In addition, 8×8 offers the flexibility of phone number support in over 100 countries, allowing businesses to establish a virtual presence in places where they don't have a physical office.
8×8 has a front desk app designed for receptionists and operators handling high call volumes. It includes advanced call handling tools that let you manage multiple calls, voicemail, and chat sessions and route communications to the right contacts across the organization.
Although 8×8 has its own team chat app, its collaboration features are limited to file sharing and video meetings. If you need productivity tools to keep your teams connected and efficient, choose Nextiva, which offers a virtual workspace to simplify team workflow. CoSpace is a team communication tool that features file sharing, screen sharing, group chat, team task tracking, and audio/video conferencing.
8×8 Features
Conversation IQ: 8×8 uses the power of artificial intelligence (AI) to help team leaders and supervisors monitor and evaluate voice interactions across the organization.
8×8 Work app: Access all business communications, such as chat, video meetings, and voice calls, in a single app. It works on any device to connect with your customers and colleagues anywhere.
Visual voicemail: Manage your voicemail recordings and transcriptions from your desktop or mobile device. Transcripts and audio files are sent to your email, making it easy to forward and share with colleagues.
Phone.com: Best for Metered Subscriptions
Phone.com

Overall Score:
3.84

OUT OF

5
i
Our score is based on a weighted evaluation of dozens of similar products and services conducted by our experts.
What We Like
Mix-and-match metered and unlimited plans to save money
Various add-on features, such as a live receptionist, global numbers, and international dialing
Volume discounts when purchasing additional phone numbers
What's Missing
No free trial
Only supports up to 100 video conferencing participants on the highest-plan tier
Lacks an IVR feature
Phone.com Pricing*
Basic Users: $14.99 for 500 pooled minutes, one phone number per account, 1,000 pooled text segments, 10-participant video meetings, and mobile and web app
Plus Users: $19.99 for unlimited minutes, one phone number per user, conversational text messaging, 25-participant video meetings, and video recording
Pro Users: $29.99 for call recording, call analytics, CRM integration, 100-participant video meetings, whiteboard, and voicemail transcription
*Pricing is based on monthly billing per user. Save up to 20% with annual prepayment and get volume discounts when adding five, 10, or 25 users.
Phone.com is an automated phone answering system for small businesses with low call volumes or those with fluctuating call volumes. Its pricing includes metered and unmetered subscriptions and allows you to mix and match plans based on your team's individual needs. For its metered phone plan, users share call minutes and texts and have the option to purchase additional minute bundles if needed.
Marketing teams needing multiple numbers for call tracking campaigns will appreciate Phone.com's volume pricing for virtual phone numbers. Whether you need local, toll-free, vanity, or international numbers, Phone.com will help you find the right number for your business at a lower price.
On the downside, Phone.com only allows up to 100 video participants on its highest plan tier. If you need a larger participant cap for your meetings, check 8×8. This provider allows up to 500 meeting participants and offers rich video conferencing tools, such as analytics, virtual backgrounds, live streaming, cloud recordings, and calendar integrations.
Phone.com Features
Text-to-greeting: Create custom greetings from a selection of over 40 automated personalities and sound effects. Submit your text greeting, choose a voice personality, and save the audio file in your account.
Video conferencing: Host video meetings on your browser without any downloads or software setup. Built-in tools include screen sharing, document sharing, meeting chat, and a branded meeting room.
Voice tagging: If you have several menu options all ringing to a single number, this feature will inform you what option was selected by the caller before you answer the call.
Explore our full Phone.com review for more on its benefits and features.
Vonage: Best for a la Carte Features
Vonage

Overall Score:
3.69

OUT OF

5
i
Our score is based on a weighted evaluation of dozens of similar products and services conducted by our experts.
What We Like
50 business phone features included in every plan
Intuitive desktop app design
Connect up to 3 phones in one extension
What's Missing
Toll-free numbers require an extra fee
Entry-tier plan offers fewer features than similarly priced packages
Doesn't offer professionally recorded phone greetings
Vonage Pricing*
Mobile: $19.99 for unlimited calls and texting, unlimited team messaging, mobile and desktop apps, and an app center with over 20 integrations
Premium: $29.99 for a multilevel auto-attendant, 100-participant video meetings, CRM integrations, and desk phone compatibility
Advanced: $39.99 for 15 hours of on-demand call recording, call group, and visual voicemail
Free trial: 14 days
*Pricing is based on monthly billing per user, but volume discounts apply when adding more than five users. A free business phone number comes with online purchase of up to 99 users.
Vonage is an automated attendant phone system offering flexible, a la carte plans. While all of its packages include over 50 standard phone features, users have the option to determine which advanced features they want to include in their purchased plan. Currently, Vonage has 18 paid add-on services, including call recording, internet fax, conference bridge, and virtual numbers.
Vonage has its own self-service app center that lets you deploy third-party applications directly within its platform without needing professional services. Choose from a wide range of integration services, such as contact center, customer engagement, mobility, and remote work.
While most providers offer professionally recorded greetings for an extra fee, Vonage has no similar service on its add-on plans. If you want to project an image of an established business through your phone greetings, consider Nextiva. This provider offers free professionally recorded greetings on its paid plans, whether you want to use it for your auto-attendant, music on-hold, or welcome messages.
Vonage Features
Business inbox: Capture message-based conversations like SMS, MMS, and Facebook Messenger within a unified inbox. It also lets you enhance customer interaction by sending and receiving messages with photos, emojis, and audio/video.
Call continuity: In the event of a power outage or internet issue, configuring this feature will automatically reroute your calls to a backup phone number of your choice.
Spam shield: All phone numbers of every incoming call run against a database of numbers associated with robocalls, scams, and telemarketing. When the number is matched to the list, it will warn the user of unwanted phone spam before they answer.
Learn more about its features in our full Vonage review.
The secret to a successful auto-attendant implementation is to create a script that is structured based on your customers' needs and business goals. To achieve this, we provided 13 auto-attendant scripts for various scenarios.
How We Evaluated the Best Auto-attendant Phone System
We looked at several business phone systems offering auto-attendants in their subscription packages. From there, we narrowed the list further by evaluating factors important to small business owners, such as pricing, general features, and ease of use. We also took into account value for money, user reviews, niche features, and our expert evaluation.
Learn how we evaluated the best auto-attendant phone systems by clicking on the tabs below:
20% of Overall Score
Cost is a major factor when choosing an automated phone system for small businesses. We rated each provider based on the current cost of its plans. We also confirmed whether there is a free trial, annual pricing, and volume discounts.
30% of Overall Score
An automated answering system should include basic functionalities, such as toll-free numbers, unlimited international calling, and video calling. We also gave points for 24/7 customer support and a mobile app offering.
25% of Overall Score
Aside from an auto-attendant feature, a business phone system should include advanced call management tools to ensure a smooth call routing experience. These include a phone tree builder, IVR, and live receptionist option.
25% of Overall Score
We considered each phone system's standout features and overall value for the cost to come up with our expert score. Plus, we evaluated the mobile and desktop apps, web-based portals, and phone menu editors for usability. Finally, we looked at online reviews of real customers to determine each platform's popularity and ease of use.
*Percentages of overall score
Bottom Line
Auto-attendants are the most useful phone system features for businesses and call centers to manage high incoming call traffic and avoid long wait times. From greeting callers to providing general business information, a well-designed business phone auto-attendant should optimize your call handling process. Although many business phone systems come with an automated attendant, the best solution should fit seamlessly into your workflow.
Our top pick for the best phone system with auto-attendant is Nextiva. It has an easy-to-use admin dashboard that lets you configure your call routing process and manage your auto-attendant profile. Plus, it offers toll-free minutes, professionally recorded greetings, and a team workspace app.