Sales burnout is a combination of mental and emotional stress and unhappiness that can come from a job in sales, especially where compensation is performance-based. The key to managing sales burnout is implementing proactive solutions to prevent it or reactive solutions to reduce it. These strategies can be integrated into your sales plan or managed separately.
Download our free Sales Team Mental Health Kit to gauge the mental well-being of your reps and consider the following eight strategies for reducing sales burnout and keeping your employees engaged and motivated.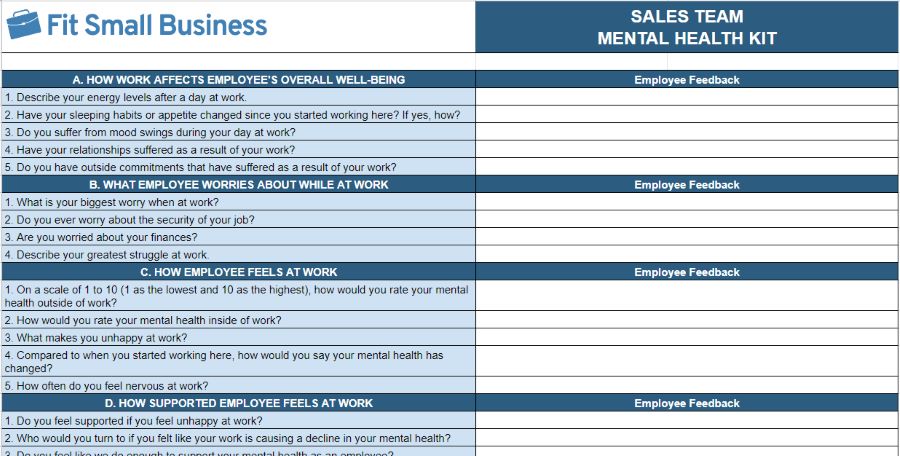 Thank you for downloading!
💡 Quick Tip:
Automate your sales processes to reduce the strain on your sales team and to prevent burnout.
Use a CRM like HubSpot CRM to automate sales introduction and lead nurturing activities.
Visit HubSpot CRM
1. Focus on Results, Not Time
It's not uncommon to find sales reps just sitting at their desks doing nothing and waiting for the clock to hit 5 p.m. when, in fact, that should never be the case. Most sales positions are highly measurable in terms of production and efficiency. This makes them one of the few functions of a business where you can enforce a system that focuses exclusively on results and not actual hours in the office.
Create a sales environment that cares about how well team members perform and not how long they're logged in or at the office. You can do this by setting sales quotas for each sales rep to hit on a short-term basis, such as daily or weekly.
Then, upon completing the required activity or sales production, a rep can have the option to be done for the day or stay to exceed requirements and generate more commission. This motivates sales employees to stay focused on hitting their activity numbers and keeps them excited to do so because they are free to leave early or able to earn more.
As part of this strategy, it's crucial to continuously monitor that activity is being completed and to set challenging-but-achievable goals. Customer relationship management (CRM) systems like HubSpot have built-in reporting tools that allow you to track and view sales activity between individual reps and sales teams.
2. Create a Healthy Work/Life Balance Culture
Show that your business prioritizes mental health by creating a culture that facilitates a healthy work/life balance. One way to do this is by offering sufficient paid time off (PTO) and flexible work schedules. Moreover, the organizational policies of companies offering PTO should stipulate a mandatory vacation minimum that requires employees to take a certain amount of time off throughout the year. This helps to prevent and avoid burnout.
Flexibility in work hours can also extend to the workspace, such as giving employees who can do so the option to work from home on an occasional or routine basis. Creating this type of culture even helps prevent burnout caused by non-workplace situations. More time away from the office means more time with their families, other obligations, and hobbies.
3. Outsource Non-sales Activities When Possible
Many activities within sales, such as research, cold calling, and sending emails, can be outsourced or contracted out. Doing so gives your reps valuable time back for the most profitable activities. Find the stages in your sales pipeline you can afford to have handled by an outside firm or freelancers.
For instance, many businesses use third-party contact data providers to gather information about leads. They can then pass off a list of likely qualified leads so sales reps don't have to spend time doing prospect research. For example, UpLead is a business-to-business (B2B) lead database service that lets you purchase contact lists for your reps to pursue. These contacts can be filtered by location, job title, and industry.
There are also telemarketing and qualified lead generation services that will do cold calling on behalf of your team to set up sales appointments and demos. By taking this route, you allow your sales reps to focus exclusively on sales presentations, lead nurturing, proposals, and closing deals. Two reputable telemarketing service providers to consider are Quality Contact Solutions and Strategic Calls.
Quality Contact Solutions is particularly attractive because of the pricing models they offer. Clients can choose between hourly and performance-based—or a hybrid of the two. Strategic Calls is best if your business targets business-to-business (B2B) executives such as CEOs or chief finance, marketing, or technical officers. They also incorporate multiple follow-ups and call analysis to determine the next best steps.
Pro tip: Build your confidence in introducing offerings and addressing objections by using cold calling scripts during your direct outreach campaigns. Download and customize our free cold calling script templates to save time crafting your own.
4. Automate Your Sales Process
Similar to outsourcing certain types of sales activities, automation through software tools can also be implemented to reduce the strain on your team. Many sales introduction and lead nurturing activities can be automated through activity-specific tools or features available in your CRM platform.
Mailchimp, for instance, lets you manage email, social media, and online advertising campaigns. These campaigns can be deployed automatically, allowing you to create awareness with leads or remain connected to them. This allows your sales team to focus primarily on building relationships and closing deals.
Email campaigns can also be managed in your CRM system. For example, HubSpot lets you design and deploy automated email campaigns that can be sent to your leads as cold emails or a nurturing tactic. You'll be able to see which leads opened and engaged with your emails. You can use them to drive traffic to landing pages where interested prospects send other buying signals, like filling out a web form or signing up for a free trial.
Another time-consuming task that can easily be automated is phone number dialing, such as in cold calling sales campaigns. You can save your sales reps valuable time by using power dialing tools that auto-dial for you based on your preset contact list. Freshdesk offers built-in power dialing tools that integrate with their native CRM software Freshsales.
Sales reps can easily lose time scheduling appointments and managing calendars with all the back and forth required to find a mutually agreeable time slot. Tools like Calendly automate appointment scheduling and calendar management.
Your rep can provide a link to Calendly to their leads via email, text, social media, or a website landing page. The prospect can then find an appointment time that works for them and schedule the meeting, and the event is automatically synced to your agents' calendars.
Want more insights on ways you can automate your sales process? Check out our picks for the top sales automation software for information on different tasks you can automate and specific tools to choose from.
5. Invest in Professional Development
It's essential to find ways to show employees that while you care about their productivity in their respective roles, you also want to help them develop and grow professionally. Investing in professional development could include putting sales reps in sales training programs, leadership courses, and executive training programs. You could also give them schedule flexibility and tuition reimbursement to pursue degrees.
This gives them a chance to spend time away from their usual day-to-day sales activities while learning something new and valuable. An environment that encourages education and growth, specifically when it comes to leadership programs, motivates sales personnel. It shows them what their future may hold if they stick to their current route. It also increases employee loyalty and retention, and can be impactful in helping your business attract and hire top talent.
6. Clearly Define & Praise Sales Success
Mental distress can easily be a result of employees not knowing whether or not they're performing well. That's why it's key to set clear, measurable standards for the sales activities and production you expect them to complete each day, week, month, and quarter. In addition, make sure high performance is acknowledged through recognition and praise.
If employees feel they are working hard and producing but not getting the recognition they deserve, they could become unmotivated. Showing praise can be done during team meetings or through software tools, such as sales gamification platforms.
For example, Wooboard offers sales gamification software that improves workplace satisfaction by rewarding and recognizing performance. Users can send praise in the form of "Woos" or reward high performers with gift cards.
7. Plan Company Outings
A mundane work schedule day in and day out can drain a sales employee's energy and motivation. An excellent way to change it up and have some fun with your sales team is through events outside the office, such as team-building exercises and company outings. This could be any non-work type of event, such as bowling, team dinners, paintballing, or escape room outings.
Make sure these events take place during regular business hours since the purpose is to recharge your team by changing up the routine and environment. Friday afternoons are often slower times for a sales operation, so they could be the ideal time to schedule a company outing without sacrificing production.
8. Encourage Open Discussions
The environment and culture you build in your sales operation directly impact whether employees feel comfortable speaking up. Essentially, you want to find ways to encourage sales reps to come forward if they are feeling burned out and want assistance. Open discussions are best facilitated through one-on-one sessions between sales reps and their coaches, mentors, or sales managers.
Conduct these sessions regularly to spot sales burnout before it takes place. However, it's also ideal to have discussions if you spot irregularities in a person, e.g., burnout symptoms such as irritation and isolation (we discuss these in more depth below). During the discussion, narrow in on the root cause of their mental fatigue or stress to implement one of the strategies to neutralize it.
If you spot early signs of burnout in some reps, consult with your human resources department on how you can help them. There are also some organizations like Sales Health Alliance that offer programs for maintaining and improving the mental health of your sales team.
Sales Job Burnout Causes, Symptoms & Risks
According to a report from Sales Health Alliance and UNCrushed, more than three-fourths of salespeople (76%) feel stressed. That shouldn't come as a surprise considering the fast-paced, high-pressure sales environment. Click through the tabs below to learn about the causes, symptoms, and risks of sales burnout.
The causes of sales stress vary from person to person. However, much of it can be controlled by adequately motivating employees and allocating resources to them—two things essential in a sales management position and a strong sales culture.
One major cause stems from a lack of management, coaching, or mentorship. When there isn't anyone available to set clear performance standards and guide reps to success, burnout issues are inevitable. Lack of time and resources is also another prominent cause.
If a salesperson can't fulfill performance or activity requirements because of operational roadblocks, it forces them to work long hours. This eventually leads to fatigue, sales burnout, and depression. The same goes when someone is being asked to "wear a lot of hats" and takes on too many projects at once. In these cases, more time is required to fulfill job requirements, leading to mental and physical exhaustion.
Like any medical illness, the symptoms of sales job burnout are usually revealed through traits and indicators that something is wrong. When someone on your sales team is not feeling their best, they are likely unable to perform at their best level, and the effects can ripple throughout the whole team. The result can be reduced productivity and performance, negatively affecting the company's profitability.
Poor attitude: This could include a team member voicing negative, unconstructive comments and bringing down their peers verbally.
Irritability: An employee is unusually quick to become angry over little things and express it to others.
Constant fatigue: A team member seems to be fatigued all the time, no matter how much sleep they get.
Isolated from the team: The employee tends not to collaborate with others on tasks and avoids conversation with their peers.
Lackluster performance: An individual's performance is noticeably down in terms of the activity, production, or efficiency they typically offer.
Carelessness: This is shown with things not necessarily related to a rep's sales job, such as coming in late, leaving early, and not taking notes or showing interest in their performance.
In addition to negatively impacting performance, burnout can take a toll on the employee, their colleagues, and your customers if you don't take control of it. Here are some of the most common direct and indirect risks of unmanaged sales and customer service burnout:
Increased turnover: After enough time, employees experiencing sales burnout and hopelessness will feel you aren't doing anything to fix it. They may decide to cut ties entirely with your business and leave.
Disgruntled customers: The carelessness, lousy attitude, and irritability symptomatic of sales burnout could be taken out on your customers. This could result in poor service or unhealthy interactions with them. It can also leave customers upset or, even worse, on the hunt for a new product or service provider.
Lost revenue: An indirect consequence of mental fatigue and sadness of your sales employees could end up being decreased revenue. If sales agents aren't feeling 100%, they won't perform at 100%. If your unhappy sales employees leave, you won't have the personnel to keep up with sales production and will incur additional costs for hiring. Plus, you lose recurring revenue and potentially future sales through negative word of mouth.
Negative workplace environment: If a burned-out employee starts taking their emotions out on their peers, you'll find that the symptoms can spread like a virus. Their peers will become down and irritated as well.
Find out how much mental health costs your sales team's performance by using our Sales Mental Health Cost Calculator.

Thank you for downloading!
💡 Quick Tip:
Automate your sales processes to reduce the strain on your sales team and to prevent burnout.
Use a CRM like HubSpot CRM to automate sales introduction and lead nurturing activities.
Visit HubSpot CRM
Bottom Line
Sales burnout is an issue commonly experienced by people in sales roles. This causes turnover and a lack of team motivation, resulting in poor sales performance for the organization. It most often results from a lack of effective sales leaders or operational resources, as well as a poorly established sales culture that prioritizes time over results.
Prevent sales burnout before it happens or remedy it if it occurs by incorporating these strategies and fostering a balanced culture. You can also utilize CRM software like HubSpot to automate your sales process to lessen the strain on your team.