A security deposit return letter is crucial for landlords as it documents the condition of the property upon a tenant's departure, outlines any deductions for damages, and serves as legal proof of the return process, reducing disputes and ensuring transparency in the landlord-tenant relationship. Its purpose is to establish transparency and communication between the landlord and the tenant regarding the disposition of the security deposit.
We have provided these free downloadable security deposit return letter and collection receipt templates for your convenience as you read along. Open them through Canva and make a copy to keep and personalize for your tenants.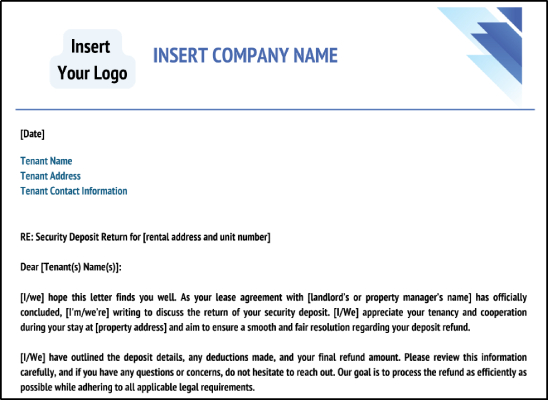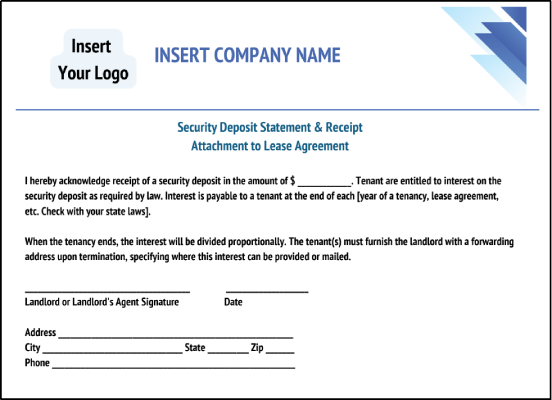 Why Security Deposit Return Letters Are Important
The security deposit refund letter ensures a smooth and transparent return of a tenant's funds. It helps prevent misunderstandings, legal disputes, and conflicts between landlords and tenants.
Here are some reasons why it is essential:
Compliance: Some states have legal requirements for landlords to provide a written explanation of any deductions from the security deposit for repairs beyond normal wear and tear. Failure to provide this documentation within a specified time frame can result in penalties for landlords.
Communication: Sending a security deposit refund form communicates professionalism and respect for your tenants' rights. It helps maintain a positive landlord-tenant relationship by demonstrating transparency and fairness in the deposit refund process.
Accountability: The letter holds the landlord and the tenant accountable for their responsibilities. Landlords are accountable for accurately assessing damages and making appropriate deductions, while tenants are accountable for any damages or unpaid rent that may have led to deductions.
Legal documentation: The letter is a legal record of the landlord's decision regarding the security deposit. This helps protect both parties in case of any disputes or disagreements in the future.
Clarity and transparency: The letter provides clear information about any deductions made from the security deposit. This ensures tenants understand why a portion of their deposit might be withheld and helps prevent misunderstandings.
Accurate recordkeeping: Both parties can keep copies of the letter for their records. This can be helpful for future reference, such as when filing taxes or dealing with potential legal issues.
Is it worth it to collect a security deposit?
As part of your regular real estate investing practice, collecting a security deposit from tenants at the beginning of the lease is always wise. Even if you find exemplary tenants, accidents happen, jobs are lost, and rent may not get paid. While it might seem like a hassle to set up an escrow account, the deposit protects the landlord and tenant against damage and unpaid rent and fees.
When to Use a Security Deposit Refund Letter
A security deposit return letter is used when the tenant is moving out and the landlord has collected a deposit, generally at the beginning of the lease period. Landlords should use it when returning a security deposit in any tenancy agreement because it provides a written record of how much was collected, how it was used, and when it was returned.
States have different periods in which a security deposit must be returned, so landlords want to ensure they know the deadlines, act promptly to make any needed repairs, and send out the letter with the security deposit balance.
Security Deposit Laws by State
Each state has laws regarding the requirements and restrictions for security deposit collection and return. Some states have specific time frames within which you must return the deposit or provide a return letter, which landlords must adhere to.
For example, Massachusetts allows landlords to collect a security deposit equivalent to one month's rent, and at the end of the lease term, landlords have 30 days to return the deposit to the tenant. Meanwhile, Arizona lets landlords collect one-and-a-half month's rent and gives them 14 days for the return.
Before writing and sending your letter, use our interactive map to see your state's security deposit return requirements.
Security Deposit Guidelines per State
(Source: Information gathered from Rocket Lawyer)
How to Write a Security Deposit Return Letter
A security deposit letter should be clear and contain all the details of the security deposit monies, including the amount of the deposit returned, any deductions made, and the reasons why, if applicable. If you've made repairs, include photocopies of your receipts and invoices to verify the work done and how much of the deposit was withheld.
Also included in the landlord itemized security deposit deduction letter is a list of cleaning, repairs, and deductions in the body of the letter with reasons and costs. This helps avoid confusion and potential disputes. Here is how to format your letter:
Header: Your name, address, and contact information.
Date: Current date
Tenant information: Name, address, and contact information
Greeting: Begin with "Dear _____ (tenant name)"
Opening: The letter aims to discuss the security deposit return
Deposit details: Amount of original deposit, when it was received, and amount deducted
Itemized deductions: Bullet list of itemized deductions
Calculation of refund: Starting balance, minus deductions
Method of payment and timeline: Check, direct deposit, or other method and when the deposit will be returned if it is not enclosed.
Final remarks: Keep it positive. Express appreciation for their cooperation.
Closing and signature: "Sincerely," or "Yours truly," and your written or electronic signature
Enclosures: Copies of receipts and invoices, if applicable.
Tenant signature line: Tenant signature and date, acknowledging receipt of the letter
Prior to the tenant's departure, ensure you have their updated contact details to facilitate the return of their security deposit. If you plan to reimburse via check, opt for a cashier's check that includes a non-negotiable receipt for your records. Maintain photocopies of the letter, check, and all receipts, as ink on originals can fade. These copies are essential for tax purposes and potential disputes.
Maintain a professional and amicable tone in your communication, promoting positive landlord-tenant relations by using clear and straightforward language to prevent misunderstandings.
How to Send Security Deposit Refund Letters
It's best to send the security deposit request letter via certified mail with a return receipt, which the recipient must sign. This ensures the tenant receives the return letter. However, you can send it electronically as a backup.
Here are the steps to send the return of a security deposit form through the mail:
Fill out our free security deposit return letter template
Gather an appropriate-sized envelope and address labels
Get print copies of the letter, invoices, and receipts
Put everything in the envelope and bring it to your local post office
The postmaster will provide a certified return receipt label
Fill out the required information on the label
The postman will affix the receipt and ring up your total cost
Remember to keep a copy of the postage receipt for your taxes
Depending on where the letter is going, it can take one to three days for the tenant to receive it, so ensure you calculate this into the state-required return deadline. Once the letter is received, the signed return receipt will be mailed back to you for your records.
Use online rent payment services to collect rent, fees, and security deposits. Baselane provides a dedicated tenant page for landlords to access former and current tenant records. Tenants have their portal to view current and paid rent, with notices when due. Payments are deposited in your bank account within two to three days. It's easy to set up, and landlords and tenants receive auto-reminders when rent is due.
Pro tip: If you're managing multiple properties, it can become tedious to send out numerous letters. Online property management software with client relationship management (CRM) capabilities or a direct mail service can save time. Some allow you to upload and customize our template with your brand and add your tenant's contact details. First-class mail services can handle sending out your security deposit return letters.
Collecting & Returning Security Deposits Tips
It's critical to set things up right at the beginning of the tenancy by providing clear guidelines on how security deposits are collected and managed. It's also essential to photograph the unit's condition before renting so you can document normal wear and tear vs damage.
We've already discussed the importance of collecting a security deposit, keeping the money in a separate interest-bearing escrow account, and following your state's requirements on how to deduct and return the deposit. Here are additional precautions to reduce potential conflicts, property damage, and litigation.
Expert Tip

How It Works

Provide clear security deposit terms in the lease

The lease must specify the deposit amount, when it is due, and how it is returned.

Screen tenant applicants thoroughly

Screening tenants

and running complete background checks can reduce the risk of renting to less-than-ideal tenants.

Take comprehensive photos of the unit with date/time stamps before tenancies begin

Landlords can avoid conflict if they have complete images of the unit's condition before the tenant moves in.

Provide a Statement of Condition checklist

The tenant goes through the unit at the beginning of the lease period and within a specified period (say, 10 days), documenting any existing deferred maintenance before renting. Both the landlord and tenant agree and sign.

Include a security deposit statement or receipt

Include the amount of the deposit collected, the bank name, address, and escrow account number. State how the interest income is managed and the time frame for the deposit to be returned.

Deduct only what is allowable by your state

The security deposit is the tenant's money. Only remove what your state allows and where applicable.

Conduct a tenant move-out walk-through

Before returning the deposit, conduct a final walk-through, preferably with the tenant, and collect the keys.

Take move-out photos

Take move-out photos with dates and timestamps to compare with move-in pictures in the event of a dispute.
Allowable Deductions From a Security Deposit
Some landlords assume that if repairs are beyond normal wear and tear, they're entitled to keep the full security deposit. This is incorrect. Landlords and property managers may only withhold the cost of materials and labor for repairs or the balance of unpaid rent. They also can't keep it to cover routine maintenance after the tenant moves out or to compensate themselves for their troubles. The amount used for unpaid rent and repairs must be documented, and receipts or invoices must be provided.
If repairs and lost rent are higher than the security deposit amount, the landlord would need to take legal action against the tenant to recover the uncovered portion. If damages are less, the landlord would deduct the costs and return the remainder of the security deposit to the tenant, plus any accrued interest from the escrow account. In either case, full documentation and receipts must be provided.
Here are some common allowable security deposit deductions:
Unpaid rent and fees: Security deposits may be used to cover unpaid rent and late fees but must be specified in the lease agreement before signing.
Cleaning costs: A unit should be left in "broom swept" condition, meaning it is tidy and without unusual dirt, filth, or trash left behind. It should look the same as when you rented it, minus any minor wear and tear.
Repairs for damage: Torn screens, broken windows, scribbling on walls, and things like broken appliances or anything beyond normal wear.
Missing items: Anything in place for the tenant's use should still be in working order. These may include appliances, light fixtures, ceiling fans, cabinetry and hardware, and window air conditioners.
Repainting: If there is scribbling on the walls, damage, or the tenant repainted with an unusual color without your written consent, and the damage is beyond simple scuffs or dirt, you may be able to deduct the painting cost.
Pet damage: These are repairs or cleaning due to pet-related damages. If the lease allows pets and specific pet-related terms are violated, or if pets are not allowed, you may be able to use the deposit for repair.
Abandoned property: Includes costs to remove and dispose of any personal property left behind by the tenant after move-out.
Restoration: Reverting any changes made by the tenant that weren't permitted, such as unauthorized alterations.
Deductions should be reasonable and well-documented. Many jurisdictions require landlords to provide itemized statements detailing the deductions and associated costs. Additionally, deductions should only cover actual costs and not serve as a way to profit from the security deposit.
Always familiarize yourself with local laws and regulations, and consider consulting legal professionals or property management experts to ensure that your deductions align with legal requirements.
Frequently Asked Questions (FAQs)
Also called normal wear and tear, it refers to a property's expected, gradual deterioration due to regular use, which landlords typically accept. Examples include light scuff marks on walls from everyday activities and slight fading of paint or carpet due to natural exposure to sunlight. It's distinct from tenant-caused damages resulting from negligence, misuse, or intentional actions, which may be subject to deductions from the security deposit.
---
A move-in checklist is used when a tenant starts renting a property. It lists the property's condition, noting any existing damages or issues. Both the tenant and landlord review and sign it. It helps prevent disputes by providing a clear record of the property's state at the beginning of the lease, which is then compared to its condition when the tenant moves out.
---
Yes, collecting security deposits and last month's rent can be a hassle. Landlords must keep these funds in an interest-bearing escrow account separate from their regular banking. In some states, landlords must also give the tenants the annual interest. However, the extra work involved is worth it since security deposits and last month's rent protect landlords and tenants from damage and unpaid rent.
---
A security deposit is money paid by the tenant upfront to cover potential damages or unpaid rent. It's refundable, with deductions for actual damages if they occur. Last month's rent is an advance payment for the final month of the lease, non-refundable, and used as part of the rent. The security deposit safeguards against damages, while last month's rent is applied to the final month's rent obligation.
---
Bottom Line
It is essential to use a security deposit return form to formally communicate the return of a tenant security deposit at the end of a lease agreement. It serves as a record, clarifying the amount returned, any deductions paid for damages or lost rent, and the date of refund. Using the deposit return letter sample we provided ensures transparency, helps avoid disputes, and maintains positive landlord-tenant relationships.