Free Month-to-Month Rental Agreement Template & What to Include
A month-to-month rental agreement is used for short-term property rentals and includes vital information about the lease terms, payments, and tenant and landlord expectations. Every state has varying rules and restrictions that will impact the specific contents of an agreement, but it's important to start with a thorough month-to-month lease template for your property type. It should include clauses on security deposit, late fees, and maintenance. To get started right away, download and use our month-to-month agreement templates.
Whether you own one unit, one building, or are looking to scale your business to the next level, Baselane can help. Baselane is a new banking platform built specifically for independent landlords.

---

Free banking
Free rent collection
Free bookkeeping and reports 
We have included both a general month-to-month agreement that can be used for condos or single-family home rentals as well as a vacation rental month-to-month agreement: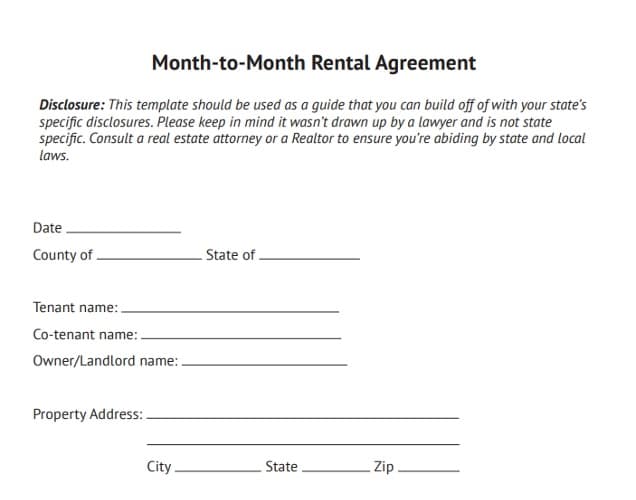 Thank you for downloading!
💡 Quick Tip:
Save time and money by generating free state-specific rental and lease agreements created by legally-trained professionals. Check out LawDepot, a legal form builder for property owners.
Visit LawDepot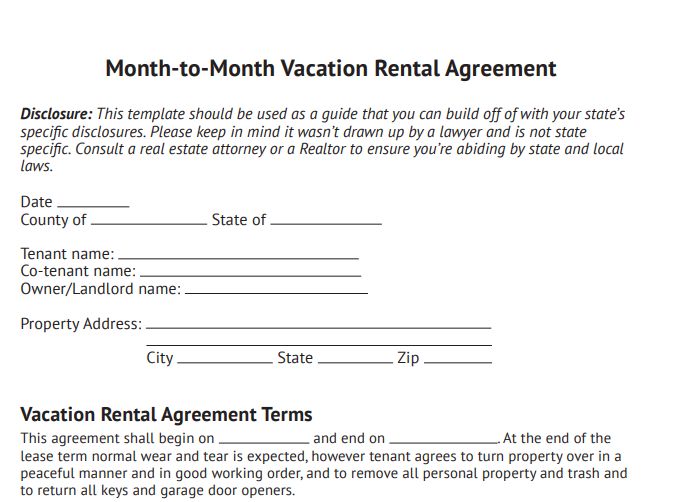 Thank you for downloading!
💡 Quick Tip:
Save time and money by generating free state-specific rental and lease agreements created by legally-trained professionals. Check out LawDepot, a legal form builder for property owners.
Visit LawDepot
Keep in mind that these templates are not specific to the state in which your property resides and may not include all the legal information needed in your state. For state-specific agreements and leases you can generate for free, visit LawDepot. Pick the type of property and length of the lease term to get started. Regardless of which form you use, before sending a month-to-month agreement to your tenants, consult with your attorney to guarantee your agreement is legally sound.
15 Items to Include in a Month-to-Month Rental Agreement
Laws and requirements for a month-to-month lease agreement vary by state, but certain components should always be included. Having a clear set of agreements and expectations about fees, pets, maintenance, utilities, house rules, and other terms keeps the landlord and tenant aware of their individual responsibilities, minimizing potential problems. For example, the tenant may be responsible for paying all utilities, and the landlord is responsible for maintenance and repairs.
Here are the 15 most important components of a month-to-month lease agreement:
1. Terms
The terms in a month-to-month lease template should outline the specific length of the lease. It should include the time, date, month, and year that the lease will begin and end, as well as the renewal options. The most common type of month-by-month rental agreement renews automatically on a monthly basis until either the landlord or tenant ends it through a specified action, typically a written notice. You may consider including a few of the terms on your rental application form, although it is not required.

2. Security Deposit
One section of the month-to-month rental agreement should provide details about the security deposit, including its cost, due date, and how it will be returned. Depending on your state, security deposits can range from the cost of one month's rent to three month's rent, and are due prior to the tenant's move-in date.

The landlord can use the security deposit if the tenant damages the property above and beyond normal wear and tear or if the tenant has unpaid rent. Make sure your rental agreement includes specific information about what will prevent tenants from receiving their security deposit back at the end of the lease term.
Pro tip: For every payment you collect, make sure you provide a rent receipt. This can be physical or digital, but it helps you keep track of all transactions. With a rent receipt template, you'll be able to prevent disagreements and responsibly manage your finances.
3. Move-in Money Required at Signing
A move-in fee is separate from a security deposit, and isn't required by all landlords. Unlike a security deposit, the move-in money is typically nonrefundable and can be used toward regular property maintenance between tenants. The amount of this fee can be just a fraction of one month's rent, or up to about two months of rent (first month and the last month).

Whether or not you charge a move-in fee depends on your financial needs and the renter market. Charging a large amount of money upfront can prevent some potential renters from applying, but this may not be a problem if you have a lot of property interest. Consider fees from your property management company or other partners. Some companies, apartment buildings, and condominiums charge administrative fees each time a tenant moves in, so the move-in money can cover those expenses.
Your month-to-month rental agreement should clearly specify the total amount needed to move in, how much the tenant has already paid (if any), and the remainder due. In most cases, the tenant will provide the security deposit after their application and proof of income are accepted, and the remainder of the move-in money will be due sometime prior to the move-in date.
Pro tip: Don't allow a tenant to move in if the entire amount of their move-in money hasn't been paid in full. This will save you many headaches—and possibly even an eviction—in the future. Instead, make it extremely easy for tenants and applicants to pay fees with an online payment program. Learn about six of the best online rent payment services.
4. Amount of Monthly Rent
Landlords need to explicitly state in the lease the amount of money they will be continually collecting from the tenant. This includes when the rent is due, the total amount of rent due over the lease term, the amount per month that is due, and how the tenant should pay the rent to the landlord.

It is very important that landlords double-check their figures for accuracy in this section to prevent any issues with receiving funds. Also, landlords need to be specific about where tenants should send money so it ends up in the correct place. This can be either an address to mail a check or an online payment system where tenants can pay the rent with a credit card, debit card, or through the Automated Clearing House network (ACH). Setting these monetary expectations will prevent any miscommunication with payments and payment schedules.
5. Late Fees
Late fees are charged to tenants if they do not pay their monthly rent on time. Many landlords offer a grace period of around three to five days after the due date, although it's not required. All of these details must be clearly outlined in the month-by-month lease template you choose. Late fees are usually determined by the state, but are generally about 5% of the monthly rent price.

In addition, returned payment fees occur when the tenant provides a method of payment that is returned by a financial institution for any reason. For example, a check that bounced will then incur a returned payment fee. The state regulates these fees but they generally range between $20 and $40.
6. Additional Occupants
The number of occupants allowed in the unit must be stated on the month-to-month lease, as well as the first and last names of each. This is another rule that varies by state, so make sure you're well-familiar with the state's requirements. However, a general guideline is that the maximum is two people per bedroom.

If any of the occupants are under 18 years old, their age must also be included. For occupants over 18, they should be screened individually. Learning how to screen tenants correctly can help you choose ideal tenants and avoid a myriad of problems during their lease.
7. Pets
It's important for all landlords to define specific requirements or restrictions for any pets that tenants want to bring into your rental property. Pets inherently increase the chance of damage to the property as well as an increase in wear and tear. However, restricting all pets will significantly decrease the amount of renter interest your property receives.

Many landlords choose to allow pets, but set restrictions based on:
Type of animal and breed (e.g., prohibiting certain breeds of dogs like pit bulls is common, as is allowing only cats or small animals like guinea pigs or rabbits)
Pet's weight
Number of pets
Pet ownership (only tenant's pets allowed on the property)
You can also set a monthly pet fee per animal, which can be used toward maintenance or repair costs. However, make sure that any pet fee or deposit you require fits within your state's requirements. Keep in mind that service animals are not considered to be pets according to the law, so you may not be able to charge a fee or set restrictions. During your screening process, ask applicants to submit legal documentation for their service animal to verify.
8. Renter's Insurance
As the owner of a rental property, it's important to have the right rental property insurance to protect it from damage. However, this insurance doesn't protect the tenant or their belongings. In order for them to insure their items, they need to purchase and pay for renter's insurance.

Some landlords require each tenant to purchase a certain amount of renter's insurance coverage. There are different types of coverage that renter's insurance can provide: personal property, liability, and additional living expenses. When renters purchase personal property coverage, they choose the amount of money their belongings are worth. Landlords often require a liability limit of $100,000, although it can be more or less. These details must clearly be stated in the month-to-month rental agreement.
9. Maintenance
Maintenance responsibilities and expectations should be set upfront, and should even be discussed in-person with your tenants during your first meeting. It's ideal to have a rental property maintenance checklist for your own personal use to track the maintenance that needs to be agreed upon. On the rental agreement template, make sure to outline when the tenant, landlord, or both are responsible for maintenance or repairs on the property.

In general, landlords are responsible for any repairs or maintenance worth more than $100, although some agreements allow tenants to request help with anything from light bulbs to smoke detectors to sticky doors or windows. If this is the case, make sure you have a plan to manage these communications and remedy any maintenance requests quickly.
10. Utilities
In this section, identify all of the utilities associated with the unit or property and who is responsible for paying them. In many cases, the landlord assumes responsibility for water, sewer, and trash removal, and the tenants set up and pay their own electricity, gas, and internet bills.

Along with utilities, this section should also include expectations for:
Lawn care: Name the party responsible for cutting the grass, watering flowers, and what actions will be taken if maintenance is neglected.
Snow removal: If someone gets injured due to snow or ice, the landlord may be held responsible. For this reason, it's important to establish who is responsible for snow removal in writing.
Pool cleaning: This tells you who is responsible for cleaning the pool, with what chemicals, and how often. A dirty or neglected pool can become a health or environmental hazard.
Minimum temperature of the thermostat: In states that get cold weather in the winter, keeping the heat above a certain temperature is necessary to prevent the pipes from freezing. This is typically the responsibility of the tenant.
Heater and air conditioning maintenance: In most cases, the landlord is responsible for making sure the HVAC systems are functioning.
11. Responsibilities of Landlord & Tenant
Although the responsibilities of the tenant and landlord should already be specified in regard to things like maintenance, pets, and fees, this section should include other expectations not previously mentioned. For example, a landlord is required to have working smoke detectors on the property, and is responsible for keeping the property free of any building code violations. On the other hand, tenants are expected to use the property legally, responsibly, and keep it clean.

Some key landlord responsibilities include:
Maintain all common areas
Keep all systems in working order, including heating, plumbing, and air conditioning, even if the tenant hasn't paid rent
Provide a habitable rental unit that meets all state and local health and building codes
Some key tenant responsibilities include:
Follow all laws while on the property, such as no illegal drugs or explosives on the property
Keep the rental unit in safe and sanitary condition
Allow the landlord to enter the premises when notice has been provided or without notice during an emergency
Not purposefully damaging the unit, which is referred to as tenant caused damage
Make sure to reference your state's landlord tenant laws to stay compliant and ensure that all necessary expectations are included in the lease agreement.
12. Subletting

Subletting is when tenants lease out their property for a short period to other renters. In the case of month-to-month leases, subletting is typically not allowed. However, if you choose to allow subletting in your agreement, make sure to screen each subletter in the same way that you screen all tenants. With a tool like RentPrep, you'll be able to do so quickly, easily, and affordably.
13. Tenant Rights

Each state has specific regulations about the duties and rights of both tenants and landlords. On your month-to-month lease template, you may include these regulations or encourage your tenants to read them directly from your state's website. The most basic right of all tenants is called "quiet enjoyment," which essentially means they are entitled to basic enjoyment of the property. This protects them from intrusions or interferences as long as the tenant is not disturbing others or violating building rules and laws.
14. Termination of Agreement

As discussed above, the lease agreement should include information about how to legally terminate the lease. In the unfortunate cases when the tenant does not hold up to their agreement, the proceedings should be defined in the agreement. This section should include how the legal eviction process works in your state and how much notice the landlord needs to give the tenant before eviction proceedings begin. In many states, at least 15 days' notice is required, but check your state's laws to be sure.
Pro tip: If you have bad tenants but want to avoid the hassle of legally evicting them, you may choose to make a cash for keys agreement. This can help you get bad tenants out more quickly to minimize your losses on the property. Learn more about how and when to offer cash for keys by reviewing our article Cash for Keys: How to Get Bad Tenants Out in 7 Steps (+ Quiz).
15. Additional House Rules
Some buildings and towns have noise restrictions during certain hours, such as quiet hours between 10 p.m. and 9 a.m. In this section of the lease, include any house rules to help set expectations and set you and the tenant up for a positive experience. These may not necessarily be legal requirements, but guidelines like keeping pets on leashes or parking arrangements. Make sure you and your tenants know what is expected of them so everyone can have quiet enjoyment of their property.
When to Use a Month-to-Month Rental Agreement
Although a month-to-month rental agreement must include many of the same elements as a long-term lease arrangement, there's one significant difference. A "lease" is a legal contract that covers a long period of time, like 12 to 18 months. On the other hand, a "rental agreement" is made specifically for short-term agreements, like 30 days. Therefore, you cannot use the same month-to-month agreement template for a one-year contract.
As a real estate investor, it's extremely important for you to understand when to offer a month-to-month contract and when to avoid it. For example, a month-to-month rental agreement is usually right for short-term rentals and vacation rental property owners who want their place filled longer than just a few days or weeks.
However, month-to-month agreements might not work for owners who have restrictions on their property for how long tenants must stay in the property. It might also be a disadvantage for landlords who prefer a stable rental income and building relationships with their tenants.
Follow these guideline to determine if a month-to-month lease template is right for you:
PROS

CONS

Owners who want to generate rental income while a property is for sale
Owners with lenders who restrict month-to-month leases
Properties that don't rent well during an off-peak season, such as the summers in South Florida or around the winter holidays in the Northeast
Owners of units in a building or within a homeowners' association (HOA) that don't allow month-to-month leases
Real estate investors who own property in an area with a high relocation rate
Commercial property owners, because commercial real estate often requires expensive buildouts and takes longer to rent than residential property
Investors renting to college students who won't be in the area for a calendar year
Properties with high vacancy rates, since short-term leases can negatively affect a property's return on investment
Homeowners renting their personal residence while they're temporarily away
Landlords and tenants at the end of an annual lease with a monthly renewal clause
Bottom Line
Although the requirements for monthly rentals vary by state, it's important to have a month-to-month lease template that establishes the rules, responsibilities, and expectations for tenants and landlords. With the template included above, you can create a rental agreement that sets you and your tenants up for success.