The Essential Rental Property Maintenance Checklist for Landlords
Rental property maintenance minimizes the risk of costly damages resulting from neglect, abuse, or normal wear and tear. Landlords use a rental property maintenance checklist to guide them during routine, seasonal, and preventative maintenance. This checklist helps them schedule tasks, outsource certain tasks to vendors, and ensure nothing is forgotten during the maintenance process. In conjunction with the lease agreement, this differentiates the maintenance responsibilities of a landlord and a tenant.
Baselane is a new banking platform built specifically for independent landlords. In addition to its high yield 4.25% APY on all deposits, Baselane offers an array of rent collection features like automated payments, fees, and reminders.

---

Free banking
Free rent collection
Free bookkeeping and reports
Download our free property maintenance checklist to ensure you have all the items you need to prepare. The checklist is organized by these time frames so you can plan a landlord maintenance schedule across the year.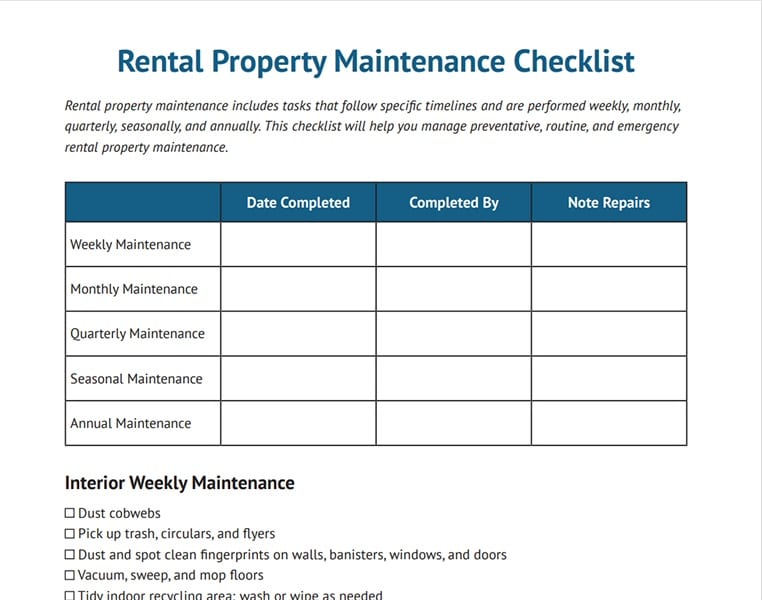 Thank you for downloading!
💡 Quick tip:
Property management software like Avail enables you to be more efficient in maintaining your rentals. Avail is an all-in-one property management solution to help landlords track maintenance and communicate with tenants. Register online in minutes and get started for free.
Visit Avail
Items to Include on Your Rental Property Maintenance Checklist
It is the landlord's duty to meet the health and safety standards mandated by the state. By performing routine maintenance, landlords decrease the risk of developing costly damages and performing emergency repairs on their rental property. To keep your rentals in great shape, you'll need to perform a variety of weekly, monthly, quarterly or seasonal, annual, and unexpected maintenance tasks.
As a landlord, make sure that both the interior and exterior of the property are free from hazards and damages. Weekly maintenance tasks include removing trash, cleaning common areas (such as entryways, hallways, laundry rooms, and stairwells), as well as maintaining the lawn and garden.
Once you've finished cleaning common areas like entryways and hallways, you can start cleaning outdoors by walking around your property with a trash bag. Depending on the season, you may need to rake leaves, mow the lawn, remove any fallen branches and other debris, or shovel snow. Note that it's easier to mow and rake when it is dry rather than after a rainstorm. Don't forget to weed flower beds and water plants as necessary.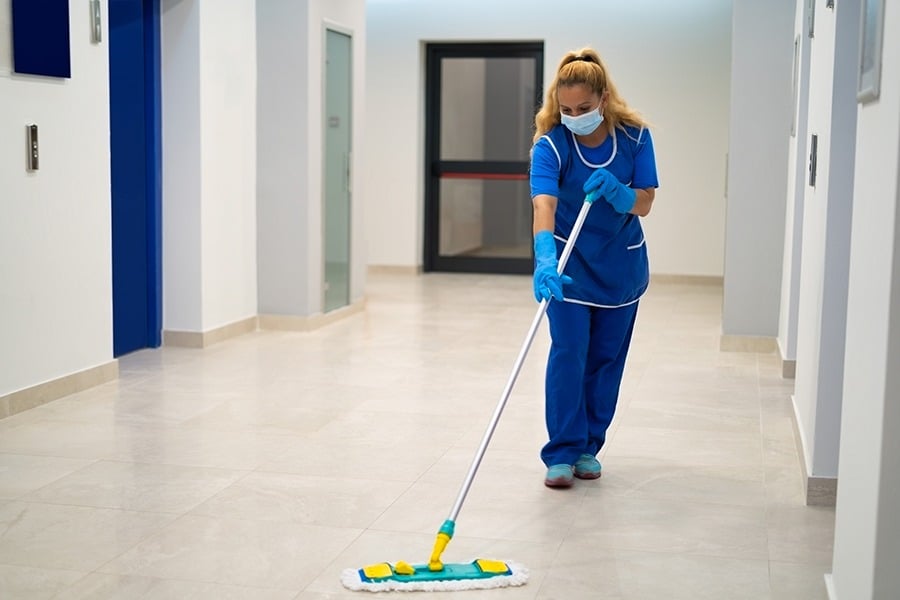 ---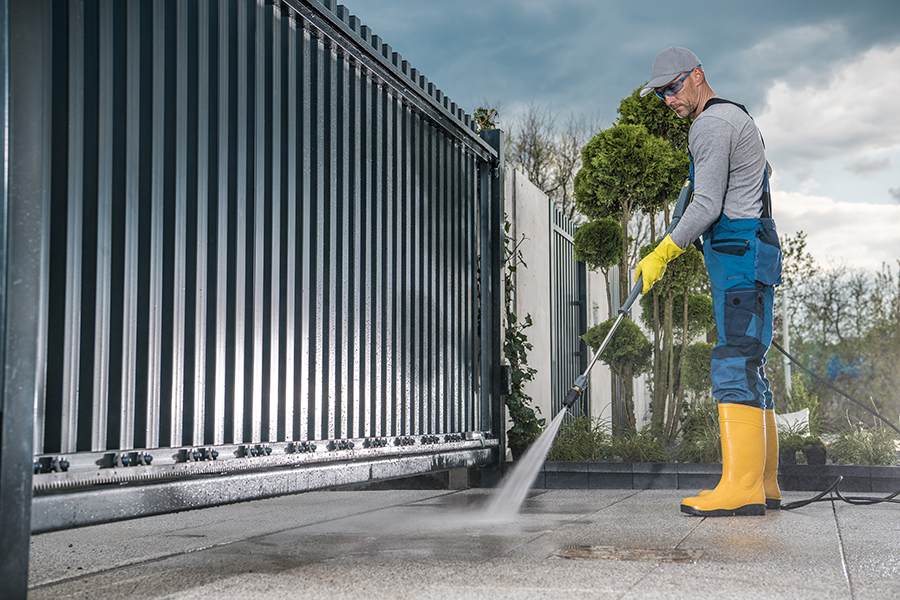 ---
Check out the table below to see the interior and exterior tasks that should be on your weekly preventive maintenance checklist.
Interior Weekly Maintenance

Exterior Weekly Maintenance

Dust cobwebs
Pick up trash, circulars, and flyers
Dust and spot clean fingerprints on walls, banisters, windows, and doors
Vacuum, sweep, and mop floors
Tidy indoor recycling area; wash or wipe as needed
Disinfect common laundry area surfaces

Pick up trash, inspect recycling areas, and secure bins and receptacles
Rake leaves and remove fallen branches and debris
Shovel walkways, steps, driveways
Weed garden beds and water as needed.
If you decide to do DIY (do-it-yourself) maintenance, make sure you have adequate cleaning supplies before you begin. Some landlords lock away their equipment and supplies in a shed, storage closet, garage, or basement of the rental property for easy access. Always check supply levels weekly and replenish as needed.
Here is a list of indoor and outdoor equipment and tools that might come in handy during your weekly maintenance:
Scrub brush
Cleaning cloths/duster
Brooms and dustpan
Vacuum
Mop and bucket
Rakes
Snow shovels
A lawnmower
Weed whacker
Hedge clippers
A garden hose
Window cleaner
Heavy-duty trash bags
---
If the property is cleaned every week, it's easier to conduct monthly routine maintenance. Monthly maintenance focuses more on performing inspections and addressing unresolved maintenance issues. Though there may be less work to do, performing monthly general inspections helps you identify issues that you might otherwise have missed during weekly maintenance.
To be more efficient, conduct monthly inspections and repairs on the same day you do weekly maintenance. Below are examples of property maintenance tasks that should be done on a monthly basis:
Inspect common area lighting and replace burnt-out bulbs
Inspect basement and attic to make sure attic vents and sump pumps are in good condition
Make sure window and door locks are functional; repair broken glass or torn screens
Check for damage in common areas and that nothing is blocking entrances
Check bait and traps used for pest control; replenish bait; remove dead rodents or bugs
Check and clean gutters and make sure outdoor lighting is functional
Inspect walkways, walls, paving, and driveways for safety; repair or clean as needed
---
Seasonal preventative maintenance is another important task that helps preserve your rental property and ensures tenant satisfaction as seasons and weather change. Depending on your rental property's season and location, your seasonal maintenance duties will vary. There are also chores you'll perform quarterly in spite of changing seasons.
Each season has its own maintenance requirements. The warm spring and summer weather makes it easy to do regular maintenance and general upkeep of the property. Spring and summer are also ideal seasons for property improvement projects that add curb appeal, like landscaping of your rentals. Due to heat and humidity, you may encounter issues with the HVAC (heat, ventilation, and air conditioning) system, so make sure to perform HVAC preventative maintenance at the beginning of each season.
In some states, fall may be the best time to maintain rental properties because of moderate temperature and dry weather. However, without seasonal maintenance, you might find yourself with potentially costly repairs as leaves and debris could clog gutters and downspouts. It's crucial to mend cracks and gaps in windows and doors, inspect roofing and fireplaces, and tune up major home appliances before the holidays.
Rental properties are at risk of damage during the winter due to below-freezing temperatures that can lead to frozen pipes and damaged roofs. Ice storms could also cause trees to break, which is another safety concern. Make sure to thoroughly inspect the interior and exterior of the property at the end of fall before the cold weather sets in.
To avoid interfering with your tenant's schedule, set an inspection appointment with them and clearly communicate what maintenance work will be done, by whom, and when. More importantly, use a landlord maintenance checklist to make sure everything in your property is in its best condition—from the basement to the roof.
Seasonal and quarterly maintenance tasks include the following:
Clean air filters in HVAC ducts
Ventilate the common areas
Check screens and storm windows; repair/replace as needed
Swap storm windows and doors for screens, or vice versa
Check heating and cooling thermostats
Inspect for frozen exterior faucets, ice dams, and repair as needed
Winterize or re-open seasonal rentals and vacant units
---
Some maintenance tasks only need to be performed once per year, but they don't have to be addressed at the same time. These tasks are often big projects, so you can schedule them throughout the year for greater efficiency. Like monthly maintenance, many annual tasks involve inspections when tenants move at the end of a lease. This will help you identify tenant-caused damages and perform repairs when necessary.
Yearly maintenance also requires you to check both the interior and exterior of the rental property. Check out the table below to see which tasks should be included in your landlord annual inspection checklist.
Interior Maintenance

Exterior Maintenance

Clean carpets and repair floors in common areas
Clean dryer vents
Drain water heaters
Check interior for mold
Have HVAC systems cleaned and tuned
Inspect smoke alarms, extinguishers, CO detectors, and sprinklers
Check appliances, fans, plumbing, electrical, walls, floors, ceilings; repair as needed

Ensure fire escapes are in working order and clear of obstruction
Inspect siding and roof for holes, leaks, cracks, and wear; fix as needed
Check that chimneys are not blocked or deteriorating
Check for exterior mold and remediate as needed
Power wash or paint siding as needed
Inspect fencing and repair or paint as needed
Aerate the lawn, seed as needed
Mulch garden beds
Reseal parking areas as needed
Get a certificate of compliance from the local building inspector
With regular rental property maintenance, many of the tasks won't take much time or money. Deferred maintenance can be problematic as damages may get worse and turn into expensive repairs over time. Furthermore, well-maintained rental properties command higher rents and sell for higher prices, so it is worth it to keep on top of your routine maintenance.
Planning your rental maintenance saves time and makes the process more organized and efficient. Before embarking on a rental maintenance project, think about what tasks you may want to do yourself and which ones you should outsource to a vendor. For DIY tasks, consider how far you live from your rentals and if you have the tools and equipment. Weigh the cost of outsourcing against your time, financial resources, and abilities.
---
Despite performing regular maintenance, you may still encounter unexpected damages. Unexpected repairs include damage caused by fires, floods, and failed heating systems and water tanks, as well as damage caused by tenants. Some of these damages require emergency repairs, while non-emergency damages need to be addressed within a reasonable amount of time. Typically, landlords have three to seven days to resolve emergency situations and 30 days to repair non-emergency damages.
Here are emergency maintenance examples, as well as non-emergency repairs that require immediate attention.
Emergency Repairs

Non-emergency Repairs

Failed heating systems in cold weather
Absence of hot water and drinkable water
Inoperable bathroom plumbing
Non-functional electricity
Rodent and insect infestations
Operable fire and safety equipment, including fire escapes
Refrigerators, if provided by landlords

Inoperable ceiling fans
Dripping faucets
Noisy radiators
Torn or missing screens or storm windows
Squeaky floors or doors
Small appliances such as microwaves
For damage caused by tenants that exceeds normal wear-and-tear, landlords can deduct the repair costs from their security deposit. It's important to have detailed documentation to prevent disputes about tenant-caused damage. Include a property maintenance checklist in your maintenance records.
---
Why Landlords Should & Need to Perform Regular Maintenance
Not keeping your property in its best shape will cost you valuable time, money, and tenants. When your property fails to meet health, safety, and building standards, you may face serious penalties and legal charges from the local and federal government.
Here are some of the reasons why you should perform regular rental property maintenance:
To Remain Compliant With Landlord-Tenant Laws
It's the landlord's responsibility to provide safe and habitable living spaces to tenants. This includes performing repairs and routine maintenance, providing resources like proper waste disposal and management system, and making sure common areas are hazard-free and sanitary. While landlords have the right to enter their property for inspections, they must inform the tenant of the time and date of inspection.
To Protect Valuable Investments
Property mismanagement can be more exorbitant than routine maintenance. Neglecting your maintenance duties may lead to long-term losses that negatively affect your investment income and return on investment (ROI). Furthermore, having several damages to your property could lead to complaints, which may result in high tenant turnover, expensive maintenance costs, and legal disputes.
To Maintain Positive Tenant Relationships
When property damages are not addressed within a reasonable time, tenants may make repairs by themselves and deduct the costs from their rent. In some states, tenants can file criminal and civil suits against their landlords for public housing neglect and even break their lease without legal notice. To avoid conflicts and legal battles with tenants, always do your due diligence in maintaining the general upkeep of your property.
The Fair Housing Act prohibits the delay or failure to perform rental maintenance and repairs. This means that landlords should address repairs as soon as possible. Though time requirements vary by state, here are some common property maintenance issues and how long a landlord needs to fix them according to Redfin:
Air conditioning repairs: Five to 14 days
Leaking roof: 30 days
Refrigerator: 14 to 30 days
Water system failure: No more than two days
Furnace repair: Three to seven days
Sewage problems: 30 days
Did you know?
The 2021 International Property Maintenance Code (IPMC) provides guidelines for the maintenance of building elements, ventilation, sanitation, plumbing, mechanical, electrical, and fire protection systems in both residential and non-residential properties. In Section 301, IPMC states that "the owner of the premises shall maintain the structure and exterior property in compliance with these requirements," and that landlords cannot "permit another person to occupy premises that are not in a sanitary and safe condition."
When to Do Property Inspections for Maintenance
You can perform property inspections multiple times per year as long as they're not done randomly and don't interfere with the tenant's fair use of the property. To guarantee that the property is always at its best, we recommend doing inspections when a client moves in, quarterly or seasonally for routine maintenance, for emergency situations, and when a tenant moves out.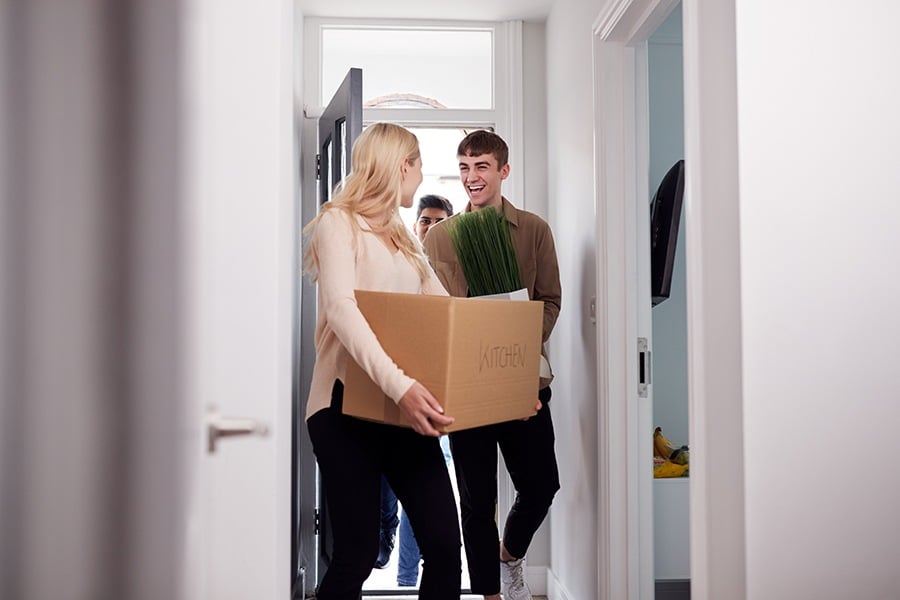 New tenants would want to verify the condition of the unit before they start using the property. Perform a move-in inspection to determine any normal wear and tear that needs to be fixed. Include information about how and when property maintenance is done in the lease agreement. This will prevent potential issues, confusion, and disputes down the line. Make sure to document findings during the inspection and maintenance in a property manager checklist that both you and your tenant have a copy of.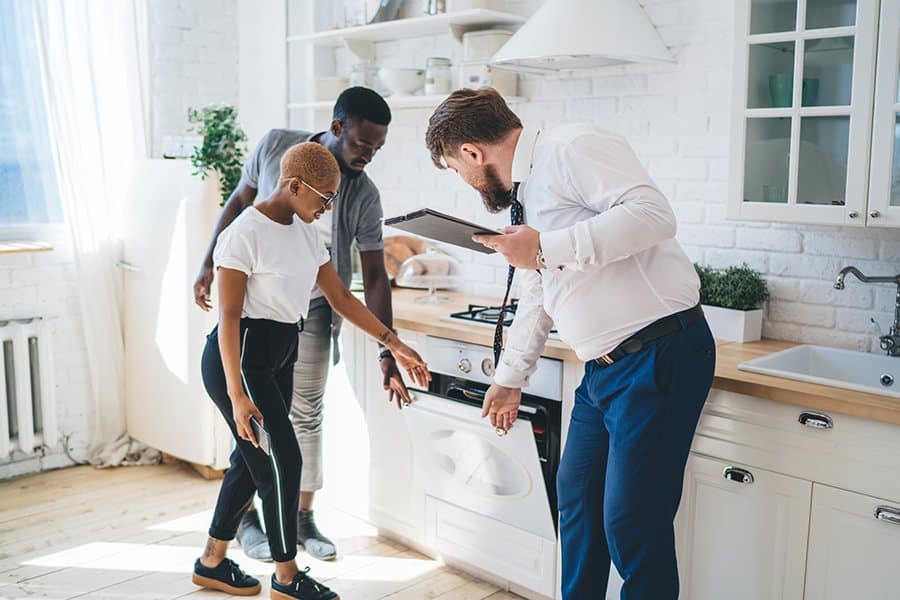 It's imperative to perform routine property inspections so you can identify potential and existing maintenance and health issues. A routine inspection is an extensive walk-through of the property that details how the property is being maintained by the tenant and identifies areas that need maintenance. We recommend doing routine inspections once per quarter. If you want to save time, consider outsourcing routine inspections to a professional maintenance worker.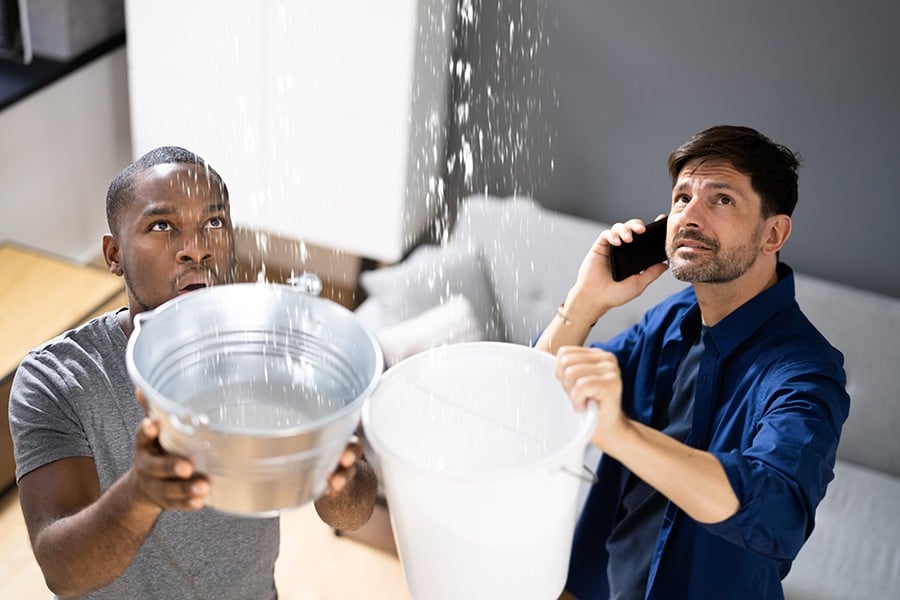 When a situation that could cause injury, threaten your tenant's health, or lead to serious property damage happens, it's time to perform emergency maintenance. These emergency repairs could be a broken water line or flooding, a broken gas line or leak, a broken lock on your door or window frames, no air conditioning in hot weather or heat in winter, or a sewer backup flooding the apartment.
Your tenants will send emergency maintenance requests to address unexpected issues. Don't forget to provide them with a detailed list of what constitutes emergency maintenance and routine maintenance.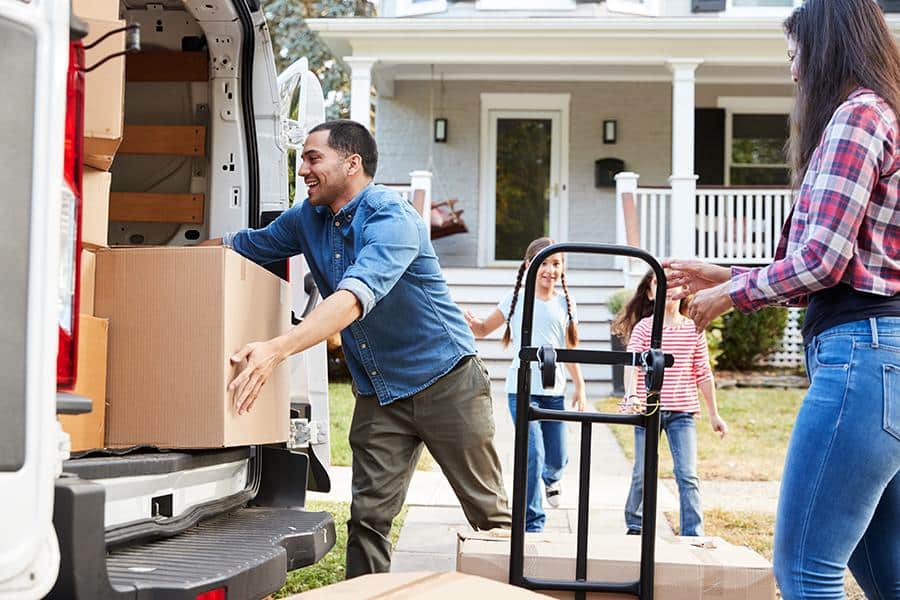 It's equally important to conduct maintenance inspections after a tenant moves out so you can check the condition of the property. You can deduct funds from the tenant's security deposit for property damages beyond normal wear and tear, as well as excess repairs or cleaning.
You want to be thorough but also move quickly to avoid vacancies and lost rental income. To stay organized and systematic, use a move-in/move-out checklist as you inspect your units during tenant turnover. Download our free Move-In/Move-out Checklist below, which you can use with the rental property maintenance checklist.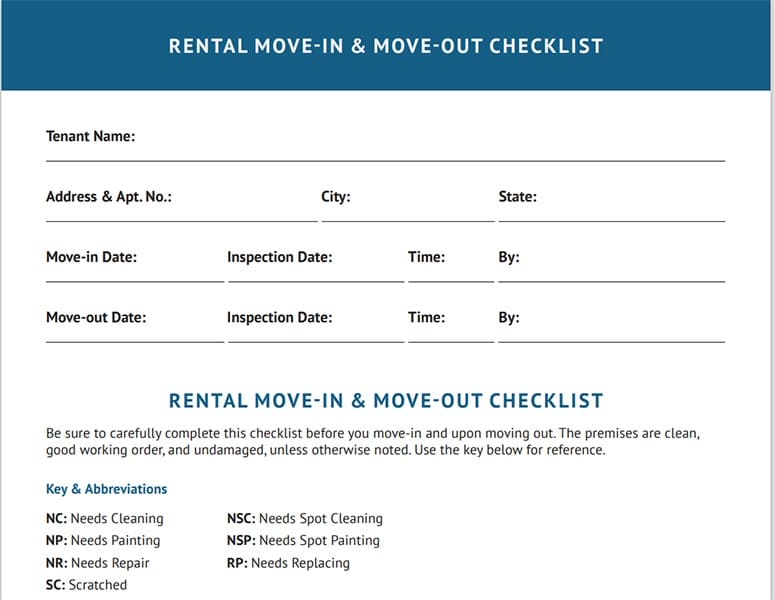 Thank you for downloading!
💡 Quick tip:
Property management software like Avail enables you to be more efficient in maintaining your rentals. Avail is an all-in-one property management solution to help landlords track maintenance and communicate with tenants. Register online in minutes and get started for free.
Visit Avail
Calculate the Cost of Property Maintenance
For your rental property to be hazard-free and safe at all times, you need to set a realistic maintenance budget. Without this budget, repairs may be delayed, which might lead to more expenses over time. Estimate repair costs by looking at your receipts and maintenance records from previous years or use a formula to estimate repairs.
Here are some formulas landlords use to estimate rental property maintenance expenses:
1% rule: Maintenance costs about 1% of the property value per year
50% rule: Maintenance and repairs are equal to 50% of your total operating costs
5x rule: Maintenance costs average 1.5x monthly rental income
Square foot formula: Maintenance will cost about $1 per square foot, per year
For example, if you are using the 1% rule on a $250,000 property, your maintenance expenses will be estimated at $2,500 per year. Or if you are using the square foot formula on a property that is 4,500 square feet, your maintenance costs are estimated to be $4,500 per year.
How to Address Maintenance Requests
If you plan to perform DIY rental property maintenance, identify which tasks to handle by yourself and which will require professional assistance. In general, you should outsource any type of maintenance that requires a license. You may also want to outsource tasks you don't have time to do. If you live far from your rental property, a property maintenance services list will come in handy in an emergency.
Bottom Line
A rental property maintenance checklist guides landlords and property managers in scheduling routine and preventative maintenance tasks and ensuring that their properties are up to building code standards. This property preventative maintenance checklist puts all of the landlord's maintenance tasks in one convenient place so they can plan their weekly, monthly, quarterly/seasonal, annual, and emergency maintenance projects in advance.