Normal Wear & Tear Versus Damage Guide (+ Checklist & Pictures)
Normal wear and tear occurs naturally in rental properties due to aging and regular use by tenants living in the property over time. This is different from property damage caused by tenants, which usually results from negligence, carelessness, or abuse. Landlords need to fix normal wear and tear (e.g., faded paint and dents in walls) but aren't required to pay for tenant-caused damage. State laws and landlords decide whether the damage is considered normal wear and tear or not.
Differentiating Normal Wear & Tear From Property Damage
We've outlined the differences in the image above. To sum it all up, normal wear and tear is the result of daily use and exposure over time, whereas property damage is the result of a tenant intentionally or negligently causing damage to the property.
It is the responsibility of the landlord to keep their investment property hazard-free and repair any reasonable wear and tear. Most often, the landlord will take care of any wear and tear prior to a tenant moving into the property. This can include repainting the apartment, reglazing and regrouting the bathroom and kitchen, buffing the floors, doing maintenance on appliances, and doing a deep cleaning. This money will be paid by the landlord and should be included as part of their maintenance or tenant turnover expenses.
On the other hand, the tenant will be held liable for any property damage typically found by the landlord when a tenant is moving out of the apartment or during regularly scheduled maintenance checks. Property damage should not occur while tenants are living there, which is why tenants are responsible for the cost. Also, a damage is typically more expensive to fix than wear and tear.
The landlord deducts the repair cost from the tenant's security deposit, though landlord-tenant laws regarding security deposits vary by state. Generally, the landlord needs to get a repair quote from a licensed contractor and send the tenant an itemized list of the damage along with the check for the remainder of the security deposit.
To avoid tenants with previous property damage issues, thoroughly screen applicants and contact their previous landlords for reference checks. You can do this online with MyRental. This tenant screening software helps you perform a full range of financial and background checks. Its SafeRent Score identifies tenants who are more likely to take care of your property and pay rent on time. In addition, Fit Small Business readers earn 20% off on landing pages—no promo code needed.
Most Common Wear & Tear Concerns
The most common wear and tear concerns for landlords are larger items like carpet, painting, and flooring. These are not only the most expensive items to fix or replace, but they are also the most time-consuming and often require the premises to be empty while they are being repaired. This will cause a lapse in tenancy and result in a loss of income for the landlord. However, there are many other items that a landlord must consider, like windows, walls, and countertops.
Check out the table below for common types of normal wear and tear and how they differ from tenant-caused damage. Then, review the details and pictures in the list below the chart to visualize the difference between the two.
Type of Material

Average Useful Life

Normal Wear & Tear

(Landlord's Responsibility)

Tenant Damage

(Tenant's Responsibility)

Carpet

5+ years

Gently worn carpets that show some worn patches but no holes or stains

Heavily stained carpets and ripped carpeting due to pets, negligence, or abuse

Paint

3 years

Fading paint from sunlight and minor scuffing from daily use

Paint that has been scribbled on; unauthorized paint colors

Hardwood Flooring

20 years

Fading of flooring due to sunlight exposure

Deeply scratched hardwood floors or pieces of the hardwood missing

Tile Flooring

50 years

Dirty grout surrounding the tiles

Broken, chipped, or missing tiles

Windows

20 years

Lightly scratched glass and worn, loose hardware

Broken glass, ripped screens, broken window hardware

Countertops

20+ years

Scratches and light watermarks

Chipped countertops, burnt areas, multiple stains

Walls & Ceiling

Lifetime

Cracks or marks in the walls caused by settling

Holes in the walls, damage from hanging pictures
Carpets
Carpets typically last for five to 10 years. The landlord is responsible for replacing worn carpets after their lifespan expires so they don't become unsanitary or a trip hazard, especially in high-traffic areas and stairs. If the carpet is fading due to exposure to sunlight or is well worn as a result of age, this is normal deterioration. In such cases, the landlord cannot blame the tenant.
If the carpet is stained by pets or spilled food, wine, or dirt, it's considered tenant-caused damage. Rips, tears, and excessive fraying in areas with less traffic or that result from a specific incident can be a sign of neglect or abuse. Burns from cigarettes and candles can also be considered tenant-caused damage. The expenses to repair or replace the carpet can be deducted from the tenant's security deposit.
Pets are often the reason for damage to a carpet. However, when landlords charge "pet rent," it is different from pet fees or pet deposits that cover pet-related property damage. If tenants paid a pet deposit or pet fee, some state laws don't allow landlords to deduct expenses for damages caused by pets from the security deposit. Note that a pet deposit is a one-time refundable fee, while a pet fee is non-refundable. Check your state's landlord-tenant laws to determine what you can charge for pet damages.
---
Paint
A well-done interior paint job usually lasts for three to seven years, depending on the type of paint you use. Peeling paint, sun damage, settling foundation, or a small number of scuffs can happen as a result of normal wear and tear. Ceiling paint usually lasts longer since no one is constantly touching the ceiling.
To keep the property in its best appearance, the landlord should do touch-ups on the wall's paint after a tenant moves out of a unit and as part of regular maintenance. Ceilings should also be repainted when a leak occurs or whenever necessary.
If the paint has excessive scuff marks, holes, or other marks, such as drawings or scribbles, it is considered tenant-caused damage. Unapproved paint jobs and wallpapering that wasn't discussed with the landlord are also considered damage. Landlords can charge the tenant to repair and repaint the walls, which is usually deducted from their security deposit.
In general, paint naturally wears out in three years. If your tenant has lived in the unit for three or more years, it is the landlord's responsibility to have the property repainted under routine maintenance. The cost of repainting should not be deducted from the tenant's security deposit.
---
Flooring: Hardwood & Tile
Normal wear and tear on flooring varies depending on the material used. For example, vinyl flooring lasts around 10 years, high-quality hardwood floors for 20 years, and tiles over 50 years. Fading from sunlight exposure is usually a sign of normal wear and tear on hardwood floors. Other common types of flooring depreciation are dirty grout, discolored tiles, peeling from less durable floors, and scuffed wood floors, especially in high-traffic areas. The landlord should maintain the flooring every few years or between tenants.
A large hole or gouge on the floor is unexpected damage. Pet scratches, cracks in tile floors, or ripped-out floorboards due to excessive force or neglect—whether intentional or not—are also considered tenant-caused damage. In such cases, the landlord can deduct the repair costs from the tenant's security deposit.
---
Windows
Well-maintained residential windows can last for 15 to 30 years. However, once they go beyond the two-decade mark, they start to decrease in performance, and landlords must consider replacing them. Signs of normal deterioration include uncomfortable drafts, air leaks, broken seals, warped or rotten window frames, and difficulty opening or closing windows.
Cleaning and general upkeep of windows in the rental should be part of the landlord's regular maintenance, whereas taking care of the windows, such as opening and closing them gently, is the tenant's responsibility.
As tenants reside on the property, accidents may arise that can cause impact damage to windows. Physical forces, such as wayward baseballs, flying rocks from lawnmowers, or intentional vandalism, could result in cracks, shattered glass, and broken window frames. Windows can also get damaged if they're forcefully slammed shut. Additionally, broken blinds, torn drapes, and damaged window treatments due to pet scratches are also considered tenant-caused damage.
---
Countertop
The anticipated lifespan of countertops is anywhere between 20 and 30 years, depending on the quality of the material. Expect minor scratches and light watermarks as the countertop age. However, burn marks, multiple stains, or chipped countertops before their expiry date are considered damage and are the tenant's responsibility. Excessive grime, broken granite countertops, and water-damaged wooden counters due to spills and food debris are also considered tenant damage.
---
Walls & Ceiling
Walls are expected to last the full lifespan of the home. Nevertheless, seeing cracks on the walls due to building settling is normal as years go by. Damp patches and small holes, such as nail holes and pins, are also considered normal wear and tear. Additionally, efflorescence, loose plaster, and staining due to mildew may normally appear over time. Cracks and holes on the wall due to excessive force, as well as unauthorized wallpaper and paint jobs, are considered tenant damage.
While ceilings can also last a lifetime, too much moisture, water leaks, and problems in the property's structure can cause damage to the ceiling. This includes staining, cracks and spidering, bowed or sagging ceilings, and peeling paint. Fixing this is the responsibility of the landlord. However, punctured holes and other ceiling damages caused by physical force or abuse during the lease are considered tenant damage.
Damage in the rental unit should be reported as soon as it arises. By using property management software like Buildium, your tenants and employees can submit work orders online and attach documentation (e.g., videos and photos) of the damage. Incoming requests are automatically assigned to a vendor for completion. This reduces the need to manually process the request and expedites the repair and maintenance work.
---
How to Document Normal Wear & Tear & Avoid Landlord Tenant Disputes
To keep track of new and existing damage, the landlord should perform a thorough rental property inspection before and after a tenant occupies the unit. The landlord needs to assess the overall condition of every room and document relevant findings in a rental inspection checklist. This will serve as a future reference and help you identify normal wear and tear from property damage that occurred over the course of the lease. More importantly, this will keep you from incorrectly charging the tenant and avoid landlord-tenant disputes.
Here are the five steps to properly document wear and tear vs damage:
1. Create a Move-in & Move-out Checklist
Before you begin renting your property, create a move-in and move-out checklist that you can use with each tenant. Alternatively, you can download our checklist below to get started right away.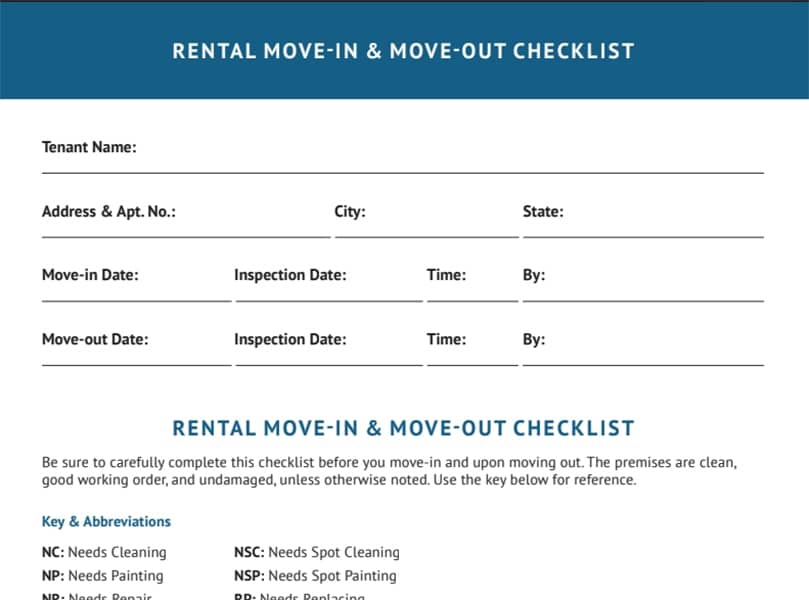 Thank you for downloading!
💡 Quick tip:
Property management software like Avail helps you to document property damage and connect with vendors to make repairs. Try their software for free today.
Visit Avail
When signing leases with a new tenant, present this checklist to them so they know you will be conducting an inspection on the day they enter and depart the property. This will establish a trusting and transparent relationship with your tenants and show you are conscientious about keeping your property clean and well-maintained.
2. Conduct a Move-in Inspection
Print out the move-in/move-out checklist and thoroughly inspect each room with the tenant. The tenant and landlord will complete the checklist together and mutually agree on the property's condition upon move-in. Document the property's current condition and photograph each area, including all appliances and outdoor areas. Each party will have a copy of the signed checklist to keep on file.
To avoid costly legal disputes, all tenant expectations—such as who is responsible for cutting the grass, snow removal, and common area maintenance—should be in writing and included in the lease agreement. You should also specify in the agreement that you have the right to deduct expenses from the security deposit to repair damage caused by the tenant. For damages exceeding the security deposit, landlords may collect the rest through an agreement with the tenant or court action.
Customize state-specific lease agreements easily using property management platforms like TurboTenant. Lease agreement templates at TurboTenant are crafted by lawyers and include all the provisions necessary to stay compliant with your state's landlord-tenant laws. Include lease specifics, rent, security deposits and other fees, pet and smoking policies, and other additional terms about your rental unit.
3. Conduct Regular Maintenance
It is the landlord or property manager's responsibility to conduct regular inspections and keep the property hazard-free. By doing routine inspections, you will show the tenant you care about the property and expect them to do the same. This will also help you keep track of normal depreciation and note tenant-caused damage during each inspection.
Regular maintenance checks should be performed periodically for each apartment as well as the building in general. Plan to visit each tenant's property every three to four months for a quarterly inspection, but you should also do weekly and monthly inspections of the building's interior and exterior. This will let you assess if there is anything that needs repair or if there has been damage done to the property.
4. Respond to Tenant Requests
Always respond to tenant requests promptly to show that maintenance is being done in a timely fashion, and thus rent should also be paid on time. It's also less expensive to fix an issue the moment it arises than wait for it to get worse. If the request is related to normal depreciation, doing quick repairs helps avoid tenant-caused damage.
Tenants need to immediately report any property damage so the landlord can fix them as soon as possible. With real estate software like Avail, tenants can quickly escalate maintenance requests to landlords and ask for repairs. Avail is a property management platform that enables landlords to manage their rentals online, including property maintenance. Tenants could also upload photos of the issue, send in-app messages, and monitor updates of their requests on the platform.
5. Conduct a Move-out Inspection
Both tenant and landlord should use the move-out checklist to determine if any of the tenant's security deposit will be retained for cleaning or repairs after they move out. While filling out the move-out checklist, compare it to the move-in checklist to see what condition the property was in before the tenant moved in and if there's any damage the tenant should be responsible for. Don't forget to document damages and photograph each area.
If the tenant denies property damage claims, the landlord should be prepared to go to court. You may be asked to provide proof of correspondence, including how the tenant was notified of the security deposit deductions, proof of where the security deposit was kept, and a copy of the lease. This is why it's important to use certified mail when sending contractor bids or itemized deductions for easy tracking. You should also use a different business bank account to separate security deposits from other property-related expenses.
If the tenant violates any terms of the lease, such as not paying rent or damaging the property, consider filing an eviction. An alternative would be paying the tenant to leave the property since eviction can be costly and time-consuming. This is called cash for keys, where the tenant is given a short period to leave and will receive cash for returning their keys and not further damaging the property.
How to Deduct Damage Expenses From a Security Deposit
The security deposit tenants pay at the beginning of their residency helps protect the landlord from having to pay for expenses that go above and beyond normal wear and tear. In case of tenant-caused damage, the landlord is allowed to deduct the repair costs from the security deposit.
Typically, landlords must return a tenant's security deposit within 14 to 60 days (depending on the state) from the time the tenant moves out. For instance, in New Jersey, a security deposit needs to be returned within 30 days, whereas in New York, it must be returned within 14 days.
If there are deductions on the security deposit, the landlord should get a contractor's bid to repair the damage. Then, subtract it from the security deposit and mail the tenant the itemized deductions and a check for the difference between the deposit and the cost of the damage within the allotted number of days. Please note that laws on security deposits may vary by state.
| Items | Amount | Description |
| --- | --- | --- |
| Security Deposit Received | $2,500 | |
| Past Due Rent | -$1,000 | June rent not paid in full |
| Late Fees | -$250 | June rent late fees |
| Past Due Utility Bills | -$175 | Electric bill |
| Pet Damage | -$250 | Clean and deodorize carpets |
| Broken Tiles | -$350 | Replace broken tiles and grout |
| Total Deductions | $2,025 | |
| Security Deposit Amount Returned | $2,500 - $2,025 = $475 | Certified funds mailed to tenant |
Example of security deposit deductions
While using a contractor's bid is better, most states allow an itemized deduction list instead. Other deductions include unpaid utilities and overdue rent, in which you need to provide proof of the bill. If the landlord fails to send the full list of itemized deductions within the stated period, the tenant can take them to small claims court.
If the tenant's security deposit does not cover the cost to repair all damages, the landlord can file a complaint to the small claims court. However, this can be costly and time-consuming. If the damage exceeds small claims court guidelines, the landlord will have to hire an attorney and sue the tenant in municipal court, which is even more expensive. It may also be difficult to enforce a judgment against the tenant. To avoid this, communicate with your tenant and explain the situation so your tenant will have a clear understanding of each repair cost.
Bottom Line
Normal wear and tear is when a property or material deteriorates due to aging and exposure over time, which is considered normal depreciation. The landlord is responsible for keeping the property hazard-free and fixing damages caused by natural deterioration.
Property damage caused by a tenant's neglect or abuse can be deducted from their security deposit. To avoid costly and messy landlord-tenant disputes, identify what is normal wear and tear in a rental and accurately document property damage in the move-in and move-out checklist during inspections.