Cash for Keys: How to Get Tenants Out in 7 Steps (+ Quiz)
A cash for keys agreement helps landlords create vacancies in their properties when there is a tenant they want to remove, avoiding eviction or for profitable gain. To complete this process, landlords need to extend a cash offer, inspect the property, and sign a written agreement that releases tenants from the property. This tenant removal method saves landlords time and money, providing quick access to their properties. The success of this agreement depends on the approach and communication a landlord has with the tenant.
Advertisement: Banking Built for Landlords
Being a landlord is not easy. Whether you own 1 unit, 1 building, or are looking to scale your business to the next level, Baselane can help. Baselane is a new banking platform built specifically for independent landlords. It offers FREE banking, FREE rent collection, and FREE bookkeeping and reporting tools all from 1 simple to use platform.
Right now, Baselane is offering 5% cash back on all home improvement spend and 4.25% interest on all deposits.
Opening an account is a quick 2-minute process, so get started with Baselane today
1. Learn What Cash for Keys Is & When to Use It
Cash for keys is a voluntary agreement that is entered into by both a landlord and tenant to exchange cash for the keys to a currently occupied property. It's a process that is performed outside of the legal system but should include a written document where both parties agree to the terms of the transaction.
The agreement can benefit both parties as the tenant gets a lump sum of cash, which can assist with moving and finding a new place to live, and the landlord gets access to their properties much faster. Providing money for keys is typically used in rental properties, but can be used by lenders and banks during foreclosure as well.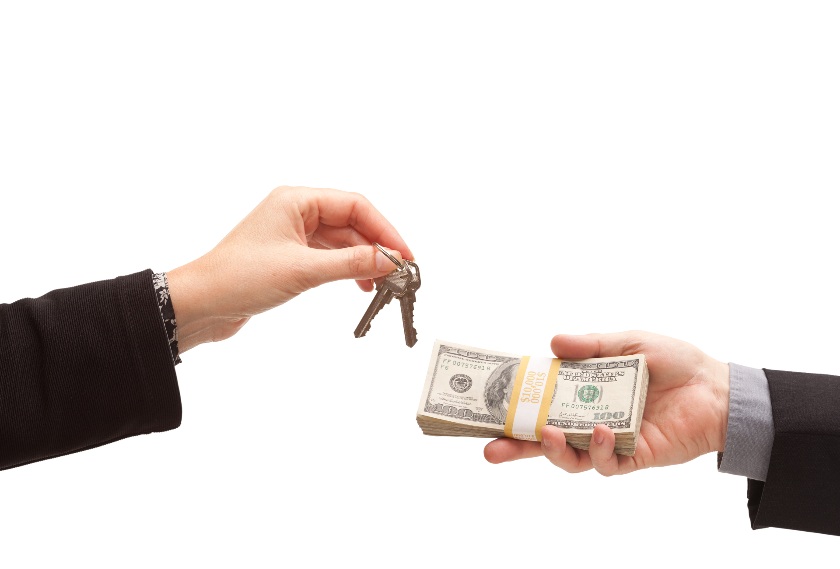 Most commonly, this process is used to eliminate the hassle of going through an eviction process with a problematic tenant. In a traditional eviction process, landlords must cover court costs, spend time in housing court, and be responsible for paying the rental costs tenants aren't covering. The cash alternative differs from evicting a tenant because it's a voluntary process, doesn't involve the legal system, and doesn't show up on a tenant's credit report.
If you want to compare a cash for keys transaction versus an eviction, read through our article How to Evict a Tenant, which has a free eviction checklist.
However, there are other scenarios where a landlord might want access to their properties by using a cash exchange. A cash for keys program may be implemented in the following circumstances:
Vacating former homeowners who are still occupying a real estate owned (REO) property after the lender has taken possession: When a foreclosed property fails to sell in an auction, it gets reclaimed by the lender. Some lenders will offer a cash agreement to vacate the property in exchange for keys and make it easier for them to sell and recoup their money.
Vacating rental tenants to make improvements and increase rent: Due to financial reasons, you may want to increase rent to increase your return on investment (ROI). This will require improvements to meet the new rent amount, therefore requiring the current tenant to leave. To help determine ROI, software like Buildium provides insights into property and company financials, so you can make sound decisions. In a few clicks, you can pull up monthly reports like balance sheet, profit and loss, and company cash flow.
Vacating tenants so you or a family member can live in the property: This circumstance requires no rent increase or improvement—you just need possession back of a property you own for personal reasons.
Vacating current tenants so you can sell the property: If you want to sell your property, and the interested buyer wants immediate possession because they need to live in it, you will need to vacate the premises before the sale.
The execution of cash for keys is legal in all 50 states. However, it's legal as long as the landlord presents the agreement in a non-threatening and voluntary manner. Make sure to always check with your state laws to follow the required process, especially when it comes to the security deposit and if it allows deducting any rent, damages, or cost of repairs.
Should you consider exchanging cash for keys with your tenant?
2. Approach Tenants to Discuss Leaving
Before sending an eviction notice to your tenants, try initiating a conversation with your tenant in person or via phone to discuss the current situation. Perhaps they'll be able to catch up with any past due rent, or might be willing to leave voluntarily without an agreement in place. However, if your tenants are problematic, they'll most likely avoid any conversations with you.
If your tenants are avoiding you, then the next step is to send them an eviction notice. The notice is a written request to vacate the property. Depending on your state laws, you may need to serve your tenants through certified mail or require a sheriff or process server to present the notice to tenants. If you must send it by mail, make sure you track the delivery through a return receipt to ensure it was received and signed for by someone present at home.
Once they've received the eviction notice, some tenants may be more open to having a discussion. Follow up the notice with a phone call. During the conversation, you can propose a cash for keys agreement while highlighting the benefits of such agreement. Those benefits should include the fact that eviction may stay on their record and hinder their ability to secure housing in the future and damage their credit score. However, this type of agreement will provide them with some monetary compensation.
Pro tip: To help avoid renting to a risky tenant, all landlords should screen their tenants and verify their income prior to accepting or rejecting their application. Read what documents landlords use to verify a tenant's proof of income to understand what to request from a potential tenant during the rental application process.
3. Decide How Much to Offer
If the tenant seems open to a cash for keys agreement, you now have to decide how much to offer. For comparison, it may be helpful to calculate how much an eviction would cost you as a baseline. Take into consideration legal fees, the amount in lost rent, court costs, and property turnover expenses, which could cost thousands of dollars. Once you've identified the cost of eviction, you would probably want to offer less than that to reap the benefits of the cash for keys agreement.
To help you determine how much to offer, consider comparable rents in your area. This will help you see if your proposed cash amount would cover the first and last month's rent, and possibly, a security deposit for your leaving tenant. This figure could be a strong incentive for them to accept your offer and move out in a reasonable time frame.
Not only do you have to decide on how much to offer, but also what a reasonable move-out deadline would be. A higher offer may help with an earlier departure, but you could use this date and dollar amount as leverage when negotiating with your tenants to come to an agreement.
Property management platforms like Avail have included rent analysis reports, helping landlords gather rental market trends and comparable properties in their area. An added benefit is their online payment system that can encourage tenants to continue to make on-time payments to avoid the cash for keys process altogether.
4. Extend a Verbal Offer & Negotiate as Needed
Another key element to successfully offering a cash for key agreement is making sure you are extremely specific about the terms of the agreement. When you extend a verbal offer to your tenants, make sure you are firm about the following items:
The amount of cash being offered
Payment date
Make it clear that the tenant is exchanging keys to the rental property and their right of occupancy for the agreed upon amount of money
Inspection and move-out date
Expectations for the condition of the property when vacating
Signature and date from landlord and tenant
Tenants may try to negotiate or provide a counter offer. If reasonable, you may accept it but keep negotiations to a minimum. If you've set a fair offer amount, you shouldn't stray too far from that number. You don't want to seem vulnerable or put yourself in a position to pay more than you have to. The last thing you want to have is a tenant who will try to extort you for more money or time.
5. Arrange a Property Inspection & Sign a Cash for Keys Agreement
Before finalizing the written agreement and presenting it to your tenant, arrange for a time to stop by and inspect your property. Difficult tenants may not be the most considerate of your property, especially if you're asking them to leave. Make sure there is no extreme damage that needs to be considered prior to drafting the agreement or could affect the amount offered to the tenant.
The written agreement should include all of the terms agreed upon in your verbal conversation. When the agreement is finalized, set a date with the tenant to meet and sign the final agreement. During this process, you should also set a date for a final property inspection and the date when you receive the keys in exchange for the cash payment. Both you and your tenant should sign two copies of the agreement, so you both have an original copy of the contract for recordkeeping.
A downloadable agreement is available below to use and modify according to your needs.
6. Do a Final Walk-through on Moving Day & Exchange Cash for Keys
On the agreed upon move-out date listed in the agreement, perform a final walk-through of the property to inspect it while the tenant is present. If the property is broom clean and there is no damage beyond normal wear and tear, you can provide tenants the cash along with changing the locks immediately. If there is damage, you should calculate the amount you'll deduct from the cash payment or security deposit prior to releasing money to the tenant.
7. Facilitate Smooth Transaction With Proper Documentation
A cash for keys agreement isn't the solution for every tenant situation, but if you're able to skirt the eviction process, make sure to follow these tips:
Agreement should always be in writing: Not only should the agreement be in writing to be a binding contract, but the agreement should include all relevant information of the terms of the agreement, including vacancy date, the amount agreed upon, and apartment condition upon move out. This will ensure there is no confusion between both parties.
Make sure you have proof of transaction: Although the agreement is technically called a "cash for keys agreement," you can offer certified funds in lieu of cash to have a record of payment. If you are providing cash funds, make sure a document is signed acknowledging the cash payment receipt.
Create a stringent tenant screening process: To help avoid having to remove your problematic tenants in the future, make sure you are prescreening tenants and processing credit and background checks before application approval.
Waivement of all claims: The written agreement should include relinquishing the landlord of any future lawsuits or claims arising from the landlord-tenant relationship.
Make sure you are negotiating and making the agreement with the leaseholder: You want to ensure that you are handing over cash to the right tenant and not a squatter or a sublet that you may not have been aware of. One of the main tenant scams is changing occupancy without notifying the landlord.
Pros & Cons of a Cash & Keys Exchange
The process of executing a cash and keys agreement is not as simple as getting the agreement signed and walking away with the keys in your possession. However, if alternative methods like restructuring rent payments or forfeiting some of the back rent have failed, this is your next best option. Here are the pros and cons to expect before facilitating the agreement.
PROS

CONS

Faster possession time of property
Tenants can refuse the offer
Can help current tenants with cash flow
Other tenants may get wind of the practice and might want to exploit it
Promotes better tenant screening process
It's an expense that perhaps wasn't anticipated
Could save landlord costs even with back rent owed
Negotiations of agreement can be drawn out
Eliminates length legal process of eviction
Can get into legal trouble if found to have bribed tenants instead of incentivizing them
You can still get a return on investment (ROI) if the cash offer is reasonable
Tenants may insist on an unreasonable about of money
Bottom Line
A cash for keys agreement is a better alternative to a long eviction process that is expensive and time-consuming. All real estate investors and landlords should have an agreement available at their disposal in the event they need to implement it. Furthermore, landlords should utilize tenant screening services to help make sure they are placing the right people in their properties to avoid future tenant issues.