Cash for Keys: Removing Tenants (+ Download Agreement)
A cash for keys agreement allows landlords to quickly and efficiently remove unwanted tenants without going through the eviction process. To complete the standard process of this agreement, landlords must make a cash offer, inspect the property, and sign a written agreement to release the tenants. This saves time and money while ensuring quick access to the property. Success depends on effective communication and approach with the tenant.
Whether you own one unit, one building, or are looking to scale your business to the next level, Baselane can help. Baselane is a new banking platform built specifically for independent landlords.

---

Free banking
Free rent collection
Free bookkeeping and reports 
A downloadable cash for keys agreement template is available below to use and modify according to your needs.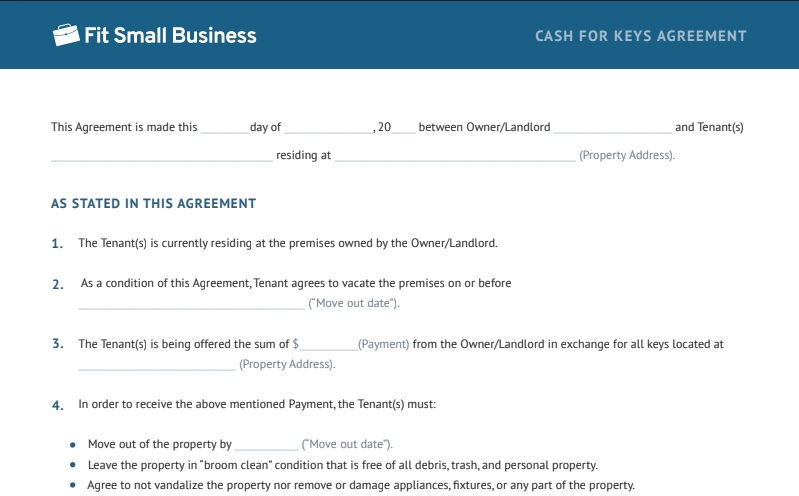 Thank you for downloading!
💡Quick tip:
Avail, a top property management platform, equips landlords with rent analysis reports, revealing local market trends and comparable properties. Its online payment system incentivizes timely tenant payments, reducing the need for cash for keys agreements.
Visit Avail
1. Learn What Cash for Keys Is & When to Use It
How does cash for keys work? The process of a cash for keys agreement is not as straightforward as signing the contract and receiving the keys. It is a voluntary agreement between a landlord and tenant where the landlord offers cash to the tenant in exchange for the tenant's property keys.
Though performed outside the legal system, it requires a written document where both parties agree to the terms of the transaction. This arrangement benefits both parties, as the tenant receives funds for moving while the landlord repossesses the property promptly. It is typically used in rental properties, but can also be used by lenders and banks during foreclosure.
With this agreement in place, the eviction process (in which landlords must cover court costs, spend time in housing court, and pay rental costs left uncovered by tenants) can be avoided. This option is voluntary for both parties, does not involve the legal system, and does not affect the tenant's credit score.
If you want a comparison between a cash for key transaction and an eviction, read through our article How to Evict a Tenant, which gives you a free eviction checklist.
However, a landlord might want access to their properties through a cash exchange for other scenarios. A cash for keys for renters may be implemented in the following circumstances:
Vacating former homeowners who are still occupying a real estate-owned (REO) property after the lender has taken possession: When a foreclosed property fails to sell at auction, the lender reclaims it. Some lenders may offer the former homeowner cash to vacate the property and surrender the keys, making it easier for the lender to sell the property and recoup their losses.
Vacating rental tenants for a rent increase and improvements: To boost return on investment (ROI), raising the rent may be necessary for financial reasons. This entails making improvements that align with the new rent amount, thereby requiring the current tenant to vacate.
Vacating tenants so you or a family member can live in the property: No rent increase or improvements needed, just regaining possession of your own property for personal reasons.
Vacating current tenants so you can sell the property: When selling your property, if the potential buyer requires immediate possession for personal use, you'll need to vacate before completing the sale.
This process is legal in all 50 states as long as landlords offer the agreement in a non-threatening and voluntary manner. Always consult state laws to ensure compliance, especially regarding security deposits and deductions for rent, damages, or repairs.
Pros & Cons
Before deciding whether this agreement is your best option, it's important to think through the advantages and disadvantages of this exchange. While it can be a quick and easy way to regain access to your rental property, it also can be an added expense, and tenants may refuse to enter into the agreement. Here are the pros and cons to consider before moving forward:
PROS

CONS

Faster possession time of property
Tenants can refuse the offer
Can help current tenants with cash flow
Other tenants may get wind of the practice and might want to exploit it
Promotes better tenant screening process
It's an expense that perhaps wasn't anticipated
Could save landlord costs, even with back rent owed
Negotiations of agreement can be drawn out
Eliminates length of eviction's legal process
Can get into legal trouble if found to have bribed tenants instead of incentivizing them
You can still get an ROI if the cash offer is reasonable
Tenants may insist on an unreasonable amount of money
Should you consider exchanging cash for keys with your tenant?
2. Approach Tenants to Discuss Leaving
Prior to sending an eviction notice, try discussing the situation with your tenant in person or via phone. They may catch up on rent or leave voluntarily without a formal agreement. However, if tenants are uncooperative or avoid conversation with you, proceed with the eviction process by serving them a written eviction notice. Follow state laws for serving the notice. Certified mail or assistance from a sheriff or process server may be required. If using mail, track delivery with a return receipt to ensure it reaches someone at the property.
After receiving the eviction notice, some tenants may be willing to discuss further. Follow up with a phone call and propose a cash for keys agreement, emphasizing its advantages. Highlight that eviction can harm their future housing prospects and credit score, while this agreement offers monetary compensation.
3. Decide How Much to Offer
If the tenant appears willing to consider this type of agreement, the next step is to decide how much to offer. For comparison, it may be useful to calculate the potential cost of eviction. Consider factors such as legal fees, lost rental income, court expenses, and property turnover expenses, which could amount to thousands of dollars. Once the cost of eviction is determined, offer less than that to reap the advantages of the agreement.
You can also assess comparable rents in your area to ensure your cash offer covers the first and last month's rent, and possibly a security deposit for your leaving tenant. This incentive can encourage the tenant to surrender the keys for cash and move out promptly. Additionally, consider a reasonable move-out deadline and leverage it along with the cash offer for negotiation with the tenants.
4. Extend a Verbal Offer & Negotiate as Needed
Another key element to a successful cash for keys agreement is being highly specific about the terms of the agreement. When verbally presenting the offer to your tenants, be clear and firm about the following items:
The amount of cash being offered
Payment date
Make it clear that the tenant is exchanging keys to the rental property and their right of occupancy for the agreed-upon amount of money
Inspection and move-out date
Expectations for the condition of the property when vacating
Signature and date from landlord and tenant
Tenants may attempt to negotiate or present counteroffers. You may accept if reasonable but limit negotiations if the initial offer is fair. Straying too far from the proposed amount can make you appear vulnerable or potentially result in paying more than necessary. Avoid situations where tenants may attempt to extort additional money or time from you.
5. Arrange a Property Inspection & Sign the Cash for Keys Agreement
Before finalizing and presenting the agreement to your tenant, inspect the property to ensure it is in good condition. Difficult tenants may not take care of the property, so check for any major damage that could affect the agreement or the compensation offered.
Include all agreed-upon terms from your verbal conversation in the written agreement. Set a date to meet with the tenant for the final agreement signing and a final property inspection. Also, determine the date for the key exchange and cash payment. Both parties should sign two copies of the agreement for record keeping.
6. Do a Final Walk-through on Moving Day & Exchange Cash for Keys
On the move-out date specified in the agreement, conduct a final walk-through of the property with the tenant present. If the property is broom-clean with no excessive damage, provide the cash payment and change the locks promptly. In case of damage, calculate the deduction from the cash payment or security deposit before releasing funds to the tenant.
Download our move-in and move-out checklist to assist with your final walk-through:
7. Facilitate Smooth Transaction With Proper Documentation
This type of agreement isn't the solution for every tenant situation, but if you're able to skirt the eviction process, make sure to follow these tips:
Agreement should always be in writing: An agreement should be written to be a binding contract, and should encompass all relevant information of the terms, including vacancy date, agreed-upon amount, and apartment condition upon move out. This helps avoid any confusion between both parties.
Make sure you have proof of transaction: While the agreement is technically called a "cash for keys agreement," you can offer certified funds instead of cash to have a payment record. If cash funds are provided, ensure that both parties sign a document acknowledging the cash payment receipt.
Create a stringent tenant screening process: To prevent having to remove problematic tenants in the future, pre-screen tenants and conduct credit and background checks before approving applications.
Waivement of all claims: The agreement should state that the tenant releases the landlord from any future lawsuits or claims related to the landlord-tenant relationship.
Make sure you are negotiating and making the agreement with the leaseholder: Be cautious of potential scams where squatters or undisclosed subtenants may attempt to receive the cash. Unauthorized changes in occupancy without notifying the landlord are a common tenant scam to be aware of.
Bottom Line
A cash for keys agreement offers a preferable alternative to a lengthy and costly eviction process. All real estate investors and landlords should have an agreement ready for implementation when needed. Additionally, utilizing tenant screening services can help ensure that suitable tenants are selected and avoid future tenant issues.
Frequently Asked Questions (FAQs)
Yes. Cash for keys is a legitimate practice used in certain situations. While it takes place outside the formal legal system, this voluntary agreement necessitates a written document where both parties mutually consent to the terms of the transaction and affix their signatures.
---
Yes. The money received in this type of agreement is taxable. It is classified in most situations as extraordinary income rather than rental income, and should be reported under miscellaneous funds on the tax return. If the tenant has specific tax questions, it is recommended to seek advice from a professional tax preparer. They can offer a more precise response, taking into account various factors related to the tenant's tax status.
---
In certain circumstances, cash for keys offers a better alternative to the standard eviction process. Landlords can avoid covering court costs, spending time and money on housing court, and other rental expenses left uncovered by tenants. This agreement lets both parties save time and money while leaving the tenant's credit score unaffected.
---