Storefront signs are the signs that live outside your business, announce your brand name, and provide a first impression of your store. In addition to displaying your name, storefront signs also play a significant role in defining your brand, driving foot traffic, and ensuring that people can see your business day or night.
This article will guide you through different signage options and best practices for creating a beautifully finished storefront sign that is in line with your brand, products, and services.
1. Choose the Right Type of Storefront Sign
The market for storefront signs is expansive, and you can choose among countless options when selecting the right kind of storefront sign for your business. When selecting your sign type, you should consider several things.
Branding: The materials and design that you use will leave different impressions on customers. For example, at my boutique, we used a rustic wooden sign with black frilly metal lettering. The unfinished wood helped to communicate the boho aspect of our brand. The lettering pointed to our position as a women's clothing retailer and allowed for durability—keeping our signage intact throughout the seasons.
Durability: Consider the environment where your sign will live. If you have lots of sunshine, you should think about the effects of fading. For rainfall, you will want to think about coverage. If you have snow and ice, you should think about rusting. Your weather and environment, as well as if you have an outdoor or indoor storefront, will affect the material you use for your storefront sign.
Space availability: Consider how much room you have to display your storefront signs. Most shopping centers have restrictions regarding the types of signage you can use. There also might be zoning regulations that could impact where you can place your signs. Local laws can affect where you can put your signs, as well as their size, illumination level, and much more. Check your city's building codes and zoning rules to determine what type of signs are allowed and whether permits are required.
Budget: You should set a budget for how much you want to spend on your signage. The amount you spend depends on your business size and industry.
In the following section, we will review the pros and cons, features, and average costs for each of the different kinds of storefront signs.
Fabric Storefront Signs
Fabric storefront signs are, you guessed it, signs made out of fabric. Typically, fabric signs are either free-standing signs or banners that lay flush on building exteriors. Fabric signs are constructed from vinyl, plastic, or nylon to increase their longevity, but they still tend to fade and get worn over time. You should expect to replace synthetic fabric signs every five to 10 years.
Pros: Low upfront cost, easy to ship and install, impermanent so can be updated, highly customizable, mobile
Cons: Require frequent upkeep and replacement, not durable, cost more over time
Best uses: Advertise rotating specials, pop-up locations, low budgets, mobile shops
Average cost: $20–$400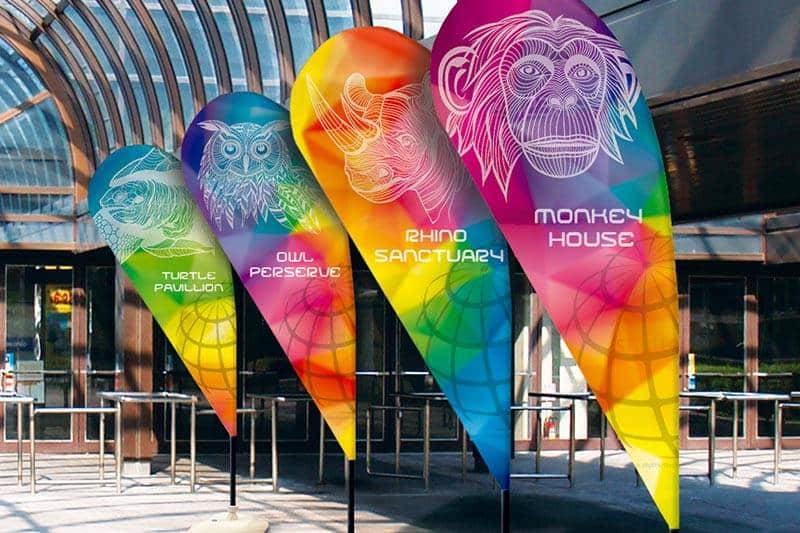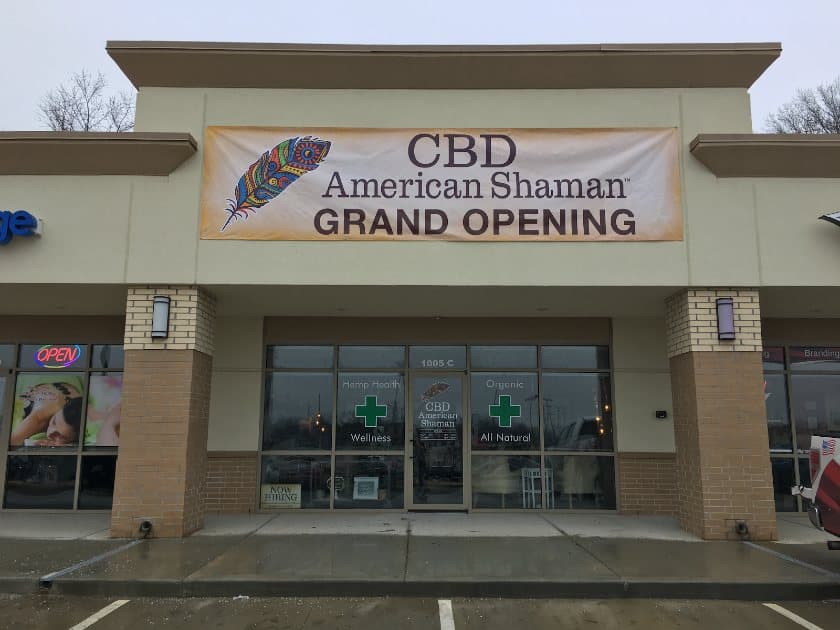 Plywood Storefront Signs
Plywood signs are constructed from plywood slats and can be composed of many different kinds of wood. Plywood signs are great for giving a rustic look to your storefront and highly customizable. Additionally, plywood signs are coated in weather-resistant finishes making them highly durable and great for outdoor use.
Pros: Mid-range cost, durable, statement piece, many wood options
Cons: Typically require professional installation
Best uses: Businesses with a more rustic, vintage-inspired, or old-fashioned brand
Average cost: $100–$700
Screen Printed Window Storefront Signs
Screen printed window signs are sticker decals that you adhere to your store windows. You can also choose to use custom-painted options, but these will be more expensive. Additionally, while some businesses choose to use window signs as their primary signage, it is also common to use these as secondary signs on windows and doors.
Pros: Easy to install, durable, cost-effective, customizable, take up no additional space, highly durable materials available
Cons: Less visible from the street and during peak sunlight due to glare, can peel and chip over time
Best uses: Stores with large front windows, stores with limited exterior space, stores with multiple entrances
Average cost: $150–$600
Punched Metal Signboard or Laser Cut Storefront Sign
Punched metal or laser cut storefront signs are metal signs with etched or laser cut designs. These signs come in various styles that can elicit anything from a sleek and modern to rustic ranch branding.
Pros: Extremely durable materials and finishes, many custom online retailers available
Cons: May rust over time with wrong materials, potentially expensive upfront cost
Best uses: Stores looking to evoke a sleek design, a ranch-inspired look, or a retro feel; raw materials retailers
Average cost: $100–$1,500
Metal Logo and Lettering Storefront Sign
Metal logo or lettering signs are signs in which individual pieces of metal lettering or design elements form your business's name or logo.
Tip: Consider backlighting your letters to create a glowing effect and to allow for nighttime and evening visibility.
Pros: Extremely durable, highly customizable, takes up little space
Cons: High upfront cost, requires a light source for evening use, requires professional installation
Best uses: Stores going for a polished look, high budgets
Average cost: $200–$1,000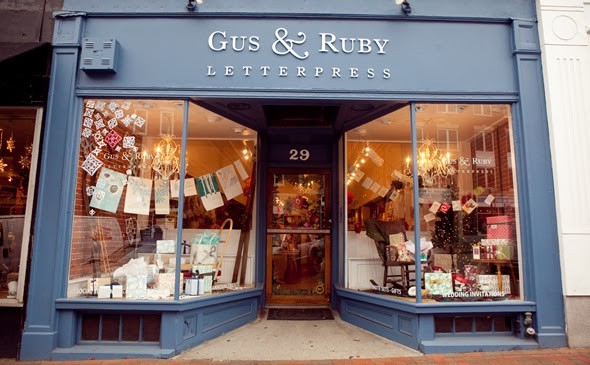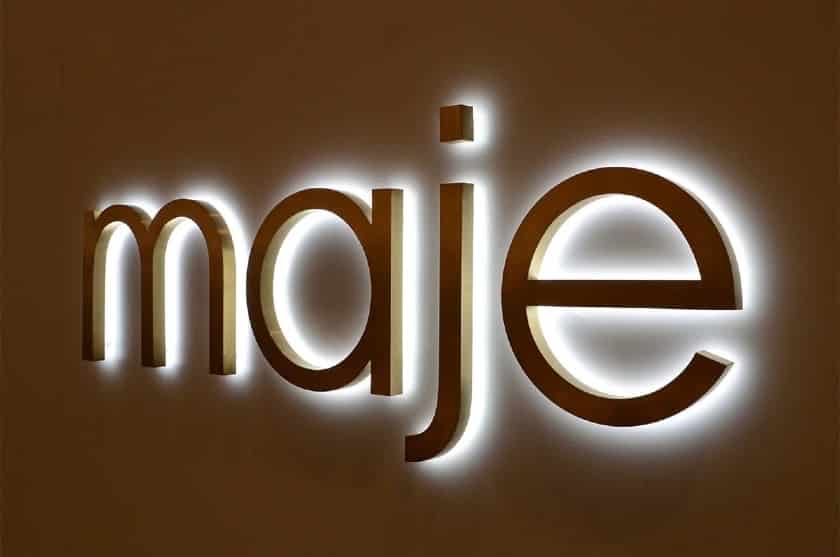 Awning Storefront Sign
Awning storefront signs are a type of signage where someone screen prints a brand name or logo onto an awning. These signs are great for making your brand name stand out from your storefront, increasing visibility and creating an exterior design feature.
Additionally, where awnings used to be made of canvas materials that needed to be replaced every five to seven years, they are now made out of synthetic fabrics that are water-repellent and treated to resist mildew and fading. Synthetic awnings can last anywhere from five to 15 years.
Pros: Provide shade to customers, good visibility, durable
Cons: High upfront cost, require professional installation
Best uses: Stores with high sun exposure, store with bland exteriors looking to create curbside appeal, stores with outdoor shopping, stores that face lines for entry
Average cost: $500–$5,000
Rock Storefront Sign
Rock storefront signs are an option where a professional etches your logos or branding into an actual rock or boulder. You often find these at the entrances to neighborhoods and parks, but they are also popular for businesses that want to create an outdoorsy or natural feel.
The greatest challenge for rock storefront signs is their size. Be sure you have enough square footage surrounding your storefront that a rock can fit without impeding traffic flow. They are also heavy, making them extremely difficult to move.
Pros: Durable, attention-grabbing, little to no upkeep
Cons: Costly to relocate due to size and weight, high shipping and delivery cost, take up a lot of space
Best uses: Stores with an outdoorsy brand, outdoor retailers, stores that have a lot of square footage surrounding their business
Average cost: $500–$10,000
Tip: You can save a little money, with options starting at $350, by using synthetic stone materials.
Tube Light Storefront Sign
Tube light storefront signs are a type of lit signage that features thin, colorful glass tubes formed into letters or logos. Think of the classic red and blue "OPEN" signs that sit in almost every convenience store window.
Tube light signs are bright and attention-catching and your best option for being visible at nighttime. While used frequently in more utilitarian spaces like convenience stores and gas stations, when designed differently, they can also be very stylish and invoke a retro feel.
Pros: Attention-grabbing, low energy consumption
Cons: Fragile, need tube replacement on occasion, require professional installation, might require a heat sink
Best uses: Businesses that operate at night, businesses located in brightly lit neighborhoods, businesses trying to evoke a retro feel, convenience stores, groceries, drug stores, and corner markets
Average cost: $1,000–$10,000
Digital Storefront Signs
On the cutting edge of storefront signages are digital signs, or signs with interactive and/or digital elements. With digital signs, you can use features like rotating photos, virtual reality (VR), promotional displays, and product information pages. Additionally, digital displays can be changed and updated easily and frequently at a materially low cost.
Small businesses can find a variety of digital signage solutions at all price points through Raydiant.
Pros: Attention-grabbing, encourages engagement, boost sales
Cons: Associated energy cost, expensive
Best uses: Stores that need to display a lot of information (menus, class schedules, more about what is inside), stores going for a modern and sleek design, some digital signage options must be indoors
Average cost: $500–$10,000
Roadway or Pole Storefront Signs
Roadway signs are the large signs that stores place on long poles or within structures outside their businesses. For example, almost every gas station has a roadway sign that displays its brand name and prices for that day.
Roadway signs are great for increasing visibility if you are off a busy throughway or for creating an attention-grabbing display. Additionally, roadway signs can also be digital, giving you access to features like slideshows and advertisement displays. They can also be lit either through spotlights or lit signage, great for shops that are open late at night.
Pros: Attention-grabbing, good visibility
Cons: Expensive, take up a lot of space
Best uses: Stores located on busy throughways or near a highway, stores that operate at night
Average cost: $700–$10,000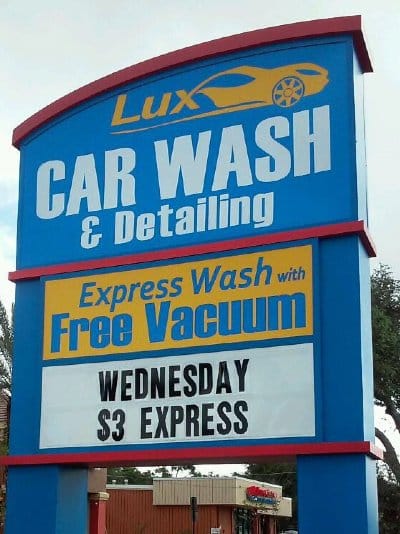 2. Source Your Storefront Sign
There are many resources that you can look to when it comes to sourcing your storefront sign. From local shops that you can go to physically to ecommerce sites, you should consider your options and select a signage retailer that works with your schedule, budget, and desired end-product.
Questions to Ask When Sourcing Signage
When working with a signage company, you want to be sure that you are asking the right questions. This will ensure that your sales rep exposes you to all the available services and that you get the best price.
Here are some questions to ask when you contact a sign company:
Will the sign company apply for any needed construction permits?
Does the company offer design services?
What are the cost differences among materials?
What sizes are available?
How does more color add to my cost?
Does the company offer installation?
Is there an extra installation fee?
What maintenance and cleaning does this material require?
Does the company offer maintenance? At what cost?
Does the company offer insurance or warranties for installation or any mishaps that might happen to the sign?
What is the timeline, from the time you select your sign to the time it is installed?
Local and Regional Sign Shops
Local shops or regional shops will make your signs on-site, and offer a more hands on experience.
PROS

CONS

One-on-one attention during the design process
Consultation and design service fees
Available experts that can help you create your sign
Longer production times (2+ weeks)
Personal consultations throughout the design and installation process
Potentially higher prices
Limited materials
In terms of finding a good local sign shop, you will have to do some research on your own. One way to research local suppliers is to ask other local business owners where they got their signs made. You can also check online reviews of specific shops via sites like Yelp or Etsy.
Additionally, local shops will typically offer free consultations, where you can learn more about offered services and get a sense of quality.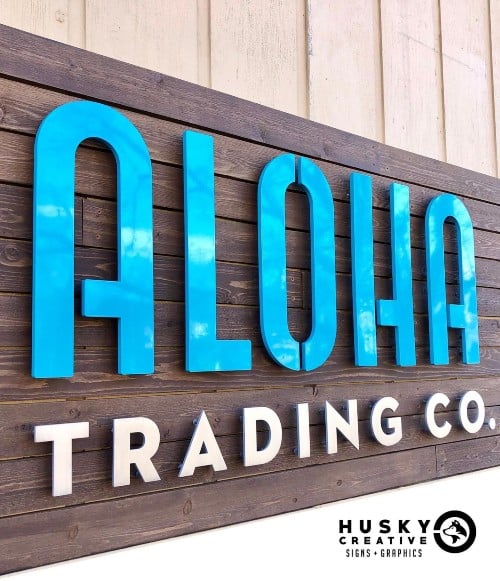 Online Sign Printing Websites
Online retailers offer fast turnaround times and lots of options.
PROS

CONS

Low-cost options
In-person design help
Typically completed 5-7 business days
No preview of materials
Virtual design help
Can be difficult to get your exact image
Limited materials
Design is generally done by you
Websites like Vistaprint and Signomatic offer low-cost sign printing. Be sure you have created your design, defined your needs, and done your research before working with an online retailer. The better your planning, the better an ecommerce signage shop will be able to serve you.
3. Design Your Final Product
When it comes to designing your final product, consider the following tips to maximize your store sign's potential for enticing the right customers and driving sales.
Be Consistent With Your Brand
When designing your storefront sign, put yourself in the shoes of a customer who is unfamiliar with your shop. Ask yourself whether your signage would create an impression in line with your brand, services, and products. If yes, you have designed a well-branded sign. If no, it's back to the drawing board.
For example, say I own a bohemian-inspired flower shop and choose a sign with heavy, red lettering in a gothic font on black metal background. This design would create a false impression of what my business actually is and the services and products that it offers. It would drive away my target market.
Target market: The demographic group that shops at your store or a group you think your brand and products would appeal to.
To reinforce your brand with your storefront sign, start by using what you have. Incorporate any existing logos or imagery in addition to your store name. You do not always have to start from scratch.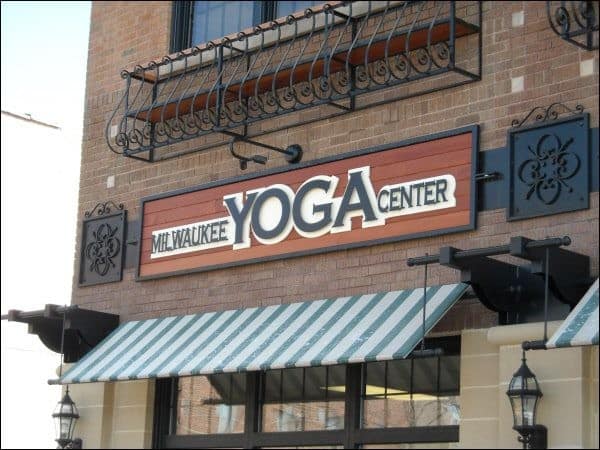 Take Inspiration
If you find yourself in a design rut, one of the best things that you can do is take cues from your competitors. Take a walk around your neighborhood, see what store signs speak to you, and analyze what you like and don't like. For more inspiration, you can also look to resources like Pinterest or design portfolios from online signage retailers.
Use Design Services
Your local sign shop will likely have an in-house graphic designer that can help with your artwork. Ask for samples of designs made in-house and make sure they meet your standards. Keep in mind, however, that design services come with fees that can be hundreds of dollars. Ask upfront about how much design services will cost to avoid any unforeseen expenses.
There are also online design services. Although not as common as in local shops, online retailers sometimes incorporate design consulting into their platform. You can find design services at websites like Signs.com or Signs by Tomorrow.
Be Bold and Legible
Your storefront sign will be what customers use to identify your store from the street. So, you want to be sure that you are using a font that is large enough to be seen, as well as colors and designs that will catch the eye.
To increase your visibility, use these design elements to make your storefront sign pop:
Contrast: Be sure there is enough contrast between your font and background colors so that people can read your sign even from a distance.
Bold colors: Consider using bright colors to make your signage eye-catching. Bright colors are especially useful for stores located off the beaten path or for roadway signs.
Proportions: Use a sign that suits the size of your storefront—an oversized sign in front of a tiny shop could appear cluttered, and a sign that is too small will impede visibility.
Size: Choose a sign that will leave appropriate space between all your design elements and text so that it is legible.
Protrusion: You can make your sign protrude up or out from your storefront to increase the distance from which people can see it.
For example, my boutique was tucked away on a side street of a large shopping area. To make us stand out, we chose a large sign that protruded from the side of our storefront and used dark lettering on a light background. The size, bold placement, and high contrast of our sign helped people see us from the main shopping area and drew attention our way.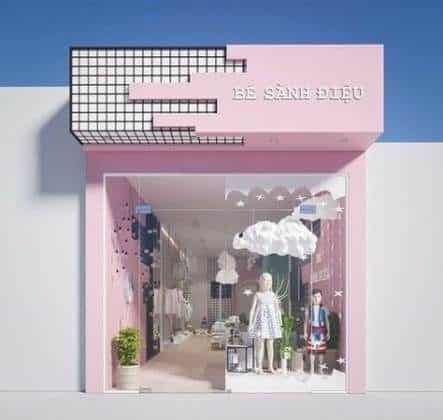 4. Place Your Sign
When placing your sign, the biggest thing that you will want to think about is visibility. Consider the following when thinking about visibility:
Your shopping environment: How are people shopping? Are they right outside and in close range, or are they driving by on a nearby road? Look at how customers are viewing your exterior and place your sign accordingly.
How much space you have: If you have a lot of space, you can use large signs. If you do not, you can still use large signs but they will have to space-effective like banners or lit displays.
How the sign will compliment your storefront: You want your sign to be placed in the best place for visibility without compromising your storefront aesthetic. Place your sign in a way that both compliments your storefront and provides good visibility.
For example, this chocolatier is located on a walking street in a shopping center, so it opted for a sign that is flush with its storefront. This not only makes its signage a design feature for their storefront, but the height also allows it to be visible from the other side of the street.
5. Know Your Local Zoning Regulations
Most localities have requirements governing signs on display, and it is important to meet these requirements before creating your business sign. Your local zoning commission can help you identify which rules apply to your business. You will find requirements related to:
Width
Height
Color
Font Size
Materials
Message Display (some communities restrict message content)
Understanding zoning restrictions in advance will help you save time and money upfront and also help you avoid potential fines and expensive re-work.
To find out about your zoning laws or where your commission is located, check with your local Chamber of Commerce or do a couple of Google searches. You can type this on Google:
Your ZIP Code + Signage Zoning Regulations or Your City + Signage Zoning Regulations
Bottom Line
Designing a storefront plays a major role in creating your first impression, defining your brand, and enticing people into your store. The type of sign you choose, the materials you use, and the actual design you create are all choices unique to your business. Using this guide, you will be ready to design a storefront sign that is right for your business and gets those customers running through your doors.
You May Also Like …