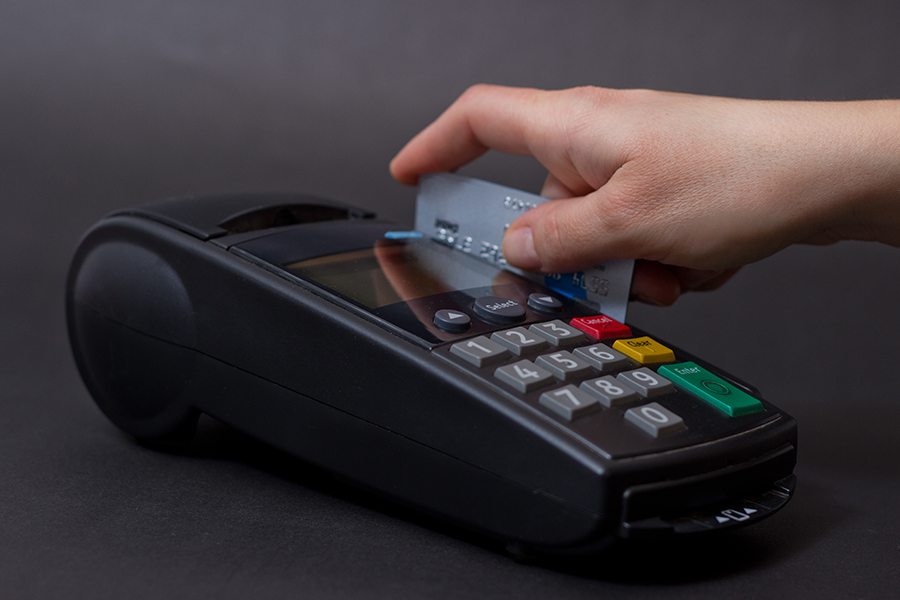 Leasing retail space is typically one of the biggest operating expenses for a small business. It takes careful planning, consideration, and budgeting to find a place that meets your needs and doesn't too large a bite out of your budget. Below, we'll walk you through 6 steps on how to find and lease retail space for your store.
While you're hunting for the perfect location, don't let other preparations fall by the wayside. Make sure you check out our best small business POS guide and select the right POS for your style of business. POS software makes it easy to make sure you never run out of stock, and lets you build customer contact lists to quickly advertise your sales.
Step 1: Determine Your Budget
Before you go out and scout potential locations for your business, you need to know what you can afford. This will help you narrow down your choices and prevent you from jumping on a place simply because it looks appealing. Remember, your lease amount will take big chunk out of your monthly budget so it's important to stick to a figure you're comfortable with.
The maximum percentage a business should allocate to their lease payment differs depending on the industry. However, the range is typically 3 % to 10 % of gross monthly sales. Ideally, you should spend no more than 10% of your monthly gross sales on your lease payment.
Below are sample figures from property management company, Hartman, to give you an idea of how much different types of retail stores typically spend on rent.
| Industry | Percentage of sales allocated for space rent |
| --- | --- |
| Clothing and apparel | 7.66% |
| General merchandise stores | 3.86% |
| Furniture and furnishing stores | 5.98% |
| Food and drink establishments | 5.81% |
| Electronics and appliance stores | 2.09% |
| Books, hobby, music, sporting goods stores | 3.30% |
| Health & personal care stores | 3.37% |
In order to determine what percentage of your business profits will go to your lease payment, simply take the annual cost of rent and divide it by your gross annual income.
Here is a quick sample calculation:
Annual rent: $150,000.00
Gross Annual Income: $2 million
Equation: $150,000.00/ $2 million = 8%
This means that 8 cents of your profits go to rent for every $1 dollar your business earns.
Factors that Impact Monthly Lease Payment
Although this list will vary from city to city, here are some of the main factors that influence retail leasing costs:
Location. High traffic and high visibility locations obviously increase the lease costs tremendously as they place your store in a prime place for high foot traffic.
Demand. If you're eyeing a location that is convenient for shoppers – such as variety of other shops around the area, ample parking space, and other amenities – then prepare to pay high lease costs.
Condition of the Space. If a retail space is basically move-in ready, you are going to pay a lot more than you would for a similar size space that needs improvements/remodeling.
Length of Term. In general, the longer the lease term, the more bargaining/negotiating power you have. However, if you only have a 1 year lease agreement, you have much less bargaining power.
Incentives with the Space Being Leased. If the lease comes with incentives such as regular improvements, then this will add to the cost. Try to see if you can negotiate this and take care of the improvements yourself.
Competition for Space. In certain high growth cities, commercial space is at a premium. You are not the only potential tenant that the seller is considering, and someone else might make a higher offer to win the retail space you're eyeing.
Other Costs Associated With a Commercial Lease
Apart from the lease base rate, there are other one-off and recurring items you need to take into consideration and include in your budget such as:
Property Taxes. This amount makes up a large percentage of the expenses when leasing a space and could vary per state. The average tax rate across the country is around 2.113% of the lease amount.
Insurance Covering Natural Calamities and Theft. The cost of commercial property insurance varies, but it ultimately depends on the size of the space. Average cost of insurance ranges from $.03 to $.04 per square foot.
Common Area Maintenance. Depending on the type of location you choose, this cost varies depending on the property's maintenance needs. Is there security? Are they maintaining landscapes?
Utilities. Factor in costs for electricity, water, heat, sewer, internet, and other utilities you are planning to use.
Construction. Most retail lease spaces are bare, empty and needs some construction and design work. Make sure to allot a construction and interior design budget to make your shop visually appealing and reflective of your business personality.
Pro Tip: Set a Conservative Budget!
Be conservative when setting your lease budget because you'll need extra cash on hand to run your business day to day and pay for unexpected expenses. These experts agree:
Cedric Stewart, Residential & Commercial Sales Consultant, Entourage RG at Keller Williams says:
"Depending on your type of business, it may take several months to get the business up and running after securing the space. Within that time, you'll still need to account for various start up costs which may include build-out money, payroll, rent, and supplies. Your arrangement with the landlord will determine whether or not you'll need to pay some of these, but it's best to set aside 8-12 months of reserves at the minimum."
Carrie Wood, Chief Marketing Officer, Leaseref.com agree:
"It's easy to analyze the gross rent, where tenants get tripped up is the hidden additional charges. Budgets almost always end up coming in higher than originally expected, and there are always additional fees that tenants were not fully aware of on the get-go. For instance, common construction budgets almost never have third party consulting fees (such as fees for engaging interior designers and mechanical/ electrical drawings). As a tenant who rarely goes through this process, it's almost always a last minute and painful surprise so make sure you think through all the potential expenses you may encounter. If possible, hire a real estate consultant."
Broker's Fee
If you work with a broker, be sure to also factor in their fee. Commercial real estate brokers who lease retail space generally charge from 7 to 10% of the total lease costs. For example, if you sign a 3 year lease at $50,000 a year ($150,000 total), and your broker charges 10%, then the broker's fee would be $15,000.
It is also possible that the fees may be charged on a per square foot basis, generally $1-$5 dollars depending on the length of the lease. For instance, let's say you lease a 5000 square foot building with a 3 year lease term. Your broker fee would be around $15,000 (5000 sq. ft x $3).
To learn more about broker fees and whether you should use a broker, see our commercial real-estate article.

Step 2: Understand the Different Types of Leases
Different landlords offer different types of leases. The main differences between lease types are the kinds of costs each party will shoulder. Below are the types of leases you may come across, what they mean, and how they will impact your monthly lease budget.
The Four Types of Retail Leases
Triple Net Lease. This is the most common type of lease. In this kind of lease, the tenant shoulders the majority of the costs. The landlord is only responsible for structural repairs.
Single Net Lease. In this type of lease, the tenant is only responsible for paying utilities and property tax, while the landlord takes care of the rest such as insurance and maintenance.
Double Net Lease. In this type of lease, the tenant is responsible for utilities, property taxes, and insurance costs. The landlord will shoulder the maintenance.
Modified Net Lease. Expenses are split between the tenant and landlord.
Step 3: Decide How Much Space You Need
When you lease retail space, you don't want to pay for space that you won't need, but you also want to have enough space to accommodate business growth. Space needs will vary for each business, but here are some common areas for which you may need space:
Sales Floor
Stockroom
Offices
Bathrooms
Dressing Rooms
Additional Storage Space
Come up with a general calculation of how much space you need, within 250 or so square feet, and you will narrow down your property significantly.
Here's a basic formula for estimating the size of your sales floor based on sales goals:
Gross Sales Volume ÷ Sales Per Square Foot = Size Of Selling Space
Check out our article on Planning Your Store Layout for additional information concerning how to setup your space.
Step 4: Find 4 or 5 Quality Retail Space Options
Now that you have your budget figured out, it is time to locate 4 to 5 quality options for renting retail space. You do not want to limit yourself to one right from the beginning. Instead, find 4 or 5 options that could work and then compare and contrast them to one another to determine the best fit. Having multiple options also gives you more leverage when you negotiate cost later.
Here are the best ways to locate property:
Local Broker
There is no substitute for local knowledge. That is why local brokers are still the top option for locating property for your retail needs. A local broker should have in-depth knowledge of your area, knowing exactly who lives in what sections of town and where the retail traffic is. Even better is if they have previous experience working with the landlord.
Online Brokerage Sites
Several sites have free commercial real estate listings, such as Loopnet, Craigslist, and Catylist.
These sites usually include featured listings, lease prices, types of businesses that are allowed to operate in the space, property addresses, and agent contact information.
Subscription Services
Property listing subscription services help you locate retail properties. The advantage of this is that it is much more than a location tool, also offering in-depth analysis of local markets, demographics, and other pertinent information. However, it will also cost you, around $300 – $1000/month depending on the package selected.
Step 5. Evaluate Each Potential Location
Now that you have 4 or 5 good options, it is time to narrow them down to the one that is best for you. Finding the right retail store for lease really comes down to three things: cost, size, and location. Once you know your budget and the approximate size you are looking for, it all comes down to location.
Here's a summary of the things you should consider when choosing a location:
Locate Your Business in a Safe Area: If customers do not feel safe, they are not going to want to shop. Check out mylocalcrime.com, put in your zipcode, and see how your potential location measures up to surrounding areas.
Locate Your Business Where Your Customers Are: Know where your customers are and be sure that your business is located in an area that attracts that demographic. You can use census.gov's fact-finder tool to look up general demographics for an area/city. You can also try determining the foot traffic of a specific location – learn how here.
Locate Your Business Near Your Competitors: Although it may seem counter-intuitive, locating near your competition guarantees that you will have customer traffic that is interested in your product. This can be especially invaluable for new businesses that do not have an established customer base.
Locate Your Business Near Other Compatible Businesses: Retail spaces such as restaurants, bookstores and coffee shops go well together. Apparel stores work great near makeup and shoe stores, pharmacies and medical offices work well together, and so do bookstores and cafes.
Locate Near Public Transport/Major Highways: Your retail location needs to be visible and accessible for customers.
Step 6: Evaluate & Negotiate Your Lease
Now that you have a space picked out, it is time to review and negotiate your lease. This can be a complicated process, especially considering all the legal terminology and lease-speak.
To make this step easier, reach out to an online legal service provider experienced in commercial lease agreements. A good option is Rocket Lawyer, which offers application templates, document review, and attorney consultations on an ad hoc basis as well as part of a membership plan. Try it free for 7 days.
Evaluate Your Lease
In evaluating your lease, do an extensive review of what you can or what you can't do with the space you're leasing. Below are some items and clauses to watch out for before considering a space for your business:
Exclusive Use Clause
If your business depends on foot traffic, then you may want to try and negotiate an exclusive use clause into the contract. An exclusive use clause prevents your landlord from renting space out to one of your competitors in the same building or shopping complex.
Renovation or Construction Restrictions
If you need to make alterations to the space, then you want to make sure it is clearly outlined in the lease what alterations you are allowed to make.
"Some space improvements that the tenant has to take on can be counted towards rent," advises Kevin Godfrey, a real estate agent at Douglas Elliman. "If you are replacing a toilet for $500, you can request for that amount to be deducted from next month's rent. When a property is not in a good condition, ask for anything and everything you can think of. A broker wants to close the deal and will be more than happy to pitch to the landlord additional requests you may have."
Signage
If you want to post for sale signs, open/closed signs, or other signs in your storefront, then make sure that you understand what is and isn't allowed to be installed in the space.
Sublease Clause
Whenever possible, you want to have the ability to sublease your space. This offers some protection if you are no longer able to pay the rent, or if you have expanded to the point where you need to move into a larger space.
Co-Tenancy Clause
If your business depends on the foot traffic that another nearby business brings into an area, then you should consider adding a co-tenancy clause which allows you to break your lease if the anchor tenant leaves. This is especially important in shopping centers and malls which have one or two very large stores that are responsible for a large portion of the mall's customers.
We have an in depth explanation of all the things to consider in a commercial lease in our article "How To Lease Commercial Real Estate".
Negotiating Your Lease
Here are some items you can negotiate on.
Base Rent
You can try to bring this down, especially if you're looking at renting the space long-term. However, if you're looking to stay for less than 3 years, you have less negotiating room here and should focus on your efforts in other areas.
Rent Hikes After Renewal
Landlords will generally try and work into the lease an annual increase in rent based on the consumer price index or some other measure. These are also called escalations and should be fully understood before entering into any lease.
Package Utilities
Utilities also take a chunk out of your profits, so try to see if this is something the landlord can include in the base rate. While they might not agree to include all, try to negotiate some items such as water and sewage.
Lease Terms
Lease terms vary from state-to-state, but are often 1-5 years in duration. Long term lease terms can be daunting, especially if you are just starting out. The majority of lease agreements require a tenant to pay the rent whether their business survives or not, so it can help to be conservative and negotiate down your lease duration. However, do note that a shorter lease duration increases the lease base rate.
Emergency or Escape Clauses
You don't know what's going to happen to your business, so try to see if you can include a clause that will allow you to get out of the lease prematurely under unexpected circumstances, such as damages within the space vicinity, loss of sales and bankruptcy, environmental contamination, etc.
Down Payment
Most commercial leases ask tenants to initially pay up to 3 months rent upfront. Try to negotiate this to one or two months to conserve cash flow.
Carrie Wood of Leaseref.com gives a final parting tip. "Don't give the impression that you are so interested in the space – even with your own broker. Negotiations are won by whomever cares the least. So always leave the impression that you could walk away from the deal."
Bottom Line: Lease Retail Space
The best thing to do is to give yourself some time to weigh and consider the options so that you'll avoid making hasty decisions. After all, your retail space is the truest representation of your business. If you want to lease retail space for your business, you'll need to do a lot of planning, but we hope that this step by step guide gave you a good idea on how to get started and ultimately, close a great and cost-efficient deal with a broker.