Twitter (now known as "X") is one of the biggest social media sites, so it's certainly a worthwhile platform to market your small business on. But Twitter is also unique in that it's an entire environment on its own. For one, it's a micro-blogging text platform, often the go-to for people to get the latest news.
Another unique Twitter trait is that it's a growing force for customer service—users are increasingly turning to Twitter for customer service requests, thanks to its accessibility and immediacy.
As a frequent user myself, Twitter is one of the first platforms I open when I'm looking up a new brand to try—and not just in terms of the content it posts, but also how people are interacting with it and what their reviews are. I can even gauge what the brand's target audience is by reading its brand voice through its Tweets and assessing the type of content it posts (memes usually mean it targets a younger demographic, while blogs are more serious—and so on).
That's Twitter in a nutshell. If you want to succeed in it, you'll need to build a solid brand presence and maintain constant user engagement while informing users about your benefits to convert them into leads. All this means is that to succeed, you will need a solid Twitter marketing strategy backed by research—read on to learn how to create one.
X (Twitter) Marketing Overview
As it's a social media platform, there are two ways to go about Twitter social media marketing: organic marketing and paid advertising (which also includes influencer marketing). Both are essential—the former builds your brand presence and online community, while the latter helps promote marketing campaigns like holiday sales or limited-time discounts.
Organic marketing on Twitter involves posting content to attract and build a following as well as interacting with users by replying to or retweeting their content. If you've ever used the platform, you'll know that Twitter is one of the most engagement-centric platforms around—people are always replying to and retweeting each other's Tweets.
Meanwhile, Twitter's paid advertising features include promoted Tweets, video ads, hashtag and timeline takeovers, and carousel and collection ads (more on these below).
Take a look at some samples of organic vs paid advertising content by brands on Twitter: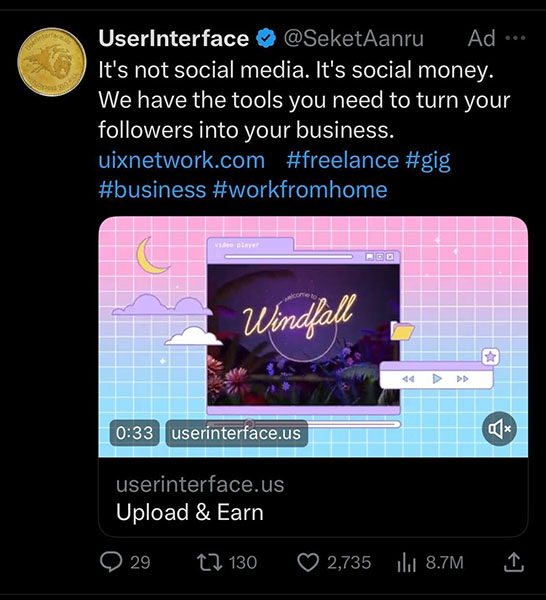 ---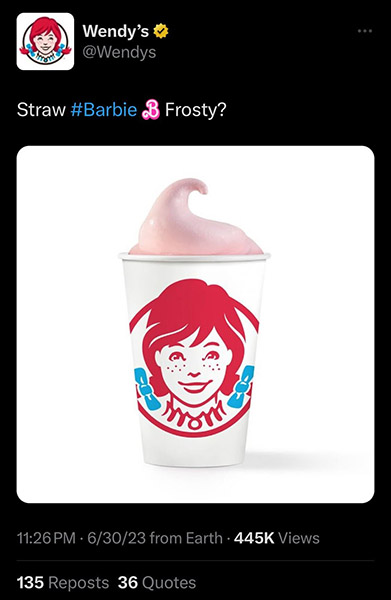 ---
As with any other social media marketing strategy, the best Twitter strategies have a good balance of both organic and paid content. However, organic marketing will need to come first to establish your presence, and your paid ad strategies can come later as support. Before anything else, you'll need to craft a Twitter marketing strategy—keep reading below to learn how.
How to Create a Twitter Marketing Strategy
The steps for creating a Twitter marketing strategy involve outlining your objectives, researching the platform and your competitors, setting goals and metrics, planning and creating your content, measuring your results, improving relationships with your customers, and using paid ads. Keep reading below for more details on each step.
1. Outline Your Objectives
Any good social media plan starts with objectives that are well-thought-out and clearly outlined. These objectives will guide your entire plan and ensure that you have a strategic endpoint for all your campaigns, whether organic or paid.
For Twitter, you'll need to match your business objectives with the specific strengths and features of the platform. For example, since Twitter is a primarily text-based platform, it's excellent for establishing your unique brand voice and engaging with people. Conversely, this feature also means it's not always the best platform for closing sales.
Here are some of the most effective objectives when marketing on Twitter:
Growing your brand awareness
Increasing online engagement
Establishing brand recognition and brand identity
Improving customer service
Twitter marketing is most effective when it has clear priorities. Select one or two main objectives to focus on first.
2. Research the Platform & Your Competitors
Twitter is an entire ecosystem of its own, so before you do any marketing on it, you'll need to have a nuanced understanding of how it works and how people and brands behave on it. For instance, Twitter users are a generally younger demographic than Facebook's and often have more affinity and engagement with brands.
These details make all the difference in crafting an effective Twitter marketing strategy, which means you'll need to do significant research on the platform to craft an effective one. The two areas you'll need to research the most are:
Your target audience
Your competitors
When researching your target audience, you'll need to understand basic details like their demographics and most active times on the platform, along with more specific info like the subjects they tweet about, the problems and issues they face, hashtags they use, and the other brands and accounts they follow.
Say. for example. you were opening a new vegan restaurant in your area. You might search the hashtag "#veganfood" on Twitter, then set the Location settings to "Near You," and look through the "People" tab. This would give you a good sampling of the target audience you want to capture on Twitter.
Meanwhile, on your brand competitors, take notes on the Twitter marketing strategies they use. These include the kind of content they post that garners engagement (e.g., videos, infographics, and so on), their brand voice (do they use humor or a straightforward business approach?), what issues they address, and how frequently they post and respond to customers. This will give you a good idea of the gaps your brand can fill to get a competitive edge.
3. Set Goals & Metrics
With all your research in hand, the next step is to set clearly defined goals for your Twitter strategy. These goals should follow the objectives you set in the first step, so if your objective was to increase your online user engagement, the metrics and goals you set should point to that purpose. Another key point is to make your goals measurable so you can keep track of your progress.
Here are examples of clear and measurable goals:
Main objective: Increase online engagement
Goals:
Have an overall average engagement rate of 1% by Q2
Have an average link click-through rate of 3% by Q4
Here are some other important metrics you can keep track of on Twitter:
Impressions: How many times your Tweet was viewed
Engagement: How many people interacted with your Tweet in some way, whether by clicking on it, sharing it, replying to it, or reposting it
Link clicks: How many people clicked on the link on your Tweet
Profile clicks: How many people clicked on your profile after viewing your Tweet
Replies: How many people replied to your Tweet
Reposts: (Formerly "retweets") How many people reshared your Tweet on their profile
Follows: How many people followed you after seeing your Tweet
4. Create a Twitter Content Plan
After you've done your research and set clear goals, the next step is to plan the content you'll post to help reach those goals. This is where a content calendar will come in handy. But first, you'll need to brainstorm content that will appeal to your target audience and fulfill your goals, whether those are blog links, infographics, short-form videos, or other content. Here are some types of content you can post on Twitter:
Business Insights
5 insights from @hubermanlab at #INBOUND23 🧠

– dopamine is a universal currency
– repetitive movement fosters creative insights through wordlessness
– resistance training positively affects neural pathways and cognitive abilities
– frustration is the pathway to opening neural…

— HubSpot (@HubSpot) September 7, 2023
The most basic type of content you can post on Twitter is regular text Tweets of up to 280 characters. Use them to share business updates and topic insights, to join in on trending discussions and hashtags, or to share links to your blog.
Discussion Prompts
Twitter is an engagement powerhouse with the tools to match. Engage the Twitter community by posting discussion prompts using a hashtag or by launching polls. Make sure to interact with users who engage with them as well.
Promotional Images
According to studies, Tweets with images are up to 119% times more likely to be shared. Use images to share promotion announcements (for example, a limited-time sale) or to show off your product or service.
Infographics
Infographics are a good way to share important or complex information in an easy-to-digest format. Use them to share industry insights or to answer customers' commonly asked questions.
Short-form Videos
Even if text is its basic format, videos—especially short-form, TikTok-style videos—are one of the most widely shared types of content on Twitter. Use short-form videos for how-to product demos, behind-the-scenes content, or customer interviews or testimonials.
User-generated Content (UGC)
If your followers send you content of them using your products, not only is it a sign that you have a great online community, but it also makes for impactful marketing collateral. This strategy is known as UGC, or user-generated content. With their permission, repost their content (as long as it fits quality standards) on your profile. UGC helps build trust and establishes your credibility with new audiences.
The type of content you'll post the most will depend on your industry and marketing goals. For instance, if you own a business-to-business (B2B) company and want to build your brand recognition and authority, you might share insights and discussion prompts. Meanwhile, a direct-to-consumer (D2C) beauty brand might focus on sharing product images and UGC more to build an engaged online community.
Here are some other Twitter marketing tips and best practices to note when planning your content:
Use Twitter marketing tools: Twitter has many engagement tools, so make sure you use them. When sharing business insights or infographics, use appropriate hashtags (but don't go overboard) to help them reach the right audience. You can also use the Quote Tweets feature to highlight UGC or use threads to share blog content.
Leverage Twitter Communities: Twitter Communities are one of the best ways to connect with specific audiences on Twitter. They function similarly to Facebook groups where you can join and interact with users who share a similar interest. You can also build a community to turn your most loyal customers into brand ambassadors.
Repurpose existing content: If you already have content for your business, say a blog or a video series, repurpose them into content for Twitter. For instance, repurpose blog insights into infographics, or splice video series into shorter shareable formats. The key here is to repurpose, not recycle—edit and tailor your content to fit Twitter's best practices.
Create a content series: One of the ways to keep people coming back to your content is by creating a regular series that interests or is helpful to your audience. For instance, Tesco has an annual #TescoBacktoSchool UGC campaign, leveraging on the chain's popularity for school supplies.
Shorten your links: Twitter has a character limit of 280 characters, and you don't want to waste half of them on a lengthy link. Any time you share a link, whether to a blog, to your website, or any landing page, shorten it first using a link shortener tool like bit.ly. It also makes your content look more professional and less like spam.
Post at optimal times: According to Sprout Social, the best times to post on Twitter are Tuesdays to Thursdays, from 9 a.m. to 2 p.m., and Fridays from 9 a.m. to 12 noon. These are when users' engagement rates are at their highest. However, you can also do tests to find out what your own optimal times are.
Your content plan will also need to go through trial and error to calibrate the best content strategy for your business. Try out different content formats, posting dates and times, and stick with what works.
Even though a well-thought-out content strategy is important, remember that Twitter is also known for its immediacy and real-time updates. This means you'll also need to constantly have your finger on the pulse and accommodate new trends and topics. The best Twitter strategies have a good mix of evergreen and up-to-date content.
5. Build Customer Relationships & Improve Service
Another important part of your Twitter marketing strategy is customer service. This is because Twitter is increasingly becoming the social platform people turn to for customer service requests from brands, whether by direct messaging (DM-ing) or publicly tweeting at them. In fact, one in four customers use Twitter to get faster responses instead of a traditional help hotline or email.
All this means that you'll need a solid customer service strategy on Twitter. Here are some tips to help you build one:
Consider creating a separate support account: If you have a large customer base, having a dedicated support account (for instance, @YourBusinessSupport) is ideal for handling all the customer service aspects so they don't clutter your main account.
Track all your customer service requests: Whether or not you use a separate support account, keep track of all your customer service requests on Twitter, both on mentions and on DM. You can do this easily by using social listening tools like those of Sprout Social or Semrush. This ensures that you get back to your customers as promptly as possible.
Respond individually: While it's common in customer service to have an automated canned response for every request, it's one of the reasons customers are choosing social media for support instead of traditional hotlines and emails—because they see it as a more personal and immediate platform. Respond individually to each request in a genuine and meaningful way.
Use human, conversational language: For the same reason as above, make sure all your customer service responses are in "human," easy-to-understand language—i.e., not robotic or templated. You want customers to know there's a real person on the other end addressing their concerns. Make sure you keep within your brand voice as well.
Move longer requests to DMs: If a customer makes a request via public mention that requires longer assistance, ask them to move into DM, then address their concern from there. This reduces clutter on your public profile (and the timelines of everyone who follows your account). DMs' longer character limits also let you address concerns more comprehensively.
Analyze your most frequent requests: Good customer service doesn't end once one customer's issue is resolved. Keep track of all the requests you receive and identify the most common issues. This pinpoints areas of your business you need to improve on and helps you better fine-tune your customer service strategy.
6. Measure Your Results
Central to any good marketing strategy is measuring and analyzing the results of your marketing efforts. This lets you determine which strategies work for your business and which need to be reconfigured. Specifically, measure the results of your campaigns against the goals and metrics you set in the third step—this lets you see how effectively your strategies are serving your business goals.
You can find your Twitter analytics on the desktop site. Under "More," choose Creator Studio > Analytics. You'll be prompted to turn your analytics on if you haven't yet. Here's an example of what your Twitter Analytics dashboard looks like.
In your analytics dashboard, you'll find all the important metrics, including your follower count, engagement rate, impressions, and more. Use them to track your Twitter business strategy's results and improve your next ones. For instance, if you find that posting infographics isn't garnering the engagement you hoped for, you might try posting threads or polls instead. These metrics help you determine what works best.
Pro tip: If you use a tool like Sprout Social, you can get dozens more metrics and insights like keyword and hashtag use, real-time mentions, scheduled Tweets, and more. It's overall one of our top-recommended social media tools for small businesses—you can check it out with a free trial to see if it's a good fit for your business.
7. Explore Paid Ads for Campaigns
As mentioned above, you can also use Twitter paid marketing ads to get faster results for specific campaigns, e.g., if you're launching a new product or a limited-time promotion. We recommend starting with paid ads only once you already have a good grasp of organic marketing on Twitter, how the platform works, and how your audience behaves on it.
When done the right way, paid ads on Twitter can be supplemental to your organic marketing campaigns in boosting your brand awareness and garnering engagement. But they're also helpful for bottom-of-funnel campaigns, so they can help capture leads (e.g., for an event you're promoting) or drive conversions on a limited-time sale.
Here are the types of ads you can launch on Twitter:
Tweet Promotions: Similar to Facebook's Sponsored Posts, these are Tweets (whether text, image, or video) that you pay to boost it on people's timelines. They look similar to organic Tweets, except with a small "Ad" tag on the upper-right corner, and they're most effective for brand awareness. You can also add polls, conversation buttons, app install buttons, website links, and branded hashtags to them.
Amplify Ads: These are pre-roll video ads that play before videos in certain categories or from specific publishers of your choice. They're most useful if you have a video ad you want to get more views on.
Timeline and Trend Takeovers: Timeline Takeover ads display your Tweet on top of users' timelines, while Trend Takeovers show your ad as a banner on top of trending searches and hashtags. These are also useful for impressions and clicks.
Live: These allow you to broadcast live videos for anyone to join and watch—a feature not available on a regular Twitter account.
Dynamic Product Ads: These are similar to Facebook and Instagram's ad carousels, where you can share up to six images as a carousel and boost them on people's timelines with a link to a landing page. These are your best bet for end-of-funnel campaigns, e.g., to recapture abandoned cart customers.
Collection Ads: These also use multiple images, but displayed as cards in a single view instead of as a carousel. Like Dynamic Product Ads, they're also most helpful for end-of-funnel campaigns.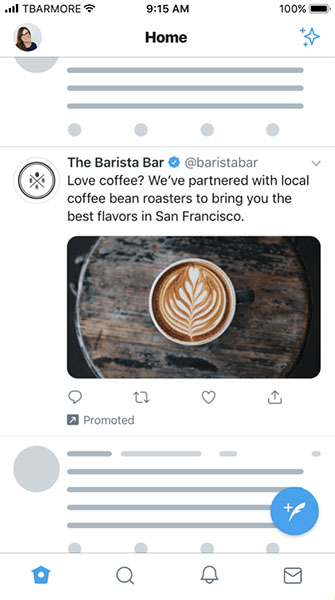 ---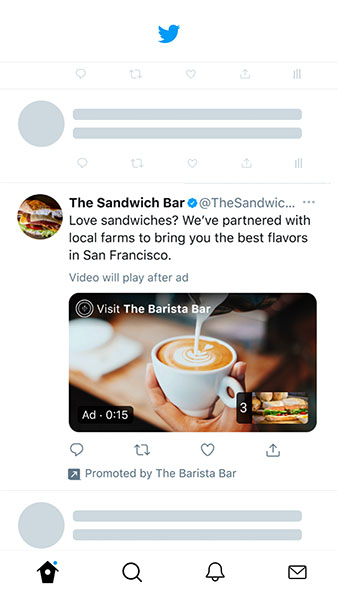 ---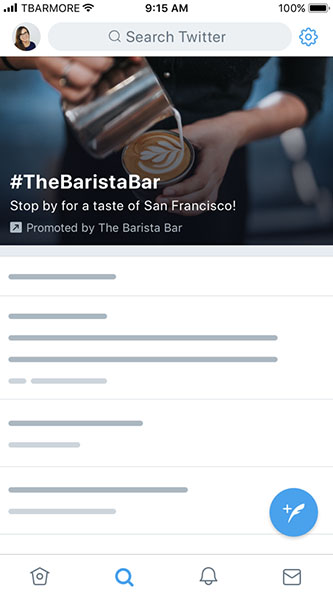 ---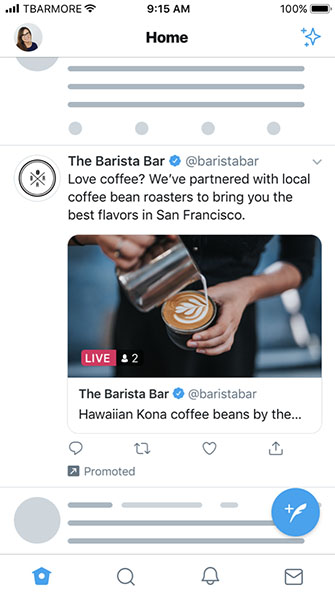 ---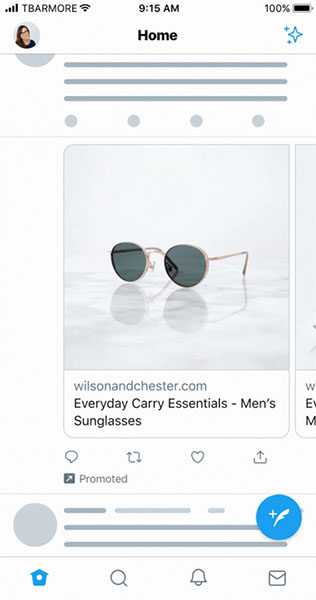 ---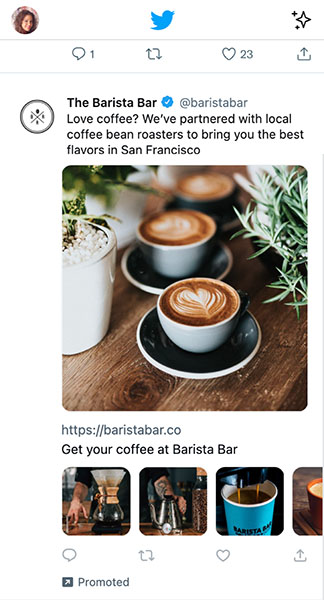 ---
Pro tip: If you're new to all things paid social, we recommend reading our guide to social media advertising first to get an idea of what it is and how it works.
Twitter Influencer Marketing
Alternatively, you can also tap into influencer marketing on Twitter instead of (or in addition to) paid ads. Influencers on Twitter often cater to specific interests (e.g., fashion and beauty, e-sports, and so on), so they're a cost-effective way to promote your brand to specific niche audiences in a more organic-feeling way than regular ads.
When doing influencer marketing on Twitter, do extensive research to partner with the right person who matches your target audience and your overall brand personality. Set clear goals and expectations (for instance, are you giving them a unique discount code to promote or free products in exchange for posts? What outcomes do you hope to get at the end of the partnership?). But, give them enough freedom to be authentic and original.
Micro- and nano-influencers (i.e., those with no more than 50,000 followers) are also an effective way to form closer connections with your target audience than large-scale influencers. For more ideas on the types of influencer campaigns you can run, read our guide to the five best influencer campaigns for small businesses.
Twitter Marketing Pros & Cons
Marketing on Twitter offers plenty of opportunities, from improving customer relationships to being part of trending, in-the-moment conversations. But it has its share of drawbacks too—its limited character count, for one, and the need to be constantly up to date with new trends and developments to stay relevant.
Here are some of the biggest pros and cons of marketing on Twitter.
Twitter Marketing Pros

Twitter Marketing Cons

One of the most engagement-friendly social media platforms—great for word-of-mouth
Organic content's success relies entirely on the algorithm, which isn't always accurate
Good platform for finding niche, active audiences
Need to stay updated with ever-changing trends to stay relevant
Has a higher average click-through rate than Facebook and Instagram
Some public customer service requests can be negative
High potential to go viral by joining trending discussions
Not as visually oriented as Facebook, Instagram, or TikTok
Has a wide range of ad types—supports text, image, and video ads
Takes time and effort to grow an engaged follower community
Who Twitter Marketing Is Best For
So what do all these pros and cons mean for your Twitter marketing strategy? Primarily, there are some types of businesses that Twitter is more suited for than others. Here are some of the types of businesses that would benefit from Twitter marketing the most:
Restaurants: Customer service is especially important for restaurants, especially now where customers habitually post about their dining experience on social media—including Twitter. If you own a restaurant, use Twitter to respond to customer service requests, to reply to reviews, or to offer special menus or discounts.
Retail boutiques: Twitter is a highly effective platform for user engagement, which can be very beneficial for small boutique businesses to build an engaged customer community. For retail businesses, Twitter is especially useful for showing off new product lines, offering discounts, and growing a loyal community—especially if you leverage user-generated content.
Content publishers: Twitter is a great platform for sharing resources and links, thanks to its text-centric format—it's technically a microblogging platform. If your business publishes content (for instance, if you have a business blog), sharing links to them on Twitter helps build your brand authority and credibility and prompt further discussions.
B2B businesses: Next to LinkedIn, Twitter is your best bet for business-to-business (B2B) marketing—also thanks to its text-centric format that makes sharing information and insights easy. This is effective for building your expertise and gathering an engaged following. Plus, you can also share your insight on trending discussions on the platform.
Software-as-a-service (SaaS) businesses: If your business isn't the most visually oriented—for example, if you're selling software—it's a good match for Twitter rather than more visual platforms like Instagram or Facebook. On Twitter, it's mostly about good content and insights over visually pleasing aesthetics.
Businesses with a strong brand voice: A quick search on the most successful brands on Twitter (think Wendy's or JetBlue) will reveal that they all have one thing in common: a strong and distinct brand voice. If you have a well-developed and recognizable brand voice, Twitter is where you can let it shine through in every Tweet.
4 Brands With a Great Twitter Marketing Strategy
Now that you know how to make a social media marketing Twitter strategy, here are a few examples to get you inspired. These brands have mastered the art and science of Twitter marketing digitally, from fine-tuning their brand voice to keeping up to date and engaged with their follower community.
Here are the best brands on Twitter we found and the notes to take from them.
1. Healthy Roots Dolls (@RootsDolls)
The small business Healthy Roots Dolls nailed its Twitter strategy thanks to two things: a clearly defined target demographic and a strong brand advocacy that's at the forefront of all its content.
Its Twitter account uses a good mix of images and short-form relatable videos that speak to its target audience. It strengthens its online community even further by regularly sharing user-generated content, along with mentions from media and other business owners.
2. BEIS Travel (@BeisTravel)
BEIS Travel's account is an excellent example of how even small accounts can garner good engagement through a good mix of organic content formats. Scroll through its account and you'll find relatable travel-related Tweets, links to product pages, polls, and even pop culture-reference memes—all of which have some form of engagement. This shows that the brand has a good grasp of what its target audience likes and how they think and behave on the platform.
3. Salesforce (@Salesforce)
Salesforce is an excellent case of how B2B marketing on Twitter doesn't have to be too formal or "boring." Its account has a good mix of infographics, links, short-form videos, and even Twitter polls and carousels, and it uses conversational, easy-to-understand language in its captions.
But what also makes it great is its content. Instead of talking about its product, Salesforce uses Twitter to build a strong brand community by highlighting its users and sharing insights—offering real value to its followers.
4. Wendy's (@Wendys)
Finally, no list of successful brand Twitter accounts is complete without Wendy's. Wendy's perfected its Twitter marketing strategy by crafting a truly distinct brand voice that appeals to anyone with a sense of humor. Instead of simply posting about its products and how good they are, Wendy's Tweets sound like they come from a real person—mixing memes, humor, and even the occasional poking fun at its competitors, eventually building a loyal and engaged following.
Frequently Asked Questions (FAQs)
How is Twitter used for marketing?
Twitter is used for marketing primarily to build brand awareness and boost customer engagement. While it's possible to use it to drive sales and conversions, the platform is better suited for top-of-funnel marketing objectives, like growing your brand awareness and driving user engagement. Specifically, organic Twitter campaigns are helpful for growing your online presence, while paid ads are helpful for boosting engagement—and, in some cases, website traffic and lead generation.
Is Twitter a marketing platform?
Twitter can be used as a marketing platform to boost brand awareness and engagement and to improve customer relationships. Many businesses also use it to establish their brand identity and brand voice to the public. Twitter works as a marketing platform because it has a wide and diverse user base, it's effective at word-of-mouth, and advertising on it earns generally higher click-through rates than Facebook or Instagram.
Is Twitter good for advertising?
Twitter is good for advertising, particularly for businesses that share newsworthy content or leverage word-of-mouth. For instance, a Promoted Tweet could get your newsworthy content on more people's timelines—while a Trend Takeover ad can put your brand's campaign on top of trending lists and get people to tweet about it. Twitter ads are also good for promoting your website as they generally have higher-than-average click-through rates.
Bottom Line
Twitter remains one of the top social media platforms worldwide, thanks to its immediacy and propensity for word-of-mouth. With the right know-how, marketing on Twitter can grant your business greater brand awareness and high engagement rates. Following the steps above will help you get started on building the right Twitter marketing strategy. But as with any other strategy, make sure to track and adjust according to what works best for your small business.