Virtual Fitting Room: 2023 Retailers' Guide (With Examples)
Virtual fitting rooms—which leverage technology that lets shoppers see what they look like in clothes and other products without physically trying them on—have made steady progress since their debut in the mid-2000s. Demand accelerated during the COVID-19 pandemic, and many third-party platforms have now made the technology accessible to online and brick-and-mortar retailers of all sizes.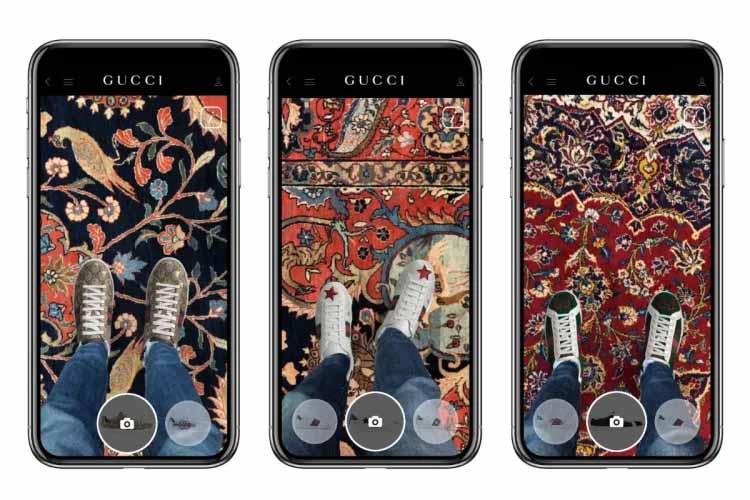 ---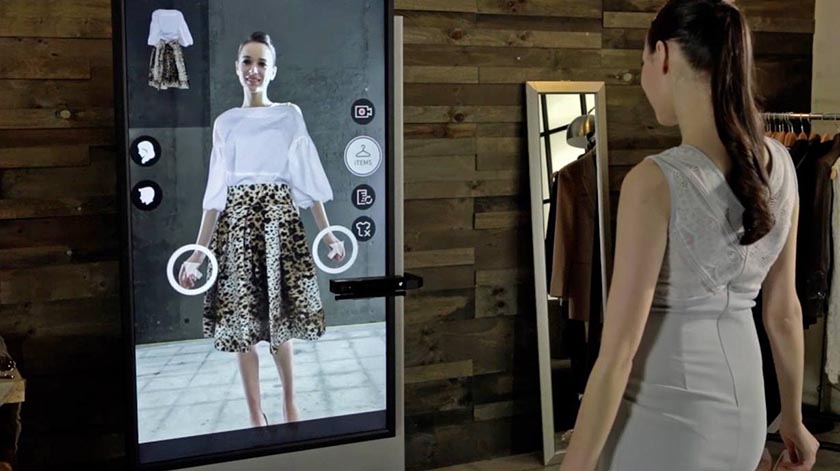 ---
This guide covers everything you need to know about virtual fitting rooms, including how they work, how you can implement them, real-world examples, and pros and cons you should keep in mind.
How Do Virtual Fitting Rooms Work?
Virtual fitting rooms (sometimes called online fitting rooms or virtual dressing rooms) typically involve some combination of virtual reality (VR), augmented reality (AR), and artificial intelligence (AI). They allow shoppers to try on products without physically touching the item—or, if they choose, without even visiting the store.
Did You Know?
The virtual fitting room market was worth $4.03 billion in 2022 and is forecast to grow to more than $18.31 billion by 2030 (representing a strong compound annual growth rate of 21.1%). North America holds the largest market share, making up 39%.
Online
Online retailers can integrate fitting room technology into their websites, apps, or social media sites (such as Snapchat), allowing shoppers to evaluate clothing or accessories virtually. This is done in a couple of ways: via a digital mannequin, model, or avatar or through a shopper's own photos or videos.
The most straightforward technology requires consumers to select a mannequin or human model that best represents their body shape and size, as illustrated in the video below. 3D renderings then allow the consumer to see how clothing looks on the model—front, side, and back. Some virtual dressing room software may ask the shopper to enter their height, weight, and other body measurements to create a more accurate avatar.
Providing an even more authentic and immersive experience, other online fitting room software use AR to superimpose clothing on top of real-time images of the shopper. This allows consumers to evaluate the product's appearance with their specific features or movements. Eyewear retailer Warby Parker is a great example of this technology in action, as shown in the video below.
In-store
In-store virtual dressing rooms often use similar technology but with a live video feed or even a body scan taken by a camera or scanner integrated into a smart mirror (KinectShop and Magic Mirrors are examples).
Shoppers can grant access to the fitting room camera, and the technology overlays clothing, accessories, makeup, etc. on top of the image (as shown in the video below). The camera will make a 360-degree scan of the individual in the frame so that it can accurately place the products in a lifelike manner.
You may also see radio-frequency identification (RFID) technology used. For example, cameras in the mirrors can identify what items the customer has brought into the dressing room and suggest additional colors or styles to try on virtually.
How to Implement Virtual Fitting Rooms
While you might think online fitting rooms are only for big-box retailers with equally big budgets, there are many platforms and tools that small business retailers can use to create their own virtual experiences.
Most offer widgets that integrate quickly and easily with your existing ecommerce software. Once installed, however, it can take several weeks for your virtual fitting room to be customer-ready. 3DLOOK, for example, estimates five weeks from purchase to launch; Style.me has a similar four-week timeline.
Here are some to consider:
Examples of Retailers With Virtual Fitting Rooms
To get inspiration for your own online fitting rooms, looking at some real-world examples is helpful.
Nesting Olive
Women's house and maternity wear brand Nesting Olive uses Style.me to offer online shoppers a virtual fitting room experience. Users simply input their height and weight and then select a body type to create their avatar, which they can then dress with Nesting Olive products.
This virtual fitting room also provides sizing recommendations and the ability to edit your avatar at any time. The enhancement to its website boosted user engagement by 227%.
COS/H&M Group
In 2022, H&M began piloting smart mirror-equipped fitting rooms that offer virtual try-on, along with a host of other features—personalization, styling suggestions, and the ability to request additional items from the dressing room, among them. The fashion retailer started with its COS Beverly Hills location and, after a successful trial, rolled out the virtual fitting room technology across COS's US locations.
MAC Cosmetics
Makeup manufacturing giant MAC Cosmetics has found success with several AI/AR-based try-on experiences. It has had try-on mirrors using facial and 3D technology for several years—currently in more than 120 stores. Additionally, it offers online virtual try-on technology with partners Perfect Corp./YouCam that allows shoppers to try more than 1,700 different products.
The service was so popular with customers at home that MAC has tablets available for makeup artists and customers to bring the experience in-store.
According to Perfect, the technology has increased customer engagement and conversions for MAC.
1822 Denim
1822 Denim is a jeans brand founded on the idea that it can provide the perfect fit for every body, shape, and size. But it also wanted to be hands-off in helping customers find their perfect fit—literally, at least. It sought virtual options for measuring and sizing shoppers rather than relying on in-person fittings typically seen in a brick-and-mortar environment. The nontraditional denim jean brand aimed to disrupt the industry—and it did.
The brand used 3DLOOK's YourFit technology to create an online fitting room experience. Using just two uploaded images of the shopper, YourFit would provide personalized size and fit recommendations. As a result, the number of returns was reduced by 30%. 1822 Denim also used data from the virtual fitting rooms to inform manufacturing and forecasting, anonymizing the body data to discover trends.
TA3 Swim
As an online-only retailer of swimsuits—specifically body-shaping swimsuits—TA3 Swim wanted to do something to help its customers better select the proper size and reduce the rate of returns.
Working with 3DLOOK, it launched virtual fitting room technology in 2022 to guide shoppers through the size selection process. Shoppers are asked to enter their measurements and take two photos (which are deleted as soon as the process is complete for privacy), and an AI-powered algorithm suggests the appropriate sizes/styles.
Within the first six months, TA3 Swim saw returns by customers using the technology cut in half—to 9%.
Charlotte Tilbury
Luxury makeup brand Charlotte Tilbury is certainly no stranger to virtual dressing rooms. It tested the technology in its London-based flagship store to create an in-person digital experience. Shoppers would stand in front of the brand's "magic mirror" and browse through 10 different makeup looks.
It has doubled down on the strategy since then. Now, you can try the virtual experience in person and online. You can also choose from a larger selection of individual products rather than a whole look.
Why Retailers Should (Or Shouldn't) Use Virtual Fitting Rooms
Virtual fitting rooms offer the convenience and experience today's consumers want, though the technology requires an investment and customer education. The average consumer isn't exactly up to speed with virtual fitting rooms (a late 2021 survey found that only about 10% have used one and many haven't even heard of them before).
Let's take a closer look at some of the primary pros and cons of incorporating virtual fitting rooms into your retail business.
Pros
Virtual fitting rooms may help retailers drive sales, increase engagement, and minimize returns. Data from virtual fitting rooms can also provide retailers with customer insights that can help shape strategy.
Sales Boost
The way consumers shop is constantly evolving, spurred by shifting demographics, the economic environment, and cultural/societal changes, among other factors. As such, retailers must find creative ways to drive sales, and virtual fitting rooms are just one option.
According to 3DLOOK, its tools improve average order value (AOV) up to 25%, and Style.me claims its virtual fitting room technology can increase conversions by 30%. Virtual fitting rooms make the shopping experience safer, more comfortable, and easier to accomplish.
Improved Engagement
Virtual dressing rooms encourage shoppers to experiment with different looks and explore items they might not otherwise. Style.com claims a 280% increase in website page views as customers look for different styles and colors to try or create entire outfits.
In-store, exploring different looks can be done quickly and quietly with the touch of a button—a far cry from the days of holing up in the dressing for an hour with an armful of clothing (and then debating whether to return the items neatly to their proper place or try to escape before the store clerk sees the messy pile you left behind).
Reduction in Returns
Clothing and shoes are among the most returned products—and items that make perfect candidates for virtual try-ons. With size and fit issues being the top reason for returns, the ability to get an idea of what the item looks like "in real life" can be a strong deterrent to returns, especially in the age of bracketing (purchasing multiple versions of the same product online with the intention to keep only one).
Virtual fitting room software often include fit recommendation and personalization technologies, making them even stronger tools in the fight against returns.
Customer Insights
Virtual fitting rooms often include some level of customer data, which can provide meaningful insights for your retail business. For example, if you notice a significant number of shoppers with similar body measurements, you may consider adding a size to cater to that body specifically—or ordering extra of that size when purchasing new stock.
You can also analyze how shoppers mix clothing to create outfits, which may influence your merchandising and marketing strategies. Additionally, you can configure your virtual fitting room to collect customer emails or satisfaction surveys.
Cons
Costs are a primary consideration in incorporating virtual fitting room technology. Additionally, it may seem too complicated for some customers—particularly those with data privacy concerns. It also can't fully replace the ability to touch and interact with product, particularly clothing and accessories.
Costs
Like any new technology or business initiative, virtual fitting rooms cost both time and money. You need to research which platform to use, figure out how to use it, and create a messaging and promotion strategy for both your staff and customers. Not to mention, you will have upfront and ongoing costs associated with the technology.
Software that integrates into your existing ecommerce site, such as those we covered earlier in our guide, can range from about $100 to $500 a month. Try-on and smart mirrors for in-store experiences will generally require an upfront payment ranging from hundreds to thousands of dollars, depending on the size and features, plus monthly fees for the software.
Customer Education/Dissatisfaction
Not all customers will appreciate the benefits of virtual fitting rooms. First, as we mentioned earlier, many consumers aren't aware of the technology, so you will likely have some education to do when making virtual fitting rooms part of your online or in-store experience.
Additionally, the technology can seem complicated, which may prevent some customers from using it. Lastly, some consumers will distrust the technology ("Are these virtual products really going to look the same in the real world?"), and others will simply prefer to physically touch, feel, and try on items.
Know Your Customer: Virtual fitting rooms may be a no-brainer if your average customer is a Gen Zer or millennial who embraces technology and wants shopping to be an experience. However, you might have different priorities if your customers are older, resistant to technology, and more interested in a personalized human touch.
Privacy Concerns
Although gaining more insight into your customers is a benefit of virtual fitting room technology, the flip side of that is the concern about privacy many technological advances create. With the potential for all sorts of data to be collected about customers—body measurements, photos and videos, shopping preferences, geographic location, etc.—retailers must be very clear with their shoppers about what is being collected and what is being done with that information.
They must also understand privacy laws in the states in which they operate. For example, in 2022 class-action lawsuits were filed against Estée Lauder and Louis Vuitton for violating the Illinois Biometric Information Privacy Act with their virtual makeup and virtual eyeglasses try-on tools.
Bottom Line
Many say virtual fitting rooms debuted in 2006 when Levi's launched Intellifit, which used a body scanner to assess customers' shape and size. The demand for personalized and convenient shopping experiences has only intensified in the years since, particularly among younger generations. In fact, about half of millennials and Gen Zers anticipate that they won't physically try on clothes in the future, according to a 2023 Klarna survey.
As such, adding virtual fitting rooms to your offerings is something you should consider. It can help drive sales, increase engagement, reduce returns, and, overall, create a memorable customer experience.