Returns Management: The Ultimate Guide (Policies, Best Practices & Prevention)
Returns management is a process in brick-and-mortar and ecommerce retail that addresses unwanted, recently purchased merchandise with the goal of minimizing losses. For many small businesses, returns are managed by the department or facility in charge of order fulfillment and inventory.
Outsourcing these tasks to a fulfillment center such as ShipBob is a streamlined option that saves money and time. Proper in-house return management comes down to preventing controllable returns, setting a functional return policy, and handling returned merchandise cost-effectively.
Retail Returns Overview
The retail returns process is a type of reverse logistics.
Reverse logistics encompasses all events and activities involved in sending a product, part, or material backward in the supply chain. It includes returns, recalls, repairs, refurbishment, repackaging for restock or resale, recycling, and disposal, and it's primarily aimed at recapturing value or minimizing loss.
What Is the Prevalence of Returns?
Returns are inevitable no matter what you sell, but they're more common in certain sectors than others.
Most notably, ecommerce purchases are prone to being returned. According to CBRE, up to 30% of goods bought online are returned—whereas roughly 9% of brick-and-mortar sales end up coming back.
eMarketer reports that both of those numbers are known to increase significantly after the holiday season. Certain categories (such as books, music, and movies) are returned in Q1 at a 125% higher rate than the rest of the year.
Return rates also vary by industry. The Nation Retail Federation reports that auto parts, apparel, home improvement goods and housewares make up the greatest percentage of total goods returned last year.
Why Are Purchases Returned?
According to a 2021 consumer survey, preference-based discrepancies (like improper fit and general dislike) tend to drive the majority of retail returns. Additionally, defective or damaged products had been recently returned by 65% of shoppers polled, and 49% of consumers had returned a product because it didn't match the original description.
Aside from these reasons, there will always be a number of customers who buy with the intent of "return abuse." This includes the practice of wardrobing (buying multiple variations of a product with the intention of returning some of them)—which the data shows is done by 13% of consumers.
How to Minimize Returns
Preventing returns starts far beyond the return policy itself. By applying strict rules and requirements for returns, you're effectively discouraging shoppers from making purchases—not just returns.
Each returned product falls into one of two categories: controllable and uncontrollable.
Controllable returns are returns that could likely have been avoided by the seller through better operations. They result from things like inaccurate product representations, insecure packaging materials, manufacturing issues, and general mismanagement. Even conflicts like the customer finding a similar product for a better price elsewhere is a controllable element.
Uncontrollable returns, on the other hand, are those that the merchant generally couldn't have prevented. They result from consumers changing their minds, no longer needing the product, experiencing unexpected financial hardship, and more. Though its impact can be mitigated, return abuse like "wardrobing" and "renting" is uncontrollable behavior.
Here are some strategies to prevent controllable returns:
Increase Accuracy & Quality Control
A popularly reported stat is that up to 23% of ecommerce returns are due to the consumer receiving the wrong item. That means a large portion of returns can likely be avoided altogether by refining your order fulfillment process and quality control.
In-house fulfillment operations can improve accuracy by modifying their shipping workflow to include an order-checking stage. This step is most effective when it's performed in a dedicated workspace by employees other than the pickers and packers.
Establishing clear standard operating procedures (commonly called SOPs) is the best way to create an error-free operation. Read our guide to ecommerce shipping and handling to download free SOP checklists or make your own.
Using specialized software can do wonders for retail fulfillment, as well. Shipping software and inventory management platforms can streamline order data and automate repetitive tasks—reducing the risk of human error.
Ultimately, the most effective way to perfect your fulfillment process is to outsource it to specialists. In our breakdown of in-house vs outsourced fulfillment, we found that hiring a fulfillment center is often more cost-effective for small retail businesses. Plus, ShipBob boasts a 0.02% error rate, meaning only about 2 in every 10,000 orders has an issue. Visit ShipBob for a free quote.
Use Protective Packaging
Another one of the top reasons for ecommerce returns is damaged merchandise.
A lot can happen between your warehouse and the customer's front door. While you have little to no control over how your parcels are handled, you can prevent damaged orders by using protective packaging.
Use quality dunnage (such as air cushions or honeycomb sleeves) during the packing process. Crinkle paper is an elegant option that can create a fun unboxing experience—but make sure to use enough of it to sufficiently cushion the product.
For merchandise that's susceptible to water damage, use waterproof lining or water-resistant poly mailers.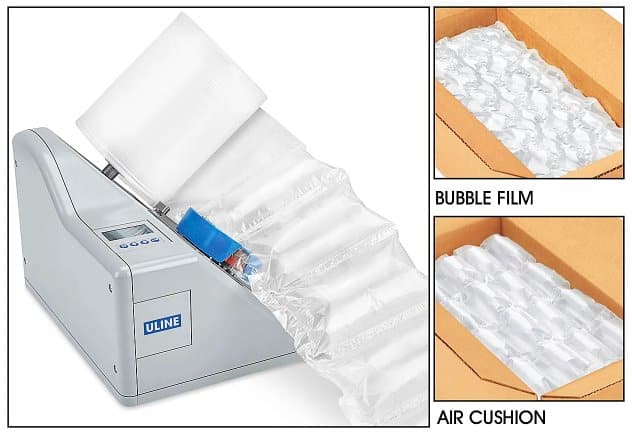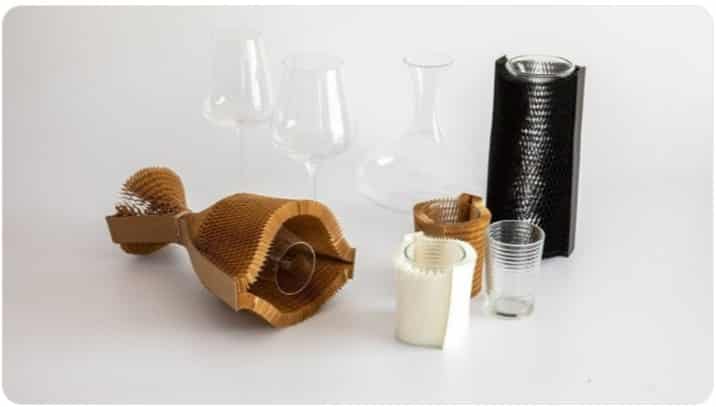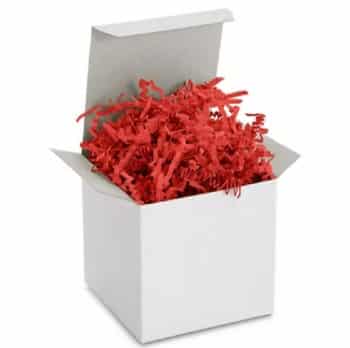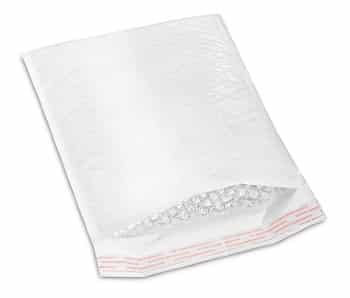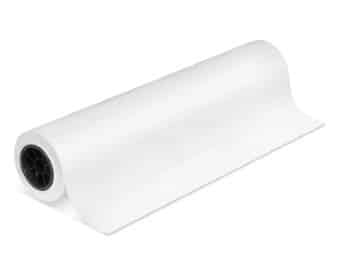 Level Up Your Product Listings
Take some time to make sure every single listing on your ecommerce site sufficiently (and accurately) represents the product.
This starts with well-written product descriptions that are informative and clear. Highlighting features and benefits is important, but make sure to include hard facts about materials, size, dimensions, usage, and anything else that's relevant.
For apparel, include sizing and conversion charts to give viewers a solid understanding of how the item will fit. Consider building a useful UX tool like ASOS's Fit Assistant, which recommends a size based on the user's input along with data from similar shoppers' unreturned purchases.
Next, evaluate your product photos and ensure they provide a new customer with as much info as possible. Aim to have four to 12 shots in every item's gallery, and include various photo types to answer any questions a viewer might have. Read our product photography guide to learn more.
Consider adding product videos to your listings, as well. It doesn't require a highly-paid production team to create a professional and informative clip, and 69% of customers prefer to get information from a short video rather than photos or text.
Encourage Customer Feedback
Input from your buyers is an invaluable tool to identify pain points and reduce returns.
Request each customer's reason for return on the initial return form or communication, but be sure to avoid conveying any pressure. Some customers are prone to feeling scrutinized for making returns—if they feel like they need to pass a test in order for their return to be accepted, they'll provide an inaccurate response.
The best data comes from giving customers a variety of valid return reasons. If your return policy aligns, include options such as "Incorrect size," "Item arrived damaged," "Simply changed my mind," and "Found better price elsewhere."
Analyze the patterns in your incoming returns, and make adjustments accordingly.
How to Set & Communicate Your Return Policy
Returns are a part of the customer experience—which is important to keep in mind as you craft your store's return policy. Creating a working return policy comes down to setting rules/requirements and conveying them accessibly. Here's what you need to know.
Setting Your Return Policy
It may seem tempting to set strict rules and unrealistic requirements to reduce returns. But customers aren't likely to trust a retailer with their purchase unless they have an agreeable return policy. That means your return policy could be what separates you from the competition—or what causes potential customers to look for a similar product elsewhere.
According to a recent survey by Optoro, 97% of shoppers would continue to shop with retailers that provide a positive returns experience (by offering options like free returns and/or longer return windows). Some 55% of shoppers said they would choose not to shop with a retailer who didn't offer a flexible enough return policy.
A customer-centric return policy is known to promote customer retention and can increase the LTV (lifetime value) of your shoppers. But too much leniency at the wrong stage of development can lead to returns taking a major bite out of your bottom line.
When setting your return policy, estimate what your cost per return would be and consider the figure along with the number of returns you'll receive in a given period. The cost of returns is an operating expense and should be factored into your prices.
Keep in mind that an attractive return policy can actually increase sales, and weigh the total cost against potential gains.
Here are the variables to dial-in for your return policy—plus ways to make them work for your customers and your store:
Refund Method
A refund of the purchase price sent to the customer's original payment method is the most appealing option.
However, retailers can also choose to issue a refund in the form of store credit (either on a gift card, voucher, or coupon code) or an exchange for a similar product. This keeps the funds locked into your store and helps keep your margins up.
---
Product Exclusions
Identify which products are sold at margins too low for returns to work—including cart-stuffers and sale merchandise. Consider excluding these products from your accepted returns or covering the loss through price increases elsewhere.
Other products may be unreturnable due to federal and state regulations or the general safety of your customers. Review your stock, and remember to communicate final-sale circumstances in your written policy (which we'll cover later on).
---
Return Fee
A return fee (also called "restocking fee") is charged to defray the costs involved in processing and re-selling a returned item. They're usually expressed as either a percentage of the purchase price or a flat fee.
Some retailers—like BKR water bottles, as shown below—charge a return fee when issuing a refund but offer to waive the charge if the customer accepts store credit instead.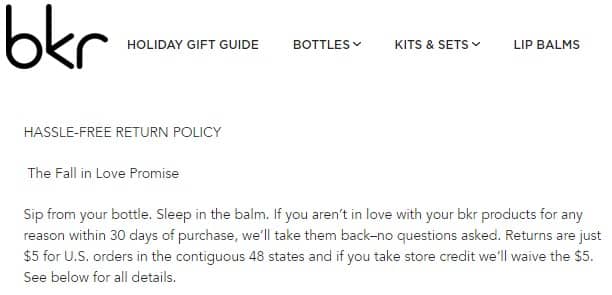 Charging a return fee is a useful way to protect your bottom line. But with the majority of big-name retailers offering maximally free and convenient returns, including this charge in your return policy could easily discourage sales.
Rather than subtracting the cost of a return fee or "restocking fee," providing your customers with a full refund of their returned merchandise is an appealing approach.
Customers tend to be more willing to cover the cost of return shipping than pay a fee that feels like an unnecessary penalty, so this is a good place to start. But keep in mind that the industry standard for "free returns" also includes free return shipping.
---
Cost of Return Shipping
76% of shoppers said that free returns is one of the most important factors they consider when shopping online (right up there with free shipping and fast delivery).
So it's a wise idea to cover the cost of return shipping in addition to offering a full refund for their return. That way, you can truly call your returns process "free"—which is an effective sales driver.
Alternatively, many retailers require the customer to pay the cost of return shipping—but offer to subtract it from the total refund before it's issued. This simplifies the logistics process and feels less like a penalty fee to the customer.
---
Condition and Packaging Requirements
Determine what you'll require in order to accept returned goods. Do they need to be brand new with tags still intact and in their original packaging? Is there some leniency so that your customers can wear the product once or take it out for a spin? Or are you willing to accept used items that cannot be resold on the primary market?
Your policy likely comes down to how you'll handle returned merchandise and how that affects your margins.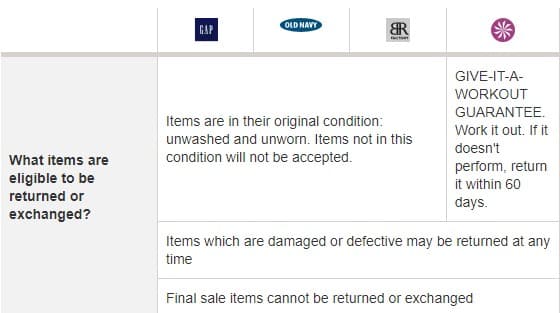 Brick-and-mortar retailers must also consider whether or not they'll require a receipt.
Stores can create a more hassle-free experience by allowing customers to return purchases without proof of purchase. A common way to do this while reducing fraud and keeping funds locked into your business is to offer store credit in the form of a gift card.
That being said, receipt requirements are a long-standing norm in the retail industry, so they're unlikely to deter customers from making a purchase.
---
Return Window
It's common for retailers to accept returns within 14, 30, or even 60 days of purchase. But extending that window is a gesture that gets customers' attention (and appreciation).
Certain brands have built a reputation around their wide return windows. Take L.L.Bean, for example—the outdoor-oriented clothing company benefits from being recognized as selling extremely durable goods. Until recently, the brand supported this recognition by offering full refunds with an unlimited return window.
That being said, unlimited return windows may be unrealistic for less-established sellers. Offering a generous (but still limited) timeframe is an effective alternative to instill confidence in the buyer and presents your brand as high-quality.
For example, Kohl's department store presents buyers with 180 days to return unwanted goods, and the shoe company Zappos allows for a whopping 365 days.
It may seem counterintuitive, but a generous timeframe can reduce returns by removing the sense of urgency a consumer feels to return a purchase. With a longer window of time to decide, buyers are more likely to experience the product in their daily lives and become attached (or simply forget to complete the transaction).
---
Holiday Return Window
If you can't manage to work a wide time frame into your standard return policy, offering an extended return window during the holidays is a popular service to the customer.
Many popular brands—from Apple to Walmart to HSN—extend their return windows to allow purchases made as early as October or November to be returned by a date in January. This eases the risk of buying gifts for others, encouraging customers to make purchases and bringing gift recipients into the store (or onto the site).
Extending your holiday return window is an important way to stay competitive during the busy season and can be used for marketing purposes (like in the asset shown below).
---
Convenience Options
"Hassle-free returns" is a popular declaration throughout the retail industry. While its meaning isn't as straightforward as "free returns," it's clear that customers want the process to be as easy as possible.
Offering convenient resources or services to simplify the return transaction can go a long way. Zappos, for example, will arrange a UPS pickup of returned goods. Eliminating the need to print a label and/or make an extra trip is a highly attractive service.
As another convenience option, many omnichannel retailers allow customers to return goods either in-store or online, regardless of which channel they used to make the purchase.
---
Once you've carved out the framework of a policy that works for you and your shoppers, it needs to be communicated properly.
Communicating Your Return Policy
By providing shoppers with a clear and comprehensive return policy, you encourage trust, confidence, and loyalty in your brand—making the decision to buy much easier.
It's vital to make your policy accessible and easy to understand. Here are some tips for creating your own:
Cover the Details
Write your return policy to thoroughly cover the details of how the transaction works. Include the following info (as it applies to your store):
Which items can be returned
Which items are non-returnable, non-refundable, and/or non-exchangeable
When items can be returned (i.e., 30 days after the purchase date)
Condition requirements for items to be returned (i.e., tags intact, in original packaging, lightly worn, etc.)
What the customer receives for their return (i.e., store credit, full refund, refund minus restocking/return fee, product of equal value, etc.)
How to initiate a return (i.e., an email address to contact, a form to fill out, a returns portal to use, etc.)
Who pays for return shipping (i.e., the store, the customer)
How to obtain a return shipping label
Which countries are eligible for refunds and returns
The more thorough your return policy is communicated, the fewer customer service inquiries you'll receive. Plus, transparency is key in building a trustworthy brand.
For that reason, consider including info on how quickly returns will be processed, how the refund is issued, and other frequently asked questions.
---
Use the Right Language
Write your return policies in clear, simple language that's appropriate for your customer base.
You can infuse the personality of your brand into your return policy by using intentional tone, but it's vital to prioritize clarity.
While choosing your wording, avoid intimidating legal jargon like "you are required to" or "we are not responsible for." Instead, opt for friendlier ways to explain the process.
---
Keep It Original
Take all the constructive inspiration you can get, but don't copy and paste the return policy from another store or site.
Aside from being a bad look for your brand, using duplicate text from elsewhere on the web will hurt your search engine rankings (resulting in less traffic to your site).
---
Make It Easy to Find
If you're an ecommerce seller, make sure the link to your return policy is accessible and easily visible from every page of your site. Don't bury it in an FAQ page between 10 other concepts.
It also helps to use bullet points or infographics to quickly convey the core details of your policy. Getting a shopper to comb through a giant wall of text is unlikely, and it leaves room for missed information.
In a brick-and-mortar setting, display a physical copy of your policy near the checkout, the front door, or both. Also, make sure your staff has the details memorized (including seasonal changes) and can quickly answer any related questions.
---
How to Process Returns Efficiently
Leaving a customer for too long without the product they ordered or their refund is a surefire way to get on their bad side. Especially as consumer demands have risen with the recent ecommerce boom, it's more important now than ever to process returns and refunds quickly.
Furthermore, the longer a product takes to flow through the reverse logistics chain, the more it's costing your business.
Here are five ways you can keep your returns process running efficiently:
Use Return Management Software
Return management systems are web- or cloud-based platforms that help sellers handle returns smoothly (similarly to how shipping software enables efficient shipping). They're usually available as SaaS (software as a service) platforms, and some are available for free.
These tools can be used to create an online portal for customers to initiate returns and to approve their requests based on automated conditions—cutting down drastically on human labor and room for error. They also facilitate exchanges, issue credit, make return transactions much easier to track, and simplify the process of getting a return label to your customer by creating and emailing it automatically.
Using them in your operation can eliminate many steps, employees, and days involved in processing a return—as shown in the "before and after" product flow illustrated below.
---
Have a POS System
Brick-and-mortar returns need to be even more efficient than ecommerce returns, thanks to the added urgency of a customer expecting quick, in-person service.
For these operations, it's vital to have a solid POS (point-of-sale) system capable of managing your returns and processing refund payments.
Read our guide to the best POS systems for small businesses to learn more.
---
Issue No-Return Refunds
Despite the exemptions described in your carefully-crafted return policy, there may still be some returns that cost more money than they're worth. This scenario is especially common in dropshipping operations that don't stock their own inventory and high-volume sellers of low-margin goods.
Keep an eye on the cost of the return process—including customer support time, shipping costs, and the labor involved in restocking. If the average cost per return outweighs the margin you'd make from reselling certain items, consider issuing a no-return refund for them.
Even if you anticipate refunding the purchase of certain items without dealing with the logistical hassle of their return, it's not necessary to include this information in your return policy.
---
Establish Clear Receiving Procedures
How you manage your returns once they're received will depend on you what you do with them. Usually, returned goods can either be resold on your primary channel or dispositioned (which means sold elsewhere or discarded).
Depending on the category and condition of the item, you can choose to resell it in your store. In this case, create a procedure and location for returned goods to be quarantined, sanitized, and/or inspected—then restocked into inventory. If it isn't in mint-condition, consider listing the item at a discount or selling it to a separate liquidator.
Designate another location for defective goods to be stored. You can usually receive a refund or chargeback from the supplier in these cases, but it's important to keep the merchandise on-hand to be returned or documented.
If returned products cannot be resold (or have their value partially reclaimed through other means), designate a place to store goods for donation, recycling, or disposal.
---
Outsource to a Fulfillment Company
Partnering with a fulfillment company means outsourcing many labor-intensive processes—including fulfillment, inventory management, and returns management.
Processing returns is as simple as establishing your return policy and disposition preferences with the fulfillment center beforehand, then having all returned merchandise sent to the company's warehouse.
Not all 3PL fulfillment centers offer return services, but those that do usually have platforms allowing them to update you on your returned merchandise available for re-listing.
ShipBob delivers the best return services, plus fast two-day shipping with no monthly minimum to get started. Contact ShipBob for a free quote.
---
Bottom Line
Returns are an inevitable part of operating a retail business—whether you sell online, in-store, or both.
Pressure from rising consumer expectations and increasing competition means that your returns management procedures need to be carefully carved-out.
Through an effective return policy, preventative measures, and methodical receiving procedures, it's possible to minimize the impact that returns have on your bottom line.
You May Also Like …