15 Great Fitting Room Design Tips
A well-designed and inviting fitting room will incentivize shoppers to utilize your fitting spaces, improve your customer experience, and, in turn, drive your sales.
With good design and exciting features, you can make your fitting rooms one of the highlights of your business. Follow the tips below to set your fitting rooms up for success.
1. Space & Place Your Fitting Rooms
Before you can begin designing your fitting rooms, you have to determine their size and location. The primary function of a fitting room is to provide a space for customers to try on apparel, so you want to be sure that they can do this without bumping into walls or fixtures. Let's go over what you should consider and best practices for placing and spacing your fitting rooms.
Typically, clothing retailers will allot about 20% of their square footage for their fitting rooms. This number will vary, however, depending on the needs of your fitting space.
For example, a shop that sells bikinis will probably stick to the 20% rule or even go a little under as its garments take up little space. On the other hand, a gown shop will likely want to provide something larger to accommodate dresses and give shoppers plenty of space to maneuver.
Generally, you want to leave space for the following items when allocating fitting room space:
Provide a place where customers can leave their personal belongings, like a table or cubby. Storage will allow customers to stow away miscellaneous items, freeing up their space and attention for trying on clothes.
---
Be sure to leave space for a chair or bench. Seating, which we will cover in more detail below, is imperative to fitting room design and creating a good customer experience.
---
Leave enough space for customers to take a step back and see their entire body without leaving the fitting room, as many customers don't want to leave their room while trying apparel on. So, providing enough space for people to see themselves without exiting will improve many shoppers' experiences and increase the likelihood that they will make a purchase.
---
Consider the size of your merchandise and typical try-on volumes so that you are sure to leave enough space once the room is full of products. If a space seems cluttered or overcrowded once full of merchandise, customers will have a hard time maneuvering to try things on. Additionally, if the room looks stuffed after only adding a few pieces, shoppers will be less inclined to continue shopping.
---
When running my store, I learned quickly that when you are deciding on the number of rooms you need, you should consider fitting room traffic at peak times. For example, at my boutique, Saturdays were the busiest day and generally demanded three fitting rooms. To be sure we were prepared for any hour of the day, we carved out space for three rooms for our busiest hours. Accommodating peak times will ensure that you are prepared for your busiest shopping periods and that you won't have customers waiting for too long.
---
Some retailers will offer a larger fitting room for customers shopping with children, in groups, or with a wheelchair. These rooms are typically 1.5 to 2 times larger than standard rooms and should be able to accommodate several people and a stroller or wheelchair. Family fitting rooms are best for businesses that see a lot of families, groups, moms with children, or disabled shoppers.
---
While some customers opt to spend the entire time in their own personal room, many shoppers will exit their rooms to see themselves in the clothes, to show others, or to get advice from an associate. Be sure you leave space and a good mirror outside of your fitting room section so that customers can showcase their looks without feeling confined or like they have to travel far away.
---
When it comes to fitting room placement, they should be in the back of your store. Placing fitting rooms in the back will encourage customers to walk through your entire store, browse all of your merchandise, and add more items to their selection. Additionally, this placement puts your fitting rooms outside of prime retail space and in a spot where they can easily blend into the background.
For more on where different elements of your store should go and how much space they should take up, check out our guide on planning your store layout.
2. Follow ADA Requirements
In addition to leaving enough space for activities in your fitting rooms, you should ensure that they are compliant with section 803 of the Americans with Disabilities Act (ADA). It includes information about proper hook heights, seating, door closure, and floor space, which will help you guarantee that your fitting rooms are welcoming to all. Following these guidelines will also ensure that you do not incur any fees or penalties for breaking with the ADA's requirements.
3. Use Neutral Lighting
Proper lighting in your fitting rooms will make or break how well customers see themselves in your pieces and is one of the most important elements in creating a well-designed fitting room. In retail lighting, we often refer to the lighting in fitting rooms as task lights.
Task Lighting:
A light source that is used to illuminate an area where a certain task or activity is performed.
Typically, you will provide each fitting room with its own task light either above the space as a pendant light or in the space as a sconce. Installing lights in each room will ensure that customers have good visibility in their space and lighting is not blocked when fitting doors are closed.
When choosing bulbs for your fitting room, you want to be sure that you are using a type that is as neutral and natural as possible. Dark, overly bright, or colored lighting might blow out or hide details, creating a false impression of what your clothes actually look like—potentially leading shoppers to distrust your brand. Conversely, neutral lighting is the most flattering and presents products in their best and most accurate light.
Experiment with different lighting solutions to find one that works best in your space. It will depend on many factors, including natural light, ambient light, and the layout of your store. You can also check out our lighting guide for more information on lighting your space. Our article also includes a breakdown of the different lighting types and fixtures at your disposal.
Many stores install lit mirrors for added brightness. The bright lights of the mirror help customers see details they might miss in normal lighting but are not bright enough to replace the primary light. Only use lit mirrors to enhance your main light source, not to replace it.
4. Install Mirrors: Reflection & Placement
Mirrors are probably the most important element of your fitting rooms. Shoppers use mirrors to evaluate how your products work for them, and they can make or break how customers feel in your clothing. Invest in quality mirrors and place them well throughout your store to drive sales and improve customer experience.
How your mirrors present their subjects can determine whether a customer ends up making a purchase. A mirror that creates distortion will misrepresent your products and can even create distrust amongst customers.
Choose mirrors that give off accurate reflections to help sell your merchandise, give shoppers a more favorable impression of your brand, and contribute to a positive customer experience.
For example, at my boutique, we had a massive mirror in the back of our shop for customers to use for full-body reflections. On more than one occasion, a customer would be undecided about an article of clothing, so I would take them to the big mirror. Once the customer saw a flattering and realistic image of themself, they would almost always end up purchasing the product.
Choose a sturdy mirror that doesn't bend and misrepresent its subject. A well-constructed mirror will ensure that shoppers see a familiar and realistic image, not an unflattering or distorted one. The best way to test this is to stand in front of your mirrors and consider whether you notice any distortion or misrepresentation.
You want to keep mirrors inside and directly outside your fitting rooms to promote ease of shopping and customer-associate interaction.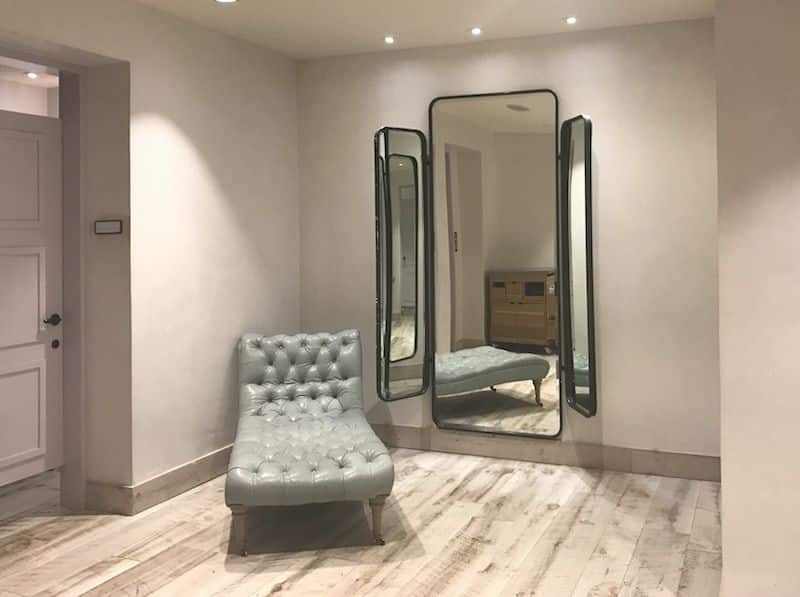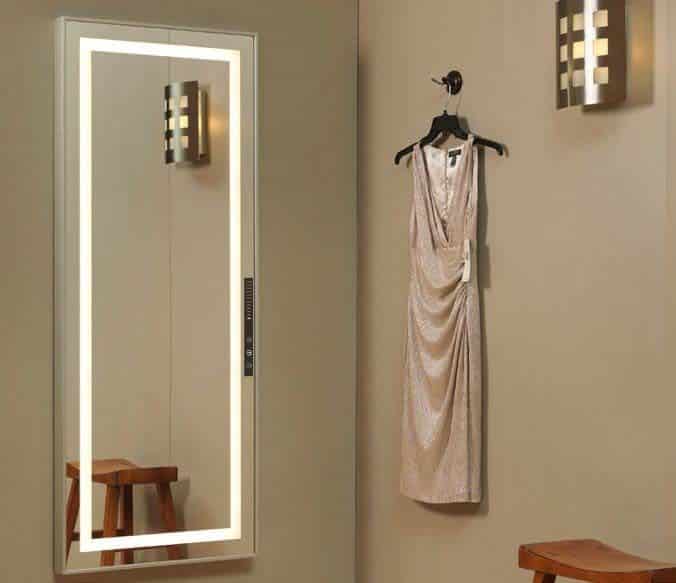 Placing mirrors inside the room will allow customers who want to shop on their own to easily make independent assessments. They can also use the mirrors outside the fitting rooms to see how they look from further distances, in different lightings, or while they show friends or family.
This arrangement also encourages customers to come out on the sales floor and interact with associates. At my boutique, we had two large mirrors at the front and back of our store. The large mirrors prompted our shoppers to come out of their dressing rooms to see themselves, where, in turn, someone on the floor would be able to assist them.
These conversations between customers and associates created opportunities for shoppers to ask questions and get styling suggestions while simultaneously providing associates opportunities to upsell.
Upselling: When you persuade a customer to upgrade their purchase by adding another product or choosing something more expensive.
Without the large mirrors outside of the dressing rooms, we would have lost those interactions and the sales and positive customer experiences that came from them.
5. Keep Your Colors Consistent, Neutral & Bright
You want the color of your fitting room to coordinate with the rest of your store. Opt for neutral tones and patterns and use light colors that reflect light well. These tactics will help you present your merchandise better and sell more of it, as your fitting rooms will blend into the background and you will avoid distracting customers shopping on the floor.
Tip: A monochromatic color scheme will elongate your space and make it look bigger.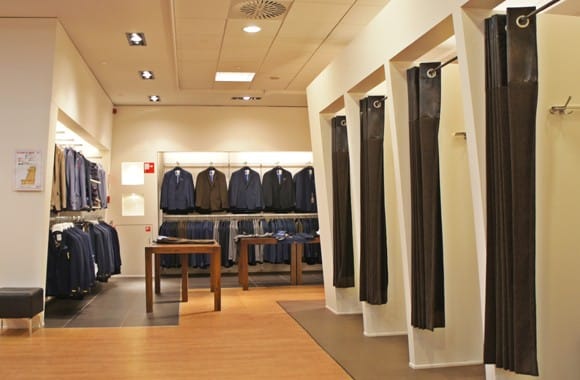 ---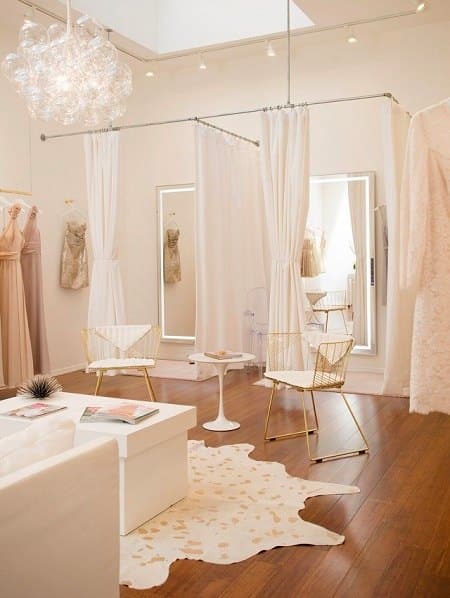 ---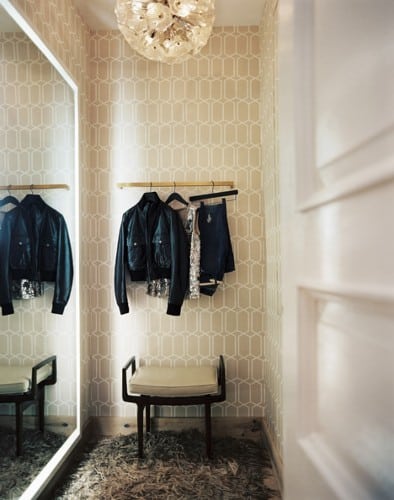 ---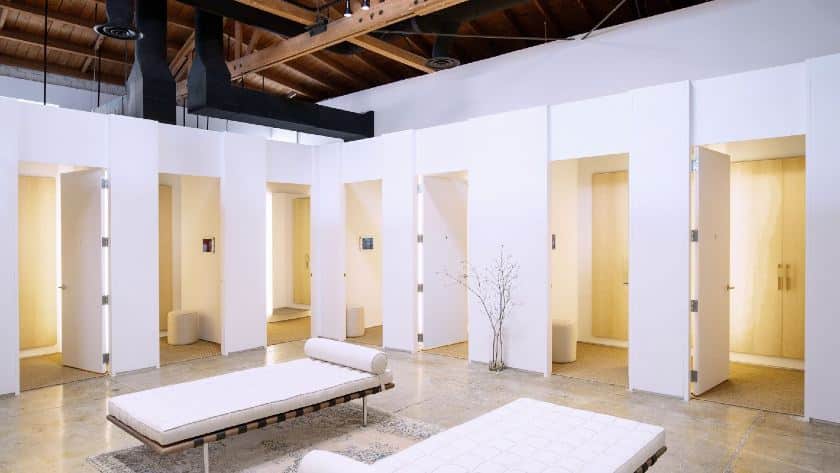 ---
Additionally, choosing a neutral color or wallpaper for your fitting rooms will allow customers to focus on the clothing and how it looks without being distracted by a bright color or pattern. Textured wall designs, subtle patterns, and muted colors are a good option if you want to incorporate color or patterns into your fitting rooms.
Finally, use light colors in your fitting rooms to make them appear more spacious and to enhance your lighting. Light colors reflect light better than dark ones (making your light source more effective), brighten the area, and create an illusion of a bigger space—dark tones can make a room feel crowded.
6. Add Seating
When adding fixtures to your fitting rooms, one of the most important pieces to include is seating. A chair or bench will provide customers somewhere to sit and maneuver in and out of clothing, a place to put their things, and somewhere for another shopper to sit if they are sharing a room. All in all, seating helps make shopping easier and improves customers' experience.
Often you will see bench seating in fitting rooms. A bench creates a hybrid seating and table arrangement to maximize both sitting and storage space in your fitting rooms. If not a bench, you will generally see a small chair designed to take up minimal space to avoid infringing on the changing area. If you do choose a chair instead of a bench, be sure to add additional storage options like hooks or a side table to ensure there is a good place for customers to put their things.
In addition to providing a seat inside of your fitting rooms, you also want to be sure that there is seating in their vicinity. Typically, you want to provide two to five seats to accommodate larger parties, depending on your space. Seating outside of fitting rooms is great for fellow shoppers and gives companions a convenient place to watch their friends show off their clothes.
My boutique had two large armchairs that sat outside of the fitting room area. We affectionately called them the "boyfriend chairs" because they were the default position for boyfriends and spouses as their partners would come out of the fitting rooms and show them their outfits.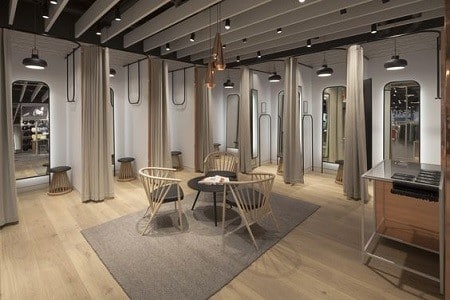 7. Create Privacy
One of the most important things for ensuring that your customers will walk away with a good impression of your fitting rooms is privacy. Whether you install doors, curtains, or another barrier, you want to be sure that shoppers feel comfortable and secure when they are using your fitting rooms.
In terms of entry coverings, the most popular options are curtains, half doors where there is a gap underneath and above, or full doors.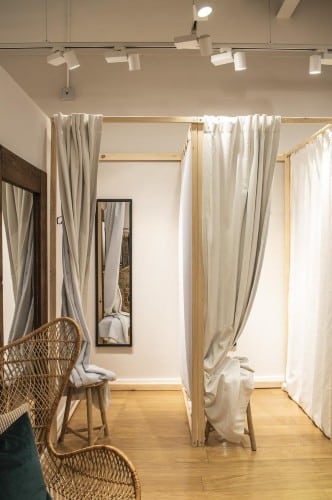 ---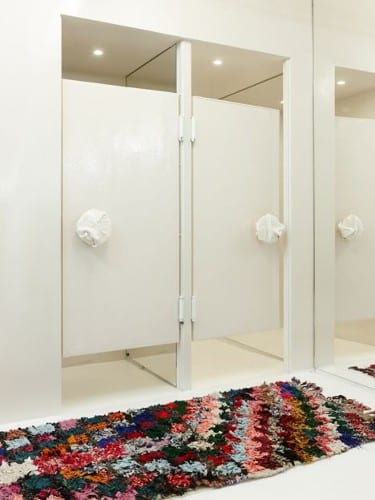 ---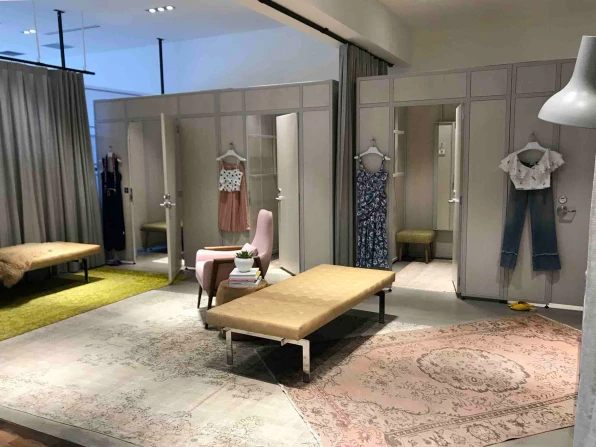 ---
Curtains are typically the most popular option for small businesses due to their low installation cost, ease of placement, and space-saving abilities. The biggest thing with curtains is to be sure you order enough fabric to cover the entire entry. I would suggest ordering curtains that are several feet longer than the width of your entry to avoid gapping issues and ensure customers feel secure.
Half doors are slightly more expensive but can be locked, adding a layer of security for your shoppers. Full doors are the costliest option and typically require the installation of a free-standing structure if you do not have fitting rooms already built into your store. They are, however, the most private door option and give your customers the most luxurious experience.
8. Provide Hanging Options
In addition to providing a spot for people to keep their personal belongings, you should install hanging spaces for customers to place the clothing they have picked. While some companies opt for a single hanging bar for a space-effective hanging solution, I would suggest installing several hooks and bars and even labeling them.
As people try items on, they will generally have their original picks and their yes, no, and maybe options. Providing labeled bars or hooks for each of these categories will help your shoppers stay organized and maintain order in their space.
Did you know?
64% of shoppers have walked out of a store without making a purchase due to disorganization or a poor physical appearance.
Additionally, this hook strategy will make it easier for customers and sales associates to clean out fitting rooms, as all the items that are going back onto the floor will be in one spot. An empty room will incentivize shoppers to try on more items and help to drive your sales.
9. Decorate With Minimal Fixtures
While there are certain necessary decors like seating and storage, you should not overwhelm your fitting rooms with them. Your fitting rooms should be highly utilitarian, offering only the fixtures that facilitate the fitting process and avoiding all else. Additional elements take up unnecessary space, impede on changing, and distract customers from their selection.
When setting up your fitting rooms, ask yourself whether anything is distracting or superfluous in your changing space. If the answer is yes, remove it! Utilitarian minimalism does not mean your fitting rooms can't be stylish. You can always choose fun lighting, floor coverings, seating, and wall colors. The big takeaway is that the things you put in your fitting rooms should serve a purpose and not take up otherwise functional space.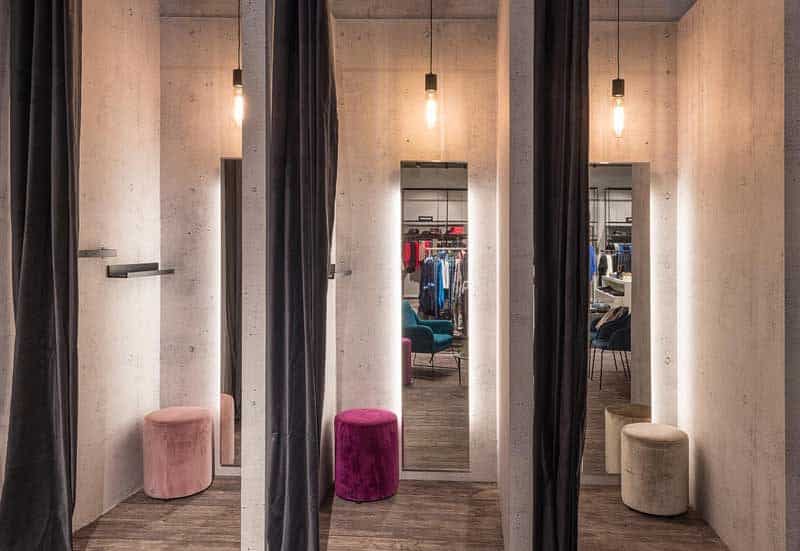 ---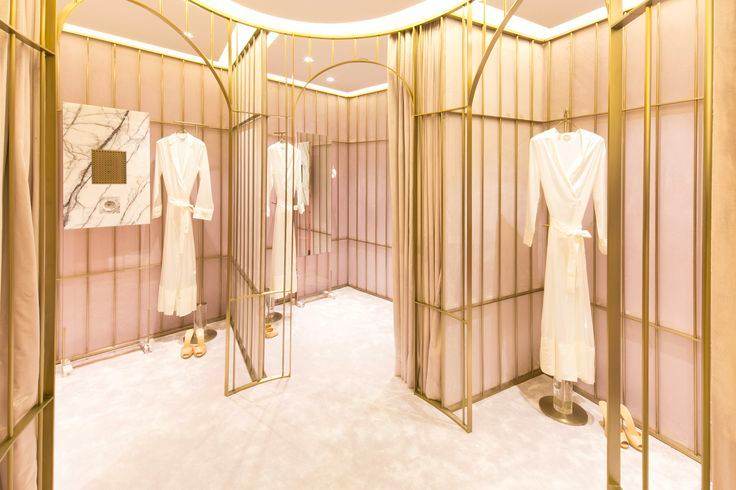 ---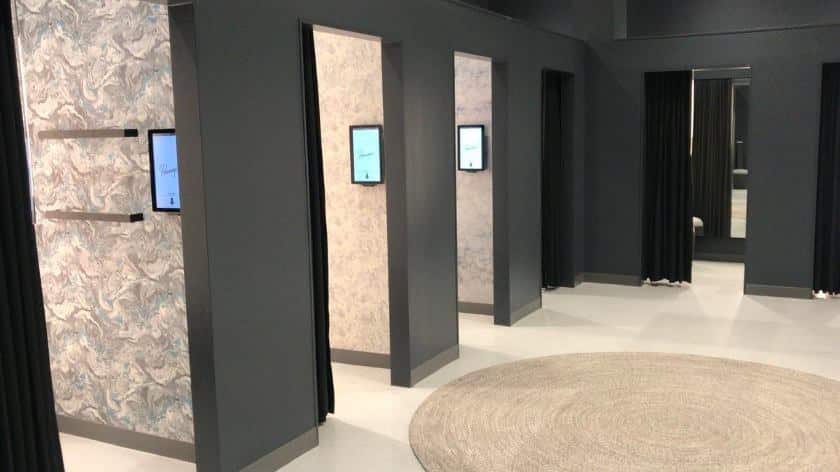 ---
10. Staff Your Fitting Rooms
As we mentioned earlier, customer-associate interactions are an excellent asset for driving sales, and you should be facilitating those interactions wherever you can. One of the best places to do this is in the area around your fitting rooms.
Staff one to two people around your fitting rooms at all times to provide services like grabbing another size off the floor, helping with zippers and ties, answering customer questions, and styling shoppers.
The area around your fitting room is one the most common places where customers will look for help and have questions. Be sure that you are prepared for that and ready to capitalize on all the customer-associate interactions that are sure to come.
11. Advertise Exciting Offers or Social Media Channels
By the time a customer enters your fitting room, they are already a captive audience, connecting with your brand, and at the precipice of a purchase. You should capitalize on this moment with advertisements, social media plugs, and loyalty programs to remind customers of opportunities and help drive your sales.
For example, in my boutique's fitting rooms, we hung flyers that advertised our social media channels. We knew that the fitting room audience had connected with our business and would be interested in keeping up with us on Instagram and Facebook. Our signage capitalized on this connection and helped our channels grow.
Additionally, we had other flyers that advertised our discounts and sales. These ads were great because they reminded customers about the potential for deals when they were deciding whether to make a purchase, making them more inclined to buy.
While you should use your fitting rooms to promote your social media and loyalty programs and remind customers of deals and discounts, your displays should not distract them. Make your displays small, hang them in your customers' line of sight, and use options that are flush with the wall. Doing this will maximize visibility without creating a distraction or impeding foot space.
Use digital displays, paper signage, posters, or framing options for your fitting room displays. For more on the different display types for your business, check out our comprehensive guide to merchandising and displaying your products and signage.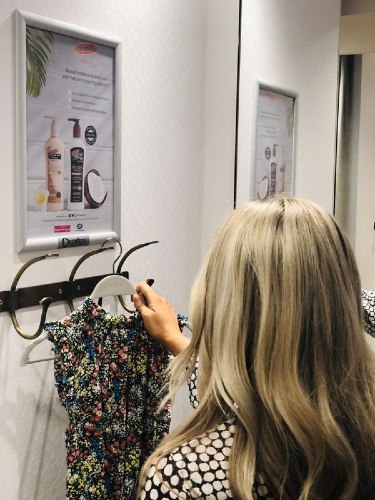 12. Keep Your Fitting Rooms Tidy
You want to be sure that you have no distractions in your fitting area so that customers can focus on the products and nothing else. This includes using decor and design but also means that you should be diligently keeping your fitting rooms clear of any clutter and debris.
To ensure that you have tidy fitting rooms at all times, you should institute regular cleaning routines both at the end of each day and in between customers.
In between customers: Remove all clothes from a previous try-on and any miscellaneous items and trash that a customer might have forgotten or dropped. This will ensure that new shoppers have a fresh space to come into and there is no evidence of prior use.
End of day cleaning: At the end of each day, fitting rooms should be completely clean, mirrors should be wiped down, and all fitting surfaces should be sanitized. Your fitting rooms are more mess- and dirt-prone than other zones, so a thorough cleaning each day will ensure that they stay fresh day over day.
Your end of day fitting room cleaning is also a great time to look for signs of theft. Shoplifters will often use the privacy of fitting rooms to remove security tags and prices from products, so check for these items to detect signs of stealing.
13. Lower Your Music
To make it easy for shoppers to chat between rooms and discuss pieces as they try on, you should keep your music lowered in your fitting areas, compared to the rest of your store. For larger stores with fitting rooms removed from the rest of the shopping space, this is easy—just adjust your music for the fitting rooms zone or don't play any at all.
For stores where your fitting rooms are within the shopping space, you will have to think harder about how to get the volume lower in the fitting rooms. In my store, we strategically placed our speakers away from the fitting rooms to help the try-on zone stay quieter, but you might also use a sound system where you can adjust your volume for different areas.
The best way to ensure your music isn't disruptive for the try-on process is to try it out yourself and to ask your shoppers. In my experience, if you ask for feedback, customers are more than happy to provide. Couple that with your own trials, and you should be able to nail down the right volume and speaker arrangement.
14. Create Photo-ops
As we all know, people love to take pictures of themselves, and if you can create a photo-worthy spot in your fitting area, this will not only draw people in for the photo op but will also inspire customers to share their pictures on social media. This sharing, in turn, is a great way to reach new customers and build brand recognition.
Did you know?
Consumers want to engage online and create content that's shared by brands. 64% of marketers ask customers to share content to a specific hashtag or to tag their brand on social media.
To create a photo-op in your fitting space, start with a great mirror. Most people don't have large full-length mirrors at home, so a stylish full-body mirror is a great place to begin. From there, you might add a fun wallpaper behind the mirror or a sign to make it unique.
I also suggest incorporating your brand name in the photo op area somewhere, for the free marketing potential, and keeping small accessories, like sunglasses and hats, in your fitting space. These are simple things that customers can throw on to enhance their photos (or even inspire an add on purchase).
15. Incorporate Fitting Room Technology
Fitting rooms are one of the ways that brick-and-mortar retailers set themselves apart from their ecommerce competitors. Even with the growing desire for convenience and at-home shopping, nearly half of consumers still prefer to shop in-store rather than online for the experience of interacting with the products and utilizing instore services like fitting rooms.
However, the ecommerce market is getting increasingly high-tech and is doing more to give shoppers the perks of in-store shopping online. As the online market gets more competitive, businesses should consider integrating technology into their fitting rooms to create an exciting experience, make shopping easier, and continue to attract traffic.
Did you know?
The market for fitting room technology is growing and projected to be worth $15.43 billion by 2028, which represents a 25% annual growth rate.
Below, we will look at some of the features that fitting room tech can bring to your business.
Smart mirrors use scanning software to detect the contours of a shopper's body and have an RFID tagging system that gives the mirror access to a merchandise database. Using these technologies, the smart mirror can allow shoppers to:
Try on garments virtually
Purchase another size online
Complete their purchase in their room using a QR code
Get suggestions based on the items they choose
Smart mirrors are also great because they use scanners rather than cameras, allowing customers to maintain a sense of privacy while changing.
Virtual fitting rooms are mirrors that use augmented reality (AR) or artificial intelligence (AI) to allow customers to virtually try on clothing items or beauty products without physically touching the items themselves. The technology creates a live image of the customer in the piece of clothing so that they can check its size, style, and fit.
Did you know?
The Virtual Fitting Room market size is valued at $2.28 billion in 2022 and will increase to $10.75 billion by 2026, with a CAGR of 22% during the forecast period.
Virtual fitting rooms take all the hassle out of trying on clothes—you don't have to undress. This makes the consumers' jobs easier and allows them to try on more clothing in less time. Additionally, because of the virtual try-ons, virtual fitting room mirrors don't have to be rooms at all. You can place the mirrors anywhere in your store, without worrying about privacy or having to create a barrier.
Memomi creates one of the best AR mirrors on the market and is an excellent resource for implementing virtual fitting rooms into your storefront.
In the News: Fitting Rooms Tech
As the online landscape becomes more competitive, large retailers are rolling out innovative fitting room technology to compete in the retail space. Here we will take a look at three examples of fitting rooms technology in the news so that you can stay on top of industry trends.
Amazon Style
In the coming months, Amazon will be opening its first storefront for men's and women's apparel, Amazon Style, in Los Angeles. The tech giant is using tons of technology to offer an easy and hands-free shopping experience, and at the crux of it is its fitting room system.
As customers make their way through the Amazon Style store and view products, they can use the Amazon shopping app to scan QR codes for items they like. From there, they can view product pages and customer reviews, and if they like the products, they can either add them to a fitting room or send them straight to the pickup counter in the appropriate size. As shoppers scan, Amazon's intelligent algorithm will also learn about customer preferences and tastes and will curate further product suggestions from around the store.
When shoppers are done browsing, they mark themselves as complete, and the Amazon app will guide them to their fitting room. Here, all the items that they scanned for try-on will be ready to go in their room. Additionally, each Amazon Style fitting room will feature a touch screen where customers can continue browsing, view product pages, ask for help or additional sizes, and receive further product recommendations.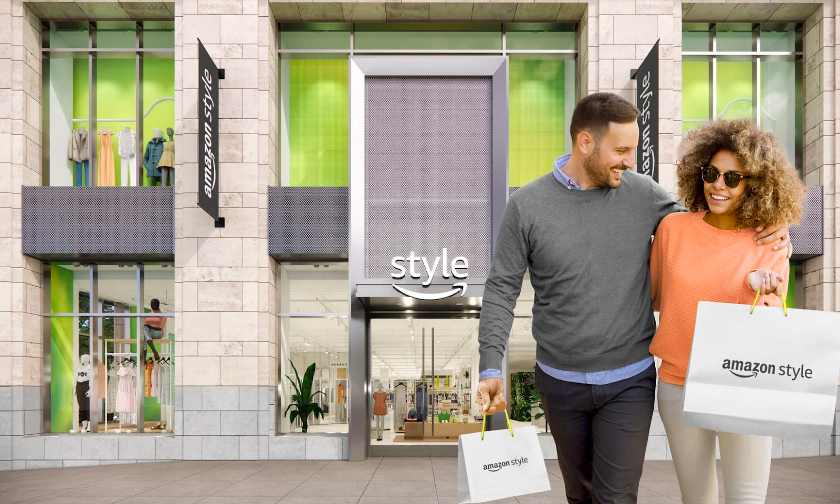 ---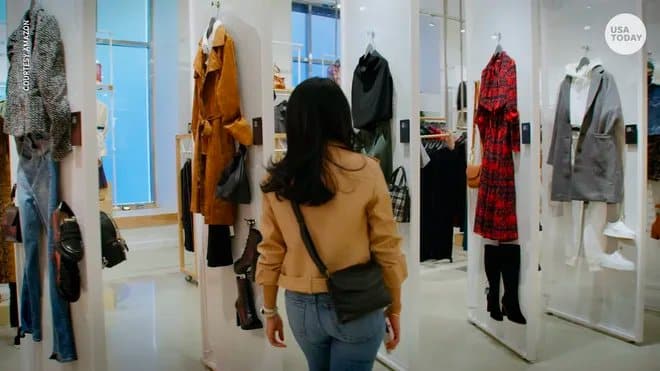 ---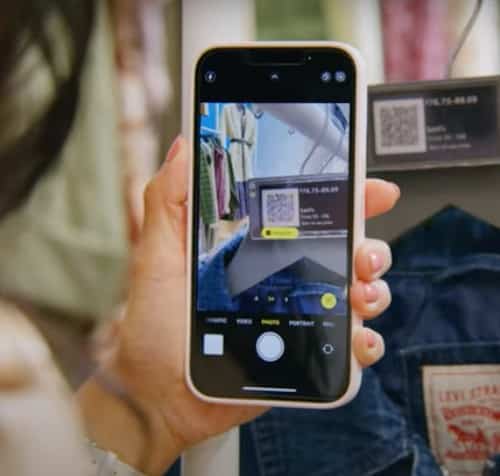 ---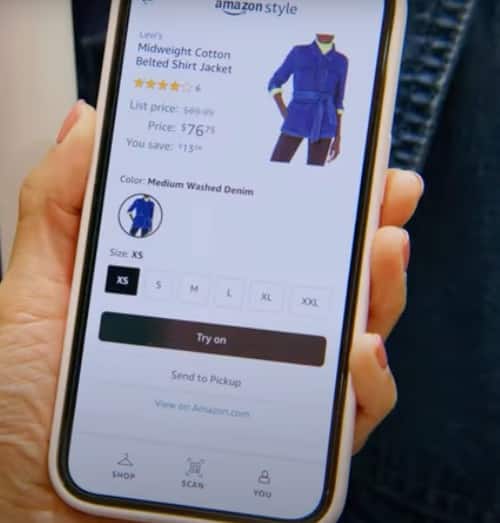 ---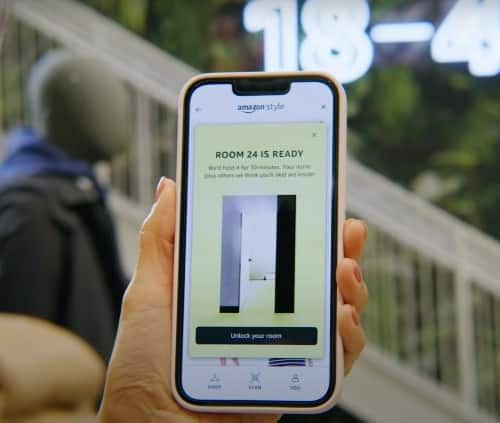 ---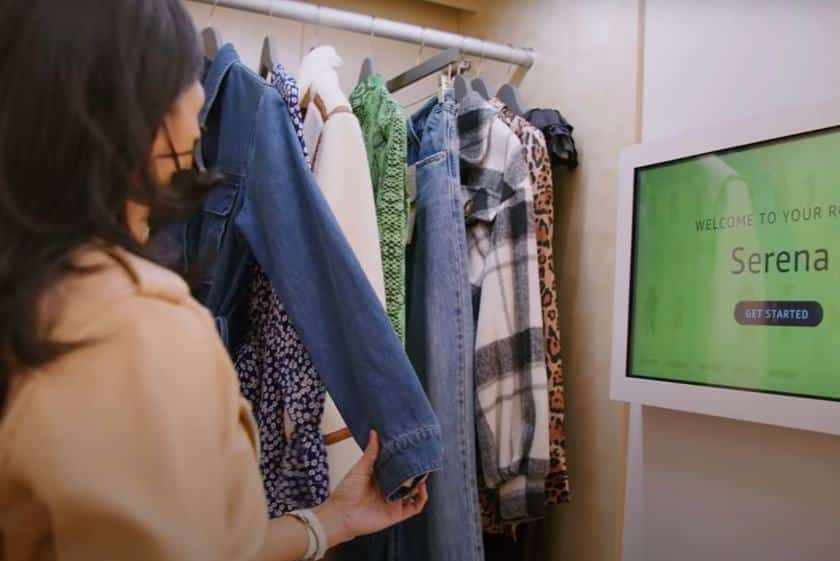 ---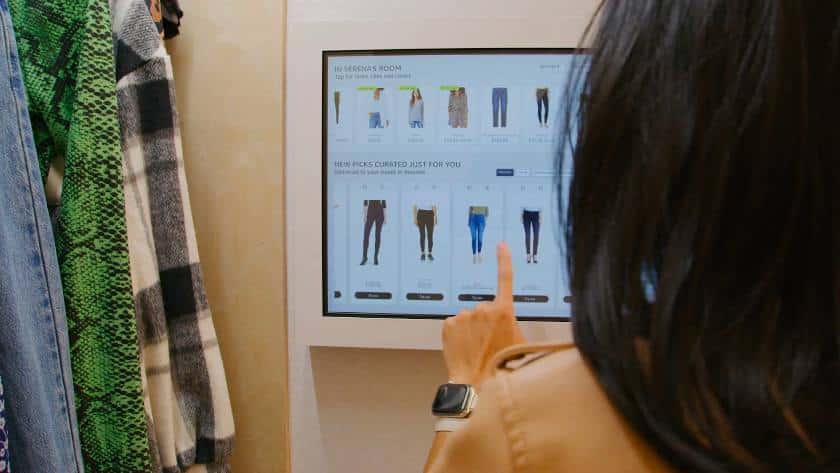 ---
Walmart and Zeekit
As Walmart has been working to establish itself as a fashion destination, it acquired Zeekit, a leader in digital fitting room technology, in 2021 and began rolling out innovative online fitting tech.
With Zeekit, customers shopping on the Walmart app or Walmart.com have the opportunity to choose from over 70 models of different skin colors, hair, heights, and body types and view how different products look on them, The idea here is to make online shopping easier and more reliable and to fill the gap that a fitting rooms provide by giving shoppers a better idea of how items will look on models that have similar appearances to themselves.
Walmart is also working with Zeekit to bring a virtual try-on experience to women's apparel but does not have an expected roll out date yet.
Neiman Marcus and Smart Mirrors
As the luxury retailer was flailing at the start of the COVID-19 pandemic, Neiman Marcus's head of innovation rolled out smart mirrors in some of its major stores. As we looked at before, with these mirrors, customer can stand in their reflection and virtually select and try on different pieces without ever actually changing their clothes.
Customers get a 360-degree view of themselves in different outfits and can even record multiple try-ons and then view them side by side to make final purchase decisions. Not only that, but Neiman Marcus is incorporating smart mirrors into its cosmetics area, allowing staff makeup artists to record their application process and then email the tutorial to customers for reference.
Bottom Line
Fitting rooms are an essential part of starting your retail business, and with the right design and features, they are an excellent tool for driving sales and creating a positive customer experience. The power of fitting rooms is undeniable and can drive customers from their computers and into your store. Use the tips above and incorporate the right design elements, and your fitting rooms will drive your business forward.