7 Best Voice-over-IP Training Certifications & Courses
This article is part of a larger series on VoIP.
The best courses for voice-over-internet-protocol (VoIP) training certifications equip students with foundational knowledge or advanced expertise to navigate networking and cloud-based communications. Top VoIP training certification courses offer extended instructional material access and affordable pricing suited to small businesses with limited budgets and options for online or in-person learning methods.
Based on our research, the leading VoIP certifications and courses are:
Voice-over-IP Training Certifications at a Glance
VoIP Training Certification

Starting Price

Key Features

Access to Training Course Materials

$384 for the Networking 4 VVoIP (video and voice-over-IP)

Online delivery
Test-only options
Advanced SIP Training

12 months

$300 for the CCNP Concentration Exam

On-demand e-learning
Study bundles
Learning labs

180 days

$200

Slack channel
Certification tracks
Online and on-demand training

12 months

$358

CompTIA e-reader app
Practice questions
Strengths and weakness dashboard

12 months

Certification exams start at $125

Digital badges
Credentials program
Smart tracks guided path

12 months

$1,895 for live online and $2,495 for in-person

Five-day program
Two reference books
Unlimited repeats and no time limits

Unlimited

$400 for RingCentral MVP Basic User Training

Videos and guides
Free webinars
Live training

No stated limitation
SIP School SSVVP: Best Overall Voice-over-IP Training Program Offering Vendor-neutral Courses

What We Liked
Fully animated with quizzes, videos, games, and exercises
Supports multiple devices, including tablets
Group discounts are available, subject to coordination
Where It Falls Behind
No face-to-face or live sessions are available
Lacks digital certificate badges
General knowledge with a limited enterprise focus
Training & Certification Tests*
Networking 4 VVoIP: $384 with access to the SSVVP Certification test
SSCA "Elite" SIP training: $451.25 with on-line access to the SSCA "Elite" Certification test
SSCA "Elite" SIP training: $375
SSCA "Elite" SIP training: $773.10 with test and Networking 4 VVoIP and SSVVP test
SIP and Cloud – Advanced Sales training: $149 with SSSP certification test
WebRTC Integrator training: $225 with online WSQI certification test
*A la carte certification test access is available starting at $75.
The SIP School is our top pick among all the best voice-over-IP training certification programs because of its cloud-based delivery and affordability. SIP School is a globally recognized, leading vendor-neutral certification for networking professionals. Many of its courses can be taken as standalone or foundational courses for more advanced courses, such as the SIP School's SSCA "Elite" SIP training.
Its Networking 4 Voice and Video-over-IP (VVoIP) is ideal for professionals seeking a solid foundation of critical concepts, such as local area network (LAN) and wide area network (WAN). Before attending manufacturer or provider training, many professionals take the Networking 4 VVoIP as a foundational course. Program materials are accessible for up to 12 months. Its courses are industry-recognized programs, namely by Avaya, AT&T, Phone.com, and Verizon.
The SIP School will teach you the fundamentals of VoIP, giving you the basic skills to maintain and set up VoIP systems. However, it does not have digital badges. If you are interested in verified digital badges, consider Cisco. These digital credentials are free if you've completed a Cisco program. Also, if your business has vendor-specific equipment, consider Cisco or Juniper, depending on your system and equipment.
SIP School Features
Group discounts: The SIP School's training and certification tests range from $75 to $773.10. Group discounts are available for company-sponsored professionals or groups of professionals taking the course, subject to coordination with The SIP School's accounts department.
Traditional and crypto payment options: Payments to the SIP School are made through its official website. It accepts credit cards, PayPal, and cryptocurrencies Bitcoin and Ethereum.
Online delivery: All tests and training are conducted online, eliminating the need and costs associated with physically going to training and testing centers. This allows for greater control, remote access, and increased flexibility and mobility.
Cisco CCNP Collaboration: Best Training for Top-level VoIP Engineering Certification

What We Liked
Cisco certifications are valid for three years
Offers continuing education credits
No formal prerequisites for the CCNP collaboration course
Where It Falls Behind
English is the only available language for certification exams
Extra materials and practice tests incur additional costs
Not recommended for beginners
Cisco CCNP Collaboration Pricing
Exams
CCNP Concentration Exams: $300
CCNP Core Exams: $400
Training Programs
Implementing and Operating Cisco Collaboration Core Technologies (CLCOR) v1.1: $1,500
CLCOR E-learning and Exam Bundle: $1,680
Cisco Exam Review (CLCOR): $79
Implementing Automation for Cisco Collaboration Solutions (CLAUI) v1.0: $300
Understanding Cisco Collaboration Foundations (CLFNDU) v1.1: $1,500
Implementing Cisco Collaboration Conferencing (CLCNF) v1.0: $1,000
Implementing Cisco Collaboration Cloud and Edge Solutions (CLCEI) v1.0: $1,000
Cisco's CCNP collaboration training course is the best choice for advanced-level learning focused on implementing collaboration and networking technologies. It's best for network administrators and network or system engineers looking to enhance infrastructure, design, and protocol skills. This well-recognized VoIP certification covers critical engineering technologies, such as call control, quality of service, and Cisco's OS XE.
Cisco's voice-over-IP training certification is made up of two exams: a required core exam and a specialty exam of your choice, the concentration exam. The vendor also recommends training based on your preferred exams and certifications. While Cisco's certifications are widely accepted, it does require two examinations. For networking beginners or engineers interested in taking only one exam, you're better off with the Juniper Network JNCIA Junos certification.
Cisco Features
Guided study groups: Cisco offers expert-led guided study groups as part of learners' 180-day certification test preparation. Study groups are multi-week programs that combine weekly structured learning sessions and self-paced e-learning.
Multiple certifications: Cisco professional certifications cover multiple paths, including entry, associate, professional, and expert certifications. These certifications cover technologies, such as collaboration, cybersecurity, and design.
Continuing education: Stay updated with Cisco's flexible training options for recertification through its continuing education program. As you train, credits accumulate until you can recertify your highest level of certification. Once a higher level is unlocked, all lower levels are automatically recertified.
Juniper Network Associate JNCIA-Junos: Best Course for Network Professionals Working With Juniper Products

What We Liked
Offers a 30-day money-back guarantee
Certifications are valid for three years
Offers discounted exam vouchers
Where It Falls Behind
Only one year of access to the learning portal
OS introductory course is pricey
Juniper JNCIA-Junos Pricing*
Juniper JNCIA Exam Vouchers: $200
Introduction to the Junos Operating System (IJOS): $3,000
Juniper All-access Training Pass: $6,000
*Pearson VUE delivers Juniper Network exams. Exam discount vouchers are available, subject to passing the free voucher assessment test.
Juniper Network's Associate JNCIA-Junos is a multi-tiered track and platform-specific course offering the best training for VoIP to start building proficiency with Juniper's technology. It offers internet technology knowledge and covers essential networking elements, including routers and switches functions, user interfaces, and Junos OS fundamentals.
Cisco and Juniper are leading IT networking equipment solutions offering broad products and services, including certification programs. Upon evaluation, Juniper's JNCIA certification is equivalent to Cisco's CCNA certification, as both provide entry-level networking certifications with advanced course options. However, the JNCIA exam costs $200, while the CCNA is $300.
From a practical standpoint, Cisco remains the industry and market leader, making CCNA certifications more in demand. With Cisco currently the king of the networking equipment space, networking associates that want a top-notch certificate should consider JNCIA's alternative, the Cisco CCNA. Upon completion, there are career pathways that include advanced CCNP Collaboration.
Juniper Network Features
Learning portal: The Juniper learning portal houses learning and training resources, such as on-demand training, training schedules, and all-access training pass dashboards. Use the portal to learn all the foundational information necessary to pass the certification exams.
Self-study bundles: If you prefer independent learning, Juniper's self-study bundles are hands-on guides to build and validate your skills to pass the official certification exams. These are self-paced, web-delivered instructions with exercises that help practice lessons.
University program: Juniper Networks works with higher education institutions to offer opportunities to develop knowledge and skills relevant to networking industry trends. The Juniper Network Cloud and Automation Academy (JNCAA) provides faculty and students with hands-on exercises and relevant instructional material to earn an entry-level Juniper certification.
CompTIA Cloud+: Best Administrator Training Course for Cloud Solutions

What We Liked
Offers different learning bundles for certification courses
Affordable pricing
Certifications recognized by tech companies like Microsoft and HP
Where It Falls Behind
Ideal to have the CompTIA A+ as a foundation for other courses
Requires two exams to earn a certificate
Minimal enterprise or vendor-specific focus
CompTIA Cloud+ Pricing*
Voucher: $358 for Cloud+ exam voucher
Basic Bundle: $462 for Cloud+ exam retake and e-book
Exam Prep Bundle: $576 for CompTIA CertMaster Practice for Cloud+
eLearning Bundle: $1,029 CompTIA CertMaster Learn + Labs for Cloud+
*Prices for CompTIA VoIP training and exams vary based on your location.
Cloud-based professions are in high demand, and the CompTIA Cloud+ certification is our best pick for learning about cloud infrastructure services because of its vendor-neutral approach. Its overview of cloud technology encompasses configuration and deployment, resource and data management, maintenance, security, and troubleshooting connectivity.
CompTIA offers a CertMaster Learn program, a comprehensive, interactive, self-paced e-learning solution with a customizable learning plan. You can purchase standalone products, such as training, e-book study guides, certification vouchers, or a packaged bundle for better value. However, if you want a single-exam certification, consider Juniper. It's the best option if you are using Juniper Network products.
CompTIA Features
Continuing education: Stay ahead of the pack and renew your certification within three years. There are multiple renewal options, such as passing the latest release of your exam, publishing, or working experience.
Partnerships: Whether you're a professional, group, or business, joining the CompTIA community offers varied access to tech-focused forums, industry research, and cybersecurity threat information.
Certification vouchers: Exam vouchers must be purchased to take a CompTIA exam. Buy optional vouchers as part of the CompTIA CertMaster training and save up to 49%. Some bundles include a free exam retake.
Avaya ACIS: Best Support Specialist Training Course for Freelance Professionals & Avaya Users

What We Liked
Courses offer extensive Avaya product knowledge
Digital badges can be used on popular social media platforms and personal websites
Advanced training is available through the Avaya Certified Support Specialist Program (ACSS)
Where It Falls Behind
The prices for Avaya training are higher than other options
Pricing details unlock through registration and sign-in
Certifications are only valid for two years
Avaya ACIS Pricing*
Certification Exams: $125
Online training:
Pricing is not published on the website. Users sign in with an Avaya SSO ID to view pricing based on location.
*Exam prices are based on Pearson VUE voucher rates; prices vary depending on your country or territory.
Avaya ACIS' training is a top choice for IT freelancers and existing Avaya users looking to expand their implementation and support services know-how. This credential certifies that the candidate has gained basic-to-intermediate proficiency in installing and implementing Avaya products. The training teaches students to install product hardware and software and test and troubleshoot the implementation.
While this course is open to everyone, it's recommended that candidates are familiar with Avaya products. The certification exam is proctored and delivered via Pearson VUE Testing Centers. Once you pass, the certification is valid for two years, the same validity period as SIP School certifications. However, consider Cisco if you're looking for certificates with longer validity. Its training certificates are valid for up to three years.
Avaya ACIS Features
Digital badges: Avaya's digital badges help emphasize an individual's skill set through badges that detail their accomplishments and specializations. The badge details the badge holder and sponsor, core skills developed, and expiry date (if applicable).
Complementary customer training: A tutorial hub is available through Avaya's website that serves as a web page providing unrestricted access to Avaya application tutorials. As aspiring certified professionals, these resources supplement your knowledge base before and after your examinations.
Complimentary customer training: Avaya Learning offers a tutorial hub with unrestricted access to introductory videos for Avaya applications. For example, watch user, admin, and developer tutorials for the Avaya Experience Platform through the hub for self-paced systems learning.
Teracom Telecom Boot Camp: Best Training Course for Non-engineers Seeking a Solid VoIP & SIP Foundation

What We Liked
Course includes discussion on 5G wireless
Optional bound companion reference textbook for Telecom 101
Includes three TCO Certifications: CTNS, CVA, and CTA
Where It Falls Behind
Has a recommended prerequisite: CTNS courses
In-person sessions cost more than 150% of the price of online sessions
Online registrations are non-transferable
Teracom Boot Camp Pricing
Live online: $1,895
In-person: $2,495
Teracom Telecom Boot Camp is our recommendation for the best VoIP certification for non-engineers because of its detailed introductory courses and self-paced online classes designed for new IT professionals or technology paraprofessionals. The Boot Camp program focuses on foundational information, including VoIP, SIP trunking, phishing, and internet VPNs.
In addition to the Boot Camp course, Teracom Training also offers free tutorials and previews that give new users and prospective students a better idea of the program and teaching styles of Teracom training. Accessing the tutorials is easy; sign up for free and get instant access to tutorial links upon login.
The Boot Camp is a comprehensive five-day session. If you already have theoretical knowledge from previous sessions or have a working knowledge of telecoms, you're better off with intermediate training like CompTIA's Cloud+. Depending on your interest and knowledge base, choose from specialized VoIP training on cloud solutions, networking, or security.
Teracom Telecom Boot Camp Features
Books and materials: Attend course sessions with updated information covering all discussion topics. Teracom Training Institute has several reference books, textbooks, and study guides available during exam preparation and as a daily resource.
Unlimited plans: Teracom's unlimited plan gives registered candidates unlimited repeats of courses and exams. Use this offering to jump in and out of courses and refresh your knowledge anytime.
Public Seminars: Participate in live, instructor-led training where you can interact with experts and ask questions to further your knowledge. In-person sessions allow participants to network and socialize with colleagues and other professionals in the IT field.
RingCentral University MVP Training: Best for RingCentral Users Needing Administrative or User Training

What We Liked
Online and tuition-free
Self-paced tutorials
System administrator certifications
Where It Falls Behind
Lacks foundational VoIP or SIP training
VoIP training is limited to RingCentral solutions
Requires a RingCentral subscription
RingCentral MVP Live Training Pricing*
MVP User Basics: $400 for one hour of virtual training
MVP Admin Basics: $800 for two hours of virtual training
MVP Analytics Basics: $800 for two hours of virtual training
MVP Troubleshooting Basics: $800 for two hours of virtual training
MVP Full-day Training: $2,500 for eight hours of on-site training
MVP Enhanced training: Starts at $5,000 for training consultation and custom plan, self-service training, and remote instructor-led training
*RingCentral University is available to RingCentral MVP system administrators and all RingCentral Contact Center and Engage users.
RingCentral is one of the best business phone systems in the market. Its MVP user and administrator training programs are great for existing RingCentral customers wanting to learn how to implement and troubleshoot the system. RingCentral University is a centralized hub of information and resources for RingCentral MVP system administrators and all RingCentral Contact Center and RingCentral Engage users.
It offers live and on-demand webinars, online guides, instructional videos, user product training, and self-paced tutorials. New MVP plan subscribers maximize their RingCentral accounts by viewing videos and guides across two paths: the RingCentral MVP Basics and the Advanced materials. Unlike other vendors offering lengthy sessions, RingCentral's courses are between two minutes to over two hours, averaging about 25 minutes.
While RingCentral University makes resources readily available to teams and can be part of your employee onboarding plan, it doesn't offer tech-generic training. If you're looking for a training program to strengthen your team's professional knowledge about VoIP systems, you're better off with Teracom's Telecom Boot Camp. It offers a solid foundation in telecom and networking.
RingCentral MVP Training Features

---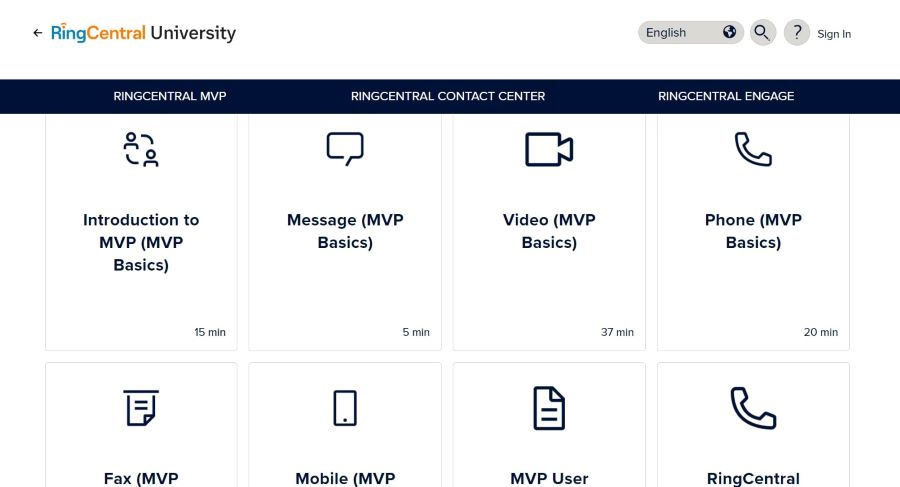 ---
Webinars: Featured webinars are available to users on various topics, from integrations to call queue management. These webinars aim to teach subscribers about different features and provide insights on using the said solutions.
Tutorial videos: Make the most of your business phone system by heading over the RingCentral Support and University to watch tutorials and how-to videos. Examples of videos include how to change device phone numbers, RingCentral app basics, and add cost centers. Check out our article on how to use the RingCentral Chrome Extension for more information.
Guides: RingCentral guides are comprehensive references with different packets for administrators and users and how to set up the solution. Learn more about express onboarding and auto-receptionist quick start in these user-friendly guides.
RingCentral is one of the best business phone systems in the market. To learn more about this VoIP provider, check out our comprehensive RingCentral review.
How We Evaluated the Best Voice-over-IP Training Courses
We evaluated several training courses for VoIP to identify the best options for small businesses and independent professionals. Our evaluation included examining essential criteria, such as pricing, general and niche features, and ease of use. From there, we chose the seven courses and certifications offering the best value for money, package inclusions, and course outline.
Learn how we evaluated the best VoIP training course by clicking on the tabs below:
Options for knowledge development should be accessible to all, including solopreneurs, small teams, and IT freelancers. Pricing and value for money were our top considerations, and we gave higher points if there were critical inclusions like exam retakes, tutorials, and reference books.
We examined each provider and course to determine if they offer critical features like continuing education or career paths, extended instructional material access, and digital badges. Badges and long-term material access are essential to professional success, so having these features earned the providers and courses higher points.
Advanced features for VoIP certifications include inclusive exam retakes and discount vouchers. Certificates are usually valid for at least one year, so institutions and certificates with two to three years of validity earn more points.
The score for expert use is based on our assessment of certification popularity, demand, and delivery or approach. We considered industry reviews and customer feedback to determine the overall value for the price of each training or course.
Bottom Line
Having the proper knowledge of VoIP and collaboration networks is essential to any professional or business using voice communication. VoIP certifications from recognized institutions prove your networking capabilities, making it a great credential. Updated certifications ensure you are appraised of technology innovations and trends that will help manage day-to-day systems operations.
SIP School's SSVVP is our top pick for best voice-over-IP certification because it delivers VoIP and SIP fundamentals through a multimedia and interactive format. It's designed to equip students with the basics of VoIP and networking while being reasonably priced. Check out the SIP School to learn more about the SSVVP program and how to earn a certificate.