What Is an EAP? Small Business Guide (+ Sample EAP Policy)
An employee assistance program (EAP) offers support for personal and workplace problems that can affect employee output at work and satisfaction and happiness at home. Most EAPs help employees with substance abuse and mental health issues but can also cover family issues, wellness concerns, and retirement planning.
As you explore the possibility of an EAP for your small business, you'll want to consider how it works (including if it will be managed in-house or outsourced), the benefits you can expect, and the legal issues that may arise.
If you plan on establishing one for your company, provide detailed guidelines in your employee handbook. Here is a sample EAP policy you can use: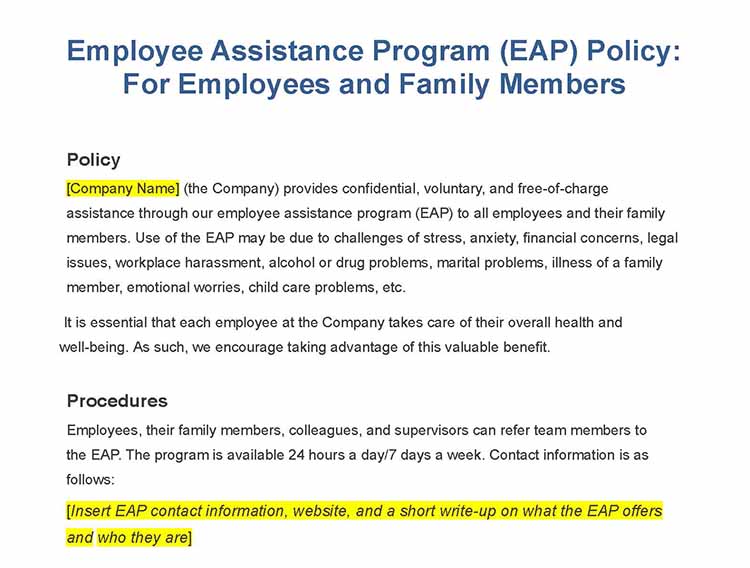 Thank you for downloading!
How EAPs Work
An EAP provides outside counselors, resources, and referrals to assist employees and their family members. Any EAP benefits received by employees or family members remain confidential. Because of the Health Insurance Portability and Accountability Act (HIPAA) regulations, there is complete confidentiality between the third-party EAP provider and the employee. Employers do not know who is utilizing the service, the reason, or how often employees call.
Although their offerings are broad, most EAP services directly or indirectly address mental health, financial concerns, family issues, overall well-being, and legal matters. Specifically, services may include:
Substance abuse treatment
Tuition reimbursement
Legal assistance
Childcare services
Eldercare services
Health & wellness stipend
Grief counseling
Financial assistance & debt relief
Healthy eating memberships
Professional development
Career transitions
Travel credits, and reimbursement
Conflict resolution
Retirement planning
All EAPs provide a predetermined number of counseling referral sessions, typically one to three, at no cost to the employee to fully assess the issue before recommending a resource, therapist, or service to the employee. Most programs do not offer long-term counseling but can help direct the employee toward services designed to be long-term solutions.
Creating an EAP
While workplace stress and mental health concerns are indeed big issues affecting small businesses and their employees, it's not the only reason to create an EAP. By taking a holistic approach, you can help your workers' well-being throughout their life.
You can keep the entire program in-house, outsource all of it, or set up something in between. Consider relying on input from your employees when determining the right EAP for your business. A simple survey could help you decide based on the types of assistance your employees are looking for.
Depending on the setup you use, the costs will vary. Additionally, if you outsource your human resources, your third-party provider may be able to assist with setting up your program.
In-house
In-house employee assistance programs are usually only offered by large corporations with the resources required to manage the services offered. Some companies may offer an on-site gym, daycare, cafeteria, masseuse, mental health counselor, and other wellness services.
Because these EAPs offer all of these services in-house, they're incredibly expensive to operate. Depending on your services, the price tag could cost thousands of dollars monthly. Due to the associated costs, most small businesses shy away from a fully in-house EAP.
Third-party Outsourcing
Employers may partner with a third party to operate their EAP. Under this arrangement, the vendor will charge either a flat fee or a pay-per-use fee. Flat fees can make it easier to budget, but you may end up paying for services you don't use. Pay-per-use fees could save you money initially by only paying for the specific services your employees want, but when you need to scale up, it could become much more expensive.
The biggest benefit to using a third party is that you're not reinventing the wheel. The vendor you choose should be able to handle any of your customization requests and provide you and your employees with access to skilled mental health counselors, therapy services, development programs, and any other support you wish to offer. Small businesses most often choose this setup.
You'll want to do your research because your EAP will directly affect and interact with your employees. Make sure you choose a reputable provider that can offer your team best-in-class services.
EAP Service Providers
EAP

Key Features

Mental health, substance abuse, and depression counseling
Network includes over 120,000 providers

Integrates employee wellness offerings in-house
Provides general counseling services

Eldercare, child care, and nanny assistance
Legal and tax help, plus counseling services

Grief, relationship, and substance abuse counseling
Legal consultations, elder care solutions, and estate planning
NOTE: In order to get pricing information, employers are required to contact each provider on this list to discuss their overall EAP needs.
Hybrid
Some companies choose to do a hybrid EAP setup where they offer some services in-house and outsource others to a vendor. This is another option for small businesses, as it can help expand the EAP services you offer while still being budget-conscious.
With a hybrid EAP, you could develop and implement an internal wellness program that helps employees eat healthy meals at work. Parallel to that, you could partner with a vendor to offer your employees free access to a gym and trainers, something you don't have the resources to build and maintain on-site. This allows you to tailor your EAP to your employee's needs and desires while ensuring you can afford all the services you offer.
Benefits of EAPs
Building an EAP for your small business can help reduce the stress your employees face and benefit your entire company by increasing productivity and efficiency. Employees will also feel supported by you and be more loyal to your organization.
Did You Know?
According to the American Institute of Stress, 94% of workers feel stress at work; 63% of workers report feeling so stressed at work, they're ready to quit.
Other benefits of an EAP include:
If employees are stressed at work or preoccupied with personal issues (like worrying about a sick family member), they aren't focused on their jobs, which can lead to decreased productivity. In fact, according to a recent mindful study, 4 in 5 employees say that workplace stress affects their home and family life, as well as relationships with co-workers.
An EAP can provide assistance and counseling to deal with personal issues at home as well as in the workplace. Giving employees the ability to resolve those issues and focus on work can increase productivity.
Workers with poor levels of mental health are more likely to call out and miss work. In fact, according to a survey by Cigna, 91% of Gen Zers, the largest share of today's workforce, report feeling stressed or anxious all or most of the time.
Providing employees with personal support options, such as an EAP, can help decrease absenteeism. When employees are cared for as a person, they're less likely to miss work.
An employee assistance program treats workers as individuals, supporting them and their families through challenging times. An EAP will help employees resolve those issues outside of work through counseling. This improves their mental state and happiness, which increases their morale.
Even if they don't use all of the EAP services your company offers, knowing that their employer cares enough to provide them with this type of support can also increase their engagement with your company. Poor engagement also improved (28%) after the implementation of an EAP, according to a LifeWorks study.
Many people today go without the mental health and support services they need because they can't afford them. As their employer, you can help your employees with these and other needs by providing them access to services through your employee assistance program.
Through mental health services, tax planning, and nanny assistance, your EAP can give your employees a healthier and well-planned future through resources they may not otherwise have access to. And, EAPs are typically free to employees.
When employees feel supported by their company, they're less likely to leave. As such, one of the best and easiest ways to retain your employees is to provide EAP services that support their needs. By helping employees address their issues and concerns, you can increase retention by gaining the trust and loyalty of your employees.
Legal Considerations
When your business offers an EAP, it may include mental health services, access to therapists, and other support which would require confidentiality. This opens up some potential legal issues, especially if you're offering all or part of your EAP in-house.
Mandatory Referral
In most cases, employees can choose whether or not they participate in your EAP. If an employee is going through marital problems, and your EAP includes counseling services, they can choose to use that service entirely on their own.
However, if an employee has a substance abuse problem, you may require them to use services under your EAP. It's best to get the employee's consent for a mandatory referral, but you may require the counseling service even without their consent if you have strong documentation in their personnel file of a problem.
If your employee signs a consent form, then the counselor could speak with you after treating the employee to provide limited feedback about the employee's fitness for work. Without a release, however, it's much more difficult to allow an employee to continue working unless the counselor provides you with a fitness certificate or other form stating the employee's issues are resolved or properly under control. The counselor cannot provide you with any more information as it is confidential.
Use Caution: Even for an employee with a substance abuse problem, we don't recommend requiring the use of EAP services as a condition of continued employment. The employee could claim disability discrimination based on a mental disability, invasion of privacy, or misuse of confidential medical information.
Confidentiality & HIPAA
Gym memberships are one thing, but many EAPs today involve medical information. When an employee uses a mental health counselor provided under your EAP, even though the counselor may be paid by your company, you have no right to access the employee's medical record. The only time a mental health counselor could release limited information is if the employee signs a consent and release form.
There are two exceptions:
An employer may receive a limited report showing what services were provided, the cost of those services and the type of issues addressed. However, this information will be anonymous and not include any specific employee names.
If an employee is using EAP services because of a mandatory referral, the provider can inform the employer about whether the employee is attending required sessions, participating in required services, or is fit to return to or continue working.
HIPAA establishes privacy rules and standards to protect the privacy of medical records and personal health information. It applies to health plans and providers. So, if you have an in-house medical professional, even if your company pays for 100% of their service, they are not allowed to disclose any patient information to you, absent a waiver and consent.
Employee Assistance Program Frequently Asked Questions (FAQs)
An employee assistance program (EAP) is designed to provide support to employees at no cost to them. This program can help employees with personal issues, such as mental health, substance abuse, childcare, tax assistance, retirement planning, and more. It can also help with workplace issues, such as social issues, workplace harassment, and more.
---
An EAP is a separate benefit from health insurance. While most health insurance providers offer it, the employee assistance program is only for counseling and assistance services and will not be included on a benefits statement.
---
Bottom Line
An employee assistance program can be a cost-effective way for you to add value to your employees' experience. Added to your benefits program, an EAP can give your company a competitive edge to attract and retain top talent. Giving your employees access to resources and support to help manage their entire lives will make them happier and more productive employees.