An automatic call distributor (ACD), also known as an automated call distribution system, answers and routes incoming calls for flawless customer experiences. Small business owners use automatic call distribution or call routing services to create preset conditions to ensure every caller arrives at the right agent or department.
How Automatic Call Distribution Works
Most call centers deploy ACD technology to prevent a disconnect after business hours or during times with high traffic volume. You can even use your automatic call distribution tools to deliver answers to frequently asked questions. While ACD software resembles an interactive voice response (IVR), an IVR system is a subset of an ACD program.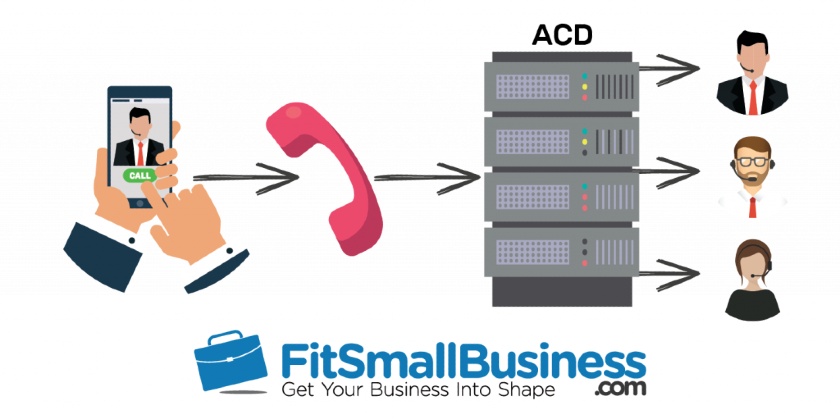 The way it works within a specific business phone system depends on organizational preferences. For example, businesses or contact centers can configure automatic call distribution to route callers based on call handling strategies such as:
Skills-based routing: Also known as weighted call distribution, your ACD sends calls to agents with specific skill sets or experience levels, ensuring the right agents take calls suited for them.
Round-robin distribution: Circular call routing makes it easier to handle high call columns and works exceptionally well for sending calls to sales agents. It distributes calls evenly among your reps.
Idle agent routing: Also called uniform call distribution, it improves efficiency by sending calls to available agents or agents with higher downtimes.
Programmed distribution: With programmed routing, a business sets specific rules for call routing. Owners may send after-hour phone calls to another facility or route calls from specific area codes to agents with the right language skills.
Simultaneous call routing: Your ACD rings all agents at once, and the call is routed to the person who picks up the phone first.
When a customer calls your support line, your ACD system uses your preset conditions to determine the next steps. For example, calls to your technical support extension get routed to tech agents, whereas a shipping query heads to your customer service team.
However, if your agents are busy, your customers might request an automatic call back or get forwarded to voicemail. Plus, integrations with your customer relationship management (CRM) program or help desk software ensures every representative has customer details at their fingertips.
Automatic Call Distribution Providers
A call center phone or cloud private branch exchange (PBX) system provides call routing and handling features for improved caller experiences. While many voice-over-internet-protocol (VoIP) providers suit small businesses with IVR capabilities, services built for contact centers deliver increased functionalities such as:
Intelligent call routing
Multiple call queues
Call monitoring
Integrations
Voicemail features
Some example call center phone solutions with ACD features designed to enhance existing operations include:
Freshcaller

The Freshmarketer offers several solutions, including Freshcaller, a call center platform requiring no downloads, maintenance, or special hardware. Businesses can port an existing number, select a carrier, or buy a phone number from more than 90 countries.

This simple software provides an advanced AI routing engine and call handling features to track performance or coach representatives. Plus, its 21-day free trial gives you a chance to see how the system works in your business.

Talkdesk Cloud Contact Center Software

Talkdesk CX Cloud is an end-to-end solution providing ACD and IVR functions, including skills-based routing. Along with call center features, you also get workforce and customer engagement tools.

With more than 60 integrations and an incredible 100% service level agreement (SLA), Talkdesk software delivers excellent employee and customer experiences.

Genesys Cloud

Quickly deploy your call center software using Genesys Cloud's easy-to-use interface and built-in integrations. Along with outbound and inbound IVR call routing features, your agents can also see conversations from social media, chat, and email.

Genesys Cloud offers skills-based routing, artificial intelligence (AI)-routing features, and an IVR with speech recognition. With its flexible pricing models, you can pay by the hour, user, or simultaneous users.
Types of Automatic Call Distribution Features
While ACD features differ by provider, most systems use AI-enabled technologies and user-friendly dashboards to create better experiences for customers and employees. It's a good idea to try out new software via a free trial or demonstration. While testing your ACD solutions, pay special attention to the top three features.
Smart Routing
You want a system designed to support your customers throughout their journey. Think about what type of routing options you need, such as round-robin for sales teams or skills-based for technical support.
Intuitive Dashboards
Make it easy for agents to pull up customer data or save notes using simple interfaces. Check usability by performing standard call functions and seeing how long (or how many clicks) it takes you to get to the right screens.
Agent Support
A remote workforce makes training challenging. However, your automatic call distribution software helps you provide instant feedback via call monitoring features such as call barge, call whisper, and call conferencing.
Automatic Call Distribution Pros & Cons
| Pros | Cons |
| --- | --- |
| Helps develop flawless customer experiences | Setting up your call routing can be challenging for first-timers |
| Improves agent training and capabilities | It may feel impersonal to customers calling a small business |
| Boosts productivity during high-volume times | ACD may be overkill for companies with a small staff |
Frequently Asked Questions (FAQs)
What does automated call distribution measure?
ACD systems collect usage data for real-time and historical reports for performance reviews, customer experience analysis, and employee schedule optimization. Typical data points include waiting times, call length, and call volume.
What is the difference between IVR & ACD?
An IVR system, also called an auto-attendant, sends callers to an automated system to select an extension or department for routing purposes. Automatic call distribution technology automatically routes callers to an agent's line, or you can send people to an IVR system integrated into your ACD to assist with frequently asked technical questions or account details.
What are the benefits of automatic call routing systems?
ACD solutions get your callers to agents quicker, reducing the number of times you need to transfer calls or wait on hold. Faster call routing boosts productivity and efficiency, leading to extra operational savings.
Bottom Line
Your customers don't want to wait for answers. Nor do they want to talk to agents who don't fully understand their situation or customer history. With automatic call distribution technology, you answer calls faster, personalize experiences, and deliver comprehensive solutions.
Whether you're connecting remote teams, adding a call center, or need lines for your sales agents, Freshcaller makes it easy to add ACD capabilities to your organization. Get started by signing up for a Freshcaller free trial.