What Is Bring Your Own Carrier (BYOC)?
This article is part of a larger series on VoIP.
Bring Your Own Carrier (BYOC) refers to selecting a carrier and connecting your system with a voice-over-internet-protocol (VoIP), unified communications (UC), or contact center platform. This allows you to keep your existing provider for continued telephony access while benefiting from cloud-based communication features. BYOC lowers costs and increases flexibility and control over your system.
How Does Bring Your Own Carrier Work?
As a solution ideal for businesses looking to maximize cloud telephony, BYOC allows you to maintain your current public switched telephone network (PSTN) service. It redirects existing circuits to your cloud-based platform. The process starts when your cloud call center receives a call. Calls are routed to agents through call management features, such as interactive voice response solutions (IVRs), auto-dialers, or automatic call distribution (ACD) systems.
Call center solutions use a public switched telephone network (PSTN) or session initiation protocol (SIP) trunk that transports the calls as data packets. BYOC allows companies using cloud private branch exchange (PBX), contact-center-as-a-service (CCaaS), and unified-communications-as-a-service (UCaaS) solutions to add or select a SIP trunking provider.
Rather than be dependent on packaged SIP solutions, customers using software-as-a-service (SaaS) solutions have greater control over routing, capacity, coverage, and outbound and inbound call costs.
How BYOC Works With SIP Trunking
Before using BYOC offerings, ensure both systems are compatible, meaning your carrier partner sends and receives SIP traffic to and from your VoIP communications provider. While the process varies depending on your chosen providers, when you bring your own carrier, SIP trunking replaces your traditional phone system by allowing users to make calls via an internet connection instead of copper phone lines.
A VoIP SIP trunk comprises multiple SIP lines that simultaneously take calls and route them to different devices, departments, and locations via the internet.
These trunks are added to the existing private branch exchange (PBX) system without connecting any additional hardware or equipment. If you have a current PBX phone system and want to explore it further, here's our list of the best hosted PBX providers and their service offerings to see which is best for your business needs.
Want to know more about SIP trunking? Read our article on SIP trunking for small businesses to learn more about sending and receiving communications over the internet through PBX equipment.
Ways to Use BYOC
There are two ways to use BYOC: inbound only and a combination of inbound and outbound.
Inbound only: Configure the number to receive inbound calls only
Inbound and outbound: Configure the number to make and receive incoming and outgoing calls
The rates vary between the different providers, but on average, incoming call rates start at 1.5 cents per minute, with outgoing call rates beginning at 2 cents per minute.
Providers That Offer BYOC
With BYOC, you maintain greater control over your call routing and services while taking advantage of preferred carrier pricing. If you're looking for providers that offer BYOC solutions, here is our list of the three best BYOC providers:

RingCentral MVP (Message, Video, and Phone) provides cloud PBX services in more than 40 countries and offers a Bring Your Own Carrier solution, catering to greater access to its services in areas beyond its coverage. Its BYOC service allows customers to plug in telephony from any existing third-party provider into its RingCentral MVP platform.
BYOC is a feature under RingCentral MVP easily configured in your RingCentral account portal. RingCentral MVP offers four plan options: Essentials, Standard, Premium, and Ultimate. Its Essentials plan covers message and phone channels for up to 20 users starting at $19.99 per user, paid monthly. This is ideal for businesses that want the benefits of a unified communications platform while maintaining carrier contracts, numbers, and calling rates.
Read our comprehensive RingCentral review to learn about its key features, pricing, alternatives, and why it's one of the best call management systems in the market today.

Freshdesk allows you to either retain your current carrier or choose from its list of partner carriers. This enables you to use the phone number carrier best suited for your business needs while leveraging top-shelf cloud telephony services, including call routing, IVR, and voice bots.
To maximize Freshdesk's BYOC offering, you simply email Freshdesk the numbers you want to be retained, and the SIPs generated will be shared with your chosen carrier. Workflows and routing per number need to be established, and then calls are now made and received from your Freshdesk account.
Freshdesk has three paid plans: Growth, Pro, and Enterprise. Its Growth plan starts at $18 per agent (paid monthly). This includes custom greetings, voicemail, number porting, and basic call queues. Learn more about this provider in our Freshdesk review to see if it is suited to your needs.

Twilio offers Bring Your Own Carrier Trunking or BYOC Trunking, allowing you to maintain and continue using your existing PSTN voice carrier and phone numbers. Users have two options: add Twilio Programmable Voice to your carrier plan or use Twilio Flex Contact Center with your carrier.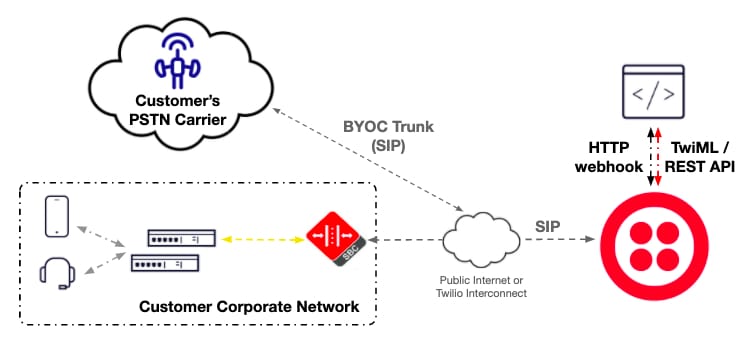 ---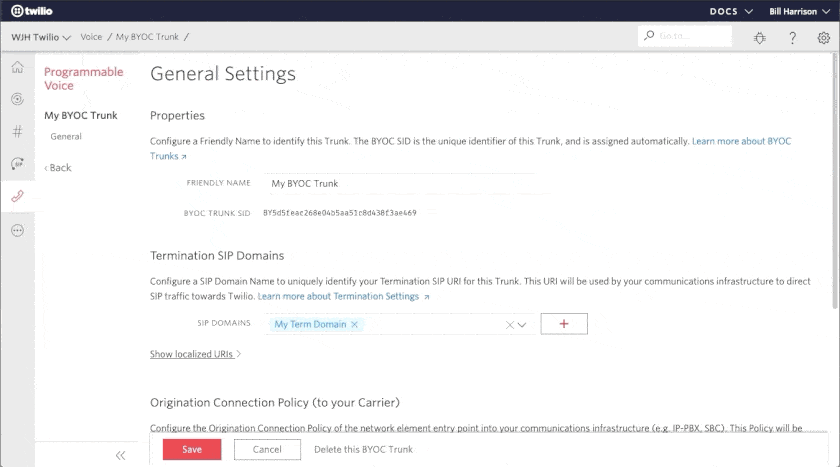 ---
Twilio's Programmable Voice API and intelligent services, like call recording and toll-free calls, come within a pay-as-you-go option. Local calls start at 1.3 cents per minute. BYOC Trunking pricing for receiving and making calls from your carrier starts at 0.4 cents per minute. Twilio Flex, a programmable contact center platform, begins at $1 per hour and $150 per month. Read our Twilio review for more on this communications-platform-as-a-service (CPaaS) provider.
Not what you're looking for? If you require an office telephony setup that offers specific services, read our guide on business phone systems to help you identify which solution is best for you.
Benefits of Using BYOC
BYOC offers small businesses affordable access to advanced communications features by allowing you to continue phone functionalities you're already familiar with while gaining greater control over your call traffic. Below are some of the advantages to expect when you include a BYOC strategy in your business phone system:
Rather than bundled packages that include both cloud services and PSTN access, BYOC is a more affordable option that enables you to have a separate carrier and VoIP provider. It also enables you to scale up as needed. BYOC is suited for companies that get great call rates from local carriers; you can select the best carrier for your needs, independent of your hosted dialer's partner providers.
---
SIP trunks are easily scaled up or down as the need arises. In terms of daily use, you have greater flexibility and control over your systems. Manage phone numbers, SIP trunking, and implement changes through your chosen carrier without altering processes with your hosted dialer's carrier. The cloud's broad network access and elasticity enable you to expand your resources at will.
For companies with multiple sites, BYOC allows you to choose between having your preferred single global provider and multiple providers to cater to each location. In simpler terms, you select the best SIP trunking provider that responds to the needs of each branch or location.
---
As a small business, working with a preferred local carrier means you get greater phone reliability within your area, and coordination with your carrier is simpler. BYOC coupled with UCaaS delivers a capacity for scale and wider geographical coverage, allowing you to grow into new markets. Further, by continuing with your existing partner, there is little migration and adjustment on your end, equating to less downtime and retraining of staff members.
---
Need help setting up your VoIP system? Read our VoIP setup guide for detailed information.
Frequently Asked Questions (FAQs)
Are SIP trunking & BYOC the same?
No, they're not. BYOC is a service that allows companies to choose their SIP trunk carrier (e.g., provider of telephone lines and numbers) to the cloud. A SIP trunk, like the PSTN, is a technology that transports a call from one person to another. It acts as the infrastructure of your technology stack.
How much does BYOC cost?
BYOC is typically a feature or add-on to paid plans and packages of VoIP service providers. Based on market review, the average paid plan with a BYOC option begins at $20 per agent, paid monthly.
Do small businesses need BYOC?
Yes. Small teams and businesses in the process of growth and expansion benefit from BYOC through service expansion of phone services with advanced cloud-based features at preferred rates. Further, if your company is in the middle of a multiyear contract, you will be able to continue with your service plan without paying a hefty pre-termination fee.
Bottom Line
BYOC enables you to shift call control from on-premises to the cloud while maintaining your existing PSTN services and infrastructure. Once you understand what BYOC is, consider this strategy to minimize your expenses while maintaining control over call routing and gaining access to a wide range of cloud-based communications features.