Twilio Review 2022: Is It Right for Your Business?
This article is part of a larger series on VoIP.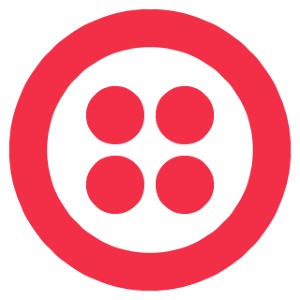 Twilio Overview
PROS

CONS

Pay-as-you-go pricing structure is budget-friendly for small businesses
Requires a dedicated dev team to implement features
Extremely customizable communications platform
Lacks built-in collaboration features like task management, unlike Nextiva and other similar competitors
Twilio API supports various programming languages, such as Java and Python
Complicated user interface
Twilio services are available in over 180 countries
Lacks prebuilt integrations
Supports global text messaging
What We Recommend Twilio For
Twilio offers flexible communication solutions for businesses that want to send and receive messages and calls within an app or create chatbots for their website. The platform is also designed for software developers who want to reduce the time and effort spent on app development. With its web service APIs, Twilio is mainly used for managing marketing campaigns and automating user verification.
When to Use Twilio
Businesses wanting to personalize telemarketing communications: Twilio is one of the best text messaging services that lets businesses add text capabilities to any web program or mobile app. Its text marketing solution pairs your messages to the channel that your customers prefer to increase conversation, engagement, and retention. It also comes with a messaging suite that enables you to create a comprehensive view of your customers' interests.
Organizations that need to fully customize their interactive voice response (IVR) system: Twilio has a fully programmable contact center solution called Twilio Flex. The platform allows you to create an IVR setup that incorporates all the menus and self-services that suit your business needs. It uses flexible API tools and a drag-and-drop IVR workflow builder called Twilio Studio. This puts Twilio on our list of the best IVR systems.
Companies with a team of developers that want a programmable communication solution: Twilio offers web service APIs to enable voice, chat, text, and video within websites and mobile apps. This enables businesses to interact with customers on their preferred channel while having the ability to capture and analyze customer data in a single view. To make this possible, it requires the help of software developers to build a custom communication system within the business.
Small businesses that want to be billed based on service usage: Twilio's pricing model is based on the pay-as-you-go method, which means users only need to pay for the services that they use. This helps businesses optimize the cost of managing their communication apps. Volume discounts and committed-use discounts are available.
When Twilio Might Not Be a Good Fit
Companies that want a ready-to-use communications solution: Twilio is a highly customizable solution that is geared toward programmers and developers. In this case, it is not a great fit for companies that don't have their own development team to build voice and SMS capabilities into their applications. If you're looking for an alternative that doesn't require the use of codes and APIs, choose RingCentral. It is a complete business phone system for managing communications across channels.
Teams looking for an online collaborative workspace: While Twilio provides a wide range of programmable customer engagement features, its current capabilities don't focus on team collaboration and project management. If you're looking for a host of collaboration tools in a single platform, consider Nextiva. It is one of the best small business phone services that offers an easy-to-use collaboration app called CoSpace. It includes a team calendar, task management, and meeting scheduling.
Businesses that want a text messaging service with customer relationship management tools (CRM): Twilio's text messaging capabilities are designed to support marketing campaigns and measure the impact of customer engagement. If you're looking for a provider that gives you a unified view of the entire customer journey, try Podium. It offers various tools to record all customer interactions, manage payments, and automate review collection. It also offers a more predictable subscription billing that includes various feature combinations.
Twilio Pricing
Twilio has two standard pricing categories: monthly recurring charges (MRCs) and pay-as-you-go usage charges, starting at 1.3 cents per minute when making calls. MRCs are billed to your account every month and are applied to the following services: Twilio phone numbers, support plans, and short codes for SMS.
For pay-as-you-go pricing, users are charged based on the type of message, destination, and your recipient's carrier. In other words, users will only pay for the time they actively use Twilio's services, so there's no long-term contract involved. Plus, Twilio automatically provides volume discounts once you hit monthly volume thresholds. Trial accounts are available for those who wish to explore its product offerings.
Twilio Product

Starting Price

Features

Programmable Voice

$0.0085/min to receive and $0.013/min to make a call

Unlimited capacity
Global low latency
Advanced call control

Programmable Messaging

$0.0075 to send or receive a message

Real-time reporting and insights
Automatic content encoding

Programmable Video

$0.0015/min per participant

SDKs for mobile and desktop
Video recording and screen sharing
Up to 50 participants

Twilio SendGrid Email API

$14.95/month for up to 40,000 emails

Up to 100 emails per day for free

Real-time data and analytics
Tools to optimize deliverability (Deliverability Insights)

Twilio Conversations

$0.05 per active user, per month

Control participant roles in any conversation
Programmatically archive and recall conversations
Integrate back-end business systems
Twilio Features
Twilio offers a customer engagement platform designed for developers and businesses that want to build their own communication capabilities into their existing applications. For its implementation, Twilio provides dedicated APIs and software development kits (SDKs) for various communication channels, such as voice, video, chat, email, and SMS. With its customizable platform, companies are able to create more engaging customer experiences.
General Features
Twilio features a flexible, programmable API structure to enable voice, chat, and video conversations within mobile and web apps. It offers a unified communications solution, allowing companies to personalize customer interactions across the entire customer journey. Using its web service APIs, Twilio helps in automating marketing campaigns and user verification. Other services include programmable connectivity options and use case APIs.
As an API-driven platform, Twilio is more technical to implement. In this case, it requires the help of developers to build customized communication capabilities for businesses. To guide users through the process, Twilio provides documentation containing in-depth instructions with sample applications. It also offers a list of starting languages and code samples for Ruby, Java, and Python.
Twilio MessagingX
Twilio MessagingX offers communication APIs to embed communication channels into existing applications and tools. The Programmable Messaging API lets you send and receive transactional messages like SMS, MMS, and WhatsApp messages on customers' preferred communication channels. It also includes software for transactional messaging and managing compliance, replies, deliverability, and phone numbers.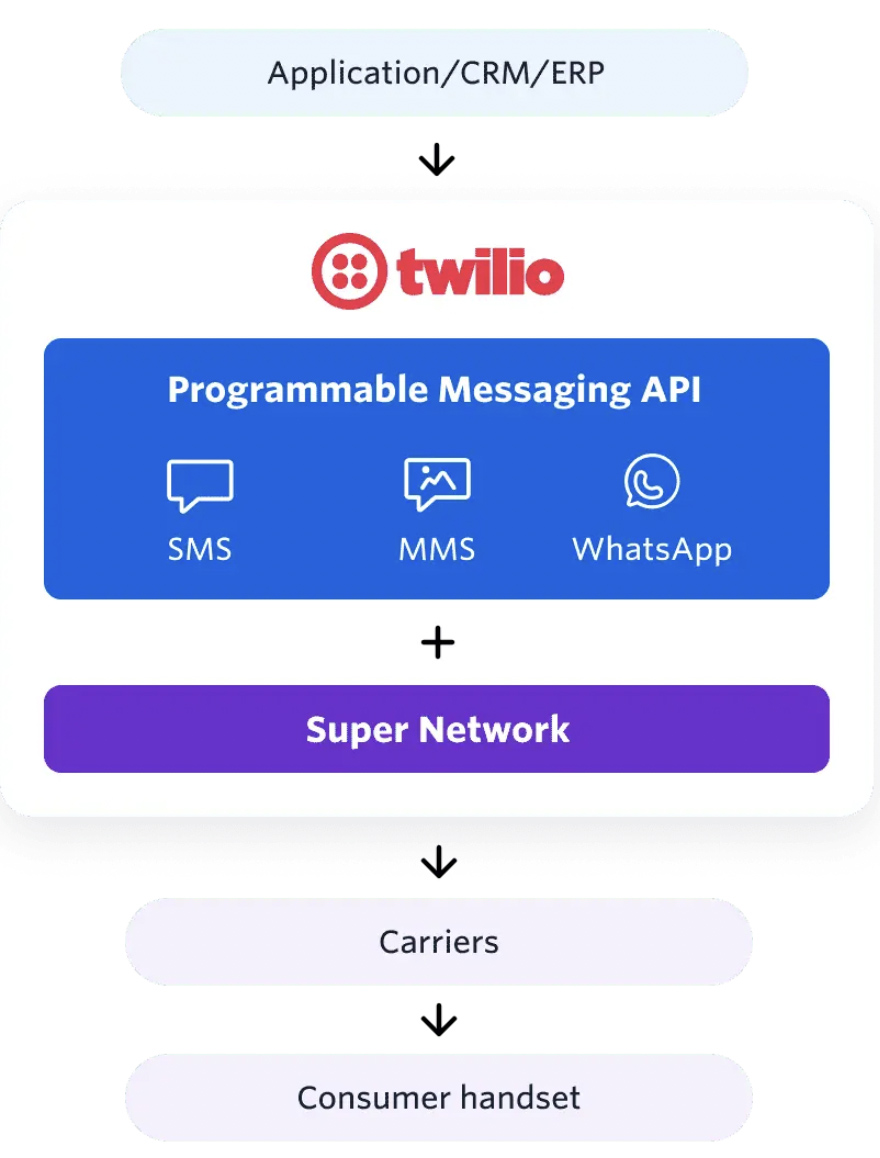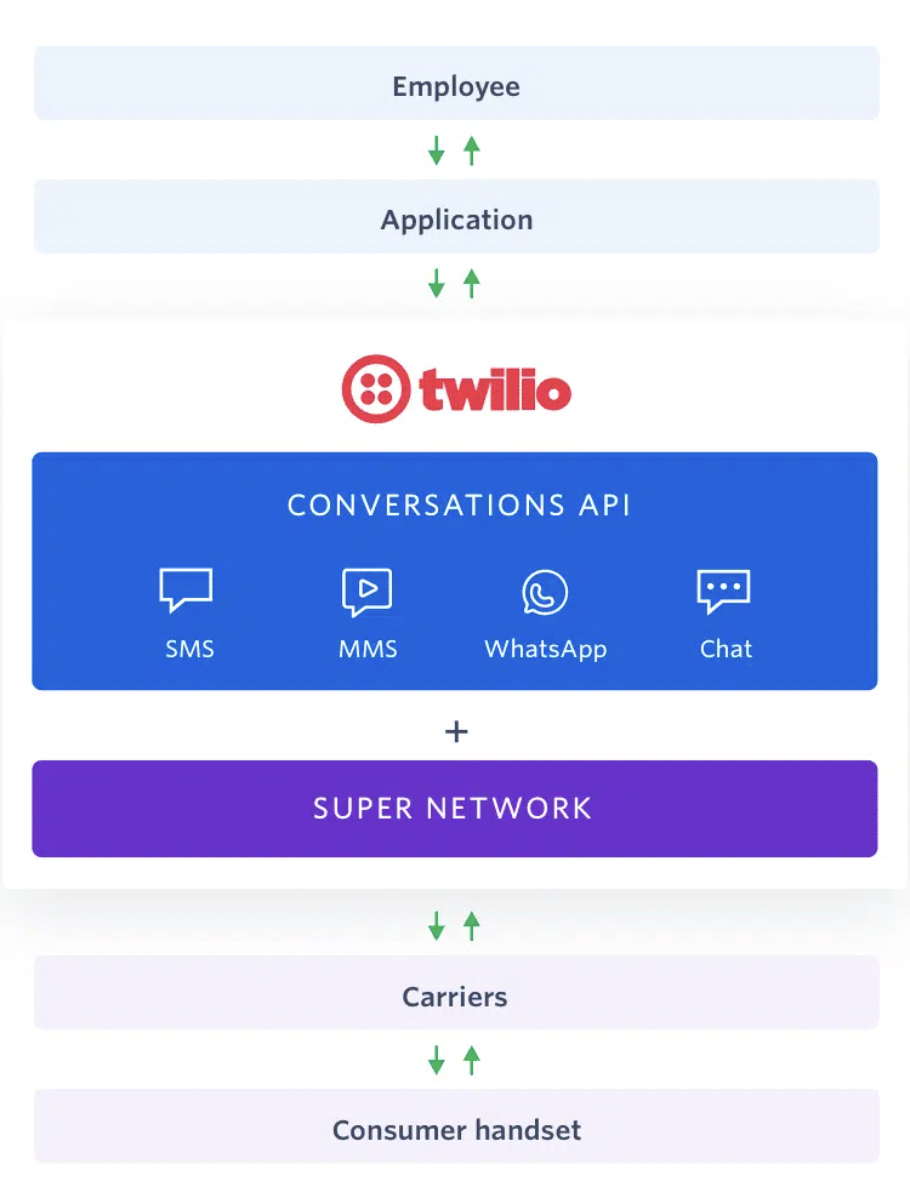 Twilio's communication APIs allow you to send alerts, notifications, and promotions on your customers' favorite channel.
(Source: Twilio)
For group texting, chat, and messaging apps, Twilio's Conversations API offers a unified API for scalable, multiparty conversations across channels. This allows users to easily implement conversational messaging, manage participants, view message archives, and add integrations. Plus, Twilio provides several code samples to build the program based on specific use cases, such as appointment reminders and instant lead alerts.
---
Programmable Voice
Use Twilio's Programmable Voice to embed voice-over-internet-protocol (VoIP) capabilities into your website or business app with the use of APIs and SDKs. It offers a wide array of add-on features, such as IVR, recording transcriptions, and speech recognition, to help developers improve audio communication and customize the calling experience.
Twilio Studio is a visual editor for crafting intelligent IVR workflows. It utilizes artificial intelligence (AI) and APIs to build dynamic IVRs that respond intelligently to customer inputs. For tracking marketing campaign performance, Twilio offers call tracking solutions to easily track and analyze calls where your data already exists. Local and toll-free phone numbers are purchased in bulk, and then leads are sent to any endpoint using Twilio's APIs.
---
Twilio Video
Twilio Video is a programmable, real-time communications platform that uses APIs and SDKs to build video calling and conferencing capabilities into existing applications. It offers customizable video solutions to create high-quality video experiences according to your business needs. The Programmable Video Rooms serves as a virtual space where participants communicate and exchange audio, video, and data tracks using real-time communications (RTC).
Twilio helps you launch your own video functionalities by letting you add popular features, such as custom layouts, virtual backgrounds, meeting recording, and screen sharing. Plus, it comes with a free Video Insights tool that optimizes video performance, troubleshoots issues, and monitors data analytics.
---
Twilio Live
Create your own interactive livestreaming experience or directly integrate livestreaming into your application through Twilio Live's developer resources. It offers optimized tools for browsers and mobile apps, including livestreaming APIs, SDKs, and sample codes. Interactivity features include audience pools, text-based chat, and the option to invite participants to speak to the live audience.
Aside from a full-featured livestreaming experience, Twilio helps you build a highly flexible livestreaming software to record livestreams in real time and securely save content. Plus, Twilio's secure, cloud-based infrastructure is completely optimized to stream globally with minimum latency to web clients or external channels.
---
Twilio SendGrid
Twilio SendGrid is an email marketing tool that lets marketers and developers build their own email programs for marketing campaigns. With SendGrid, users are able to schedule email campaigns, design templates, upload contacts, and optimize delivery speed. Since all emails are sent from a single platform, it eliminates the need to extract data from multiple places while also making your email program more streamlined.
Twilio SendGrid comes with an intuitive analytics dashboard that lets you monitor engagement data, organize email events, and block invalid emails from your contact list. To protect your brand reputation, Twilio offers various security tools and features, such as two-factor authentication (2FA), internet protocol (IP) access management, and Teammate Permissions.
---
Twilio Alternatives
Twilio offers a wide range of products to help developers build unique communication capabilities into their applications. However, it may not be a great solution for businesses looking for a complete phone system with preconfigured plans, collaboration tools, and robust call management functionalities.
If you're looking for a cloud communications solution other than Twilio, here are providers to consider:
| | | |
| --- | --- | --- |
| Best for: Businesses that need a complete phone solution with advanced call management capabilities | Best for: Companies wanting to manage the entire customer journey—from marketing to review collection | Best for: Businesses looking for a low-cost, unified communications solution with customer relationship management (CRM) tools |
| Starting price: $19.99 per user, per month, billed annually | Starting price: $289 per month (based on three users) | Starting price: Free for the basic plan; $39 per user, per month, billed annually |
| or | | or |
Twilio Reviews: What Users Think
The majority of Twilio online reviews highlight that it is an excellent solution for building a unique communications infrastructure. Many users are using the platform for delivering marketing content across various channels. Twilio helps them engage customers on their channel of choice, whether through text messaging, chat, or voice calling. They also like how they are able to customize their communication system and monitor message delivery in real time.
At the time of publication, Twilio has earned the following scores on popular user review sites:
Negative reviews about Twilio reveal that the platform is difficult to set up because it requires the skills and expertise of a developer to implement its tools and features. New and non-tech-savvy users commented that it requires a steep learning curve when understanding how to utilize its platform. Others also pointed out that it has a complicated user interface and requested a simple version for new users.
Bottom Line
Twilio offers a programmable, cloud-based platform designed for developers and businesses that want to implement digital communication capabilities into their existing application flows. It offers a wide spectrum of products and services, such as artificial intelligence (AI)-powered bots, email marketing tools, and programmable voice, chat, and video. With its customizability and API integrations, Twilio helps businesses build more engaging customer experiences into their day-to-day operations.