What Is a W-4 Form? How It Works & Helping Your Employees Complete It
A W-4 Form, or Employee's Withholding Certificate, gives you the information you need to determine how much money to withhold from your employees' paycheck each pay period to pay their income taxes. Employees must fill it out properly and submit it to you before their first pay day to avoid a big tax bill and penalties in April. There are five parts, and it shouldn't take more than a few minutes to complete.
Did you know?
In 2020, the IRS modified the W-4 Form to simplify it and make it more accurate. Most employees now only need to fill out Steps 1 and 5. However, we'll explore the entire form so you can advise your employees on filling it out to their best advantage.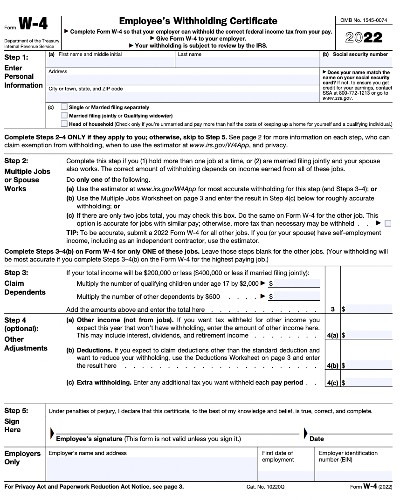 How Form W-4 Works
New hires should complete the W-4 form and submit it to you as soon as possible after they begin working, as you need time to process it before you start doing payroll. You'll use the information they enter (i.e., marital status, dependents, etc.) to cross reference the IRS withholding table so you know how much money to deduct from their paychecks. You'll eventually report the tax withholding on their year-end W-2 form.
Colorado, New Mexico, North Dakota, and Utah use the federal form. Other states have their own form instead of or in addition to the federal one. Check with your state to see which you need.
You must implement the new W-4 Form by the start of the employee's first official payroll period ending on or after the 30th day from the date you receive it. For example, consider an employee who is paid bimonthly (on the 15th and last day of the month). He turns in his W-4 on Nov. 12th. You need to set up his employee record and pay using the new W-4 Form by Dec. 15.
Note: You cannot accept a W-4 Form by email or fill it out for an employee. They must sign it in person. You can receive it in print or through electronic systems that comply with IRS regulations.
If you want to learn about more forms employers are responsible for filling out or collecting, check out our payroll forms article.
Tips to Help Your Employees Complete the W-4 Form
It's not only in your best interest to get the W-4 Forms filled out correctly and on time, but it also helps your employee too. Here are some tips for getting the forms done right.
Set a deadline: New employees who do not provide you with a Form W-4 must be treated as a single filer with no adjustments, meaning you'll withhold the highest amount allowed. However, they must eventually submit the form. Give them a deadline—preferably before their first paycheck.
Make filing it out part of orientation: Including the W-4 Form with the orientation paperwork you give out when hiring a new employee ensures it will get done in a timely manner.
Remind new hires to use the name on their legal documents: To avoid confusion with identification, remind your employees to use their legal names—those on their Social Security cards—rather than nicknames or pen names.
Keep it simple: The new form is designed to be simple, so if you know the employee does not have any of the deductions noted on the form, encourage them to fill out Parts 1 and 5 and turn it in.
Walk through the process of how to fill out a W-4 Form with your employees: Even the simplest form can confuse a first-timer. Explain how to fill it out, walking them through the calculations if needed. Explain how to do dependent calculations and when to use other adjustments or deductions.
Offer video assistance: Create a how-to video for orientation, or find one on YouTube. (Money and Life TV has a very detailed video, with markers for specific sections and a spreadsheet with examples.)
Note: Employees can be hard hit if they underpay taxes, which can affect employee morale or cause them to need a pay advance. Ensuring that they fill their W-4 out correctly is vital to help reduce the amount of issues that you'll face as a result of this.
Expand the headers below for more details on each section of the 2022 Form W-4:
The only parts that an employee is required to fill out are 1 and 5. Part 1 provides contact information and filing status, and Part 5 is the signature block. Be sure the employee signs the form with their legal name. If employees only complete these two sections, the IRS will direct you to withhold money based on their filing's standard deduction without any other adjustments.
As an Employer, you need to fill out the Employers Only section in Part 5.
---
Part 2 is for employees with multiple jobs or those with a spouse who also works and will be filing taxes jointly with them. Some employees may not want to fill this out; it is not mandatory. If they choose to fill this out, they have three options for estimating withholdings.
IRS Tax Withholding Estimator: The IRS says this is most accurate, so you may want to recommend they take the time to use this online tax withholding estimator.
Multiple Jobs Worksheet: The worksheet provided on page 3 of the full Form W-4 is simple to follow. Advise employees not to use this unless your company is their highest-paying employer. If your company isn't their highest-paying employer, recommend they redo the W-4 for the employer that pays them the most. If they are married filing jointly, this means the highest-paying employer between them and their spouse.
Check the box in Option C: Advise employees to do this if they only have two jobs and both are similar in pay.
---
Part 3 is for employees with children or those with a qualifying relative living with them and depending on their income may qualify for tax credits. Tell your employee that they need to earn less than $200,000 in total income (from all income sources) if single or less than $400,000 if married filing jointly to qualify for dependent-related credits.
Not claiming dependents is an easy way to make sure more money is withheld upfront. Therefore, many people will elect not to claim dependents to have more withheld now and receive a refund at the end of the year. It can also help if your employee has had problems with paying a tax bill and needs to repay the IRS for a past debt.
---
Another way your employee can avoid a big tax bill is by requesting that you withhold an additional amount in Part 4. Advise them to consider this option if:
They have had tax bills in the past
They want a refund
They file 1099s for self-employment, contract work, interest, or dividends
They receive pensions or Social Security retirement benefits
---
Processing Changes to Employee Form W-4s
Employees who filled out the old Form W-4 do not need to fill out a new form. However, they may want to fill out a new form if they have a lifestyle change that affects their taxes. You should suggest filling out a new form if you know they have experienced any of these events:
Marriage
Divorce
New baby or dependent
Working more than one job
Gain a new income source, such as a pension
Significant pay changes, such as a bonus or large commission
Complained of a large tax bill last year
Want to change their withholdings for any reason
Changing to the new form is as easy as submitting it for the first time. If an employee does not change to the new form, then you will continue withholding according to the information on the old form.
Bottom Line
As an employer, your only responsibilities are ensuring an employee turns in a Form W-4 correctly and withholding taxes according to the information they supply. Although you won't be penalized, if employees do not properly fill out the form, they can be hit with a big tax bill in April and even penalties. Taking time to instruct them on how to fill out a W-4 Form properly can save them money and help employee morale.