Gusto vs QuickBooks Payroll: Which Is Best?
Gusto and QuickBooks Payroll are affordable software options for small business owners. Both offer full-service payroll with unlimited pay runs and direct deposits, including payroll tax processing and filing. That said, Gusto is cheaper, offers better benefit options, and more HR support and payment options. QuickBooks Payroll's direct deposit processing time is faster, and you can get health insurance in all 50 states vs having to verify availability in certain states.
We'll evaluate Gusto and QuickBooks Payroll's essential features in detail below, but to help you choose a payroll solution that fits your business requirements, here are our recommendations:
When to Choose QuickBooks Payroll Over Gusto
You use QuickBooks accounting software
You want to offer health insurance that employees can use across all US states
You require, at minimum, next-day direct deposit processing
When to Choose Gusto Over QuickBooks Payroll
You are a small business with up to 100 employees
You need third-party software integrations and dedicated support
You want access to a wide range of employee benefits options
You want affordable full-service payroll with a low-cost option for paying contractors
Gusto vs Intuit QuickBooks Payroll Overview
Features

Pricing

($/Month)

$39 to $149

plus $6 to $12 per employee

$45 to $125

plus $4 to $10 per employee

Direct Deposit Processing Timelines

Two days;

a next-day process with premium plans

Minimum next-day process;

same-day with premium plans

Employee Benefits

Health insurance, life and disability, flexible spending accounts, commuter benefits, and retirement accounts

Health insurance

Mobile Application

Paychecks, time tracking, tax documents, and Gusto Wallet financial tools available on Android and iOS for W-2 employees; lifetime access

Employees can access pay stubs and W-2s and view PTO balances and withholding allowances online; no lifetime access

Health Insurance Coverage

Available in only 39 US states

Available in all 50 US states

Workers' Compensation

Can purchase and manage within all plans

Can purchase and manage only in premium plans

Payroll Automation

For salaried and hourly workers

For salaried workers only

HR Support

Self-onboarding, state new hire reporting, employee directory and surveys, and HR advisers

HR Support Center and HR advisers

Software Integration

QuickBooks Online, Xero, FreshBooks,, Homebase, When I Work, and more

Intuit products

Customer Service

Able to access unlimited phone, email, and chat support during regular business hours

Phone and chat support available on regular business hours; premium support available with Elite plan
How We Evaluated Gusto vs Intuit QuickBooks Payroll
To compare the two providers, we used a 5-point scale designed to assess payroll solutions and services for small businesses. Apart from looking at employee pay and payroll tax processing functionalities, we checked whether HR tools and employee benefits are part of their offerings. Ease of use, pricing, and customer support are also key criteria, including whether users have access to expert professionals who can provide HR and payroll advice.
Based on our evaluation criteria, Gusto scored higher with an overall rating of 4.59 out of 5. QuickBooks Payroll received an overall score of 4.39 out of 5. You can click through the tabs in the box below to see our full evaluation criteria.
25% of Overall Score
Payroll providers that offer a plan priced at less than $50 for one employee are rated more favorably (since they're budget-friendly). We also looked at whether or not each provider has transparent pricing, multiple plan options, and unlimited pay runs. Additional points were also given to those that don't charge setup fees. Both Gusto and QuickBooks Payroll scored a perfect score in this category, although Gusto is a little cheaper.
25% of Overall Score
Automatic payroll runs, payroll tax filing, 1099 form preparation, manual check capabilities, and two-day direct deposits are just some of the features that we consider essential payroll services. Providers also get points if they offer both employee and contractor payroll services, including a penalty-free guarantee. Gusto scored higher in this area because of its additional pay options and tools to automate local taxes.
25% of Overall Score
Aside from having a user-friendly, intuitive, and customizable platform, payroll software that integrates with common third-party systems (like QuickBooks, Homebase, and When I Work) are awarded extra points. We also prioritized providers that offer how-to guides, live phone support, and quick resolution of client issues. QuickBooks Payroll scored better in this area because of its online community and customizable interface.
10% of Overall Score
Having access to a professional who can provide expert advice on compliance issues is one of the top criteria, including new hire state reporting, online onboarding, and a self-service portal. Following closely behind these is the capability to provide employee benefits, such as health insurance and workers' compensation.
10% of Overall Score
First, we looked at reviews that users left on popular third-party sites like G2, Capterra, and Software Advice. Then, we tallied the ratings; any score with an average of 4+ stars and 1,000+ reviews is ideal. Gusto outscored QuickBooks Payroll in this area because it has more solid reviews on the web.
5% of Overall Score
Providers that allow reports to be customized and built within their payroll system get extra points. Additionally, those that have a robust selection of canned reports (more than 60) are prioritized. Gusto and QuickBooks Payroll tied in this area.
*Percentages of overall score
Common Features of Gusto and QuickBooks Payroll
Full-service payroll in 50 US states
Unlimited pay runs
Automated taxes and forms
Manage deductions and garnishments
Reporting tools
Expert product support
Key Takeaway: If you need an affordable full-service payroll with robust HR support, employee benefit options, and third-party software integration partners, Gusto is the best payroll solution for you. Plus, it offers a contractor payroll service that's low cost (priced at $6 per contractor monthly).
However, if you're using QuickBooks accounting software and want access to health insurance benefits that are available across the US, you should consider QuickBooks Payroll. Unlike Gusto, the provider has fast direct deposit timelines—wherein the longest is next-day processing and the quickest is same-day processing.
You can decide which payroll service is right for your business by answering just four Gusto vs QuickBooks Payroll quiz questions. Then, continue reading this article to learn more about the two software.
Answer a few questions about your business, and we'll give you a personalized product match.
Pricing: Gusto Wins
Gusto and QuickBooks Payroll both received 5 out of 5 points for pricing in our evaluation. The two providers offer three affordably priced product plans that come with unlimited pay runs. However, if we compare the cost of their starter tiers, Gusto is more budget-friendly than QuickBooks Payroll.
For $39 plus $6 per employee monthly, you get full-service payroll with Gusto's starter plan, Core. On the other hand, QuickBooks Payroll's starter tier, also called Core, has a slightly higher price tag of $45 plus $4 per employee monthly.
In addition, if your workforce consists mostly of contractors, then Gusto's contractor payroll plan is a more cost-effective choice. QuickBooks Payroll doesn't have a special pricing scheme for contractors, so you have to pay the same rates as indicated in its three plans.
Gusto pricing plans: Core plan ($39 plus $6 per employee monthly), Complete ($39 plus $12 per employee monthly), and Concierge ($149 plus $12 per employee monthly); Contractor plan ($6 per contractor monthly)
QuickBooks Payroll pricing plans: Core ($45 plus $4 per employee monthly), Premium ($75 plus $8 per employee monthly), and Elite ($125 plus $10 per employee monthly)
Payroll Features: Gusto Wins
When it comes to payroll processing, Gusto and QuickBooks Payroll have feature sets that are similar. Both offer automated payroll and tax processing and year-end tax report preparation and online delivery of Form W-2s and 1099s. However, based on our evaluation criteria, Gusto received a higher rating (4.75 out of 5) than QuickBooks Payroll (4.25 out of 5).
Gusto earned additional points given its federal, state, and local tax filing and processing features. With QuickBooks Payroll, you get payroll tax payments and filings but only for state and federal taxes. For local taxes, you have to print the forms and file them with or upload them to the applicable local sites yourself. Moreover, Gusto's payroll automation can handle pay processing for salaried and hourly workers, whereas QuickBooks Payroll's automation is only for salaried employees.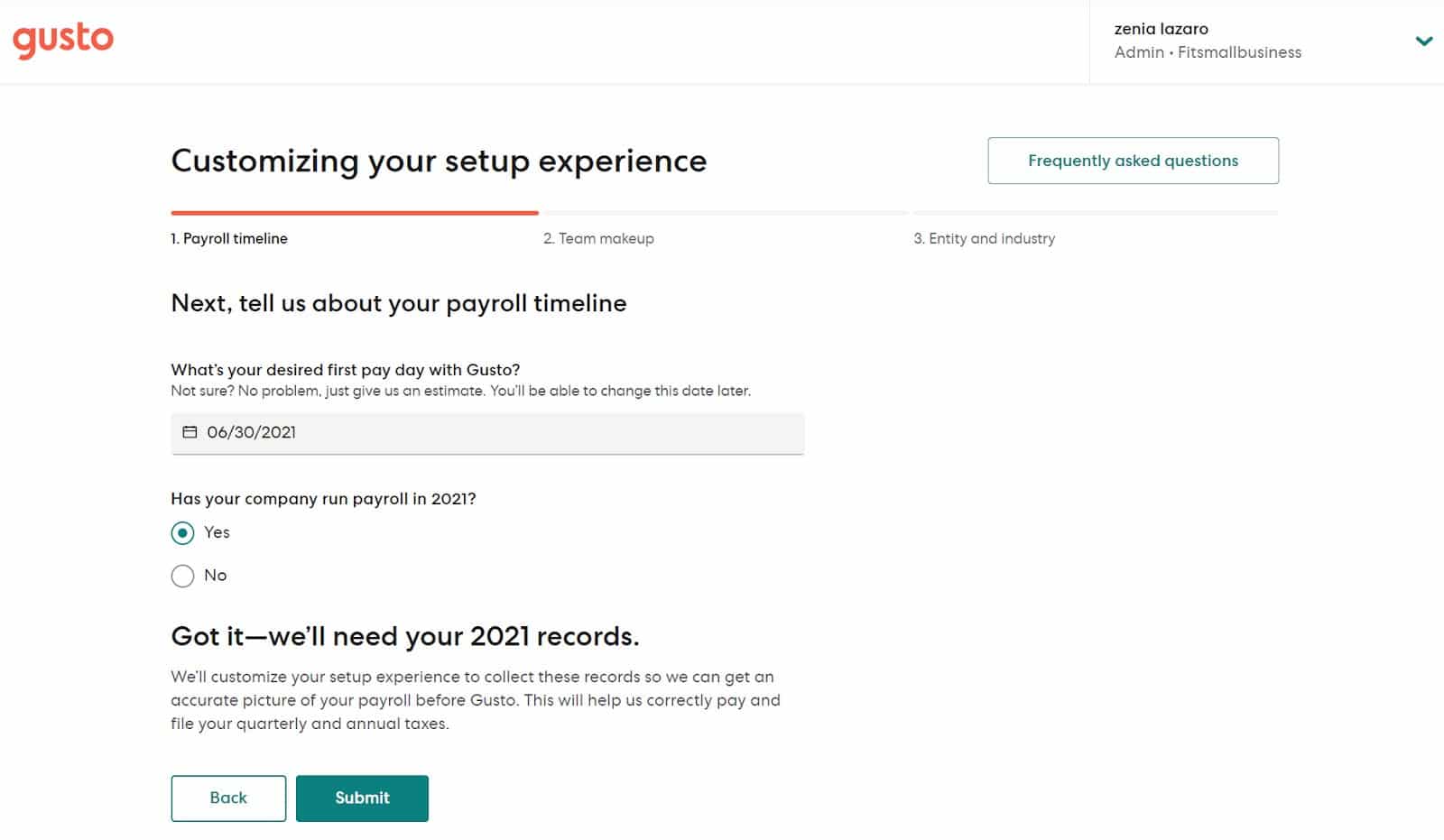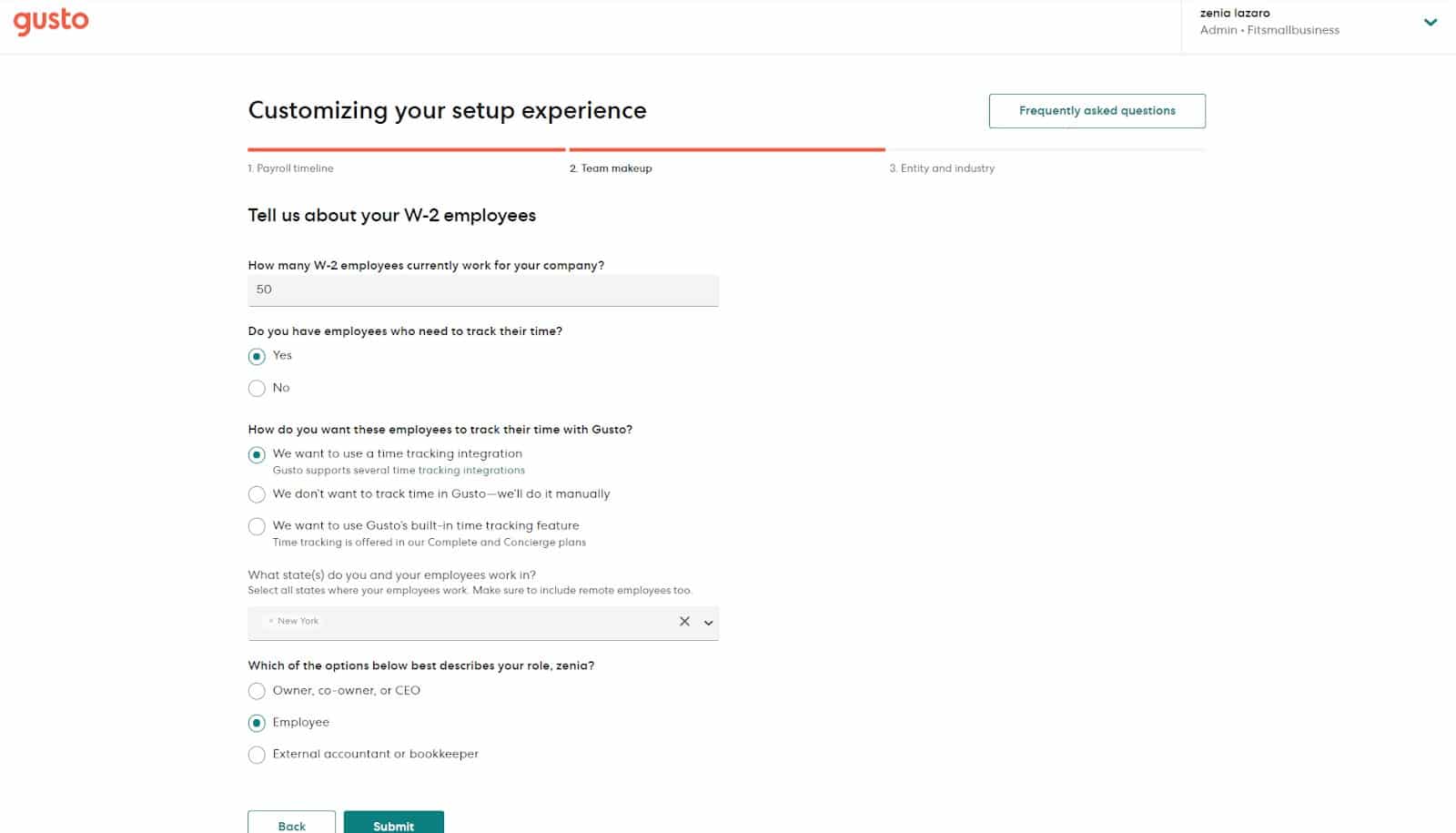 When QuickBooks Payroll's Payroll Features Are Enough
If you require quick direct deposits, then you may want to consider QuickBooks Payroll. Its starter plan includes next-day direct deposits, while its Premium and Elite tiers have same-day processing timelines. This is unlike Gusto, which provides two-day direct deposits for its Core package and next-day processing for its Complete and Concierge plans.
HR Features and Employee Benefits: Gusto Wins
With Gusto and QuickBooks Payroll, you get a self-service portal that employees can use to view their pay slips and employee benefits online. Both providers also offer access to expert professionals who you can contact to get HR, payroll, and compliance advice.
Despite the two offering similar HR functionalities, Gusto scored higher marks for this criterion. In our evaluation system, the provider received a 4.13 out of 5 points while QuickBooks Payroll earned a score of 3.75 out of 5 points.
Some of Gusto's essential HR features include new hire state reporting and a wide range of employee benefit options (such as health insurance, commuter benefits, and flexible spending accounts). It even has workers' compensation administration, a functionality that Gusto offers across all of its product plans. Additionally, you get access to online offer letters, customizable onboarding tools, employee surveys, and a staff directory.
QuickBooks Payroll, on the other hand, can only generate new hire state reports, and you have to file the actual reports yourself. Its benefit options are also limited to health insurance plans, and while it does offer workers' compensation administration, it is available only for Premium and Elite subscribers.
When QuickBooks Payroll's HR Features and Employee Benefits Are Enough
Although QuickBooks Payroll only offers health insurance as an employee benefit, what's great about it is that its benefit plans can be used by your employees across all US states. This is unlike Gusto in which the coverage of its employee benefits is limited to specific states.
To get expertise on payroll, benefits, and HR, Gusto offers its on-demand People Advisory Certification for free. You can earn 5.0 CPE credits when you become People Adviser Certified.
Ease of Use, Customer Support, and Integrations: Gusto Wins
When it comes to ease of use, both providers have a user-friendly and intuitive platform. Gusto and QuickBooks Payroll also offer phone support, including access to HR advisers and how-to guides. However, for third-party software integrations, Gusto has a more robust selection.
On the other hand, QuickBooks Payroll primarily offers integration with Intuit products. If you use your existing accounting software, you'll have to manually input data from your accounting software into QuickBooks Payroll. With Gusto, you can integrate with accounting, POS, business operations, and time tracking solutions.
Gusto integrations: FreshBooks, Xero, QuickBooks Online, ZipBooks, Sunrise, Homebase, QuickBooks Time, When I Work, Ximble, 7shifts, Clover, Upserve, Veryfi, Vagaro, and Hubstaff
QuickBooks Payroll integrations: All Intuit products
Gusto and QuickBooks Payroll User Reviews
Gusto: Users who left reviews on G2 and Capterra rated it 4.3 and 4.7 stars, respectively. Reviewers highlighted ease of use, straightforward and intuitive interface, and good customer support as Gusto's top features. It also helps small businesses to be legally compliant with wage laws. The complaints, meanwhile, include occasional software glitches and a desire for a wider offering of HR tools, reporting features, and software integration options.
QuickBooks Payroll: Users gave QuickBooks Payroll 3.8 and 4.5 stars on G2 and Capterra, respectively. Most of the positive comments it received include "easy to implement" and "user-friendly." There are mixed reviews about its customer support—some users noted its support team isn't knowledgeable, while others said they received good service. Some also mentioned that it needs to have more robust reporting features.
Bottom Line
To help you choose a payroll solution that's best for your business—be it Gusto or QuickBooks Payroll—start by assessing how many employees you have (and plan to have in the future), along with your need for HR support and software integrations. You should also determine if you want to offer benefits, and if so, consider if any are negotiable.
If you're already using QuickBooks' accounting software, then QuickBooks Payroll may be a better option. The learning curve will be much lower than you'd get with other small business software, and you can provide your employees with health insurance benefits in any state.
However, if you need more than just health insurance benefits to build a quality team or your business and employees are in an eligible state, consider Gusto. You'll get more onboarding and HR support plus more affordable plan options.
Other articles you may like…
How to Switch Payroll Providers
Best Payroll Services
Payroll Outsourcing