Gusto and QuickBooks Payroll are both affordable software options for small business owners who want to access their payroll from anywhere. Both offer full-service payroll plans, but QuickBooks also provides a cheaper, do-it-yourself option. Gusto offers benefits and software integrations, including QuickBooks Online and Xero, while QuickBooks primarily integrates with other Intuit products.
When to Use Gusto
Gusto is a superior choice for businesses that need to automate payroll. The auto-pay feature eliminates processing time for employees with the same hours worked each week. If you live in a state that's subject to local taxes, like Ohio or New York, Gusto will automatically file them along with your state and federal taxes.
When to Use QuickBooks Payroll
QuickBooks Payroll is best for freelancers and businesses with accountants that can save money using the do-it-yourself option. Most freelancers have few, if any, workers on the payroll, and processing is simple. It's also a good match for businesses using or considering QuickBooks Online for accounting software. They seamlessly integrate, and you can purchase them together.
When to Use an Alternative
If your business needs more human resource (HR) and compliance support than payroll processing services, you may want to consider a QuickBooks or Gusto competitor. Gusto and QuickBooks Payroll both have features that support compliance, but an alternative option would have more advanced features.
Zenefits is a good fit for startup companies that need to develop a strong HR strategy. It offers advanced features, like the add-on HR adviser service and electronic storage for HR policies.
Small businesses in the construction and restaurant industries might also find Zenefits to be a good fit. The option to run payroll is available as an add-on, but the onboarding, ACA compliance, and other compliance assistance features make operating in a heavily regulated industry much easier.
Gusto vs QuickBooks at a Glance
Monthly Cost

Core: $39 base + $6/employee Complete:$39 base + $12/employee Concierge: $149 base + $12/employee

Self Service: $35 + $4/employeeFull Service: $80 + $4/employee
Automatic Tax Filing

Included

Costs extra

Ease of Use

Easy

Easy

Direct Deposit

Standard 4-day processing time
Must submit, request & qualify for 2-day processing

Standard 2-day processing time
Same-day processing costs extra

Issue 1099s & W2s

Included

Costs extra

Employee Benefits

✔

Software Integration

✔

✔

Employee Onboarding

✔

New Hire Reporting

Included

Costs extra

Multiple Pay Rates

✔

✔

Customer Support

Phone and email; 6 am-5 pm PT M-F; Online resources

Depends on product;Use chat and online resources anytime

Get Started
Which Payroll Software Is Right For You?
Still not sure which payroll software to choose? Take this quiz to find out which one is right for you:

How We Evaluated Gusto vs QuickBooks Payroll
When looking at payroll software providers for small businesses, we checked for automation features, affordable pricing, ease of use, software integration, and customer support. Small business owners need a low-cost solution that doesn't require them to become payroll experts to maintain compliance and pay their employees.
We compared Gusto versus QuickBooks to determine the best using this criteria:
Functionality: Standard features, such as payroll processing, tax filing and paying, and direct deposit are vital. Some offer advanced features, like benefits and human resource tools.
Pricing: Software can range from free to thousands of dollars a year. We looked for monthly and annual charges, costs per employee, and setup fees. We also considered whether add-on features (that come with extra costs) are typically standard or advanced.
Ease of use: An intuitive interface, simple to set up, and online community or help center is helpful for researching common issues and make it easy to use payroll software.
Integration: The ability to seamlessly integrate with other software makes it easy to sync your existing solutions, like accounting and time and attendance, to payroll.
Customer service: We looked for helpful customer service that could answer questions and help resolve problems. They should be available at least five days a week, but some providers provide support six days a week or 24/7.
User reviews: We looked at user reviews on third-party websites to understand the positive and negative experiences users have with the software. Having mostly positive reviews is a good sign the software is useful.
Gusto is our top recommendation because it meets most of the criteria above without adding on extra fees, as compared to QuickBooks Payroll. It automates tax filing with all of its plans, while QuickBooks Payroll only gives you the tools to do it yourself in their basic plan.
When you're ready to integrate with an accounting solution, Gusto offers a range of options you won't get with QuickBooks. And in the event you need help, Gusto's customer support is more reliable.
Gusto: Pricing & Features
Gusto's pricing is one of the most competitive in the market for all of the value it provides. Other payroll software providers, including QuickBooks Payroll, have to upsell you on important features that Gusto automatically provides.
Gusto Pricing Plans & Features
| | Core | Complete | Concierge |
| --- | --- | --- | --- |
| Monthly Fee | $39 + $6/employee | $39 + $12/employee | $149 + $12/employee |
| Automated Payroll | ✔ | ✔ | ✔ |
| Employee Portal | ✔ | ✔ | ✔ |
| Health Benefits Administration | ✔ | ✔ | ✔ |
| Workers' Comp Administration | ✔ | ✔ | ✔ |
| Admin Permissions | | ✔ | ✔ |
| Time and Attendance | | ✔ | ✔ |
| PTO Policies & Time Off Requests | | ✔ | ✔ |
| Employee Directory & Surveys | | ✔ | ✔ |
| Certified HR Pros | | | ✔ |
| HR Resource Center | | | ✔ |
Tax Compliance
Unlike QuickBooks Payroll, employers who subscribe to Gusto's most basic plan are still able to enjoy the freedom of not dealing with payroll taxes. The tax penalty guarantee covers all payroll taxes, so Gusto will deal with the IRS if there are any slip-ups versus QuickBooks, which charges extra for filling this same service.
The automated local income tax filing that Gusto provides is specifically useful for business owners in places like New York City and other cities, counties, and municipalities that impose a separate tax, because they can be tricky. Users who try to utilize QuickBooks' basic service to e-file local taxes on their own may be unable to do so, because QuickBooks' tax tables only fully support federal and state tax requirements.
Direct Deposit
Like QuickBooks, Gusto provides direct deposit free of charge. Employees should receive payment in their bank accounts four days after employers submit payroll for processing, while QuickBooks users can expect a two-day processing window. The good news is that Gusto has a two-day payroll program customers can take advantage of for free by reaching out to their adviser to see if they qualify.
Integration
Gusto is designed to integrate with many popular software products, even QuickBooks Online. Xero and FreshBooks are other inexpensive cloud-based accounting systems that automatically blend with Gusto. This opens more doors for small business owners because Gusto doesn't limit them to QuickBooks products, like QuickBooks Payroll. It's much easier to find software solutions that fit your business needs when you have options.
Time tracking systems, like HomeBase, When I Work, and TSheets, also automatically sync to Gusto's software, further simplifying the payroll process for employers. When businesses find software products that work for them, it can be hard to give it up, and Gusto's integration capabilities make it so that fewer businesses have to do so.
Benefits
Unlike with QuickBooks Payroll, Gusto allows you to create a benefits package for your employees. You can offer health insurance, 401(k), dental insurance, and more. Once employees complete their online enrollment, premiums are automatically deducted from their paychecks. And when they leave your company, Gusto will fulfill corresponding COBRA requirements to ensure employees have the option of extending coverage on their own.
Flexible Pay
Flexible Pay is a new feature Gusto is offering to help employers give their employees more flexibility. Instead of waiting for the standard payday, employees can log into their accounts and opt to be paid when they want. Gusto advances employers the funds and deducts them when customers run their next payroll. Right now, this feature is only available in Texas, but will expand to more states soon.
QuickBooks Payroll: Pricing & Features
QuickBooks Payroll pricing is just a little cheaper than Gusto's, but it doesn't provide as many valuable features. However, users can recognize more savings once their employee count is over 10. Regardless, QuickBooks is competitive in the features it does provide. Users have options as to how they can handle payroll tax filing, direct deposit payment processing times, and year-end filing. Also, QuickBooks integrates with its own accounting solution.
Here are the two standalone payroll plans that Intuit QuickBooks Payroll offers:
QuickBooks Payroll Pricing Plans & Features
| | | |
| --- | --- | --- |
| Monthly Pricing | $35 + $4/ employee | $80 + $4/employee |
| Unlimited Payroll Processing | ✔ | ✔ |
| 24-hour Direct Deposit | ✔ | ✔ |
| Calculate & File Year-end Forms | ✔ | ✔ |
| Payroll Taxes Filed for You | | ✔ |
| Same-day Direct Deposit | | ✔ |
| Free W-2s Filed & Sent | | ✔ |
| Payroll Set-up Help | | ✔ |
| No Tax Penalty Guarantee | | ✔ |
Here are the payroll packages that include a monthly subscription to
QuickBooks Online
software:
| Plans w/ QuickBooks Online Software | Price per Month |
| --- | --- |
| QuickBooks Online Simple Start w/ Payroll | $55 + $4/ employee |
| QuickBooks Online Essentials w/ Payroll | $70+ $4/employee |
| QuickBooks Online Plus w/ Payroll | $95 + $4/ employee |
Here are some features QuickBooks Payroll users have access to:
Automated Tax Tracking
QuickBooks Payroll provides automated tax tracking and calculation under its basic Self Service plan. Although paying and filing isn't automated under this plan as it is with Gusto, QuickBooks makes it easy for you or your accountant to e-file them for a lower rate than Gusto's automated services. Users receive an email when taxes are due and can submit payment within the QuickBooks Payroll platform with three clicks as long as they are registered with E-Pay.
Direct Deposit
QuickBooks Payroll offers same-day direct deposit for customers subscribed to the Full Service plan. This is a nice benefit for employers who regularly submit off-cycle payrolls. As long as you submit the payroll request by 5 p.m. Pacific Time on the date before the money needs to be deposited, QuickBooks promises to deliver. Two-day processing is the quickest turnaround Gusto will guarantee, and payroll must be submitted by 4 p.m. Pacific Time.
Tax Compliance
QuickBooks Payroll offers plans that are flexible enough to grow with you as your business begins to make more money and you become busier. The Full Service plan offers guaranteed tax compliance at an additional fee, similar to Gusto's standard guarantee, at the state and federal levels.
There are tax tables set up within the software that will drive users' tax deductions with each payroll. A QuickBooks Payroll professional will ensure these deductions and employer-paid taxes are sent to the appropriate agencies each quarter, along with any required forms. Any penalties or errors that result will fall on QuickBooks Payroll, not the employers.
Year-end Forms
If you only have a few workers, employees, or contractors, QuickBooks Payroll Self Service plan makes filing year-end forms cheaper and simpler for you to do it yourself instead of having someone else do it for extra money, like Gusto. It provides resources to help you decide how to classify your workers, if you need it, in addition to helping you create the 1099s, W-2s, and other year-end forms you need to send and e-file.
Gusto vs Intuit QuickBooks Payroll: Ease of Use
Gusto and QuickBooks are pretty comparable when it comes to ease of use. Set up is fairly simple with both, but you may run into a few snags if transitioning from another provider. With Gusto, there are more items to set up, like payroll, 401(k), and other benefits versus with QuickBooks, that primarily focuses on payroll unless you're setting up a ton of add-ons.
Gusto Ease of Use
Gusto's interface is user-friendly on mobile and desktop devices. Its dashboard is also intuitive and makes it easy to see what actions users need to take. The brief reminders and tips that display are helpful to a busy employer who's juggling multiple priorities.
Here is a screenshot of Gusto's dashboard. The user-friendly menu is on the left-hand side: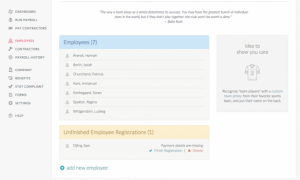 QuickBooks Payroll Ease of Use
QuickBooks Payroll's interface is pretty straightforward, and is ideal for users primarily focused on running payroll.
The payroll dashboard is simple and to the point, which makes sense because QuickBooks Payroll's primary focus is on running payroll. It's easy to see where to go to set up and pay employees and contractors. The reminder section at the bottom, similar to that in Gusto's interface, is also useful.
Gusto vs Intuit QuickBooks Payroll: Customer Service
Customer service for Gusto and QuickBooks is comparable in the sense that both have a wealth of online resources that customers can reference. There are articles, videos, and frequently asked questions (FAQs) to answer the most common questions users have. Their availability is also similar, five days a week, with Gusto offering a couple of more hours on Friday. The quality of phone customer service is vastly different between the two, however.
Gusto Customer Service
Gusto's customer service team is available by phone and email on Monday through Friday, from 6 a.m. to 5 p.m. Pacific Time. It also has an online help center users can query to find answers to questions they have about payroll, benefits, integrations, and more. Their customer support team is knowledgeable and receptive, although reaching out through email can sometimes lead to a longer response time.
QuickBooks Payroll Customer Service
QuickBooks' customer service team is available Monday through Thursday from 8:30 a.m. to 7:30 p.m. Pacific Time and on Fridays from 8:30 a.m. to 5:30 p.m. Pacific Time. They also have online resources users can access to help resolve their issues. Another support tool QuickBooks offers is an online community forum. Users gather in the forum to ask questions, share knowledge, and receive feedback and advice from QuickBooks professionals.
One challenge QuickBooks has in the customer service area is consistency. It can sometimes be challenging to get complete information from representatives, and you may receive conflicting information if you speak to multiple service reps.
Gusto vs Intuit QuickBooks Payroll: Customer Reviews
Customer reviews for Gusto and QuickBooks are mixed, with Gusto coming in the lead. QuickBooks has been around for quite a while longer than Gusto, 1983 versus 2011 to be exact, so customers are usually willing to try it out. Gusto entered the market with competitive prices that users enjoy, more benefits they can take advantage of, and higher quality customer service.
Gusto Customer Reviews
Gusto user reviews are generally positive, with a few negatives. Most users with complaints had their issues resolved within a timely manner, but others don't think the software is flexible enough to handle large companies. Many users like that it's easy to navigate, doesn't break the budget, and gives them access to features like insurance, 401(k), and software integrations that they can't afford with larger providers.
QuickBooks Payroll Customer Reviews
While customers enjoy that QuickBooks can provide accounting software along with payroll and other systems that are inexpensive for small business owners, they are sometimes unhappy with the customer service they receive. Sometimes, issues can take a while to resolve. Many QuickBooks Payroll reviews mentioned that the software is easy to use and is accessible from anywhere.
The QuickBooks Payroll app allows users to run payroll from their phones no matter where they are. A lack of consistent answers regarding technical issues is what frustrates most users.
Alternatives to Gusto & QuickBooks Payroll
If neither Gusto nor QuickBooks Payroll works for your business, consider our other recommendations.
Gusto & QuickBooks Payroll Alternatives
| | Best For |
| --- | --- |
| | Companies with over 100 employees who need applicant tracking |
| | Free payroll processing services |
| | Large businesses that lack an HR professional & want a PEO to manage compliance |
| | Integrating with Wave's free banking, accounting, invoicing, and apps |
| | Retail businesses |
| | Large employers who need to customize packages with a la carte features |
Bottom Line
Businesses with more of a need for HR and payroll tax compliance would be better off with Gusto. Regardless of the state in which your business operates, Gusto will calculate and pay federal, state, and local taxes. It also offers benefits and numerous software integrations, all at an affordable rate.
To ensure your employees are paid on time and have access to a 401(k) plan and health insurance, consider using Gusto. Try it free for 30 days.