Since publication:
The BLS released nonfatal workplace injury statistics for 2019.
The total number of private industry nonfatal injuries and illnesses in 2019 was 2.8 million, with an incidence rate of 2.8 cases per 100 full-time equivalent (FTE) employees. Both of these numbers are the same as in 2018.
The incidence rate for total recordable cases dropped in the manufacturing industry from 3.4 per 100 FTE in 2018 to 3.3 in 2019.
The United States Bureau of Labor Statistics (BLS) publishes an annual compilation of workplace injury statistics that policymakers use to improve working conditions and address safety concerns across the country. While not every injury recorded by the BLS is covered by workers' comp, business owners can also draw on the information to identify and mitigate risks for their employees, and that can ultimately help them reduce their workers' compensation insurance costs. These 10 stats from the most recent BLS data are a good place to start.
1. Employees Suffered 2.8 Million Workplace Injuries in 2018
The most recent data from the BLS shows the number of workplace injuries for private industry employees, such as those not employed by state or local governments, has been hovering around the 3 million mark for about eight years, hitting 2.8 million in both 2017 and 2018. However, the incidence rate, defined as the number of injuries and/or illnesses per 100 full-time workers, has been on a slight downward trend since 2009.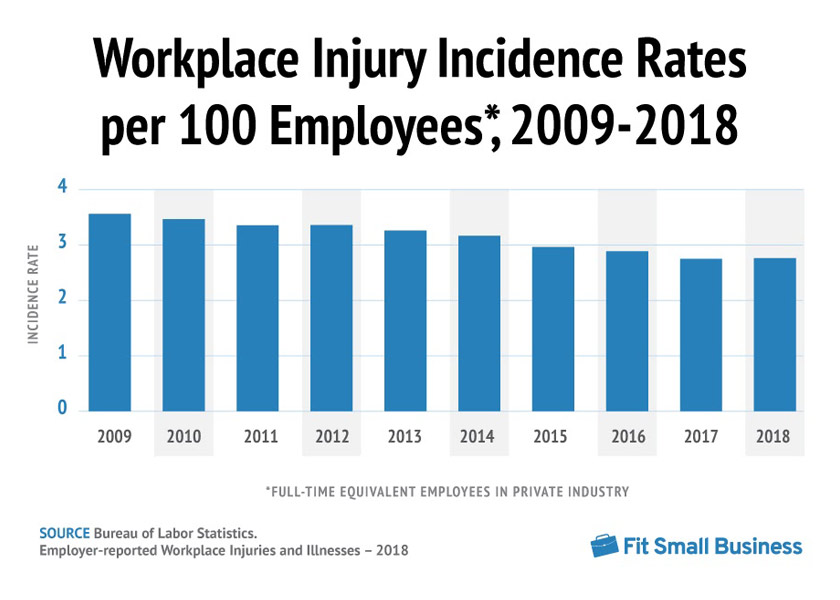 2. Incidence Rates Have Fallen 75% Since 1972
The downward trend in incidence rates looks even better if you go back to 1972, the first year the BLS published statistics from the Survey of Occupational Injuries and Illnesses. Back then, the workplace injury incidence rate was 10.9 cases per 100 full-time workers or three times greater than it is now.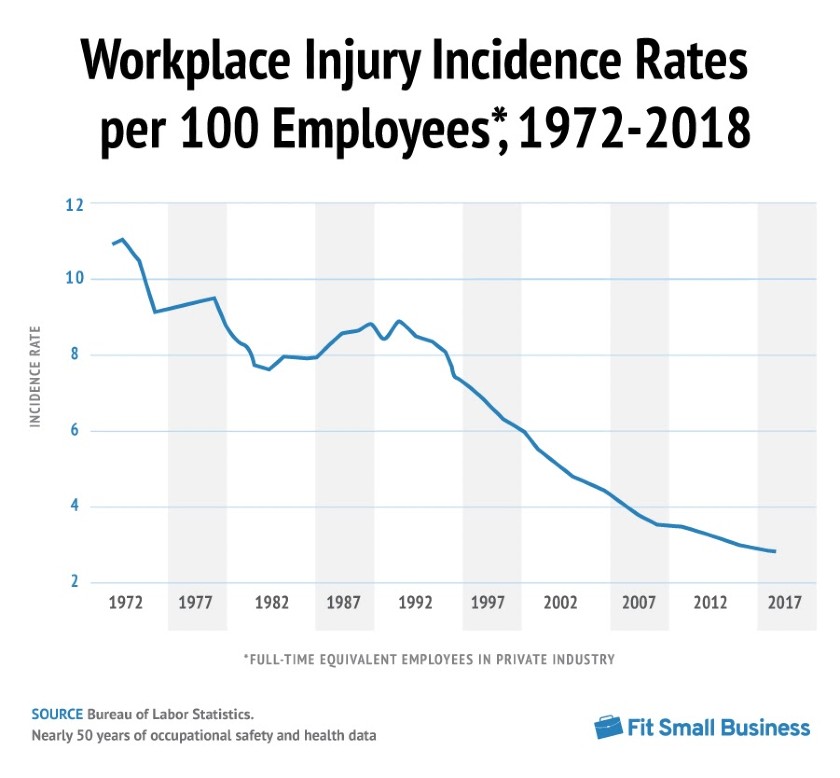 3. The Number of Workplace Fatalities Went Up 2% in 2018
While US employers seem to be holding their own when it comes to work injuries, the same cannot be said for occupational fatalities. The US recorded 5,250 work-related deaths in 2018, a 2% increase from 2017. Sadly, the number of fatal work injuries has been inching upward since 2009.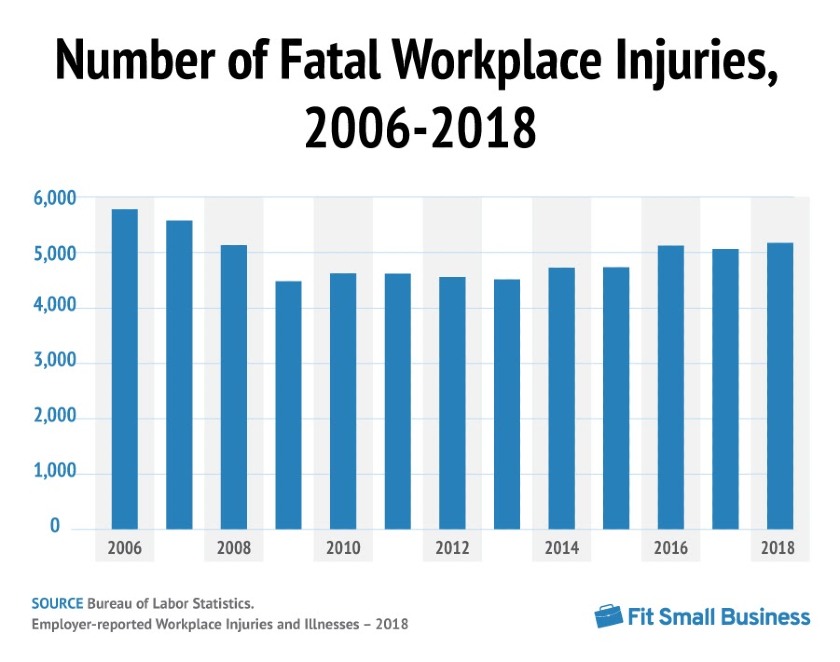 4. Transportation Incidents Account for 40% of All Work Fatalities
Transportation incidents caused the most workplace fatalities by far, accounting for 40% of all work-related deaths in 2018. The rest fall in line as follows: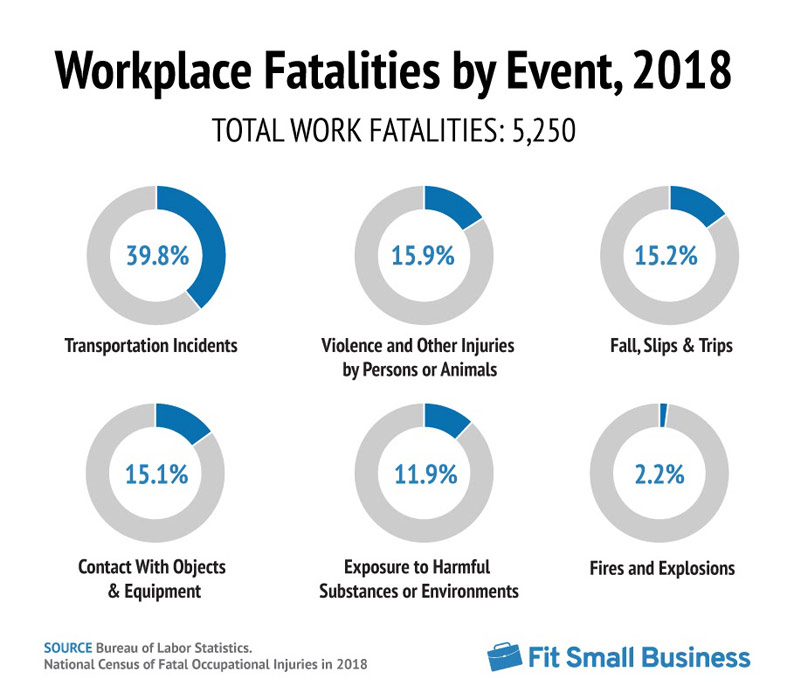 Transportation has been the number one source of workplace fatalities since at least 2014, but it's not the only reason fatalities are going up. The BLS found increases in:
Incidents involving contact with objects and equipment, up 13%
Unintentional overdoses due to nonmedical use of drugs or alcohol while at work, up 12%
Violence and other injuries by persons or animals, up 3%
5. Construction Saw 1,008 Fatalities in 2018
Do construction's 1,008 work-related fatalities mean it's the riskiest industry? It all depends on how you look at it. For instance, you might say the riskiest industry in 2018 is the one with the:
Highest fatality rate: Agriculture, forestry, fishing, and hunting, with 23.4 deaths per 100,000 workers
Highest nonfatal illness and injury rates: Transportation and warehousing, with 208.3 nonfatal injuries and illnesses per 10,000 workers
Most nonfatal injuries and illnesses: Government, with 233,300 nonfatal workplace injuries and illnesses
However, looking at fatality and incidence rates probably gives you a better idea of how risky a given industry is. Take construction and agriculture, forestry, fishing, and hunting as an example. Agriculture, forestry, fishing, and hunting had 574 fatalities in 2018, so it may seem safer than construction. But that doesn't take into consideration the size of the industry. The construction industry's incidence rate of 9.5 deaths per 100,000 employees is significantly fewer than the 23.4 seen in agriculture, forestry, fishing, and hunting.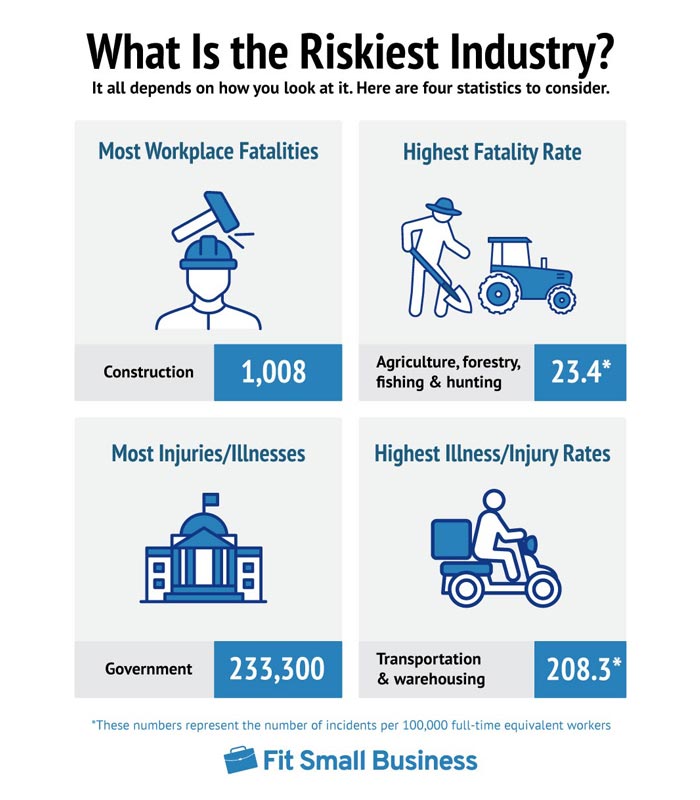 6. 33% of Construction Fatalities Were From Falls
Transportation incidents may cause the most workplace fatalities overall, but the number one cause of deaths in the construction industry in 2018 was falls, slips, and trips. However, transportation incidents did come in a close second with 250.
The fact that construction workers suffer fatalities from falls from heights or collapsing structures is probably not surprising. What is important to note, however, is that the greatest risks in your industry may not match the common dangers found in others. It may be worth your time to dig into the biggest risks for your business.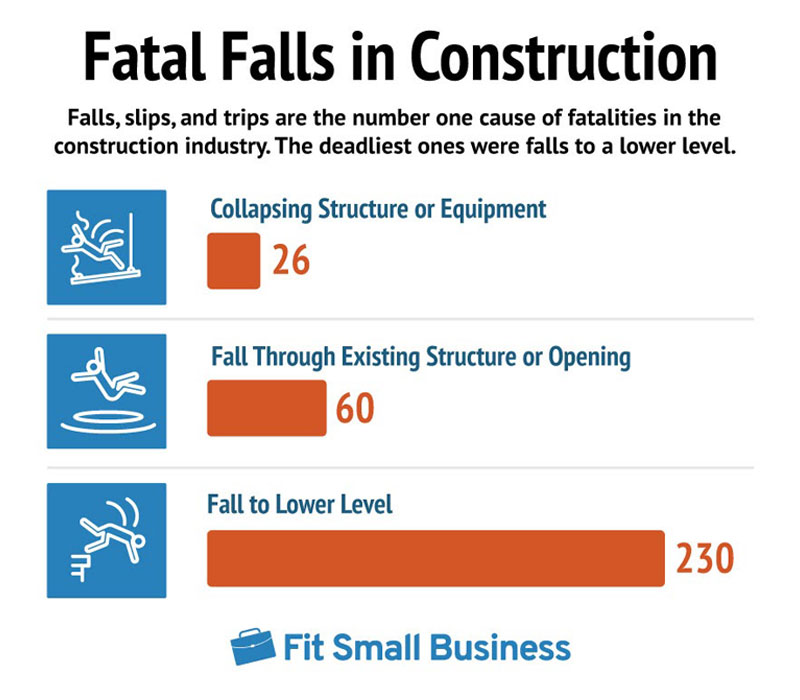 7. Small Businesses Averaged 1.3 Work Injuries Per 100 Full-time Employees
Small businesses in 2018 appear to have had better safety records than their big company counterparts. Of course, that all depends on how you define "small businesses." Businesses in private industry with 10 or fewer employees had an average incidence rate of 1.3 workplace injuries and illnesses per 100 full-time employees in 2018. That's fewer than the 2.8 work injuries all private industries businesses averaged over the year. The same goes for businesses with 11 to 49 employees, which averaged 2.5 incidents.
But things get more interesting when you look at larger small businesses. The Small Business Administration (SBA) developed definitions based on either revenue or number of employees so, depending on your industry, your business could be considered small with anywhere from 1 to 1,500 workers. BLS shows businesses with:
50 to 249 employees averaged 3.5 nonfatal injuries per 100 full-time workers
250 to 999 employees averaged 3.1 nonfatal injuries per 100 full-time workers
1,000 or more employees averaged 3.0 nonfatal injuries per 100 full-time workers
Perhaps the fact that bigger companies have more incidents isn't surprising, but the significantly higher rate for that middle range of 50 to 249 employees kind of is. Moreover, it holds true across several broad industries, such as:
Manufacturing

Average incidence rate overall: 3.4
Average incidence rate, 50 to 249 employees: 4.1

Leisure and hospitality

Average incidence rate overall: 3.3
Average incidence rate, 50 to 249 employees: 4.1

Trade, transportation, and utilities

Average incidence rate overall: 3.5
Average incidence rate, 50 to 249 employees: 4.1
So, why do businesses with 50 to 249 employees have higher workplace injury rates? Our best guess is they have an increased risk that comes with more employee interactions, inventory, and equipment, but they don't always have the resources for safety programs. That's unfortunate, considering the Liberty Mutual Workplace Safety Index estimates the most disabling workplace injuries cost business owners $59.59 billion per year. That's direct costs like workers' comp payments and legal services. Indirect costs, such as accident investigations and replacement employee training, pushes the total cost higher.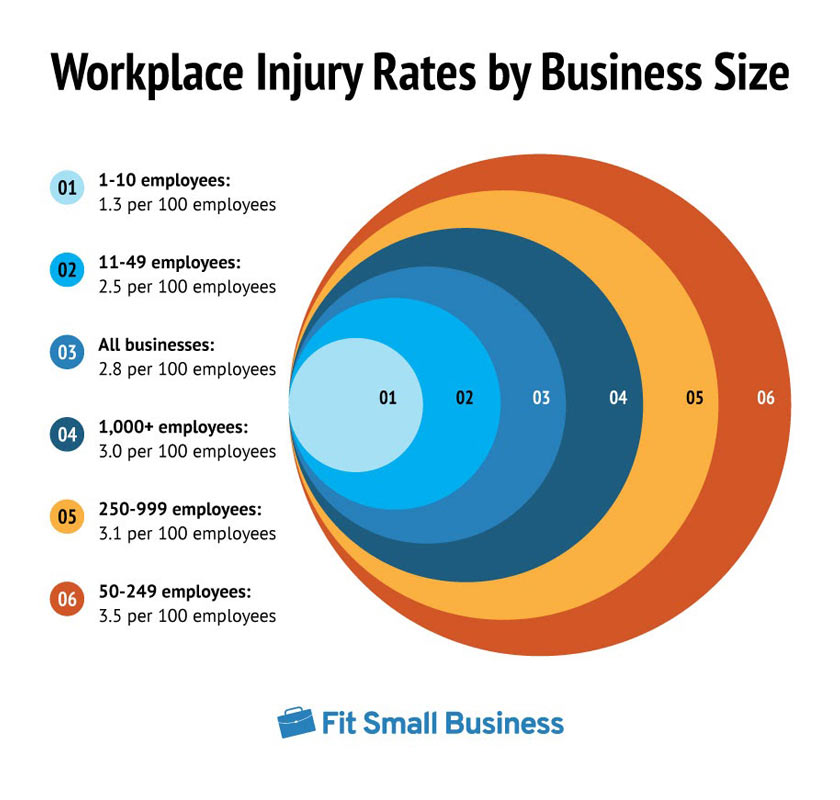 8. The Most Recent Data Shows Retail Work Injuries Increased by 4%
The private retail trade sector saw a 4% increase in nonfatal workplace injuries, bringing the total number to 409,900, plus a jump in incidence rate from 3.3 to 3.5 in 2018. Retail is the only sector that saw a rise in total recordable cases and accounts for 14% of all private industry injuries and illnesses.
There are more dangerous industries with higher incidence rates, but an increase of 4% deserves a closer look—particularly if you're a retailer who wants to protect your employees—so here are a couple of extra statistics to consider:
Overexertion injuries had the highest incidence rate for retail at 36.3 per 10,000 full-time employees
Falls, slips, and trips had the second-highest incidence rate at 29 per 10,000 full-time employees
Injuries from contact with objects and equipment cases increased by 10%
Injuries from falls, slips, or trips increased by 11%
Sprains, strains, and tears accounted for 36% of cases that caused employees to miss work
Once you know where your employees' greatest risks are, you can put systems in place to minimize them. In retail, this might mean setting weight limits on any lifting, rethinking how inventory is stored, and getting spills cleaned up immediately.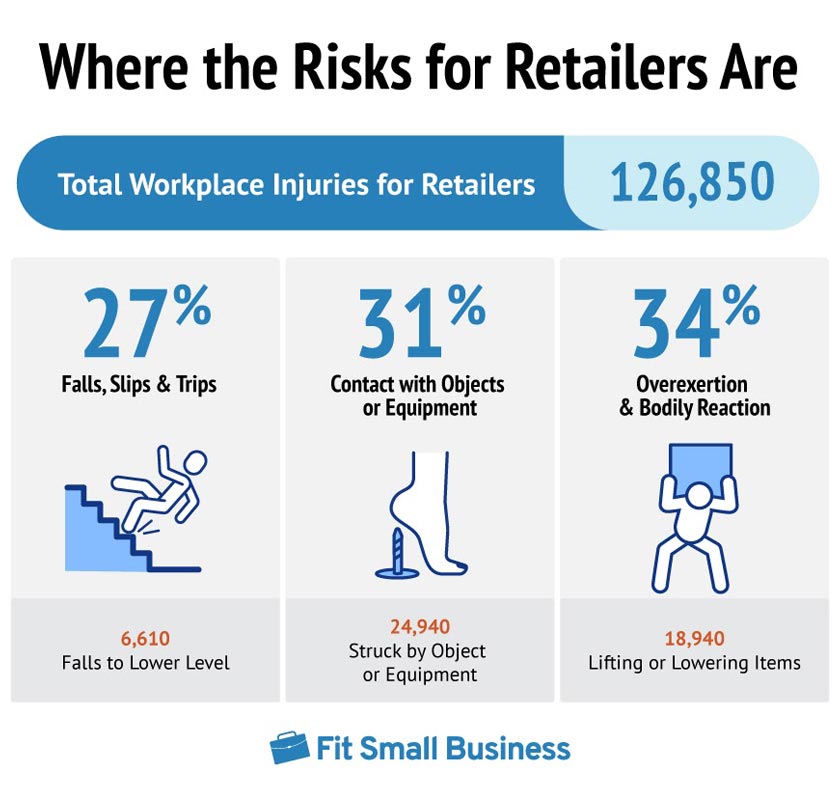 9. Nonfatal Assaults Increased by Nearly 78% Since 2011
The number of workplace injuries intentionally caused by another person has been steadily increasing, starting with 11,690 in 2011 and hitting a high of 20,790 in 2018, according to Injury Facts from the National Safety Council. Sadly, 98% of recorded cases occurred in the service industry, including these broad occupational groups:
Healthcare practitioners and technical occupations: 4,400 injuries
Education, legal, community service, arts, and media occupations: 3,470 injuries
Business, management, and financial occupations: 1,070 injuries
To be clear, people causing intentional harm to workers is not a major source of workplace injuries. Overexertion led to significantly more injuries (282,860), and transportation incidents caused the most fatalities (2,080) across all industries. However, the former is on a downward trajectory, and the latter has increased by only 7%.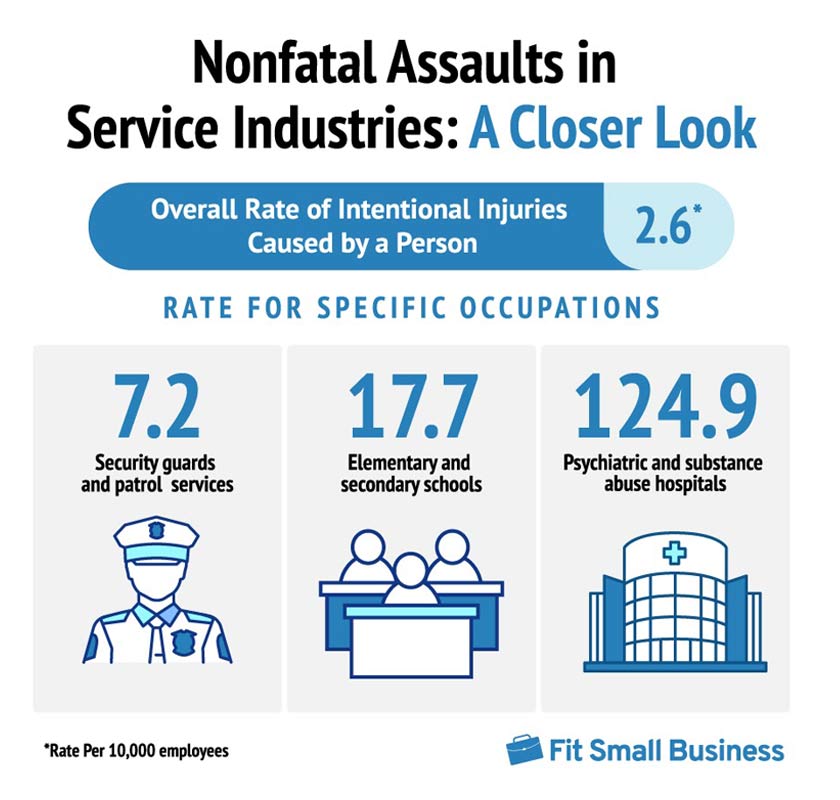 10. Information Businesses Had the Highest Median Days Away From Work in 2018
Workplace injuries in the information industry sector, which includes businesses ranging from telecommunication companies to libraries and archives, caused a median 22 days away from work. That's a surprising number considering the median across all private industries was only eight days with many riskier industry sectors having closer to that number, including:
Construction: 10 days
Manufacturing: Eight days
Natural resources and mining: Seven days
Why might this be? It's hard to say. Our first thought was that the information sector skews either particularly older or younger than private industries in general. According to the BLS's Labor Force Statistics, however, the median age in information businesses is 40.7, not quite two years younger than the overall median. Moreover, the median age in leisure and hospitality is even younger, 31.9, and its median days away from work is six.
Next, we looked at the percentage of workplace injuries that made up of all cases and found the information to be similar to the other four:
Construction: 98%
Natural resources and mining: 95%
Information: 95%
Manufacturing: 91%
Perhaps the only thing to note here is that of the 15,580 of total cases in the information industry sector, 42% resulted in 31 or more days away from work. The number one cause of nonfatal injuries? Overexertion and bodily reaction—the most common workplace injury across all industries.