Zendesk Review: Is It Right for Your Business?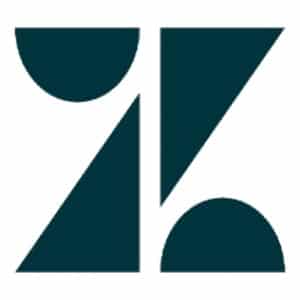 What We Recommend Zendesk For
Zendesk features a unified agent workspace that comes with a robust set of tools for ticket management, collaboration, and voice calls. Its AI-powered Answer Bot gives smart suggestions on agents' next-best actions and handles customers' low-priority queries. These capabilities make it best for midsize to large teams with robust needs that handle multiple support channels, especially those that receive inbound calls.
Who Zendesk Is Good For
Companies needing a customer service platform that provides unified customer profiles: Zendesk features an omnichannel Agent Workspace that displays relevant customer data and allows you to manage multiple support channels, including live chat, messaging, social messages, voice calls, and text messages. Because of this feature, it is included in our list of the best customer service software.
Businesses looking for AI-powered customer service software: Zendesk's AI-powered Answer Bot is included in all of its plans. This feature gives agents contextual recommendations on the next-best actions and provides customers with smart answers and solutions to their frequently asked questions (FAQs).
Support teams that need a customer service solution with built-in calling capabilities: This software offers an integrated voice calling software called Zendesk Talk, which includes an embedded call button in your web and mobile apps. It also allows you to route, record, monitor, and transfer calls.
Who Zendesk Is Not a Good Fit For
Small organizations looking for free customer service software: Zendesk's pricing starts at $49 per agent, per month for its Suite plans and $19 per agent, per month for its Support-only plans. Read our guide to the best free customer service software to explore free options.
Companies seeking a service management solution that offers 24/7 support: Zendesk's free support is limited to online, email, and phone support during business hours. If you want 24/7 support, you may subscribe to its Premier plan, which starts at a one-time fee of $6,000. Consider Freshdesk if you want a provider that offers 24/7 email support and 24/5 phone and chat support.
Support teams needing simple, easy-to-use customer service software: Zendesk has an intuitive surface. However, its robust and advanced set of features could be a disadvantage to startups and small teams with limited time and resources for onboarding and implementation. For an alternative that does not require extensive training, consider Really Simple Systems Service Desk, which is featured in our list of the best customer service software.
Zendesk Overview
PROS

CONS

Robust ticketing and help desk capabilities
Does not offer a free plan
AI-powered bots and service analytics tools available across all plans
24/7 support costs extra
Wide range of free on-demand video courses
Learning curve due to robust and advanced features
Comprehensive built-in voice calling features
Basic plan does not offer community forum and collaboration tools
Zendesk Pricing
Zendesk pricing for Suite plans are divided into four tiers that range from $49 to $150 per agent, per month, billed annually. The main differences between these packages include the limits to the number of agent departments you can create, data and file storage, data refresh rate, and answer bot solutions. Each plan also provides different levels of access to key features like trigger-based routing, caller ID, and community forums.
Zendesk pricing and plan features at a glance:
Suite Team

Suite Growth

Suite Professional

Suite Enterprise*

Annual Pricing

($/Agent/Month)

$49

$79

$99

$150

Monthly Pricing

($/Agent/Month)

$59

$99

$125

$199

Agent Departments

2

2

Unlimited

Unlimited

Help Center Language

1 default language

40+ languages

40+ languages

40+ languages

Answer Bots

Up to 50

Up to 100

Up to 500

Up to 1,000

Data Refresh Rate

24 hours

24 hours

1 hour

1 hour (real time for live dashboards)

Data Storage

50MB per agent

100MB per agent

100MB per agent

200MB per agent

File Storage

2GB per agent

5GB per agent

5GB per agent

10GB per agent

Light Access License**

N/A

Up to 50

Up to 100

Up to 1,000
*Additional enterprise-ready plans are available starting at $215 per agent, per month, billed annually. Contact sales to learn more about comprehensive solutions for enterprises.
**Light Access licenses give limited permissions to certain individuals so they can monitor tickets and provide subject matter expertise and advice via private comments.
Click on the drop-down menu below for more details about each of Zendesk's plans:
Suite Team
Zendesk's base plan offers a robust set of live chat, messaging, voice calling, help center, and social engagement features. It comes with an out-of-the-box email integration that gives you an unlimited number of support emails, the ability to add a contact form to your website, and attach files up to 50MB in size. You can engage with customers using Facebook, Instagram, and Twitter, as well as add up to five WhatsApp numbers or Twitter handles.
The Suite Team plan's live chat and messaging features include an embedded web support widget, mobile apps, widget customization, customizable offline forms, unlimited concurrent chats, automatic conversation translation, file sending, and conversation rating. It also allows agents to transfer sessions to another agent or department. Visitors can view their conversation history and multiple agents can collaborate via internal notes during a live conversation.
The voice capabilities under this tier include voicemail tickets, embedded call buttons in mobile apps, caller ID, call routing, customized greetings, automatic ticket creation, and call recording. Its help center features contextual self-service, one default language for the content, article view permissions for the public and for registered users, and standard themes. You can also create up to 50 solution articles powered by AI.
Additional features included in this plan are a unified agent workspace with customer interaction history, access to prebuilt apps and integrations in the Marketplace, basic workflows and ticket sharing, and predefined responses. Its reporting and analytics tools include key benchmark metrics (customer satisfaction, first response time, and ticket volume), 24-hour data refresh rate, prebuilt analytics dashboards, voice usage reporting, and data exports.
Suite Growth
The second-level plan unlocks new capabilities for your help center, such as multilingual content, custom themes, creation of up to five help centers, and a customer portal. It also allows you to create up to 100 Answer Bot solutions and enable customer satisfaction ratings (CSAT) and follow-up surveys after each ticket is resolved. In addition, you can add up to 50 limited access licenses for individuals who can provide ticket advice via private comments.
The Suite Growth offers additional workflows and automations, such as multiple support request forms, conditional ticket fields, service level agreement (SLA) management, and AI-powered contextual article recommendations.
Suite Professional
When you upgrade to Suite Professional, you get access to more advanced features like unlimited agent departments, trigger-based routing for chats and messages, and skills-based routing for live chat tickets. You can create moderated community forums for your customers, allow agents to start private conversation threads to collaborate on tickets, and share customer service reports and dashboards. Its data refresh rate is also shorter at just one hour.
This plan is equipped with more robust voice capabilities like call routing after business hours, conference calling, call blocking, interactive voice response (IVR), callback requests, call wrap-up time limits, and call monitoring and barging. You can also create up to 500 Answer Bot solutions.
Suite Enterprise
The Suite Enterprise comes with even more capabilities, such as automatic email archiving, the ability to replace Zendesk's branding from your support widget with your own, and on-demand call forwarding to an alternate number in case of a Zendesk outage. You can also set the amount of time an agent gets to answer a call before it is placed back in the queue and receive usage credit to your account in case of service provider outages.
When it comes to the help center, this plan allows you to organize your solution articles up to six levels deep, use multiple theme templates, and create up to 300 help centers for various brands, products, or regions. Being the highest-level plan, it lets you create up to 1,000 AI-powered bot solutions, including flow builders and article recommendations. It also features automated ticket sharing and a guided mode that leads agents from one ticket to another.
Add-ons
Zendesk offers voice feature add-ons across all of its Suite plans. These include local and toll-free numbers, as well as inbound and outbound calls. Per-minute rates vary depending on the locations of both the talk line and recipient, and whether the agent answers calls using a browser or phone. Check Zendesk's usage costs for specific rates.
Add-ons

Details

Pricing

 

 

 

Inbound Calls*

Phone numbers

$2 per month

Inbound calls

Starts at $0.053 per minute

Recording

$0.003 per minute

Voicemail

$0.037 per minute

Voicemail transcription

$0.05 per minute

 

 

 

Outbound Calls**

U.S. and Canada

$0.022 per minute

U.S. and Canada (toll-free)

$0.022 per minute

U.S. - Alaska

$0.116 per minute

U.S. - Hawaii

$0.022 per minute
*For toll-free talk lines in the U.S.
**For outgoing calls made via browser to U.S.-based customers.
Zendesk also offers the following Support-only plans*
Support Team: $19 per agent, per month**
Support Professional: $49 per agent, per month**
Support Enterprise: $99 per agent, per month**
*Unlike the Suite plans, Zendesk's Support-only plans do not include live chat, messaging, and help center features.
**Based on annual billing. Monthly pricing is also available at slightly higher rates.
Zendesk Features
Zendesk offers an omnichannel workspace you can use for ticket management, collaboration, and customer service responses. You can access real-time customer service reports and analytics to monitor your team's performance and activity. Its AI tools provide contextual support to help provide quicker responses to customers. It also has native mobile apps that let your agents manage tickets and clear their queues on the go.
Agent Workspace
Omnichannel ticket management
Customer notifications
Ticket routing
Collaboration
Customer context
Ticket automations
The Agent Workspace provides a single space to manage all of your tickets, respond to customer requests, make calls, and collaborate with your teammates. It also gives your agents all the customer data they need, including order history, web activity, and loyalty status. With this feature, there's no need to toggle between windows searching for customer information and monitoring tickets—saving agents time and effort.
Routing & Intelligence
Answer Bot
Skills-based ticket routing
Automated ticket queue
Auto-populate ticket fields
Prebuilt conversation flow
Zendesk is powered by an AI bot called Answer Bot. This tool uses artificial intelligence to provide additional support and handle low-priority tickets. It automatically collects customer information, prepopulates ticket fields, and shares conversation transcripts with agents when necessary. It also powers ticket routing and queues. You can use Answer Bot in various support channels including chat, email, messaging, and Slack.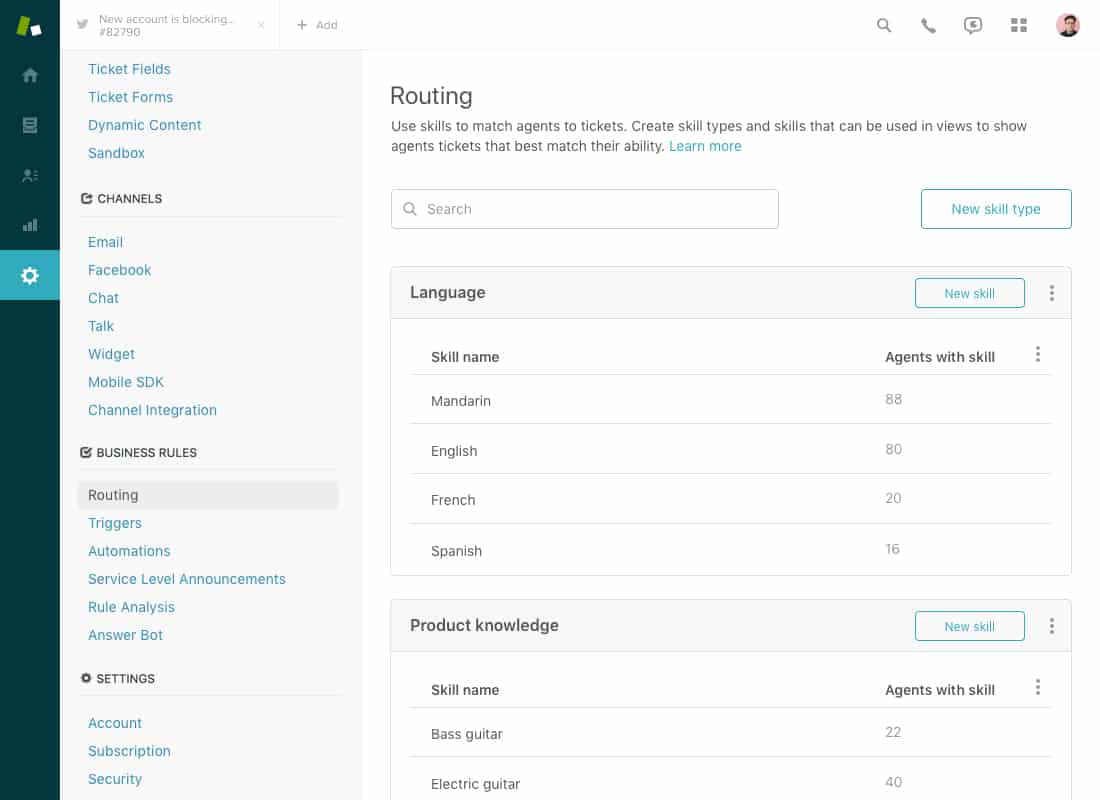 ---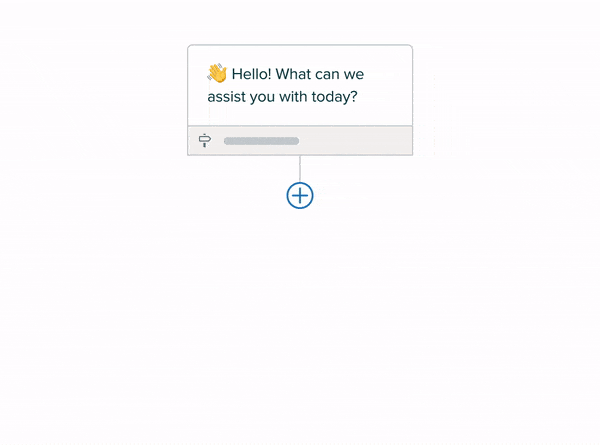 ---
Messaging & Live Chat Support
Answer Bot
Web and mobile widgets
WhatsApp and Facebook support
Outbound notifications
Live location map integration
Group messaging
Using the Agent Workspace, agents can access customer information and engage with customers using different support channels from a single place. Answer Bot also helps you provide support even when agents are offline. You can customize your messaging and live chat channels by activating outgoing notifications for customers, integrating live location maps for delivery drivers, and connecting all parties via group messaging.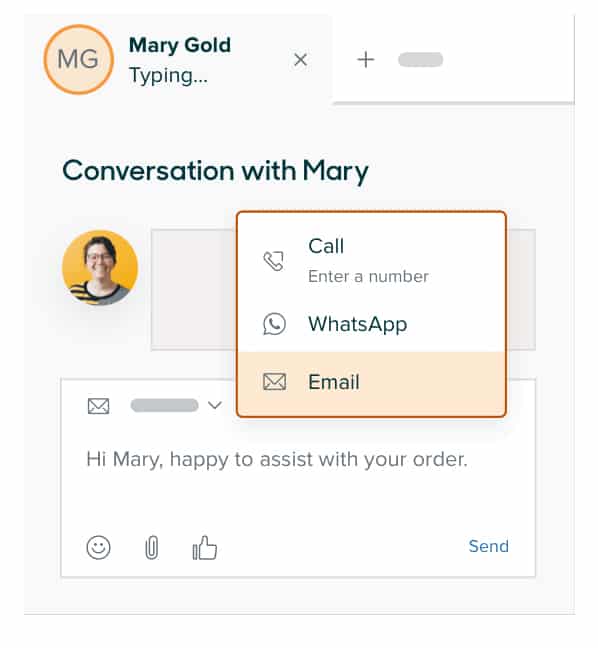 ---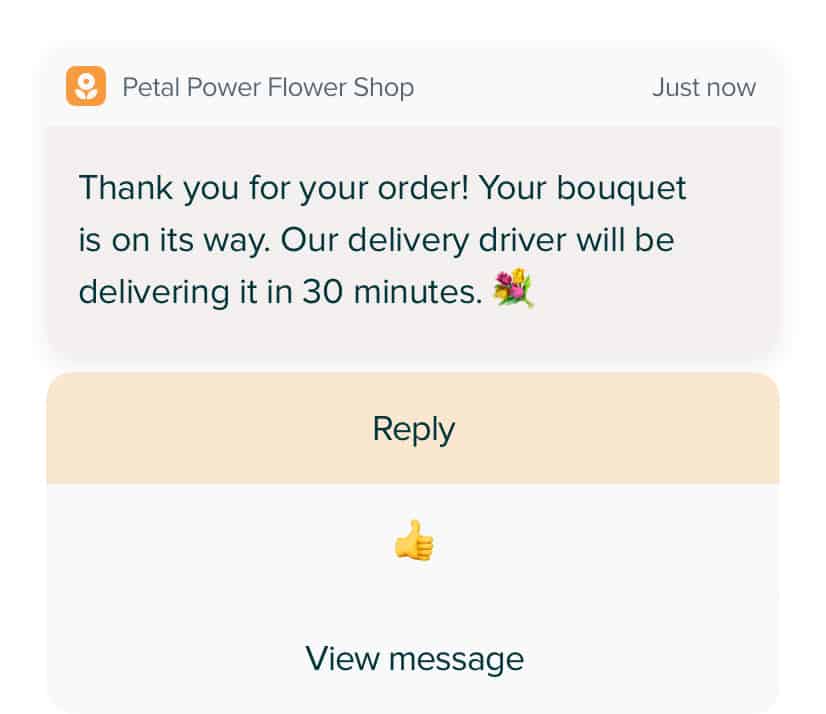 ---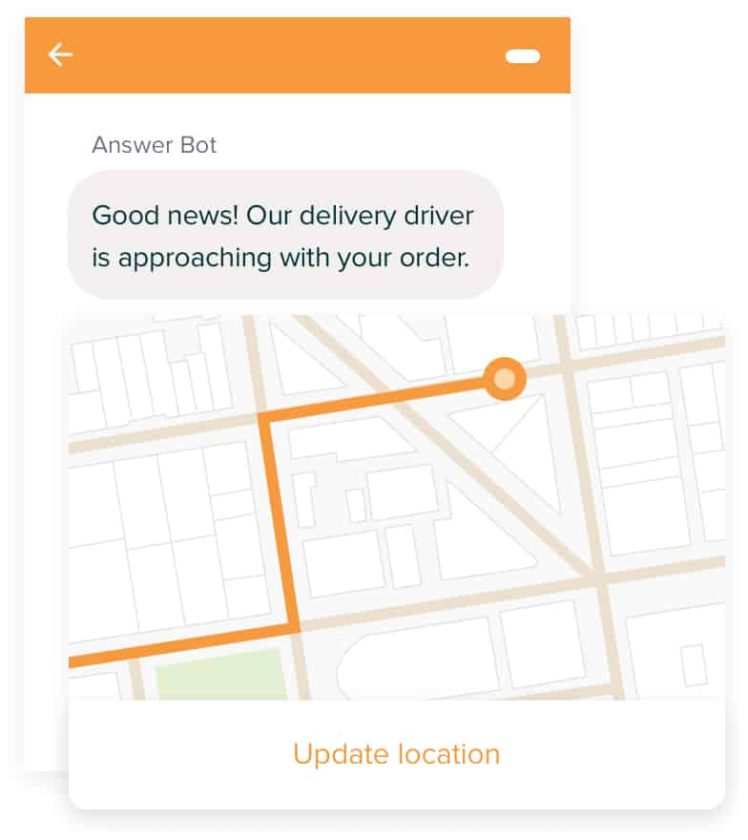 ---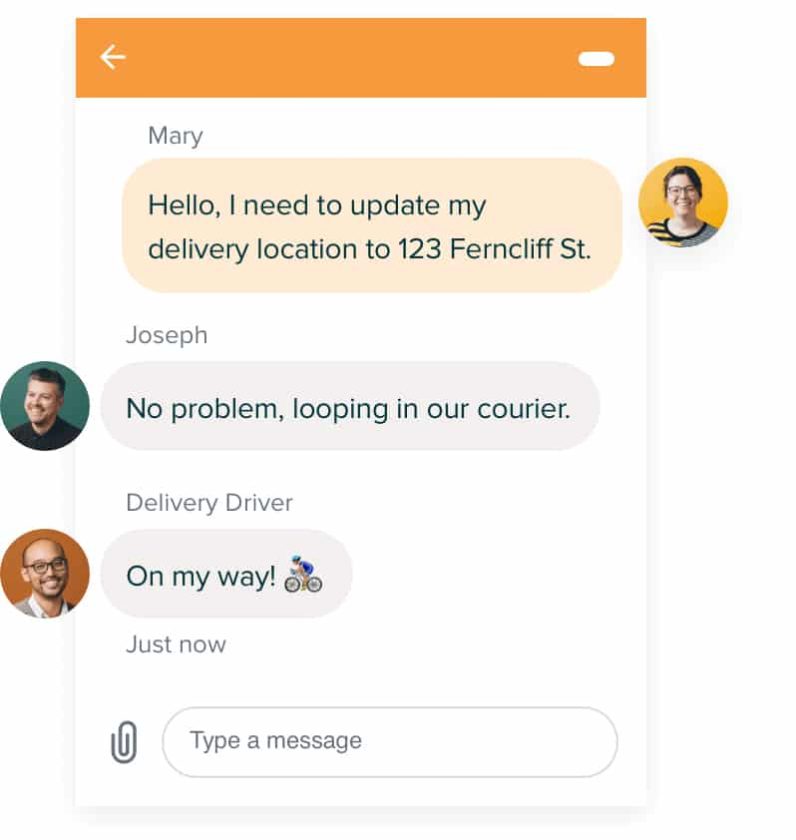 ---
Zendesk Talk
Embedded call button
Unified conversations
Voicemail and text messaging
Telephony integration
IVR
Group routing
Overflow and after-hours routing
Real-time call analytics
Cross-channel reporting
Call monitoring and recording
Zendesk Talk is Zendesk's integrated voice software that syncs with your support channels and displays customer information whenever agents receive a call. You can handle all your calls, voicemails, and text messages in the Agent Workspace, where you also manage emails, chats, and social messages. Its features include call routing, queue management, callback requests, automatic ticket creation, call recording, and real-time analytics.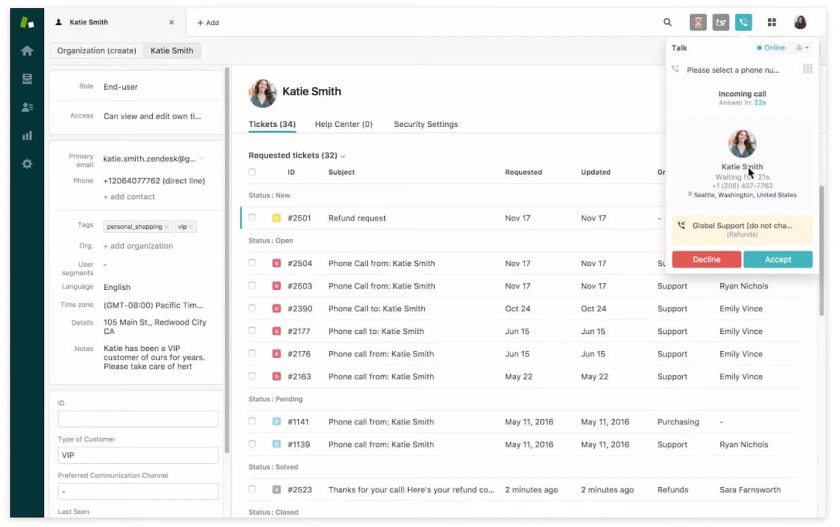 ---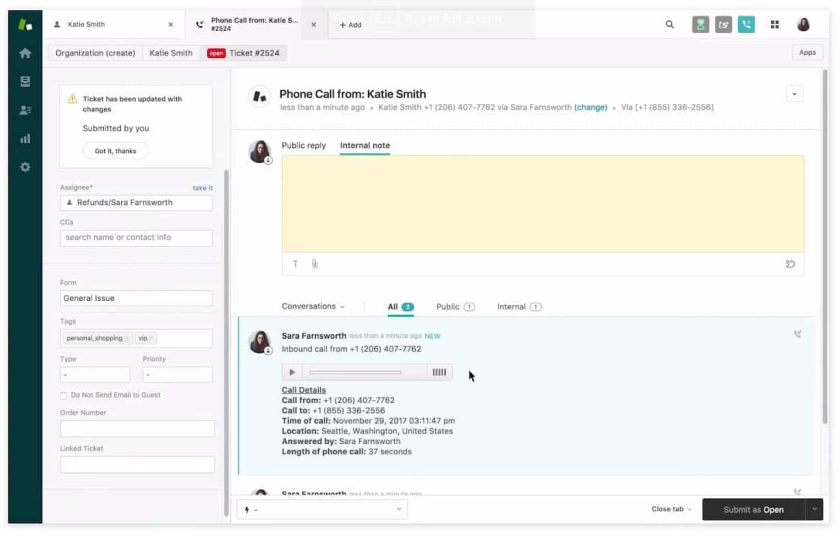 ---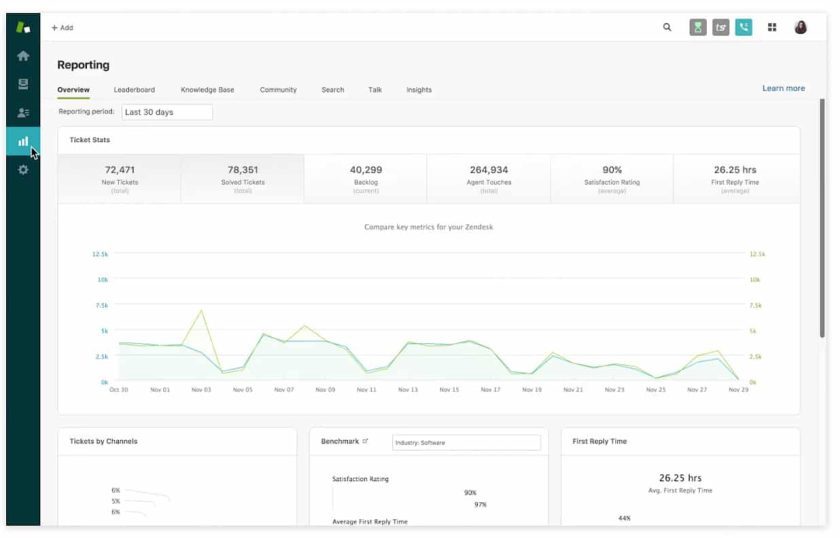 ---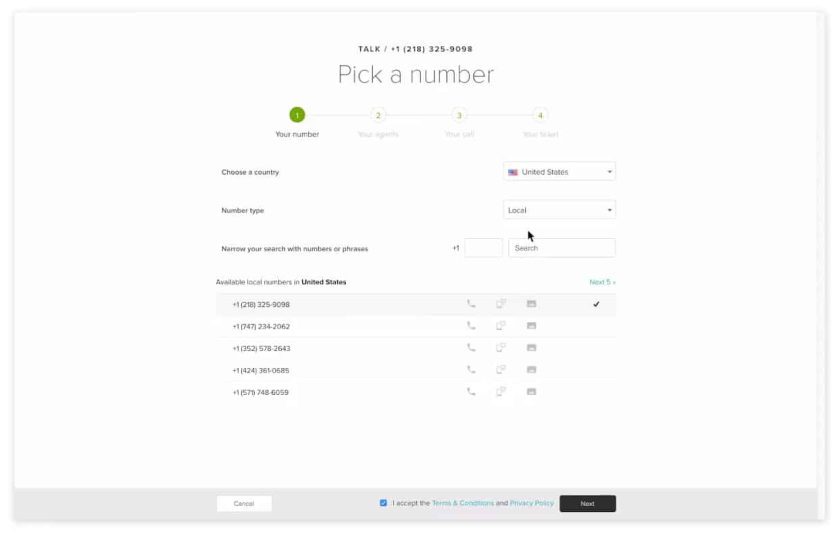 ---
Collaboration Tools
Side Conversations
Light Agents
Slack and Microsoft Teams integrations
Internal notes
Zoom meetings
Private comments
Jira, Trello, monday.com, and Asana integrations
Use the Side Conversations function of the Agent Workspace to collaborate with internal and external teams on tickets. You can also add Light Agent licenses to give limited access to key team members who need to monitor tickets or provide subject matter expertise via private comments. The platform's integration with Slack and Microsoft Teams allows team members to receive notifications and send messages about ticket updates directly from Zendesk.
Agents can schedule and launch Zoom meetings with customers from a support ticket. You can also integrate Zendesk with project management apps to make it easy for your support team to coordinate with other departments on tasks.
Zendesk Guide
Smart knowledge base
Customizable help center
Team Publishing
Content Cues
Zendesk's Guide features a smart knowledge base that gives customers the freedom to look for solutions to their frequently asked questions (FAQs). Its Team Publishing feature allows you to assign specific agents the tasks of writing, editing, reviewing, publishing, and updating your knowledge articles. AI-powered Content Cues show you which content serves your customers best and which ones should be removed.
Mobile App
Android and iOS apps
Agent notifications
Create new tickets
Quick updates using macros
Reporting and analytics
Triage and respond to tickets
Agent dashboard
Visitor chat
Multiple chats
Zendesk's native mobile apps for Android and iOS devices allow your agents to monitor tickets, clean up their queue, and receive updates on the go. You get full access to reporting and analytics dashboards so you can monitor key performance indicators (KPIs) and get an overview of an agent's or your team's queue.
Reporting & Analytics
Omnichannel analytics
Real-time and historical data
Prebuilt dashboards
Customizable dashboards and charts
Share and schedule dashboards and reports
Zendesk integrates customer analytics data from email, chat, phone, and social channels into a single reporting solution, making it easy to measure your customers' interactions with your brand. Get access to both real-time and past trends, and analyze your team's performance using prebuilt dashboards to make data-driven decisions. You can also share dashboards and schedule reports to keep your team updated on essential insights.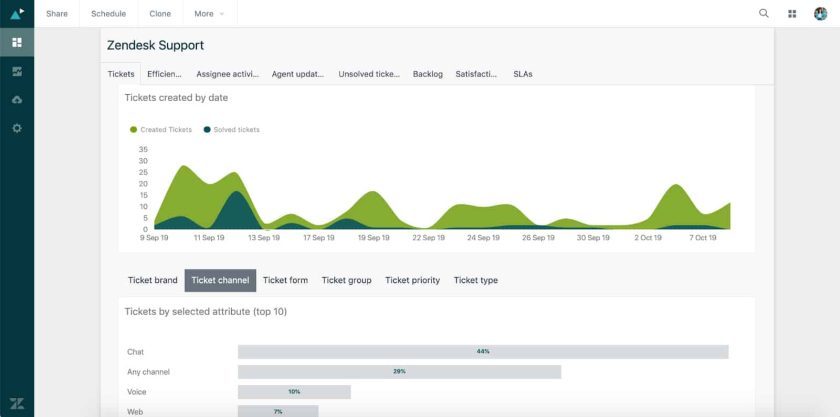 ---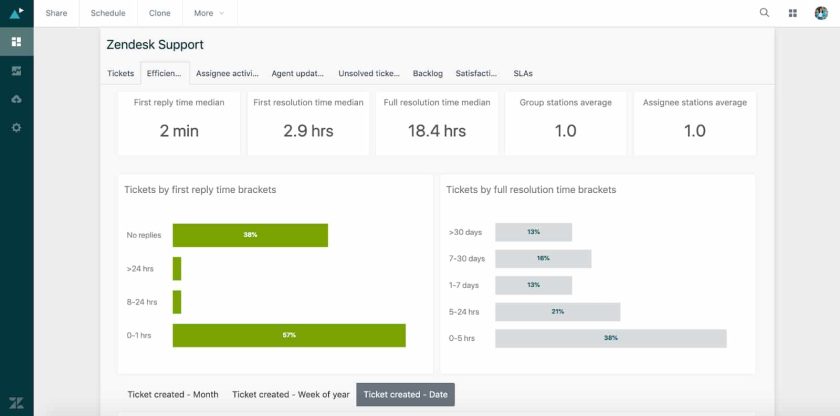 ---
Third-party integrations
Productivity and time tracking
Project management
Collaboration
Ecommerce
Customer relationship management (CRM)
Telephony
Surveys and feedback
Social media
Marketing and lead generation
Quoting and billing
Extend Zendesk's capabilities by integrating it with third-party apps, including those for time tracking, project management, collaboration, ecommerce, surveys, and lead generation. This platform integrates with more than 1,000 programs from its Marketplace. Some of its popular integrations are PandaDoc, Asana, Trello, Zoho CRM, Intercom, Jira, and Zoom. There are many free integrations, but some come at a cost that starts at 50 cents per agent, per month.
Customer Service
Zendesk provides a uniform set of support and services for its Suite and Support-only plan users. You can access online, email, and phone support during business hours for general account information and quick troubleshooting. You can also look for resources and guidance from its help center and the Zendesk community. Other customer services include onboarding and software adoption programs, role-based video courses, and downloadable tools.
If you want access to priority and 24/7 support, you may subscribe to Zendesk's Premier support and professional services packages, which start at a one-time fee of $6,000. You can also pay extra for a technical account manager and additional professional services such as hands-on configuration, solution design, and advisory consultation for solution deployment, data migration, and customization.
Zendesk's Professional Services packages at a glance:
1. Launch
Inclusions: Designated consultant, single support channel, 15 consulting sessions, configuration review, go-live readiness review, and post go-live review
Pricing: Starts at $6,000*
Available add-ons: Multiple channel implementation ($2,000), technical guidance ($2,500), additional collaborative configuration ($2,500), and Zendesk Certification ($250)*
2. Optimize
Inclusions: Designated consultant, recommendations document, post-optimization check-in, and remote sessions focused on admin training, workflow redesign, and configuration coaching
Pricing: Contact sales team for custom pricing
3. Transform
Inclusions: Process improvement and workflow redesign, roadmap design and feature adoption, and technical platform guidance
Pricing: Contact sales team for custom pricing
*One-time fee
Zendesk offers various courses for administrators, developers, and agents. On-demand video courses are free and private training guides cost $1,500 to $2,800 each. Topics covered in these learning paths include foundational support, agent efficiency, team productivity, automations, SLAs, and Zendesk key features.
You can also advance your career or validate your expertise with free Zendesk Certifications. Other certifications cost $199 to $899 each. These include Zendesk Support Administrator Expert, Zendesk Guide Specialist, and Zendesk Talk Specialist.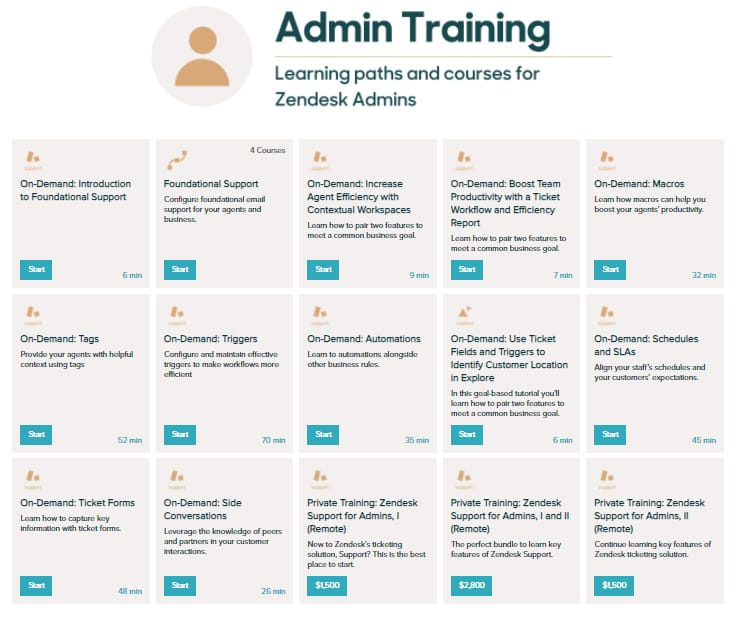 ---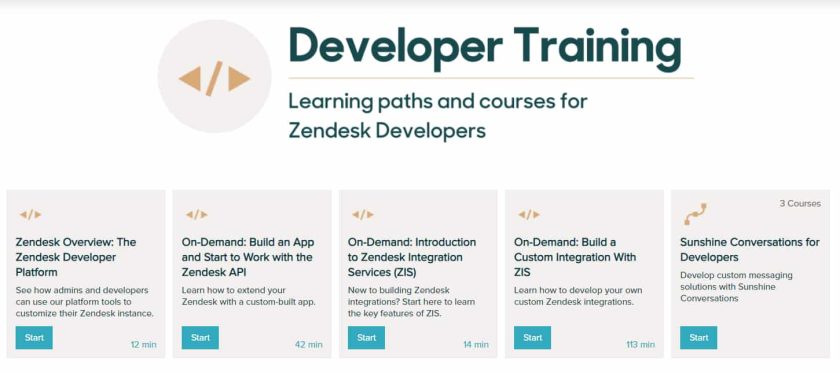 ---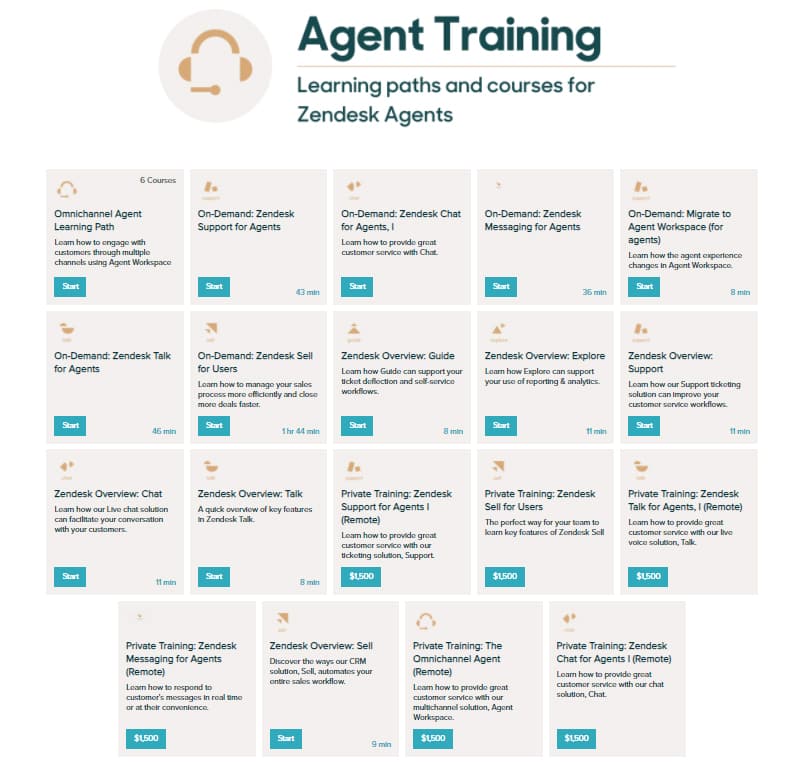 ---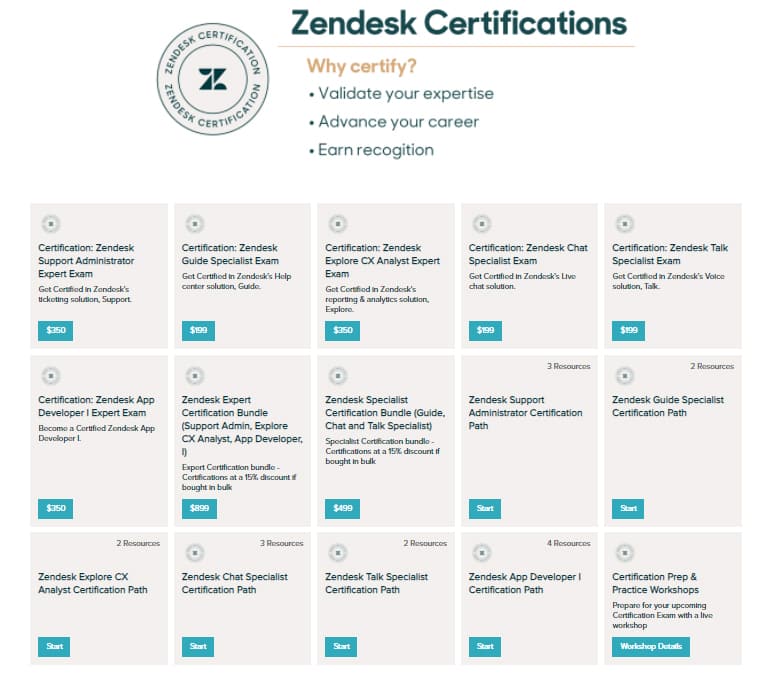 ---
Ease of Use
Zendesk has an intuitive interface that makes it easy for intermediate-level users to learn, explore, and navigate. Because of its robust and advanced features, beginners may find it challenging to use without proper training and onboarding. Its AI-powered bot and rich library of resources are helpful in providing smart recommendations on how to use it. Subscribe to their paid support plans for additional training and coaching sessions.
Zendesk Alternatives
If you're still not sure if Zendesk is the right fit for your business needs, below are some of the best alternatives to consider.
| | | | |
| --- | --- | --- | --- |
| Best For | Support teams who want customer service software with native CRM software integration | Companies needing an omnichannel help desk solution with field service management add-on | Customer service teams who need AI tools to boost productivity |
| Starting Price* | $29 per agent, per month | Free for unlimited users or $15 per agent, per month (Growth plan) | Free for 3 users or $14 per agent, per month |
| | | | |
*Based on annual billing. Monthly pricing is also available at slightly higher rates.
Looking for free options for your small support team? Read our list of the best free customer service software.
What Users Think of Zendesk
We looked at Zendesk reviews online and found that most of its users appreciate how its unified agent workspace makes it easy to monitor and manage tickets from multiple support channels. They also like its ticket automation and help desk configuration features. Others mentioned they received immediate assistance from an account manager whenever they encountered occasional bugs and glitches.
As of this writing, it has earned the following average scores based on Zendesk reviews on these popular review sites:
Some of the most common negative Zendesk reviews were about its expensive pricing plans and initial learning curve. Users acknowledged that it costs more than competitors like Salesforce Service Cloud. They also admitted it took time for them to learn how to use it properly because it has so many features and menu options. There are also those who described its interface as outdated and suggested implementing an update.
Bottom Line
Zendesk offers an omnichannel Agent Workspace to manage tickets, access customer data, respond to customer queries, and collaborate with teammates. Its AI-powered Answer Bot provides smart recommendations to increase agent efficiency, reduce customer wait times, and prevent case escalations. It is best for midsize to large support teams looking for a scalable customer service solution with robust ticket management and voice calling features.
Sign up for a 30-day free trial to explore its features and to see if it fits your business needs.