What Is Computer Telephony Integration (CTI): The Call Center Guide
This article is part of a larger series on VoIP.
Today, call center agents need to reach out to customers on their preferred platforms. This omnichannel environment requires businesses to expand outbound contact, and it's where computer telephony integration (CTI) delivers significant benefits. CTI is the linking of a call center's telephone system with various computer and smartphone applications. Keep reading to find out how CTI works and what the benefits are for small to medium-sized businesses.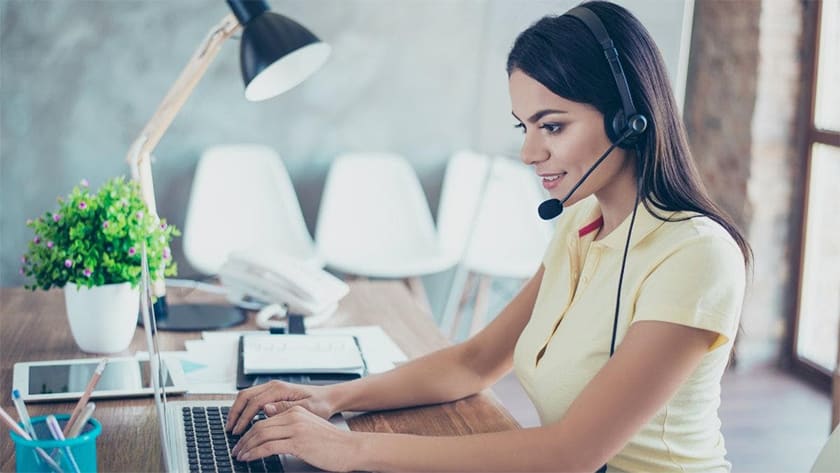 How Computer Telephony Integration (CTI) Works
Effectively, CTI links a business' telephone systems with business software. For example, you can make calls directly from Salesforce through integration with a phone system provider like RingCentral. As a result, agents will have a much more comprehensive interface while dialing and speaking to customers. They will be able to peruse billing history, location details, and past call logs of each customer they reach on a single screen.
CTI systems also allow for robust reporting functionality. Since you're incorporating computers into your communications profile, you can measure call frequency in real time, glean intuitive data like trends from calls, and even report on the types of devices being used to make calls within your organization.
This technology makes call coaching relatively easy, and features like call whisper, barge, and monitoring come with many voice-over-internet-protocol (VoIP) unified communications systems. With a traditional call center setup, these features tended to be cost-prohibitive for all but the largest centers. But VoIP business phone systems contain these features in software that small businesses and even solopreneurs can afford to adopt.
CTI isn't limited to just desktops as the technology can be quickly implemented with laptops and even smart devices. This is particularly useful for an increasingly remote workforce. Rather than lose information about calls made when an employee is working from home, CTI enables the information to be transmitted to the business communications stack, which helps support businesses using bring your own device (BYOD)-friendly providers.
Benefits of CTI
Based on research done by Upland Software, with non-integrated systems agents may spend up to 6% of their time just trying to pull up customer data. This shines the spotlight on the main benefit of CTI systems: efficiency. In turn, efficiency produces both improvements to productivity and the caller experience.
With a CTI-enabled provider, call center phone system integrations with customer relationship management (CRM) software like Salesforce ensure data is presented before an agent gets on the call or talks to the customer. This eliminates the need to search for customer information, which may cause hold time during a call. It also improves the caller's experience, since they don't have to repeat basic account information every time they call the business.
In addition to this major advantage, here are six additional benefits of CTI:
1. Reducing Phone Requirements
With the incorporation of computers into your communication stack, there's a reduced need to use devices like internet protocol (IP) phones. Instead of using these sometimes expensive devices to make calls, agents can use softphone or smartphone applications to communicate with customers.
This works equally well for standard business calling or in a contact center situation. Calls made using software also then include many or all of the VoIP calling features that make it so convenient.
2. Reducing Call Handle Time
With CTI, agents receive pop-ups with caller information when they engage with a customer. These pop-ups will provide critical details about the call, including the name, number from which they dialed, account history, and preferred contact method.
Without needing to take time searching unattached software, the agent knows if there have been past issues and is able to quickly and organically greet the customer by name. Putting this information in front of the agent reduces call handling time since the agent is able to resolve issues and move to the next call more quickly. The personalized engagement with the agent also ensures the caller that they matter to the business.
3. Creating More Effective Routing
When computers are incorporated into business communications, new opportunities for efficiency are revealed. Artificial intelligence (AI)-based software, in particular, helps customers connect with the right agents.
For example, with skills-based routing, a customer with a history of technical issues can automatically be forwarded to tech support when they call in. Other niche technologies can further augment this benefit. An example of this would be predictive behavioral routing, which matches the personality type and habits of a customer with an agent best able to communicate and build rapport with that type of caller.
4. Increasing First Call Resolution (FCR)
In addition to providing agents with detailed caller histories and information when they call in, computer telephony integration systems also automate the verification process. When a customer calls, the CTI system automatically compares the number used to call in.
This eliminates the need for things like authentication so that the customer can quickly get to the business purpose that prompted the call. For example, an agent can quickly determine if a call is being made for bill pay based on the date of the call and walk the customer through the process.
5. Bolstering Customer Touchpoints
One of the standout benefits of CTI is how it makes the entire process of customer contact digital. When you remove the analog nature of calls, other digital touchpoints suddenly open up. CTI enables call centers to reach out to customers via voice calling, texting, or emailing, or to engage with them on social media.
This promotes a more omnichannel experience for customer outreach and saves money in the long run. According to ICMI, digital contact via touchpoints like email and web contact are as much as 81% cheaper for businesses.
6. Generating Better Self-service Options
Interactive voice response (IVR) is a CTI-based technology that helps better manage incoming callers by routing them to where they need to be. Unlike an auto-attendant, which is a more simplified routing system, an IVR system uses voice inputs and machine learning to manage calls.
In some situations, callers won't even need an agent. This includes self-serve processes like paying bills or setting up notifications on the account. With self-service processes available, agents are then free to tackle the issues that require a human touch.
Bottom Line
In modern business, computer telephony integration streamlines and expands customer contact. CTI has benefits for call center phone systems as well as customer service and sales, which is why it's being adopted into the communications tools of many small businesses. CTI technology is critical for any business that wants to embrace an omnichannel approach, and customers will appreciate the ability to communicate directly on their preferred platforms.
To learn more about specific providers offering computer telephone integrations, check out our guide on the best call center phone systems.