Customer service reports provide businesses with an overview of a support team's activity summary, individual agent performance, and quality of customer interactions, which can help identify best practices and areas for improvement. No single report can provide a holistic and all-encompassing view of a customer service team's performance, so businesses often need to generate various kinds of reports to gain full visibility on their customer service quality.
Below, we share six essential reports every business should generate from their customer service software to assess their servicing quality regularly.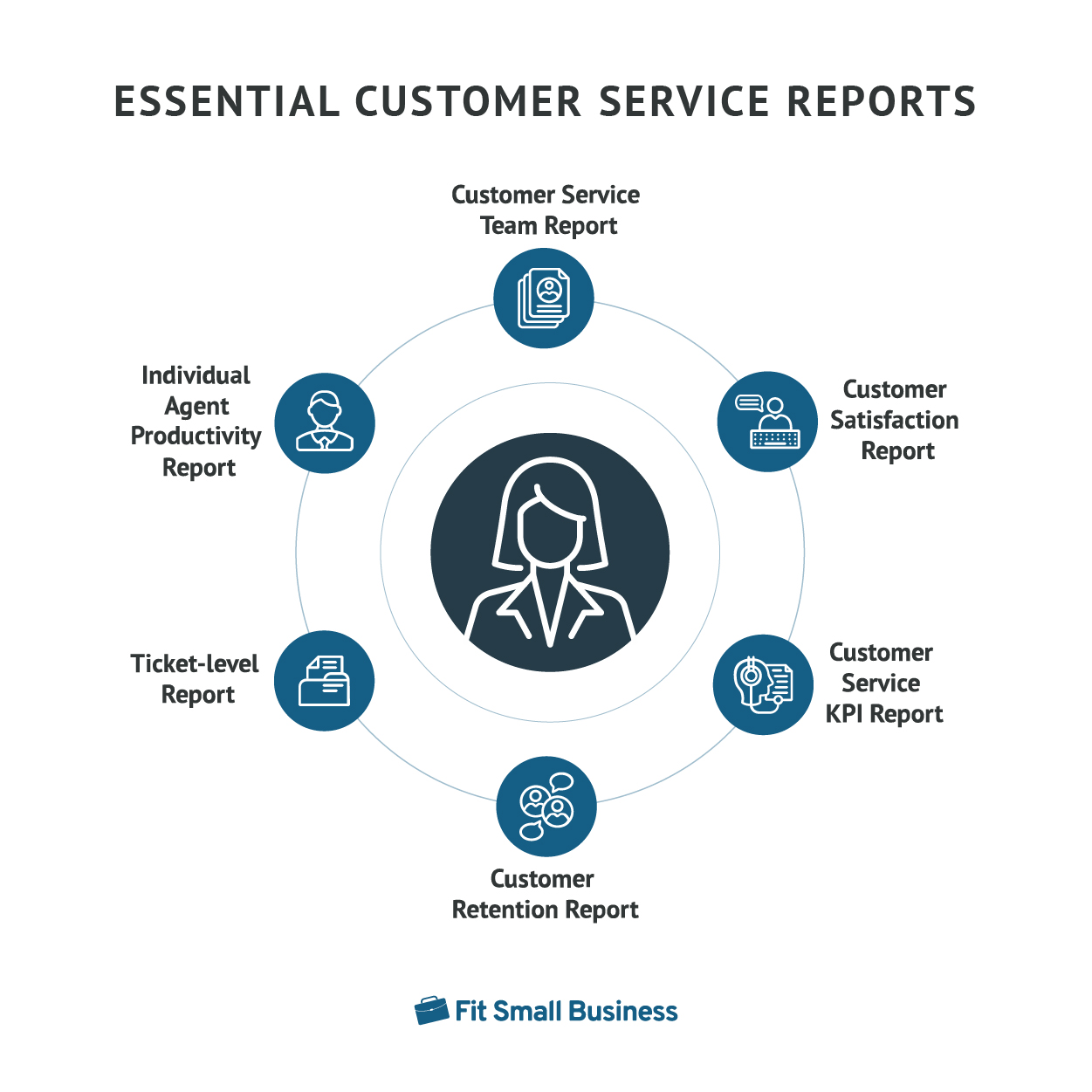 1. Customer Service Team Report
The customer service team report gives you an overview of your team's daily, weekly, or monthly performance. It also highlights the agents' SLA compliance, response time, individual performance, and request volume from every support channel. A quick look at this report helps you assess the overall health of your support team and determine if your agents are on track to achieving business goals.
Relevant KPIs and Metrics:
KPIs vs Metrics
Key performance indicators (KPIs) are measurable values that indicate how well you are hitting business objectives and targets. Metrics, on the other hand, track the status of a specific business process.
Average response time: Measures the time it takes a support agent to respond to a call, email, web forms, and live chat queries. The quicker your reps respond to queries, the higher your customer satisfaction and agent productivity rates will be.
First call resolution: The success rate of the support team in solving an issue during the first point of contact with the customer.
Number of requests: The volume of incoming calls and support requests, including the nature of each issue. This lets you know which particular times have high call volumes so you can plan an appropriate work schedule for agents.
Top-performing agents: Lists the support agents according to their performance over a specified period. It highlights those who deserve recognition and helps you identify which agents need additional training or coaching.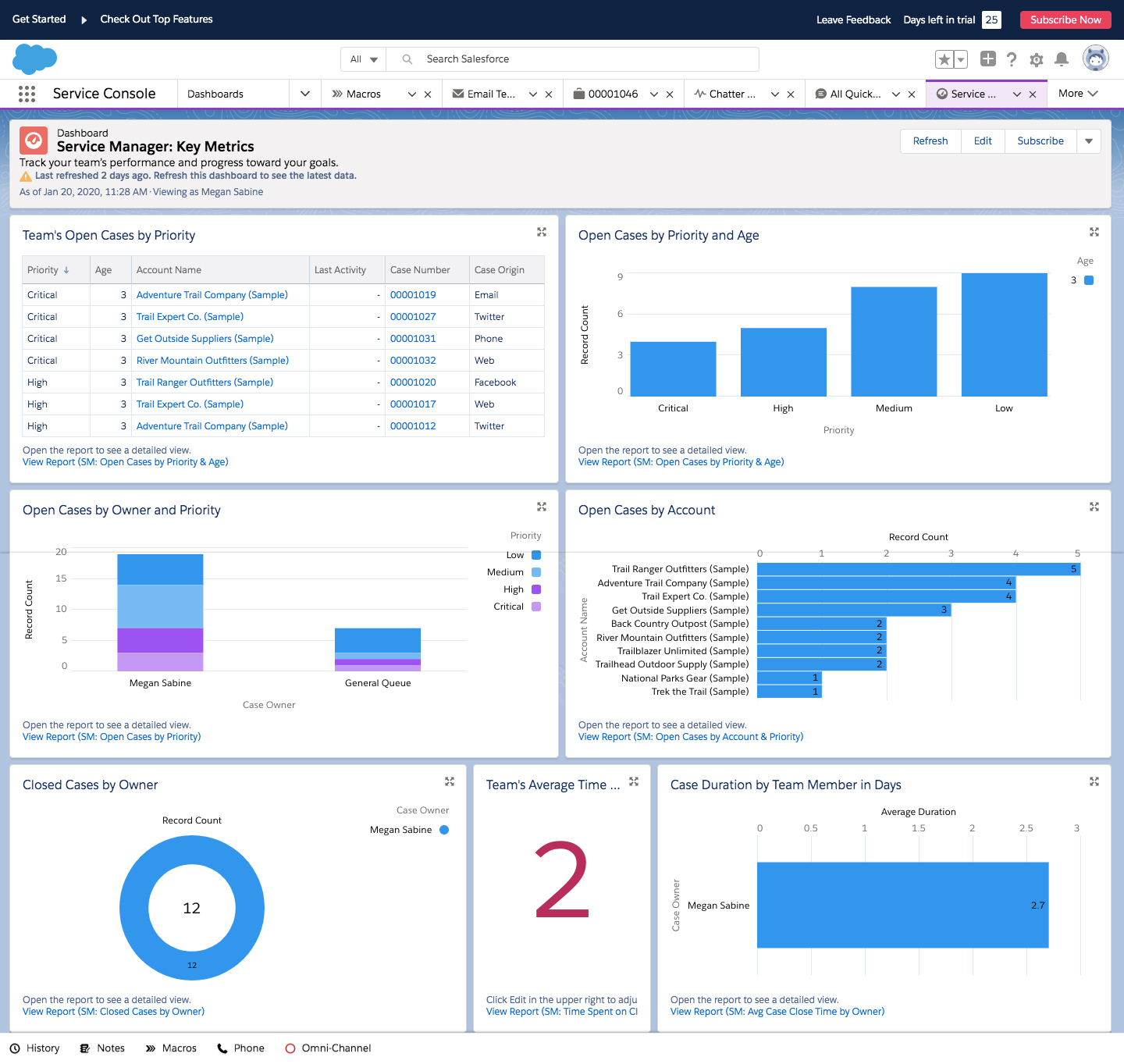 ---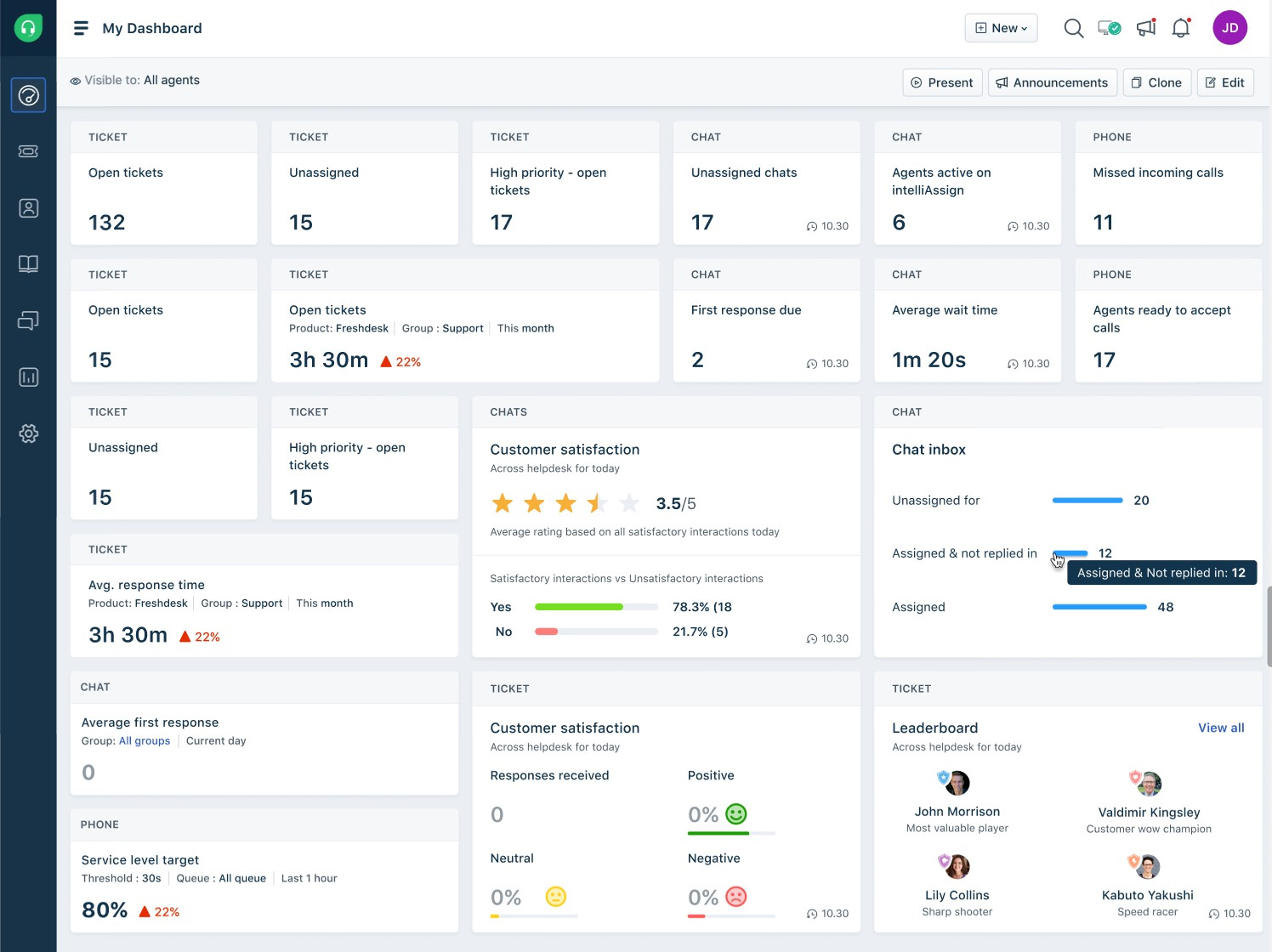 ---
2. Customer Satisfaction Report
The metrics included in the customer satisfaction report help you understand your customers' sentiment toward your company and the quality of support provided. A drop in these metrics could indicate decreasing customer service quality, poor product quality, or bad marketing decisions. On the other hand, a company that maintains good scores in this report has satisfied, engaged, and loyal customers.
Relevant KPIs and Metrics:
Net promoter score (NPS): Shows how the public perceives your service levels and how likely they are to refer your business to their peers.
Customer effort score (CES): Measures how much effort your customers have to exert to resolve an issue or answer their questions.
Customer retention rate: The percentage of a company's existing customers who remain loyal over a given period.
3. Customer Service KPI Report
The customer service KPI report provides evaluations of each support rep's performance and allows you to drill deeper into individual metrics. The KPIs in this report counterbalance customer-based feedback, giving you a more accurate picture of how well your agents meet your support standards. They help you determine whether the feedback was intended for your support, product, or customer experience.
In some cases, support agents receive poor ratings because of customers' unrealistic expectations of how they should resolve issues. Other situations involve customers who give high ratings for services that did not reach the quality of support you set for your team. Customer service analytics give managers a targeted insight into your service quality based on rating categories specific to your company.
As an example, consider a customer who purchases a product from a company for the first time and is impressed by how the support agent handled the transaction. The buyer gives the transaction a high rating even when their interaction lasted longer than what the company considers acceptable. This discrepancy can be easily spotted by looking at the customer service KPI report.
Relevant KPIs and Metrics:
Service level agreement (SLA) compliance: Measures your capacity to meet the standards in your SLA with your customers and helps you identify new ways to improve your overall service standards.
Customer support vs revenue: Calculates the cost of your customer support in relation to the total revenue. The ideal goal is to provide high standards of service at lower costs.
Customer satisfaction (CSAT) score: Measures a customer's satisfaction with your products and services at key customer journey touchpoints. This KPI provides insights into how effectively your company is meeting expectations.
4. Customer Retention Report
The customer retention report provides detailed analysis and metrics that help you understand how and why your customers either stay loyal to your brand or churn. It offers at-a-glance insights into your company's strengths and weaknesses, as well as how much money is won or lost in a given month. This report also helps you identify potential customer loyalty issues and create strategies to retain more clients.
Relevant KPIs and Metrics:
Customer churn rate: The percentage of customers who have stopped using your brand or service over a specified time frame.
Revenue churn: Tracks, monitors, and measures the percentage of revenue you have lost from existing customers and tells you where the revenue loss came from.
Monthly recurring revenue (MRR) growth rate: Tells you how your customer retention rates affect your monthly revenue.
5. Ticket-level Report
The ticket-level report offers granular data, such as created and resolved tickets, missed calls, chat average pickup time, average resolution time, and ticket volume from each channel. This includes details of all incoming emails, support calls, live chats, survey forms, and social media messages. It also indicates which support channels are used most by your customers.
It is crucial to monitor the ticket-level report because its metrics play a critical role in customer satisfaction. For example, if the average time to close is high, you can investigate what's taking up their time. You can also ensure the frequently answered questions (FAQs) are covered in your knowledge base, so your reps don't need to type out the same instructions to customers repeatedly.
Relevant KPIs and Metrics:
Ticket volume: The number of incoming support tickets received by the customer service team.
Time to close: The average time it takes for the support team to resolve a customer issue.
Open rate: The proportion of tickets waiting for a solution in a specified period.
Escalation rate: The percentage of cases that first-line agents elevated to their senior leaders and managers to be resolved.
Looking at the images below from Zoho Desk, you can see how many tickets are open, overdue, and unassigned. You can also conclude that most of the tickets come from chats, and most customers are happy with the service they received. If you want to explore the Zoho Desk's wide range of ticket-level statistics, sign up for a 15-day free trial or start using its free basic plan.
6. Individual Agent Productivity Report
The individual agent productivity report gives the manager a detailed view of a support rep's activities and performance within a specified time frame. The relevant metrics here are similar to those seen on the customer service team dashboard, except this one is for an individual agent. This report allows you to monitor a rep's efficiency and ability to resolve issues, as well as determine where additional one-on-one coaching is required.
Relevant KPIs and Metrics:
Ticket volume per rep: The number of tickets assigned to an agent for a specified time period.
Tickets closed: The proportion of received requests successfully resolved by an agent.
Customer satisfaction: Reflects customers' collective rating or level of happiness with an agent's performance and engagement.
Time to resolution: The average time it takes an agent to resolve an issue.
Benefits of Customer Service Reports
Regularly running and monitoring reports on customer service metrics and performance helps support team managers easily spot trends and patterns in agent performance and customer experience. Below are five top benefits of customer service reports, including details on how they contribute to increased customer satisfaction.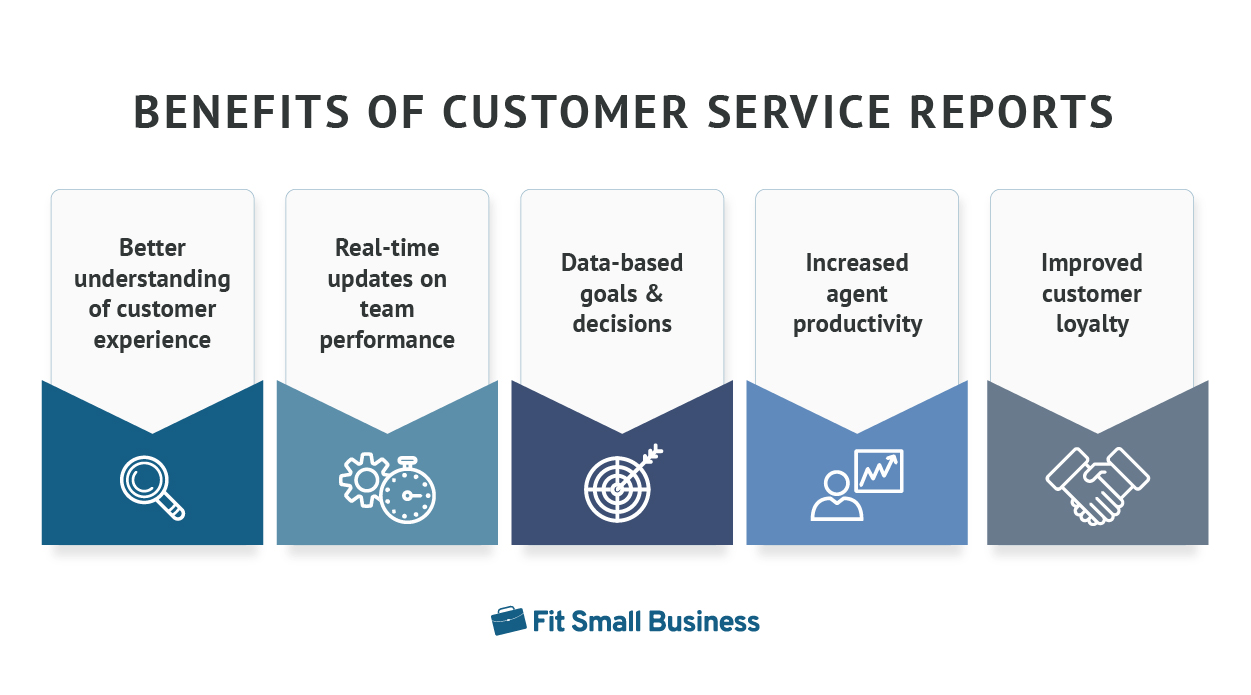 Customer experience metrics like customer satisfaction (CSAT) score and net promoter (NPS) score are excellent indicators of how happy your customers are with your offerings. To make sure your interpretation of these statistics is accurate, implement customer service analysis reports at every touchpoint. These reports allow you to spot and fill customer experience gaps, as well as determine what you are doing right along the way.
For example, let's look at how unexpectedly high shipping fees could affect a customer's buying experience. If a report indicates customers are abandoning their shopping cart once shipping fees are shown, you can consider offering free shipping to those who purchase at least $50 worth of products. This tactic could improve the customer experience and encourage shoppers to complete their purchases.
---
It might be easier for small businesses to keep track of their support team's performance and activities. However, it's not the same for bigger companies with dozens of employees. Fortunately, you can easily generate and pull up real-time updates on your team's assignments, activities, and performance using service reporting tools.
Real-time reports give you a birds-eye view of the health of your work processes. For instance, your customer service team dashboard tells you your agents' number of resolved tickets has been abnormally low in the last few days. Upon investigation, you find they have difficulty answering questions about a new product. To improve their resolved ticket score, you can conduct additional training or a refresher course on the product in question.
---
Service reports provide support team managers with reliable data on which they can base their decisions. These include decisions on staff scheduling, hiring, team expansion, promotion, coaching, and even termination. You can also refer to data on customer satisfaction levels when proposing changes in your service protocols.
For example, launching a new batch of products has doubled your team's ticket volume, and many support calls are going unanswered. Based on this finding, you can opt to hire new agents so your team can accommodate all incoming requests.
---
Leaderboards display the rankings of all your support reps and indicate how long each agent has been on that spot. You can post these reports weekly or monthly to motivate your agents to do their job better so they won't be ranked at the bottom. This can also inspire high achievers to maintain their level of performance.
---
Happy customers tend to make repeat purchases and refer your product or service to their peers. Reports on customer experience and satisfaction tell you if your clients are happy with your company. If reports reflect that they are unsatisfied with your product or their buyer experience, you can propose and implement changes to improve their perception.
Do you want to increase your customers' loyalty and affinity to your brand? Apart from providing them, high quality products and services, make sure to reward their loyalty by creating a customer loyalty program.
For example, a ticket-level report shows that each customer submitted multiple support requests for a new app. After analyzing customer feedback and finding out the issue, the company launched updates to eliminate bugs in the app. After the product update, the company's ticket volume dropped dramatically, and most of its users started giving the app positive feedback and referrals.
Did you know?
Understanding your customer experience is key to growing your business. Nearly 90% of consumers with positive experiences are most likely to make another purchase, while 50% of customers are likely to switch companies due to poor customer service. Additionally, 83% of customers are willing to recommend it to their peers after experiencing good customer service.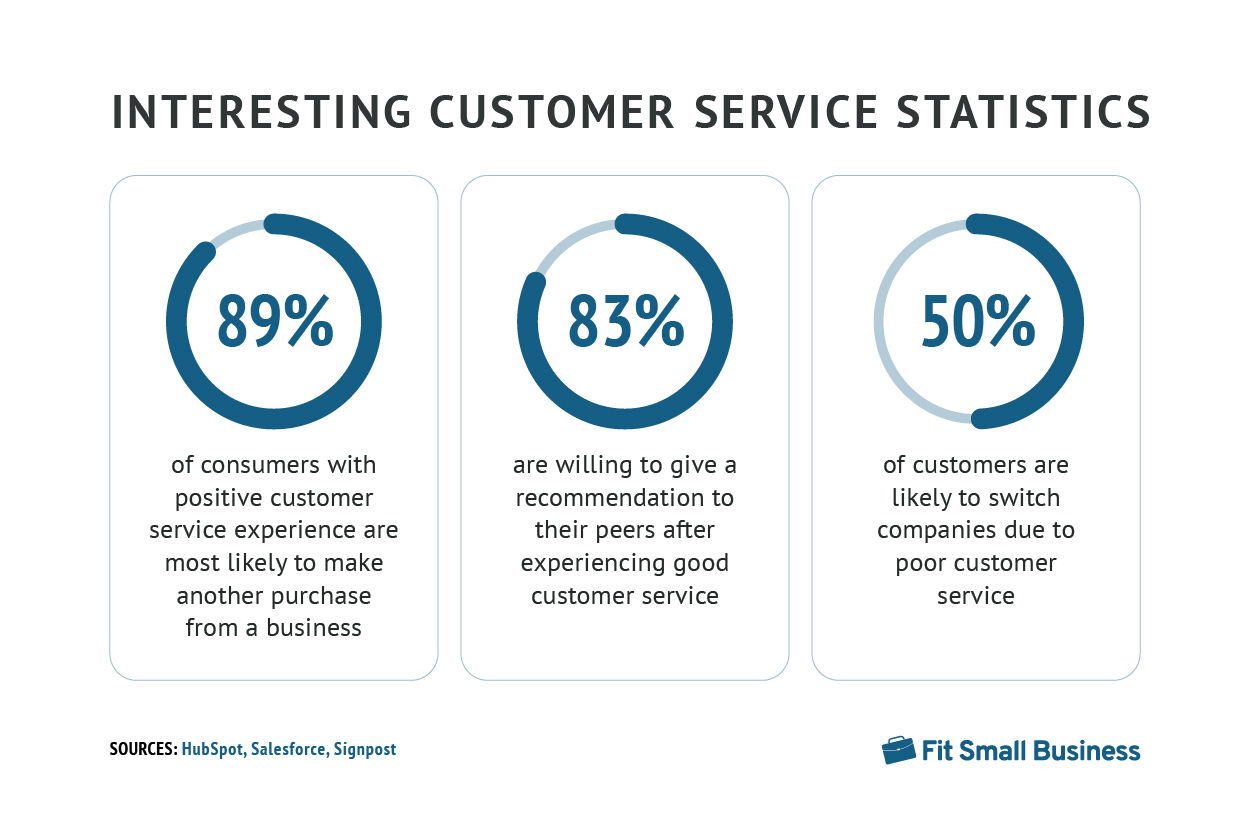 ---
Bottom Line
Customer service analysis reports are essential indicators of the health of your support team, product, and work processes. They also give you insights into what your customers expect of your product and service, as well as how well your agents handle requests for support. Ultimately, these reports contribute to higher customer satisfaction because they guide you on how to best meet your customers' needs and expectations.