Freshdesk Review: Is It Right for Your Business?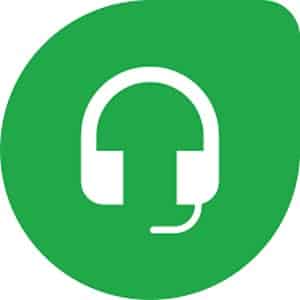 Freshdesk is cloud-based customer service software by Freshworks that offers help desk, live chat, and call center solutions for businesses of any size. Freshdesk reviews show that it's effective and easy to use, and customers appreciate the robust analytics and customization capabilities as well as being able to start with a free version. It is best for cost-conscious businesses that want scalable support desk tools to manage and improve multi-channel customer engagement.
What We Recommend Freshdesk For
Freshdesk's Support Desk software combines ticket management, collaboration, help desk, and customer service, support, and engagement tools into a single platform. Freshdesk pricing and plans scale up with additional features from the free basic plan to the robust enterprise tier, making it a great option for customer support teams of all sizes.
Who Freshdesk Is a Good Fit For
Companies needing free customer service software: Freshdesk offers a free Support Desk plan with ticket management, agent productivity, workflow automation, and reporting tools that can be used by an unlimited number of agents. Find out more about why it's one of our top picks for the best free customer service software.
Support teams with remote agents: The Field Service Management add-on makes Freshdesk a viable option for distributed teams or companies with remote-hybrid employees. You can track agent performance and service status, contact customers, and see how much time agents spend using their mobile apps for service tasks.
Businesses that use multiple support channels for ticketing: Freshdesk's omnichannel functionality provides a single platform for managing all incoming tickets from multiple support channels. These channels include email, phone, chat, and social media. This is one of the reasons why Freshdesk made it to our list of the top customer service platforms.
Freshdesk Is Not a Good Fit For
Small businesses looking for basic, easy-to-use customer service software: While Freshdesk is easy enough to use for mid-level users, beginners might find the learning curve challenging. It also comes with a robust set of ticket management features that may not appeal to small businesses preferring a more straightforward solution like Insightly Service.
Companies needing robust voice support features for call center operations: While Freshdesk integrates with Freshcaller, its main feature is ticket management. If a call center is an important part of your business operations, it's better to purchase a comprehensive solution that can handle large volumes of incoming calls. To find a good alternative, check out our list of the best customer relationship management (CRM) call center software.
Organizations wanting free customer service software with 24/7 support: Freshdesk's Free plan gives you access to a knowledge base and community support only. Its 24/7 email and 24/5 support options are only available to paid plan subscribers.
Freshdesk Overview
PROS

CONS

Offers a free plan that supports an unlimited number of agents
Artificial intelligence (AI)-powered agent assistant is available only in the highest-cost tier
Lowest-tier Growth plan includes basic reporting, collaboration, and help widget tools
The Free version and Growth plan lack team dashboards, chatbots, and social ticketing
Integrates with apps in the Freshworks ecosystem and 1,000+ third-party tools
Third-party integrations are available only with paid plans
Omnichannel support—communicate with customers via email, phone, chat, and social media
Customer support in the Free plan is limited to a knowledge base and community forums
In-app collaboration tools make it easy for team members to work together on complex issues
The added cost for Omnichannel Suite and advanced features like service level agreement (SLA) management gets expensive
Freshdesk Pricing
In addition to the Free Support Desk plan, Freshdesk pricing includes three paid plans that range from $15 to $79 per agent, per month when billed annually, or $18 to $95 when billed monthly. The main differences between the plans as reflected in Freshdesk pricing include the availability of features such as advanced workflow automation, service level agreement (SLA) management, custom reports, artificial intelligence (AI)-powered tools, and third-party integrations.
Support Desk Plans

Free

Growth

Pro

Enterprise

Monthly Pricing

($/Agent/Month)

$0

$18

$59

$95

Annual Pricing

($/Agent/Month)

$0

$15

$49

$79

Email Ticketing and Outbound Emails

✓

✓

✓

✓

Canned Responses and Basic Automations

✓

✓

✓

✓

Knowledge Base and Help Widget

✓

✓

✓

✓

Mobile App (Android and iOS)

✓

✓

✓

✓

Event and Time-triggered Automations

✕

✓

✓

✓

SLA Management

✕

✓

✓

✓

Round-robin Ticket Assignment

✕

✕

✓

✓

Customer Satisfaction (CSAT) Surveys

✕

✕

✓

✓

Freddy AI

✕

✕

✕

✓

Reporting and Analytics

Default dashboard

Default dashboard and help desk in-depth reports

Custom dashboard, help desk in-depth reports, agent and group performance, and team dashboards

Custom dashboard, help desk in-depth reports, agent and group performance, and team dashboards

Help and Support

Knowledge base and community forums

Knowledge base, community forums, and 24/7 email support

Knowledge base, community forums, 24/7 email support, and 24/5 phone and chat support

Knowledge base, community forums, 24/7 email support, and 24/5 phone and chat support
Click on the drop-down tabs below for more information about each of Freshdesk's Support Desk plans and complementary products such as Messaging, Contact Center, and Customer Success:
Free
The Free Support Desk plan comes with a basic email and social media ticketing system for an unlimited number of agents. It converts email and social media queries into tickets you can track, prioritize, route, and respond to. Its productivity tools include shared canned customer service responses, public and private notes in tickets, personalized automated emails, to-do lists, and tags.
You can automate actions that run on ticket creation, such as ticket assignment, prioritization, triggered emails, and deleting tickets. The Free version of Freshdesk also offers basic social media support, letting you track brand mentions and participate in conversations involving your brand on Facebook and Twitter. Customer support for Free plan users is limited to answers to frequently asked questions (FAQs) in the knowledge base and access to community forums.
In addition, you can reach out to your teammates through Freshdesk's integration with ticket collaboration tool Freshconnect. You get access to a default dashboard and ticket volume trends. Other features under this plan are customer and company fields, mobile apps for Android and iOS, and customization options for your customer portal's logo and icon.
Growth
Growth plan subscribers get access to additional help desk and ticket management tools like multiple shared inboxes, in-app smart notifications, undo email sending, reply time tracking, and conversation sorting. In addition to the basic productivity tools in the Free plan, this plan includes personalized canned responses, agent collision detection, custom ticket views, and filtered search. It also comes with time- and event-triggered workflow automation.
Starting with the Growth plan, subscribers can use service level agreement (SLA) management tools and customize status and fields for ticket forms. Other added features include auto-suggest solutions and interlinking articles for the knowledge base, as well as help desk in-depth reports, export and save report functions, and time sheet summary reports. You can also start accessing the Neo Marketplace and integrate Freshdesk with third-party applications.
Pro
With the Pro plan, you get advanced ticket management tools like ticket templates and customer satisfaction (CSAT) surveys. Its workflow automation features now include round-robin ticket assignment and an out-of-office scheduler. Even the SLA policies are more comprehensive and cover reminders, escalation emails for violations, multiple SLA policies, and an SLA for every response.
The knowledge base under this plan features community forums, multiple-product content management, knowledge base analytics, and article templates. The help widget comes with sophisticated tools like frustration tracking, customer journey, appearance customization, a multi-lingual knowledge base, and ticket fields. It also includes advanced collaboration tools such as linked tickets, parent-child ticketing, and shared ownership of tickets.
This tier's customer service reports and analytics are also more robust with the addition of agent and group performance reports, satisfaction survey reports, ticket drill-down, performance distribution, top customer analysis, ticket lifecycle reports, custom reports, and team dashboards. You can also integrate Freshdesk with more apps at this level, including tools for surveys and feedback, time tracking, and invoicing.
Enterprise
At the top tier, the Enterprise package comes with the most advanced functionalities. Examples include quality assurance scores, skill-based ticket assignment, agent shift management, article approval workflow, and help desk change management. But one of the biggest advantages of subscribing to this plan is access to its smart customer service assistant Freddy AI, which we discuss in more detail throughout the features section below.
Freshdesk also offers plans for the following related products and add-ons:
Messaging
Free plan for up to 100 agents
Paid plans range from $15 to $69 per agent, per month when billed annually or pay monthly at a higher rate
Features include chatbots, chatbot analytics, assignment rules, canned responses, user segmentation, CSAT survey and report, team performance and agent availability reports, auto-resolve, and co-browsing (screen sharing with audio)
---
Contact Center
Free plan for an unlimited number of agents
Paid plans range from $15 to $69 per agent, per month when billed annually or pay monthly at a higher rate
Call charges start at $0.003 per minute
Use Freshdesk's Call Center Estimator to calculate the total cost of your agent licensing fee and inbound and outbound call charges
Features include inbound caller ID, call metrics, number porting, call queues, voicemail, call recording, call barging, routing automation, interactive voice response (IVR), voicebot, and service level monitoring
---
Customer Success
Per-user pricing ranges from $79 to $129 per month*
Platform cost ranges from $499 to $749 per month* (covers maintained data integrations, detailed user tracking, automation that constantly evaluates customer data, and customer emails)
Features include health scoring, proactive alerts, reporting and analytics, goal and task management, email campaigns, email triggers, account management, team performance analysis, customer engagement for multiple products, and enterprise SLA
*Based on annual billing. Monthly pricing is also available at slightly higher rates.
Freshdesk also offers the following add-ons for its paid plans:
Additional bot sessions: $75 for 1,000 bot sessions per month
Field Service Management: $15 per field employee, per month*
Omnichannel Suite: Ranges from $29 to $99 per agent, per month*; additional suite of messaging and telephony features for the Growth, Pro, and Enterprise plans of Support Desk, Messaging, Contact Center, and Customer Success products of Freshdesk
*Based on annual billing. Monthly pricing is also available at slightly higher rates.
---
Freshdesk Features
Freshdesk is equipped with smart ticketing and collaboration tools to simplify the customer request experience and agent workflows. Artificial intelligence (AI)-powered chatbots help your customers find answers to simple questions on their own and the platform provides a centralized platform where you can manage all customer requests from any support channel. All these features help increase customer satisfaction through the quick resolution of issues.
Click on the drop-down features below to find out more about each one:
Freddy AI
Assist bot (email, voicebot, chatbot)
Auto-triage tickets
Robo-assist (automated support processes)
Article suggester
Canned response suggester
Thank-you detector
Social Signals (social mention detector)
Freddy insights and reports
Freddy AI for customer service is a suite of smart assistant features built for Freshdesk. It allows you to build bots that automatically respond to customer queries and tickets for email, audio questions on Freshcaller, and chat. Freddy AI also handles smart transfers of conversations to agents, offers instant support on WhatsApp and Facebook Messenger, and even creates tickets for social media posts that are detected to require assistance.
Aside from that, Freddy AI helps increase agent productivity by suggesting solution articles, automatically prioritizing tickets, and suggesting canned responses. It detects "thank-you" emails from customers and executes required actions through automation. Freshdesk's reporting and analytics capabilities are also powered by this smart assistant.
---
Ticket Management
Team inbox
Agent collision detection
SLA management
AI-powered ticketing
Field service ticketing
Canned responses
Custom ticket views
Merging tickets
Smart ticket notification
Thank-you detector
Freshdesk makes sure no customer conversation slips through the cracks by automatically converting issues from any channel into tickets. The Support Desk's ticketing system comes with a team inbox where you can track and manage all incoming tickets from multiple channels.
It also has an SLA management feature that allows you to set expectations for response time with customers. In addition, Freddy AI can automate repetitive tasks such as ticket field suggestions and closing tickets.
---
Collaboration
Team huddle
Shared ticket ownership
Linked tickets
Parent-child ticketing
Freshdesk-Freshservice integration
Agents using Freshdesk's Support Desk software can loop in their teammates to collaborate in discussions on tickets and tasks. The parent-child ticketing functionality lets you split tickets into smaller tasks that one team can work on in parallel.
You can also link tickets that are similar to one another and send a single status update for all of them. The native integration with Freshservice lets your support team raise incidents and service requests with your internal service team for faster resolution.
---
Automations
Ticket dispatch
Intelligent ticket assignment
Time-triggered automation
Event-triggered automation
Automatic email notification
AI-powered help desk automations streamline your team's workflows by automatically scanning every inquiry and prioritizing and assigning tickets to the right agent based on skill and availability. It also uses Freddy AI to suggest solutions based on your past tickets. Plus, your system is constantly monitored for ticket updates and automatically notifies agents when customers get in touch with your business.
---
Self Service
AI-powered chatbot
Help widget
Automatically suggest solutions
Email to knowledge base
Solution article analytics
Article feedback
Forum moderation
Link forum topic to ticket
Freshdesk's self-service portal lets you provide answers to frequently asked questions (FAQs) so customers don't have to wait for available agents. Agents are then free to address more complex questions. You can bring your knowledge base content to all support channels, including chat, mobile, and your business' website, and your customers can also ask questions and engage in discussions in community forums.
---
Mobile App
Android and iOS apps
Ticket management
Canned responses
Mobile help desk
Time tracking
Access customer information
Share tickets instantly
Search tickets
Email customers proactively
Freshdesk's mobile app allows you to manage tickets from Android or iOS devices. You can easily delete, mark as spam, or close tickets with a quick swipe.
You can also use canned responses and solution articles to eliminate the difficulty of typing long replies on a small screen. Other functions you can access on mobile include ticket sharing, customer data, search articles, email to customers, push notifications, and time tracking.
---
Reporting & Analytics
Ticket and volume trends
Help desk in-depth report
Time sheet summary report
Agent and group performance
Satisfaction survey report
Ticket drill-down in reports
Performance distribution
Ticket lifecycle report
Custom reports
Team dashboards
Freshdesk's in-depth reports allow you to see where tickets are and how efficient your team is in moving them across the ticket lifecycle. CSAT survey reports help you measure customer satisfaction, while Top Customer Analysis reports help you understand ticket trends and customer interactions with your agents. You can also gauge help desk performance by taking a look at resolution time and SLA metrics.
Performance distribution reports provide an overview of agents' performance against key support metrics to better understand their strengths and areas for improvement. You can customize dashboards to display required metrics and see which tickets need immediate attention. You can also build customized reports from scratch using drag-and-drop widgets.
---
Third-party Integrations
WhatsApp
Slack
Shopify
Salesforce
Microsoft Teams
Mailchimp
Zoom
Apple Business Chat
Freshdesk products
1,000+ apps on Neo Marketplace
Paid plan subscribers can integrate Freshdesk with third-party apps for email marketing, customer relationship management (CRM), cloud telephony, survey and feedback, time tracking, and invoicing software. You can also access more than 1,000 app integrations from the Freshworks Neo Marketplace.
---
Customer Service
Freshdesk offers tier-based customer service that includes access to its knowledge base and community forums for Free plan subscribers. You gain access to 24/7 email and 24/5 phone support by upgrading to the Growth plan. Pro and Enterprise subscribers are also entitled to 24/5 chat support in addition to the services offered in the lower tiers.
There are additional self-help resources you can access on the Freshdesk website for free. These include customer case studies, a resource library of tips and strategies, webinars, how-to videos, quizzes and productivity tools, and blog articles. You can even enroll your agents in the Freshworks Academy for additional certifications, skill upgrades, and training.
Ease of Use
Freshdesk has a fairly intuitive and user-friendly interface, though less tech-savvy users may find there's a learning curve. The main menu options are arranged conveniently and in plain sight, making it easy to navigate, and smart pop-ups give suggestions and instructions on how to use and customize the system. If you need more guidance, you can access its free library of resources or schedule a demo with a product consultant.
Freshdesk Alternatives
If you're not sure if Freshdesk is the right fit for your business needs, below are some of the best Freshdesk alternatives to consider. In addition, you may want to check out our guide to the best customer service software for more options.
| | | | |
| --- | --- | --- | --- |
| | | | |
| Best For | Teams that prefer a native customer service-CRM software integration and want actionable insights on common customer issues | Companies wanting more affordable customer service software with customer self-service & AI capabilities | |
| Starting Price | $29 per agent, per month | Free for three (3) users or $14 per user, per month | Free for unlimited users or $63 per month for two (2) users |
| | | | |
What Users Say in Freshdesk Reviews
We scoured Freshdesk reviews online and found that the majority of its users are pleased with its ticket management capabilities. They also like how easy it is to use and appreciate the robust reporting and customization options. They say the Free plan is a great option for startups and small businesses and think that its paid plans are reasonably priced. Many also remarked on how responsive and efficient Freshdesk's sales and support agents are.
As of this writing, Freshdesk reviews have earned the following average user ratings on these popular review sites:
In less favorable Freshdesk reviews, users mentioned varying suggestions for improving the software, but one of the most common was in regard to third-party integrations. They wished for smoother integration with other apps, especially with telephony, CRM software, and invoicing tools.
Bottom Line
Freshdesk offers a wide range of customer service solutions with rich customization options. It has a free Support Desk plan with limited features that's best suited for startups or small support teams. However, with three paid tiers as well as ancillary products and add-ons, businesses of any size can easily scale up for the features they want and as their needs change. Sign up for a 21-day free trial or get started with its Free plan to see if Freshdesk is a good fit for you.