5 Best Free Customer Service Software for 2023
Subscribing to free customer service software is an excellent solution for startups and growing businesses to obtain help desk tools at no cost. Many customer support and ticket management software products offer free-forever plans for users to get them started with service features until they're ready to upgrade to paid plans for more advanced capabilities. We evaluated dozens of platforms to find the best free customer service software for small businesses:
Best Free Customer Service Software Compared
Provider

Free Plan # of Users

Starting Price for Paid Plans*

Free Trial for Paid Plans

Notable Free Features

Customer Support

Up to 10

$15 per user/month

21 days

Ticket management, knowledge base designer, and dashboard reporting

24/7 email support plus self-service resources

Unlimited users (limits on contact sources)

$15 per agent/month

14 days

Multichannel support modules such as phone, email, chat, and self-service

24/7 email, chat, and phone support

Up to 3 users

$14 per user/month

15 days

Automation, ticket macros, and built-in rich text editing tools

24/5 email support plus self-service resources

Unlimited agents

$22 per month (two agents)

30 days

Open-source software with highly custom branding, data fields, and features

Live chat and email support plus online resources

Up to 3 users

$5 per user, per month

14 days

Share Gmail inbox with email tracking and activity logs

Self-service options and email support during business hours (EST)
*Based on annual billing; monthly billing is also available for slightly higher rates.
Pro tip: Did you know there's a difference between a help desk and a service desk? Users risk investing in software with features inapplicable to their business needs without selecting the right software to manage each respective function. Check out our guide on help desk vs service desk to learn about their usages and the best providers for each.
Freshdesk: Best Overall Free Customer Support Software
What We Like
Free plan allows up to 10 users
Strong product usability scores in terms of setting up the system and operating the tools
Includes features for creating a knowledge base and website chat widgets
What's Missing
Product customization on free plan is limited to public portal customization
Free automation is limited to automated ticket creation
Built-in phone channel requires users to subscribe to the paid Omnichannel plan
Freshdesk Support Desk Monthly Pricing (per User) at a Glance*
Free: Up to 10 users
Growth: $15
Pro: $49
Enterprise: $79
Free trial: 21 days
*Pricing based on annual billing; monthly billing is also available for a higher cost.
Freshdesk is the native Freshworks software for customer service and help desk teams. While it offers two different products within the module, the support desk and omnichannel platform, only the support desk offers a free plan. That free plan lets users handle customer inquiries through email and chat widgets, and create self-service options for customers via knowledge base articles.
Freshdesk is the easiest free customer support software on this list to use—something Freshworks also does well for its other customer relationship management (CRM) and marketing platforms. It's intuitive to operate the ticket management features. The free ticketing system has a sleek design with minimal buttons, letting users easily navigate to each feature and utilize the tools. Within the module, teams can merge, set statuses, view priorities, or track activity associated with a ticket and respond to customer requests.
Unfortunately, the free Freshdesk plan comes with virtually no product customization features aside from designing a public portal for customers. This isn't ideal for businesses with unique help desk operations that need to customize their modules and data fields in a certain way. UVdesk is the best alternative for those attributes as it offers open-source tools, letting teams design modules, pages, and data fields to their liking.
Freshdesk Free Feature Summary
Email ticketing: Users can receive and respond to customer support inquiries through email and a shared inbox.
Ticket management: Ability to track ticket statuses, set priorities, merge tickets, and view activity associated with a ticket.
Agent notes and canned responses: Teams can store and organize notes relating to a ticket resolution as well as shared canned responses to help address customer concerns.
Ticket creation automation: Workflow automation that creates new tickets automatically and notifies specific reps or teams based on preset triggers such as priority or specific issues.
Customer self-service knowledge base: Service teams can create their own knowledge base full of articles and content to address common customer issues.
Embedded help widget: Teams can embed widgets on their website and products to live chat with customers or navigate them to the knowledge base.
Dashboard reporting: Customer service managers can view the system dashboard with reporting on trends, including received, resolved, and unresolved tickets.

---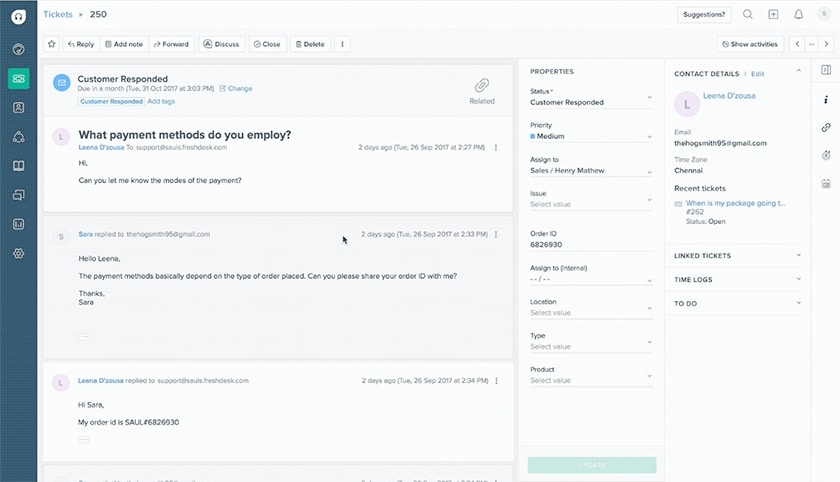 ---
Freshdesk Customer Support
The Freshdesk free plan comes with self-service options where users can access a knowledge base and community forum to address their product questions. For additional assistance, there's also free 24×7 email support.
Want to see why Freshdesk is a premier customer service software platform? Check out our full Freshdesk review for more insights on pricing, feature capabilities, integrations, and platform usability.
LiveAgent: Best Multichannel Support Options
What We Like
Offers 24/7 support on all plans
Many channels for users to support customers, including email, live chat, phone, and website widgets
Most ticket management features are available on the free plan
What's Missing
Interface is tough to navigate, particularly for new users
Free plan only allows one email address, phone number, and chat widget
Limited system customization options
LiveAgent Monthly Pricing (per Agent) at a Glance*
Free: Unlimited users but limits on email addresses, phone numbers, and live chat recipients
Ticket: $15
Ticket plus Chat: $29
All-inclusive: $49
Free trial: 14 days
*Pricing based on annual billing; monthly billing is also available for a higher cost.
LiveAgent is a specialty software designed to help support teams track tickets, communicate with customers, and design self-help resources. The free plan comes with robust ticket management solutions, including options to tag, search and filter, split, merge, and transfer tickets. Even after the free option, the paid plans are relatively inexpensive for users looking to upgrade and access more advanced features, such as social media support channels and website visitor monitoring.
This software stands out for its multichannel support capabilities. Users can receive and respond to inquiries through live chat and email, as well as contact customers by integrating their outside voice-over-internet-protocol (VoIP) software. They can also create live chat widgets and incorporate them into their Squarespace, Weebly, Wix, or WordPress websites to assist customers. Lastly, LiveAgent has excellent portal design features to create and manage a knowledge base, forums, and FAQ pages.
However, LiveAgent struggles in usability as the interface requires a slight learning curve before users are comfortable navigating it. Freshdesk is the ideal alternative as it's the best free help desk software for all-around usability.
LiveAgent Free Feature Summary
Customer portal designer: Teams can create and edit customer self-service portals with knowledge base articles, community forums, and FAQ pages.
Email and live chat ticketing: Users can collect service tickets and engage customers through email and live chat channels in real time.
Call center: Teams can integrate their outside VoIP system to receive calls from their help desk software.
Conversation management: Support teams can assist multiple customers with inquiries at once with multiple ticket tabs, add attachments to tickets, deploy satisfaction surveys, and store notes relating to helping customers.
Website integrations: Especially useful for ecommerce businesses, users can integrate with numerous outside web-hosting systems such as Squarespace, Weebly, Wix, and WordPress to collect tickets and communicate with customers via website live chat widgets.
Ticket tracking: Users can merge, split, and transfer tickets to other team members. Additionally, they can filter ticket lists based on custom contextual information and insert custom tags to tickets.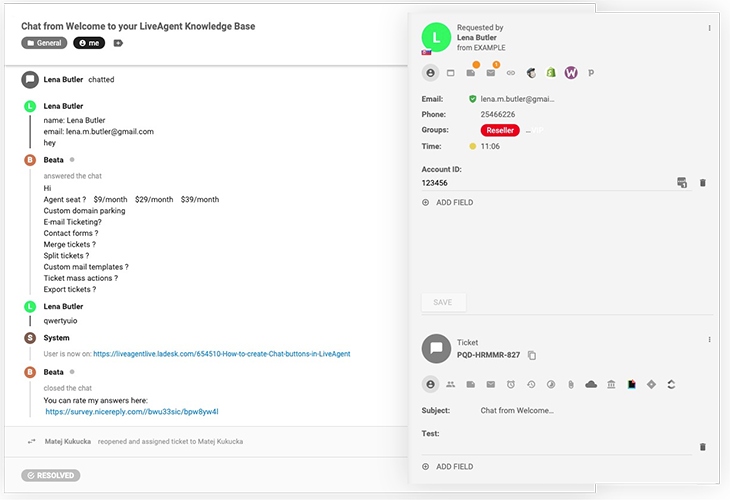 ---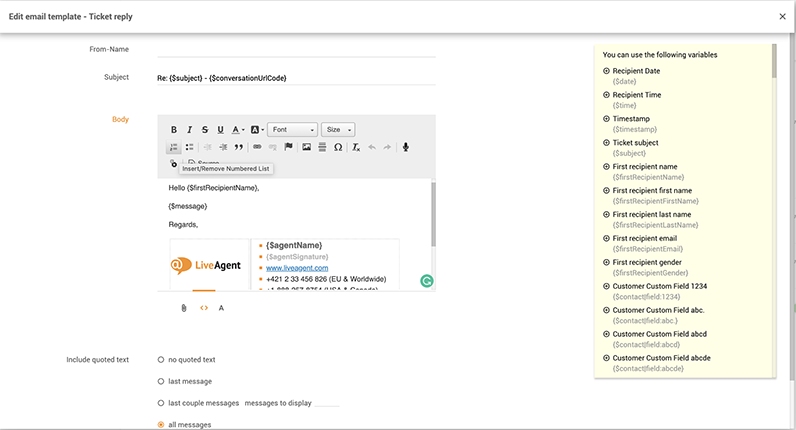 ---
LiveAgent Customer Support
The free LiveAgent plan offers excellent customer support to users with 24×7 availability on live chat, email, and phone channels. It also comes with self-service options through a knowledge base and white glove setup options where the provider will set up your account for you.
Zoho Desk: Best for Support Agent Productivity Features
What We Like
Offers excellent features for managing productivity, including workflow automation, macros, and rich text editing on messages
Scalable pricing options for growing businesses looking to upgrade
Free plan lets users prioritize and respond to cases based on service level agreements (SLAs)
What's Missing
Support channel tools are limited to one email, feedback widget, and web form
Known as a difficult system to set up for the first time
Free plan doesn't let agents merge, split, clone, or make approvals for tickets
Zoho Desk Monthly Pricing (per Agent) at a Glance*
Free: Up to three users
Standard: $14
Professional: $23
Enterprise: $40
Free trial: 15 days
*Pricing based on annual billing; monthly billing is also available for a higher cost.
Zoho Desk is one of many Zoho products designed to keep help desk teams organized, productive, and easily engage with customers. The free plan is available for up to three users, who can upgrade to scalable paid plans as their business grows and solution needs evolve. Zoho Desk lets teams collect tickets through email, feedback widgets, and web forms—allowing them to comment, add notes, create tags, and track resolution progress for each ticket.
The free Zoho Desk plan stands out for its productivity features. There's a peek view that lets users look at an overview of a ticket from a list by hovering over it without opening the ticket. Next is response editing for rich text, allowing agents to design better responses by incorporating other elements like bullet point lists or bold text.
Finally, teams can deploy automated notifications to agents regarding ticket updates. They can also create macros that let users perform ticket actions, typically common ones like moving to a new module, creating tasks, or alerting other users in one click.
Cloning, splitting, and merging tickets are useful for staying organized and quickly resolving customer issues. Unfortunately, Zoho does not allow those capabilities until the paid plans, which start at $14 per user, per month. Freshdesk is the best alternative for accessing those features for free, allowing up to 10 users on its free plan.
Zoho Desk Free Feature Summary
Ticket management: Users can convert emails to tickets, as well as comment, mark spam, organize notes, and create tags relating to support tickets.
Agent productivity tools: Solutions to help make support teams more efficient. For instance, there's a peek view, which lets agents see an overview of a ticket on a list without opening it. There's also a built-in response editor to help draft clearer messages to customers, plus advanced search for customers, contacts, and tickets.
Communication channels: Help desk teams can assist customers and receive tickets in real time through email, a feedback widget, a web form, as well as through a tailorable self-service help center.
Help desk automation: Custom workflow automations, including notification rules for agents and up to two macros or command lists that let users complete actions in one click.
Service level agreements: Teams can manage response and resolution times based on priorities per the service level agreements.
System customization: Support teams can customize email templates, tabs, and form fields for their help desk system and provide multilanguage support.
Customer management: Ability to organize data for contacts and accounts, including private notes and dedicated owners to each record.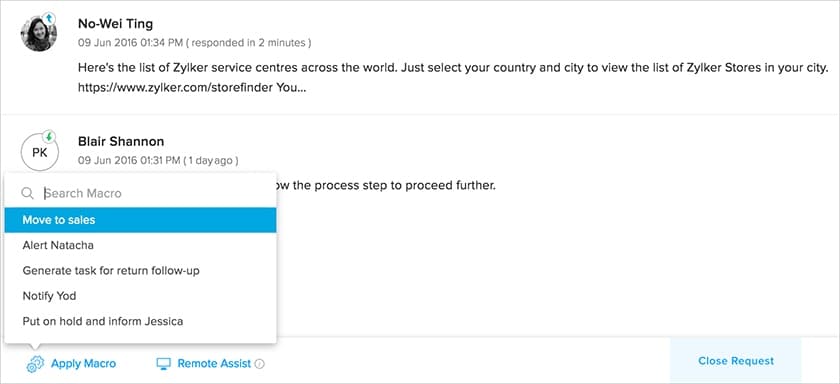 ---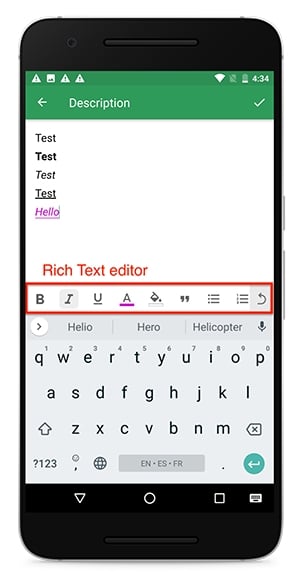 ---
Zoho Desk Customer Support
The Zoho Desk free plan comes with 24/5 email support to its users. There are also online resources teams can access, including product documentation, tutorials, videos, and FAQ pages.
Is Zoho Desk suitable for your business? Read our detailed Zoho Desk review to see if your circumstances, budget, and feature needs make this customer service software the best option for you.
UVdesk: Best for Open Source & Customization Capabilities
What We Like
Open-source capabilities make the platform very customizable
Unlimited users allowed on the free plan
Nearly all ticket management features offered are available on the free plan
What's Missing
Communication channels limited to email
Social media and ecommerce integrations are not available on free plan
No free task management features
UVdesk Pricing at a Glance*
Free: Open-source software for an unlimited number of agents
Pro: $22 per month (for two agents), then $11 per additional agent, per month
Enterprise: $36 per month (for two agents), then $18 per additional agent, per month
Free trial: 30 days
*Pricing is based on monthly billing. While the base cost is the same, annual billing is available for slightly lower prices for each additional agent.
UVdesk is an open-source platform where the code is available for free to the public, and users can configure it to meet their features and layout requirements. The open-source capabilities make UVdesk a highly customizable help desk—letting teams design pages, modules, data fields, communication templates, and workflow automations to their liking.
UVdesk's open-source system is free for unlimited users. It allows them to create a knowledge base portal with self-service articles, contact customers through email, and convert tickets from email and website channels. Most ticket management features are also free, including creating ticket categories, ticket transfers, private notes, saved inquiry replies, and setting statuses and ticket priorities.
The main limitations of UVdesk are the channels available for free users to receive tickets, assist customers, and respond to inquiries—allowing only email and website options. LiveAgent is the best option on this list for multichannel capabilities that include live chat, email, phone, website widgets, various ecommerce website platforms, and self-service portals.
UVdesk Free Feature Summary
Module development and integration: Open-source capabilities enable teams to create and customize modules to their customer service feature needs.
Knowledge base designer: Businesses can create a self-service portal for customers to receive assistance by adding articles to a knowledge base.
Email-to-ticket conversion: Support teams can receive, add, and respond to tickets directly through email.
Ticket management: Ability to track tickets, set priorities, add private notes, create tags, and transfer tickets to other users.
Automated workflows: Help desk teams can automatically assign and notify reps about new tickets, as well as create event and condition-based workflows such as "if a ticket is created, then auto-email the customer confirming you received it."
Saved response and email templates: Teams can create and save email templates or customer service responses for frequent inquiries. The system includes placeholder tools that auto-insert data such as ticket subject, ID number, customer name, or tags for the user.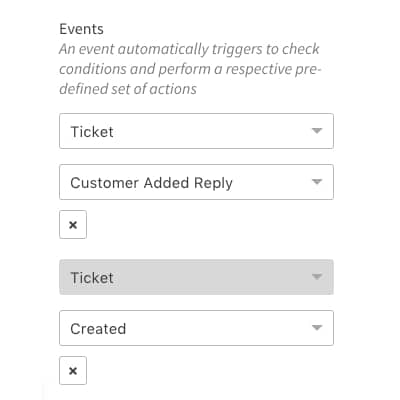 ---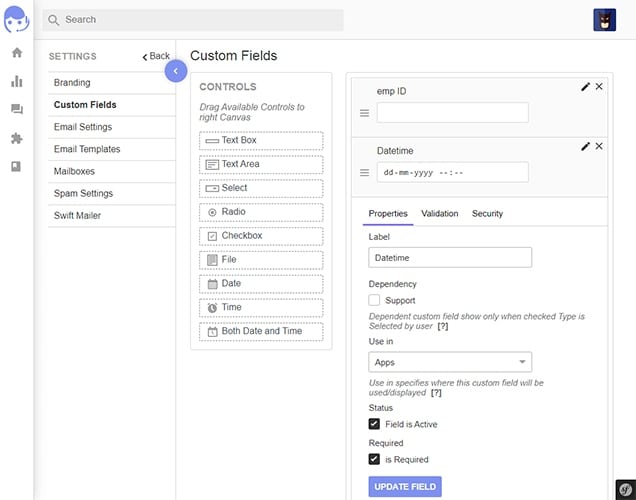 ---
UVdesk Customer Support
UVdesk comes with customer support through live chat and email ticketing, as well as a telephone help desk. They are available during standard business hours on Indian Standard Time (IST) and United States business hours for Eastern Time (EST). There are also online resources such as a blog, knowledge base, and product documentation.
Like what you see? Find out more in our UVdesk review for details on pricing, integrations, and features that can help your business.
Drag: Best for Google Workspace Teams
What We Like
Easy platform to use as it incorporates into the Gmail interface, which is familiar to many users
All plans are cost-friendly for teams that need to upgrade
Excellent collaboration tools like a shared inbox, workspace boards, and team communication tools
What's Missing
Lacks productivity tools such as email notes, checklists, and due dates until paid plans
Does not offer any type of phone system or call center features
No workflow automations available on free plan
Drag Monthly Pricing (per User) at a Glance*
Free: Up to three users
Starter: $5
Plus: $10
Pro: $15
Free trial: 14 days
*Pricing based on annual billing; monthly billing is also available for a higher cost.
Drag is a tool users can enable specifically within Gmail—making it ideal for Google Workspace users. The primary feature is the shared email inbox for support teams that can track email opens and convert messages into a custom board with a Kanban view that tracks cards. In this case, the cards represent customer inquiries or service tickets, where up to three users on the free plan can collaborate and resolve.
The team collaboration features include live chatting with team members within the Gmail system and the ability to assign and mention other users on workspace cards. There's also a collision detection tool that ensures two or more agents aren't simultaneously responding to a customer email at once—notifying users if such a circumstance occurs.
Unfortunately, Drag does not offer workflow or task automation features. Zoho Desk and UVdesk are the two best alternatives on this list in terms of creating macros and automated workflows out of event-based triggers and conditions.
Drag Free Feature Summary
Workspaces: Google group or custom board for teams to manage and collaborate on customer inquiries, tickets, or other help desk activity.
Team collaboration: Teams can live chat, assign cards, and mention other users on cards to notify and communicate with them.
Collision detection: System will detect and notify users if someone else is responding to a customer inquiry already.
Gmail shared inbox: Support teams can work out of a shared Gmail inbox to receive and respond to customer inquiries.
Email tracking: Teams can view when customers view or open their email messages.
Productivity management: Users can view activity logs, sort and filter workspace board cards, and color code card tags based on ticket or customer characteristics.
Drag Customer Support
Free Drag users get access to their help center resources that include articles and tutorials on the product. There's also email support available during standard business hours on Eastern Time.
How We Evaluated the Best Free Customer Service Software
To determine the best customer service management software that's free, we only considered products that offered a free-forever plan for at least one user. We then compared each product in terms of the specific features available on that free plan, such as a call center, email tools, or a ticket management system. We also evaluated other essential product attributes, such as platform usability and the customer support offered to users.
We found Freshdesk to be the best overall free solution option. The platform stands out for its ease of use for operating the ticket management system and communicating with customers.
The tabs below offer insight into our evaluation process of the best platforms:
20% of Overall Score
Because we were specifically evaluating free customer service tools, we looked primarily at features that were offered for free by the provider and would help customer support teams. A phone system, ticket management module, and email capabilities, for instance, are all crucial features a help desk software needs to help businesses assist their client.
20% of Overall Score
The solutions are also evaluated on platform usability. This was analyzed in terms of the expertise required to set up a new account and integrate with native or third-party applications. We also reviewed the overall intuitiveness of navigating the system's interface and the skill needed to operate the customer service features.
20% of Overall Score
Extensive support and service help prevent poor customer experiences and outcomes users may encounter while using any of these systems. Help and support are evaluated in terms of customer service hours and the availability of support via phone, live chat, and email—specifically for free-plan users. We also looked at online resources for users to review, like tutorials, forums, or training modules.
20% of Overall Score
In addition to firsthand experience with these customer service platforms, we evaluated what users say about each product. These criteria considered how customers feel, based on their reviews, to gain insight into software popularity, ease of use, and overall value for the price.
10% of Overall Score
We looked at overall features we feel are necessities for customer support software, specifically ones available for free. These include capabilities like reporting and analytics, a mobile app, and integration options with third-party or native software tools. We also evaluated each product in terms of system customization.
10% of Overall Score
In addition to offering a free-forever plan, we looked at the product's ability to provide various pricing options users can purchase affordably and the availability for a subscriber to either pay monthly or save by paying annually. We also evaluated the scalability of plans that let the help desk features grow with the business' needs and capacity requirements.
*Percentages of overall score
You May Also Like