2023 Retail Marketing Calendar: Guide + Free Template
A retail marketing calendar is an annual calendar that includes all major events, holidays, and seasons that businesses plan to market around for the year. Retailers use marketing calendars to help plan for key marketing initiatives and create timelines to stay on track and get them done.
You can download our free 2023 retail marketing calendar template below, which includes all the major holidays for 2023 as well as seasonal markers:
How to Use a Retail Marketing Calendar to Plan Your Initiatives
The primary function of the retail marketing calendar is to help you plan for key marketing initiatives around holidays, events, and seasons, schedule product purchases, and prep for peak seasons. First, you will need to fill out your calendar with all the key dates and events that you will market around.
As a rule of thumb, you will want to have your calendar filled out with events six months in advance and with buying trips scheduled a year in advance.
In the retail marketing calendar template that we provide above, all of the major national holidays are already inserted—think Christmas, Mother's Day, Passover, etc. From there, you should also seek out a neighborhood or local calendar and add in those events, or at least the ones that are pertinent to you. Then, you can also reference unofficial holiday lists to find niche holidays that your business could benefit from marketing around.
For example, Jan. 2, 2023, was the unofficial National Cream Puff Day. If I owned a bakery, I would add this date to my calendar and utilize it for a marketing event. Alternately, March 5 is the start of Teen Tech Week, which I might mark and celebrate with a promotional event if I were a tech or electronics seller.
Unofficial holidays are a great way to find highly specific celebratory days that cater to your business's niche.
Once you have your retail marketing calendar template filled out, the question still remains: How do I set up a timeline and make all the preparations needed for the different events and seasons that I have on my schedule?
Click through the options below to see just how you should line up your calendar to prep for holidays, peak seasons, events, and seasonal buying.
For most retailers, holidays are going to be a large focus of marketing initiatives. But, how do you prepare for holiday marketing initiatives? How do you ensure you have all the decor and products you need in time? And, when is it appropriate to start marketing around the different holidays?
For holiday marketing campaigns, your timeline will look something like this:
4–6 months in advance: Order holiday products. This is anything that you are going to sell to your customers in conjunction with the holiday in question. Generally, larger holidays (Christmas, Thanksgiving, etc.) will have holiday-themed products for you to buy closer to six months in advance, while smaller holidays (Mother's Day, Valentine's Day) will start having products closer to the actual day. The earlier you can acquire the product, the better, as this will give you a cushion against shipping and production delays.
2–4 months in advance: Acquire your decor and other store supplies. This includes all the items you will use to decorate your space for the holiday. As with products, larger holidays will have decor options available sooner than smaller holidays will.
2 months in advance: Determine your retail store hours and staffing. First, you should nail down just how many people you will need to staff your store for the holiday period. People who work in the retail industry know that they often don't get holidays off, and holiday availability expectations should be crystal clear during the hiring process.

To ensure that your staff has time to make plans for their holidays and that they don't feel blindsided by the commitment, you should release a holiday schedule to your staff two months in advance of the holiday in question. You can even offer them

holiday pay

to sweeten the deal.

1 week–2 months in advance: Roll out your holiday decor and merchandise. When exactly in the one-week to two-month time frame you take out your holiday decorations and merchandise will largely depend on the holiday, with larger holidays starting early and smaller ones later.

The best way to determine when you can start a holiday marketing initiative is to take cues from industry leaders as well as your immediate neighbors. For example, at my store, we would start rolling out

Christmas retail displays

once our neighborhood's holiday lights were up and lit.

If you start celebrating a holiday early, consider rolling out holiday merchandise in waves so there is always something new for shoppers to discover and a reason to visit your store more than once in the holiday season.

1 week–2 months in advance: Send outreach marketing messages and begin advertising holiday offerings. In conjunction with the rollout of your holiday products, you will also want to let customers know about your holiday goodies. Send emails, hang flyers in neighboring shops, and be sure to feature your holiday products on your website.
Let's take an example. Say you are prepping for your Fourth of July event for 2023. As we pointed out, you will likely start mapping out your plan for this event six months in advance—which is in February 2023.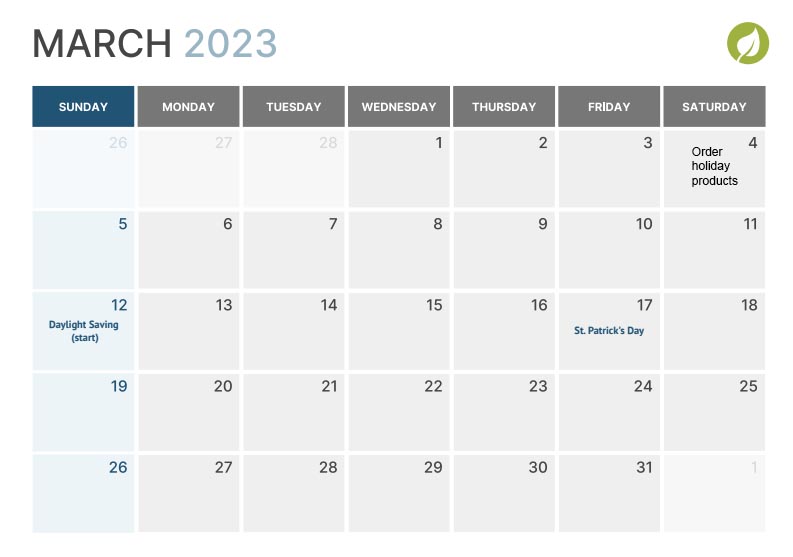 The first thing you would do is mark your calendar with a cue to order holiday merchandise. As Independence Day doesn't typically have a ton of associated products, you will likely do this four months in advance—in March 2023.
To keep things organized, I recommend color-coding your events. For this example, I use blue borders to mark any tasks associated with Fourth of July prep.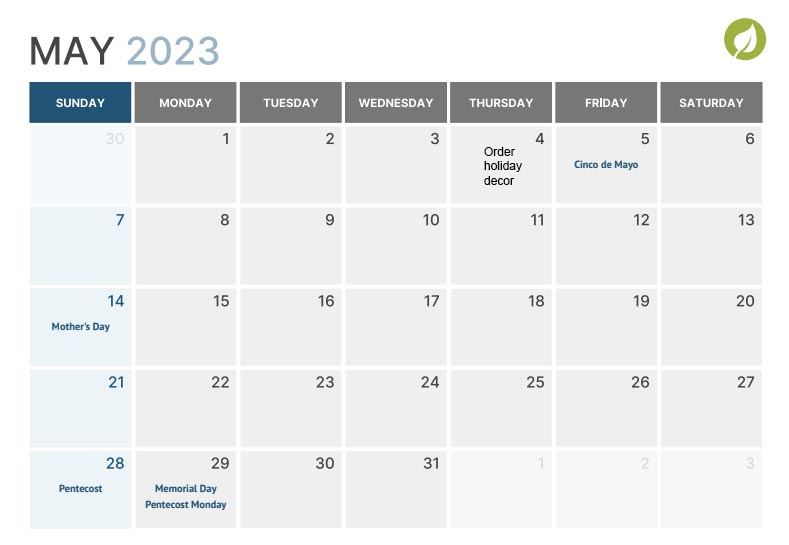 Then, looking at the timeline above, you will mark your calendar to order your holiday decor 2–4 months in advance—likely in May 2023 in this case.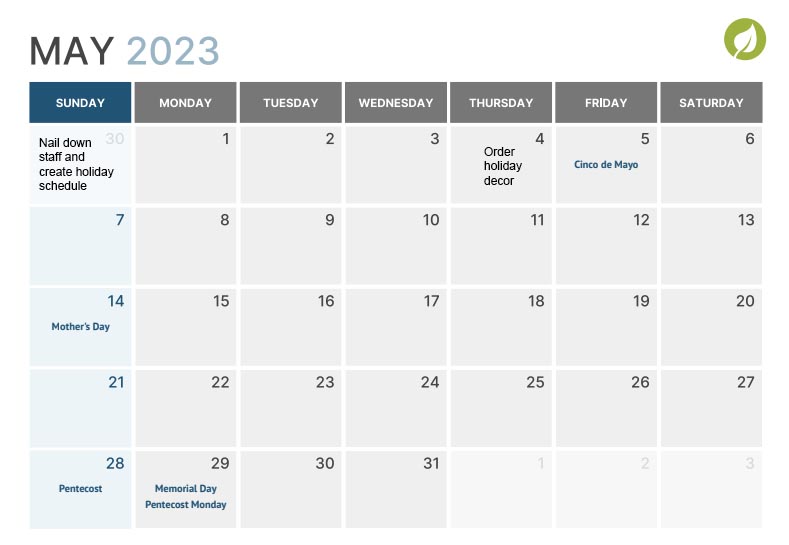 Two months out, in May as well, you will want to remind yourself to nail down your staffing and get your holiday schedule squared away.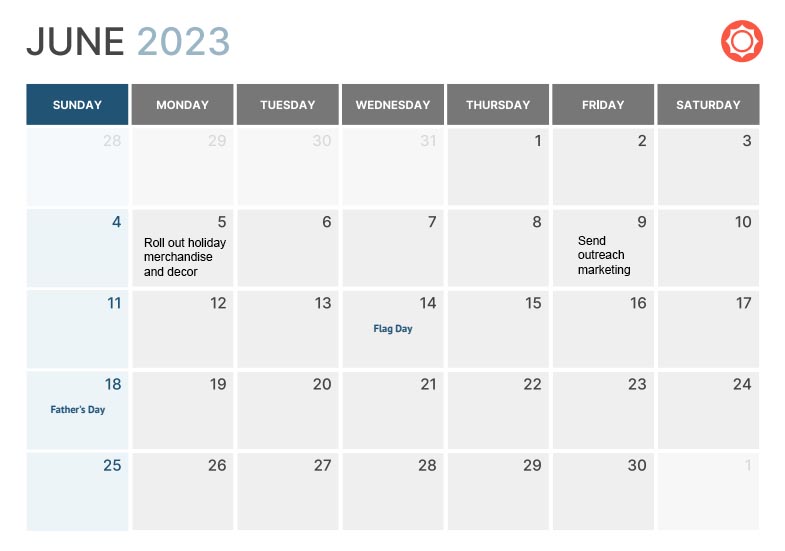 Finally, you will want to mark the calendar for your decor and merchandise rollout as well as the start of your outreach marketing initiative about one month in advance—which is in June.
This long-term approach to marketing with tasks mapped out in advance will help keep you on track and ensure that you cross all your T's and dot your I's for any and every marketing initiative.
---
Another thing you might mark on your retail marketing calendar is your peak shopping season(s), or the time of the year when you sell the most merchandise or get the most customers.
For instance, for the stores in my town, peak seasons correspond with summer hiking (June and July) and peak ski season (December, February, and March). So, how do they prepare for these peak shopping periods? How did they ensure they had enough staffing and merchandise?
To prepare for peak seasons, following this timeline will keep you organized and prepared:
12 months in advance: Analyze your previous peak seasons—maybe it's back-to-school, Black Friday and Cyber Monday, or even the entire summer. Take a look at all of your sales and foot traffic data for the season in question. Look at what items or services were the most popular, take note of any stockouts, and consult your staff for insights into items customers were wanting and whether they felt like there were enough employees for the traffic.
6–8 months in advance: Order products. With data from your analysis, you will have a good grasp of quantities and types of products that customers look for during peak seasons. You will want to order these products at least six months in advance to ensure they arrive in time for the uptick in traffic.
1 month in advance: Nail down hours and staffing. You will likely need some additional hands on deck for your peak seasons. To ensure that your employees are prepared, you should release their peak season schedule at least one month in advance.
1 week in advance: Begin outreach marketing. You know that customers are itching to shop at your store at the time in question, so capitalize on this buying potential with an outreach marketing campaign. Show off your new products, offer a deal, and get customers excited to visit your store.
---
Another type of marketing initiative that you will likely note on your calendar is events. This might be a Sip and Shop, as we did at my store, or an anniversary sale. Essentially, events include anything you are hosting in your store that is designed to bring in customers and get them shopping.
To ensure that you are adequately prepped for your events, use the timelines below:
1–2 months in advance: Begin in-store marketing. Depending on the size of your event, you should start hanging in-store flyers and information one to two months in advance of your event.
1 month in advance: Nail down hours and staffing. You will likely need some additional help running your events. To ensure your employees are prepared and you have time to make adjustments, you should release a schedule for your event day(s) at least one month in advance.
1 week–1 day in advance: Begin outreach marketing. To ensure that you are reaching your customers and they know about your event, you should reach out to your customer via text and/or email to let them know close to event day.
---
The final thing you want to include on your retail marketing calendar and create campaigns around is your seasonal merchandise. For many retailers, your product selection will change with the seasons to meet seasonal needs. But, how can you prepare for each season so that you have the right products in stock? When should you unveil seasonal products? And, how do you market seasonal merchandise?
Inventory management is the process of stocking products buyers want, pricing and promoting to sell those products profitably, and maintaining stock levels that meet demand without over-purchasing. Learn more with our guide to Retail Inventory Management: Definition & Best Practices.
The timeline below will help you answer those questions:
6–10 months in advance: Acquire seasonal products. When in the six- to 10-month timeframe you should order the next season's products will largely depend on your industry and production times.
1–3 months in advance: This is when you should start displaying your seasonal products in-store and change up your merchandising to match the season. Our piece on Visual Merchandising Strategies to Improve Your Store will guide you.
1–3 months in advance: Begin outreach marketing. As soon as you roll out your seasonal products, you should reach out to your customer base and let them know about the new arrivals. As new seasons approach, shoppers will be ready to shop for them, so capitalize on this buying potential and let them know you have the products to meet their needs.
---
Pros & Cons of Retail Marketing Calendars
While there is much to be gained from utilizing a retail marketing calendar, there are also some drawbacks.
PROS

CONS

Helps businesses identify days that they can capitalize on with marketing
Limits marketing budget for last-minute events
Helps to ensure completion of necessary prep for events and seasons
Budgeting adjustments are more difficult since marketing costs are set long in advance
Merchandise matches seasonal shifts
Requires lots of work and planning
Prevents rushed or overtime event prep
Planning events far in advance can cause you to miss emerging trends
Gives business opportunity to find niche holidays and events that they may have otherwise missed
Gives you time to pin down staffing for events as well as provide event transparency with your staff
Retail Marketing Calendar Frequently Asked Questions (FAQs)
Click through some of the most frequently asked questions below to learn more about retail marketing calendars.
What is a retail marketing calendar?
A retail marketing calendar is an annual calendar that includes all major events, holidays, and seasons that businesses plan to market around for the year. Retailers use marketing calendars to help plan for key marketing initiatives and create timelines to stay on track and get them done.
Yes, there are countless retail marketing calendars, with nearly every retailer out there using one slightly different depending on the specific holidays, events, seasons, and other marketing initiatives they want to highlight.
You should seek to customize your retail marketing calendar with initiatives pertinent to you and your brand.
---
Retail marketing calendars are used most frequently by retailers, service-based businesses, and restaurants. Essentially, any business that creates marketing initiatives around calendar events and plans them in advance using a calendar timeline uses a retail marketing calendar.
---
There is no official retail marketing calendar that all retailers are intended to use. There are holidays and other important dates that carry through most retail calendars, but typically every retail calendar will vary slightly based on each business's specific needs and location.
---
Bottom Line
A retail marketing calendar is one the best tools that your business can use to ensure you are capitalizing on every marketing opportunity and doing so in a measured and well-planned way. In this guide, we provided you with a 2023 retail marketing calendar that you can customize to your needs, a breakdown of how to set up reasonable timelines for achieving your goals, and a deep dive into the pros and cons of using a retail marketing calendar. With the tools at your disposal, you are ready to set up your business for success and create marketing campaigns to help it flourish.