How to Become a BBB Accredited Business in 3 Steps
The Better Business Bureau (BBB) is a private, nonprofit organization that offers accreditation to companies that meet its standards for trustworthiness and quality. To get BBB accredited, review the standards for accreditation, apply online, and pay the required fee once you've been approved. In this article, we explore how BBB accreditation works and how it can help you grow your business.
1. Review the BBB Standards for Accreditation
Becoming BBB-accredited can enhance your company's reputation and help you build a strong brand presence online and off. To ensure your company qualifies to get BBB accreditation, read the list of standards to become a BBB accredited business. They encompass eight aspects that the Better Business Bureau uses to determine your eligibility and rating:
Building trust: Includes being an active business for at least the most recent six months, fully licensed, and free from government actions that would indicate your business is not trustworthy.
Advertising honestly: This includes how you advertise your company's products and services and your use of the BBB logo and affiliation statements.
Telling the truth: Truthfully representing your business and its products and services, including written and verbal communications.
Transparency: Provide all the documentation requested from the Better Business Bureau and be transparent with customers in contact information, return and refund policies, recurring transactions or customer responsibilities, the total cost of transactions, known issues that could cause a delay, notifications of low inventory, and detailed receipts.
Honoring your promises: Fulfill all your contracts, guarantees, and representations (i.e., customers receive what they paid for).
Being responsive: Resolve customer issues as quickly as possible, including any disputes forwarded to you from the Better Business Bureau. This includes your explanation as well as participating in dispute resolution of the BBB requests and honoring any settlements or decisions made from this process. It's also important that you cooperate with the Bureau to eliminate any underlying operational issues that could be leading to a pattern of consumer complaints.
Safeguarding privacy: This includes both disclosing how information and data is collected and used and putting safeguards and security measures in place to ensure customer data is protected. You must also respect the requests of customers or contacts relative to their contact preferences.
Doing business with integrity: Approach all professional interactions, transactions, and so on with integrity and good faith, and avoid activities that reflect unfavorably on the BBB and the businesses accredited with it.
If you're confident that your company meets these standards, move on to the application process. If not, take action to ensure your business is able to meet these criteria, such as fulfilling at least six months in business or making your operational policies more transparent. Then move on to the next step to officially apply for BBB accreditation.
2. Apply for Better Business Bureau Accreditation
Go to bbb.org/apply and fill out your contact information, then click on "Find My Business" below the form. A pop-up will appear where you can search for your business name based on your location. If you don't see your business listing, click on "Enter Business Information Manually" to return to an extended version of the initial form.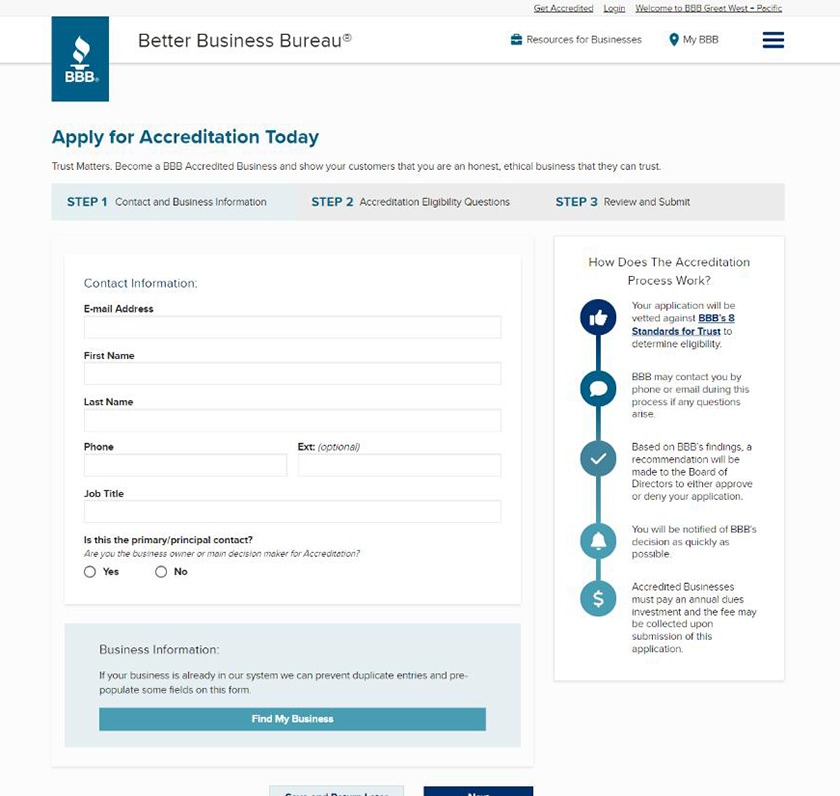 ---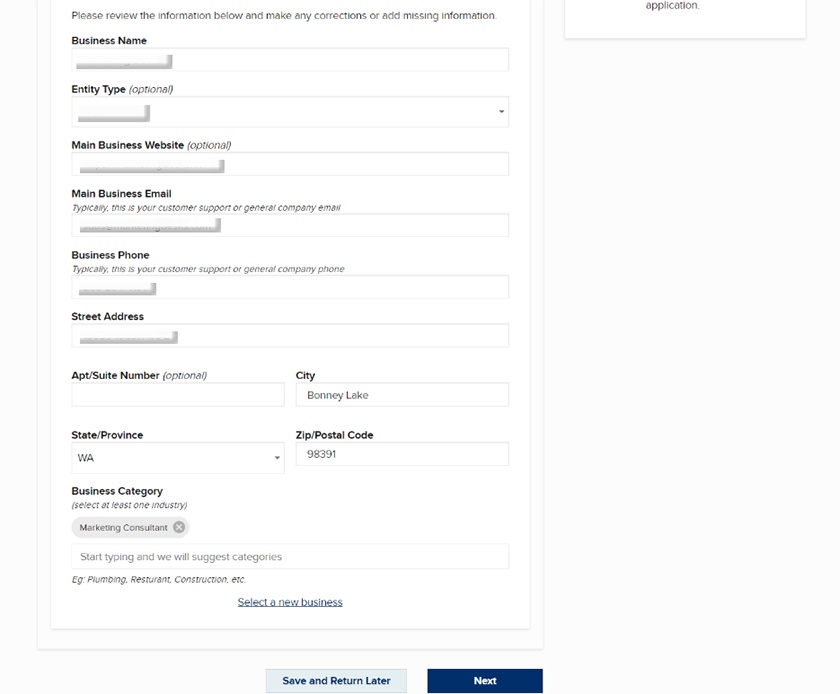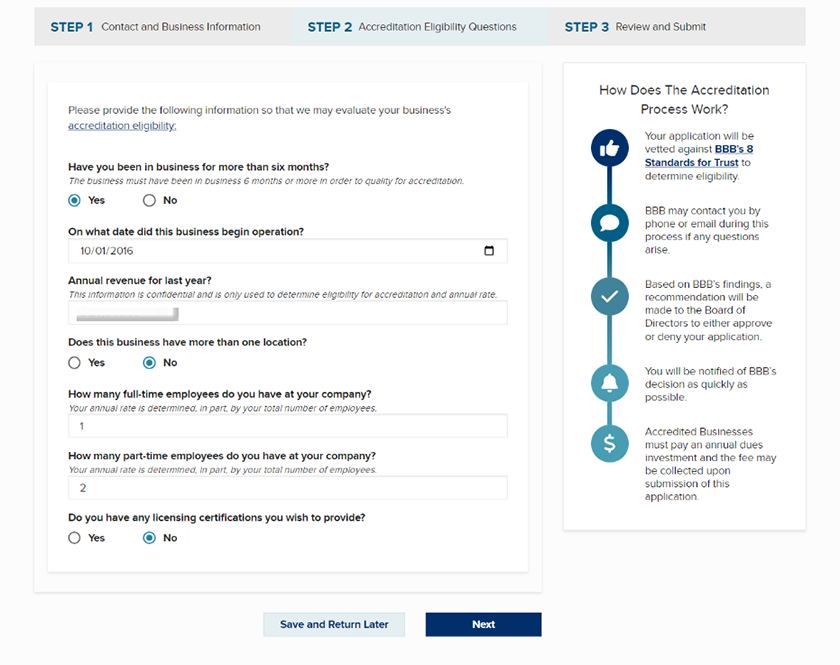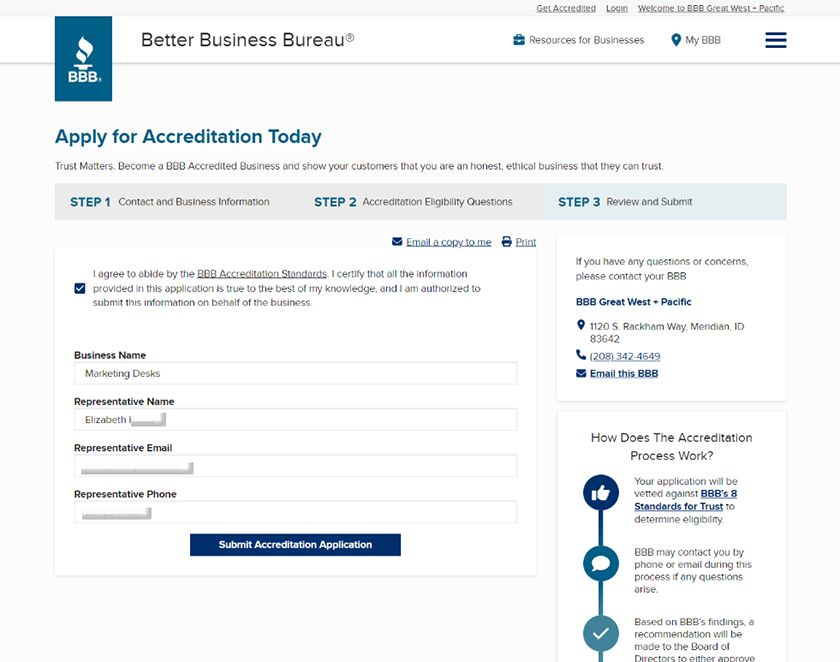 ---
After you've provided all the required information to get BBB accredited, click on "Submit Accreditation Application." You'll then see a confirmation screen, including an application number that you can use to look up the status of your application online.
After receiving your application, the BBB will search public records and online sources to determine the trustworthiness and reliability of your business. They may also request additional information to complete the review or ask how you resolved any customer issues indicated in previous reviews or social media interactions.
The review can take several weeks. The Better Business Bureau wants to maintain its credibility as an independent accreditation organization. It's important that their de facto endorsement of your business based on your BBB accreditation and letter grade rating is meaningful.
Once the evaluation is done, the BBB's board will decide whether or not to accredit your business. If accreditation is approved, the BBB will assign a grade rating (A+ to F).
If it's denied, the Bureau will explain why. You'll also be provided with the time frame to wait before you can re-apply, the appeals process, and what steps to take to increase the chances of securing accreditation in the future.
3. Pay the Fee to Complete the BBB Accreditation Process
Once the BBB has approved your application, you must then pay the accreditation fee. The accreditation fee varies based on your company size, but your welcome letter will let you know what your fee is.
Once approved and your fee has been paid, you'll be officially accredited, and your business will be added to the Bureau's online directory. If your business already has a listing, it will be updated to indicate your membership status and letter grade rating. You'll also receive both a physical and a digital "BBB Accredited" logo you can use to increase customer trust in your business.
BBB Accreditation Costs for Small Businesses
The BBB charges businesses a recurring annual fee based on their size (number of employees) and location, starting at around $500 per year. For full pricing information, visit the BBB website and select your location from the top menu. Depending on your local chapter, your costs may differ from the representative accreditation fees below.
Annual BBB Fees Based on Number of Employees
| Employees | Annual BBB Accreditation Cost |
| --- | --- |
| 1-3 | $510 |
| 4-7 | $585 |
| 8-10 | $660 |
| 11-49 | $850 |
| 50-99 | $1035 |
| 100-200 | $1,225 |
| 200+ | Base plus a small additional fee per employee |
How BBB Letter Grade Ratings Are Determined
The Better Business Bureau assigns a rating to BBB accredited businesses ranging from A+ to F, with A+ being the best and F being the worst (i.e., a failing grade). The rating system is based on seven specific factors, from factual information like time in business and status of business licenses to comments or complaints from customers:
Number of complaints filed with the BBB against the company and how old they are, plus resolution history, the BBB's opinion of whether the company acts in good faith, and whether there is a pattern that has not been resolved
Type of business
Time in business
Transparency of business operations
A company's failure to honor its BBB commitments
Adverse licensing or government actions
Advertising issues, such as misuse of the Better Business Bureau's logo or misrepresenting the company's rating
Similar to how letter grades are applied in education, the Bureau then uses a scoring system which can contribute to or detract from your business' rating. For example, unresolved complaints can result in a deduction of 0 to 30 points, while the length of time in business can add from 0 to 10 points.
The letter grade assigned to BBB accredited businesses is based on a 100-point scoring system, scaled as follows:
| Points | BBB Letter Grade |
| --- | --- |
| 97-100 | A+ |
| 94-96 | A |
| 90-93 | A- |
| 87-89 | B+ |
| 84-86 | B |
| 80-83 | B- |
| 77-79 | C+ |
| 74-76 | C |
| 70-73 | C- |
| 67-79 | D+ |
| 64-66 | D |
| 60-63 | D- |
| 0-59 | F |
Believe it or not, businesses can earn accreditation by the BBB and receive an "F" rating. In these cases, businesses will typically want to advertise their accreditation status only (not their rating).
Benefits of BBB Accreditation
Once a business is accredited, it gains visibility by being listed on the BBB website, an online business directory that gets thousands of visitors daily. In fact, Better Business Bureau listings can even be found in online searches for reviews about your company.
Consumers looking for a highly reputable business may even start their search on the BBB.org website rather than Google. They can easily search for local businesses that are highly rated against the Bureau's standards rather than searching on Google to try to find businesses with lots of positive Google reviews.
Fewer than 3% of all companies are BBB accredited, so membership creates a competitive advantage. For example, you can display the "BBB Accredited" logo at your business' physical location(s), on print marketing materials, and on your website to inspire trust with prospective customers. Customers can also find you directly by searching on BBB.org for accredited businesses.
For businesses keen on establishing a reputation of quality while reaching a broader audience, accreditation from the Better Business Bureau is often worth the cost. It grants instant credibility to your brand, local advertising, and print and digital marketing campaigns, similar to positive reviews.
Plus, the BBB backlink to your website (and from your website to the BBB) is a high-quality link, making your website even more visible in online search. Learn more about the benefits of quality backlinks, and how to get backlinks from high authority sites.
You also get access to the BBB's dispute resolution services, which provide a fair, equitable way to resolve customer disputes while precluding high legal costs. Your membership in the Better Business Bureau organization also comes with exclusive member resources such as a newsletter, online resources, and educational webinars you can use to improve how you run your business.
BBB Statistics
Retail consumers and business buyers alike often find it challenging to find trustworthy contractors, vendors, and suppliers. BBB accredited businesses gain competitive and operational advantages by joining the Better Business Bureau, as evidenced by some of these BBB statistics:
Of the more than 32 million businesses in North America, 6.3 million are represented with BBB business profiles (as are 25,000 charities).
From 2019 to 2020, the BBB experienced a 97% increase in business searches on its website.
BBB-accredited e-commerce sites saw a 62% increase in profile views from 2019 to 2020 and a 383% increase in online business profile searches.
In 2021, the five industries receiving the most Better Business Bureau complaints were: Roofing Contractors, Online Retailers, General Contractors, Plumbers, and Used Car Dealers.
The Better Business Bureau's statistics track complaint made, settled, not settled, or unable to pursue for more than 6,180 industries.
Over 54,000 websites display the BBB logo, including more than 31,000 U.S. business websites.
Frequently Asked Questions (FAQ)
Why should small businesses apply for BBB accreditation?
The primary benefit of being accredited is that it increases trust with consumers. By going through the accreditation process and placing the seal on your website or storefront, customers and potential customers can immediately see that the business is committed to maintaining high-quality, ethical standards. This increases both sales and customer loyalty.
How are complaints handled by the Better Business Bureau?
First, the BBB verifies that the consumer is actually a customer, then gives the business a chance to respond. If the business does not respond, the BBB will contact the business, share the complaint with them, and ask them to respond to the BBB within 14 days. If the BBB doesn't hear back from the business, they close the case, and the business's lack of action is negatively reflected in their BBB rating.
What is a BBB rating?
The letter grade (from A+ to F) represents BBB's opinion of the business based on the information they have from the business itself, from its customers, and from online research. The BBB also publishes details of complaints, minus personal information, so consumers can read for themselves the experiences of other customers and see how the business responded.
Bottom Line
BBB accreditation is a mark of trustworthiness and integrity sought after by businesses across all industries; it is based on 16 criteria defined by the Better Business Bureau. As an indicator of exceptional quality, accreditation increases customer loyalty and online visibility, promising growth in a business' long-term sales.
You Might Also Like…