What Is Local SEO? How Local Businesses Can Rank Higher on Google
Local search engine optimization (SEO) are tactics that help your website rank higher in location-based search results (e.g., "dentists near me"). In this article, we outline 10 local SEO strategies ranging from optimizing your site and Google Business Listing to getting reviews and backlinks and leveraging local search ads and social media. Plus, the good news is that most can be done for free.
Learning what local SEO is and which strategies to execute takes time, and some entail technical know-how. If you'd rather turn search engine optimization over to affordable experts, hire a local SEO expert through Fiverr. They can help you target the right keywords, add your business listing to online directories, earn backlinks, and get more reviews on Google.
10 Local SEO Strategies for Ranking Higher on Google
In addition to knowing what Local SEO is (tactics for improving rankings in local search results), it's important to understand that organic (nonpaid) website traffic and local SEO are linked to relevancy. The more people click on your business' listing in search results, stay on your site and engage with its content, and review your business, the more Google is to display your business listing in local searches.
Plus, the more local SEO marketing strategies you implement, the more likely your website is to rank higher in local search results on Google. With that in mind, here are 10 essential (and mostly free) tips for SEO for local businesses wanting to increase rankings in location-based searches on Google:
1. Citation Management
A local citation is any online mention of your business's name, address, and phone number (also referred to as N-A-P, or NAP). Local citations appear in many places, such as online business directories, social networks, press releases, local news stories, your website's footer or contact page, and so on. The more local citations your business has, the more likely search engines are to rank your website higher, as this indicates popularity.
Having a different NAP across multiple sites or platforms can damage your site's ability to rank. The image above shows an example of a local business with inconsistent listings on Facebook compared to its Google Business Profile.
Although Interstate 35, I-35, and IH 35 Frontage Road are essentially the same, Google may not know that—it just knows it's inconsistent. As a result, this hurts the salon's ability to show up in local search results.
Your business name, address, and phone number should be the same everywhere it appears online. Start by verifying that your business' name, address, website URL, phone number, and other contact information are correct on your website.
Then check your listings on popular directories and review sites like Yelp, your Google Business Profile, and social media profile pages, including Facebook. If you find any inconsistencies or inaccuracies, update them (or request that they be updated).
Local citation management is important for SEO, but it's also crucial because inaccurate NAP's can send potential customers to the wrong location or website. BrightLocal makes it easy for you to constantly manage local citations across the internet for less than $30 a month. Learn more about them and check out other useful Local SEO services for ranking higher on Google.
2. Locally-optimized Website
According to Sagapixel, 58% of people search for local small businesses daily on smartphones. Businesses with locally-optimized websites are more likely to be displayed in the local three-pack on Google Maps as well as in organic search results. You can use several tactics to improve your website's local SEO to rank higher on Google, including:
Local keywords: Using keywords on your website that reference your city, region, state, and so on helps search engines understand which locales you serve. As a result, this makes it more likely for a website to be included in online search results for those locations. To find keywords for local SEO, check out our list of the best keyword research tools.
Mobile-friendliness: If your site isn't mobile-friendly, you're likely losing out on traffic. Most searches occur on mobile devices, and many internet users use multiple device types to research local businesses. Ensuring your website provides a good user experience on any device (desktop, laptop, tablet, smartphone, and so on) is as easy as visiting your website on different devices.
Site speed: Site speed is a consideration (aka "ranking factor") with search engines because it directly impacts user experience (UX). Users will quickly become frustrated if your site takes too long to load, so search engines may penalize you in rankings if your site isn't fast enough. Free tools you can use to test how fast your site loads include Google Pagespeed Insights and GTMetrix, which are on our list of the best SEO audit tools.
To ensure your website loads fast on any device, use a top SEO website builder like Wix. Wix's templates are device-responsive and automatically compresses large image files for faster page loading and add schema markup so search engines index your site properly.
3. Website Architecture for Improved Site Visitor Experience
Website architecture refers to the structure, or order, of your website's pages, navigation menus, internal links, and how information is organized such as pages vs blog articles, style sheets, where images or downloadable files are stored, and so on. Good website architecture improves the overall experience for visitors and users by making it easier to find information and navigate the site.
Optimizing your website architecture can significantly impact your site's overall performance. By improving your site's design, you can make it more user-friendly and decrease your bounce rate. Some aspects of website architecture also contribute to site speed such as using style sheets that control your website's fonts, colors, and other visual elements universally rather than adding code each time an element occurs on a page.
Site navigation is also a key aspect of website architecture as the user's ability to easily get to the content they want on your site affects their experience. The good news is that it's easier than you think to set up good navigation.
For example, people visiting a restaurant's website often want to see a menu, check for hours of operation, and get an address. Based on these, they may want to make a reservation, order online, buy a gift card, or view upcoming events. So, a restaurant should have these main things within the main navigation bar, or nestled under a logical one (e.g., menus for breakfast, lunch, dinner, drinks, happy hours, and so on) could be broken out under "Menu."
Making sure your website is Google search-friendly is something you can do yourself with a bit of time and know-how. However, to fast-track your local SEO efforts, turning to a top digital marketing agency like Hibu could be a better use of your time and produce a far higher return on investment.
4. Local Content Marketing
Google gives preference to websites that are updated regularly, so reviewing your site's pages and updating them frequently is important. However, implementing a local content marketing plan is another way to reach the top of local search results on Google. It ensures your site is being updated frequently and also supports internal linking.
Internal links improve the site visitor experience by taking them to additional content they may be interested in. When this occurs, it also decreases your website's bounce rate and increases site visitor time on-site, which both contribute to SEO. In addition, internal links increase the authority of pages receiving links, so it's common for businesses to blog to build authority for product or service landing pages, for example.
Here are four tips for success in local content marketing:
Review your existing content: Is the content on your website optimized for local search? Look for any missed opportunities to include location-specific keywords or phrases.
Create customer personas: Customer personas are profiles of your most common (or most desired) types of customers. As part of each persona, list topics that would interest them or which occur as part of the buying journey. Use these to plan content for your website.
Publish location-specific content: Creating location-specific content is a top tactic for local search SEO. This could include blog posts about local events or attractions, listings of local businesses, or general information about your city or town that would interest your target audience.
Promote your content: Once you publish interesting new content, distribute it through social media posts, email newsletters, and targeted paid social, such as boosted posts. The additional traffic generated tells search engines that you have high-quality content, in turn, leading to higher rankings in local search.
Local content marketing can help your website rank higher on Google, produce more leads, convert more site visitors into customers, and increase customer loyalty and brand affinity. Get all the information you need to implement an SEO content marketing plan for your small business in just seven steps.
Creating content for your website, blog, email marketing, social media marketing, and advertising can become time-consuming. If you need affordable help, try Fiverr. You can find freelance professionals specializing in one or multiple aspects of search engine marketing for as little as $5.
5. Google Business Profile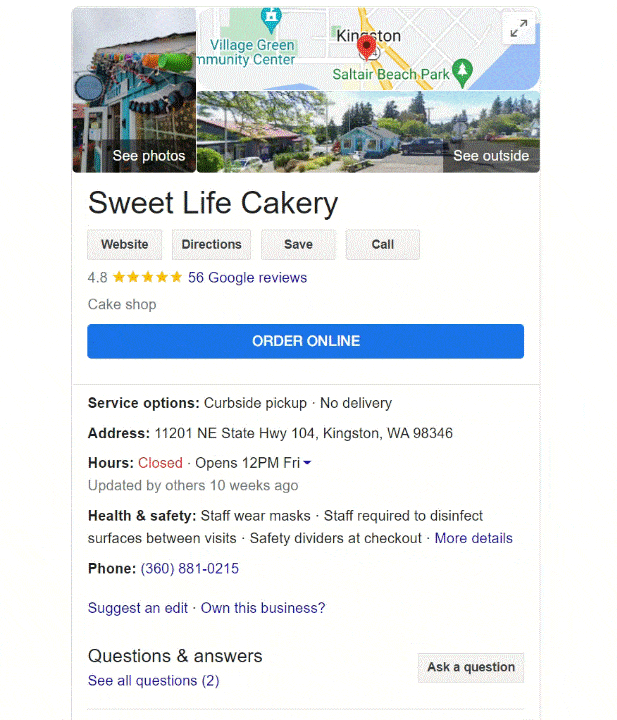 ---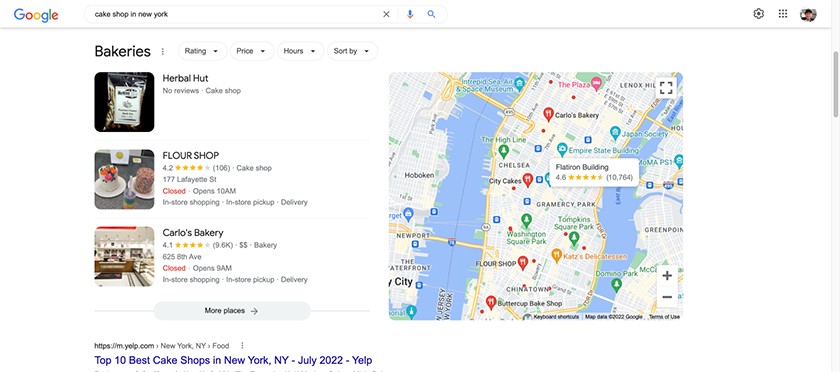 ---
Your Google Business Profile is a free listing that makes it more likely your business will appear (and gives you more control over) your listings in organic search results and on Google Maps. It also provides an additional way for prospects to discover your business, contact you easily, and see what your company is about with the photos, videos, and business information you add.
You must create a Google account to set up a Google Business Profile. Once you have a Google account, go to google.com/business and click "Start now" to create your listing. You will be asked to enter your business name, address, and phone number, and choose a category for your business.
You'll most likely be asked to verify your profile by waiting a few days to receive a postcard and entering the code provided on the card into your Google profile. You can optimize your profile by adding photos, videos, and other information. Be sure to review your profile frequently to keep your information accurate and manage reviews.
6. Online Directory Listings
There are hundreds of online business directories, many of which have millions of visitors every month. Adding your business to relevant directories increases your brand's and website's visibility, providing another way for customers to find you online.
Plus, popular directories like Google, Yelp, TripAdvisor, Angi, and so on also have very high domain authority. So the link provided to your website is a quality link, further benefiting SEO for local businesses, in addition to any traffic generated from listings.
You can manually add and monitor directory listings using BrightLocal, or automate business listings management with a platform like Semrush. You may find your business has a listing on a directory you don't even know about or a discrepancy that needs to be corrected.
7. Backlinks
A backlink is simply a link from another website to your website. It's like a vote of confidence, indicating that the other website trusts your content and thinks it's worth linking to. Backlinks from high-quality websites increase your site's domain authority with Google, and can bring additional traffic to your site, further bolstering your local SEO efforts.
An easy way to get local backlinks is by submitting your business to local business directories, which we discussed above. These directories are websites listing businesses from a specific geographic area such as a city or town.
In addition to your business listings on online directories like Google My Business and Bing Places for Business, you can get local backlinks by joining your Chamber of Commerce and other business networking groups. Most have member directories that include your business information and a backlink to your website.
Another very valuable backlink for local SEO is to become accredited by the Better Business Bureau (BBB). Not only does the backlink a high-quality one, but it's also a trust factor with local customers. Your BBB accreditation and high rating tell prospects that it's safe to do business with you, as do your memberships in the local Chamber of Commerce and networking groups.
Please read our article detailing more than a dozen ways to build backlinks for SEO to rank higher on Google. Keep in mind that building backlinks can take time and research. For help, turn to a company that offers professional link-building and listings management services, like Hibu.
8. Reviews
A positive review on Google is worth its proverbial weight in gold, and the more reviews you get on Google, the better. Businesses with high positive online reviews are most likely to land at the top of search results. This is because Google aims to provide its users with the best experience, and it does so by leading the businesses that people deem the best.
This also holds across other online directory sites—from Yelp and GrubHub to YellowPages and Bing. And keep in mind that if you do get a poor review, it's important to respond to it. This helps show that your business is proactively trying to provide a good customer experience, instilling more confidence in your business in the public's eyes.
Start increasing your number of reviews today by checking out these proven ways to get reviews on Google. Alternatively, you can use a platform like Podium. Podium boasts that its clients can double their reviews on Google in as little as 60 days, making it an excellent service for quickly increasing your positive reviews for local SEO.
9. Social Media
Social media is an excellent way for local businesses to connect with customers. Social networks that include tools for location-based businesses, such as Facebook with local check-ins and Instagram with geotagging, are the best ones to start with for local SEO marketing. They help people discover your business through their friends' posts which can drive traffic back to your social profile and to your website.
Google pays attention to social signals when determining rankings, so the more likes and shares your content has, the better. It also adds authority and trust to your business and traffic to your site, which generally helps with SEO.
Take time to determine which social media marketing channels are best for your business and audience. For example, which social networks do members of your target market use most, and how do they use each platform? Remember that you don't necessarily want to create a profile across every social network. Instead, focus on those that provide the best opportunity for engaging with your ideal customers.
Also, remember that new businesses often use organic and paid social in combination to build brand awareness and recognition. Granted, all of this can be time-consuming, and if you're not experienced with social media advertising, it can be a waste of time and money. For professional help, we recommend you leave it to the experts at one of the best social media marketing agencies.
Alternatively, check out our Facebook advertising guide. In it you'll find all the steps you need to follow to build and launch Facebook ads, track results, and improve your return on ad spend.
10. Local Search Ads
Local search ads are a form of Google advertising that targets customers in a specific area, most of whom are looking to make a purchase immediately. They can be used to promote a business, product, or website to local customers. It involves creating and optimizing listings for your business and becoming Google Guaranteed or Google Screened.
When someone performs a local search, results typically include a list of businesses near them, along with their contact information, hours of operation, and ratings from other customers. Local search ads allow businesses to stand out from the competition by featuring their own listing at the top of the search results page.
For more information, read our article detailing how to create local search ads in just six steps and how to use them effectively.
Who SEO for Local Businesses Works Best For
When someone searches on Google, one of the factors the search engine considers is the location of the person searching. If the keyword indicates a desire for location-based results, Google will show them results relevant to that city or region.
Any local business that wants to leverage the power of the internet to attract customers and increase sales within a specific region should use local search marketing. However, effective local search SEO is essential for some types of local businesses, as local customers nearly always start with an online search to find:
Restaurants and bars
Real estate services
Home improvement, repair, or maintenance services (electricians, landscapers, etc.)
Medical services and providers
Spas and salons
Pet services
Local retailers
Automotive repair, services, maintenance, and sales
Pest control
Shipping and mailing services–and more
Even if you're looking to drive foot traffic (as opposed to website traffic) local SEO is still your ticket. So whether you're a local plumbing business, salon, or restaurant, implementing SEO for local businesses is a must for building a strong local brand presence and growing your company.
One simple way to know if you need local SEO is whether your business has a local address. Even local service providers, such as property watch businesses or caterers who don't work out of one location, but go to clients' locations, are good candidates for local SEO. In short, if your business serves customers that generally reside within a certain area, local SEO is right for you.
Local SEO Statistics: What It Can Do for Small Businesses
The benefits of investing in a strategy and having a strong answer to the question "what is local SEO" for your small business are abundant. The more discoverable you are, the more likely you are to gain a new customer.
If that person has a good experience with your business and leaves a positive review, your business is more likely to rise in the rankings again. And more clicks to your profile or site tell search engines that you're relevant for a particular search.
Here are some of the statistics that show why SEO for local businesses is so important:
Local SEO presents a tremendous opportunity to achieve the same results as advertising without a big advertising budget. While paid ads are an excellent short-term strategy to generate traffic, SEO is the long-term strategy to bring in traffic consistently.
Frequently Asked Questions (FAQs)
How do you know if you need local SEO?
If you're an entrepreneur or small business owner who relies on local customers, you need a local SEO strategy. From building a small business website that is locally-searched optimized to listing your business in online directories, earning backlinks, getting reviews, and promoting your business on digital channels, SEO for local businesses is the key to getting found by customers in a specific geographic area.
What's the difference between SEO and local SEO?
The main difference between SEO and local SEO is that search engine optimization (SEO) is intended to help your website rank higher among all Google search results. Alternatively, local SEO is designed to help your website rank higher in organic search results within a specific area, such as a city, county, or state.
Which local SEO tools are best?
Two of the best local SEO tools are BrightLocal and Semrush. BrightLocal is the best SEO tool for monitoring your online presence (directory listings, online brand mentions, local rankings, and so on). On the other hand, Semrush is an all-in-one tool for keyword research, competitor analysis, automating local listings, and auditing your website to find out how to improve it. Get more great recommendations in our list of the best local SEO tools.
Bottom Line
Implementing a solid strategy for local SEO is too important to ignore. Most of the tips in this list are easy and free to do. However, they do take time. If your time is better spent on other tasks for your business, you can outsource all of your local SEO efforts to the pros as Hibu, with services starting from $300 per month.
You Might Also Like…