What Local SEO Is & Top Strategies to Rank Locally in Search
Local search engine optimization (SEO) are tactics that help your website rank higher in locale-based search results (e.g., "dentists near me" or "dentists in Tucson"). Keep reading to better understand local search optimization and the key local SEO strategies you need to pursue to get your website to the top of local search results.
Overview of Local SEO vs SEO
Many of the same tactics used for general search engine marketing and optimization apply to local SEO, but are tailored to reach the top of local search engine results pages (SERPs). For example, a large national tax preparation company might rely on national advertising, brand recognition via Google Ads and social media ads, and broad keywords (like "tax preparation companies") to drive website traffic and then direct visitors to local offices.
On the other hand, a small local tax prep and accounting firm whose customer base includes local businesses and high-network individuals or estates would rely on locally focused tactics. Among these might be regional direct mail campaigns, Google Local Services Ads, locally targeted paid social media ads, and locale-inclusive keywords (like "tax prep companies in Austin, Texas") to drive organic web traffic.
Google Local Ranking Factors
Ranking factors refer to the elements Google considers when deciding which websites to show in local organic search results. Many of these factors are the same for general rankings as well as local rankings (e.g., site speed, quality of content, and website navigation and architecture, for example).
Others require tailoring to rank in locale-based results, such as including your city or region in your website's content and getting reviews from local customers on your Google page. Google lists its local ranking factors as relevance, distance, and prominence:
Relevance: How well a business' listing matches the search query, e.g., is it a good match for the user's search intent? For example, a local hardware store is more relevant than a painting service for a search query like "interior paints and brushes near me."
Distance: Is the business located within a reasonable distance based on the searcher's location or search query? A restaurant located within a few miles of a searcher's location (or query) is more likely to be displayed than restaurants farther away.
Prominence: Does the business have a strong brand presence and reputation? Google says brands that are well-known could rank higher, as will companies with quality websites, backlinks, and Google reviews (among other things).
Key Local SEO Strategies to Rank Higher on Google
The more optimization strategies you implement, the more likely your website is to rank higher in local search results on Google. Here are the most essential (and mostly free) tips for local businesses wanting to increase rankings in location-based searches on Google.
1. Optimize Your Website for Local Search
According to Sagapixel, 72% of consumers searching for a local business end up visiting one within five miles of their current location. Businesses with optimized websites are far more likely to be displayed in the local three-pack on Google Maps as well as in organic search results.
Open the tabs below to learn more about the specific ways you can optimize your website to rank higher on Google:
Using keywords on your website that reference your city, region, and state helps search engines understand which locales you serve. As a result, this makes it more likely for a website to be included in online search results for those locations. To find the best keywords to use for free, try Semrush or another app on our list of the best keyword research tools.
---
Google uses a mobile-first indexing process. This means that if your site isn't mobile-friendly (fast loading and visually responsive for mobile devices), it can negatively impact your rankings, in turn reducing traffic to your site. Use Google's mobile-friendly page tester for free to spot any potential issues.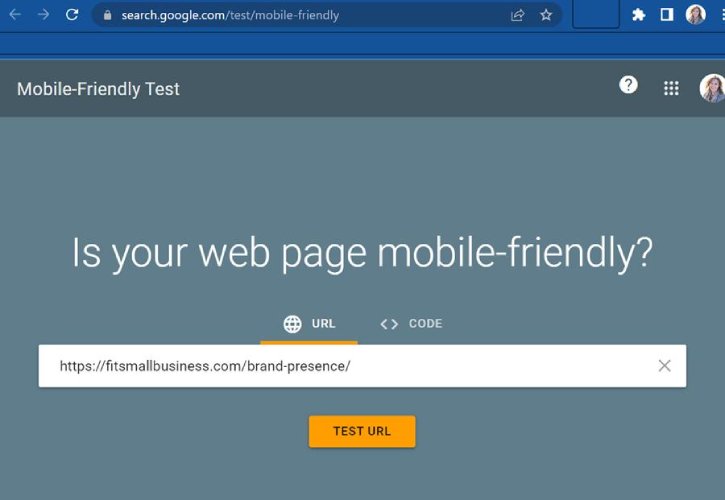 ---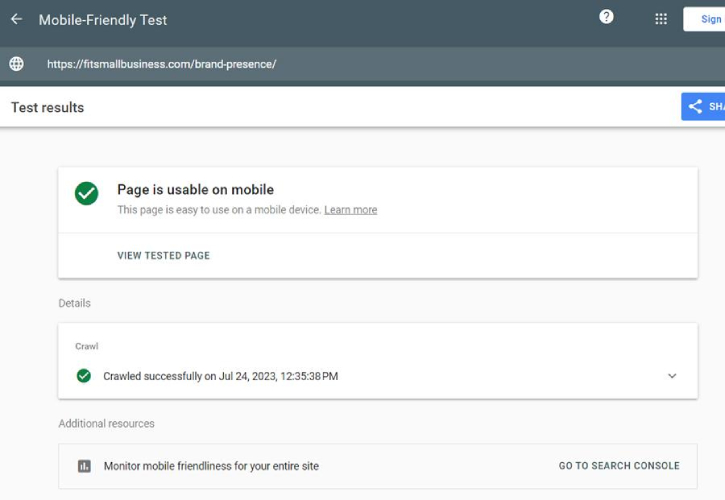 ---
Take the time to visit your website on different types of devices (e.g., desktop, mobile, laptop, tablet) to see what type of experience is being provided. This is especially important when publishing new types of content or refreshing the look of your website.
---
Website architecture refers to the structure, or order, of your website's pages, navigation menus, internal links, and organization. This refers to things like pages vs blog articles, style sheets, where images or downloadable files are stored, and so on. Good website architecture improves the overall experience for visitors and users by making it easier to find information and navigate the site.
---
Site speed is a ranking factor because it directly impacts user experience (UX). Users will quickly become frustrated if your site takes too long to load, so search engines may penalize you in rankings if your site isn't fast enough. Free tools you can use to test how fast your site loads include Google PageSpeed and technical SEO provider GTmetrix, both of which are on our list of the best SEO audit tools.
To ensure your website loads fast on any device, build it on a top search engine optimization (SEO) website builder like Wix. Wix's templates are device-responsive, it automatically compresses large image files for faster page loading, and it adds schema markup so search engines index your site properly.
---
Accessibility refers to how easy it is for people with disabilities to access and use your website, and it's an increasingly important ranking factor for search (local or otherwise). Some of the main tactics to cover include writing proper "alt tags" for images, making it easy and obvious where interactive elements and links or buttons are as well as offering good zoom functionality.
---
If you don't have the bandwidth to take on the scope of work needed to improve local search rankings, you're not alone. Many small businesses ultimately determine that professional local SEO services offer the best route to high rankings. Find some options in our roundup of the best local SEO services that can boost your website's ranking in SERPs.
2. Create a Google Business Profile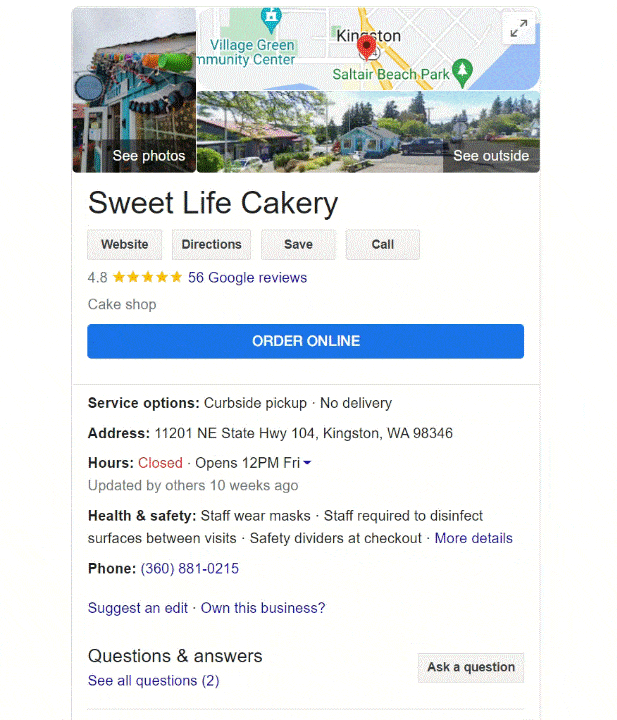 ---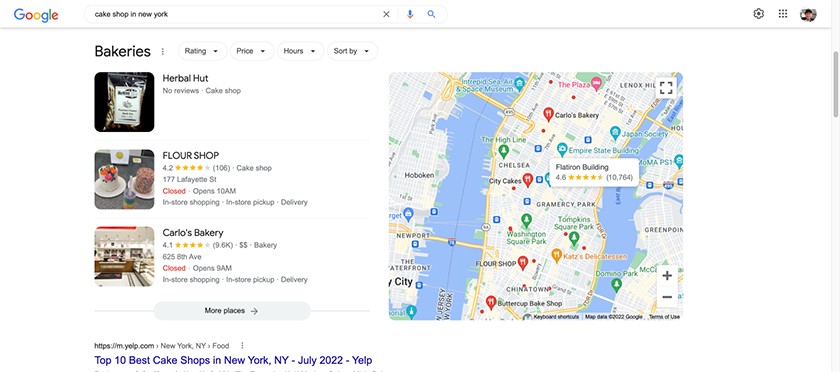 ---
Your Google Business Profile is a free listing that makes it more likely your business will appear (and gives you more control over) your listings in organic search results and on Google Maps. It also provides an additional way for prospects to discover your business, leave or read reviews, contact you easily, and see what your company is about with the photos, videos, and business information you add.
Read our step-by-step guide to learn how to claim or set up a Google Business Profile and optimize it for higher rankings.
3. Get Reviews
A positive review on Google is worth its weight in gold, and the more reviews you get on Google, the better. Businesses with high positive online reviews are most likely to land at the top of local search results. This is because Google aims to provide its users with the best experience, and it does so by leading the businesses that people deem the best.
If you do get a poor review, it's important to respond to it as quickly as possible. This helps show that your business is proactively trying to provide a good customer experience, instilling more confidence in your business in the public's eyes. Start increasing your number of reviews today by checking out these proven ways to get reviews on Google.
4. Create Online Directory Listings
In addition to your listing on Google business pages, there are hundreds of other online business directories, many of which have millions of monthly visitors. Adding your business to relevant directories increases your brand's and website's visibility, providing another way for customers to find you online.
Plus, popular directories like Google, Yelp, Tripadvisor, and Angi also have very high domain authority. So the link provided to your website is a quality link, further benefiting SEO for local businesses in addition to any traffic generated from listings.
You can manually add and monitor directory listings using BrightLocal or automate business listings management with a platform like Semrush. You may find your business has a listing on a directory you don't even know about or a discrepancy that needs to be corrected. Learn more about both in our list of the best local SEO tools.
5. Generate Local Publicity
Google has stated that it takes "everything it knows about a brand" to determine its prominence. As such, building a strong brand online using digital and website marketing strategies is a must. This includes generating publicity for brand awareness using tools like press releases. Read our article explaining how to format a press release and download our free template to write your story.
We have several articles you can turn to as you ramp up your brand's public relations (aka PR) efforts:
In addition to the brand awareness and affinity that positive publicity can generate, it also boosts localized SEO. Publishing press releases increases backlinks and traffic to your site and offers more ways for people to discover your brand online.
6. Try Google Local Services Ads
Local services ads are a form of Google advertising reserved for service-based businesses wanting to reach ready-to-buy customers in a specific geographic area. They can be used to promote a business, product, or website to local customers. For more information, read our article detailing how to create Google Local Services Ads and how to use them effectively.
7. Leverage Social Media
Social media marketing is an excellent way for local businesses to connect with customers. Platforms with tools for location-based businesses (such as Facebook with local check-ins and Instagram with geo-tagging) are ideal for local SEO marketing. They help people discover your business through their friends' posts, which can drive traffic back to your social profile and to your website.
Google pays attention to social signals when determining rankings, so the more likes and shares your content has, the better. It also adds authority and trust to your business and traffic to your site, which generally helps with SEO. Also, remember that new businesses often use a combination of organic and locally targeted paid social advertising to build brand awareness and recognition.
Check out our guide to the best paid social advertising platforms for some options to boost your social media presence.
8. Build & Earn Backlinks
A backlink is simply a link from another website to your website. It's like a vote of confidence, indicating that the other website trusts your content and thinks it's worth linking to. Getting backlinks from high-authority websites increases your site's domain authority with Google—and thus, its rankings and traffic—further bolstering your local SEO efforts.
An easy way to get local backlinks is by submitting your business to local business directories. In addition to your business listings on online directories like Google My Business and Bing Places for Business, you can get local backlinks by joining your Chamber of Commerce and other business networking groups. Most have member directories that include your business information and a backlink to your website.
Another very valuable backlink for local SEO is to become accredited by the Better Business Bureau (BBB). Not only is the backlink a high-quality one, but it's also a trust factor with local customers. Your BBB accreditation and high rating tell prospects that it's safe to do business with you, as do your memberships in the local Chamber of Commerce and networking groups.
9. Build & Manage Local SEO Citations
A local citation is any online mention of your business's name, address, and phone number (also referred to as N-A-P, or NAP.). Local citations appear in many places, from online business directories to social networks, press releases, local news stories, your website's footer or contact page, and so on.
The more local citations your business has, the more likely search engines are to rank your website higher, as this indicates popularity. Managing your business' local SEO citations is important for local search optimization, but it's also crucial, as inaccurate NAPs can send prospects to the wrong location or website.
BrightLocal makes it easy and affordable to build, monitor, and manage citations across the internet. Learn more about them and check out other useful local SEO services for ranking higher on Google.
Who Should Use Local Search Optimization Strategies
Any business that wants to leverage the power of the internet to attract customers and increase sales within a specific region should use local search marketing. This is because when someone searches on Google, one of the factors the search engine considers is the location of the person searching. If the keyword indicates a desire for location-based results, Google will show them results relevant to that city or region.
However, effective local search optimization is essential for some types of local businesses, as local customers nearly always start with an online search to find, for example:
Restaurants and bars
Real estate services
Home improvement, repair, or maintenance services (electricians, landscapers, etc.)
Medical services and providers
Spas and salons
Pet services
Local retailers
Automotive repair, services, maintenance, and sales
Pest control
Shipping and mailing services
Even if you're looking to drive foot traffic (as opposed to website traffic), local search engine optimization is still your ticket. So whether you're a local plumbing business, salon, or restaurant, implementing SEO for local businesses is necessary for building a strong local brand presence and growing your company.
One simple way to know if it's a good strategy for your brand is whether your business has a local address. Even local service providers, such as property watch businesses or caterers who don't work out of one location but go to clients' locations, should leverage search tactics to increase local search visibility. In short, if your business serves customers who generally reside within a certain area, local SEO is right for you.
Local SEO Statistics Show the Benefits for Small Businesses
The benefits of investing in a strategy and having a strong answer to the question "What is local SEO?" for your small business are abundant. The more discoverable you are, the more likely you are to gain a new customer.
Here are some of the statistics that show why it's so important:
Gaining a better understanding of what local SEO is presents a tremendous opportunity to achieve the same results as advertising without a big advertising budget. While paid ads are an excellent short-term strategy to generate traffic, SEO is the long-term strategy to bring in traffic consistently.
Frequently Asked Questions (FAQs)
If you're an entrepreneur or small business owner who relies on geographically targeted customers, you need a local SEO strategy. From building a small business website that is locally searched optimized to listing your business in online directories, earning backlinks, getting reviews, and promoting your business on digital channels, optimization is the key to getting found by customers in a specific city or region.
---
The main difference between SEO and local SEO is that search engine optimization (SEO) is intended to help your website rank higher among all Google search results. Alternatively, local SEO is designed to help your website rank higher in organic search results within a specific area, such as a city, county, or state.
---
Two of the best local SEO tools are BrightLocal and Semrush. BrightLocal is the best SEO tool for monitoring your online presence (directory listings, online brand mentions, local rankings, and so on). Semrush is an all-in-one tool for keyword research, competitor analysis, automating local listings, and auditing your website to find out how to improve it.
---
Bottom Line
Implementing a solid strategy for local SEO is too important to ignore. Most of the tips in this list are easy and free to do. However, they do take time. If your time is better spent on other tasks for your business, you can outsource all of your local SEO efforts to the pros as Straight North. It works with startups and small businesses looking to build a strong brand with local audiences, including a free consultation to outline which strategies will work best for you.