5 Best Local SEO Services for Small Businesses in 2022
Local search engine optimization (SEO) refers to specific optimization and marketing tactics that help your website rank higher in local online searches. The best local SEO services know how to successfully execute these tactics, in turn bringing more leads and customers to your business. To help you find the best local SEO company for your business, we ranked the top five options based on cost, services offered, reviews, and more.
Based on our criteria, the best local SEO services for small businesses include:
Best Local SEO Services Compared at a Glance
Local SEO Company

Cost

Manage Listings

Manage Reviews

SEO Dashboard

Key Features

Custom pricing

✔

✔

✔

Detailed website audit
Content optimization and backlinking
Social media content

$29 per month*

✔

✔

✔

Local rankings and reviews tracking
Local SEO and citations audits
Google Business Profile insights

Custom pricing

✔

✔

✔

On- and off-page SEO
Google Business Profile optimization
Backlinking and location targeting

$1,500 to $2,000 per month

✔

✕

✔

Search-optimized content creation
Google, Facebook, Yelp optimization (and more)
Customized local SEO

Custom pricing

✔

✕

✕

Google Business Profile optimization
Review tracking
Backlinking
*Get two months free when billed annually—reducing the cost to $24.17 per month
1. Hibu: Best Local SEO Services for Small Businesses Overall
What We Like
Solution customized to your business and budget
Citations and listings creation and management services
Review outreach and response tools
Social media management solution, including paid advertising
Custom website design
Easy-to-use performance dashboard
Limited guarantees for some services
What's Missing
No pricing listed on website
Mixed customer reviews
Starting Price
Best For
Brands with little-to-no online presence that need everything from a local search-optimized website to reputation management
Any business that wants to improve its site's Google ranking in local searches
Businesses needing local citation and listings management
Hibu offers a wide variety of local SEO services, from listings and citations to website creation and brand reputation management. A dedicated account manager will coordinate outreach for new reviews and respond when your business gets new reviews online. It also offers social media and ad management, making it an all-in-one SEM (search engine marketing) and local search optimization solution for your small business.
Hibu Pricing
Although there are no published prices for Hibu's services, the minimum starting price is typically around $1,000, according to various online reviews. Hibu requires a minimum commitment of 12 months and creates a custom plan for each client instead of offering one-size-fits-all plans. You may be able to get a partial refund if you cancel or are unsatisfied, but reviews suggest there may be a fairly pricey cancellation fee.
Local SEO Services
In addition to building search-optimized websites, Hibu offers a comprehensive list of SEO management services to help optimize your company's online presence. A dedicated account manager will work with you to determine which features you need to focus on to improve your domain's ranking and online visibility.
Here are some of the services and features that make Hibu a top local SEO company:
Reputation management: The more 5-star reviews you have, especially on your company's Google Business Profile, the higher your website content will rank in local search results. Hibu's dashboard tools enable you to reach out to new customers, invite them to review your business, and respond to reviews to keep your brand's online reputation stellar.
Listing management: A listing typically includes name, address, and phone number (NAP) details for your business. These need to be consistent and correct no matter where they are posted online. Listings are important for regular and local SEO because they can affect your ranking in search results, much like a backlink (especially when your website is linked in a listing).
Citation management: Hibu's staff will handle business citations, including your Google Business Profile and Bing for Business accounts, among others. They'll make sure your details are correct and updated across all listings sites. Consistency is important for customers so there's no confusion about your website, physical address, phone number, or hours of operation.
Local SEO Performance
On-page local SEO includes anything on your website that especially references your locale. For example, Hibu can create content for your website that includes metatags and mentions of your city, region, or state.
These elements ensure that your site shows up in relevant searches (i.e., online searches for businesses, brands, products, or services like yours) that include your location. It also includes searches where a local business would be obvious to search intent, such as "plumbers near me."
In addition to boosting your site's performance on search engine result pages (SERPs), Hibu can produce professional press releases pertaining to your business and location. These press releases go out to reputable websites as well as journalists who may then also cite your business in an article, driving more web traffic and boosting your site's SEO through backlinks.
Whether you get positive or negative reviews, it's important to respond to them quickly. Hibu makes this easy with a single dashboard, where you can perform outreach to request reviews or respond to them wherever they appear online.
Making sure that your NAP information is consistent across all citations and listings is a tedious job, but Hibu can take care of it for you. Hibu will monitor all of your brand's mentions across the internet so you don't have to worry about it at all.
Reporting & Performance Dashboard
One of the most useful offerings from Hibu is its performance dashboard. When you log into your account, you get an overview of all your local SEO services.
See how many reviews you have across the internet, what your average star rating is on various sites (and how your competition is doing), and view various key performance indicators (KPIs). The dashboard puts your SEO analytics in one spot, so you don't have to log into multiple sites to see how Hibu's local SEO efforts are paying off.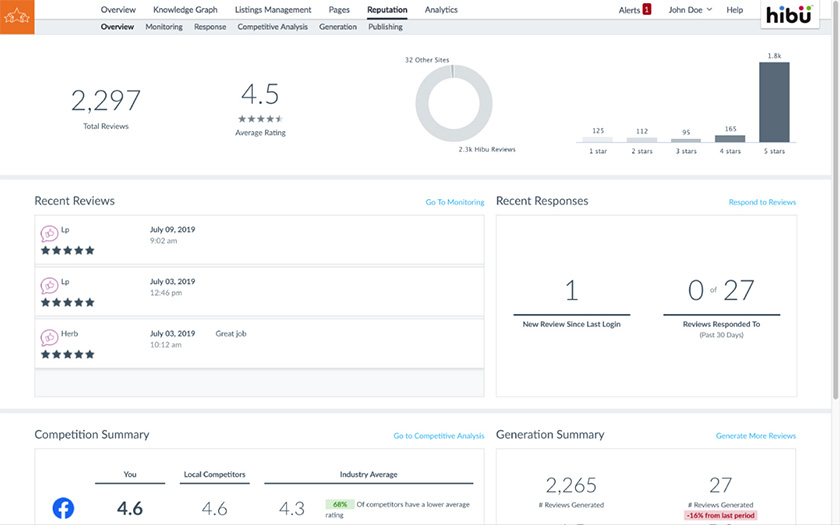 What Clients Say in Hibu Reviews
Hibu has a lot of mixed reviews from customers. Many current clients have excellent comments regarding their account manager and services provided, including lead generation, online reputation establishment, and ads. However, there are other reviews citing frustration due to lack of communication, high prices, and broken promises.
Our Expert Opinion
Hibu is the best local SEO company for businesses that want a comprehensive, personalized solution to establish and maintain an online presence. Its dashboard is easy to use and includes all the information needed to see where you may need to increase SEO efforts. However, budgeting for Hibu is difficult since there's no definitive pricing listed on Hibu's website.
2. BrightLocal: Best for Managing SEO & Listings in One Spot
What We Like
Easy-to-use dashboard
Affordable SEO tools
White labeling for marketing agencies
All-in-one platform for keywords, listings, and reviews
Includes competitor analysis of citations
What's Missing
Citation tracking isn't always accurate
Requires work on your end; BrightLocal provides tools and reports, but executing SEO improvements is up to you
Starting Price
$24.17 per month billed annually ($29 month-to-month)
Best For
Small businesses that want to manage local SEO themselves
Digital marketing agencies or a parent company with multiple websites and business brands
Local SEO is at the heart of BrightLocal's business. As opposed to the agencies on this list that will do the work for you, BrightLocal provides local SEO tools to enable you to create citations and manage your online listings and reviews.
The all-in-one BrightLocal platform is easy to use and includes reporting options, so you can see whether your efforts are paying off. It's ideal for agencies and digital marketers but also makes sense for multilocation businesses that need to manage multiple local SEO plans.
BrightLocal Pricing
BrightLocal offers a 14-day free trial so you can see if its tools can help you manage your company's SEO strategy and efforts at no risk. To use the platform after that, you'll have to choose from three plans that range in price from $29 to $79 per month (or get two months free with any plan by paying annually). With month-to-month contracts, you can cancel your subscription easily without worrying about hefty cancellation fees or policies.
BrightLocal issues credits for keyword searches on its platform, which limits how many search terms you can research and target. All plans include integrations for Google Analytics, Google My Business, Facebook, and Twitter. But for custom app development, you have to upgrade to the Multi Business plan, and SEO Pro and higher plans are required for Google mobile rank and competitor tracking.
Single Business: For $29 per month, you can manage local SEO for up to three business locations. You'll get 250 search credits (up to 10 keywords per month), limited local SEO audit reports, and citation tracking reports.
Multi Business: The second tier from BrightLocal is $49 per month and increases all search credits to 1,000 as well as increases for local SEO tools, reviews, and audits. At this level, you get access to its application programming interface (API) for custom integrations as well as white labeling, making it a good choice for marketing agencies.
SEO Pro: The highest level from BrightLocal costs $79 per month, and it includes competitor tracking, one of the most useful tools on the platform. This tier includes 2,000 search credits, up to 50 reviews to monitor (and outreach for five reviews), and 50 citation tracker reports.
Just Reviews: For $8 per month, you can get a pared-down platform for reviews only. You'll be able to monitor and respond to reviews. Plus, you can cherry-pick the best reviews to showcase.
Local SEO Tools
BrightLocal enables small businesses with some SEO experience to improve their rankings and online reputation with its platform. Use its tools to optimize your performance across the internet. Here are BrightLocal's best local SEO features:
Citation Tracker: It's important to make sure your NAP information is the same across all citations, and with BrightLocal's citation tracker, you can monitor any discrepancies.
Reputation Manager: Reviews are also important for local SEO because they can affect your position in the "three-pack" on Google (the top three local results), for example. This tool lets you monitor and respond to reviews quickly, so you can ensure your online reputation and those all-important star ratings remain high.
Rank Tracker: Use BrightLocal's rank tracker to see how well you're doing with links and your site's authority. You'll also be able to search for the best keywords to use to help improve your SEO overall and locally.
Local SEO Performance
Think of BrightLocal more as a way to alert you to what's right or wrong in your local SEO effort through reports, insights, and research rather than a service that does the work for you. From building and managing citations to doing keyword research, get all the tools you need in the one platform from BrightLocal to rise in search results and rankings.
The citation tracker is vital, so you can spot sites where you need to adjust your NAP information. And on the higher tiers, you can perform competitor analysis, which is helpful if your competition is listed on sites where your business isn't.
Reporting & Performance Dashboard
The single dashboard gives you an overview of all the tools you have access to within BrightLocal. Run reports to see new reviews, active or pending citations, and your domain authority. All these analytics help give you a high-level view of your local SEO. You are then able to make better business decisions, pour more time or effort into generating reviews, build citations, or create more effective local SEO content for your site.
Since BrightLocal doesn't execute your SEO strategy, you may still need to find experts who can help with citation and listing management, website content, site optimization, and more. Ranging in price from $5 to $25 or up to a few hundred dollars per month, you can hire freelance experts on Fiverr to help manage your ongoing local business SEO marketing efforts.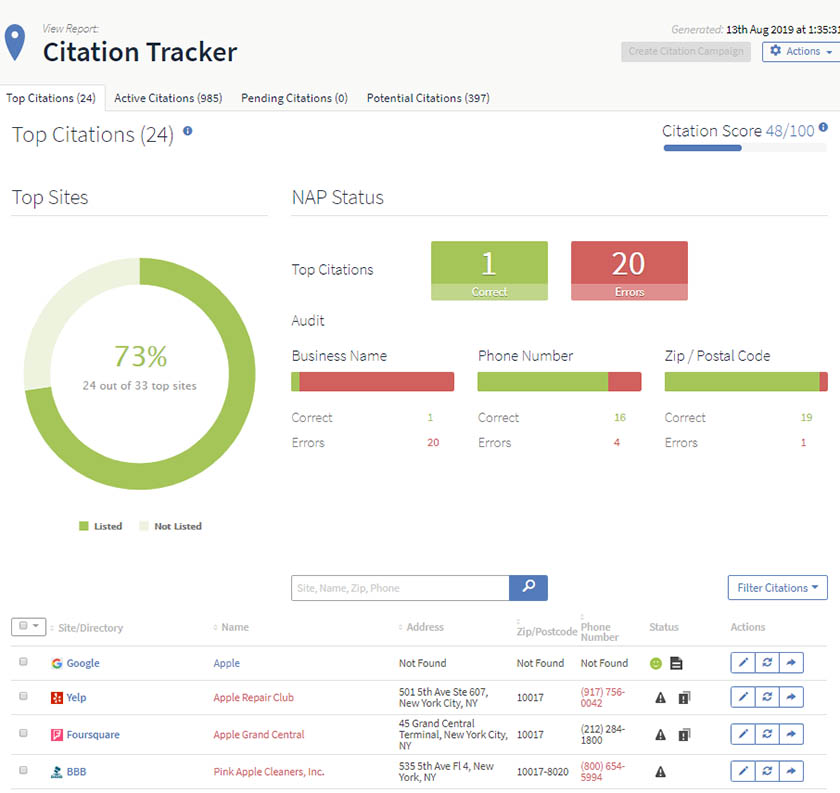 Pro tip: Increase your odds of being discovered in search results pages by advertising on Google. Google Ads is a DIY pay-per-click ad service that's easy to use and lets you target specific keywords for your business and location.
What Clients Say in BrightLocal Reviews
BrightLocal consistently gets high marks from current customers. In addition to praise for the product itself, customer service is also well received. Support answers quickly and seems to be helpful with most questions regarding the tool.
Our Expert Opinion
BrightLocal's platform has tools for local business SEO, but you'll need to complete optimization tasks yourself. It gives you all the tools and reporting functions you need in one place, making it easy and affordable for even very small businesses to manage an optimization strategy. Plus, the highest-tier plan is a great choice for marketing agencies managing SEO for multiple clients. If you need an all-in-one solution that includes execution, though, consider Hibu or 1SEO.
3. 1SEO: Most Affordable Comprehensive Local SEO Services
What We Like
No long-term commitment
Content marketing
Reputation management
Social media management
Citation creation and management
Listing management
On-page SEO
White labeling available
Cap your monthly cost based on your budget
What's Missing
No pricing information listed
Starting Price
Best For
Budget-conscious businesses that need a comprehensive approach to local SEO and all-in-one solution
Any business that needs local SEO services, but doesn't want to commit to a long-term contract, and wants to be able to cap its maximum spend per month
At 1SEO Digital Agency, you can get comprehensive yet affordable local SEO services, from technical on-page SEO on your website to social media management. It covers citations, listings, backlinks, and reputation management. There's no published pricing, but an account manager will work with your budget to create a custom quote that fits your needs.
1SEO Pricing
To get 1SEO pricing, set up a free consultation to get a custom quote for the work you need done. There is no pricing published, but according to customers in reviews, the minimum price typically starts at $1,000 (comparable, we believe, to Hibu). However, 1SEO will also charge by the hour and not go over your preferred spending cap. There's also no long-term contract, so you don't have to worry about committing to a year-long contract.
Local SEO Services
After auditing your business website, 1SEO will propose a digital marketing plan that may consist of a redesign for your business' website, adding metatags or changes to your headings and URLs, and other on-page SEO work. You'll also get options to add content in the form of local search-optimized posts as well as recommendations regarding backlinks, listings, citations, and accurate NAP information.
Here are some of the services and features that make 1SEO a top local SEO agency:
Reputation management: To ensure your online reputation remains in good standing, 1SEO will monitor reviews and comments across the web. It can respond on your behalf and perform outreach to generate more positive reviews, which can help your business rise to the top of results pages.
Social media management: Social media is like its own search engine where people search for local businesses and reviews. From brand awareness to paid ads, 1SEO can help spread the word socially, and your account manager and the 1SEO team will engage with your followers to help increase loyalty and trust in your brand.
Content creation: Whether you're looking for content that works for local SEO or articles that drive backlinks, you can get what you need. 1SEO offers a variety of content types, including press releases, blog posts, whitepapers, and infographics. All of this content can help you rank for location-specific keywords, which puts your site in front of your ideal audiences.
Local SEO Performance
1SEO uses SEMRush for competitive analysis and Google Analytics to follow your website's search ranking efforts. Audits help to show you where you may need improvement, and then 1SEO works to get your business in the local map pack and help it rank higher in Google Maps search results to push more leads to your site and to your business.
Reporting & Performance Dashboard
Typically, 1SEO provides reports to show clients how well their local SEO marketing plans are working. However, it also has a proprietary dashboard that displays all the important metrics for whatever you're tracking, whether it's site visitors, reviews, or citations. The company also offers white labeling for digital marketing agencies that want to partner with 1SEO but maintain branding.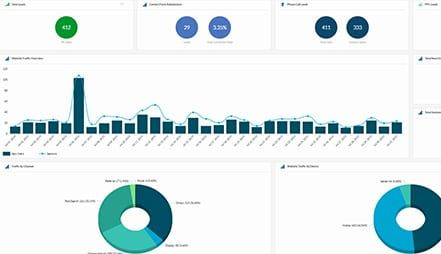 What Clients Say in 1SEO Reviews
If you'd like to see one of the best examples of a company that knows how to effectively manage local SEO, take a look at 1SEO's Google My Business profile. It has hundreds of reviews and nearly a perfect score. It consistently gets great reviews elsewhere too. From account managers to customer support, current clients seem very happy with 1SEO.
Our Expert Opinion
Local services that need help showing up in local search results would do well with 1SEO. With no long-term commitments, your small business can give 1SEO a try without worrying about expensive cancellation fees. You can also choose a la carte services, like SEO-driven content, so you aren't paying for something your site or business may not need.
4. SmartSites: Best for Organic, Local SEO-boosted Content
What We Like
Affordable, especially compared to full-service options like Hibu
Local SEO audits, including for technical
SEO custom analytics and reporting
Citation building and management
On-page SEO
Listing management available
What's Missing
No online reputation management, like BrightLocal
No social media management, like with Hibu
Starting Price
$1,500 to 2,000 per month
Best For
Small businesses that need a local SEO-driven content creation option
Businesses that need a la carte services, such as citation management
Digital marketing agency SmartSites offers citation building, content marketing, and listing management. It isn't quite a full-service local SEO agency, as it doesn't include reviews or social media management, but for local businesses that don't want a lengthy commitment and only want to bundle services a la carte, it's a good choice.
SmartSites Pricing
Although SmartSites lists $2,000 as a starting price, a lower-cost option is available for $1,500 per month. For the most part, SmartSites creates a custom package for each small business, giving you the services you need most and leaving out the ones you don't. While you are required to commit to a 12-month agreement, you pay month to month. If you need to cancel, you'll have to pay for a month-and-a-half to get out of the agreement.
Local SEO Services
To increase your online presence, SmartSites employs a variety of options. The only services lacking are social media and review management.
Here are the SEO services SmartSites provides for small businesses:
Listings management: There are many quality business listing sites where you can add your business information to help potential customers find you. Stay focused on running your business while SmartSites manages your listings for accuracy and consistency.
On-page SEO: Technical SEO shouldn't be omitted, as it tells search engines where to place your content. A SmartSites' SEO audit will show if you're using the proper metatags, heading tags, and internal links for local placements.
Citations management: SmartSites ensures that your NAP information is the same across all citations, and ensures that you get the quality backlinks needed to help rank your site higher on Google and other search engines, which helps get you site visitors (and people through your doors).
Local SEO Performance
To start, SmartSites creates a digital marketing plan with an emphasis on local SEO. Then to prove that local SEO efforts are going well, SmartSites uses a variety of tools to measure success. You'll get reports, but you'll also have access to analytics via SmartSites' reporting tool and dashboard.
Expect your marketing plan to include multiple efforts, including keyword research with a focus on local search terms, content creation, and link building through citations. Technical SEO isn't ignored either, so you can expect your rank in Google and other search engines' results pages to go up.
Reporting & Performance Dashboard
You'll get custom reports from SmartSites to show your progress month to month. It uses tools common in the SEO industry, but it also has a proprietary dashboard for you to see metrics all in one place.
What Clients Say in SmartSites Reviews
The majority of SmartSites reviews are positive, especially in regard to account managers. Most negative reviews have to do with the speed of results. But search engine optimization and marketing efforts take time, so it could be a misunderstanding of how long it takes for a site's rankings to improve.
Our Expert Opinion
For small businesses on a budget and wary of a long commitment, SmartSites is a good choice—especially if you don't have time to write content yourself. It is lacking reviews and social media management services, though. If you have experience with SEO, you may want to consider a tool like BrightLocal, which is more affordable, and outsource content creation to a freelance SEO copywriter on Fiverr.
Searchbloom: Best for Free Local SEO Audit With Proposal
What We Like
Thorough audits
Custom campaigns
Pricing cited in reviews indicates it's more affordable than companies like Hibu
Citation building
Listings management
Off-page SEO outreach
What's Missing
Some customer reviews suggest there's too long a wait for reports
Must work with multiple people, unlike 1SEO, where you work with one dedicated account manager
No social media management
Does not offer online reputation management like BrightLocal
Pricing isn't published
Starting Price
Best For
Small to medium-sized businesses that need thorough local SEO audits
Brands that want a technical approach to local SEO
Searchbloom is an SEO and pay-per-click (PPC) digital marketing agency that doesn't try to be a jack-of-all-trades within the industry. Instead, it offers laser-focused local SEO audits of your website, citations, and listings, and then creates a custom plan. Unfortunately, it doesn't offer management services for social media and online reputation.
Searchbloom Pricing
There's no published pricing, but current clients repeatedly report they spend $1,000 to $3,000 per month for local SEO work. The company doesn't require a long-term contract, so you won't face high cancellation fees, like with Hibu.
Local SEO Services
Searchbloom delivers services to help small businesses reach local audiences faster and easier. Audits show where you need to improve, and then the Searchbloom team will implement and execute a custom plan for citations, listings, and better on-page SEO.
Here are some of the local SEO services Searchbloom provides:
Local SEO audits: Before you agree to pay Searchbloom anything, you'll get a local SEO audit to see what needs to change. An account manager will explain why you need to remove content or backlinks, for example, so your ranking for location-specific keywords will improve.
On-page SEO: More than content, citations, or listings, Searchbloom focuses on technical SEO. When you add metatags, improve your site's structure, and use the right headings, you'll be better positioned to rise in the ranks on SERPs, including local searches.
Local SEO Performance
Searchbloom helps make sure you're using all the local SEO business listing sites effectively. The company can create and optimize your Google Business Profile, improve your site's ranking in Google maps, and set your brand up for better online visibility. Searchbloom doesn't manage your reviews—but will show you how to do it yourself.
Reporting & Performance Dashboard
You'll get updates about how well your marketing plan is going, but sometimes these reports lag, according to current customers. Also, Searchbloom doesn't provide very much competitive data, as you get with BrightLocal. Plus, there's no evidence of a performance dashboard. For a local SEO company with a comprehensive performance dashboard, consider Hibu.
What Clients Say in Searchbloom Reviews
Searchbloom reviews by customers are overwhelmingly positive. Repeatedly, current clients praise Searchbloom's ability to increase keyword rankings and local SEO. Frustrations generally have to do with slow reporting. Often a team will work with a client, but there's always a dedicated point of contact.
Our Expert Opinion
Searchbloom takes a targeted, technical approach to local SEO audits, so it's ideal for established businesses that need to know how to improve their position in SERPs among competitors. If you need a more comprehensive digital marketing solution that includes social media and reputation management, consider 1SEO.
How We Evaluated the Top Local SEO Companies
The best local SEO agencies and tools offer flexible pricing, a variety of services, custom solutions, dedicated account managers, and performance dashboards (or at least reports). In addition to cost, customer account management, and metrics, we also looked at reviews from current customers and the responsiveness of tech and customer support.
Based on our evaluation, Hibu is the best overall local SEO company for small businesses. It's a comprehensive, all-in-one search optimization and marketing solution to help you optimize your site and rank higher for local searches. You can hire Hibu experts to create and manage everything from citations and listings to your company's social media, ads, and online reviews.
To determine which are the best, we specifically considered these factors:
Pricing: One of the most important factors for any service for a small business is cost. Although agency services aren't always cheap, the minimal cost to get started (and get results) had to be fairly reasonable, even for a small business. We also looked at whether plans can be customized so you only pay for the services you need.
SEO services: Most SEO agencies include the creation and management of citations, listings, and reviews. The best also offer social media management and additional services helpful for growing a small business.
Contract length: Although efforts to optimize your website can take a while, having a short contract or only a month-to-month commitment might be preferable for small businesses that only need a few things done or aren't sure they want to stick with one company.
Performance dashboard: If you don't have time to work on local SEO yourself, you likely don't have time to check on all new content and its performance, your site's keyword rankings, and other metrics. A performance dashboard, or at the very least reports, give you a quick glance at how your SEO investment is paying off.
Customer reviews: In addition to our own firsthand expertise, we also considered how current customers feel about each company, from performance to support.
Frequently Asked Questions (FAQs)
How do I find the best local SEO company?
Not every local SEO company offering services to boost your online visibility will be the best solution for your business. It's important to set up a consultation with multiple providers and then compare notes. If you have experience with search engine optimization, and you have the time to devote to doing it yourself (or plan to hire an in-house expert), here are the best local SEO tools to use.
How do I optimize my website for local SEO?
There are multiple steps you can take to better position your website to rank higher in local search results. Claim your Google Business Profile (formerly Google My Business) and ensure your website is well-optimized. Make sure your NAP information is accurate and updated on your site, social media profiles, and in any citations or listings that include your business. When updating listings, consider adding your information to some of the best online business directories you may have missed.
What are GMB citations?
Google Business Profile (formerly known as Google My Business, or GMB), is one of the most powerful tools for local business SEO. It's free to claim your company's profile and it's important to keep it updated because many people will find you through local searches. Potential customers see your star rating, reviews, and photos customers post about your business here. Learn more about how to set up a Google Business Profile and how it works.
Bottom Line
It is possible to complete local SEO tasks yourself to optimize your site's position in searches and directories. However, it may be a better use of your time and money to hire experts to handle it for you. Hibu is our pick as the best local SEO company for small businesses that need a comprehensive marketing plan to improve their rank in local listings and their chances of being discovered by new audiences.
You Might Also Like…