How to Create a Landing Page to Boost Sales in 5 Easy Steps
A landing page is a dedicated web page people are directed to when they click on your ad or respond to a marketing campaign. The first step in how to create a landing page is identifying a single goal for the page and choosing a platform. Next, build a landing page with a compelling call to action, strong imagery, and simple web forms for conversions. Finally, launch your landing page and optimize it to increase lead generation and sales.
HubSpot's drag-and-drop builder and landing page templates make it easy to build landing pages, even for beginners. It comes with the web forms you need to convert visitors, optimization tips, and best of all, you can build up to 20 landing pages for free.
1. Identify the Goal for Your Landing Page
Unlike web pages, which often address multiple questions, you should identify one specific goal when you create a landing page. The goal is the action needed to get the visitor to take the next step in the customer journey and to move them through your sales pipeline's stages. To identify the goal for your landing page, think about the one action you most want the visitor to take.
Some common examples of landing page goals are:
Subscribe
Call your business
Book a demo or sales presentation
Download a digital asset
Buy a specific product or service
Come to your location
Make a reservation
Sign up for a free trial
Request a consultation or follow-up
Landing pages can be used for several purposes, from building contact lists and generating leads to getting appointments, converting product sales, and more. Also, they can be tied to various types of campaigns (e.g., email marketing campaigns, paid social ads, Google search ads, remarketing ads, and so on), and multiple campaign types are often in play simultaneously.
For example, a company selling ski equipment may have Google search ads running while also using remarketing display ads to re-engage past site visitors. The same company could also choose to run email marketing campaigns to their contact lists and place social media ads to reach more members of their target audience on social channels. In this case, a single landing page with the company's most popular items could be used to generate sales.
In other cases, such as a software platform with a longer buying cycle, multiple landing pages might be needed. Google ads might be used to generate product brand awareness, whereas remarketing ads and email would be used to reach prospects in the sales funnel's research or consideration stages.
2. Choose a Platform
You can create dedicated landing pages on your own website or on third-party platforms like HubSpot or Leadpages. Some of these platforms fall among the best website builders or have similar page-building tools, allowing you to quickly and easily design high-converting landing pages without having to know code. Likewise, if you have a website, you may be able to add dedicated landing pages to it directly without the need to use an additional platform.
If you need a platform to create a landing page, read our guide on the best landing page builders. HubSpot is our top pick—you can build up to 20 landing pages for free and do so on a custom domain branded to your business. The process of how to create a landing page on each one will be slightly different, but all have intuitive page-building tools with drag-and-drop editing and the elements you'll need (e.g., forms, buttons, and so on).
Best Platforms for Landing Pages (by Use Case)
| Landing Page Builder | | | | |
| --- | --- | --- | --- | --- |
| Free Plan | ✓ | ✓ | ✓ | ✕ |
| Connect a Domain on Free Plan | ✓ | ✕ | ✕ | N/A |
| Starting Monthly Cost of Paid Plans | $23 | $16 | $11 | $47 |
| Landing Pages in Base Plan | 20 | Unlimited | Unlimited | Unlimited |
| Best For | Sales CRM* and email marketing integrations for lead capture and nurturing | Building a website with landing pages on your own domain | Businesses relying mainly on bulk email marketing campaigns for leads and sales | Creating landing pages with advanced conversion guidance and prediction tools |
| | | | | |
*Customer relationship management
3. Build Your Landing Page
Your landing page's goal will determine what content and assets (forms, images, maps, tools, buttons, pop-ups, chatbots, and so on) the page will contain. At a minimum, a good landing page will have a clear and persuasive call to action (CTA), copy in the form of headlines and product or service descriptions, supporting media, and a web form or button (e.g., "buy now") to facilitate conversions.
Considering your campaign's goal, align your call to action (CTA) with what you're trying to get your customers to do. Think of the call to action someone sees when visiting your landing page as the "final push" in getting your visitors to convert. A compelling CTA will be convincing, straight-to-the-point, and powerful, and will be immediately followed by a webform or CTA button (such as "buy now" that takes the visitor to a product page on your online store).
Part of learning how to create a landing page with a compelling CTA is to consider what's in it for the visitor. In other words, what will the visitor get when they take the action you want them to take? Giving them an incentive, even something as simple as telling them exactly what they'll get when they do what your CTA says, makes your offer more valuable.
For example, a real estate agent looking to gain homeseller leads might offer a free valuation report in exchange for the visitor filling out a form. Conversely, an agent wanting buyer leads might provide the site visitor with access to a video with tips for how to come out with the winning bid in a competitive buying market after they fill out a form.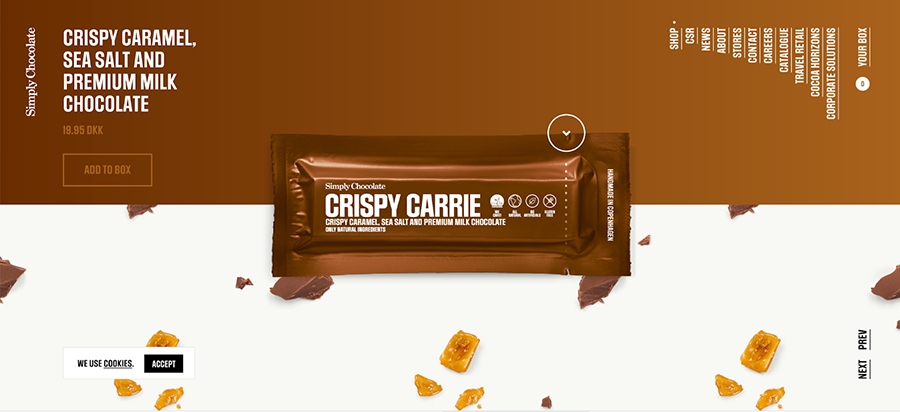 ---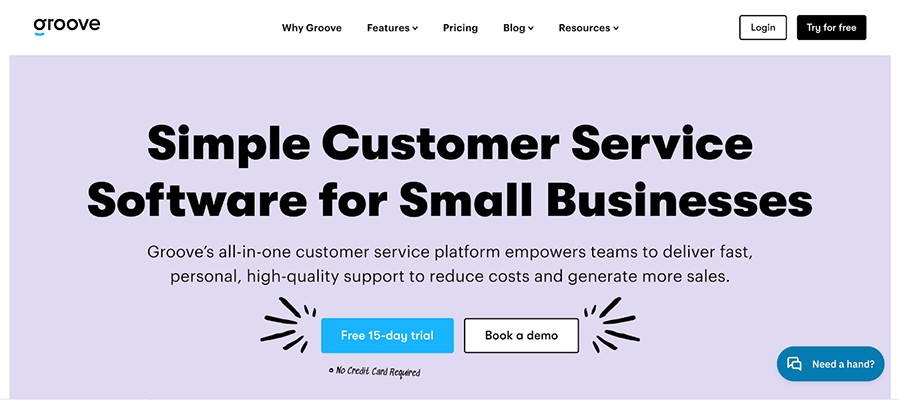 ---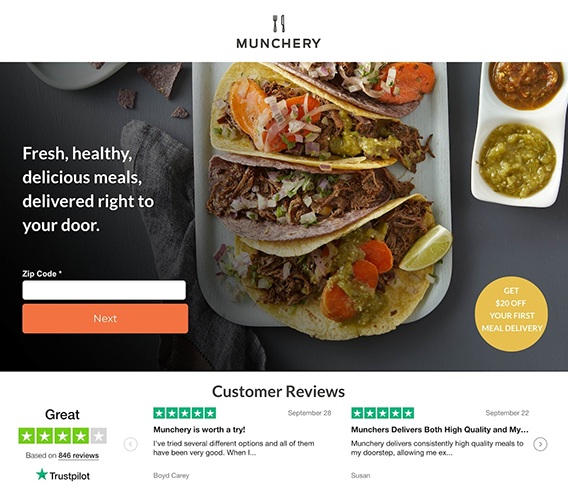 ---
---
Well-written copy can boost a landing page's sales and conversions. Landing page copy should be simple, straightforward, and powerful in clearly conveying your offer, its benefit to the site visitor, and the action you want them to take.
A few tips you can keep in mind to create relevant copy are:
Match the landing page's tone of voice to your advertisement or marketing campaign
Reinforce the CTA of your original ad or marketing campaign
Make the headline large and clear to immediately convey what's in it for the site visitor
Keep sentences short and simple
Break copy up into different sections (e.g., headline, subheading, and a short description or instruction)
Use bullet points
Avoid meaningless buzzwords like "once in a lifetime opportunity" or "world leader"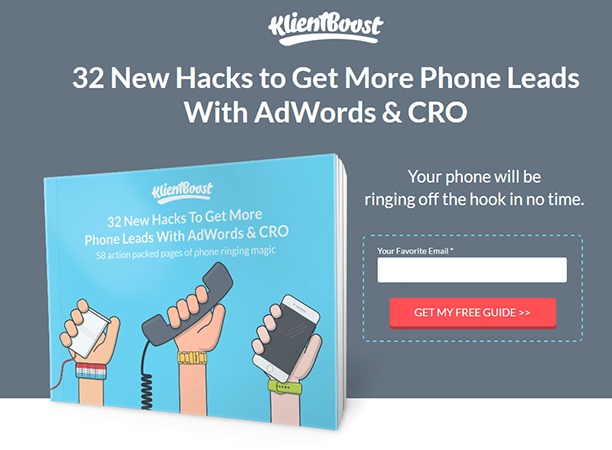 ---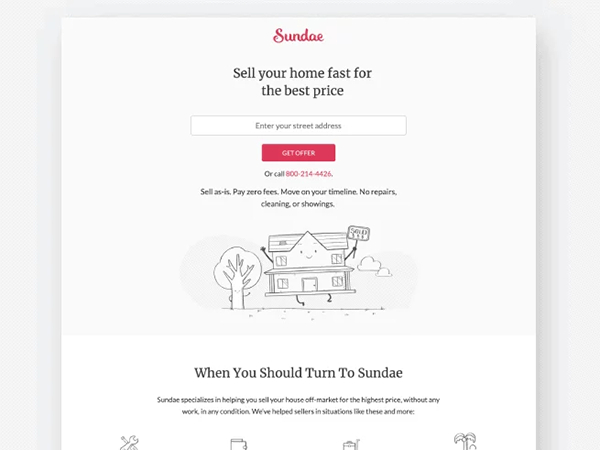 ---
---
To make your landing page more eye-catching and engaging, employ strong, high-quality visual elements. These can be images that relate to your campaign (such as an image of the promised download) or even videos that briefly explain the benefit to the site visitor in taking the next step.
Also, while your imagery should be cohesive with your campaign, remember that it should also represent your brand. Think of how your visuals work with your branding and use only high-quality media.
If you need to source high-quality media when building a landing page, check out our list of the best sites for logo design. They include sites where you can get images, graphics, and videos for free or at a low cost, such as Canva and Envato Elements. Alternatively, consider Fiverr, where freelance graphic designers can create custom graphics for your landing pages and sales and marketing campaigns for as little as $5.
---
Part of learning how to create a landing page that generates high conversions is making it easy for visitors to take the desired action. This includes eliminating potential barriers, and this applies to landing page web forms as well.
Subscriber sign-up forms may only require an email address, for example, whereas a real estate lead generation may ask for the person's name, phone, email, and which method of contact they prefer. Remember—each added field will have fewer customers willing to complete it.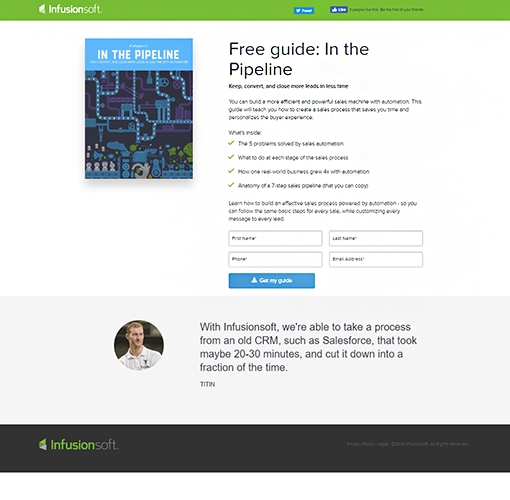 ---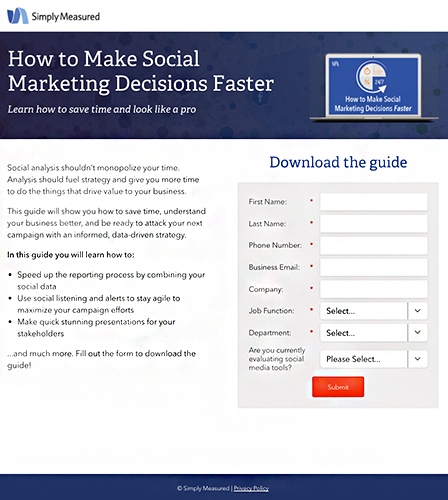 ---
---
For more inspiration and ideas, check out our article on landing page examples. They include several types of landing pages, calls to action, and content.
4. Launch (or Update) Your Campaign
Once your landing page is built and published online, the next step is to create and launch the campaigns you will use to drive traffic to the page. If you already have campaigns in place, link your landing page to your ad, marketing email, or other types of sales or marketing campaign. That way, when someone engages with your campaign asset (advertisement, email, website link, QR code, etc.), they will be redirected to your landing page.
QR codes (aka quick response codes) make it easy for someone to be directed to your landing page by scanning the code with their camera's smartphone. Create a QR code for any landing page URL easily using Wix's free QR code generator, and then add the image to your digital or print marketing materials.
5. Optimize Your Landing Page to Increase Conversions
In addition to knowing how to build a landing page, it's important to know how to optimize your landing pages. In the page-building stage, optimization includes on-page elements like using search engine optimization (SEO) keywords in your page's headlines and copy, technical aspects like hosting with SSL security for HTTPS data encryption, and ensuring fast page loading through image and media optimization.
As soon as your landing page goes live, monitor its performance, starting with conversion rates. Like everything in marketing, landing pages need to be continuously tweaked and optimized. The data you gather from analytics tools available in your landing page platform, ad platforms, Google Analytics, and so on will give you insights as to where and how you can improve your marketing efforts.
As you make changes, apply them one at a time and then wait for a set period of time (such as a week or a month) to determine whether it made an impact before making another change. Large changes—like copy overhauls or switching your call to action—will obviously impact your campaign, but keep in mind that small changes can also make a difference. Changing your landing page's colors, fonts, and even button shapes and sizes can also improve conversions.
Pro tip: Wondering how to create a landing page the easiest way possible? Hire a professional on Fiverr to create one for you. Professional graphic designers start for as low as $5.
Frequently Asked Questions (FAQs)
How much does it cost to create a landing page?
If you already have a website, the only cost to create a landing page may be your time. There are also free platforms for creating landing pages, including top website builders like Wix, Weebly, and HubSpot as well as email marketing software like Mailchimp. Alternatively, you can outsource landing page creation to freelance professionals at Fiverr for as little as $5 or pay anywhere from a few hundred to thousands of dollars with professional agencies.
How can I create a landing page for free?
The best way to create landing pages for free is on HubSpot. With HubSpot, you can build up to 20 landing pages for free on your domain with the added benefit of strong SEO, free SSL security, and robust reports. In addition, you can leverage its other freemium tools for contact list building, management, and lead nurturing. Other ways to build free landing pages include email marketing platform Mailchimp and free website builders like Wix and Weebly.
How can I create a landing page without a website?
Hosting landing pages on your website is optimal for a seamless branded user experience (UX) and the SEO benefits that your site gains with additional traffic. But you can also create landing pages without a website. Dedicated platforms like HubSpot and Leadpages have advanced tools for increasing conversions. Free and paid website builders like Squarespace and Wix, and an email marketing platform Mailchimp can all also be used to create freestanding landing pages.
Bottom Line
Landing pages are web pages where viewers "land" after clicking on your web banners or responding to other sales and marketing campaigns. As you follow the steps above, make sure your landing pages are clutter-free and easy to navigate, include compelling content, and express a solid call to action to watch your conversions soar.
You can easily create high-converting landing pages for free on HubSpot CMS. It has an intuitive, no-code page builder and advanced tools for lead generation and engagement, along with guides and tutorials to ensure you learn how to build a landing page that converts.