Keyword research is a significant part of search engine optimization (SEO). Fortunately, keyword research tools will help you find relevant keywords to insert into your content easily. We looked at the most popular software, and determined that the best keyword research tools are accurate in their data, versatile, free or affordable for small businesses, and extremely beginner-friendly.
Here are the six best keyword research tools we recommend:
Best Keyword Research Tools at a Glance
| | | | | | | |
| --- | --- | --- | --- | --- | --- | --- |
| | | | | | | |
| Pricing | Starts at $82 per month (can go as high as $832 per month) | $99.95-$374.95 per month | $48-349 per month | N/A | $69-$159 per month | $29-$99 per month |
| Free Plan | N/A | ✔ | Google, Yandex | ✔ | ✔ | ✔ |
| Free Trial | N/A | 7 days | 7 days | N/A | N/A | 7 days |
| Compatible Search Engines | Google, Bing, YouTube, Amazon, Yahoo, Yandex, Baidu, Daum, Naver, Seznam | Google | Google, Yandex | Google | Google, YouTube, Bing, Amazon, eBay, Play Store, Instagram, Twitter | Google, YouTube, Amazon |
| Browser Extension | ✔ | | ✔ | ✔ | N/A | ✔ |
| Other SEO Features | ✔ | ✔ | ✔ | N/A | N/A | ✔ |
| | | | | | | |
Looking for something more specific? Try one of these…
Ahrefs: Best Overall Keyword Research Tool
What We Like
Very in-depth data
Beginner-friendly, intuitive interface
Keyword research features are compatible with 10 different search engines, much more than any other tool on our list
Has over 7 billion keywords in its database
Has a WordPress plugin that analyzes your content and backlinks
Includes other SEO features like backlink analysis and content gap analysis; it's an all-in-one SEO tool
What's Missing
Pricey for a small business, especially considering Serpstat starts at $48 per month for full-suite SEO services
No free trial, unlike SEMRush, its closest competitor
Top Features
Competitor analysis
Keyword research
Site SEO audit
Rank tracker
Content explorer
Ahrefs is one of the most popular search engine optimization tools available. It's been around since 2010, but it still ranks as our top SEO tool. While it can perform keyword research very well, what makes Ahrefs different from the other tools on our list is that it can do so much more. It's primarily known as a backlink analysis and tracking tool, but from experience, it has extremely accurate keyword data as well.
Keyword Research Features
Ahrefs has a comprehensive Keyword Explorer, which can be used with 10 different, popular search engines like Google, Amazon, YouTube, and Bing. With a simple keyword search, you can find the difficulty of your keyword, its search volume, clicks, and volume. Ahrefs can also help you generate content ideas with its Keyword Ideas feature. All this data is presented in a very easy-to-read database.
Our Expert Opinion
Ahrefs may not be the cheapest, but it's definitely a useful tool to have in your arsenal. With Ahrefs, you get so much more than just keyword research (although its keyword research features are top-notch). If you're already using another SEO tool like SEMRush, then we wouldn't recommend Ahrefs as complementary software. However, it's a fantastic growth-hacking tool with some of the most accurate data we've seen, all in a readable database.
SEMRush: Best for Full-service SEO
What We Like
Comprehensive free plan available
One of the biggest keyword databases with nearly 21 billion keywords, much more than Ahrefs
All-in-one SEO tool with tools like backlink analytics, site auditing, and organic searches—more comprehensive and feature-rich than Ahrefs
Highly accurate keyword data
What's Missing
Expensive plans starting at $99.95 per month, more expensive than even Ahrefs
Free plan only has 10 searches per day
Complicated and messy interface that can be a turnoff to beginners
Keyword research tool is only compatible with Google
Top Features
Competitor analysis
Keyword research
Link building
Site SEO audit
Local SEO
Content marketing
Like Ahrefs, SEMRush is a complete SEO tool that you can use to rank higher on search engines. It's slightly more expensive than Ahrefs at $99.95 per month on an annual billing cycle. However, it has everything you need to rank higher on search engines, plus the most extensive keyword database of any keyword research tool. What we love most about it is its competitor analysis. You can enter up to five competitors to see the keywords they're ranking in, their traffic, and their backlinks—presented in a visual graph.
Keyword Research Features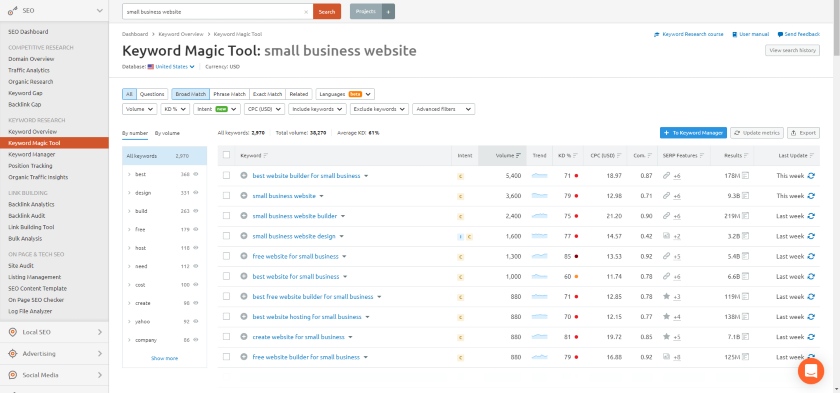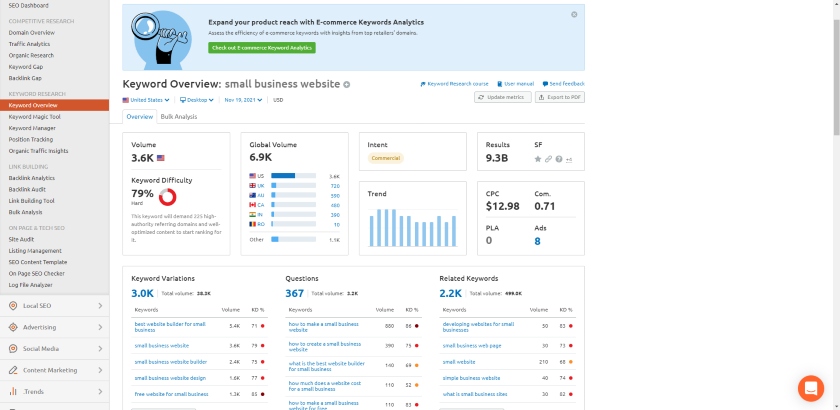 SEMRush's keyword research features are similar to that of Ahrefs, except that it has slightly more accurate data in terms of traffic and volume. Both make it easy to find relevant keywords and generate additional content ideas, but SEMRush only works with Google. You can use SEMRush to generate keyword ideas for other platforms (like Amazon and YouTube). Still, your keyword research won't be as accurate as using a dedicated keyword tool for that particular search engine.
Our Expert Opinion
SEMRush is an amazing keyword research tool that has the largest keyword database we've ever seen, plus rich SEO analysis features that make it a breeze to optimize your website. We also love the fact that it has a free plan, so you can give it a go to see if it's right for you. It's so good that it nearly tops Ahrefs as the best overall keyword research tool, except that it only really works with Google. This limitation drags it down, as there are a ton of search engines out there, like Amazon, that need a dedicated tool.
Serpstat: Best for Complete SEO on a Budget
What We Like
Free plan available
It has a full suite of SEO tools, like link building and a great PPC research function
Much cheaper than both SEMRush and Ahrefs at $48 per month for the Lite plan
Has a similar interface to Ahrefs and SEMRush, so you can easily make the switch
Has local keyword research features to help with local SEO
Top Features
Site SEO audit
Keyword research
Pay-per-click (PPC) research
Serpstat is a full suite SEO tool similar to Ahrefs and SEMRush. The difference is Serpstat is much cheaper than either option. Serpstat starts at $48 per month on an annual billing cycle—perfect for small businesses. Along with its SEO features, Serpstat has a very easy user interface to navigate, plus helpful customer support. It's definitely worth looking into for beginners diving into optimization, as we found that its tools are not as accurate or robust as Ahrefs.
Keyword Research Features
Serpstat has over 6 billion keywords in its database and is an excellent keyword research tool that can rival that of Ahrefs. Its features aren't too different from other keyword research tools. With Serpstat, you can find the volume, competition, cost-per-click, and keyword difficulty easily. You also get a list of competitors, and a list of organic and paid keywords. The data on Serpstat isn't as accurate as Ahrefs or SEMRush, but it is by no means a bad tool for the price you pay.
Our Expert Opinion
Serpstat isn't the best tool out there for full suite SEO, but it does the job well, considering you're paying roughly half of SEMRush's prices. In terms of keyword research, it provides a comprehensive report of the keywords you need to be using to compete in your space, plus a nice competitor graph similar to SEMRush. We would still recommend Ahrefs or SEMRush instead of Serpstat because of data accuracy, but if you're on a tight budget, then Serpstat is your best bet.
Keyword Surfer: Best Keyword Research Tool to Generate Content Ideas
What We Like
Free to use forever
Integrates into your Chrome browser for automatic keyword research whenever you search a term on Google
Article outline feature helps you generate content ideas based on the keywords you find
Can work in conjunction with more powerful SEO tools like Ahrefs and SEMRush
Very beginner-friendly
What's Missing
Monthly search volume data and word count data aren't accurate
Doesn't provide competitor data like Ahrefs, SEMRush, Serpstat, and Ubersuggest; this tool is purely for keyword research
Only compatible with Google
Keyword Surfer is a keyword research tool from Surfer SEO—a complete optimization platform. However, you can download the Keyword Surfer plugin separately from the other tools it offers. It might not be the most powerful keyword research tool, especially since the data shown isn't too accurate. However, it's a useful tool to generate article and content ideas with, especially as it's compatible with other tools like Ahrefs and SEMRush.
Keyword Research Features
Unlike the other tools on this list, Keyword Surfer isn't a software you run to get a list of keywords. Instead, it's a plugin that you download and install in your browser to perform keyword research with the ability to generate an outline whenever you search on Google. Its data isn't very accurate, so we wouldn't recommend it if you're looking for heavy research, but it's still a useful tool to have as it works passively every time you look at search results.
Our Expert Opinion
Keyword Surfer is a completely free tool to download and use, so if you're using Chrome and looking to rank on Google, then there's no downside in getting it as a spare keyword research tool. It's especially useful when looking for ideas to create content as it works passively whenever you use Google Search. In fact, it works well when paired with other, more advanced SEO tools like Ahrefs and SEMRush.
Keyword Tool: Best for Finding Long-tail Keywords
What We Like
Free plan available
Helps you find related questions to your keywords to generate content
Very easy to use, with a very user-friendly interface
Offers searches for eight different search engines plus different languages
What's Missing
Capped searches, even on their most expensive plan; if you want uncapped Google keywords data, we suggest using Google Keywords Planner instead
Extremely gated content for free searches
Expensive premium plans, especially when you consider a tool like Serpstat that does it all for just $48 per month
Very basic keyword research features on the free plan
Keyword Tool is a freemium (free, with premium plans) software that tracks keywords in eight different search engines and in different languages. Take note that it's not a full SEO service. It is purely for finding keywords, and especially long-tail keywords. If you're looking for more than just keyword research, we recommend trying out Ahrefs, SEMRush, or Serpstat instead.
Keyword Research Features
Keyword Tool makes it extremely easy for anyone to find relevant keywords. The catch is since it's not a full SEO service, you'll need to do some competitor research on another tool beforehand to find the right keywords to input. From there, Keyword Tool will give you a list of long-tail keywords plus questions to generate content. While it's easy to use and has a completely free plan, it's also very basic. On the free tool, you don't get access to data like search volume and trends.
Our Expert Opinion
Keyword Tool is a great free tool to use if you're looking for content ideas and to generate long-tail keywords for already existing keywords you may have. You will have to do competitor research elsewhere to see which keywords your competitors are ranking for, but this is still a nifty tool to use in conjunction with other SEO tools like Ahrefs and SEMRush. However, we definitely wouldn't recommend using it alone.
Ubersuggest: Best for Beginners Diving into SEO
What We Like
Free for three searches a day
Affordable plans starting at $29 per month
Very easy interface to navigate and understand
More features than just keyword research tools; Ubersuggest also has a great website traffic tracking tool and content generation tool
What's Missing
Only three daily keyword searches available for free
Gated content for free searches
Not as comprehensive as Ahrefs and SEMRush
Doesn't work with other social media-focused search engines like Instagram and Twitter
Top Features
Rank tracking
Site SEO audit
Keyword research
Traffic analyzer
Ubersuggest is another freemium tool that lets you search up to three keywords a day for free. It's not as comprehensive as Ahrefs or SEMRush, but it's a very easy-to-use tool that tells you enough about keywords while giving you content ideas. What we like about this tool is that it's easy to understand. Its interface is extremely clean, and everything about it is beginner-friendly.
Keyword Research Features
Ubersuggest has a detailed keyword overview page that's simple to use. It shows keyword volume, difficulty, and cost-per-click at the very top, plus some historical data. You also get keyword and content ideas and their corresponding data at the very bottom of the page. The data presented isn't as exhaustive as what you'll see with SEMRush and even Ahrefs, but it's easily digestible in part due to Ubersuggest's very clean dashboard.
Our Expert Opinion
Ubersuggest is a useful tool to use if you don't need as much data as what SEMRush presents. Outside of Google, it also works with Amazon and YouTube for relevant keywords. In that regard, it's a much better free tool than SEMRush. If you're a beginner starting out in the world of keyword research and marketing, then we suggest giving Ubersuggest a try to get comfortable with the terms you need to know.
Honorable Mention: Google Keyword Planner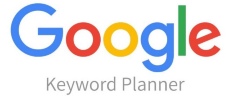 PROS

CONS

Completely free to use
You'll need to create a Google Ads account and input payment details (although you won't be charged for researching keywords)
Targets keywords from Google; useful if you're looking to rank on only Google
Designed mainly for advertising on Google, and not specifically as a keyword research tool
Includes related keywords so you can expand your search
Not compatible with other search engines like Bing
Keyword Tool has a much easier interface for similar data
Google Keyword Planner is a service offered by Google mainly for advertising purposes. You'll need to create a Google Ads account or have one already before accessing the keyword research tool. However, you won't need to pay for a campaign to use the research tool.
It's very basic. All you need to do is type in a keyword, and you'll see its monthly searches on Google plus related keywords you can use. If you're looking to rank on Google, we suggest giving it a try.
How We Evaluated the Best Keyword Research Tools
We looked at all the popular keyword research tools available, and narrowed it down to our top six. The best keyword research tools will allow anyone to find relevant keywords to insert into their content. We also looked at pricing, its ease of use, and our experience with using these tools.
See the breakdown of our evaluation process here:
Pricing
SEO is a large part of what makes a business successful online, so you'll need to allot a sizable budget to it. Fortunately, many keyword research tools are free or extremely affordable, and we judged these tools based on whether or not they'll fit into a typical small business' budget.
Features
The biggest factor in using these tools is whether or not they're actually good at finding relevant keywords for your content. We also took into consideration other SEO features that the tool offers, just in case you would prefer an all-in-one tool for optimizing your website.
Ease of Use
Finding keywords shouldn't be difficult, so we judged these keyword research tools by just how simple they are to use. We also took into account its interface, and whether or not an absolute beginner at building websites would be able to successfully navigate and analyze the data presented.
Expert Score
There are dozens of keyword research tools available, and many of them have the right combination of price, keyword research features, and ease of use. However, our final criteria weighed each tool against our professional experience. We then determined the tools that are worth investing time and money in.
Frequently Asked Questions (FAQs)
How do I find highly searched keywords?
Keyword research tools are only as useful as the words you plug into them. To find a list of these words, you'll need to look everywhere: from competitor research—to see which keywords your competitors are ranking for—to using your chosen search engine's autocomplete feature. The latter will usually give you a hint about the keywords that are being searched worldwide. You can also use a tool like Keyword Surfer to provide insights when you search on Google.
How do I insert keywords into my content?
First, get a list of three to eight keywords you want to focus on. Then, insert these keywords into your text organically (i.e., don't "stuff" keywords or include the keyword for the sake of using it). You should sprinkle the keywords in your main body of text, plus add them to any titles, headings, and even your images' alt texts. Finally, focus on your page's SEO. Insert your primary keyword into the meta description and SEO titles of your page.
How can I improve my SEO organically?
Organic SEO takes time to execute. The main point to focus on is your user's experience. Optimize your website to improve user experience by addressing issues, making sure it's mobile-compatible, and keeping watch over page loading times. Create high-quality, long-form content that adds value to the space that your small business is in. Then, develop a solid search engine marketing strategy to drive traffic to your website.
Bottom Line
Keyword research is a very important part of optimizing your website. Keywords let both humans and search engines know the content on your site, improving online visibility. The first step to any well-grounded search engine marketing strategy is finding the right keywords to rank for, and the best keyword research tools will make it easy for you to do just that.
Overall, we recommend trying out Ahrefs. Not only does it have exceptional keyword research capabilities, but its SEO features are hard to beat as well.
You Might Also Like…