SEO for Ecommerce Websites: The Ultimate Beginner's Guide
Ecommerce SEO, or search engine optimization, is a set of practices for increasing your website's performance in search engine results pages (SERPs). The goal of SEO for ecommerce is to improve your site's visibility and gain more clicks while boosting conversions—ultimately leading to greater revenue. It's important for online sellers, considering nearly 9 in 10 shoppers start their purchase process via search.
SEO for ecommerce typically involves targeting specific keywords that qualified shoppers search for, optimizing the front-end and back-end components of your site, perfecting user experience, and getting links from other online sources.
How to Do SEO for Ecommerce Websites
Whether you're doing your own SEO for your ecommerce store, an SEO specialist, or simply determining your SEO strategy, consider these six steps:
1. Research Keywords
Ecommerce SEO isn't just about ranking and generating traffic—it's about ranking on the right SERPs to generate qualified traffic that will earn you money.
This requires identifying the search terms your potential customers are using through keyword research. The goal of this step is to target an effective keyword for every category and product page of your website, as well as your homepage.
The more relevant your keywords are to what qualified shoppers are searching for, the better their chances of landing on your site. This means that keywords are just as much about your audience as they are about your product or business.
If you're just starting your ecommerce store, this step can be worked into the development of your site. But if you run a large and well-established site, keyword research for each webpage could be a very laborious—but necessary—task.
Start by getting a complete inventory of the pages on your site. Your ecommerce hosting platform may be able to export a list of these pages directly from your backend, or you can add "/sitemap.xml" to the end of your site's URL, like the example shown below.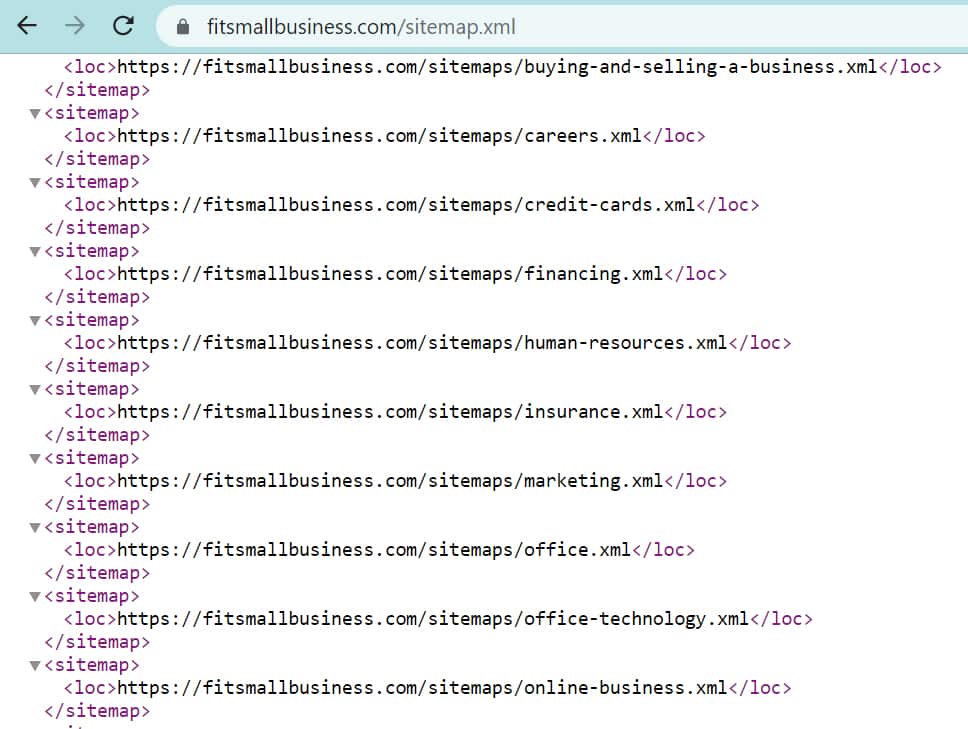 Once you have a list of pages, consider the following info to increase ranking and drive traffic to them through well-chosen keywords.
How to Find the Right Keywords
The objective of keyword research is to identify search terms with the right combination of volume, difficulty, specificity, and transactional intent to optimize your search engine performance.
If you target the wrong keywords, one of two things is likely to happen:
You'll end up buried on a rarely seen page of search results (such as the second or third page, or worse) for impossible keywords.
You'll rank highly for keywords that are rarely used or attract visitors who never convert.
So which keywords should you look into? Start by taking a comprehensive look at your ecommerce business and its customers. Then jot down broad terms that apply to your offerings as well as what your customers may be looking for.
These ideas don't need to be well-formulated, high-intent keywords; they just need to provide a foundation for your research. Here's how to get started with choosing keywords:
A good jump-off point for your research is using suggested searches, which appear based on relevant and trending keywords.
By entering your seed terms into the Google search bar, you can see what people are looking for with more in-depth specifics and useful synonyms—which leads to successful keywords to pursue.
Amazon is another fantastic resource for this because virtually all Amazon searches are made with strong purchase intent. Yes, it's probably one of your competitors, but that provides all the more reason to use it for your own research.
To find keyword ideas for a product page, try searching Amazon for a basic term that describes it. Then reference the site's search suggestions to home in on more targeted, specific keywords that Amazon's massive customer base is actively searching.
---
Conveniently, there are a number of tools available that streamline the process of scouring the web for suggested searches. These free resources scrape data from engines including Google, Amazon, Walmart, and eBay, and return hundreds of results (along with useful metrics).
Many of these tools also allow you to save potential keywords then export your list as a CSV file.
Here are some of the best free keyword generator tools:
---
If your competitors are ranking highly for valuable keywords, use their sites as resources for your research.
Begin by Googling keywords that pertain to your store and checking the results to see who ranks. The SERPs may be populated by a range of ads, paid shopping suggestions, and/or local business listings—but focus on the organic webpage results.
Organic Results – Search results that are calculated algorithmically and not affected by advertiser payments.
Organic Traffic – Traffic from visitors that come to your website as the result of unpaid search results (rather than paid advertising).
Then look at the competitor sites—specifically their homepage, category pages, and product pages (depending on how they're structured).
As you find promising keywords, record them and move on to the next competitor.
While researching your competitors, keep in mind they likely rank for reasons other than keywords alone. They could have a high domain authority (DA) that bolsters their search engine performance, among other things—so look further into the viability of the keywords they target before using them on your own site.
Domain Authority (DA) – An aggregate metric that describes a website's relevance for a specific subject area or industry, which contributes heavily to search engine rankings. DA is calculated differently depending on the tool you use to measure it, so values may vary.
---
How to Evaluate Your Keywords
Not all your keyword ideas are worth pursuing. The best keywords will be high-volume, low-difficulty keywords with strong transactional intent.
Targeting the right keywords to support your online store depends on these factors:
This is the number of times a keyword is searched in a given period. The higher search volume a term has, the bigger the audience it stands to reach.
Search volume may be consistent or fluctuate. Evergreen keywords maintain a steady search volume throughout the year, whereas seasonal keywords wax and wane with seasons or holidays. Seasonality aside, search volume can trend positively or negatively in response to any number of influences—so it's important to consider a term's history as well as projected performance
---
Also known as competition, this gauges how difficult it is to rank for a specific keyword. More competition leads to greater difficulty.
Keyword difficulty is measured as a percentage often called KDS, or Keyword Difficulty Score. Here's an overview of how the KDS range breaks down:
<30% – low difficulty: Keywords in this range are the easiest to rank for, but they usually have low or unsteady search volumes. If you can identify a rare low-difficulty, high-volume keyword, it's usually a terrific find.
30%–70% – moderate difficulty: Ranking for keywords in this range is doable and profitable. Moderate-difficulty keywords typically have decent search volumes, but not so much competition that your efforts will be in vain. Accordingly, they're often the best to target when doing SEO for an ecommerce website.
>70% – high difficulty: Keywords in this difficulty range have extreme levels of competition. Ranking for them takes immense effort, resources, and time, so they're not the best terms for small ecommerce businesses seeking swift results.
---
This describes how well a keyword matches the content of the page and the objective of the search.
It typically has a direct relationship with search volume and buying intent: Highly specific keywords are searched less frequently, but they're used by searchers who are very likely to click and convert. In the case of ecommerce SEO, this often makes high-specificity keywords the most realistic and profitable to target.
When it comes to specificity, there are two different types of SEO keywords:
Short-tail keywords (or "seed keywords"): Search terms that represent broad or general queries and consist of one to three words. Examples: Coffee; Running shoes
Long-tail keywords: Search terms that represent highly specific, targeted intent and consist of roughly four or more words. Examples: Order coffee beans online; Comfortable running shoes for women
For example, if you sell artisanal baked goods, you may be tempted to target the short-tail keyword "cookies." But take a look at the first SERP and you'll see that it's used by searchers who are looking for:
⮞cookie recipes
⮞information about HTTP internet cookies
⮞the popular cannabis brand called Cookies
⮞the popular clothing brand called Cookies
⮞local cookie bakeries
⮞gourmet cookies for sale online
A more effective choice would be to target a long-tail keyword such as "cookie gift basket delivery," which does a much better job of making sure your site is seen by qualified shoppers.
---
This metric evaluates the likelihood that someone searching for a specific keyword will become a paying customer.
Purchase intent is important because it differentiates successful keywords from profitable ones. You can nail your site's SEO perfectly and rank highly for popular keywords—but it won't increase revenue unless searchers are looking to buy.
The content of a search term can give you an idea of the intent behind it, but you can also evaluate purchase intent by looking at how valuable the traffic coming from the keyword actually is. We'll show you how to do that in the section below. There are four categories of intent:
Informational keywords: Used by searchers looking for an answer to a question or general information on a subject. The intent is to learn, research, or reference. Examples: How to tie a tie; Air fryer donut recipe
Navigational keywords: Entered when users have the clear intention to navigate to a specific site, page, or place—but opt to use a search engine rather than typing in the web address directly. Examples: Brooks Brothers XL ties; Krispy Kreme donut shop near me
Commercial keywords: Used by searchers who want to know more about a specific product or service—usually to support the idea of purchasing, compare options, or find deals. These keywords include terms like review, best, cheap, or affordable, as well as the product, brand, or category name. Examples: Best men's silk necktie; Ninja air fryer reviews
Transactional keywords: Terms that users search for with the express purpose of buying something. These keywords are highly likely to lead to conversions, and usually include (or sometimes imply) words such as buy, coupon, discount, deal, for sale, or shipping. Examples: Buy men's XL silk neck tie; Ninja air fryer free shipping
---
To keep track as you conduct your keyword research, you can make a keyword matrix. A matrix is an organized spreadsheet of keyword data that can be used to zero-in on the best keywords to use.
As you explore keyword metrics, keep in mind that data can differ based on the resource you use due to differences in how it's collected, calculated, and reported.
Keyword Research Tools for Ecommerce SEO
You can significantly streamline your keyword research process by using free, "freemium," or even paid keyword research tools, such as:
Google Keyword Planner is a useful tool for generating keyword ideas based on seed terms. It also has a keyword analysis and forecasting tool that's good for determining the search volume, difficulty, and commercial intent of potential terms.
The "Top of page bid" values represent the keyword's Cost Per Click, or CPC. This range is an approximation of the amount needed to be paid for an ad to appear at the top of the first page of search results for the term.
Regardless of your intent to purchase ads, this metric is helpful because it has a direct correlation with commercial intent. The higher the CPC, the more companies are willing to pay for visibility from the keyword—which means it is used by searchers who convert. So look for phrases with considerable CPC.
---
Semrush is an industry-favorite tool with limited free features and premium versions starting at $119.95/month. It has a keyword discovery/generator tool, position tracking, traffic insights, and keyword gap identification.
Its Organic Research tool allows you to see which keywords other sites are ranking for by entering their URLs—which can be immensely helpful for competitor research. Or check out the current performance of your own site to see which keywords you're already claiming.
---
Ahrefs is another top SEO tool that's billed on a subscription basis but offers limited free features. You can access keyword suggestions, pull useful metrics, and check your site's ranking position in any country. It also boasts a range of other features to help you explore keywords, assess their potential, and research your competition.
---
Selling online and from a brick-and-mortar store? Use local SEO in conjunction with ecommerce SEO to maximize search engine results and get a significant edge over your online competitors.
Read our local SEO guide to learn more.
2. Site Structure
Before making use of your hard-earned keywords, you'll need to make sure your website's pages are organized properly. Site structure or architecture is a big contributor to search engine rankings—especially for ecommerce sites. This is because online stores tend to have far more pages than other websites, and they all must be indexed properly.
It's much more efficient to do this as you build your ecommerce site—implementing these practices from square one using an ecommerce platform geared toward SEO. If your built-out site already has a structure that needs fixing, it may be best to consult an SEO specialist or web developer. They can ensure old pages redirect to new pages properly, and that the correct pages are discoverable by crawlers.
Structure also impacts user experience; it's important for Googlebots and customers alike to be able to easily navigate your store and find all of your pages. There are two golden rules of ecommerce site architecture:
Your site structure needs to be simple and scalable
It should take no more than three clicks to get to and from any page of your site
By achieving both of these things, you create a site that's easy to maintain, adjust, and grow—and easy for visitors to use. Plus, by ensuring every page is as few clicks away from your homepage as possible, you effectively distribute link equity.
Link Equity: A search engine ranking factor based on the idea that links pass value and authority from one page to another—often referred to as "link juice."
Most of the links from other websites to ecommerce stores point to their homepages. This gives your homepage a boost of link juice that trickles down to your other associated pages. If your site structure isn't flat enough, that authority will be diluted by the time it reaches your product pages—like in the diagram below.
"Deep" and disorganized structure like this not only hinders authority from links but is very difficult to modify and scale. Plus, it's a headache for your customers and Googlebots to navigate, so it's unlikely to perform well.
Simple, flat, and easy-to-navigate structure looks more like this:
Certain ecommerce hosting platforms, namely BigCommerce, automatically structure your webpages like this as you build your store.
3. On-page Optimizations & HTML Tags
Now it's time to optimize different on-page elements and HTML tags to include your keywords as well as appeal to web crawlers and potential visitors.
Most of these elements can be populated and edited through your ecommerce hosting platform or CMS. Shopify is our top recommended option—it provides simple, straightforward fields with instructions, as shown below.
Here are the on-page elements of your site to optimize for better search engine rankings:
---
---
For ecommerce SEO, optimizing body content focuses mainly on product descriptions. There's a lot that goes into writing a product description that sells, but here's how to optimize your body content for search engines:
Aim for length: Multiple studies have shown that Google tends to favor lengthy content in its SERPs. This is because long-form content typically does a better job of conveying what a page is about—both to Google as well as the site's visitors. So as you craft your product pages, shoot for roughly 1,000 words. If this feat is too time-consuming to be done on every product page, identify your top performers and start with those listings. Include reviews to drive up word count, but also focus on writing a thorough and in-depth product description.
Incorporate keywords: Your body content needs to be well-written, readable, and geared toward the customer. To help search engines properly index your page, you still need to include keywords a handful of times in the content for each product.
Sprinkle your head keyword into the description three to five times, but also aim to include long-tail variations and LSI synonyms.
LSI Keywords: Terms, words, and phrases that are similar or related to a targeted keyword—including synonyms.
Example-
Target keyword: Dishwashing liquid
LSI keywords: Dish detergent, Dish soap
Their theoretical purpose is to help search engines better understand a page by adding context and connecting the content to the target keyword through language-processing algorithms.
It's debated whether or not Google actually uses LSI technology, but in either case, using words that boost your page's visibility on searches for other related terms is verifiably good for SEO. You can identify LSI keywords to use by scanning Wikipedia pages, Amazon listings, and keyword generator results for your main terms.
Keep it original: It may be tempting to copy and paste the manufacturer's product description of an item you sell (or reuse content from your other listings), but keep in mind that Google values unique content. In fact, using content that is "appreciably similar" to content that appears on other webpages can negatively impact your rankings. So be sure to write unique copy for every page of your site, and don't take it from other retailers.
To boost your body content, feature reviews and ratings from customers on your product pages.
---
Your store's photos need to be optimized for three purposes: load time, indexing, and user experience. Here are the elements of an image to work on:
File size and resolution: Page load speed has become a hefty factor in search engine rankings, and images account for 55%–65% of the total transfer size of most ecommerce sites. At the same time, image quality has a big impact on user experience as well as visibility in image searches.

This means you need to strike a balance between image size and resolution. Your photo editing software can allow you to toggle image quality to achieve different file sizes, but a good rule of thumb is to keep image files under 70Kb. If you're struggling with larger images, try compressing them with tools such as WeCompress and Optimizilla.

File names: Give your image files keyword-rich names to help crawlers find and index them, using dashes to separate words.
As with other elements, keep file names readable and make sure each name is unique—but avoid unnecessary numbers. If you have multiple photos of the same product, add words like "front" or "detail" to differentiate shots.
Image titles, descriptions, and alt attributes: Similarly to file names, optimizing these elements helps your images (and site as a whole) be discovered and indexed properly.
For effective titles and descriptions, simply describe the image in clear, plain language that contains your primary keyword.
Alt attributes lend to accessibility by providing a description of an image in case it can't be shown or viewed—so populate them carefully. Make sure they remain clear and straightforward by not overstuffing them with keywords, and don't use alt attributes for decorative images. Both of these things can be penalized by Google for over-optimization and hindering accessibility.
---
Including keywords in your URLs does not affect ranking—but it's still a best practice of site optimization because it provides clarity for the visitor.
You'll also want to refine for length. Ecommerce URLs tend to be longer than other sites since they often contain categories, subcategories, and products. But Google has been known to rank sites with short URLs higher on its SERPs.
It's still possible to keep product page URLs short and sweet by cutting out any unnecessary terms or characters, such as words like "and," "the," "of," or "a" (unless they're part of a keyword). Try to keep each URL below 50-60 characters, if you can.
It's also important to make your URLs easy to read and accessible for humans. Separate words with dashes and leave out any backend info (like SKU numbers).
This URL is short, easy to read, targets an effective keyword, and contains only necessary numbers and words.

Add Like/Tweet/+1/Pin it buttons (as shown below) to product pages to make it easy for visitors to share. Social proof is a valuable marketing tool, and backlinks contribute to your search engine rankings.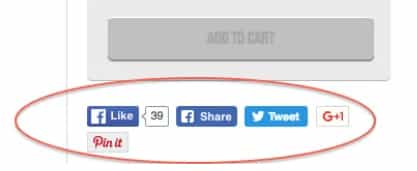 Schema Markup
Structured data, or schema markup, is machine-readable information about your website and pages that tell Google more about the content that lives there. It includes naming and organizing common sections or groupings of content on a page. For example, food brands might include schema markup for ingredients and cooking time on their recipe posts. Or you might see a series of FAQs and product specifications at the bottom of a product page.
---
4. Technical SEO
Technical SEO is the part of the process that ensures your site meets the technical requirements of search engines with the goal of optimized rankings.
It focuses on backend factors that impact Google's ability to find, crawl, render, and index your site, as well as things that affect user experience—like site speed, security, usability, mobile-friendliness, and working links.
Specialists will tell you that technical SEO starts with a site audit, which accomplishes three things:
Presents a summary of the quality and current standing of your site
Allows you to easily create a list of site optimizations that need to be done
Helps to ensure you're on the right track to seeing results
Technical SEO delves into complex practices, but here's a high-level rundown of the basics, along with resources to help you hone your ecommerce SEO:
Your site's loading time is a big contributor to search engine rankings and visitor bounce rate.
You can test current load speed through Google's PageSpeed Insights. This shows you how quickly the various parts of your website appear to a visitor, scoring them from red (slow) to green (fast).
If your site's loading speed isn't fast, you could be losing out on traffic and sales. Here are some ways to fix the issue:
Reduce 301 redirects
Optimize images by compressing files
Use browser caching
Host product videos on an external platform, like YouTube or Wistia
Minimize HTTP requests
Ensure image files are compressed and small in size
---
Duplicate content refers to content within your site that's identical or appreciably similar to that of another page—whether it's part of your store or on another domain. This is a tricky problem that's easy to run into and very harmful to your rankings.
Duplicate content can happen for a number of reasons, including:
Your site creates unique URLs for slight variations of the same product (like color or size)
Your site creates unique URLs for every selection made on a category or filter menu
You feature boilerplate text on multiple pages (such as similar product pages) that is 100 words or longer
---
Webpages that contain short, uninformative pieces of content are generally considered "thin"—and severely frowned upon by Google.
We covered the importance of writing long, in-depth product descriptions above, but it's important to evaluate the word count of your other pages, as well. Sticking to a 250-word minimum is a good rule of thumb.
You can use SEO audit tools like Screaming Frog and Raven to check your site for thin content pages—or try simpler tools like this Free Thin Content Checker. Once you've identified problematic pages, boost their content as necessary with robust, informative text.
---
5. Content Marketing
Content marketing can help generate a significant amount of traffic and conversions as well as boost your search engine rankings.
Useful, sharable content can benefit your site in multiple ways:
It generates value for your brand and interest in your products.
It can rank on unique SERPS that your store alone may not be able to (such as those for informational keywords).
It builds domain authority for your website.
It can accrue backlinks from other sites that lead to higher rankings.
The best content caters to the consumer directly. Think about commonly asked questions, shared passions or values, or ways you can help customers get more value from your products. As you uncover relevant topics that appear in your customer's world, jot them down and use them to center high-quality, sharable content around.
Depending on your customers and subject matter, these ideas can take the form of:
Guides
Infographics
Interviews
Lists
Periodic blog posts
Podcasts
Tools and widgets
Tutorial videos
Written articles
6. Link Building
Link building is one of the biggest practices involved in off-page SEO, which aims to increase search rankings through actions taken outside of your own website.
There are two core kinds of links: external links and internal links. You'll want to use both.
External Links
By getting other websites to mention and link to your store, you improve the relevance, trustworthiness, discoverability, and authority of your site. This passes along the "link juice" we covered earlier, which boosts your search engine rankings.
Aside from content marketing, you can get backlinks to your store through features in:
Buyer's Guides
Manufacturers' "Where To Buy" Pages
Influencer Tutorials or Reviews
News articles
Listicles
Achieving backlinks usually requires reaching out to the creator, editor, or manufacturer—or carrying out PR campaigns that create virality.
Internal Links
Internal links are hyperlinks that connect different pages within the same website. For example, the homepage of your store will typically contain lots of internal links to other core pages on your site.
But you can also get more detailed and targeted with your internal linking strategy. For example, you might use anchor keywords for a product page you want to optimize for, and write about it in a blog post on your website.
Swimsuit brand September has a blog where it includes internal links. In this example, it links to its swimsuit product collection page, using its brand name as the anchor text.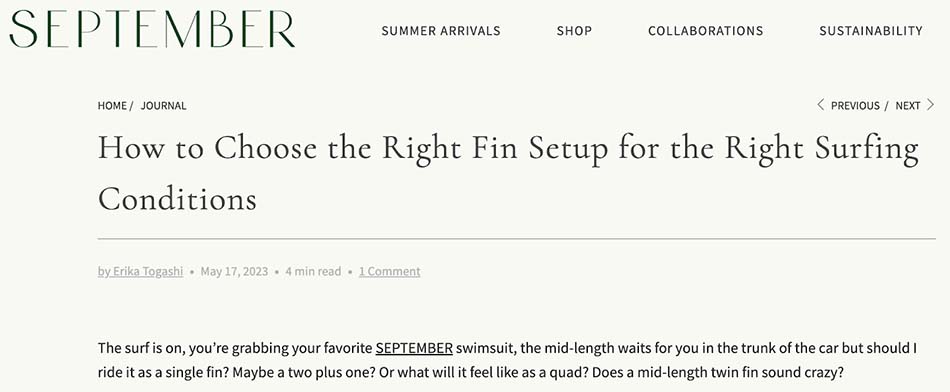 Analyzing Your Ecommerce SEO Strategy
Here are some tips to determine how well your ecommerce SEO strategy is working and how to improve it.
Use SEO & Analytics Tools
To conduct a comprehensive analysis of your ecommerce SEO strategy, you can use various analytics tools, such as Google Analytics, Semrush, and Ahrefs, which we covered under keyword research.
Track SEO Metrics
To determine if your ecommerce strategy is effective, it's crucial to look at relevant KPIs, including:
Organic traffic: How many people visit your website from organic search results. An increase in organic traffic indicates your SEO efforts are working.
Keyword rankings: Identify which keywords are performing well and driving traffic to your site. Monitor any fluctuations in keyword rankings, as they can indicate algorithmic changes or competitor activities.
Bounce rate: This is the percentage of visitors who leave your website after viewing only one page. A high bounce rate may indicate users aren't finding what they're looking for.
Time on page: Assess how much time visitors spend on your website and individual pages. Higher time on page metrics suggest that visitors are engaging with your content and finding it valuable.
Conversion rate: Tracking your conversion rate helps you understand the effectiveness of your SEO strategy in driving sales or other desired actions.
How Google Search Works
Google is by far the most popular search engine, so it's the primary one you will be targeting with your SEO efforts. Here's how Google search works:
Google scans the web to figure out which pages exist. It does this by constantly scouring the internet for content to add to its repository.
This practice is done by web crawlers (sometimes called 'Googlebots'), which are automated programs that collect data from the web to build a searchable index for the main engine.
Crawlers often revisit pages that Google has a preexisting record of and discover new pages by following links featured on known pages. You can also alert Google if you create a new website or page by submitting a list of pages called a sitemap for Google to crawl.
➤➤How crawling works with SEO: The foundation of SEO is making sure Google can reach and is aware of the pages on your site. This incorporates site structure and backlinking, but starts with a sitemap that is available to search engines. If you're using an ecommerce platform that also serves as a content management system (CMS)—such as Shopify—this step is automatically taken care of for you.
Once its crawlers discover a site, Google analyzes each page to determine what it is and where it should appear in search results. This process is called indexing.
Indexing considers every element of a webpage—from text and images to meta titles and filenames. The analysis of this info is stored in the Google index, which search results draw from.
➤➤How indexing works with SEO: On-page optimizations that refine elements like product descriptions, embedded videos, photos, meta titles, filenames, and URLs influence how your site is indexed.
The final step takes place when a user types in a search query. Google seeks out the best answers from its index of web pages and serves them in a ranked order on results pages (often called SERPs). These results pages contain 10 webpage links in addition to features like rich snippets and shopping carousels.
The selection process takes many factors into account—Google considers the quality of various components of each result, as well as the user's location, language, and device.
➤➤How serving works with SEO: Content and user-experience quality can be optimized to improve your rankings. This focuses on elements such as site structure, speed, security, mobile-friendliness, content freshness, authority, and general usefulness.
SEO for Ecommerce FAQs
SEO for ecommerce is the practice of optimizing an online store so it appears in search engine results more frequently.
By using effective strategies and techniques (such as keyword research, on-page optimization, and link building) ecommerce websites can use SEO to improve their search engine rankings and attract more shoppers to their store. This helps businesses reach their target audience, increase brand visibility, and ultimately drive more sales and conversions.
---
SEO for ecommerce presents some unique challenges compared to traditional SEO. One key difference is the number of pages involved, because ecommerce websites usually have individual product pages for each item they sell. This means that SEO for ecommerce requires handling a larger volume of pages and content.
Unlike traditional websites, ecommerce SEO also involves optimizing for Google Shopping and other product listing platforms. However, the main SEO principles remain the same.
---
SEO is important for ecommerce sites because nearly nine in 10 shoppers begin the purchase process via online search. Without ecommerce SEO, online stores may struggle to be seen by shoppers on search engine results, resulting in lower sales and revenue.
Ecommerce SEO is also important to enhance the user experience through optimal website structure and navigation. Plus, it helps ensure that shoppers who come to your store are in the right place.
---
By implementing these SEO practices, ecommerce sites can improve their visibility, attract organic traffic, and ultimately drive more sales:
Conduct keyword research
Optimize site structure
Make on-page optimizations
Conduct technical SEO
Create content
Build links
Analyze efforts
---
The best SEO tools include:
Google Keyword Planner
Google Analytics
Google Search Console
Google Trends
SEMrush
Ahrefs
Moz
---
Bottom Line
Search engines are the biggest drivers of organic traffic, so performing well on SERPs is crucial to a successful ecommerce business. Furthermore, you can be assured that your competitors already have SEO practices in place.
This makes it important to carve out the time to work on your own SEO strategy—or hire a reputable specialist to do it for you. Chances are, the increase in traffic and revenue will make the time, effort, and cost more than worthwhile.
If you're planning ahead to start a new online business, look to Shopify as a hosting platform. It provides a simple SEO portal that makes on-page optimizations incredibly easy—saving you time and generating sales.