Ecommerce SEO in 6 Steps: The Ultimate Beginner's Guide
SEO, or search engine optimization, is a set of practices for increasing your website's performance in search engine results pages (SERPs). The goal of ecommerce SEO is to improve your site's visibility and gain more clicks while boosting conversions—ultimately leading to greater revenue.
Ecommerce SEO typically involves targeting specific keywords that qualified shoppers search for, optimizing the front-end and back-end components of your site, perfecting user experience, and getting links from other online sources.
Most of these tasks can be done without a technical background, but many store owners outsource them to an SEO specialist through sites like Upwork.
Expand if you need more details on how ecommerce SEO works.
---
1. Keyword Research
The first step to ecommerce SEO is identifying the search terms that your potential customers are using. This practice is called keyword research, and most of your SEO hinges on it.
The goal of this step is to target an effective keyword for every category and product page of your website, as well as your homepage.
The more relevant your keywords are to what qualified shoppers are searching for, the better their chances of landing on your site. This means that keywords are just as much about your audience as they are about your product or business.
Start by getting a complete inventory of the pages on your site. Your ecommerce hosting platform may be able to export a list of these pages directly from your backend, or you can add "/sitemap.xml" to the end of your site's URL, like the example shown below.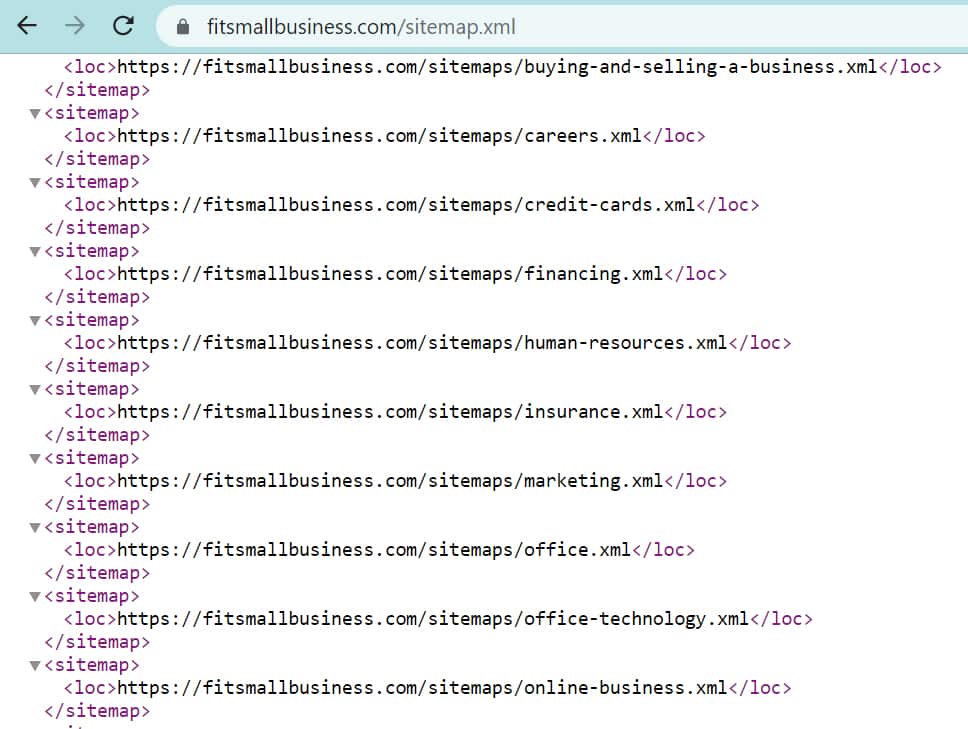 Once you have a list of pages, consider the following info to increase ranking and drive traffic to them through well-chosen keywords:
What Makes a Good Keyword?
Ecommerce SEO isn't just about ranking and generating traffic—it's about ranking on the right SERPS to generate qualified traffic that will earn you money.
If you target the wrong keywords, one of two things is likely to happen:
You'll end up buried on a rarely seen page of search results (such as the second or third page, or worse) for impossible keywords, or
You'll rank highly for keywords that are rarely used or attract visitors who never convert
Targeting the right keywords to support your online store depends on these factors:
To keep track of these values as you conduct your keyword research, you can make a keyword matrix. A matrix is an organized spreadsheet of keyword data that can be used to zero-in on the best keywords to use. Check out this guide to creating your own.
How to Find the Right Keywords
The objective of keyword research is to identify search terms with the right combination of volume, difficulty, specificity, and transactional intent to optimize your search engine performance.
So where do you find these values, and which keywords should you look into? Start by taking a comprehensive look at your ecommerce business and its customers. Then jot down broad terms that apply to your offerings as well as what your customers may be looking for.
These ideas don't need to be well-formulated, high-intent keywords; they just need to provide a foundation for your research. Many of the resources mentioned below will help you to find and assess specific, long-tail keywords based around general buckets or seed terms—so this step lays the groundwork.
With those base terms in mind, click below to learn about various tools and methods you can use to identify winning keywords for your store's webpages.
Search Suggestions
---
Keyword Generators
---
Competitor Research
---
Google Keyword Planner
---
SEMrush
---
Ahrefs
---
Now that you have a built-out keyword matrix or list, identify the best keywords to use. For each page of your site, aim to target one core "head" keyword as well as a variety of related keywords—including specific, long-tail terms.
The best keywords will be high-volume, low-difficulty keywords with strong transactional intent. Of course, they can't all be perfect, but aim to prioritize these attributes.
2. Site Structure
Before making use of your hard-earned keywords, you'll need to check in on the way your website's pages are organized and arranged.
Site structure or architecture is a big contributor to search engine rankings—especially for ecommerce sites. This is because online stores tend to have far more pages than other websites, and they all must be indexed properly.
Structure also impacts user experience; it's important for Googlebots and customers alike to be able to easily navigate your store and find all of your pages. This lead to two golden rules of ecommerce site architecture:
Your site structure needs to be simple and scalable
It should take no more than three clicks to get to and from any page of your site
By achieving both of these things, you create a site that is easy to maintain, adjust, and grow—and easy for visitors to use. Plus, by ensuring that every page is as few clicks away from your homepage as possible, you effectively distribute link equity.
Most of the links from other websites to ecommerce stores point to their homepages. This gives your homepage a boost of link juice that trickles down to your other associated pages. If your site structure isn't flat enough, that authority will be diluted by the time it reaches your product pages—like in the diagram below.
"Deep" and disorganized structure like this not only hinders authority from links but is very difficult to modify and scale. Plus, it's a headache for your customers and Googlebots to navigate, so it's unlikely to perform well.
Simple, flat, and easy-to-navigate structure looks more like this:
Certain ecommerce hosting platforms, namely BigCommerce, automatically structure your webpages like this as you build your store.
3. On-page Optimizations
Now that your site structure is dialed-in, you can optimize different on-page elements to contain your keywords as well as appeal to web crawlers and potential visitors.
Most of these elements can be populated and edited through your ecommerce hosting platform or CMS. Shopify is our top recommended option—it provides simple, straightforward fields with instructions, as shown below.
Here are the on-page elements of your site to optimize for better search engine rankings:
Title Tags
---
Description Tags
---
Body Content
---
Images
---
URLs
---
4. Technical SEO
Technical SEO is the part of the process that ensures your site meets the technical requirements of search engines with the goal of optimized rankings.
It focuses on backend factors that impact Google's ability to find, crawl, render, and index your site, as well as things that affect user experience—like site speed, security, usability, mobile-friendliness, and working links.
Technical SEO delves into complex practices, and would take an entire article of its own to cover. But here's a rundown of the basics, along with resources to help you hone your ecommerce SEO:
Loading Speed
---
Duplicate Content
---
Thin Content
---
5. Content Marketing
Content marketing can help generate a significant amount of traffic and conversions as well as boost your search engine rankings.
Useful, sharable content can benefit your site in multiple ways:
It generates value for your brand and interest in your products.
It can rank on unique SERPS that your store alone may not be able to (such as those for informational keywords).
It builds domain authority for your website.
It can accrue backlinks from other sites that lead to higher rankings.
Here are the steps to creating high-quality content that appeals to your target customer and generates results:
Learn About Your Target Audience
The best content caters to the consumer directly—and to do that you need to know who your potential customers are.
This factors in detailed information such as demographics, personality traits, motivations, pain points, and stage of the sales funnel. Creating a customer profile is an effective way to dial in these variables; it's a tool that allows you to pinpoint who you're creating content for.
The next step is to research your target audience by diving deep into their world. Find out where they hang out online, how they prefer to consume content, what they talk about, what they want, and what kind of language they use.
Community forums such as reddit are valuable tools for this task, but also check out the comments section on applicable blog posts, YouTube videos, and social media posts. Alternatively, you can use the tool AnswerThePublic to find ideas for content based on search engine data.
As you uncover relevant topics that appear in your customer's world, jot them down and use them to center high-quality, sharable content around.
Create Shareable Content
Once you know what your audience would like to see, turn it into traffic-boosting assets. Depending on your customers and subject matter, this can take the form of:
Written articles
Periodic blog posts
Tutorial videos
Guides
Lists
Interviews
Infographics
Podcasts
Tools and widgets
But creating content for your site is only part of the equation—it usually takes some effort to get traction. Brian Dean, founder of the successful SEO resource Backlinko, has a method for generating effective content and backlinks that he calls the Skyscraper method.
It begins by identifying the top-ranking piece of content for a competitive keyword, then creating something significantly better by making it more thorough or up-to-date.
Then it's a matter of reaching out to the sites that host links to the content you originally referenced, using an email like this:
Getting links to your site like this is a big part of ecommerce SEO. To learn more ways to achieve backlinks, check out the following section.
6. Link Building
Link building is one of the biggest practices involved in off-page SEO, which aims to increase search rankings through actions taken outside of your own website.
By getting other websites to mention and link to your store, you improve the relevance, trustworthiness, discoverability, and authority of your site. This passes along the "link juice" we covered earlier, which boosts your search engine rankings.
Aside from content marketing, you can get backlinks to your store through features in:
Buyer's Guides
Manufacturers' "Where To Buy" Pages
Influencer Tutorials or Reviews
News articles
Listicles
Achieving backlinks usually requires reaching out to the creator, editor, or manufacturer—or carrying out PR campaigns that create virality. To learn how to start getting backlinks to your ecommerce store, check out this guide.
Your Ecommerce SEO Strategy
Ecommerce SEO is a complex task that requires time and commitment. Because of this, it may seem intimidating—especially if you already have a built-out website with tons of products.
Despite its labor-intensive nature, SEO is a must-do to drive sales and stay competitive. Here are some tips to devise an SEO strategy that generates results without derailing your operation:
Prioritize Pages: Start with the pages and products on your site that get the most attention, and work outwards from there.
Keep the Competition in Mind: Your SEO practices should be centered around getting the upper hand against your competitors. Consistently refer to their placements and optimizations to ensure you get the best results for your time.
Stick To a Workflow: With so many moving parts, SEO is most effective when done methodically. Create a workflow as you optimize your first few pages, and aim to follow it as you proceed through your site.
Follow Up With CRO: SEO can generate fantastic traffic, but it's equally important to make sure that visitors are purchasing through Conversion Rate Optimization (or CRO).
Consider Outsourcing or Consulting: Hiring an experienced specialist is a surefire way to get SEO results fast. You can consult with someone to create an effective plan, or outsource the time-intensive tasks altogether while you focus on running your business. Upwork has a robust catalog of SEO professionals available by the project or hour.
Bottom Line
Search engines are the biggest drivers of organic traffic, so performing well on SERPs is crucial to a successful ecommerce business. Furthermore, you can be assured that your competitors already have SEO practices in place.
This makes it important to carve out the time to work on your own SEO strategy—or hire a reputable specialist to do it for you. Chances are, the increase in traffic and revenue will make the time, effort, and cost more than worthwhile.
If you're planning ahead to start a new online business, look to Shopify as a hosting platform. It provides a simple SEO portal that makes on-page optimizations incredibly easy—saving you time and generating sales.