It's one thing to build a great-looking business website, and it's another to build one that can rank in Google. The key to landing in search results and growing your business is building a website that is optimized for search. While just about all of the leading website builders make it easy to build and manage a site, we analyzed over a dozen of the leading website builders to discover which really are the best website builders for search engine optimization (SEO).
Best Site Builders for Search Visibility at a Glance
Looking for something more specific? Try one of these…
How We Evaluated the Best Site Builders for SEO
There are dozens of site builders available, and they're all claiming to be the best option for building a small business website. So we put them to the test and analyzed them across several evaluation criteria—from pricing and features to ease of use, design, the quality of available support, and our own expert opinion based on hours of first-hand experience to discover the five best website builders for SEO.
For more information on how we analyzed site builders, click the tabs below:
Here are the five best website builders for SEO in 2021:
Squarespace: Best Overall Website Builder for SEO
Squarespace is a great choice when it comes to the best website builders for SEO. While its editing interface involves a little bit of a learning curve, it does a good job of baking in SEO features so that anyone can rest assured that their site has what it needs to be able to be crawled (and understood) by Google.
What's more is that Squarespace goes above and beyond the basic SEO tools and offers some of the most advanced search engine optimization tools. Granted, using these tools effectively will require a basic understanding of SEO practices. If you're not an SEO expert, and not looking to learn the basics, Wix may be the better option for you.
Getting Found in Search
Squarespace has basic built-in SEO features that you should definitely take advantage of. To make the most out of Squarespace's SEO, check out its handy optimization guide. In case you have a background in coding, you can also insert code into your website to give you more customization and SEO options. However, this isn't a useful feature for beginners who have no coding experience.
Below are some of the built-in SEO features that Squarespace provides:
Page title
Google and Bing integration
Alt tags
Meta descriptions
301 redirects
SSL encryption
Social media integration
While Squarespace offers more advanced SEO features, it still can't compare to the enormous list of SEO tools and plugins that WordPress offers. If you're something of an SEO expert (or looking to hire one), you may want to consider using Bluehost to build a site quickly on WordPress, which you can then later customize to your heart's desire—including SEO.
Tiered Pricing & Features
*Aside from Google and Bing integration.
Ease of Use
Squarespace features a live drag-and-drop editor that uses prebuilt content blocks to build out page sections. Though it's designed to be user-friendly, it still involves a bit of a learning curve, but once you spend enough time with the editor, it becomes fairly easy to use. If you're short on time, it has an artificial intelligence (AI) builder to help you construct the perfect site for your business. Just answer a few questions, and the AI builder will help build your site for you.
Get more insight into what's involved with building a Squarespace website.
Our Expert Opinion
Squarespace is the best website builder for SEO—provided that you have some experience with search engine optimization. If you're a complete beginner and are OK with a slight learning curve, it's still a terrific site builder that gives you the ability to build a professional business site that looks like you hired a web designer to build.
GoDaddy: Best for International Websites
GoDaddy is one of the oldest—and most established—domain and hosting providers out there, but it also offers a beginner-friendly website builder. It provides SEO features that give you a guided walk-through of what your site needs to rank on Google—after you've published your website. However, this service isn't available on the cheapest plan. Instead, you'll need to opt for the $14.99 per month plan.
In addition to its guided walk-through service, GoDaddy stands out for international businesses with customers around the globe, as it offers data centers in North America, Europe, and Asia. Its ultra-fast hosting service helps your site load quickly—which is a factor in Google's search algorithm as it lends to a better user experience, and thus, a higher quality search result.
Getting Found in Search
Although GoDaddy was started way before SEO was even a thing, it has adapted to include SEO features that you may eventually find a use for. Their new and improved website builder, Website + Marketing, gives you an overview of what you can improve on your website to rank on Google with their SEO Wizard feature.
Let's take a look at their other SEO features:
Built-in SEO tools
Built-in page SEO (things like title tags and meta descriptions)
Free domain
Free SSL certificate
Website analytics
Integrated Google search metrics
Note that GoDaddy's free plan doesn't include SEO features, and the features that are available depend on which premium plan you choose. With the free and Basic plans, your SEO is limited to just page titles and descriptions. As you upgrade, you get better offerings for your business, and yet GoDaddy doesn't allow URL customization on any of their plans.
Tiered Pricing & Features
Ease of Use
GoDaddy prides itself on how easy it is to use. Beginners with no experience in building websites can set one up quickly and easily with GoDaddy's customizable interface. There are also numerous templates available, and GoDaddy's new and improved site builder provides templates for 1,500 different industries.
Its site editor is a breeze to use and is 100% responsive, even on mobile devices. While the themes GoDaddy provides are professional, clean, and responsive on all platforms, they're not exactly the most cutting-edge and customizable. It also doesn't feature a true drag-and-drop editor, giving you limited control over how your webpage looks.
For more information on how to build your GoDaddy website, see this short how-to guide or check out our GoDaddy review.
Our Expert Opinion
GoDaddy is perfect for small businesses looking to reach international audiences, as well as businesses looking for features like appointment bookings and recurring payments (e.g., for monthly memberships, such as a fitness center or subscription service) that you don't see with other site builders—all for an affordable price.
Bluehost: Best for Businesses That Plan to Migrate to WordPress
Bluehost is a popular name in the world of web hosting. Like the others on this list, Bluehost prides itself on its all-in-one service: From content management to hosting, Bluehost does it all. It stands out for its all-inclusive pricing, which includes everything you need to build and launch your business website—from a free domain name and SSL certification to its easy-to-use site builder with built-in SEO tools.
Keep in mind that when you look at Bluehost's pricing, there will be a huge discrepancy between the price you will be paying for the first term and the renewal prices. This large gap puts many people off from using Bluehost. Despite this, with a free domain included in its plans, plus inclusions like SSL certificates and free CDN, it's still one of the more reasonably priced website building and hosting platforms in the market.
Getting Found in Search
Similar to GoDaddy's SEO Wizard, Bluehost has an SEO add-on tool aptly named Bluehost SEO Tools. However, it comes at the added expense of $23.88 per year (regardless of which plan you choose). For that, you get a report on your website to see how it ranks in Google, Yahoo, and Bing. It analyzes your content and tells you where you can improve based on a scoring system. It's quite thorough and well worth the price for businesses big on blogging.
Here are the features included in Bluehost SEO Tools:
SEO scoring system
Search engine submission
Visitor overview
Website ranking (via keywords)
Site issues
Search optimization for your entire site and its content
Mobile optimization
Backlink analyzer
Social media scanner
Through Bluehost, you can also hire a professional SEO team to handle your site's optimization and management. Visit its website to learn more about its tools and services, or check out our comprehensive Bluehost review.
Tiered Pricing & Features
*Introductory prices are $4.95 per month, $7.45 per month, $7.45 per month, and $18.95 per month, respectively, which renew as the prices shown in the table.
**Introductory prices are $2.95 per month, $5.45 per month, $5.45 per month, and $13.95 per month, respectively, which renew as the prices shown in the table.

Ease of Use
Bluehost's themes are mobile-friendly
Bluehost offers a new drag-and-drop builder that integrates with WordPress, although it doesn't allow you to build online stores and blogs just yet. The good news is that WordPress has an unlimited amount of customization options through various plugins. Combined with the new website builder, it's fairly easy for a beginner to build the site they envision.
Bluehost also has a very user-friendly cPanel that can assist you in getting around. If WordPress isn't for you, Bluehost's builder can still help you customize your theme and build a website through their drag-and-drop feature. Finally, Bluehost allows more advanced users to inject code into their sites—giving them more freedom and flexibility to build.
Interested in Bluehost? Take a look at how to build your very own website with the Bluehost site builder.
Our Expert Opinion
Bluehost is a great option for small businesses looking for an easy way of quickly getting started with a WordPress website. It includes everything you need to build a professional website. Moreover, its integrated website builder has a drag-and-drop feature that works with WordPress—giving you access to thousands of plugins—so your website can be as customized as you want it to be.
Wix: Best Website Builder for SEO Beginners
Wix is a very popular website builder known for its drag-and-drop site editing interface that provides you with a ton of design flexibility. With hundreds of templates available, Wix covers every business niche and can give you everything you need to build a good-looking website. Although there are other website builders that have stronger SEO features, Wix is by far the easiest to use for an absolute beginner.
Wix offers a free plan, but if you want any form of SEO or basic business features (e.g., connecting your own domain name and having an ad-free website), you will have to purchase one of its premium plans starting at $14 per month.
Getting Found in Search
One great plus of Wix is that it has the basic SEO features already built in. That means no having to mess around with coding and other plugins—Wix has everything you'll need for basic optimization prebuilt into their dashboard. Wix also has the Wix SEO Wiz tool, which is basically a checklist for you to go through to make your website as optimized as Wix can make it.
Let's take a look at Wix's SEO capabilities:
On-page SEO sections
Image alt text
Good speed
Mobile and tablet-friendly
SSL encryption
Built-in 301 redirects
Built-in social media integration
Canonical tags
Tiered Pricing & Features
Please note that Wix also offers ecommerce plans for those selling online. Visit
Wix
to check out its ecommerce plans and features.
Ease of Use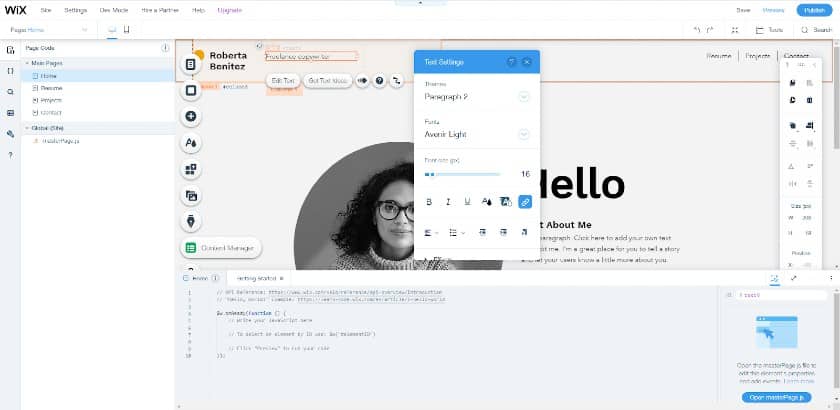 Wix's ease of use is famous all around the web, and it has hundreds of templates you can choose from—all conveniently located within categories for their specific niches. Simply click on the elements in the editor and change them as needed. As a true drag-and-drop, Wix is seamless and hassle-free. To make things even easier, Wix has an artificial design intelligence (ADI) feature that does everything for you. Take note that the ADI feature doesn't have the drag-and-drop editor, and it instead provides you with customizable sections.
Want to learn more about what's involved with Wix? Get the step-by-step instructions on how to build a Wix website.
Our Expert Opinion
Wix is a fantastic option for web design beginners looking to easily build a highly customizable site to jump-start their web presence. It has a lot of basic SEO features already built-in, so you don't have to worry about coding or extra plugins (although connecting both Google Analytics and Search Console will help). All its plans are affordable, and its core offerings are seriously impressive. You even have the option to inject code through its editor.
Shopify: Best for Building an Ecommerce Site That Can Rank
Shopify consistently ranks as one of the best ecommerce platforms, and it's also one of the best website builders for SEO for online stores. The good news is that it's fairly straightforward and simple to use. It might not give you the flexibility you need if you want a lot more than just an online store or if you want more advanced SEO features, but for what it does, it does it well.
Getting Found in Search
Landing in Google will help you sell more products and increase your customer base. Shopify has some great core features for optimizing your website, like the ability to organize your categories, add title tags, meta descriptions, and ALT text to images. Given Shopify's extensive list of third-party apps, you can also add an SEO app for more advanced SEO features, such as optimizing product listings for search.
These are the built-in SEO features Shopify has:
Categories
Title tags
Title and meta descriptions
ALT text
Social media and marketplace integration
As you can see, they're pretty basic. However, you can download plugins like Plugin SEO to help you optimize your website further, as well as make use of Google integrations like Search Console to crawl and index your site. For more information on Shopify's SEO, make sure to check out its SEO guide.
Tiered Pricing & Features
*Note that these prices are for a month-to-month subscription. Shopify offers a 10% discount on annual plans and a 20% discount on biennial plans when paid upfront.
**Shopify doesn't offer any built-in tools. Instead, it has hundreds of apps connected on its store, of which many specialize in SEO.
Ease of Use
Shopify is a pretty straightforward website builder for online stores, which comes packed with the ecommerce-specific features you need to sell more products online. Keep in mind that it does use a very basic site editor. However, with Shopify's extensive app store, you can do just about anything imaginable, so if there's something that's missing, chances are you can find a plugin to help you build your dream store.
Where Shopify lacks is the availability of themes. There are only 10 free themes offered by Shopify, although you have the option to buy more from third-party providers. You do have the ability to customize things, but to really get the most out of it (like with changing your font color, for example), you'll have to do it via CSS—definitely not as user-friendly as the other website builders on our list.
Building a store on Shopify is not the most complicated thing in the world, but that doesn't mean it's the easiest either. Get the help you need with our step-by-step instructions on how to build an online store with Shopify.
Our Expert Opinion
Shopify is a fantastic website builder for those diving into the world of ecommerce. All the features it has to offer center around ecommerce and how it helps you get your store to rank. Its website editor is intuitive, and it should be no problem at all to set up a website—even for a beginner.
Frequently Asked Questions (FAQs)
Can I create a website by myself?
Of course. Gone are the days when you needed extensive coding knowledge to create a website. Nowadays, creating a website for your business shouldn't be difficult. There are numerous all-in-one website builders that you can pick from to do everything from hosting to designing—no coding required.
If you need some extra help or if you have the budget for it, consider hiring a professional through sites like Fiverr or a full digital team from Hibu. Hiring professionals doesn't have to be prohibitively expensive either—prices can start as low as $50 for a professional web designer.
Does my business really need SEO?
No matter what industry your business is in, if it has a web presence, then you'll need SEO. Optimizing your website is one measurable way of getting traffic, which will hopefully lead to more sales and scalability. SEO is not a guarantee of this, but it gives you the best chances possible.
Do I need to hire a professional for SEO?
It's easy to learn basic SEO by yourself, and in most cases, professionals aren't required. There are also many courses online that cover SEO basics and advanced tactics. However, there is a lot to it, and if you don't have the time (or interest) in learning SEO, it will likely be well worth your money to hire a pro.
Bottom Line
Creating a website for your business shouldn't be difficult or expensive, nor should using a site builder mean your site can't rank in Google. In fact, the best website builders have come a long way since they started, and you no longer need to have a WordPress website in order to land within top search results. If you want the best overall site builder with great SEO tools, you can't go wrong with Squarespace.
You Might Also Like…