The consumer landscape changes quickly by the day, and one of the biggest recent developments is the growing demand for voice search. You might have even tried it out yourself, for instance, if you've ever asked Siri or Alexa to Google a query for you. Naturally, this means that your business will also have to adapt to these new developments. Keep reading to learn all you need to know about voice search optimization and how you can adapt your business to it.
Overview (What Is Voice Search Optimization?)
Voice search optimization is adapting your business' online assets, mostly your business website, for people who search online using their voice instead of typing manually on a keyboard. This is usually done through apps like Google Assistant, or artificial intelligence (AI) assistants like Apple's Siri or Amazon's Alexa, which have been on the rise in recent years.
Knowing how to optimize for voice search simply means adapting your website to accommodate these searchers and ensuring that it shows up on those search results. Optimizing for voice search also builds a stronger online brand presence for your business because it's essentially a new form of search engine optimization (SEO): You can organize your website's content in ways that help you rank higher on voice search results.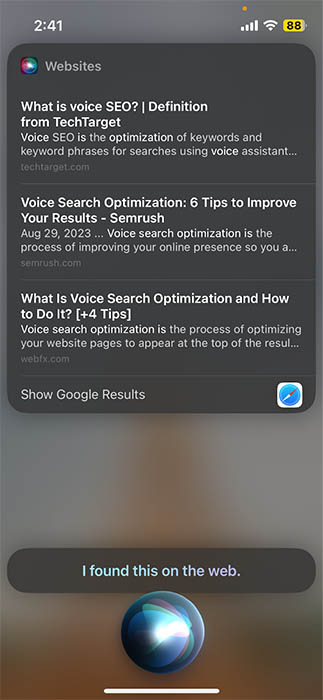 Key information: Voice searches are possible through natural language processing (NLP), an AI-powered process that lets computers easily comprehend human speech to perform tasks. It's essentially what helps your device understand and follow your spoken commands. So when you do voice search optimization, you're optimizing your website to better fit computers' language.
Voice search is an increasingly growing phenomenon, with the use of voice assistants expected to reach over 157 million users in 2026 in the U.S. alone. Here's a list of the search engines that use and rely on voice search. These are the ones to keep in mind the most when optimizing your website for voice search.
Google: It's no surprise that the world's largest search engine supports voice searches. You'll only need to tap the microphone icon on the Google homepage, then verbally ask for directions, weather forecasts, or quick answers to a question. It's available on both desktop and mobile and on its mobile app.
Bing: Microsoft's Bing also supports voice search on desktop, mobile, and in-app. Recently, Bing unveiled Bing Chat, which can answer spoken queries verbally, so searches can feel like real-life conversations.
Safari: Apple's Safari browser also allows voice searches. Similar to Google, you'll only need to tap the microphone button to speak commands and queries on both desktop and Google. Since Safari is an Apple-only browser, it's only available on Apple devices.
DuckDuckGo: The browser most well-known for its privacy features released private voice search features on iOS and Android mobile devices in 2022. However, it is unavailable on desktop.
Aside from internet browsers, you'll need to know how to optimize content for voice search on artificial intelligence (AI) assistants like Siri and Alexa. These AI assistants help people do simple tasks on their devices, like setting reminders or making phone calls. However, people also use these AI assistants to do online search queries; for example, to search for nearby local restaurants or local movie screening times.
Here are the most prominent AI assistants that support voice searches.
Apple's Siri
Amazon's Alexa
Google Assistant
Samsung's Bixby
Note: Microsoft discontinued its AI assistant, Cortana, in August 2023 as part of its Windows 11 update. The update took effect in Q3 of 2023.
---
Currently, most people use typed queries more than voice search, but the latter's quickly gaining more traction, which is why learning how to optimize for voice search is more crucial than ever. Optimizing your SEO for voice searches specifically is also important because spoken language is different from written language. For one, it's more conversational and less formal.
Here are more of the biggest differences between regular SEO and voice search optimization:
Voice search queries have longer keywords. Because they're inherently more conversational, voice search queries are generally longer than typed queries. For instance, a typed search might be "vegan restaurants near me," while a voice search might be "what vegan restaurants are in the area."
Voice searches are more local. As in the sample scenario above, most voice searches are local. This is because most people use voice search to look for local businesses, from restaurants to repair services. Generally, people use voice search as a more convenient way to find something specific quickly.
Voice search queries sound more natural. Another key distinction between written and spoken language is that speech is more natural and less formal than the written word. So, optimizing for voice search also means editing your website's content to sound more conversational and less like the structured format of written language.
Voice searches have a more specific intent. Generally, people use voice search to get fast answers. For example, a common scenario with voice searches is someone looking for a specific building on a busy street—asking for directions via voice search is far more convenient than typing it out. This is why, in general, many voice searches have a more specific search intent and aren't used for general browsing.
Most voice search assistants return a single answer. This is a key difference that voice queries have from text queries. Many voice searches are done through AI voice assistants like Siri or Alexa, which scour the internet to deliver the single best possible answer. This is a stark contrast to regular SEO, where search engines often display 10 results per page.
Voice search queries are more actionable. For the same reason as their convenience, voice searches are usually more actionable than typed queries, meaning users are more likely to take a specific action after finding what they need. Say, for example, a person is voice-searching for nearby vegan restaurants—there's a high chance they'll visit one of those restaurants after their search.
---
How to Optimize for Voice Search
Voice search optimization is a sub-branch of search engine marketing, so it generally follows similar guidelines and best practices. However, it's also its own unique practice, as highlighted above. One thing's for sure: It's essential in preparing your business for a modern consumer landscape—and you can start setting it up today. Here are the essential tips for how to optimize for voice search.
1. Identify the Parts of Your Website to Optimize for Voice Search
Doing this first is essential because it's what guides your other voice SEO strategies—it pinpoints the areas and content of your website you need to optimize for voice searches. The areas of your website you need to optimize vary for each business.
For instance, if you own a local cafe, you might optimize your location foremost because you want to capture nearby customers who use voice search to look for new cafes to try. Meanwhile, if you own an online clothing brand, you might optimize your FAQs page first to make your commonly asked questions accessible via voice searches.
To identify where to apply voice search optimization on your website, you'll need to understand your target customers' needs and behaviors. What kind of questions would they likely ask about your business? These insights guide how you can address those needs, and in turn help you identify the areas of your website to optimize for voice search.
2. Target Longer Keywords
One of the key distinctions of voice search queries over typed queries is that they're generally longer and more comprehensive. This is because they follow a natural speech pattern, in contrast to typed keywords that are often no longer than three words long. Therefore, one of the best ways to start your voice search optimization strategy is to focus on longer keywords in your SEO strategy.
To help you figure out the keywords to optimize, use a keyword research tool like Semrush's Keyword Magic tool, which has features that help you see long-tail and question keywords that you can aim for based on your primary keyword. Another easy option is to use Google's "related searches" function, which is as simple as typing in your main keyword on Google and seeing the other suggested searches listed below.
Say your sustainable fashion brand's primary keyword is "sustainable fashion." Here are some longer keywords you can target based on suggestions from Semrush and Google:
What is sustainable fashion
Why is sustainable fashion important
How sustainable is sustainable fashion
How is the fashion industry becoming more sustainable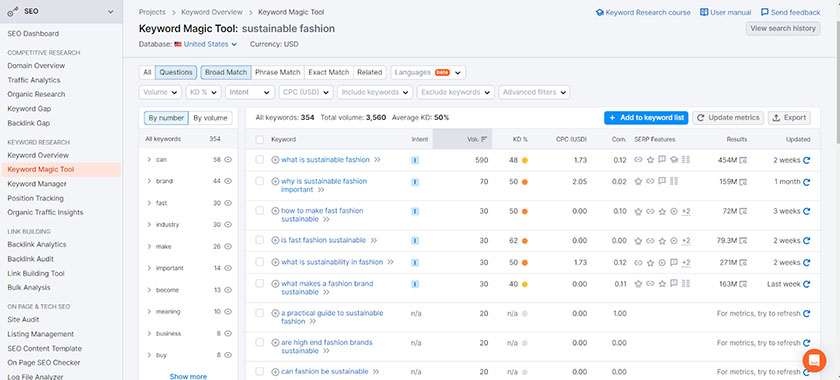 ---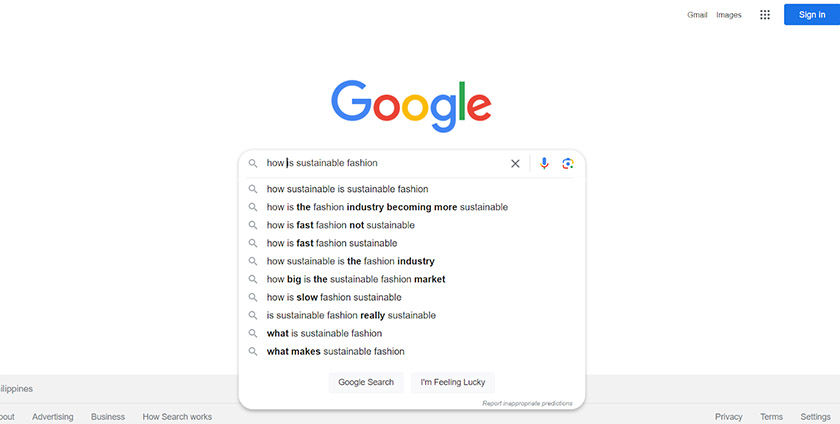 ---
Pro tip: Most voice searches are generally questions. So, when using Google to look for long-tail keywords, try formatting your primary keyword into a question (e.g., adding "who," "what," "where," "why," and "how" before it). This gives you a better sense of people's thought processes.
3. Give Answers to People's Questions
You might have noticed that most long-tail keywords are in a question format. It's not so surprising— after all, people use search engines to find answers and solutions to their questions on a certain subject. This is even more true for voice searches. So how do you increase your chances of your website showing up on those results? The best way is by providing answers to those commonly asked queries.
For example, if you have a blog, publish blog posts that answer those questions or update your FAQs page to include them. When writing answers, be sure to make them concise and clear, and use conversational, easy-to-understand language. This makes it much easier for AI systems to understand your content and present it to your target customers.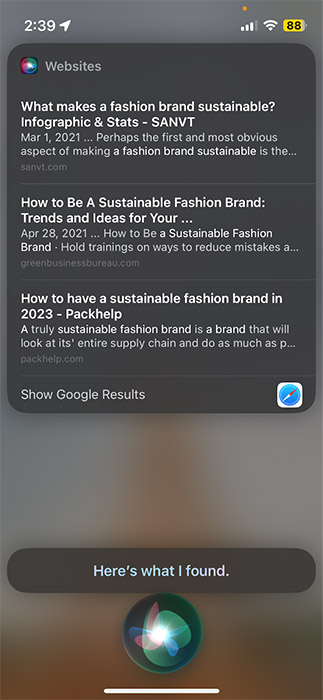 Beyond the strategies above for finding long-tail keywords, another way to find out what people are asking about your subject is to look at the "People Also Ask" section on Google. It often shows up after the first few search results.
4. Use Conversational Language in Your Website
We've mentioned how voice searches are distinctively more conversational than written text. And when it comes to how to do voice search optimization, one of the easiest ways is to use conversational language on your website instead of stiff, formal language. For instance, you can update your blogs to be more concise and conversational (along with targeting those long-tail keywords), and overall easier to understand.
You can also edit your heading copies to provide more insight about your business concisely. Put yourself in your target customers' shoes and provide information the way you'd like them to understand it. Some apps that can help you write clear, concise, and effective content are Hemingway, Grammarly, and Copy.ai.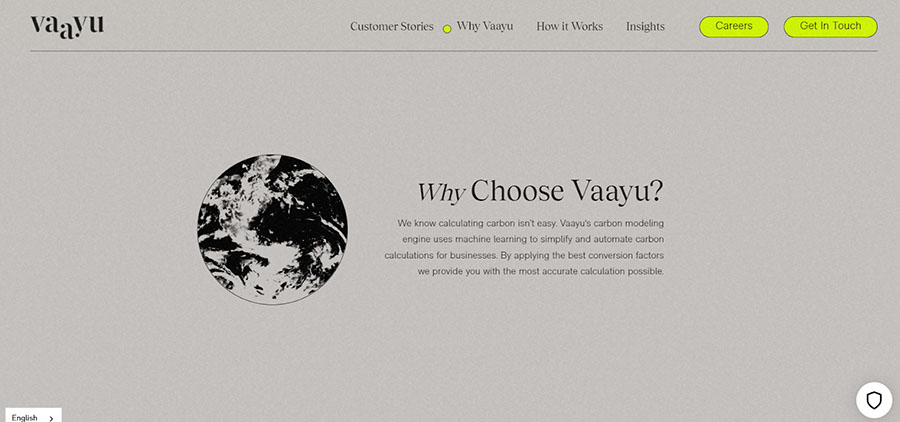 ---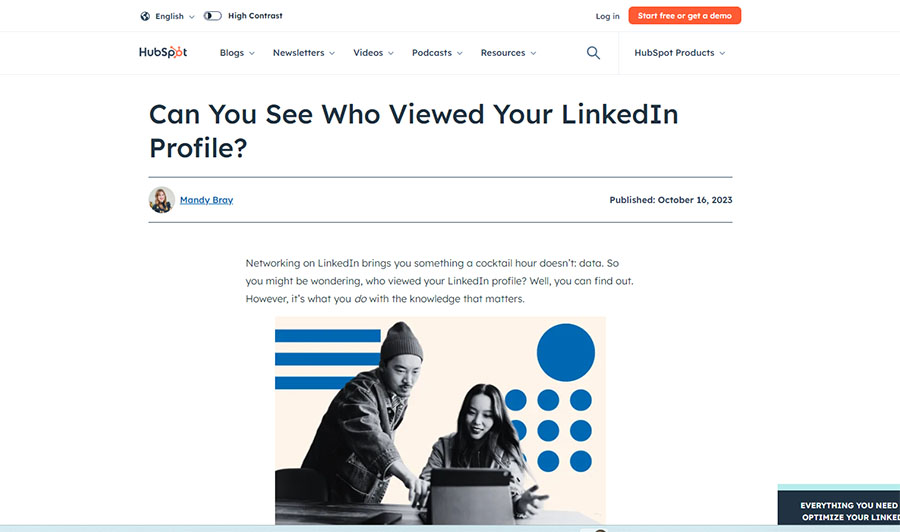 ---
5. List on Local Online Business Directories
A good number of voice searches are local—they're from people in the area looking for local businesses and services to try. This is why an important part of voice SEO is doing local SEO, especially listing on local business directories like Google Business Profile (GBP) or sites like Yelp or MapQuest.
This is because directories like these are a trustworthy source of information that search engines crawl to provide answers to users, including those that appear on Google's "featured snippets." Consider a person asking their Alexa or Google Assistant app what your business address is. If you have a Google Business Profile set up, that's likely what they'll see on their search results.
It's simple: Listing on reputable online business directories makes your business website—as well as your important contact details—more credible and easy to find by local people using voice search.
6. Optimize Your Website for Mobile
You might have heard that optimizing your website for mobile devices is integral to your SEO, and that's even more true for voice searches. The reason is that 82% of voice searches are done on mobile—which shows the necessity of having a mobile-optimized website for your business.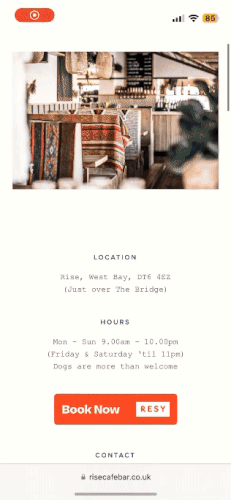 Assume a person clicks on your website on their mobile phone after seeing it as a voice search result—you want to be sure they have a good experience on it to get them to convert. If you don't have one yet, we recommend building your small business website on a mobile-optimized platform like Weebly or Squarespace, which have themes that readily make your website mobile-friendly. Or, check out your other options in our guide to the best small business website builders.
7. Add Schema Markup to Your Website
Schema markup is metadata about your website that helps search engines understand and categorize it better to present users with more accurate information. It's the code language that helps search engines understand what your website is about. So, if your website has proper schema markup, you'll have a higher chance of showing up on voice search engine results.
The good news is that you don't have to manually type in your schema markup. You can use a schema markup generator like Google's Structured Data Markup Helper or build your website on a platform that automatically creates it for you, like Wix or Duda. Find out your best options in our list of the best website builders for SEO.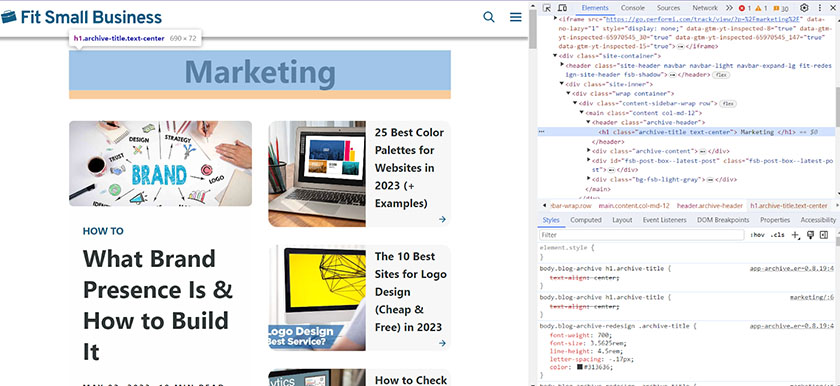 ---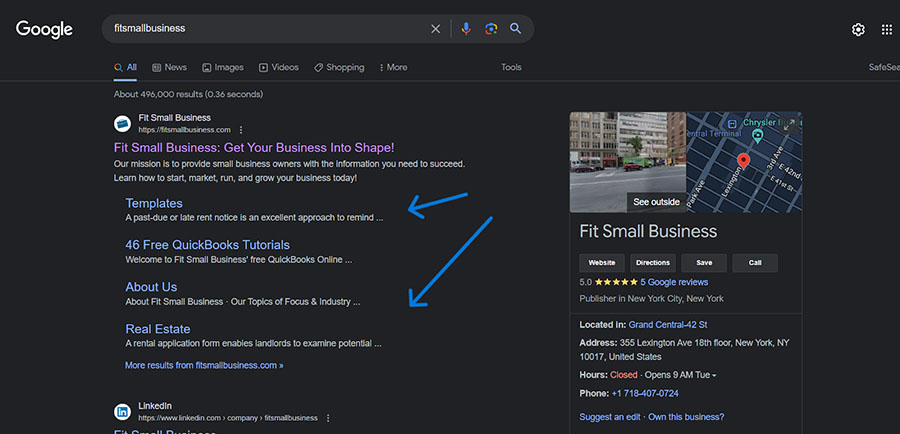 ---
8. Structure Your Web Content Properly
Part of how to optimize for voice search is to do everything you can to make your website easier for search engines to understand. Another simple and effective strategy to do that is to structure your website's content properly. Beyond making your content itself simple and understandable, it also needs to be easy to access. This means using H1 and H2 headings for your titles, presenting short and concise paragraphs, and making your calls to action easy to find.
All of these edits make it more of a breeze for search engines to find what people are searching for on your website, which is precisely what you need to rank on voice search results.
Benefits of Voice Search Optimization for Small Business Websites
Optimizing for voice search simply means expanding your website's reach and adapting it to the modern consumer landscape. It's one of the most essential SEO strategies you can do today. As voice search and voice commands grow more and more commonplace, now's as good a time as ever to optimize your website for voice searches. Consider these benefits:
It's a new playing field for your website to rank for. For the longest time, the SEO strategies we know and use have been with the goal of ranking for users' typed queries, where you compete with millions of other websites to stay on the first results page. However, voice searches offer an entirely new playing field for your website to rank for, which you can definitely optimize to your benefit.
It offers new ways for customers to find you. Voice searches also mean customers have more ways to discover your brand. For instance, they can find you by seeing your blog as an answer to a question they asked Siri or maybe they came across your online listing after asking Google for nearby businesses. With around 43% of the U.S. population already using voice assistants, it's an effective new avenue for brand discovery.
It connects you with local customers. Voice search optimization is significantly helpful for your local SEO. in fact, local business searches have consistently been one of the top functions of voice search in recent years. This means your business has a good chance of capturing local customers through voice searches.
It captures high-quality leads. People who do voice searches often have a specific search intent, i.e., they want to find a specific answer or solution quickly. This means that they're high-quality leads who have a high chance of converting, instead of usually top-of-funnel users who browse casually using regular typed search queries.
It gives your website a better user experience. Lots of voice SEO strategies are also general improvements that give your website a better user experience, such as simplifying your content, making it easy to read and navigate, and helping it communicate with search engines more effectively. Better user experience means that visitors are more likely to stick around and convert into leads
It's the future of ecommerce. It may sound like an exaggeration, but it really isn't. According to stats, in 2022, over 26% of U.S. consumers made purchases via voice assistants, some of whom did so regularly. Meanwhile, the overall value of transactions made via voice is set to grow by 130% from 2021 to 2030—so it's safe to say that it's where a large portion of ecommerce is headed.
It makes your website more accessible to users with disabilities. In this day and age, accessibility features should no longer be discounted, as websites should adapt to create a friendlier digital world for users with disabilities. Optimizing for voice searches is one of the easiest ways to make your website accessible.
Frequently Asked Questions (FAQs)
What is an example of voice search optimization?
One of the best voice search optimization examples is when Google provides a snippet of your website as an answer to a user's voice query because it found your content helpful and easy to understand. Another example is if someone searches for restaurants in the area using Siri and finds your website because you listed it on online directories. Voice SEO is essentially optimizing your website so that it's easy for search engines to present to users' voice queries.
What is the most common use of voice search?
In 2023, the most common use of voice search is to find information, specifically to search for weather conditions. Other common uses of voice search are for leisure and entertainment (e.g., to request music and movies), for reading the news, finding restaurants and businesses, and for online shopping.
How do I find keywords for voice search optimization?
The best way to find keywords to optimize for voice search is to use Semrush's Keyword Magic tool, then configure the settings to "Questions." This gives you a list of commonly asked questions people ask from your main keyword. You can also type your keyword on Google and see other suggested search results or check the "People Also Ask" section. All of these data points indicate users' general thought processes around your subject.
Bottom Line
Voice searches aren't just a niche search method any longer. They are a steadily growing powerhouse and are one of your business' biggest areas of opportunity. They expand your website's reach and function and connect you with customers in new ways. In all, learning how to optimize for voice search can grant your business multiple benefits in the long run—and you can get started by following the tips above.