6 Best Online Business Banks for 2022
Thanks to advances in technology, the need for a traditional brick-and-mortar bank isn't the same as it was just a few years ago. If your business doesn't need a traditional bank and desires to utilize banking through a mobile app or website, we have selected the six best online business banks:
*Providers are financial technology (fintech) platforms backed by and Federal Deposit Insurance Corp. (FDIC)-insured through a supporting bank partnership.
Provider

Monthly Fee

Transaction Fee

Annual Percentage Yield (APY)

Cash Deposit Fee

ATM Fee

Minimum Opening Deposit

None

None

0.30% on balances of $10,000 or more

None; cash is deposited through money orders

None; refunds up to $10 per month in ATM fees

$100

None

None on basic account

None on basic account

Cash deposits accepted at Green Dot locations; $4.95/deposit

Unlimited United States ATM fee reimbursements

None

None

None

N/A

None; cash is deposited through money orders

Refunds all ATM fees

$50

None

None

N/A

Cash deposits not accepted

Free access to Allpoint ATM network

None

None

None

1.50% on balances up to $100,000

Cash deposits accepted at Green Dot locations; $4.95/deposit

No fees at more than 38,000 MoneyPass ATM locations nationwide

None

None

None

None

Cash deposits not accepted

Free access to Allpoint ATM network

None
First Internet Bank: Best Overall Online-only Bank
First Internet Bank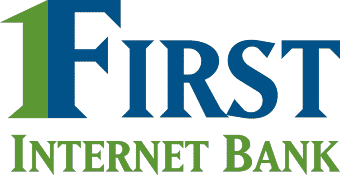 What We Like
Fee-free banking
Up to $10 refund for third-party ATM fees
Other interest-bearing business accounts available
What's Missing
Average balance of $10,000 required to earn APY
No cash deposit functionality
Features
Personal accounts
Small Business Administration (SBA) loans and commercial loans
Other business bank accounts available, including savings, money markets, and certificates of deposit (CDs)—ranked as one of the best business savings accounts
Why we recommend First Internet Bank: First Internet Bank wins best overall for full-service online banking, thanks to its comprehensive selection of business accounts. First Internet Bank offers checking, savings, and CDs, plus a full range of loan products. Its business checking account yields a competitive interest rate of 0.30% APY if you maintain an average daily balance of $10,000. This account has lots of great features—no minimum balance, no monthly service fee, and unlimited transactions. First Internet Bank is one of our choices for the best banks for small businesses.
First Internet Bank is best for: Businesses that don't need to deposit cash and want a full-service suite of banking services.
Axos Bank: Best for Businesses Seeking a Merchant Services Partner
Axos Bank

What We Like
No monthly fees for Basic Business Checking
US ATM fees refunded
Unlimited transactions on Basic Checking
What's Missing
Transaction limit on Interest Checking
Balance minimum of $5,000 on Interest Checking
Features
QuickBooks compatible
Dedicated relationship managers
Savings and money market accounts with competitive rates
Workplace banking that can help employees improve their financial wellness
Why we recommend Axos Bank: Retail businesses may want to take note that Axos offers merchant services, assisting your business with debit and credit card processing. In addition, Axos Bank offers two business checking accounts. The Business Interest Checking account has a very competitive interest rate among the few banks that offer interest, offering a 0.81% APY on balances up to $49,999.99. Maintaining the $5,000 minimum balance waives the $10 monthly maintenance fee. Axos also offers a Basic Business Checking account with no monthly maintenance fees and unlimited US ATM fee reimbursements.
Axos also offers savings and money market accounts with a robust online platform. Additionally, businesses in need of SBA financing can utilize Axos for SBA 7(a) loans.
Axos is best for: Retail businesses that need a merchant services partner to facilitate purchases.
Novo: Best for Digital Banking With No Fees
Novo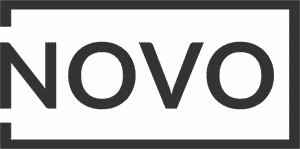 What We Like
Zero maintenance fees
Refunds all ATM fees
Free unlimited transactions
What's Missing
Unable to directly deposit cash
Lack of savings accounts and lending products
Features
Integrates with other business tools such as QuickBooks, Slack, Xero, Stripe, Wise, and Shopify
Set aside funds for taxes and other large business expenses with Novo Reserves
Why we recommend Novo: Novo partners with Middlesex Federal Savings to provide online-only business banking. Novo has a recommended $50 opening deposit but there's no minimum balance to maintain thereafter. Novo charges no fees for monthly maintenance and everyday transactions such as deposits, automated clearing house (ACH), incoming wire transfers, and debit card transactions. While Novo isn't part of an ATM network, you'll be reimbursed for all ATM fees at the end of each month. It doesn't accept cash deposits, but if you occasionally need to deposit cash, you can purchase a money order with the funds and use the mobile app to deposit the check remotely.
With Novo's direct integration with Stripe, you can create and send invoices, view Stripe balances in your Novo account, and get fee-free processing for your first $20,000. Novo allows easy integration with multiple third-party apps for accounting and ecommerce payments such as Wise, Slack, Xero, Quickbooks, and Shopify. You also get discounts on licenses and packages for business services, including Gusto, Zendesk, HubSpot, Salesforce, and more.
Novo is best for: Small business owners looking for a strong digital banking platform and discounts on additional services to help their business grow.
Mercury: Best for Digitally Based Businesses
Mercury

What We Like
No minimum deposit to open an account
Physical and virtual debit cards
Access multiple business entities with a single sign-on (SSO)
What's Missing
Accounts not available to sole proprietorships
Lacks paper check writing abilities
Accounts don't earn interest
Features
Set custom user permissions for your team members
Create auto-transfer rules for your accounts
Fully integrates with QuickBooks and Xero accounting software
Why we recommend Mercury: Mercury is a fully online financial platform geared towards internet-based businesses. Its checking account is entirely fee-free, including ATM usage and domestic and international wire transfers. With Mercury's extensive mobile and desktop applications, you can easily customize permissions on your accounts, request physical and virtual debit cards for your team, and set up customized account automations. Mercury doesn't accept cash deposits, but you can use the Allpoint ATM network to withdraw cash using your debit card, with no fees. Mercury's banking services are provided by Evolve Bank & Trust.
Mercury seamlessly integrates with major accounting software to simplify your bookkeeping experiences. Mercury is unable to provide accounts for sole proprietorships, which means that only LLCs and corporations within the United States are eligible for an account. Mercury also offers discounts on software and services such as financial consultation or insurance.
Mercury Is Best For: Tech startups and ecommerce businesses with high-volume transactions.
BlueVine: Best for Higher Interest Rates on Checking Accounts
BlueVine

What We Like
No monthly fee
No transaction fees
1.50% APY on balances up to $100,000
What's Missing
Fee for depositing cash
No other business deposit accounts
Features
Free debit card
QuickBooks and Xero integration
Connects with business payment solutions, including Stripe, PayPal, and Expensify
Live customer support from dedicated professionals
Line of credit also available
Why we recommend BlueVine: BlueVine's checking account regularly features as one of our choices for the best small business checking account. A business checking account at BlueVine earns 1.50% APY on balances of up to $100,00—to qualify for APY you must spend $500 each month using your BlueVine Business Debit card, or deposit $2,500 per month into your account via ACH, wire transfer, mobile deposit, or merchant payment processor. You can withdraw cash without fees through the MoneyPass network and deposit checks and cash at 90,000 retail locations through Green Dot. Note that depositing through Green Dot costs $4.95 per transaction. While BlueVine doesn't offer any savings accounts, they offer a competitive working capital business line of credit for businesses that need short-term working capital. BlueVine is a business financial technology platform backed by Coastal Community Bank.
BlueVine is best for: Business owners who want to earn interest on their checking account and have a lending need.
Relay: Best for Businesses That Need Multiple Checking Accounts
Relay

What We Like
No minimum balance requirements
Unlimited transactions
Ability to set up multiple checking accounts for multiple users
What's Missing
Lack of savings accounts and lending services
Inability to deposit cash
Features
Free debit cards
Ability to adjust transaction limits on debit cards by user
Integrates with accounting software such as QuickBooks Online and Xero
Customer support available by phone and email
Why we recommend Relay: Relay partners with Evolve Bank & Trust to offer deposit accounts. Relay's business checking account has no minimum balance requirements, transaction limits, or overdraft fees. Additionally, the account provides free incoming wire transfers and the ability to open multiple accounts. Relay also offers a premium tier, Relay Pro, which includes same-day ACH availability and no-cost outgoing wire transfers for $30 per month. Relay Pro also offers the ability to import bills directly from QuickBooks Online and Xero, which is an added convenience for businesses with a lot of invoices.
Relay doesn't have any physical branch locations. However, you'll have access to Allpoint's network to get surcharge-free ATM usage.
Relay is best for: Business owners who need multiple checking accounts to support their business and have no need to deposit cash.
How We Evaluated the Best Online Business Banks
In compiling our ranking of best online banks for small business, we considered the financial institution's product offerings. We looked at their fee structure, ease of opening an account, and ability to service business needs effectively. We also looked for easy integrations with third-party service providers and the bank's customer service access.
If you're starting a business for the first time, check out our suggestions on how to open a business bank account to guide you with various bank requirements prior to choosing a bank.
Bottom Line
The best online bank for you ultimately comes down to your business's financial needs. Whether you need multiple checking accounts, the ability to sync your accounting software, or a more full-service presence, each of our recommendations for the best online business bank will address those needs and business uses.