Consider what products and services you'll need when shopping for an online bank. Some are full-service while others specialize in just a few well-crafted offerings. A good online bank should offer you features like interest-earning checking, customer discounts, and zero fees. You should also be able to reach a bank representative through phone, email, or live chat whenever you need assistance.
Here are our choices for the six best online business banks:
First Internet Bank: Best Overall for Full-service Online Banking
First Internet Bank

What We Like
No monthly fee
Up to $10 ATM refund per month
Offers other business accounts with high annual percentage yields (APYs)
What's Missing
Easy-to-earn APY
Introductory bonus
No ATM network
Additional Features
Personal accounts
Small Business Administration (SBA) loans and commercial loans
Selection of business accounts, including:

High-yield business savings accounts
Business money market accounts
Business certificates of deposit (CDs)
First Internet Bank wins best overall for full-service online banking, thanks to its comprehensive selection of business accounts: checking, savings, and CDs, plus a full range of loan products. Its business checking account yields a competitive interest rate of 0.30% APY if you maintain an average daily balance of $10,000. This account has lots of great features—no minimum balance, no monthly service fee, and unlimited transactions.
Online banking and mobile banking are efficient and easy to use. You can use the mobile app to transfer funds, pay bills, redeem or purchase a CD, or deposit checks. If you have large quantities of checks to deposit, you can use your computer and a scanner to deposit them using iScan. Although First Internet Bank doesn't own any ATMs, you can use any third-party ATM and be reimbursed up to $10 a month for ATM surcharges. Cash deposits are accepted at Visa ATMs.
If you want to do your personal and business banking within one financial institution, First Internet Bank provides a full suite of personal banking products and services, including checking, savings, money market, cash back personal credit cards, CDs, and mortgages. It's one of our choices for the best banks for small businesses.
Who it's best for: Small business owners who want an online bank that has a full range of products and services
Axos Bank: Best for High-yield Checking and Welcome Bonus
Axos Bank

What We Like
No monthly fees for Basic Business Checking
United States ATM fees refunded
What's Missing
Free unlimited transactions
$0 opening deposit
Additional Features
QuickBooks compatible
Dedicated relationship managers
Savings and money market accounts with competitive rates
Workplace banking that can help employees improve their financial wellness
Axos Bank offers two business checking accounts, Basic Business Checking and Business Interest Checking. Few business checking accounts from online banks earn interest, and the Business Interest Checking account has the highest yield on this list. It yields 0.81% APY up to $49,999.99. You can earn 0.20% APY up to $249,999.99. Maintaining the $5,000 minimum balance waives the $10 monthly maintenance fee. If your business is new―incorporated after June 1, 2020―you can earn a $100 welcome bonus.
For more simple checking needs, the Basic Business Checking account is straightforward. There are no monthly maintenance fees, you get unlimited US ATM fee reimbursements, and the first 200 debits, credits, or deposits per month are free, then 30 cents per item after.
All fees for US ATMs are refunded, but Axos Bank doesn't accept cash deposits. If you occasionally need to deposit cash, you can purchase a money order and use the mobile app to deposit it.
Its desktop and mobile banking platforms make banking easy and convenient. Its merchant services include software and hardware for debit and credit card processing, ACH and check services, analytics, ecommerce, equipment and terminals, full-service payroll, gift cards and loyalty, merchant club, mobile Europay, MasterCard®, and Visa® (EMV) payments, payment gateway and virtual terminal, and payment card industry (PCI) compliance.
Who it's best for: Small business owners looking to earn high-yield interest from their everyday checking account
Novo: Best for Digital Banking With No Fees
Novo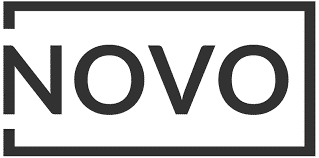 What We Like
Zero maintenance fees
Refunds all ATM fees
Free unlimited transactions
What's Missing
Easy cash deposit process
Interest-earning accounts
Lending products
Additional Features
Integrates with other business tools including QuickBooks, Slack, Xero, Stripe, Wise, and Shopify
Set aside funds for taxes and other large business expenses with Novo Reserves
Novo partners with Middlesex Federal Savings to provide online-only business banking. Its digital banking platform was created for business owners, and with its direct integration with Stripe, you can create and send invoices, view Stripe balances in your Novo account, and get fee-free processing for your first $20,000. Novo allows easy integration with multiple third-party apps for accounting and ecommerce payments such as Wise, Slack, Xero, QuickBooks, and Shopify. You also get discounts on licenses and packages for business services, including Gusto, Zendesk, HubSpot, Salesforce, and more.
Novo charges no fees for monthly maintenance and everyday transactions, such as debits, credits, deposits, ACH, incoming wire transfers, and stop payments. There's no minimum to deposit and no minimum balance to maintain. While Novo isn't part of an ATM network, you'll be reimbursed for all ATM fees at the end of each month. It doesn't accept cash deposits, but if you occasionally need to deposit cash, you can purchase a money order with the funds and use the mobile app to deposit the check remotely. Its intuitive, easy-to-use mobile app is highly rated in both the Apple and Android stores.
Novo is one of the few banks that allows you to open a free business account with no opening deposit.
Who it's best for: Small business owners looking for a strong digital banking platform and no-fee banking
Mercury: Best for Supporting Larger Scale Small Businesses
Mercury

What We Like
No monthly fees
Debit card controls for employee cards
Virtual debit cards
What's Missing
Credit cards
Cash deposits
Lending options
Additional Features
55,000 ATMs through the Allpoint network
Integrates with accounting software
Resources for small business owners
Mercury offers banking services for tech-savvy startup businesses focused on rapid growth. It serves all small businesses except for sole proprietorships. Online and ecommerce businesses would especially benefit from its customized banking with third-party integrations and digital tools. You get application programming interface (API) access with every account, which means you can create custom dashboards, automate payments or funds transfers, and reconcile transactions. Also, you can connect to any payment processor in the US, including PayPal, Shopify, and Stripe, as well as Gusto, Xero, and QuickBooks for accounting and payroll. If you own multiple businesses, you can use one login to access all accounts for all your businesses.
Mercury offers a standard checking and savings account with no monthly fees, no minimum deposit, and no overdraft fees. Domestic and international wires are also fee-free. It doesn't currently offer business credit cards or loan products. You have access to perks such as software discounts on security, sales and marketing, insurance, human resources (HR) and payroll, developer tools, accounting and invoicing, and more. If you have $250,000 to deposit, you can be part of the exclusive Tea Room. This includes treasury management and extra perks and bonuses. Mercury also provides valuable resources for small businesses that are just getting off the ground, such as startup guides and an investor database.
Mercury doesn't accept cash deposits, but you can use the Allpoint ATM network to withdraw cash using your debit card with no fees.
Who it's best for: Tech startups and ecommerce businesses with high volume transactions focused on rapidly scaling their business
LendingClub Bank: Best for Debit Card Rewards
LendingClub Bank

What We Like
Unlimited 1% cash back on debit card purchases
Unlimited free transactions and rebates for ATM fees
Option to earn interest on checking account
What's Missing
Ability to earn rewards and APY with a balance below $5,000
Low outgoing wire transfer fees
Additional Features
Invoicing services via Autobooks
SBA loans and other business loans
Business credit card
Tailored Checking from LendingClub Bank gives you an unlimited 1.00% cash back on debit card purchases if you maintain an average balance of $5,000 within the calendar month. There are no excess transaction fees or penalties on debit cards, ATM deposits, or checks that you write.
LendingClub Bank offers several other business checking accounts, along with money market accounts, savings accounts, business credit cards, and CDs. Business loans include SBA 7(a) loans, SBA 504 loans, and SBA Express Lines of Credit. It doesn't charge any ATM fees, and you get unlimited monthly reimbursements for out-of-network ATMs. You can make deposits at any MoneyPass® deposit-taking ATM or NYCE® Shared Deposit Program ATM. If you're in the Boston area, you can use one of LendingClub Bank's ATMs.
With online and mobile banking, you can manage your accounts, transfer funds, place stop payments, set alerts, and make payments. LendingClub Bank partners with Autobooks for digital invoicing to customers, and payments go directly to your business checking account.
Personal accounts include checking and savings, CDs, credit cards, loans, mortgages, and insurance.
Who it's best for: Business owners who want to earn rewards from their business checking account
BlueVine: Best for Interest-earning Checking and Cash Deposits
BlueVine

What We Like
No transaction fees
No monthly fee
No ATM fees
What's Missing
Customer service on weekends
Savings and CDs
Additional Features
Online and mobile banking with bill pay
Remote deposit capture
Invoicing services via Autobooks
SBA loans and other business loans
Business credit cards
BlueVine partners with Coastal Community Bank to provide banking services to business owners. Its business checking account earns 0.60% APY up to $100,000. You can withdraw cash without fees at 37,000 ATMs through the MoneyPass network, and deposit checks and cash at 90,000 retail locations through Green Dot. BlueVine doesn't offer savings accounts, money market accounts, or CDs.
Business lines of credit up to $250,000 are available to all states except Nevada, North Dakota, South Dakota, and Vermont. To be eligible for a line of credit, you must have an excellent FICO score, at least $10,000 in monthly revenue, and have been in business for at least six months.
One of BlueVine's most unique offerings is invoice factoring. If you're waiting to be paid by a customer but need the funds immediately, submit the invoice to BlueVine and it'll deposit up to 90% of the invoice value to your account in as little as a few hours. Once your customer has paid the invoice, you receive their full payment minus BlueVine's weekly fee of as low as 0.25% per week, with no processing fee.
Who it's best for: Business owners who want to earn interest on their checking account and conveniently deposit cash
How We Evaluated the Best Online Business Banks
To select the best Federal Deposit Insurance Corporation (FDIC)-insured online business banks, we considered those that offered features most important to small business owners. We looked for competitive rates, low fees, a low- or no-minimum balance to open and maintain, innovative online and mobile banking, and a variety of merchant services, such as point-of-sale (POS) hardware and software. We also looked for easy integrations with third-party service providers and availability of other business products and services such as credit cards, loans, and lines of credit.
Bottom Line
When you're deciding which online bank to choose, the products and services each bank offers should be a big part of your decision. You might only need a checking and savings account, or you might also need loans and convenient ATM access. Since face-to-face customer service isn't an option, getting assistance through phone, email, live chat, or frequently asked questions (FAQs) on the bank's website should always be easy and helpful.
For more information, check out our suggestions on how to open a business bank account, especially if you're starting a business for the first time.