8 Best Pizza POS Systems for 2022
This article is part of a larger series on POS Systems.
Whether you call your operation a pizzeria, pizza shop, or slice shop, your point-of-sale (POS) needs are vastly different from other food and beverage businesses. Any pizza POS system must handle a wide range of customer modifications, delivery expectations, and order combinations.
The best POS systems for pizzerias include delivery management with integrated GPS tracking and customer relationship management (CRM) features that track order history, include detailed delivery instructions, and reach customers directly with tailored deals.
Based on our evaluations, the best pizza POS systems are:
Top Pizza POS Compared
| Company | Minimum Monthly Software Fee | Hardware Cost | Self-managed Delivery Tools With GPS Directions | Third-party Delivery Tools | Custom Pizza-building Module | Pay at Door Card Readers |
| --- | --- | --- | --- | --- | --- | --- |
| | $0 | $0–$799 | ✔ | ✔ | ✔ | ✖ |
| | $99 | Custom-quoted | ✔ | ✔ | ✔ | ✖ |
| | Custom-quoted | Custom-quoted | ✔ | ✔ | ✔ | ✔ |
| | Custom-quoted | Custom-quoted | ✔ | ✔ | ✔ | ✔ |
| | Custom-quoted | Custom-quoted | ✔ | ✔ | ✔ | ✖ |
| | $69 | $125–$1,099 | ✔ | ✔ | ✔ | ✖ |
| | $149 | $460–$3,000 | ✔ | ✔ | ✔ | ✖ |
| | $0 | $0–$1,368 | Only available via integration | ✔ | ✖ | ✖ |
To find the best POS for your pizzeria, you can read our individual evaluations below. You can also start your search by taking this quick quiz. It is only four questions, takes less than a minute, and will provide a result without redirecting you to another page.
Which POS Is Right for Your Pizzeria?
Answer a few questions about your business, and we'll give you a personalized product match.
Toast: Best Overall Pizza POS
Toast

Overall Score:
4.21
OUT OF
5
RATING CRITERIA

Price
2.25
OUT OF
5
General POS features
4.38
OUT OF
5
Niche Pizza Functions
4.00
OUT OF
5
Ease of Use
4.63
OUT OF
5
Expert Score
5.00
OUT OF
5
What We Like
Starter subscription is free
Pay-as-you-go hardware options reduce your upfront costs
Options for self-managed in-house delivery and third-party delivery
Robust ingredient-level inventory
What's Missing
Locked into Toast Payments
Does not support pay-at-the-door card readers for deliveries
Requires 2-year service contract
Toast Pricing
Software subscription fee:

Starter: $0 per month
Essentials: $165 per month
Growth: Custom quoted

Hardware costs:

A terminal kit containing a POS monitor, a Toast Tap payment reader, and a router starts at $799.
To get a terminal kit for no upfront cost, Starter users can pay higher credit card processing fees (2.9% + 15 cents per in-person transaction).

One-time Installation fees: Toast includes remote launch support in the Starter POS package. Additional optional in-person support ranges from $300 to $1,000 depending on your needs.
Processing fees:

Pay-as-you-go Starter plans: 2.99% + 15 cents for in-person swiped, dipped, or tapped transactions
Standard Starter plans: 2.49% + 15 cents for in-person transactions
Volume processing discounts are available at higher subscription tiers
Toast is a hybrid POS system that operates on industry-grade Toast terminals and handheld devices. This system has long been a high performer in our rankings of best restaurant POS, but a few key system updates over the past year have made this popular POS an excellent fit for pizzerias. Toast updated their modifier screens to better support half pizza orders, increased their delivery management tools, and lowered their entry-level price. They even offer pay-as-you-go options for up to two terminals to help small shops get started.
Toast earned a 4.21 out of 5 on our pizza POS ranking. The system earned points for its free Starter software price and ease of use. All of the pizza-supporting functions like delivery management, inventory, and pizza combo building tools are present and accounted for. The system lost some points for locking users into the built-in Toast Payments and requiring a two-year contract. If short-term contracts are better for your shop, consider Square for Restaurants; it is the only system on this list that does not require at least a one-year contract. If you want to shop around for the best processing rates, you'll likely be happier with Revel Systems, SpeedLine, or Lavu.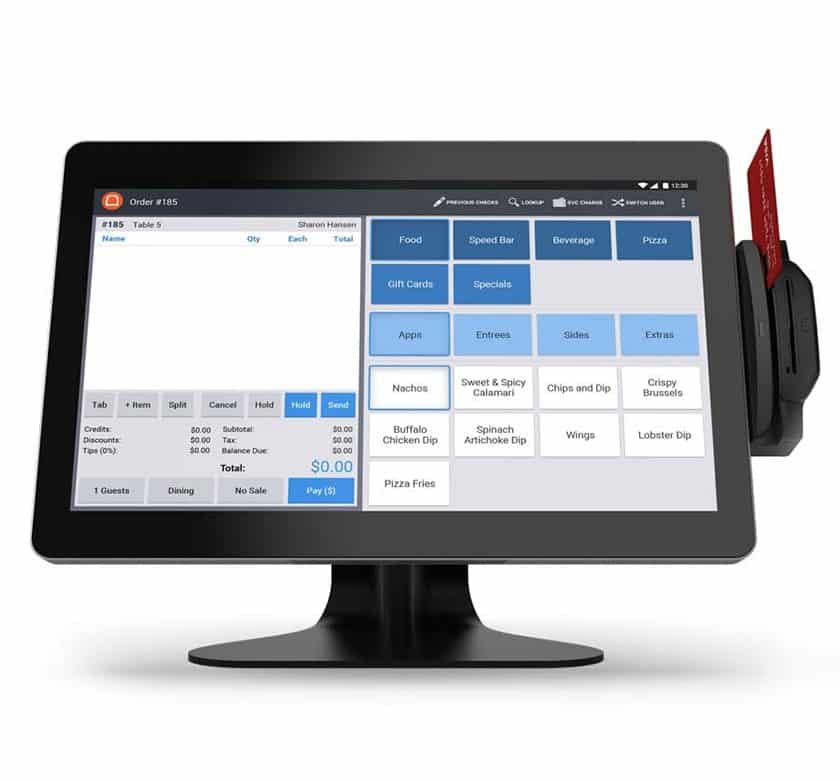 ---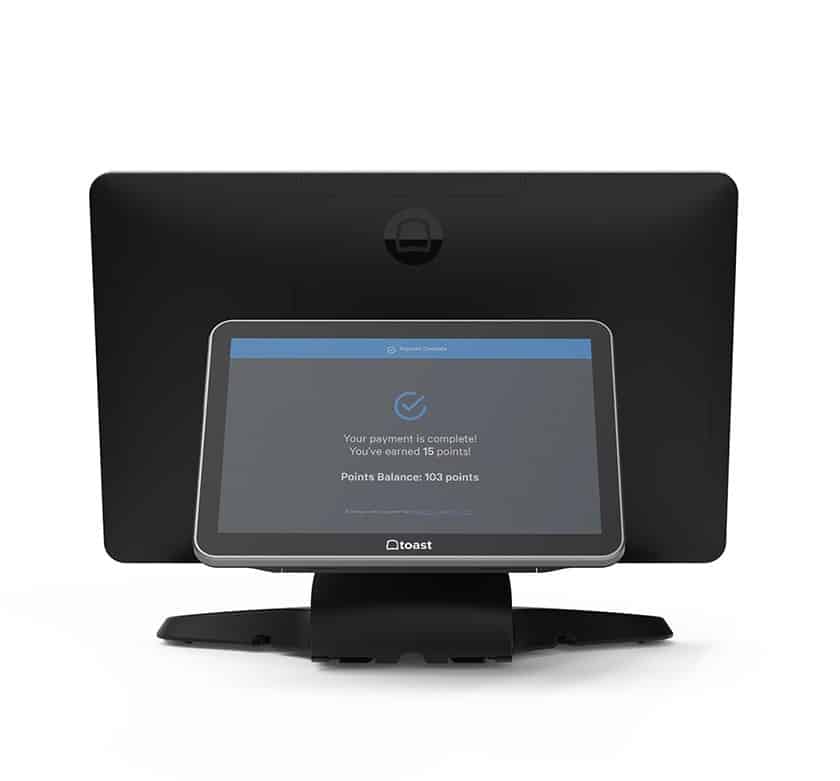 ---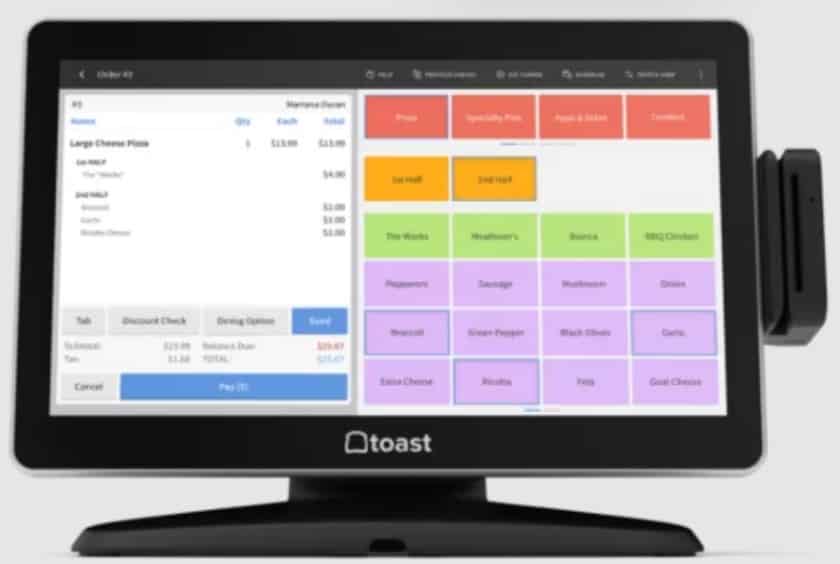 ---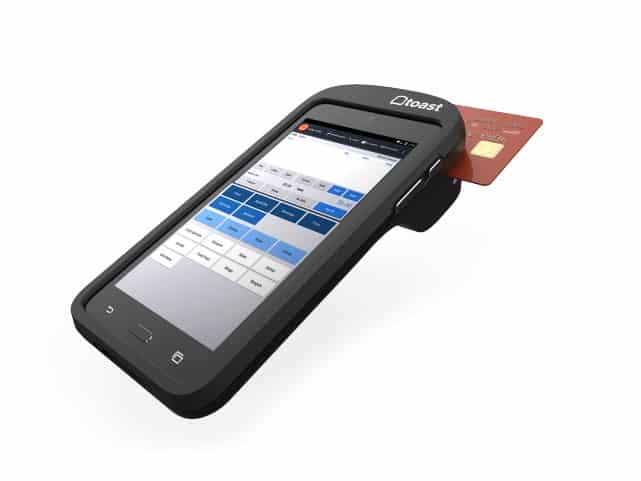 ---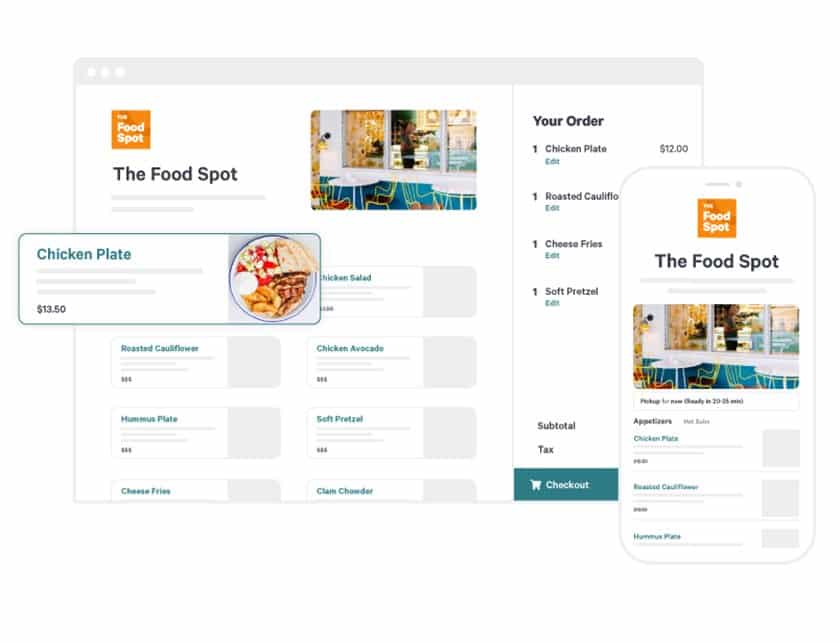 ---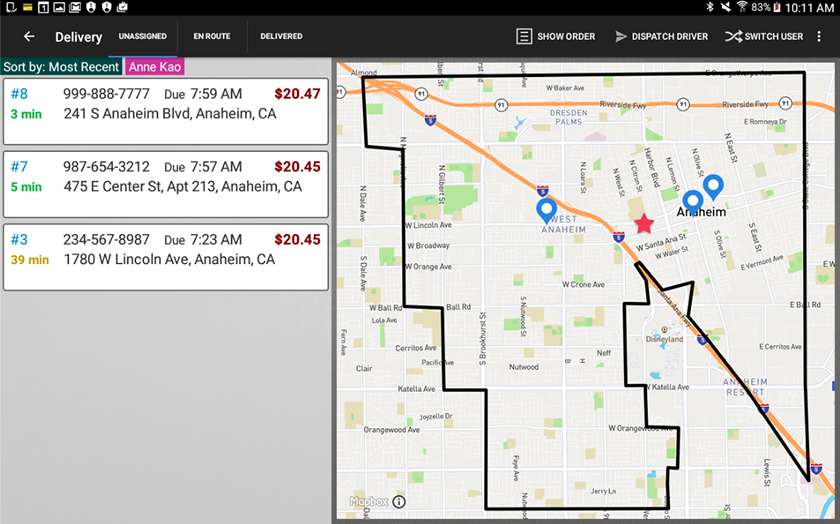 ---
Toast Standout Features
Toast offers tools for shops of every size. Small shops on a budget will like Toast's free Starter POS software and hardware. Pizzerias that operate more like a traditional full-service restaurant will appreciate Toast's comprehensive features that support overall business health. Shops that manage a team of in-house drivers will be well-supported by Toast's driver management tools—though they are slightly less robust than those of Revel, SpeedLine and Slice Register, which all include driver apps. Shops that are short on driver staff will appreciate the ability to route deliveries to on-demand DoorDash drivers for a flat-rate delivery fee.
Toast's standout features include:
Ease of use: Toast is hands down one of the most comfortable POS systems for pizza shops to use. The modification screens are easy to navigate. Multiple modifier-nesting variations mimic your order process, so your staff can adjust crust type, extra toppings, and other customizations the way your customers are most likely to order them.
Complex modifier and combo building screens: In addition to complex nested forced and optional modifiers for individual dishes, Toast also supports a pizza-building screen for ringing in custom pizzas. The system includes combo discount options for building the complex order combos that pizza shops are known for. Since the combos are applied as discounts, they do require your staff to know current promotions and press extra buttons to apply them. If you prefer a system that automatically applies combo discounts, you'll want to look at SpeedLine.
Training and support: Toast's customer hub, Toast Central, contains a wealth of resources to train your managers and staff. The searchable knowledge database can answer any question you have about your system. Toast users give Toast's customer support glowing reviews.
Baseline POS functions: Toast offers the most streamlined, all-in-one restaurant POS functions of the pizza POS software on this list. Toast has tools for workforce management, built-in employee scheduling, comprehensive inventory, payroll processing, and many more general restaurant-supporting tasks.
Driver management: The Toast POS supports in-house driver management. You can set a delivery area, assign delivery fees, and assign orders to drivers directly in the POS. Drivers can also operate with a tracked cash bank to receive cash payments upon delivery, and you can print shift summaries for drivers just like you do for servers.
Third-party driver integration: Toast offers Toast Delivery Services, allowing pizza shops to dispatch independent local drivers on-demand through a partnership with DoorDash. Toast also integrates directly with Grubhub to send orders directly to your pizzeria's POS. Other third-party apps are supported via aggregators ItsaCheckmate and Chowly.
Revel: Best for Payment Processing Options
Revel

Overall Score:
4.04
OUT OF
5
RATING CRITERIA

Pricing
1.00
OUT OF
5
General POS Features
4.38
OUT OF
5
Niche Pizza Functions
4.00
OUT OF
5
Ease of Use
5.00
OUT OF
5
Expert Score
4.50
OUT OF
5
What We Like
Multiple integrated payment processors mean you can shop for the best processing rates
Robust driver management tools with driver app
Combo builders and pizza-building screens support complex orders
Automated inventory tools with PO management and smartphone counting app
What's Missing
Requires a 3-year service contract
Baseline software subscription can be pricey
Does not support pay-at-the-door card readers
Revel Pricing
Software subscription fee:

$99 per terminal, per month

Hardware costs: Custom-quoted
One-time Installation fees: Starting at $674
Processing fees: Revel includes built-in Revel Advantage payments. It also integrates with:

First Data
Heartland
TSYS
Worldpay
Chase Paymentech
Elavon
Your rates will vary by processor, sales volume, and card mix.
Revel Systems is a massively functional restaurant POS that operates on iPads. This multifaceted POS includes an array of integrated, staff-facing smartphone apps for delivery drivers and inventory counting. Pizzeria owners that want to shop around for the best processing rates will find a lot to like about Revel too. This system integrates with several payment processors so you can be sure you're getting the best rates.
Revel earned an overall score of 4.04 out of 5 on our pizza POS ranking criteria. This hybrid POS earned massive points for its general POS functions and niche, pizzeria-supporting tools. But it suffered quite a bit on price. With entry-level software starting at $99 per terminal, per month, and a required installation fee of $674, your upfront costs are higher with Revel than with Toast, Square for Restaurants, or Lavu. But, depending on your shop's needs, Revel could cost a lot less than custom-quoted systems like SpeedLine and Slice Register.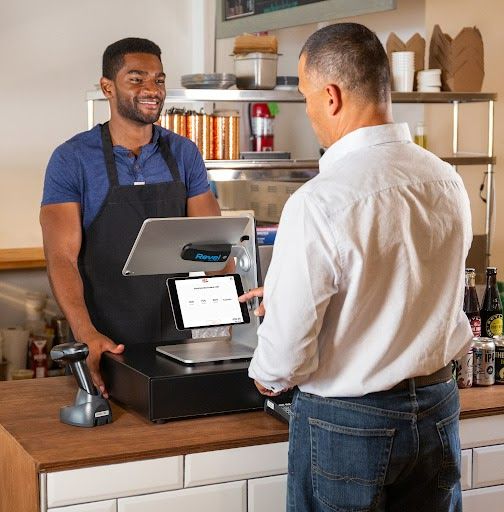 ---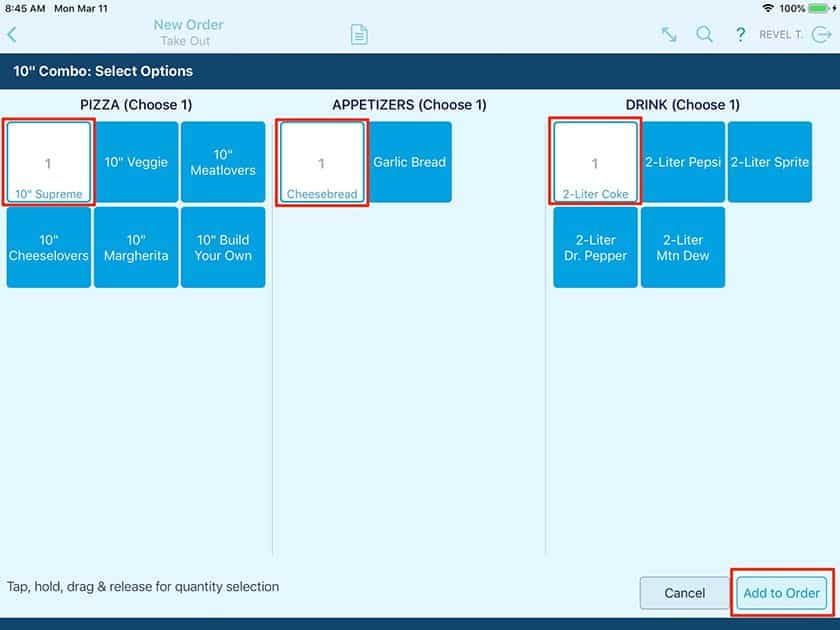 ---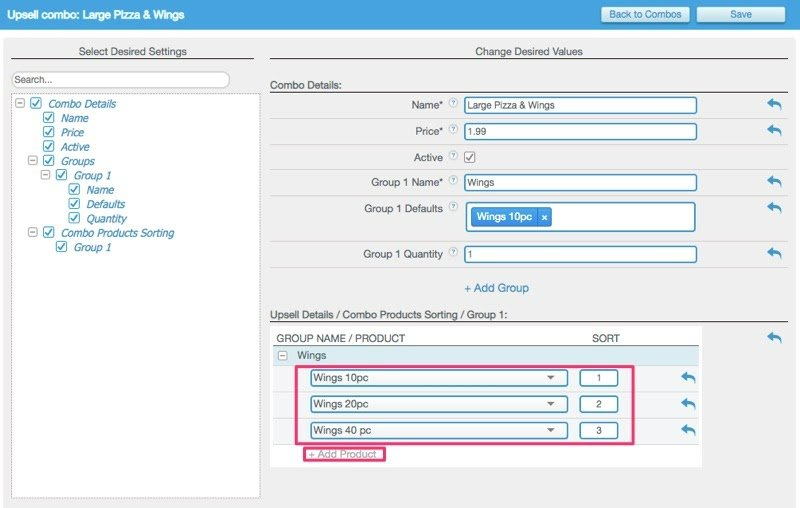 ---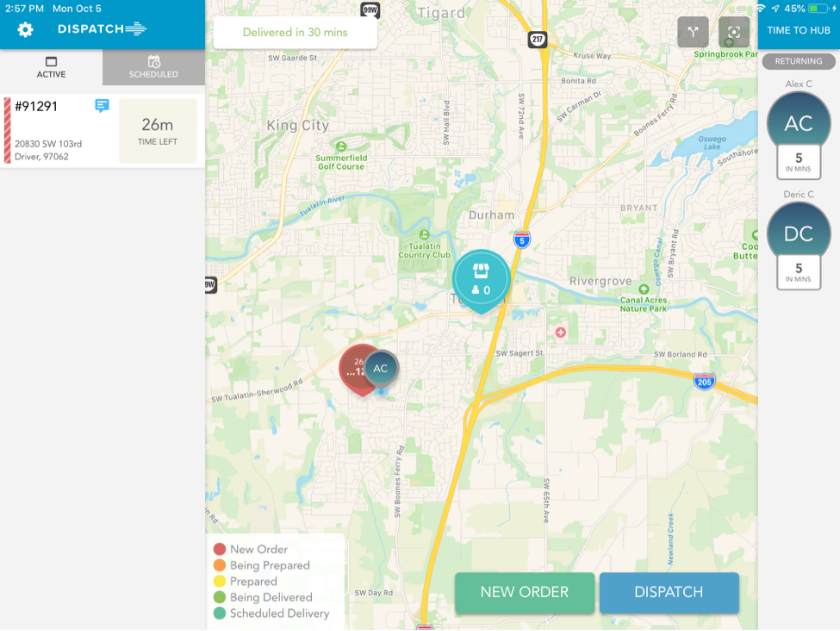 ---
Revel Standout Features
For an iPad POS, Revel Systems has massive functionality. The hybrid installation includes a locally installed server that gives Revel much stronger offline functionality than competitors like Square for Restaurants. Operating via the cloud makes the back office more accessible and Revel more affordable than a completely locally installed solution like SpeedLine.
Combined with Revel's incredibly customizable features, these qualities make the system an obvious choice for busy restaurants of all kinds. Several features are handy for pizza shops, in particular. Revel Systems standout features include:
Comprehensive inventory: Revels' inventory is semi-automated, allowing you to bulk import your raw ingredients, create purchase orders (POs) in the POS, and email orders directly to vendors. The inventory is centralized so your stock levels update in real time, whether customer orders are placed in person or online, ensuring that you never sell items you don't have. An integrated Stocktake smartphone app allows your team to record physical inventory counts on smartphones.
Streamlined combo and modifier screens: Revel supports multiple modifier screens and combo building. The system lets you set prices for various sizes of the same dish—as in a small, medium, or large pizza—and create prices for individual toppings. Combo options are housed on a single screen which reduces button presses, speeds service, and helps ensure order accuracy.
Online ordering: Revel's online ordering module creates a custom URL that syncs with your POS and management console. Your online ordering site can spotlight new dishes, seasonal items for holidays and special events, or featured combos. The online ordering login allows customers to log in via Facebook, so they don't need to create a new username and password just for your restaurant.
Driver management: Revel's delivery management tools allow you to assign multiple orders to a single driver. The GPS integration generates the speediest route for your drivers based on order addresses and sends them to drivers' smartphones via the integrated driver app, saving you the need to buy extra hardware. The system also estimates prep and delivery times and tracks your drivers' delivery histories, giving you a massive amount of data to create reports. You can also assign cash tills to drivers to track their cash payments when they are out of the shop.
Third-party delivery: Revel integrates with several aggregators—Chowly, ItsaCheckmate, and Deliverect are just a few—that feed third-party platform orders directly into your POS. The system also has a "passthrough fee" function that can pass on third-party fees to customers, so you can let customers order the way they want without destroying your bottom line.
CRM and marketing: You can prompt customers to enroll in your loyalty program at checkout or via email and SMS text messages. Creating customer groups lets you design offers specifically for friends and family or the staff of neighboring businesses. You can also create targeted email promotions for unique groups like "Customers with February Birthdays" or "Local Soccer Team Parents."
SpeedLine: Best for High-volume Traditional Pizzerias
SpeedLine

Overall Score:
3.97
OUT OF
5
RATING CRITERIA

Pricing
1.50
OUT OF
5
General POS Features
3.75
OUT OF
5
Niche Pizza Functions
5.00
OUT OF
5
Ease of Use
3.88
OUT OF
5
Expert Score
4.00
OUT OF
5
What We Like
Dynamic order screens show ingredients and modifiers at a glance
Integrated long-range card readers accept credit card payments in the field, lowering your processing fees
Massive mapping tools support driver dispatch and targeted marketing campaigns
What's Missing
Not cloud-based
Some updates can only be made by the SpeedLine support team
Price requires a custom-quote
SpeedLine Pricing
Software subscription fee: Custom-quoted, all-in-one software and hardware price
Hardware costs: Custom-quoted
One-time installation fees: Custom-quoted
Processing fees: Custom-quoted from compatible payment gateways (WorldPay, Monetra)
SpeedLine has been supporting pizzerias since 1990. This locally installed POS specializes specifically in pizzerias, so it's no surprise that the SpeedLine team have designed some great pizza innovations. From intuitive order screens that highlight ingredients to automatically applied coupons and pay-at-the-door card readers, this POS has every feature a shop owner could dream of. The powerful automated tools let you dispatch in-house drivers, run dozens of simultaneous promotions, and run your shop during an internet outage. Reduced button presses speed order taking and payments, helping high-volume pizzerias keep up with order pace.
SpeedLine earned a respectable 3.97 out of 5 on our pizza POS ranking. The system earned a perfect score for niche pizza functions and also scored well for general POS features. Though it earned some points for its one-year service contract and supporting more than one payment processor, SpeedLine's overall price cost it some points.
Full pricing requires a custom quote, so you'll have to contact SpeedLine to get a full handle on your expected price. Prices from $5,000 and up are not surprising. All the reps we have spoken to are helpful and knowledgeable; they won't let you pay for more system than you'll use. But if you prefer pricing transparency, you'll likely be happier with Toast, Thrive, Lavu, or Square for Restaurants.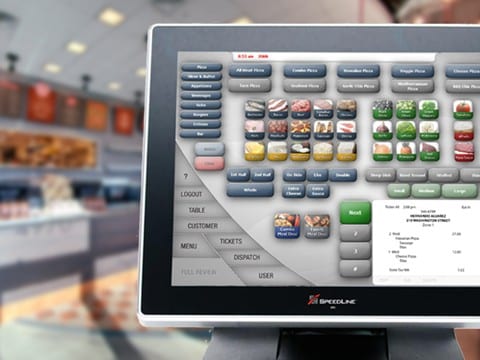 ---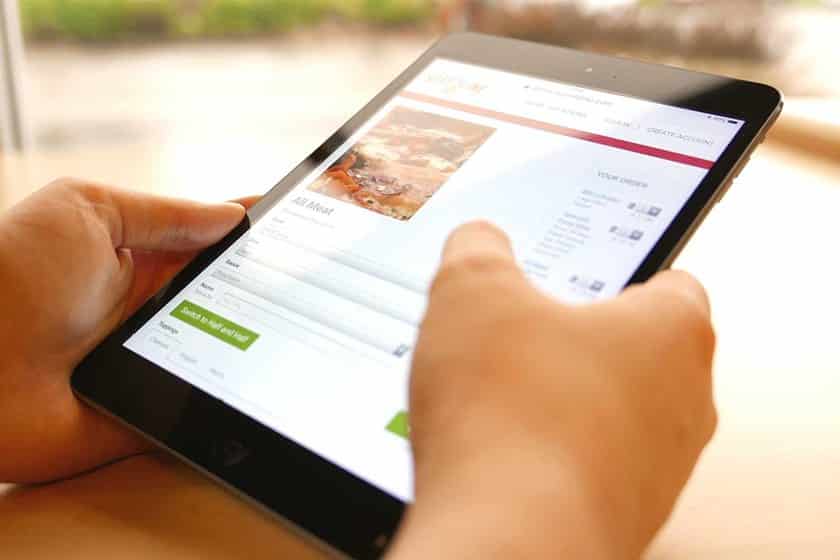 ---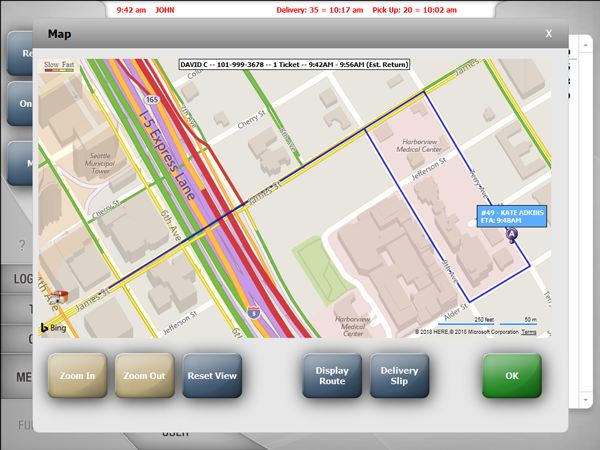 ---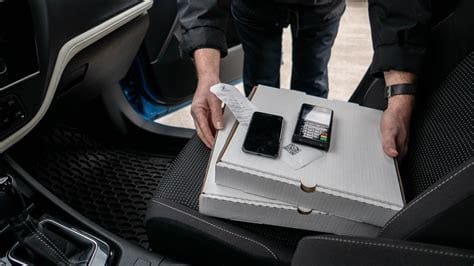 ---
SpeedLine Standout Features
SpeedLine customers swear by this streamlined, all-in-one pizza POS software with robust delivery management. It is different from others on this list, as it operates on a closed internal network that stores all of your pizza shop's data at your location. This setup is frequently called a "traditional" or "legacy" POS.
Because SpeedLine doesn't rely on the internet to operate, it is an excellent system for pizzerias that lack a reliable internet signal. Though it does mean that you can only access some POS features from your shop location. SpeedLine includes some cloud-accessible reports, but if you want to manage your POS from any location, you'll prefer a cloud-based system like Toast or Revel.
Some of SpeedLine's standout pizza POS features include:
Pay-at-the-door functionality: The "SpeedLine Pay" app allows your drivers to accept card payments at your customers' doorsteps. Customers feel more secure keeping their card in hand, and your pizza shop can avoid higher card-not-present transaction fees. SpeedLine Pay card readers are EMV-compliant, which means you'll have fewer chargeback disputes. This feature can be an absolute game-changer for shops that pay high fees for card-not-present and online transactions.
Pizza-focused order screens: SpeedLine's order screens show nutritional information, allergens, and recipes at the touch of a button. So, your cashiers can answer any question a customer asks without slowing your operation down. SpeedLine's Directed Order Entry walks servers through modifier prompts to ensure things like salad dressings or crust choices are never forgotten. You can also add pop-up screens for item-specific upsells and lists of currently running coupons, so anyone ringing in an order has all the information at their fingertips.
Heatmap reporting: One of SpeedLine's most impressive functions is how the system combines navigational tools with sales tools. For example, you can pull sales reports that show what specific items are selling (or not) in specific areas of your city. This shows you immediately where a game day promotion or discounted delivery offer will have the most impact.
Kitchen-oriented tickets: No matter what order a customer states their preferred modifiers in, SpeedLine will organize the information to display the way your kitchen team prefers to see it. This saves a lot of headaches and potential miscommunications, plus it keeps your cooks happy.
Integrated caller ID: When customers call your pizzeria, SpeedLine displays their customer profiles on the POS, including any active orders. Your staff never has to leave the POS to give customers updates or make changes to existing orders.
Driver management: You can organize your delivery assignments from a map view, allowing you to see which deliveries can be most efficiently grouped. The dispatch screen displays estimated driver return times, so you know when to have the next rounds of orders ready. SpeedLine sends delivery information to driver smartphones and allows drivers to use their preferred navigation app. You can also set the SpeedLine POS to calculate driver reimbursement fees based on the most efficient route distance rather than their self-reported odometer readings.
Inventory: SpeedLine's Inventory contains a dynamic "topping matrix" to streamline recipe creation. This tool also easily tracks tiny amounts of every topping used for build-your-own pizzas.
Online ordering: SpeedLine's online ordering module, SpeedDine, allows customers to order from any internet-enabled device or via your branded mobile app. Both the app and your online ordering site are tied directly to your POS, so prices, combos, promotional offers, and tax rates are uniform. You aren't locked into SpeedDine as your only option; SpeedLine's open software architecture allows you to integrate with any online ordering platform you like.
HungerRush: Best for Multichannel Ordering
HungerRush

Overall Score:
3.89
OUT OF
5
RATING CRITERIA

Pricing
0.50
OUT OF
5
General POS Features
3.75
OUT OF
5
Niche Pizza Functions
5.00
OUT OF
5
Ease of Use
5.00
OUT OF
5
Expert Score
3.25
OUT OF
5
What We Like
Includes long-range card readers for pay-as-the-door payments
Accepts orders in person and online and via phone, ordering apps, and text
Dynamic order screens show ingredients and modifiers at a glance
What's Missing
Fees are all custom-quoted; it's hard to tell if you are getting the best price
System can be pricey
User interface is dated
HungerRush Pricing
Software subscription fee: Custom-quoted*
Hardware costs: Custom-quoted
One-time Installation fees: Custom-quoted
Processing fees: Custom-quoted
* Previously we received quotes of $199 per month for a single terminal, though actual costs may vary at HungerRush's discretion
HungerRush is a cloud-based POS carved out of the legacy Revention POS system. It's relevant to mention this POS's Revention ancestor because that POS was designed specifically to support pizzerias. The updated cloud-enabled HungerRush includes a ton of the insightful tools developed by its grandaddy system like speed screens that include build-your-own pizza and payment options on a single screen. This system includes built-in tools for online ordering, mobile ordering apps, and text ordering.
In October 2021, HungerRush purchased Menufy, our top recommendation for online ordering software. This online ordering app syncs seamlessly with the HungerRush POS, offering dynamic, branded online ordering sites and a centralized ordering platform that can drive new customers to your business.
HungerRush earned a score of 3.89 out of a possible 5 on our pizza POS criteria. The system functions essentially as a cloud-enabled SpeedLine. The price of the system is the main thing that kept HungerRush from scoring higher. Previous quotes we received put the system around $199 per terminal, though current rates may vary. Regardless of the costs, however, we felt that the system's unique and innovative features earned it a spot in the top 5.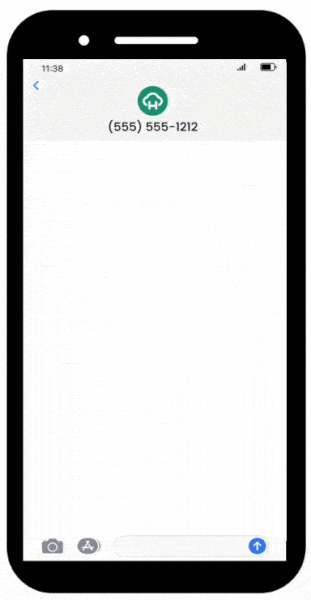 ---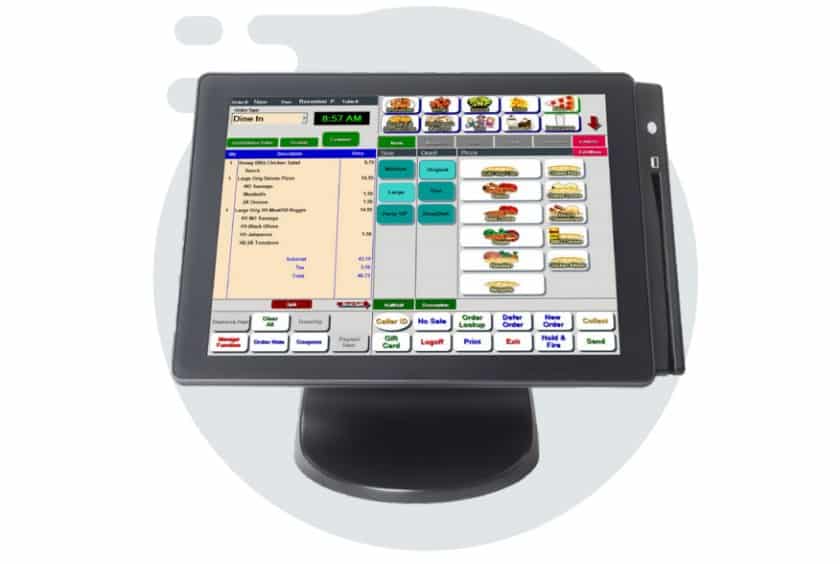 ---
---
HungerRush Standout Features
HungerRush combines a wealth of excellent pizza shop software tools in a cloud-based POS package. Like Revel Systems, HungerRush is a hybrid POS, and like SpeedLine, the system was explicitly designed to support pizzerias, so it has lots of insightful fixes for common pizza pain points. This system has come a long way in 2021 with recent user reviews crowing about its ease of use and supportive, friendly tech support.
HungerRush's standout features include:
Pay-at-the-door payments: Like SpeedLine, HungerRush allows your drivers to accept card and mobile wallet payments when a delivery is completed. This function allows you to get the card-present transaction rate rather than the higher card-not-present transaction rate that usually comes with online payments.
Text ordering: In March 2021, HungerRush launched a text-ordering function, TextAI, that allows users to let go of their landlines and accept orders via text message. The text ordering functions sync with HungerRush's marketing and loyalty features, enabling you to alert loyal customers to special offers and promotions.
Driver management: HungerRush's driver management integrates with Google Maps, which provides real-time mapping updates. The system will also alert you if a driver is late returning from a delivery round, so you can get a head start on accidents or handling a disappointed customer.
Loyalty: An integrated loyalty program gives you valuable insight into your customers and their spending habits. You can also save notes to a customer's profile for future orders or to tag them for future promotions.
Google Analytics: HungerRush comes with integrated Google Analytics, so you know how many people visit your ordering page, even if they don't place an order.
Pizza-style order screens: HungerRush's order screen highlights each pizza's ingredients with red lights and green lights, so it is easy to make modifications at a glance. The system also allows your cashiers to edit items without deletions or re-entries.
Slice Register: Best for Ease of Use
Slice Register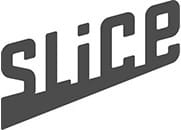 Overall Score:
3.70
OUT OF
5
RATING CRITERIA

Pricing
0.50
OUT OF
5
General POS Features
3.75
OUT OF
5
Niche Pizza Functions
4.50
OUT OF
5
Ease of Use
3.75
OUT OF
5
Expert Score
4.00
OUT OF
5
What We Like
Easy to use system takes no time to learn
Integrated driver app supports in-house delivery teams
Integrated Slice platform showcases your shop to new customers
What's Missing
Only supports one payment processor— Ayden—so you can't shop for better rates
Does not include inventory tools
Does not support pay-at-the-door credit card readers.
Slice Register Pricing
Software subscription fee: Custom-quoted
Hardware costs: Custom-quoted
One-time Installation fees: Custom-quoted
Processing fees: Custom-quoted
Slice Register is a newcomer to the pizza POS scene. Launched in 2021, this POS is built to integrate directly with the Slice online pizzeria marketplace that has driven online pizza orders to independent pizza shops since 2010. The system requires a custom quote and locks user's into Ayden for payment processing; the software and hardware offer the simplest plug-and-play solution of all the POS systems on this list. Small shops can plug in the Slice terminal, add some menu items and get started accepting in person and online orders in an afternoon.
On our ranking criteria, Slice Register earned a 3.7 out of 5. The software scored incredibly well for its niche pizza functions. In fact, the only systems that scored higher in that category were the massively functional SpeedLine and HungerRush.
But Slice Register could have scored higher overall if the system supported pay-at-the-door card payments and the pricing was more transparent. Slice Register offered the system for no upfront cost through 2021—users only paid processing fees—but this introductory price is unlikely to continue. Prospective users should contact Slice Register directly for a full price and processing rate quote.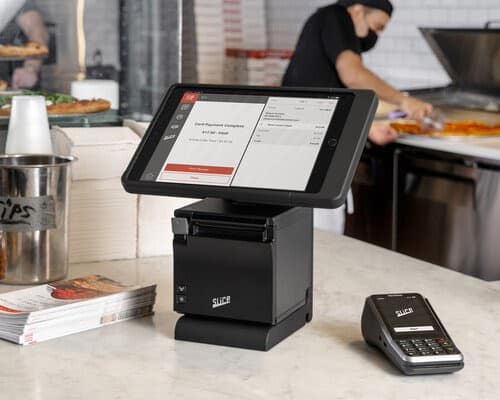 ---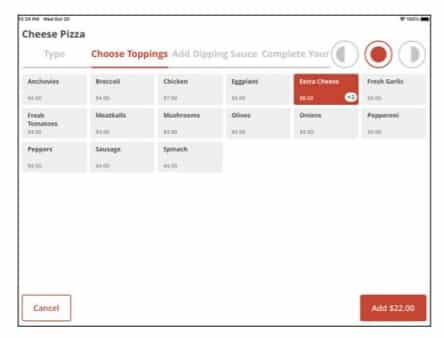 ---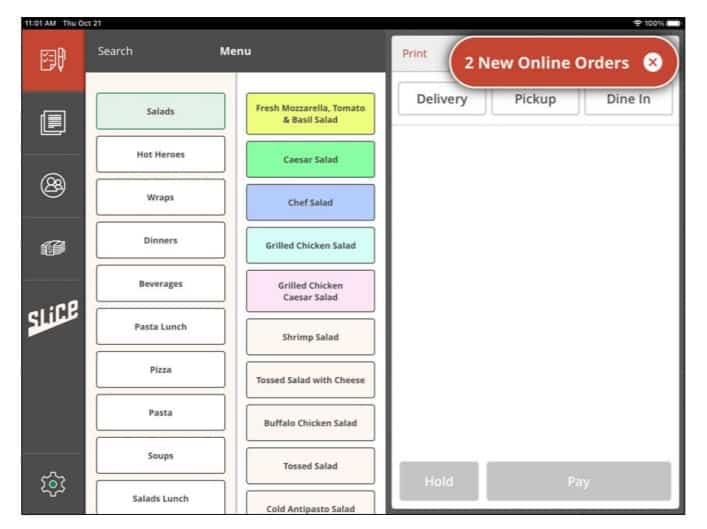 ---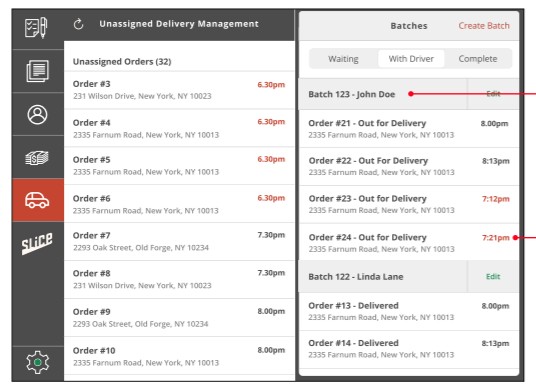 ---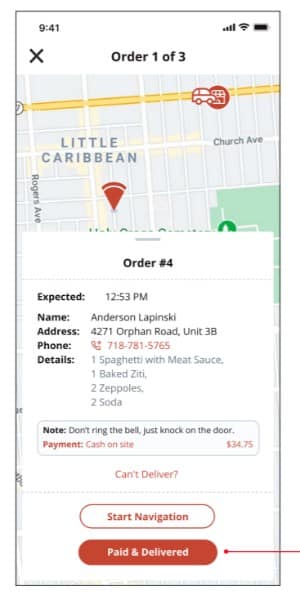 ---
Slice Register Standout Features
The Slice team developed Slice Register to help small, independent pizza shops compete with Domino's. This system is a very good fit if you are currently using a cash register and handwritten order tickets. Your register will come with a built-in receipt printer, handheld card reader, integrated cash drawer, and kitchen printer.
Slice Register's standout features include:
Multichannel orders: Slice Register is optimized for online orders whether they come from your social media platforms, TripAdvisor, Google, or the Slice platform. Of course, you can also accept in-person and phone orders as well.
Built-in Slice platform integration: Naturally, Slice Register comes with the Slice platform integration built in. So you can showcase your independent pizza shop to customers nearby.
Driver management with driver app: Like Revel and SpeedLine, Slice Register includes driver dispatch tools with a connected driver app. So you can dispatch your drivers with Uber-like efficiency and assign deliveries with a few swipes and clicks.
Complementary marketing support: The Slice Register team supports your marketing efforts by sending email and SMS messages to customers on your behalf. The system is designed to encourage customers to return to your pizzeria for their future orders.
Rewards platform: The Slice platform includes a built-in customer rewards program. Customers earn reward points for purchases from any participating Slice restaurant. Pizza lovers using the Slice app will be more likely to see your shop on the platform, driving new customers to your business.
Lavu: Best for Full-service Pizzerias on a Budget
Lavu

Overall Score:
3.65
OUT OF
5
RATING CRITERIA

Pricing
3.50
OUT OF
5
General POS Features
4.06
OUT OF
5
Niche Pizza Functions
3.50
OUT OF
5
Ease of Use
4.25
OUT OF
5
Expert Score
3.00
OUT OF
5
What We Like
Integrated MenuDrive platform supports online ordering and promotions
Supports multiple payment processors so you can shop for favorable rates
Includes maps-based driver management
Pizza-building function supports complex orders in house and online
What's Missing
Does not support pay-at-the-door card readers
Long-term hardware leases are difficult to cancel
Lower customer reviews than others on this list
Lavu Pricing
Software subscription fee: $69 per terminal, per month
Hardware costs: From $125 for an iPad stand to $1,099 for a 12.9" iPad Pro
One-time Installation fees: Self-installed
Processing fees: Varies by processor. Lavu users can choose from Lavu Pay, Bridgepay, Heartland, PayPal, and Vantiv.
Lavu is like a Swiss army knife for pizzerias; it has all the tools you need at an affordable price. Lavu's pizza-building function might fall a bit short of the dynamic visual cues that you'll find in a SpeedLine or Thrive system, but Lavu's MenuDrive function—a combined online ordering and marketing tool—is very user-friendly. Lavu's price is also competitive, and the system integrates with several payment gateways. So it is a good choice for full-service pizzerias that need more robust ordering tools than a slice shop. It is best for shops that can afford the system without signing on to a long-term hardware lease.
Lavu earned a score of 3.65 on our pizza POS ranking, getting high marks for its price and general POS functions. A few things kept Lavu from scoring higher: Offline functionality is not as robust as others on this list, and the system has lower customer ratings than the others. It also lacks exciting standout features like heat map sales reports, pay at the door credit card processing, or text ordering. But if you're on a tight budget and don't need those extras, Lavu has your pizzeria covered.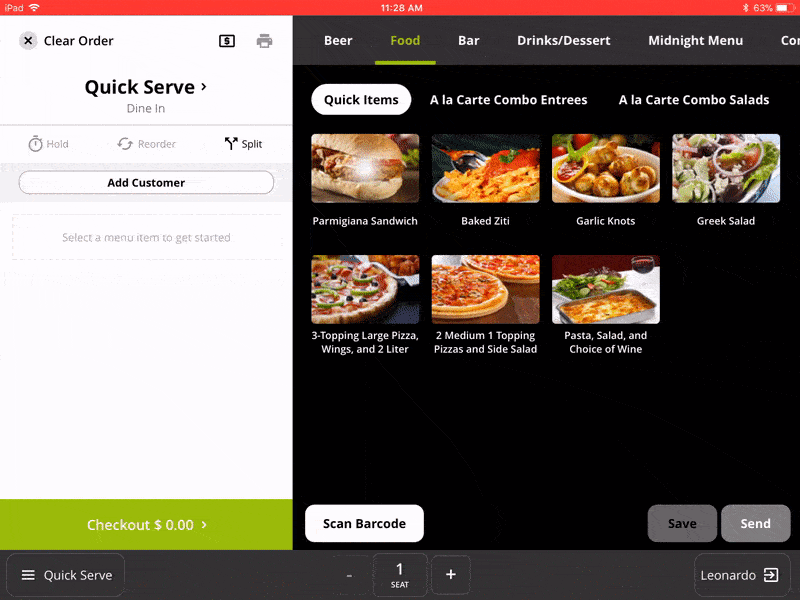 ---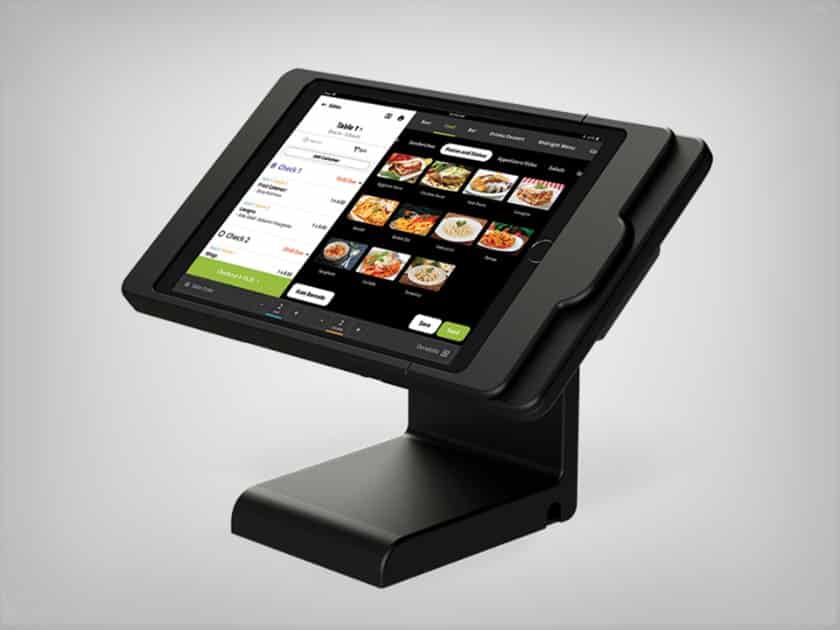 ---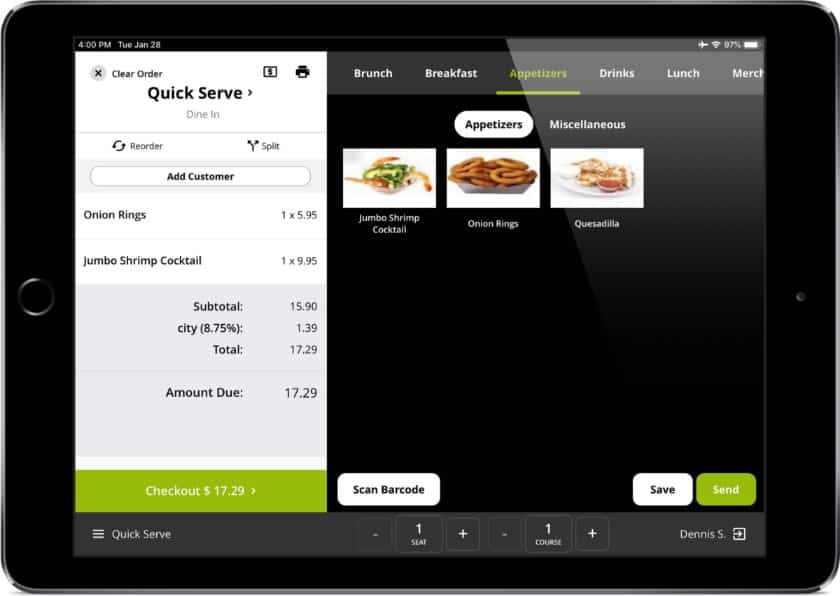 ---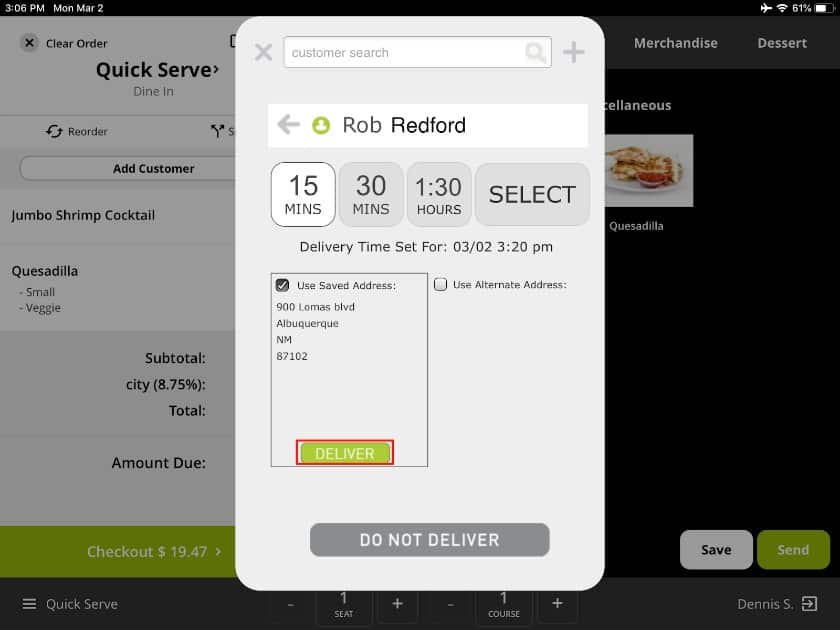 ---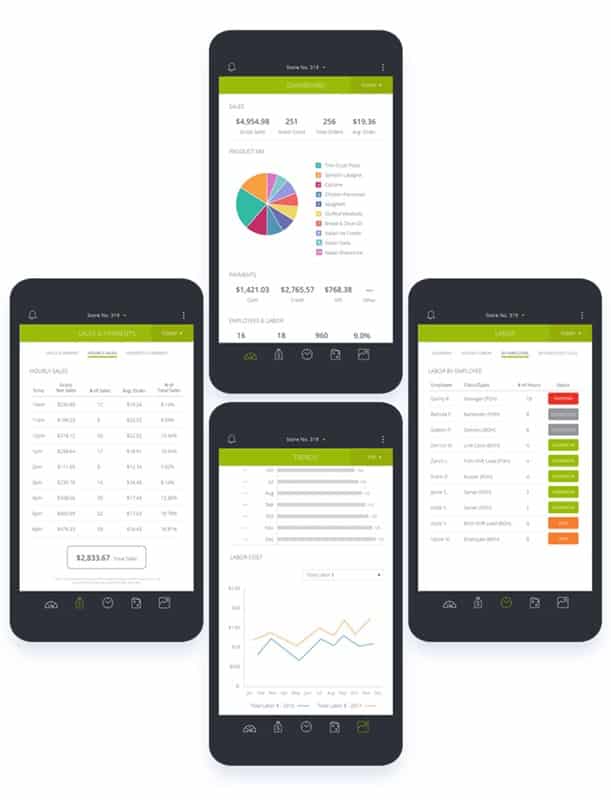 ---
Lavu Standout Features
Lavu has everything a small pizzeria needs to accept in-person, phone, and online orders. The system has tools for managing a team of in-house drivers or relying on third-party platforms. Both the Lavu POS and the affiliated MenuDrive tool allow you to customize coupons and promotions. Unlike Toast, Revel, and SpeedLine, however, the MenuDrive system does not support map-based driver dispatch. If you want to manage a team of delivery drivers with Uber-like precision, you'll need an additional integration.
Lavu's standout features include:
Pizza builder: Lavu includes a pizza-building function to help your team ring in customized pizzas by whole or half pies. It is simple to configure in your Lavu management dashboard and does not require an extra purchase.
Combo builder: The Lavu combo-builder routes complex orders to the correct kitchen printers or KDS screens, and allows you to add custom pricing for add-ons or premium options. This is great for pizzerias that offer pizza and wing combos or individual slice and drink deals.
MenuDrive: Lavu owns the online ordering system MenuDrive. When you enroll, the MenuDrive software walks you through an intuitive setup wizard so you can begin taking online orders right away. Coupon-building tools allow you to create online coupons and send email blasts for upcoming promotions. Customizable modifier screens display modifications in simple check boxes or allow you to limit the number of modifiers on a single order. You can also route delivery orders on-demand to DoorDash drivers. Dispatching an in-house driver team, however, will require an additional integration, or an analog system.
Flexible payments: For pizza shop owners that want to shop around for the best processing rates, Lavu supports integrations with Heartland, Bridge Pay, Vantiv, and PayPal. Lavu does not charge any extra fees for bringing your own processor, but each processor will set a rate based on your card mix and sales volume. If you'd prefer an all-in-one solution that mimics a Toast or Square experience, you can opt to use LavuPay (which operates through the First Data gateway), instead. Using MenuDrive for online orders, however, currently requires enrollment in either LavuPay or MenuDrive Pay.
Driver routing: As with most of the systems on this list (except for Square), Lavu includes built-in driver dispatch functions. You can assign deliveries to drivers directly from the POS order screen and email driving directions to driver smartphones or print directions from your receipt printer. Currently, Lavu does not support an integrated driver app. If you prefer an integrated live driver app, you should check out Revel, SpeedLine, Thrive, or Slice Register.
Thrive: Best for Customizable Software & Hardware
Thrive

Overall Score:
3.58
OUT OF
5
RATING CRITERIA

Pricing
1.00
OUT OF
5
General POS Features
3.75
OUT OF
5
Niche Pizza Functions
4.00
OUT OF
5
Ease of Use
4.25
OUT OF
5
Expert Score
3.50
OUT OF
5
What We Like
Software fees include software for two terminals
Subscription builder lets you choose which features to include; you don't pay for functions you won't use.
Operates on iOS or Android tablets or touch-screen computer terminals
What's Missing
Pricing can add up if you need multiple software modules
Does not support pay-at-the-door card readers
Installation is pricey
Thrive Pricing
Software subscription fee: Starts at $149 per month for a single terminal
Hardware costs: $460 to $805 for terminals with tablets
One-time installation fees: Thrive's "Getting Started Kit" is $3,000 and includes installation
Processing fees: Custom-quoted by WorldPay, TSYS, or Open Edge based on card mix and sales volume
Thrive POS was built—like SpeedLine and Slice Register—specifically to support pizza shops. Unlike those other pizza POS systems, Thrive operates on multiple hardware types and allows you to customize exactly what software modules you want in your system. The unique pricing structure also includes software for two terminals. When you break it down, the baseline single terminal price ($74.50) falls between Lavu ($69) and Revel ($99).
Thrive earned a 3.58 out of 5 on our scoring system. It scored well in the niche pizza functions and ease of use categories. It lost some points because of its price—that $3,000 installation fee is hefty. It also lacks the pay-at-the-door tools that SpeedLine and HungerRush offer.

---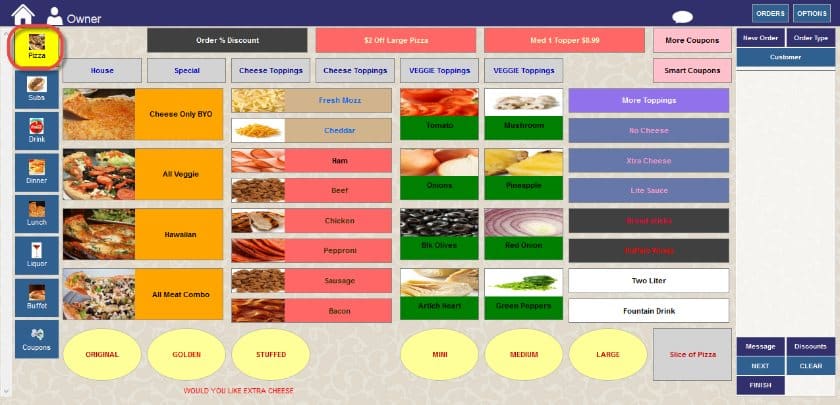 ---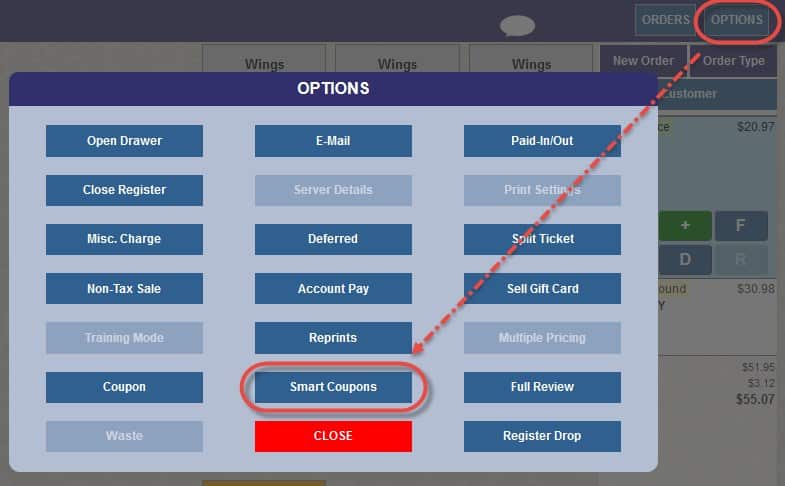 ---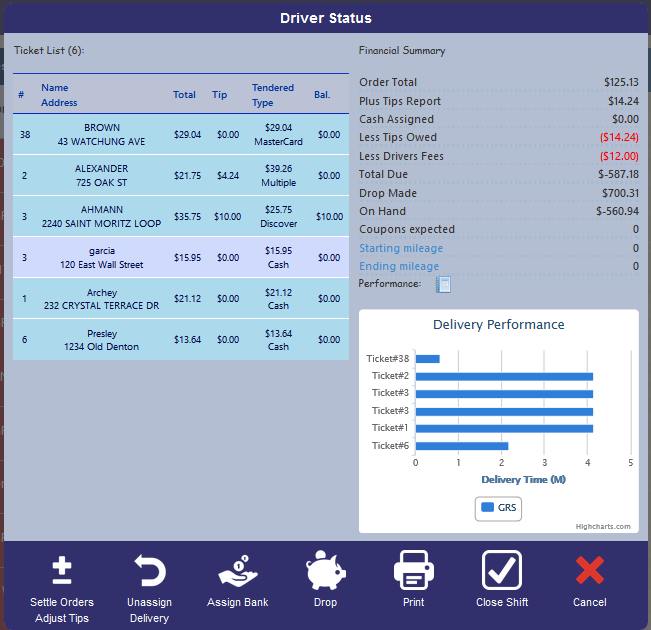 ---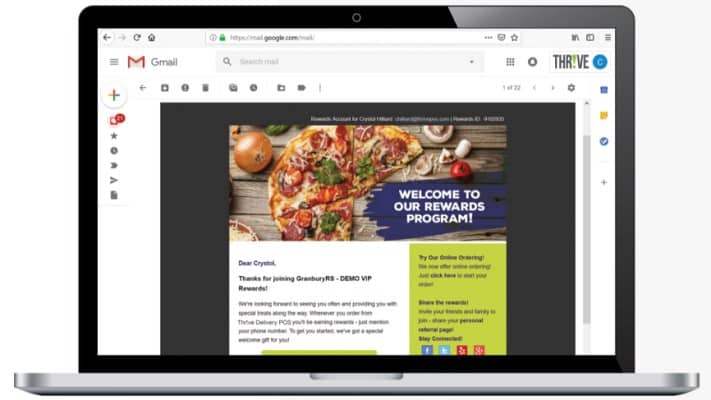 ---
Thrive Standout Features
Thrive has all the functions you expect to find in a restaurant POS from cash tracking to ingredient-level inventory tracking and daily reporting. But like SpeedLine, Thrive is a pizza-first POS, so it includes order screens optimized for complex pizza orders and combos.
Thrive's standout features include:
Flexible hardware: Thrive operates on iPads, Android tablets, or ethernet-connected i3 Acrobat Touch Dynamic touch-screen terminals if your pizza shop needs more robust hardware with offline functionality.
Build your own adventure software: Thrive's pricing structure is unique. The entry-level Basic tier includes online ordering and delivery tools and POS software for two terminals. At higher level tiers—Thrive Pick 2, Thrive Pick 4, and Thrive Loaded—you choose which additional software modules you need to expand your system. You can choose unlimited terminal licenses, a mobile app, loyalty and marketing (which Thrive calls "Salesbuilder"), a driver app, inventory, table service tools, or third-party integrations. This customization lets you choose the tools you need so you aren't paying for modules you won't use.
Smart Coupons: Thrive's Smart Coupons function allows your staff to quickly search available coupons and apply them to an open order. So if the customer on the phone mentions a promotion they saw on Facebook, your team can easily find and apply it.
Pizza-focused order screens: Thrive's order screen compresses a lot of information on a single screen. Various button columns, shapes, and colors help your counter service team see modifiers and add-ons at a glance.
Online ordering suggestions: You can set your integrated Thrive online ordering site to suggest additional side items or combos to customers placing orders.
Built-in driver management: More than simply assigning orders to drivers, Thrive actively tracks your drivers' status, compiles productivity reports, and includes detailed cash-out reports.
Pizzeria-friendly phone integrations: Thrive's pizza experience is evident in its phone integrations. The system integrates directly with PizzaCloud, a service specializing in optimizing pizzeria phone systems to lower phone bills and streamline caller ID and delivery processes. Busy pizzerias and multi-location operations will also like the Kanekt 365 integration that routes phone orders to a call center.
A la carte training and support options: Thrive offers a menu of additional support if you need extra help with your online ordering site, on-site POS installation, or additional staff training. Prices range from $75 per hour for guided training up to $800 for a full day of on-site support; you only pay for what you need.
Square for Restaurants: Best Free Pizza POS for Slice Shops & Short-term Contracts
Square for Restaurants

Overall Score:
3.50
OUT OF
5
RATING CRITERIA

Pricing
4.00
OUT OF
5
General POS Features
3.13
OUT OF
5
Niche Pizza Functions
2.63
OUT OF
5
Ease of Use
3.88
OUT OF
5
Expert Score
4.75
OUT OF
5
What We Like
No long-term contracts
Baseline POS is free for unlimited terminals
Free 30-day trial for higher-tier software subscriptions
Can use hardware you already own
What's Missing
In-house driver management requires a third-party integration
No pizza-builder functions and limited combo ordering tools
Square is the only supported payment processor
Square for Restaurants Pricing
Software subscription fee:

Free – $0 for unlimited terminals
Plus – $60 per month
Enterprise – Custom-quoted

Hardware costs: You can bring your own iPads or purchase hardware through Square. Individual iPad stands start at $169 and full register kits run from $1,039 (without iPad) to $1,368 (with iPad).
One-time Installation fees: Self-install for free, or request one-on-one assistance for $600
Processing fees: 2.6% + 10 cents for in-person swiped or dipped transactions, 2.9% + 30 cents per online transactions, and 3.5% + 15 cents per manually keyed transactions
Square for Restaurants is the food and beverage POS solution built by popular payment brand Square. This affordable, cloud-based POS operates on iPads and the baseline software subscription is free to use on unlimited terminals. You can use hardware you already own and download the Square POS app from the Apple App Store. And best of all, there are no long-term contracts. You can use Square for Restaurants for a month or a year and cancel or upgrade your subscription at any time if your business needs change.
Square for Restaurants earned a 3.5 out of 5 on our pizza POS criteria. The system earned the highest marks on our list for overall price. The free integrated online ordering site and excellent user reviews also gained points. But Square for Restaurants lacks the pizza-specific tools that others on this list support. There is no pizza-building module to speedily handle custom pizza orders, and driver management tools require a third-party integration. But small operations like slice shops don't need all those bells and whistles.

---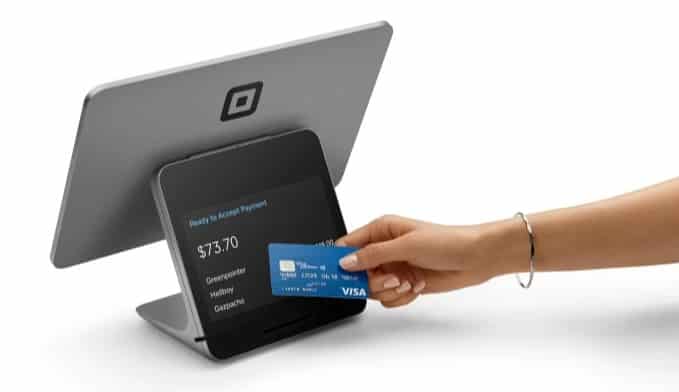 ---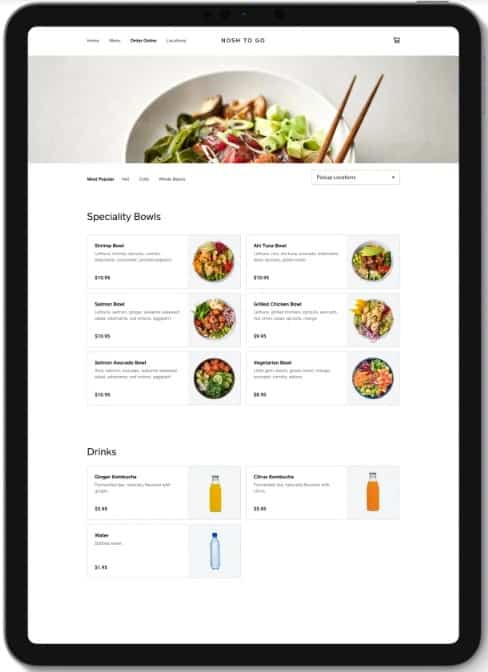 ---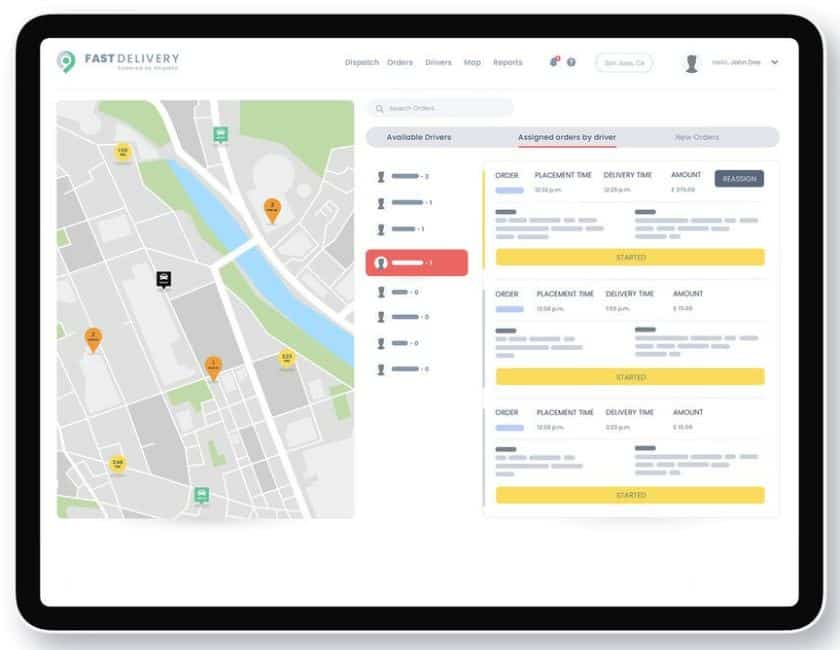 ---
Square for Restaurants Standout Features
Pizza shops are a tight-margin business—slice shops, especially so. Square for Restaurants is the lowest-cost pizza POS software on this list, with a starting monthly price of free. An iPad, a Square account, and a Square credit card reader are all you need to start taking your first orders with Square for Restaurants.
Square for Restaurants' standout features include:
Popularity: Square is one of the most familiar software ecosystems for both staff and customers. In major cities, you can buy a Square card reader from an office supply or drugstore and start taking payments in a few minutes.
Month-to-month plans: Square for Restaurants users are not locked into long-term contracts, making the system an excellent fit for seasonal pizza shops in vacation destinations.
Integrations: Square for Restaurants integrates with some of the most popular restaurant-industry software like Slice (pizza-specific online ordering and delivery), QuickBooks (accounting), MarketMan (inventory), Chowly (third-party ordering), and Homebase (employee scheduling).
Online ordering: As a Square for Restaurants customer, you can build an online ordering website that ties directly to your pizzeria's POS, and your online ordering site will sync with Facebook and Instagram. Online orders can be pickup only, or use online orders to develop an in-house delivery team.
Integrations: Square for Restaurants POS users can customize their systems by adding integrated apps. Pizza shops that want to add delivery management can do so for $99 per month via Square's integration with OnTime Delivery. Shops on a budget may prefer the Shipday integration, which—like Square—includes a free baseline subscription. Square POS users will also find integrations for more complex online menus via Menufy, though currently Square does not have a pizza builder integration.
Marketing: Square for Restaurants POS plugs directly into high functioning Square tools like Square's marketing software. For an additional monthly fee ($15 to $35 per month; available 30-day free trial), you can create customized marketing campaigns to reach your guests with deals that appeal to them. Real-time reporting lets you measure the success of each promotion so that you can drive more sales.
How We Evaluated Pizza POS Systems
We compared dozens of the most popular POS systems based on vital pizzeria functions, including cost, ease of use, underlying POS functions, and niche pizzeria tools. We also considered our resident retail and restaurant expert's personal experience with each system.
Our research and ranking determined Toast to be the best overall pizza POS. According to our grading system for pizza shop software, this popular restaurant software received the highest total score, 4.21 out of 5. Adding our personal experience testing various restaurant POS software (and working in and with independent restaurants that use POS systems every day), Toast also emerged as one of the top restaurant tools we recommended for small businesses.
Click through the tabs below for our full evaluation criteria:
30%
Niche Pizza Functions
10% of Overall Score
Pizzerias have a lot of tech needs and tend to have a slightly higher software budget than other restaurant types. Still, we looked at whether or not each software offers a free plan, free trial, and a plan option under $75 monthly. Because most shops are high-volume, we also looked for systems that allow you to shop around for best payment processing rates. Since shop needs can fluctuate over time, we awarded points to systems that have service contracts that are one year or less.
30% of Overall Score
This category was the real battleground. We looked for everything from driver management to robust coupon support and automated ingredient-level inventory with vendor management. Because pizzas are so highly modified, we specifically looked for pizza-building modules and robust combo-building functions. We also gave the highest marks to systems that support pay-at-the-door card readers so you can save money on card-not-present transaction fees.
15% of Overall Score
Here, we looked for systems that come with 24/7 customer support, guided installation (with bonus points if it is free), and comprehensive training materials. We also awarded points to cloud-based systems that free you from your back office and have strong offline functions so your operation doesn't crash if your internet does.
*Percentages of overall score
Bottom Line
No matter how you serve your pizzas or what budget you have to work with, there are great pizza POS software options available to support your business. Our top-rated pizza POS, Toast, combines the best features of all these systems. It is a multi-featured POS with built-in options to manage in-house or third-party drivers. And, as an affordable system with robust offline functionality, Toast is accessible and reliable for pizza shops of any kind. Visit Toast for a demo and see if it is a fit for your pizzeria.