2023 Revel POS Review: Best for High-volume Restaurants & Retailers
This article is part of a larger series on POS Systems.
Revel Systems offers tools for retail point-of-sale (POS) and restaurant POS systems and serves both business types well. This robust, cloud-based POS scores 4.24 out of 5 on our restaurant POS rankings and 3.74 out of 5 on our overall small business POS rankings. Revel has a bit of a learning curve, but if you have a high-volume business, it will be hard to find a better cloud POS than Revel.
Revel POS

What We Like
Integrates with multiple payment processors
Highly customizable
Operates on iPads
Tools for both restaurants and retail
What's Missing
3-year contract
Mandatory installation fee
No free trial or free baseline subscription
When To Use Revel
When you want:
When To Use an Alternative
Revel is great for high-volume restaurants and retailers and those that want marketing and inventory included for no additional cost. It is a strong option for multilocation businesses that want a cloud-based POS system, and those that want the ease of an iPad POS system without shortchanging functionality. Businesses that combine restaurant and retail operations, such as a grocery store with a cafe, are a terrific fit for Revel.
Revel is not the best system for micro-operations like food trucks or small boutiques. It is also not a fit for solopreneurs or service businesses. If your business is on a budget or operates seasonally, Revel is not the best option.
Revel Systems Video Review
Revel Deciding Factors
Supported Business Types

Retail, restaurants, grocers, liquor stores, and food and beverage businesses

Standout Features

Detailed matrix or ingredient-level inventory included
Vendor and purchase order management
Flexible iPad hardware
Built-in employee scheduling
Loyalty included in baseline POS
One-on-one training and installation

Monthly Software Fees

$99 per terminal

Setup and Installation Fees

From $674

Contract Length

3 years

Payment Processing Options

Revel Advantage, triPOS, FreedomPay, First Data, Heartland, TSYS, Worldpay, Chase Paymentech, and Elavon

Payment Processing Fees

Varies by processor

Customer Support

24/7 via phone, email, and webchat
Comprehensive online knowledgebase
Revel POS Alternatives
| | Best for | Monthly Software Fees | In-person Processing Fees | Learn More |
| --- | --- | --- | --- | --- |
| | Short-term contracts and using existing hardware | $0 to $60+ | 2.6% + 10 cents | |
| | A user-friendly iPad POS for retail or restaurants | $69 to $399+ | Lightspeed Payments 2.6% + 10 cents; other payment processors available | |
| | Restaurants that want a low-cost, user-friendly POS | $0 to $165+ | From 2.49% + 15 cents | |
| | Multichannel retail and online-first businesses | $39 to $89+ | Varies; use Shopify Payments or third party* | |
*Shopify adds a service fee of 0.5% to 2.0% when using a third-party processor.
Revel Systems POS starts at $99 per terminal monthly with a required two-terminal minimum. Users typically get a per-terminal price break after more than two terminals, so you'll want to contact Revel for a custom quote. Revel currently does not offer a free trial of the software, but you can contact Revel for a free demo of the system and a custom price quote based on your needs.
| | |
| --- | --- |
| Baseline POS Price | $99 per terminal, per month |
| Terminal Minimum | 2 terminals |
| One-time Implementation Fee | From $674 |
| Contract Length | 3 years |
| Custom Price Quote | Recommended |
While Revel can accurately be described as a cloud POS, it's most accurate to think of it as a hybrid POS system. In a hybrid configuration, your POS hardware is networked together on location, which is what gives Revel its excellent offline functionality.
Hybrid POS:
A POS system that combines locally networked hardware with cloud-based software. Hybrid POS systems can operate with or without an internet connection.
This hybrid installation is also what leads to Revel's one-time implementation fee, which starts at $674. More complex installations involving multiple checkout stands or terminals across multiple floors will incur higher implementation costs. Revel has options for both in-person and virtual implementation and training. If you are located in or near a major US metropolitan area you can get in-person training and installation.
Revel lost some points on pricing and contract requirements. Three-year contracts are standard with this system, which is longer than most cloud-based competitors. The overall price is also high compared to other cloud-based POS systems.
Revel Hardware
Revel's POS terminals are iOS-based, and the system includes configurations for KDS screens, digital display boards, self-service kiosks, and customer-facing displays. The system also relies on industry-standard cash drawers; barcode scanners; scales; and receipt, barcode label, and kitchen printers.
Apple iPad

Apple iPad mini

Revel C-stand

Revel L-Stand

10.2-inch to 12.9-inch display for POS, KDS, and self-service kiosk screens

8.3-inch display, ideal for in-store and tableside orders and payments or customer-facing displays

Low-profile iPad stand for POS terminals or self-service kiosks

iPad terminal stand with customer-facing display
Revel sells all compatible hardware directly. You must purchase your iPads from Revel, as these arrive preconfigured with the Revel POS software. But you may be able to use some preexisting hardware like Epson and Star Micronics printers or cash drawers if you have them. However, you'll want to check with a Revel representative to ensure compatibility.
You can reduce the upfront cost of your Revel POS by leasing hardware or applying for a payment plan. Revel offers hardware leases and flexible payment plans via Apple Financial Services for qualifying customers.
---
Revel Payments
Built-in payment processor: Revel Advantage is the system's native payment processor.
Third-party processors: US users have the option for payments from First Data, Heartland, TSYS, Worldpay, Chase Paymentech, and Elavon.
Custom quote: Revel Advantage customizes your rate based on card mix and sales volume.
Multiple payment types: Supports all card types, gift cards, and mobile wallets; near-field communication (NFC)-enabled and EMV-compliant.
Like competitors Toast, Square, and Upserve by Lightspeed, Revel Systems offers a built-in payment processor, Revel Advantage, as part of the POS. Unlike those other systems, however, Revel integrates with several third-party processors so that users can shop for the lowest processing rates. However, you typically get the best monthly software subscription rates with Revel Systems when you enroll in Revel Advantage along with the POS.
Transaction rates for Revel Advantage are custom-quoted and based on your card mix and business type. It also supports online and in-person payments, unlike some cloud competitors that require a separate processor for online payments. Revel Advantage customers benefit from only having one support team to call for both POS and payment issues.
Unlike with third-party processors, the Revel support team is available to help troubleshoot any payment processing issues 24/7, which can be helpful for bars and restaurants that are busiest during nights and weekends.
---
Revel Systems is an evolving POS system. Its team is adding large and small innovations constantly to ensure its client business always has the latest tools. For example, since our last update Revel has added the ability to accept split payments in their online ordering system, allowing customers to split checks or pay with a gift card and a credit card.
This insightful innovation isn't compelling in a press release. But if you're a small business owner with custom gift cards, you get requests for this sort of update from your customers all the time.
You can customize every aspect of your staff and customer experience with tools for reservations, online ordering, driver dispatch, ingredient-level inventory, and customer rewards. The Revel POS acts as your employee time clock and employee scheduler. The system also has an open application programming interface (API) so that you can build custom integrations.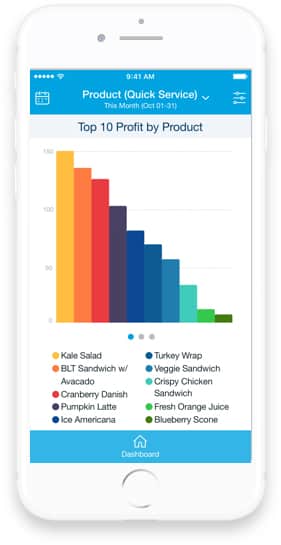 ---

---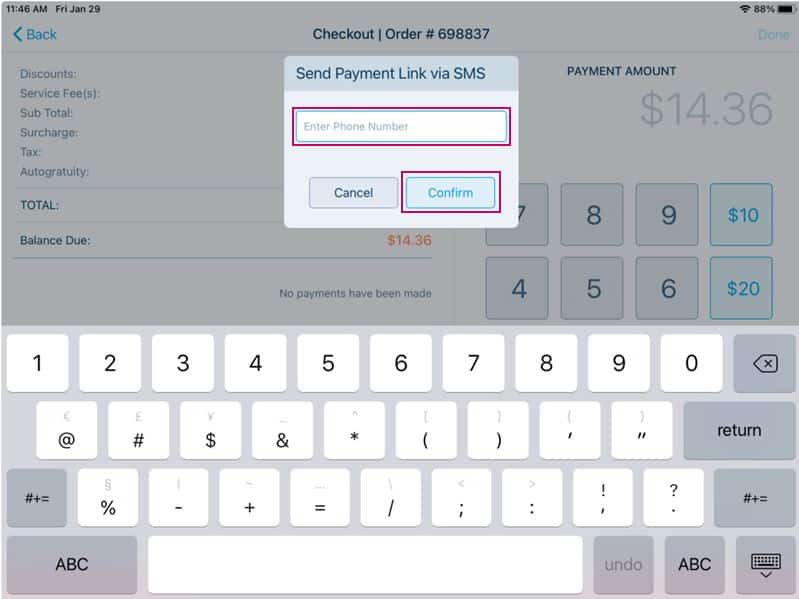 ---
Revel offers excellent baseline functions, including:
Reporting: Revel Systems tracks everything from your incoming inventory to employee hours and sales. Detailed cost of goods sold (COGS) and labor reports help you keep your costs in line and prepare more accurate sales forecasts. You can also build custom reports in the back-office dashboard, a feature that some cloud POS systems either lack or charge extra for. You can track reports in real time using the Revel Insights smartphone reporting app.
Marketing and loyalty: Revel includes loyalty tools in the baseline POS. You can randomly generate loyalty numbers or use customer phone numbers. You can choose to reward dollars spent, number of visits, or the purchase of a specific item. Rewards can be dollar or percentage discounts or a complimentary item.
Workforce management: The baseline Revel POS includes custom user permissions for unlimited employees and acts as your time clock. You can also build schedules in your Revel back-office dashboard and even track tips and commissions. Revel also includes a training mode so training new employees won't interfere with normal business operations.
Customer management: Create customer profiles from sales and include contact information, loyalty number, house account information, and detailed notes. You can also add special discount codes for specific customer categories like students, veterans, or regulars.
SmartPay: Revel's built-in SmartPay system enables short message service (SMS) text-to-pay and quick response (QR) code scan-to-pay for purchases made in-store or over the phone. You enter a cellphone number in the POS to send the payment link, or customers can scan a QR code from a printed receipt. All receipts are sent via email for a completely contactless interaction.
Revel has excellent tools for independent retailers and restaurants. This system outscored all the other systems in our POS ranking for management tools. There is virtually nothing Revel can't do. Click the drop-down sections below to explore Revel's retail and restaurant features.
Retail Features
Revel includes tools to support all types of retailers, from those that sell a variety of soft and hard-line goods to those that sell perishable food items. You'll have the hardware and software tools to manage complex transactions and inventory. Integrated barcode scanners and scales can sell goods by barcodes or weight. You can also print custom barcode labels from the POS dashboard.
Revel's retail features include:
Complex matrix inventory: Revel's built-in inventory tools are some of the most robust available in a cloud POS.
Integrated sales channels: Add sales on Facebook, Instagram, Shopify, WooCommerce, BigCommerce, Magento, X-Cart, Amazon, and eBay.
Shipping integrations: Revel integrates directly with UPS and FedEx.
Bottle deposit processing: Groceries and beverage businesses can process bottle deposits and redemptions directly in the POS.
Age verification tools: prompt ID scans for age-restricted products like tobacco and alcohol.
Flexible hardware: Supports integrated scales and scanners, self-service kiosks, digital displays, and countersunk scales and scanners for full checkout lanes.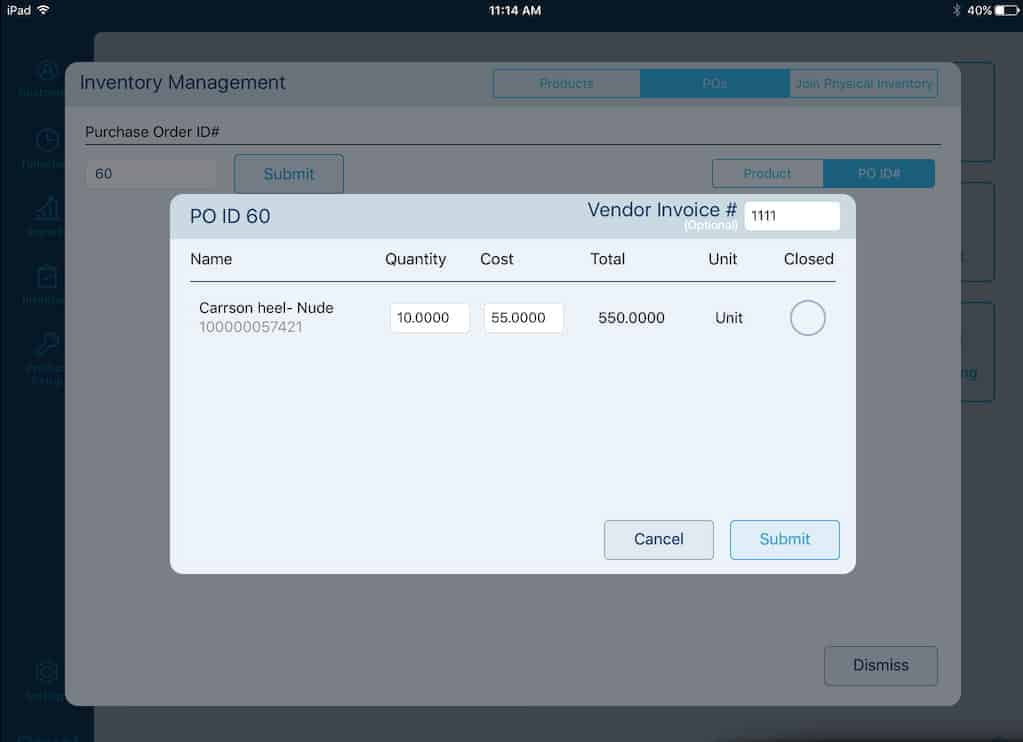 ---

---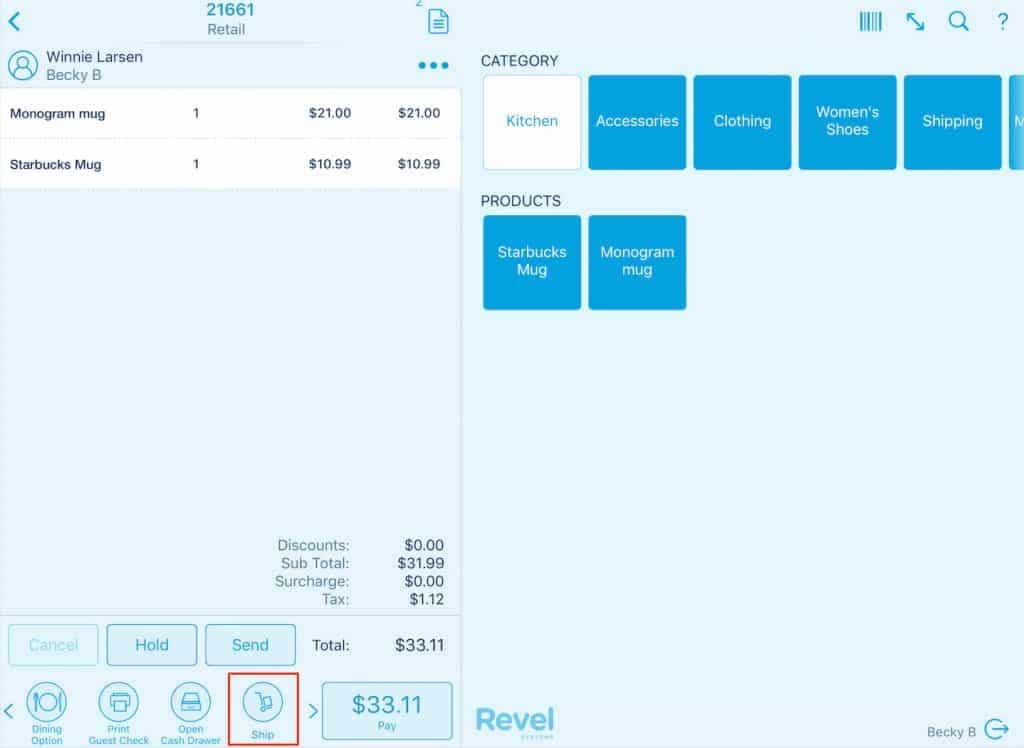 ---
---
Restaurant Features
Revel originated as a restaurant POS, so it's no surprise that its restaurant features are comprehensive. All the bases are covered from complex menu-building to custom user permissions, tip tracking, seat and course management, and easy check splitting.
Revel has a ton of standout restaurant features, including:
Ingredient-level inventory: Track ingredients as items sell, count stock with a built-in smartphone app, and place orders from your back-office dashboard.
Combo-building and modifiers: Build complex combos and set up complex modifiers for heavily customized dishes like build-your-own pizzas.
Online ordering and delivery: Built-in online ordering and delivery tools include detailed, maps-based driver management.
Built-in KDS: Color-coded KDS screens keep your kitchen on the same page and track productivity.
Drive-thru management: Manage drive-thru orders seamlessly with vehicle descriptions and a dedicated drive-thru order stream.
Waitlist and reservations: Built-in waitlist and reservation management tracks customer wait times and includes SMS text integration.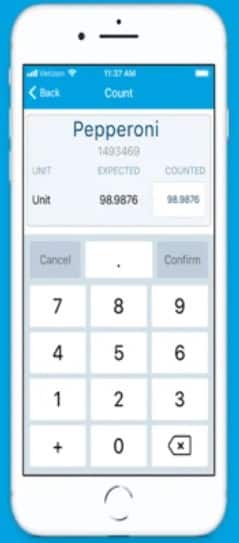 ---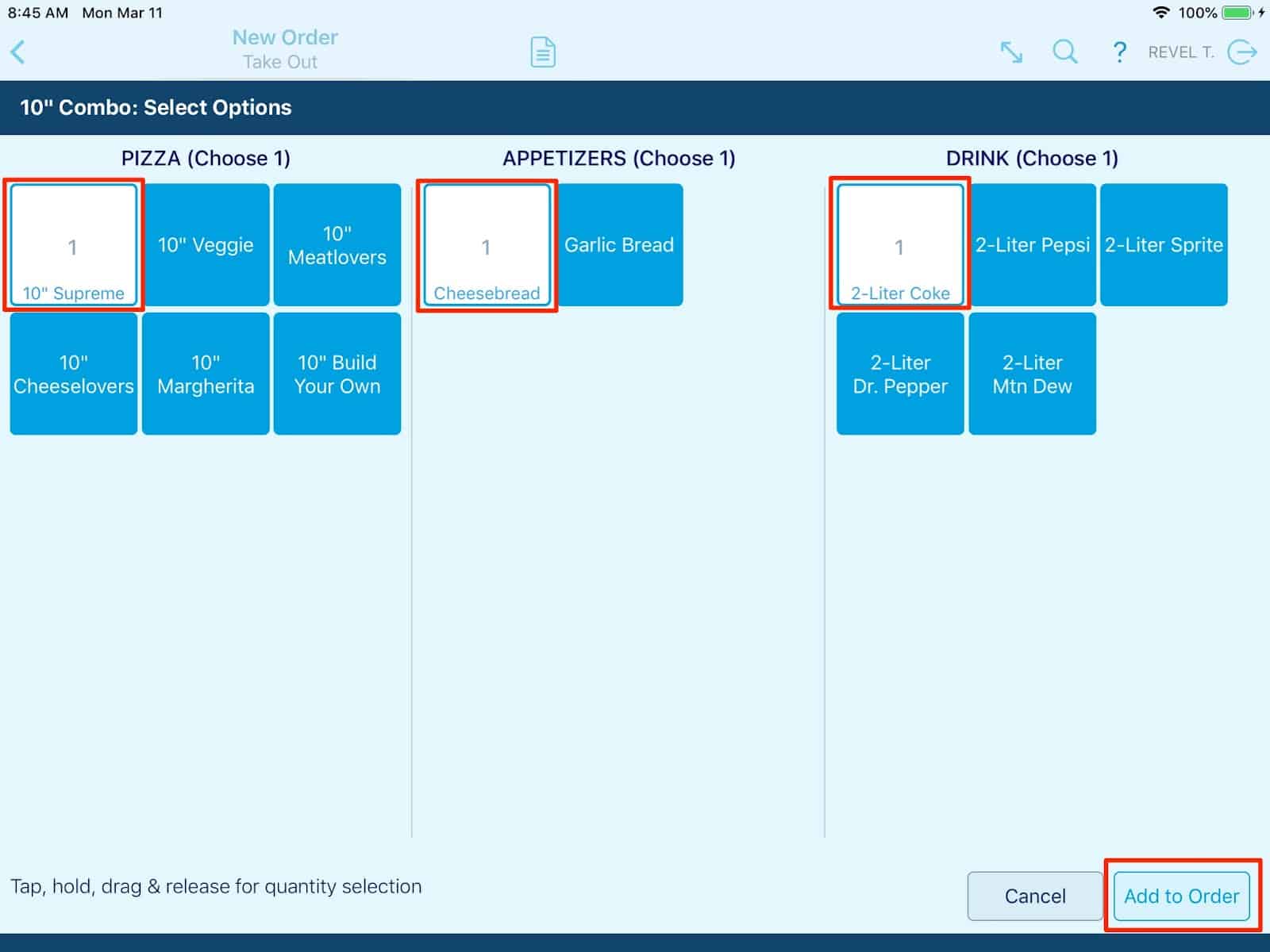 ---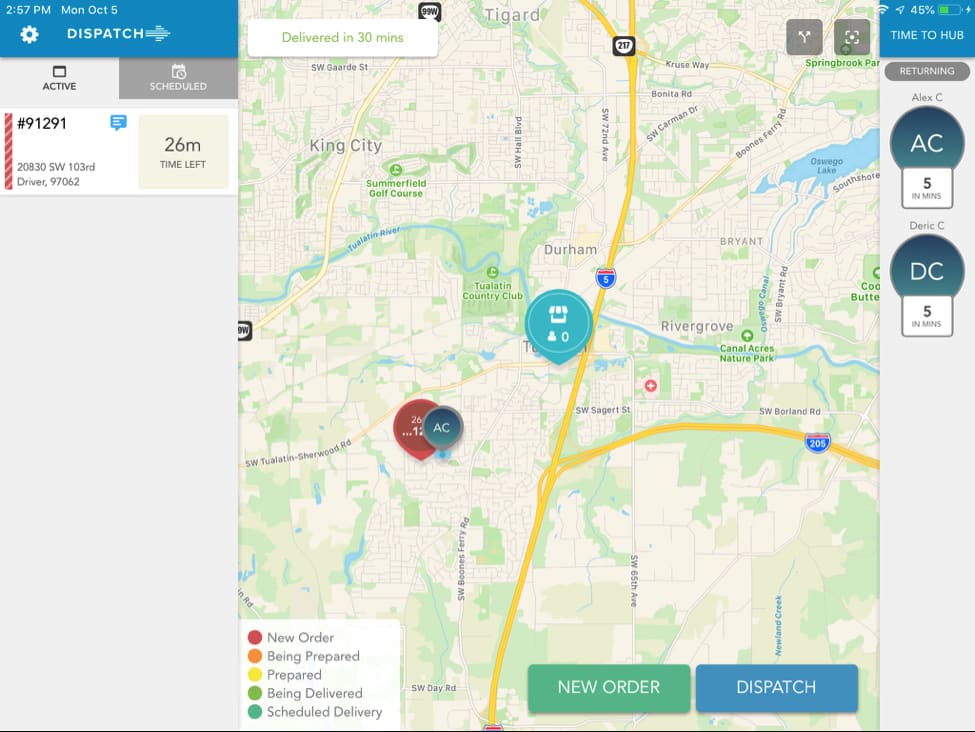 ---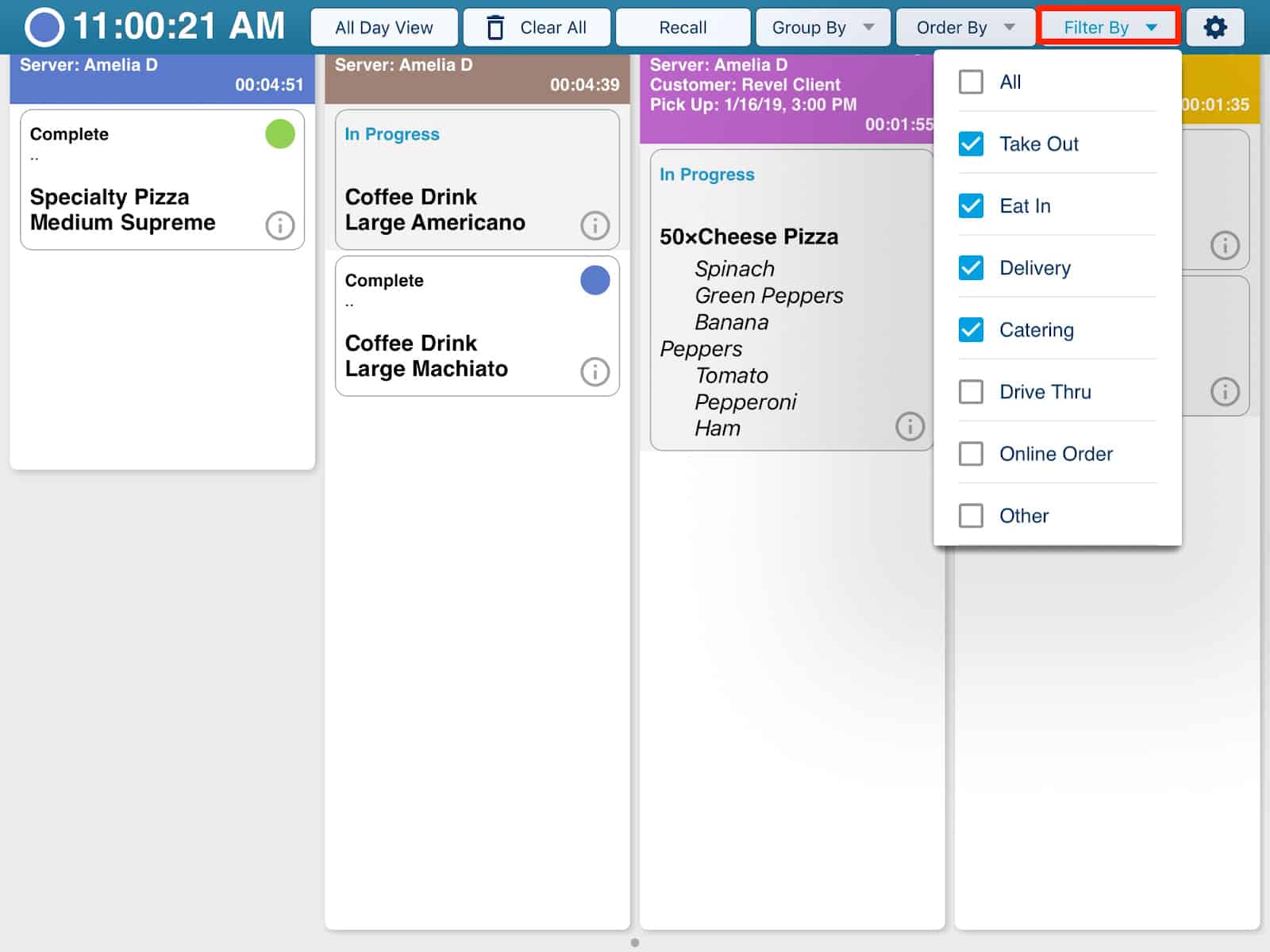 ---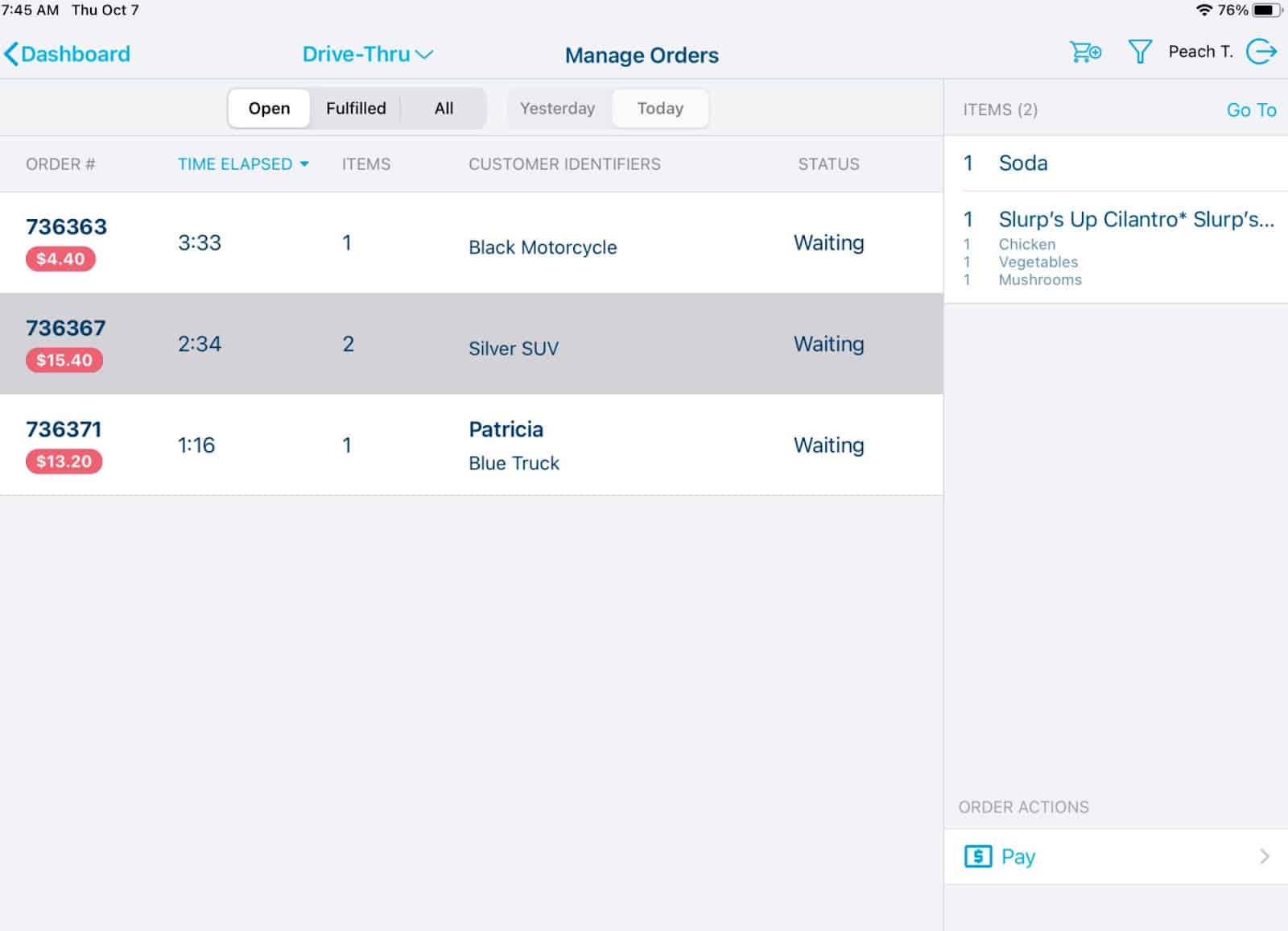 ---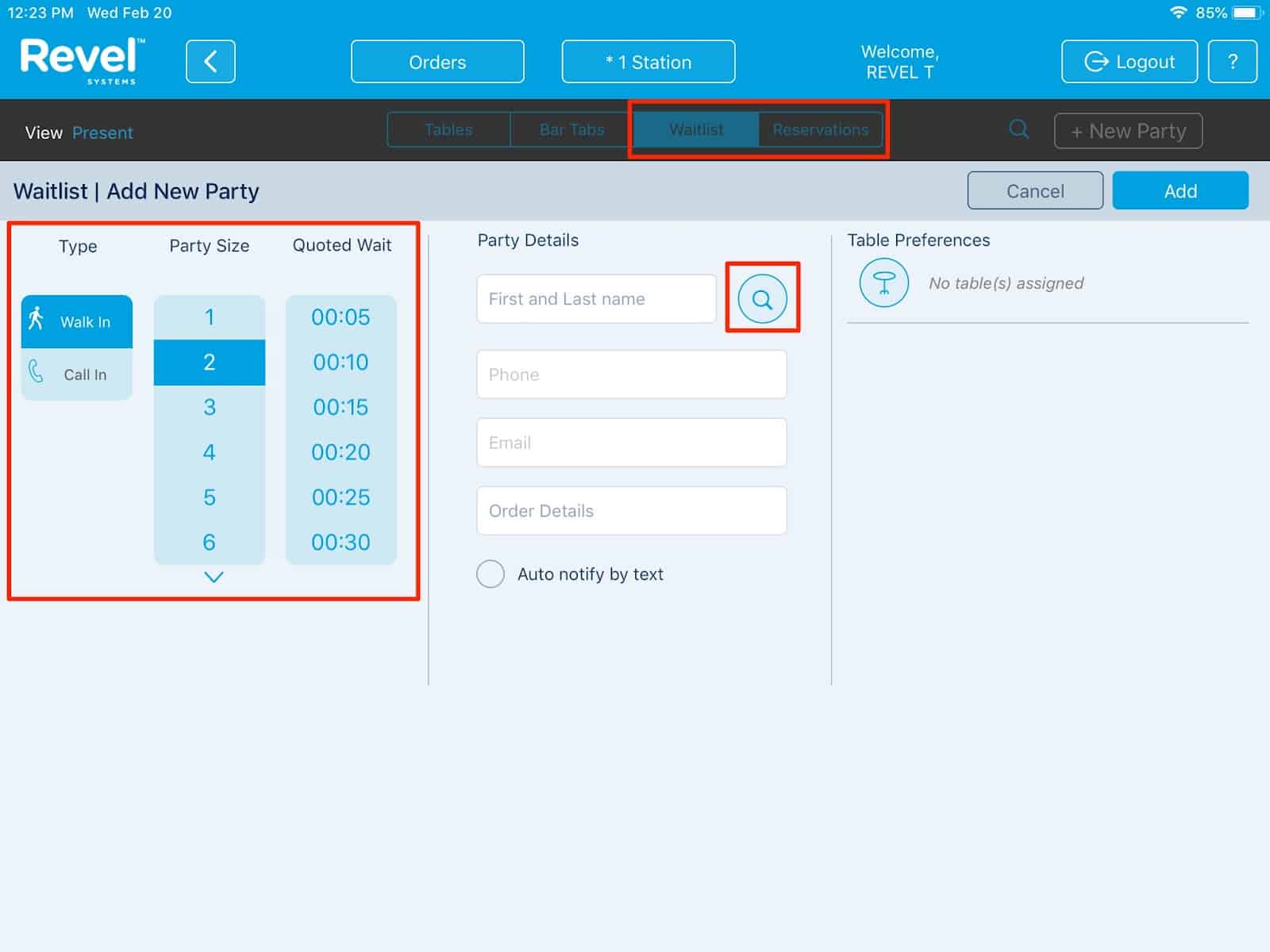 ---
---
24/7 customer support: Via phone, email, and chat
One-on-one training: Implementation includes one-on-one guided installation either virtually or in person.
Digital resources: Revel Support and Revel University websites contain a wealth of information you can access anytime.
Bulk import data: Large menus or product lists, vendor invoices, and staff schedules can be bulk imported into Revel from Excel or comma-separated values (CSV) files.
Revel is a powerhouse POS in a convenient iPad package. The baseline POS includes a lot of features such as loyalty, employee scheduling, and inventory, which others charge extra for. It is one of the most expensive cloud POS systems on the market, though.
Revel was launched in 2010 to be a cloud-based alternative to legacy systems like MICROS and Aloha, both of which can cost $10,000 to $15,000. But it has been a long time since 2010, and the POS market has changed dramatically. We'd love to see a Revel subscription at a lower cost or with a shorter contract term.
Revel User Reviews
Revel users and industry experts give this POS high marks for flexibility and high-volume functionality. Revel is mostly well-reviewed by users.
Capterra: Listed as an Established Player software, earning a rating of 3.7 out of 5 based on about 300 user reviews.
G2: Listed as a Leader system for spring 2022, earning a ranking of 4.2 out of 5 stars based on 130+ user reviews.
FinancesOnline: Gave Revel Systems a 98% user satisfaction rating. Users on the site give the system a 4.6 out of 5, based on about 15 user reviews.
Most negative reviews say Revel takes time to learn―especially the back office―and mention occasional software glitches. We hear about occasional software glitches in nearly every POS we review. It's part of the technology landscape when you use tools that are developing new solutions constantly. But Revel's back office does have a learning curve. If you don't have the time to commit to learning it, you'll likely be happier with a simpler system.
PROS

CONS

Highly customizable software and hardware configurations
Requires managerial attention to keep reporting and inventory accurate
24/7 customer support
Can get pricey
Dynamic reporting and analytics
Back-office functions have a steep learning curve
Excellent high-volume functions
Occasional software glitches
Methodology―How We Evaluated Revel Systems
To evaluate Revel and other POS systems, we consider more than 20 criteria that are important to small, independent businesses. We look for overall value for money. To determine that, we consider cost, functionality, and ease of use. To round out the scores we also consider our retail and restaurant experts' evaluations of each software.
Click through the tabs below to see our full criteria:
30% of Overall Score
We prioritized POS systems that include a free plan or free trial, affordable subscriptions, and additional plans so that you won't grow out of the system. We also awarded points to systems with affordable integrated payment processing, flexible hardware options, and no restrictions on the number of users, inventory, and transactions. Finally, we penalized systems that require long-term contracts and hefty installation fees.
15% of Overall Score
Businesses need speedy and customizable checkout tools, easy customer management, mobility to sell anywhere, a process to track orders, and a way to process online orders. Because the way businesses operate has changed so much in recent years, we also considered contactless payments, integrated online ordering, and online store features.
15% of Overall Score
First, we considered inventory tracking. We also looked for dynamic and user-friendly reporting, as well as what marketing and employee management tools are available.
20% of Overall Score
We awarded the most points to systems with 24/7 live customer support. We also considered help tickets and email or chat support, installation processes, and whether or not the system has an offline mode or hybrid installation so that you can continue operations when you lose internet access. Finally, we considered if the system has an online knowledge base, training videos, or a training mode to help bring new employees up to speed.
20% of Overall Score
We considered the overall quality of each system's features, along with system stability and security. We evaluated whether it offers a good value for its price and standout features. Finally, we accounted for our experts' personal experience using each system and interacting with customer service representatives (CSRs). We also looked at the personal experience of other small business owners.
*Percentages of overall score
Revel Frequently Asked Questions (FAQs)
Who should use Revel?
Revel is ideal for high-volume or multilocation retailers and restaurants that want a cloud POS. It is also a good fit for smaller operations that want to shop around for the lowest payment processing rates.
---
When should I use an alternative?
If you can't commit to a three-year contract or are otherwise on a budget, Revel is not the best fit. In either case―needing a short-term contract or lower-cost POS―you should consider Square. If you want more flexible payments alongside a less expensive cloud POS, then Lightspeed is also a good option.
---
Bottom Line
Revel Systems POS has every function that a retail or restaurant business could need. It is developing new tools constantly to address the changing business landscape. With one-on-one training and installation, users get a lot of support to set up and learn this robust POS system. Although the higher price point and lengthy three-year contract make Revel the best for established businesses making the switch to a higher functioning POS or multilocation concepts that are built for growth. Get a free demo of this dynamic system by visiting Revel Systems.
You May Also Like